Alcatraz has dropped from the game, so I am taking over the Hiksos defenders, and somehow it is fitting that I do so, because they are my army to begin with.
Here are the images of the Zombies emerging from the sea, and the Hiksos preparing to meet their advance: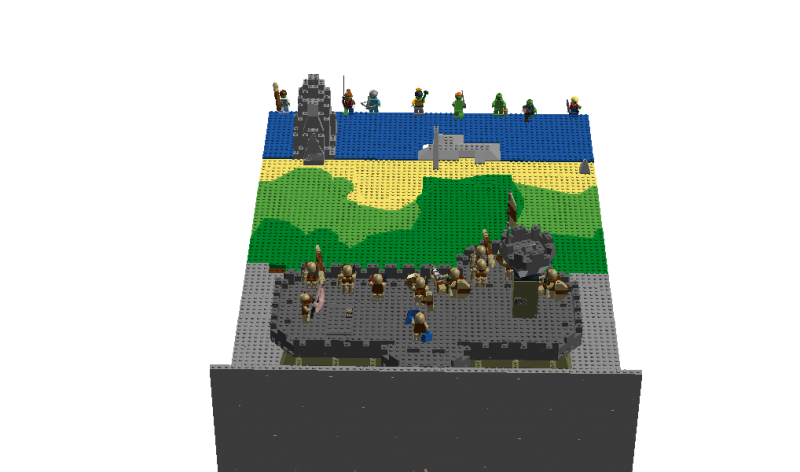 This is followed by a short snipit of story, just to lend spice to what is going to be a terry boring series of turns for the first few of them, since the Hiksos are dug in and intend to stay that way and the zombies can do nothing but advance for the first few turns.
STORY:
It was a quiet day at Bunker 42 on the coast of Maluria. The troops were fully kitted for combat because there was an inspection by Commissariat Legate-Captain Polly Victoria Drachmas, a real hardass who had just recently been put in charge of the first fifty of the small bunkers that guarded this rocky stretch of coastline from pirates out of the Penzance Islands. The bunker was staffed by two full squads of PDF, and they were ready for anything, or so they believed. Without waring the shore mounted proximity alarms began to wail and shriek. Something was coming in, from underwater, and it numbered well into the several dozen minifig type hostiles, as well as indicators that the enemy was armed.
"All Hands to battle stations!" The Legate Captain yelled.
Scrabling to their posts the PDF stood and waited, wondering what kind of Seditionist trick this was, but what emerged from the waves froze their blood in their veins. The enemy that slowly rose out of the surf was not seditionists, it was a number of rotting corpses. They all were armed, with a melange of weapons, but they were marching on the bunker with deadly intent.
"All unit's hold your fire until the enemy is in range!" Victoria ordered over the coms of the nervous defenders. "Whatever this is we will defeat it, trust your instincts and be ready!"
Link to Turn 1:
viewtopic.php?f=16&t=11084