To the victors go the spoils. Arycelle's scouting party had meticulously routed Dragon Guard expeditionary forces in an
earlier battle
. The scouting mistress meets up with other heroes of the Mythic Order in order to delineate a strategy for acquiring the Sword of Aurora. After all, the bulk of the Dragon Guard army were still camped not far off.
Magister: "...and the strength of these new foes, are they much to be feared?"
Arycelle: "These dragon warriors are courageous, to be sure. Nevertheless, my skirmishers found their strength wanting. We massacred the lot and left none to bring word to their leaders."
Richter: "Most excellent, Arycelle. When we move to claim Aurora, we will have the element surprise.
Magister: "Not to mention how utterly demoralizing once they finally discern that their hero is no more."
Arycelle: "Demoralizing? Perhaps. It is just as likely he will become a martyr and fuel the fire in their hearts."
Richter: "Then we must simply crush their spirits at the end of our blades."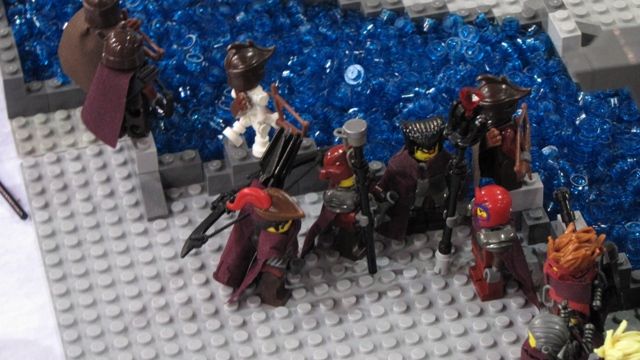 Magister: "Arycelle, the council holds your recent victory in high esteem; it is our request that you lead the rest of our forces against the Dragon Guard. You unquestionably possess the greatest experience against these adversaries. Though no magisters have come forward to stand at your side, we are generous enough to offer the indomitable aid of the murderbeasts..."
Arycelle: "Pfff. With all due respect, magister, I'll be sitting this one out.
Richter: "But Arycelle..."
Arycelle: "Hush Richter! I've done my job. You wanted intel, I got the intel. Measure their strength? Done. Even a stunning victory to boot. I'm pretty sure I've earned my R&R while you all need to pull your own weight."
Silenced by the impetuous bow mistress, the magister pauses to collect a convincing retort. While tongue-tied, Lyra, leader of the Mythic Order paladins sweeps in. Her armored boots clang with annoyance across the ruin flagstones.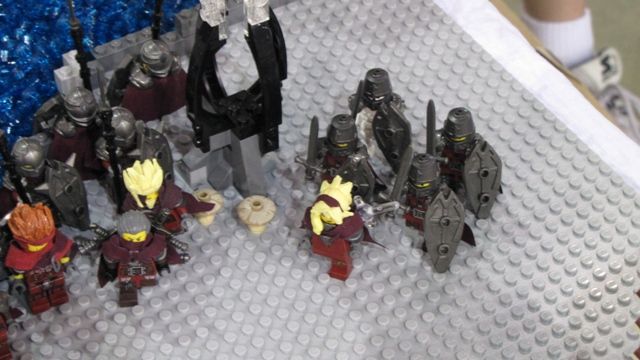 Lyra: "You headstrong b*tch! R&R? I'm down two of my best trained paladins now because of the stunts of your "scouting mission," and one has been irreparably skeletonized! Even the Battle Priests can't do anything to regrow his sinews!"
Arycelle: "Clearly they were content enough to follow me; guess you should keep better tabs on your own!"
Lyra: "Outrageous! What, weren't your rangers enough that you have to cherry pick all of our warriors? Oh, you are such a competent warrior, Arycelle...hiding behind the shields of others taking pot-shots with that dinky bow of yours."
Arycelle: "Dinky? I'll show you..."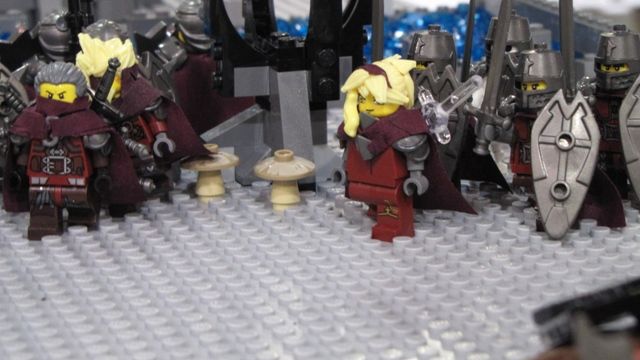 Lyra: "Oh, can it! It's not worth it to get Aurora anyway."
Magister: "What blasphemy is this?!?"
Lyra: "Come on Magister. You know the power it holds. The entire ruin complex teems with its magics. And how many warriors do you think it will take to overcome the Guardian? A squad? A Platoon? A whole legion?"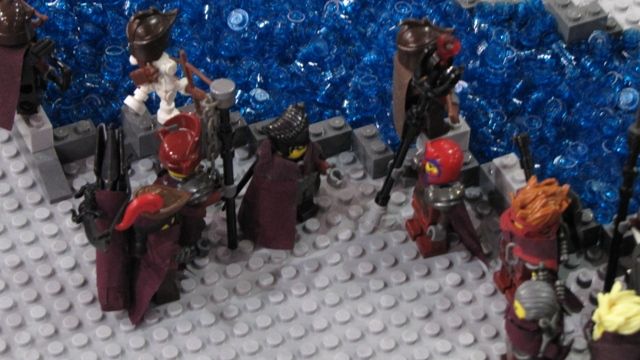 Valken, knight captain, interjects: "Lyra's right you know. We can't possibly know what sort of powers emanate from the sword. And who are we to think ourselves worthy enough to bear it? If one were not already a worthy owner, would the sword be here in the middle of an ancient ruin? Clearly the blade itself is too powerful to be borne. It must surely remain in its resting place. And who knows what calamity would befall this region without the influence of the relic on the ambient leylines and mana pools..."
"And what of the Dragon Guard? Are we willing to let so great a power as Wyvar become our sworn enemies? We've slain one of their champions, but that can only serve to fuel their vengeance. Their prowess is legendary, as you all know. Even if we can muster enough strength to wipe them from the face of this battlefield, the outcome would surely cripple us beyond repair. Neither would we possess Aurora with so small a force, nor could we withstand the rampaging opportunism of the Black Falcons who rove these hills..."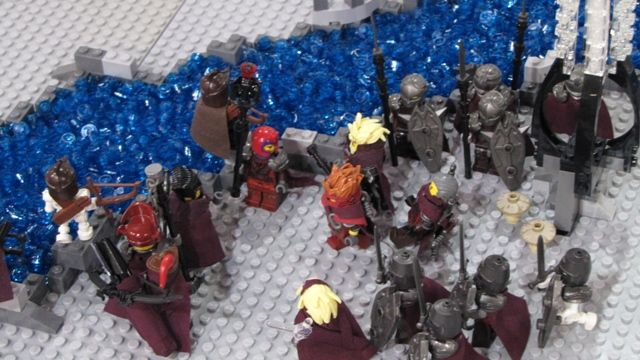 Valken's impassioned speech receives a few nods from those assembled. However, Ragnel strides forward with a massive sneer. He approaches Valken with an open hand, as if to greet him as a brother. As Valken reaches out, Ragnel shifts his weight slightly...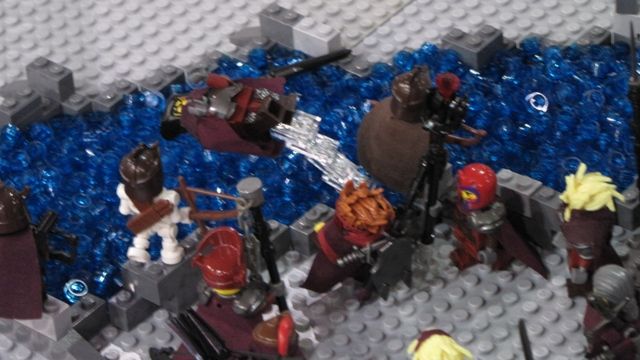 ...and launches his compatriot into the nearby river.
Ragnel: "Spineless Valken! What more does the Mythic Order need to prove! If a scouting force can rout the Dragon Guard, then our army will surely stomp them into oblivion! Magister, I'll take charge. I want to see the blood of these dragon folk at the end of my blade!"
Magister: "Excellent, Ragnel. As always, the Council is pleased to put it's faith in you."
Ragnel: "And of course I will mount that murderbeast you have been breeding for me..."
Magister: "So what say the rest of you; Ragnel will need one more comrade to lead the forces of the Order into battle."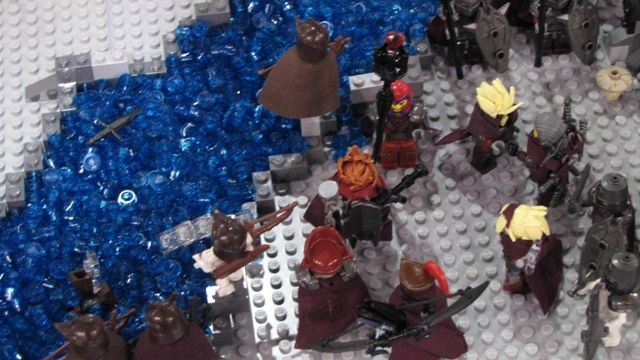 Gestalt / Dion: "I'll take charge!"
Gestalt: "Oh you will will you?"
Dion: "Hah! Fat chance!"
Gestalt: "Very well, let us settle this jinx in the old way."
Dion: "Agreed!"
Dion / Gestalt: "Rock, Paper, Scissors, Shoot! Rock, Paper, Scissors, ..."
Lyra: "ENOUGH!!!" Lyra's face is a picturesque demonette. "Treating war as a game! You are not worthy to be called among the greatest of warriors! No sense, no tact, no wisdom, just brutish barbarism!"
[Unbeknowst to everyone in this exchange, Arycelle departs with a ranger detachment for the nearest sandy beach]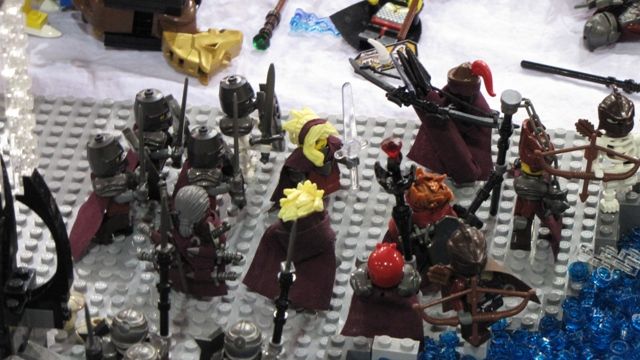 Lyra: "I have no need for anymore of this foolishness. I HAVE a magic sword. If you nincompoops wish to continue all of this d*ck-wagging over another magic bread-cutter, be my guest. But expect neither my cooperation, nor my sympathies when you lie dead and dismembered on the field of battle."
At this, Lyra flourishes her remarkable blade...
Executing a perfect windcutter technique.
And Lyra takes her leave.
...whilst her technique severs the magical connections of a nearby floating platform. Expendable casualties--not uncommon at war councils such as this--lie beneath the rubble.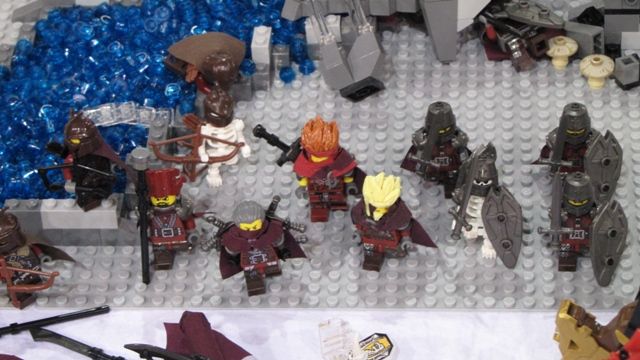 Dion: "I think that all went pretty well, don't you?"
Richter: "Yeah, I think so; only five soldiers lost this time."
Ragnel: "Hah! Yeah, remember the infamous Saturnalia Party of G.R. 2009?"
Magister: "...Hmmph, I thought the Council put out an edict that no one was supposed to talk about the Saturnalia of G.R. 2009 any more..."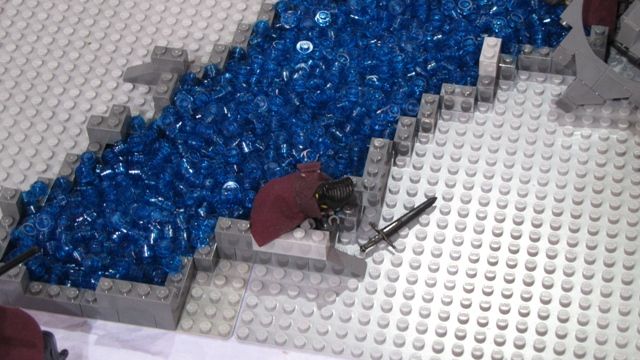 Gurgle, Spurt...several minutes later, a shadowy figure emerges from the river. Valken rises from the empty bank.
Valken: "Hey, guys, that wasn't very nice! Guys? Guys?"