I'm currently working on testing out various aspects of my army, hammering out the parts that don't work or are OP. Today I tested out a new unit I'm planning to deploy, the SuperColonel (name might need some work). They're basically officers with a few extra traits tossed on. This battle features 4 of them, 2 spec=d out for CQC, 2 for ranged combat. The goal was to create a strong unit to build a squad around, but not have it be
too
strong.
CC statline:
Officer armor, move, and skill.
CC Weapons Master: +1d6 to armor, use, and damage rolls in CC. +1d6 range when throwing objects. May dual wield heavy weapons as if they were hand weapons.
Shock Troop: +2 to skill, armor, and damage when rolling for CC or Charge. -2 to skill when rolling for ranged attack.
Have-at-You: receive no skill penalties when using the parry-riposte combination.
Ranged Statline:
Officer armor, move, and skill.
Ranged Weapons Master: +1d4 to armor, use, and damage rolls with ranged weapons. May dual wield long range weapons as if they were pistols.
Sniper: +2 Bonus to Skill and Damage when rolling for Ranged Combat. -2 to Skill when rolling for Close Combat.
Bull's-Eye: ignores cover modifiers produced by buildings and/or terrain as long as any part of the target is visible; not usable against Stealthy units.
Setup:
I deployed my stormtroopers army in a compact formation, while my opponent (who we'll call Bob), deployed his force over a large area. He was planning on looking my army in CC while his ranged units picked off my guys, a tactic I expected, and planned to counter by engaging his CC troops with most of my army and using my ranged SuperColonel and a few other troops to keep his ranged units busy.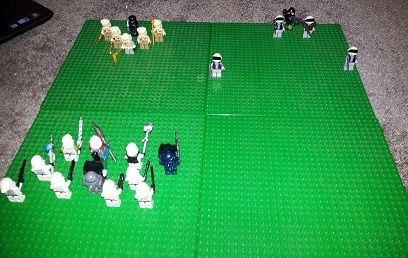 Turn 1:
I won the roll-off, and moved first.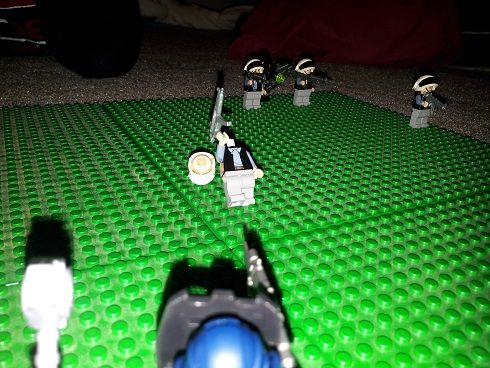 My blue armored colonel picked off one of Bob's troops, the rest of the army moved up, but saw no action.
Bob's turn: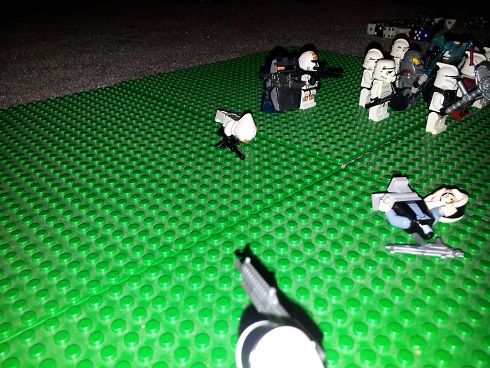 Bob gunned down one of my troopers, evening the score.
A score that I promptly unevened, as one of my troopers picked off a CC trooper who tried to flank me.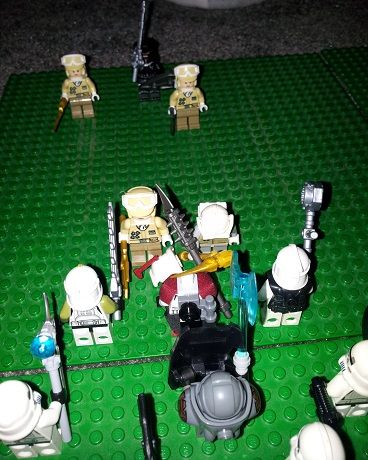 A crit wiped out one of my troopers, the only one carrying a charging weapon.
My armored hammer soldier managed to parry the strike sent his way.
Turn 2:
Hammer guy avenged my other trooper, and a axe-wielding trooper tried and failed to bring down another one of Bob's men.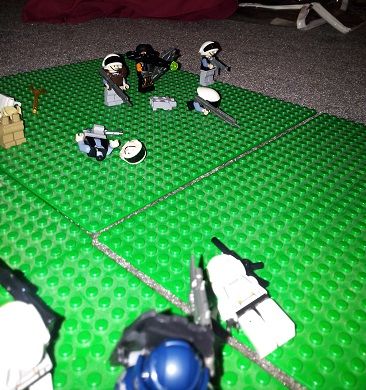 Another one of Bob's men is gunned down by the SuperColonel.
Bob's turn
My axe-trooper goes down.
Along with another soldier, as Bob's SuperColonel gets his first kill, shrugging of missed and weak shots from my own troops.
Turn 3: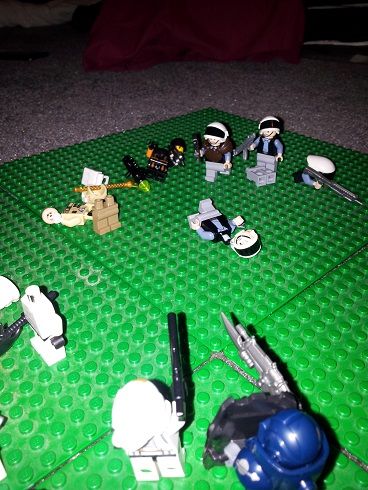 Concentrated fire from my SuperColonel and another troopers brings down Bob's Colonel, eliminating the biggest threat on the right flank. Fortunately, my Colonel's armor and heavy shield were tough enough to withstand the response fire from Bob's colonel during the shootout.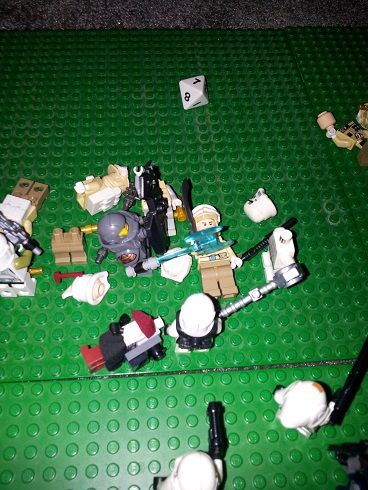 My other SuperColonel takes down the last CC troopers.
Bob's turn: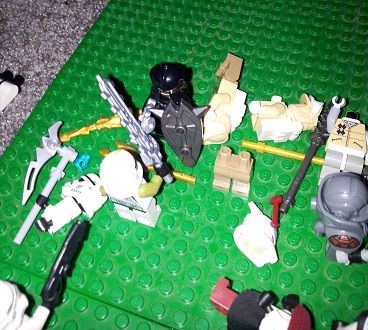 A chainsword wielding clone manages to parry Bob's strike, while another soldier behind him misses yet again. Bob's 2nd to last gunner tried to take some pressure off the colonel, but was gunned down by response fire (not shown).
Turn 4:
My three gunner attempt to pick off Bob's remaining shooter, but 2 miss and the last round round is stopped by the gunners armor.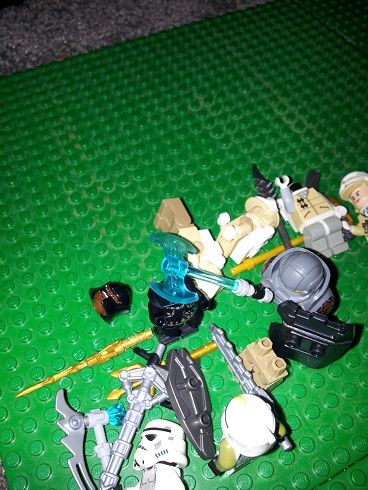 Bob's SuperColonel, alone and unsupported, is hacked apart by mine.
Bob's turn:
Bob's solo surviving fig took a shot at my hammer trooper, but the soldier's armor saved him (not shown).
Turn 5&6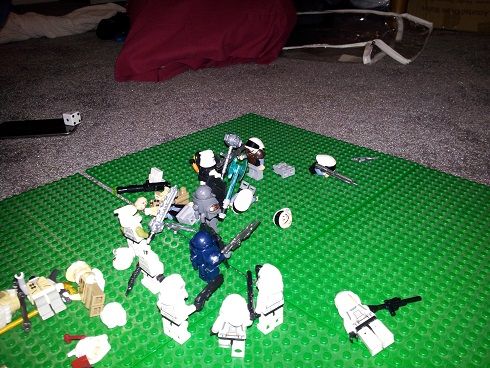 my army charged forward to try and end the last fig's life. every shot fired at the guy missed, along with the one round Bob's trooper fired at me.
Surviving a point-blank gunshot, hammer guy finished off the last enemy.
The SuperColonels performed excellently, but they they still whiffed attacks on occasion and were fairly easy to bring down, so I feel that despite their offensive power they remain balanced. I might tinker with their stats a little more in the future (maybe adding in the shield bash skill from IVHorseman's bonus rules), but for now I'm satisfied with them.