That translates to Battle of the Sun Day. That's cause it's a) Sunday and b) It was sunny. Yeah, I know, it's bland. Deal with it. On to the battle...
This was a solo battle (you know, if the [Solo] tag didn't give it away...), mostly because a) I forgot about Olothontor's game and b) Olothontor cancelled his game. Quick, crowd, boo him before he gets away!
I was playing a force of 5: my dragon-mounted hero, an explosives expert, a rifleman (using doodstormer's idea of crossbow -> rifle), and an Uzi-wielding minifig (BrickArms, if you want it). We were facing the HHAV, a motorcycle-mounted rifleman, a regular rifleman, a TIM (Trycicle Air Machine), and a minifig with the Portal gun.
This was my first solo battle, so excuse the fact that it's not very climactic or exciting.
Let's start with the pictures. Captions are below the pictures they talk about...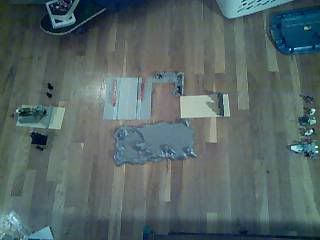 Just an Overwatch of the battlefield. I'm playing the black ground on the left.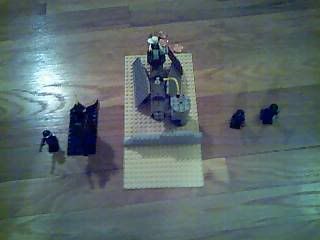 They look sortof like this.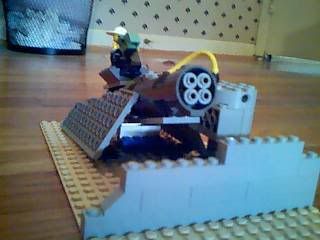 This 5" puppy is the Mk VII Shadowcaster. It fires 6d10 damage rounds (explosion radius 1d6", 6cp each) 22+2d6" (That's between 24" and 34")! But, you have to beat a UR of 18. More easily, however, you can spend a turn prepping the weapon to skip that step on the next firing.
______________________
Turn 1
Everybody just moves. For example...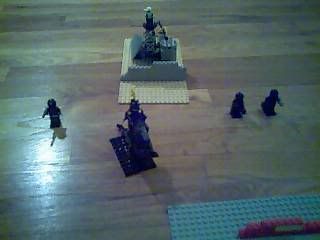 I move out a tremendously large 5"! And, it's worth noting, I prep the Shadowcaster
______________________
Turn 2
First blood!
The Shadowcaster fires! It hits on the penny (shiny, small bronze thing near the middle) and blows apart the HHAV. The pilot never had a chance.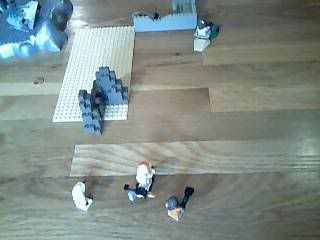 The White team moves out cautiously, now that they know what my team can do. The TIM pulls far ahead, hoping to take out the Shadowcaster's operator before it fires again.
______________________
Turn 3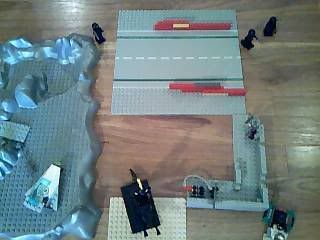 We move out even farther. My hero + dragon pull ahead, going straight for the White team's huddle of troops. Also, more Shadowcaster prep.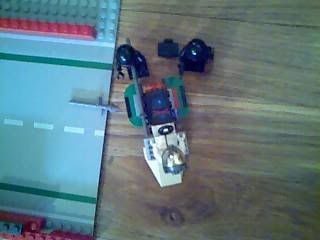 In response, the TIM spears one of the Black team straight in the gut for 12d6 damage. Luckily, his RPG didn't go off.
______________________
Turn 4
Last turn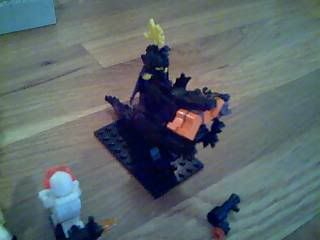 The Portal gun holder is mauled by my hero's dragon.
The remaining Black rifleman, sneaking unnoticed behind the dragon, sees his chance and blows the TIM operator off his vehicle.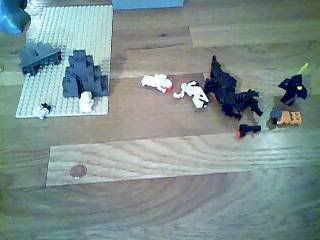 And the Shadowcaster fires, killing everything on that side of the battlefield.
______________________
Enemy Charts
Basically, for each enemy, I rolled on one of three charts: one if we were even-ish strength, one if I was winning, and one if they were winning. Here they are, if you want them:
Legend:
d6 roll - Result
Non-applicable rolls were re-rolled
Normal
1 - Move towards enemy
2 - Same as above, but taking advantage of cover
3 - Fire!
4 - Support the team
5 - Go for objective*
6 - Reroll
Aggressive
1-2 - Fire!
3-4 - Move towards the enemy
5 - Go for Objective
6 - Reroll
Defensive
1-2 - Move towards enemy, taking advantage of cover
3 - Fire!
4 - Support your team
5 - Go for objective
6 - Roll again.