I can only imagine how many of you know of GIMP, the open source image editing program. Well, kidko and I frequently use it as a crutch with which to stave off boredom. We hold a series of contests, where we each start with the same size canvas and a generic topic (taken from a random Wikipedia article, more often than not). We each agree on a time limit (our most recent was a nice 7 1/2 minute stretch), and then begin to draw. Whatever comes out, you keep, and (again more often than not) if you're not done by the time limit, too bad. Some of the results are... less than amazing... but we're not here to discuss the failures. We talk about ups, not downs. And here would be some of the ups of our GIMP escapades, with descriptions and our topic underneath of each:
This would be Chris' submission to one of our more memorable Gimp-Offs. The topic in this instance was Force Fields.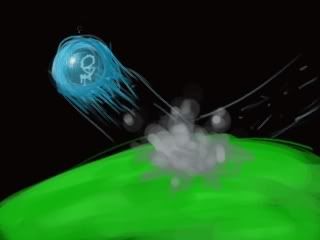 My response to the above was this: a less than spectacular bouncing force field... thing. With crappy smoke effects. Ah, well.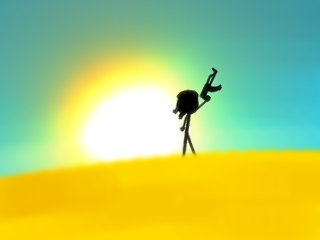 Chris' submission to the Syrian Desert topic. This was yet another that took a turn more favorable to him. The lighting effects and the guy with the AK-47 are both spectacular...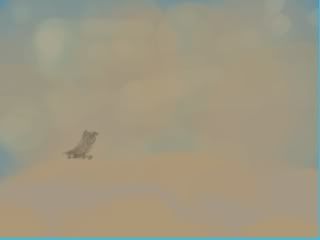 ...Where-as mine was not the best. The only possible cool thing about it that I did the sandstorm effect over top of everything. And, by the way, that black blob-like thing? That's supposed to be a stick figure with a cloak on. Hard to tell.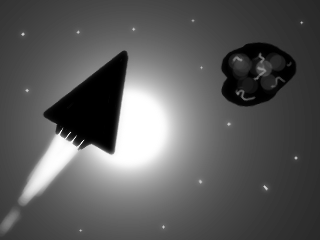 This particular Gimp-Off had some fairly good looking, if strange results. The above would be Chris submission. Also, a matter of note, this is the first Gimp-Off were we didn't have a particular topic; we instead had artistic limitations. The limitations for this particular one were:
A) Must be in Grayscale
B) Must use the 'Supernova' GIMP effect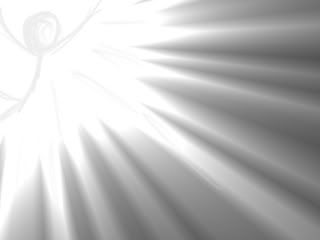 My challenger to Chris' spaceship, sun and asteroid would be... well... what exactly it is beyond a stick figure hanging off a wall and glowing is... questionable. But it still is a really cool effect. It has a strange appeal to it... I'm not entirely sure what it is.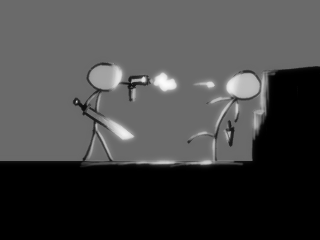 Chris' submission. Limitations were as follows:
A) Must involve rain
B) Must be in Grayscale
Chris ran out of time, and therefore did not get a chance to add in his rain. Ah, well.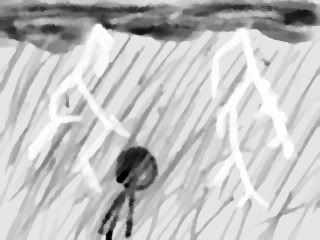 My submission. This one is interesting... I think if it wasn't grayscale it would look a bit beter, but that's me.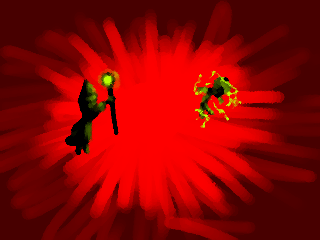 Chris' submission to our most memorable Gimp-Off yet, in my opinion. Chris had actually titled this one (which was a first; usually they were just whatever number Gimp-Off we were on). He called it
The Wizard
. I really liked the results on this one. Oh, almost forgot our limitations:
A) Must involve some kind of magical powers
B) Must use the 'Oilify' effect
My previous picture of the lightning and rain had set a rather awesome trend, if I do say so myself.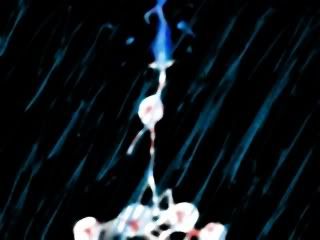 And finally my submission to the above limitations. This one turned out so well that I even made a smaller 80x80 one just so I could use it as my forums avatar. The best part about this one was hearing Chris' little 'aah' of amazement when he opened it on his computer. I loved that.
And that concludes all of the Gimp-Offs we've had so far. i do hope you enjoyed. if you wish for us to keep you posted on these, I'll be more than happy.