New Immortal Weaponry, the best throughout the cosmos. After achieving a Foothold in the Fico system the Immortals have sent out their agents to contact all the known peoples of the Brikverse, and sell them stuff...
New developments in weapons research.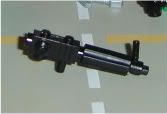 Immortal Assault Rifle
Range Use Damage Notes
15" 3 1D6+5 -
The Laser Assault Rifle has a prestigious rate of fire and stopping power without degrading it's range. While arguably not as powerful as the Bastard Blaster it has an internal smart-linked gyroscope to compensate for your movement. A gun that likes being fired from the hip.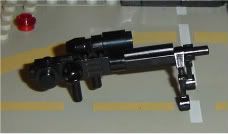 Immortal Sniper Rifle
Range Use Damage Notes
20" 3 1D6+5 -
While not near as powerful as the Railgun Sniper assembly preferred by Immortals this Rifle provides a light weight shorter barrel and just as accurate alternative. This model can even be silenced and fitted with flash suppression. With the addition of a detachable back pack the power can be increased.
Remember, if your not holding Immortal Tech, one day you may be facing it.