I've been talking about the army I'm building for a little while, and I'd like present the bits of it I've already assembled (and I hope you like them a lot, because they're going to be all I've got until I manage to get another job, which is proving to be a challenge in this economy. Thanks a lot, Obama/Bush/Jews/Illuminati/Space Lizards). Faction backstory is still under construction, but I've at least got a name. Behold, the military might of the Frangerian Protectorate (what meager bits of it I'm able to present, anyways).
This is my squad of Orc CC troops, who I've equipped with a hand weapon in place of a shield, since that seemed the more orcish path (I think they'd technically be closer to hobgoblins then orcs, given their training, discipline, ect, but it's my army, and I say they're orcs). They're the strongest CC unit in my army, and I'm working on giving them some custom stats to buff up their combat power a little bit.
Next we have these five troopers, who are going to be some kind of special ops unit. Somebody recently came up with a rule for this kind of A-team style squad, and as soon as I remember where the hell it is, I'll probably end up using some version of that rule with these guys.
These two guys are buffed up officers (
you may have seen them before
). I'm not sure exactly what I'll end up doing with them, but I'll figure it out. Right now, I'm thinking they'll get attached to whatever squad is getting tossed into the meat grinder to add a little more punch to the assault.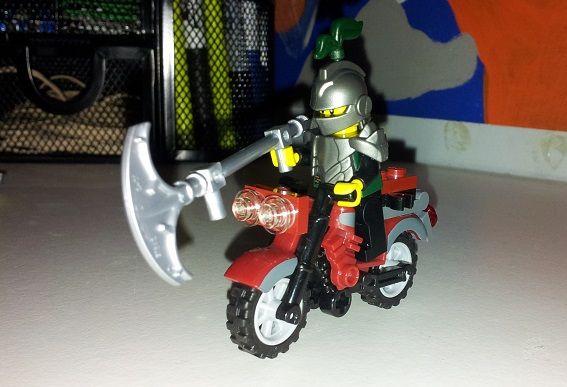 And finally, we have the current version of my cavalry, the motor knight. I'm still working on the lances, since the standard Lego ones are a little plain and a little short. I'll probably end up building some kind of custom model like Lord Mercat did. I've also been tinkering with the idea of building some timed explosive charges to attach to the ends of the lances, so the knights have some extra anti-armor capability.