SUPERPROJECT CODENAME "PERSOGORAS"
5 factions duel to death in a game containing both diplomacy and warfare. Are you ready for it?
Reminder:
REBELS - Moronstudios
EMPIRE - OneEye589
PIRATES - Bonn-o-Tron
DROIDS - IVhorseman
POLICEMEN - pesgores (me)
Day 2:
The sun rises in a new day at Godovia (the piece of paper, which I forgot the correct name in English, are the printed orders for this day):
Diplomacy happens in the morning: everything's calm usually. This Droid Commander talks with a Stormtrooper Officer about an alliance.
«Will you help us out destroying the Rebels?»
«Sorry, we can't. Boss's orders.»
«Fine. Just wait untill you need help from us...»
«They...did not accept, General.»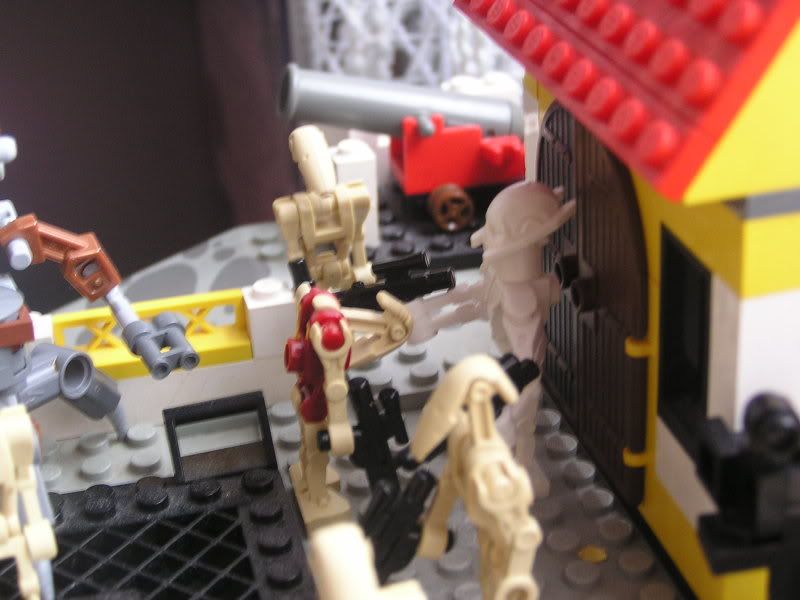 Inside the supermarket (yellow building), Pirates discuss what to do.
«Boss gave us lads orders to barricade the doors and window. Move!»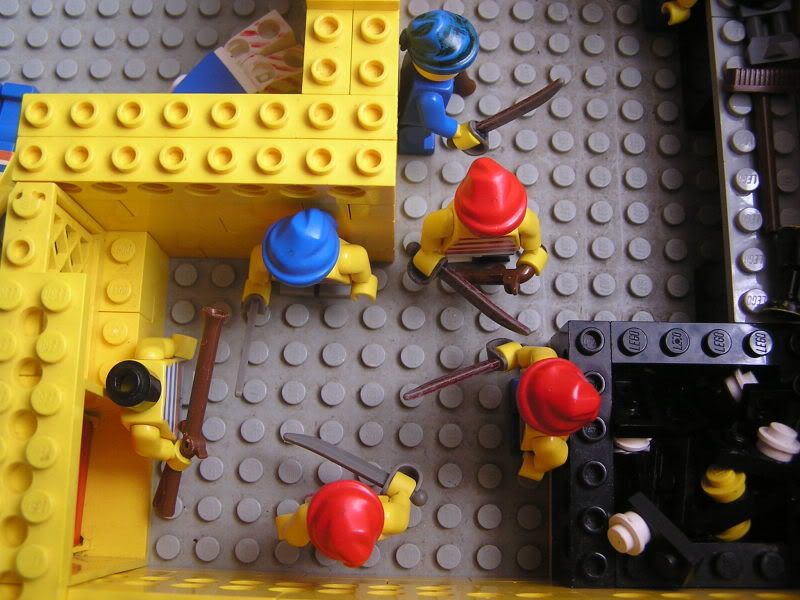 Pretty much everything in the store served as barrage.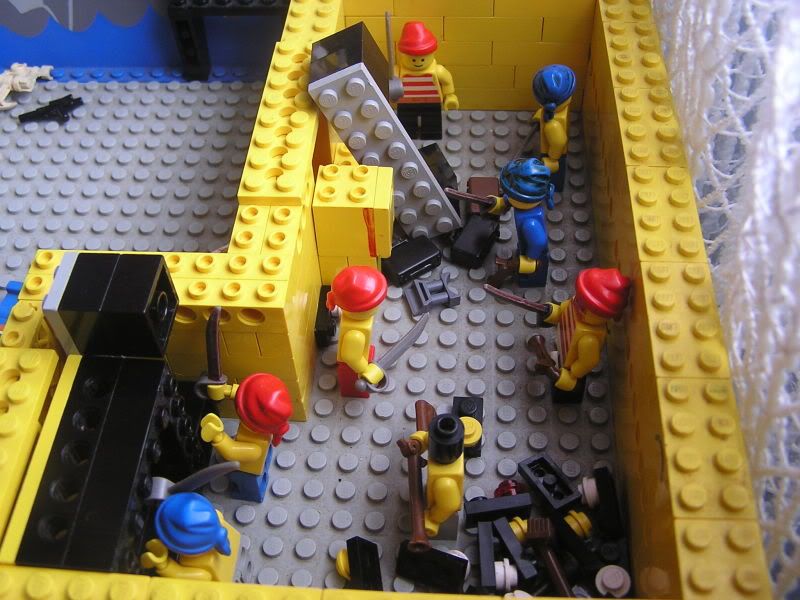 All of a sudden, a deadly machine comes out of the Droid base. It is...
The Droideka!!!
Having one of the beach houses as objective, the Droids that were occupying the trench now move forward.
«Arr! Destroy that pesky machine, comrades!»
«Sir, they're on my aim.»
«Fire!»
KA-WHAM!!! the cannonball hits...my pile of books.
The Droids start storming on the said house (not the same you see in the last picture), blasting the glass door.
«Hey! How d-»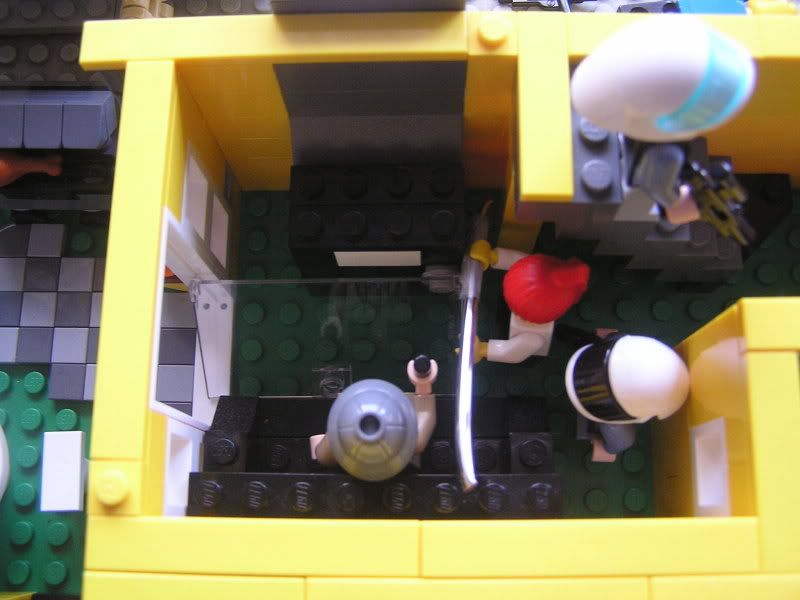 ZIONN!! ZIONN!!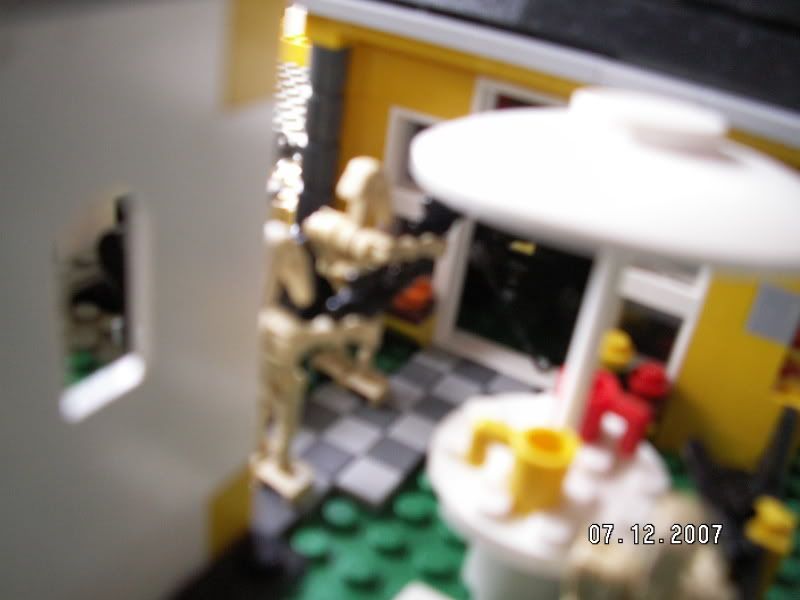 Angelina is down.
«NOOO!!! Angie!!!»
Enraged, the trooper destroys one enemy droid.
Sadly, this heroic minifig got his head blown up.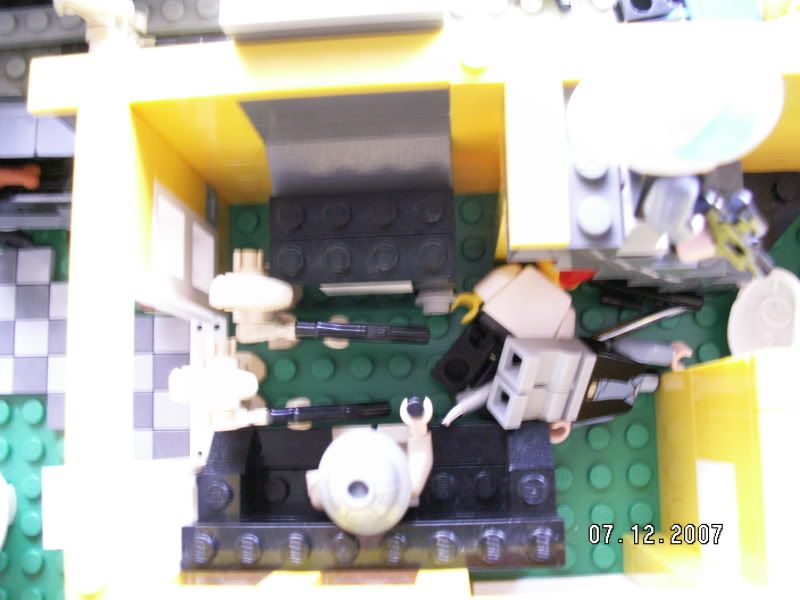 On the main entrance, a group of 3 droids blasts up the door.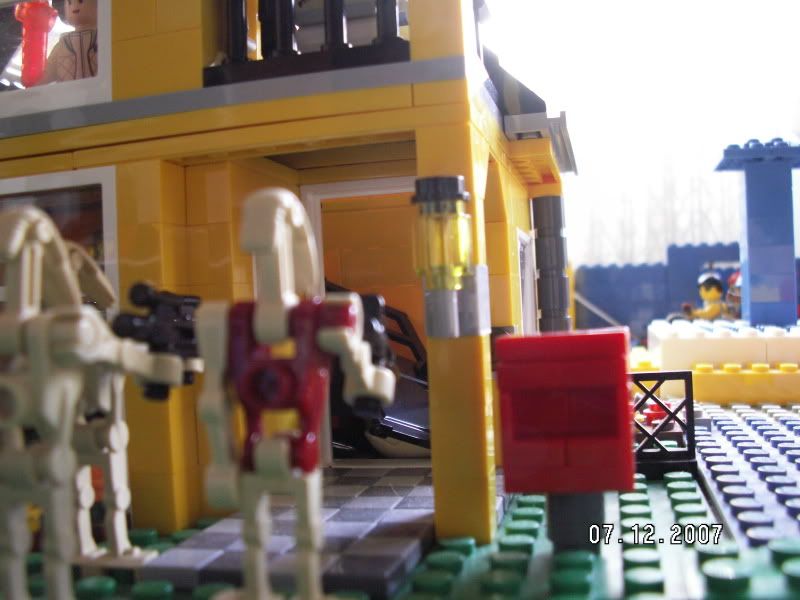 Another trooper, who was standing by the stairs, hurries up to tell Princess Leia (not a hero) what was happening.
Henry Jones Snr. uses his cane to inflict some damage on a droid, but it wasn't enough to tear him apart.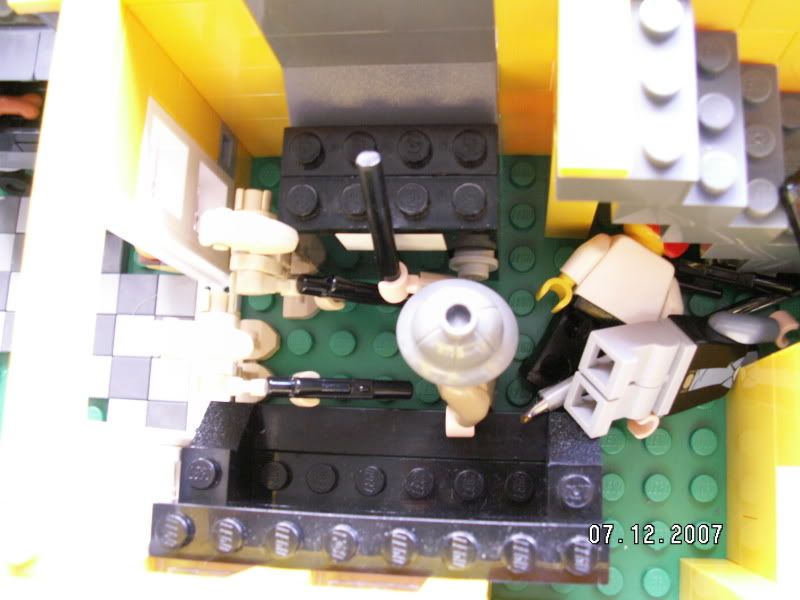 In a war, if you don't kill, you die.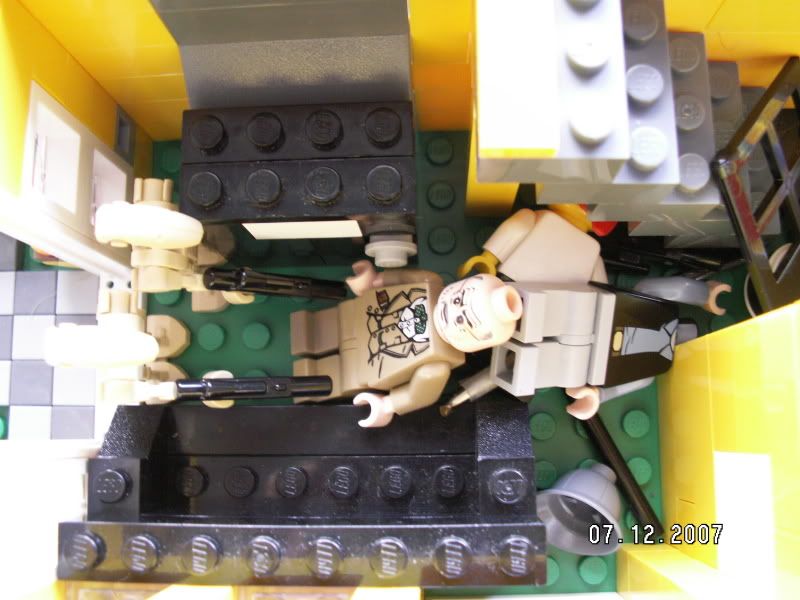 «Suh-prize!»
ZIONN!
«NOOOO!!!»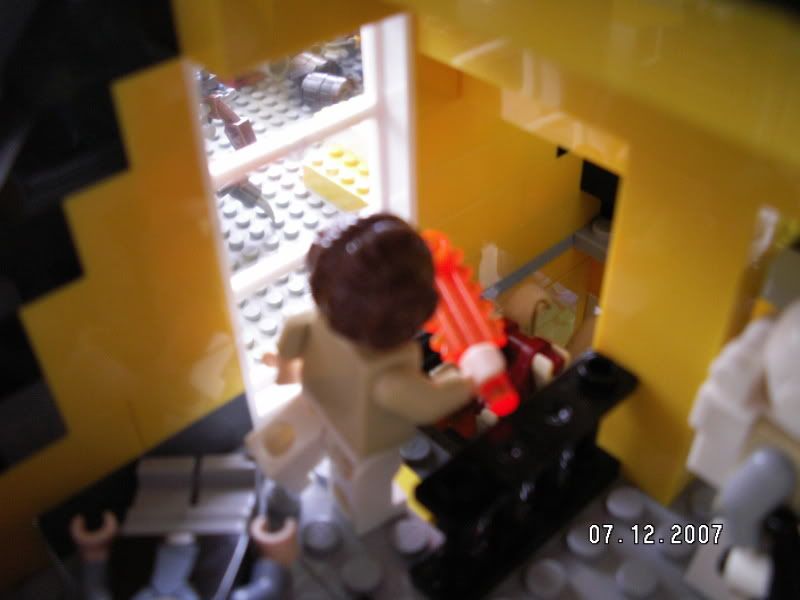 «Princess! Fall back! We take care of these-»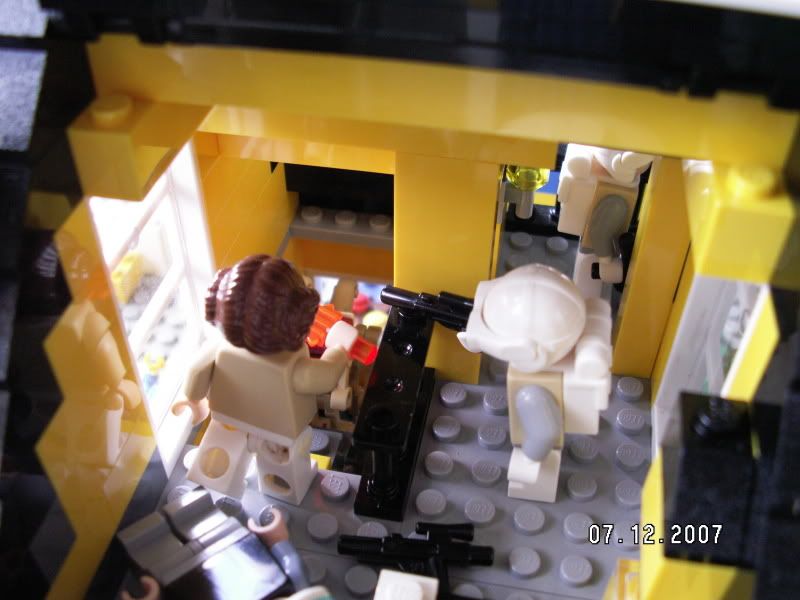 «Oh, bugger...»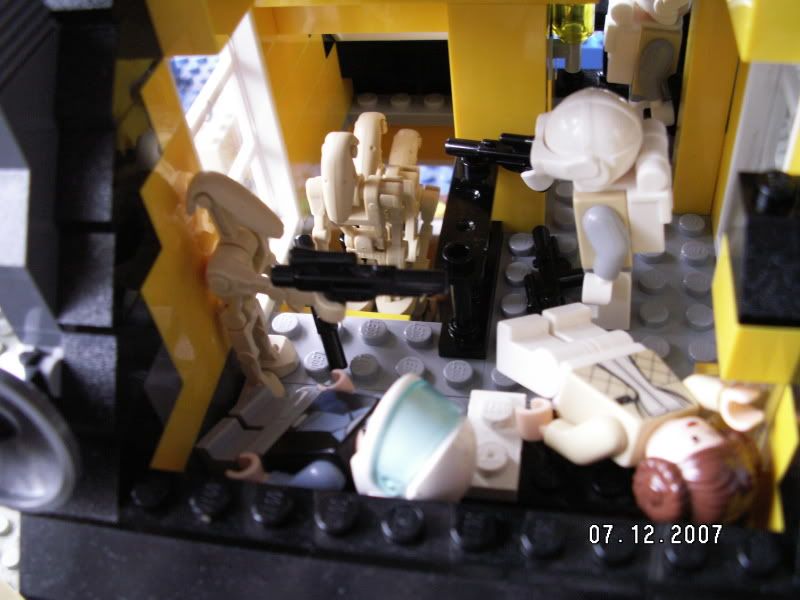 «Hum, Jeofrei, a little help?»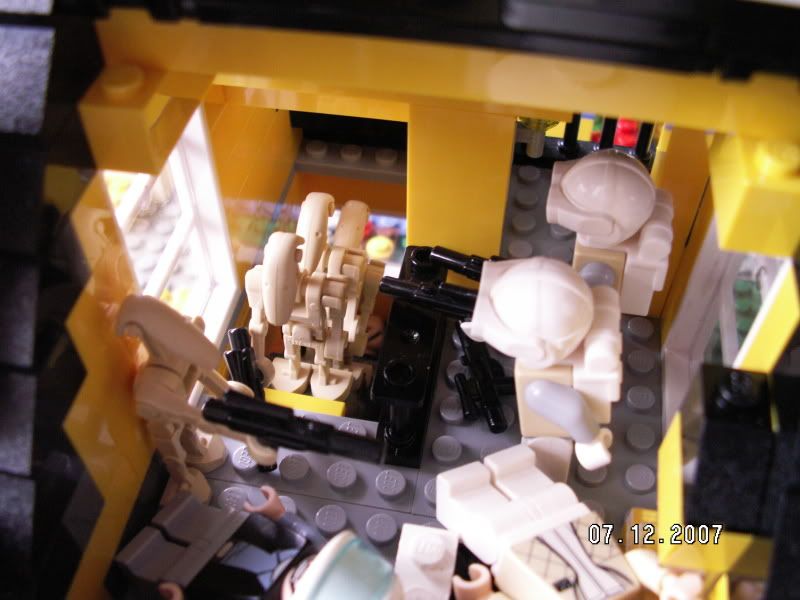 PWNT
Needless to say, the trooper was shot down.
«Now what will I...wait a minute...»
Hep!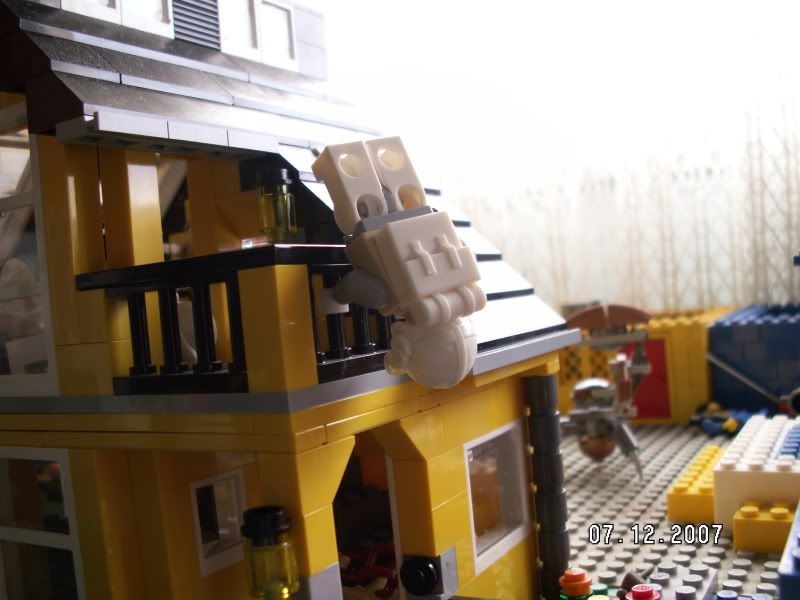 *Thump*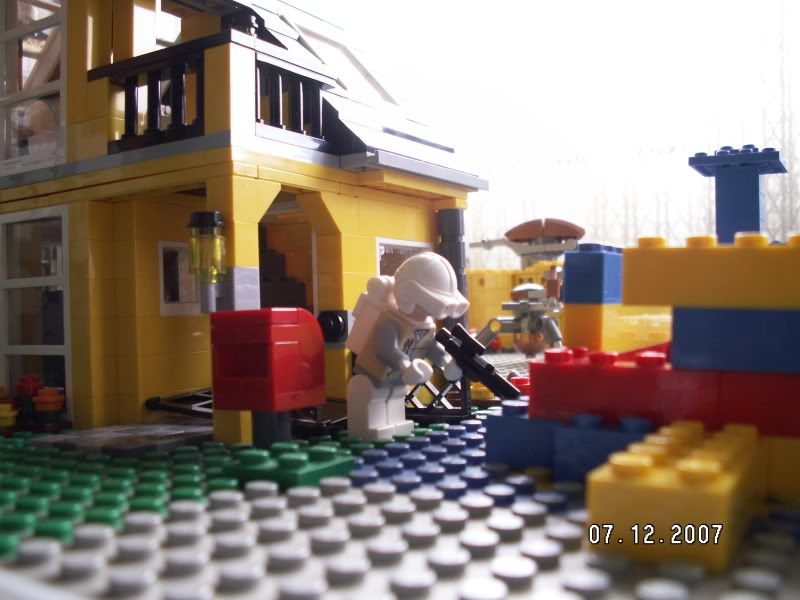 «Hiya there!»
«Jeofrei! What on Coruscant?...»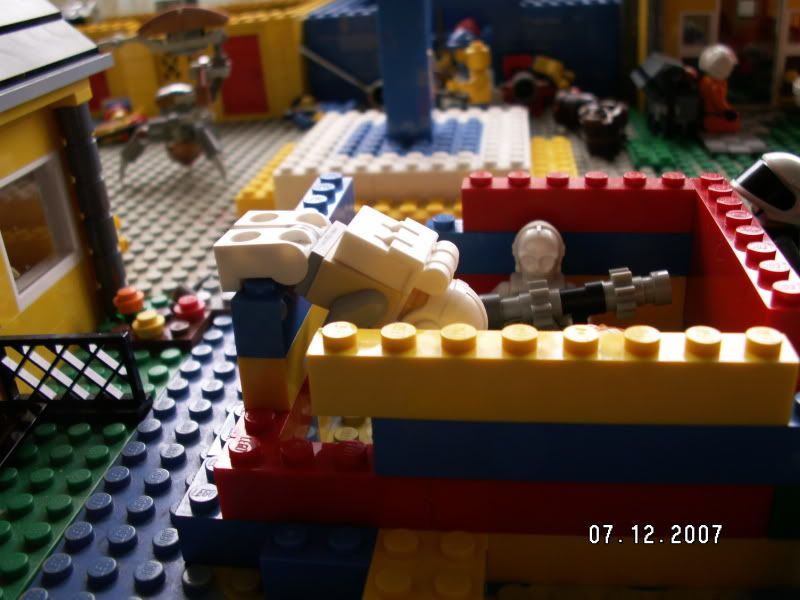 «Listen, there is no time for chit-chat! Burst those droids now!»
«Jakson, burn them.»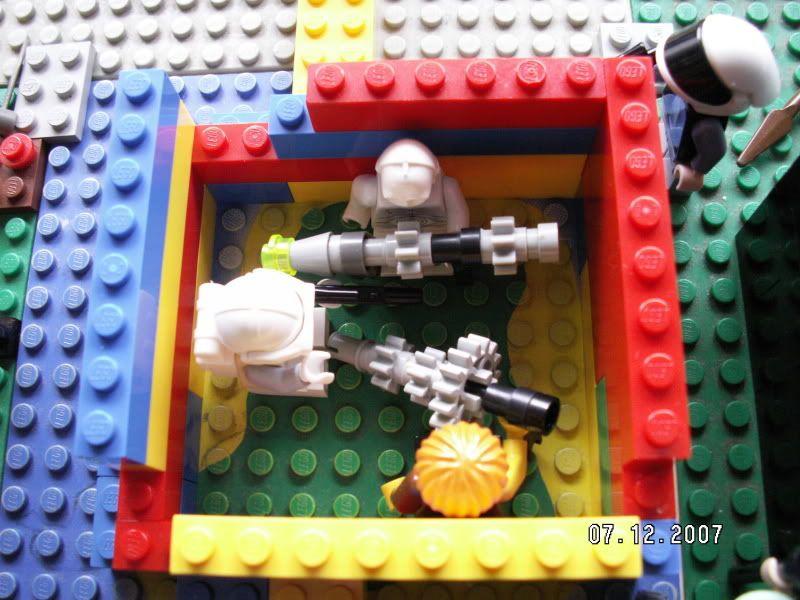 «You want a piece of me?»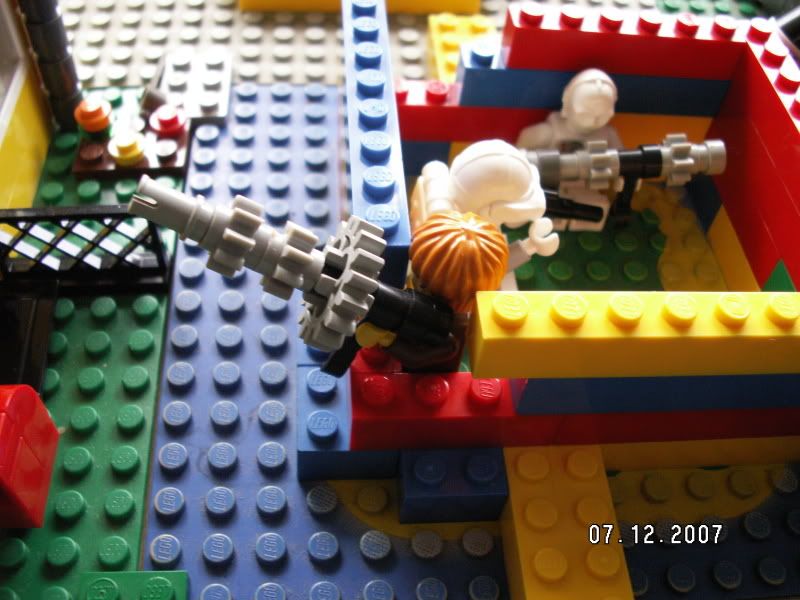 MAJOR FAILZ!!! The rocket flies to the sky...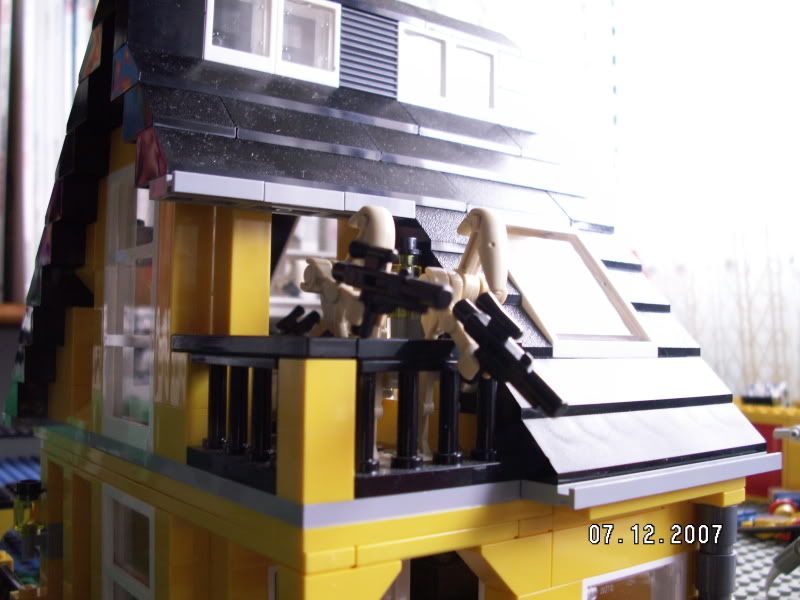 Jakson is no more.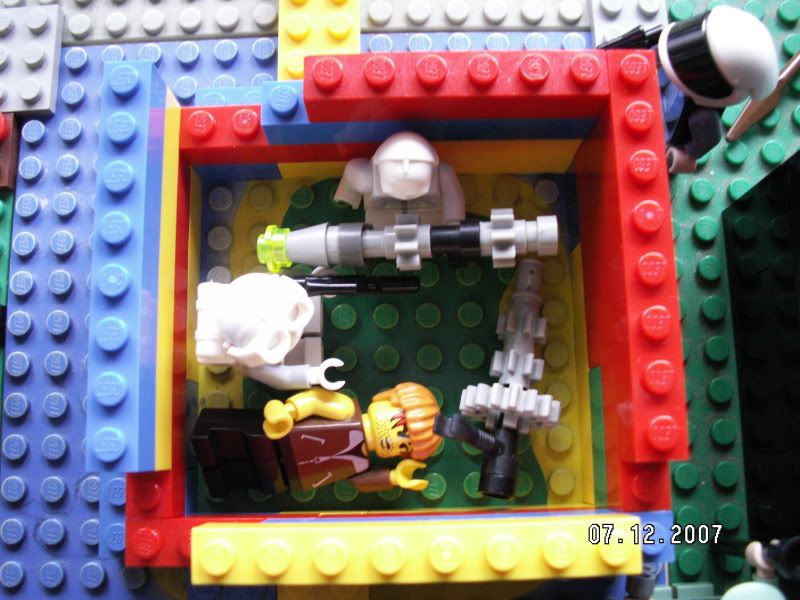 «Run, everybody! Run!»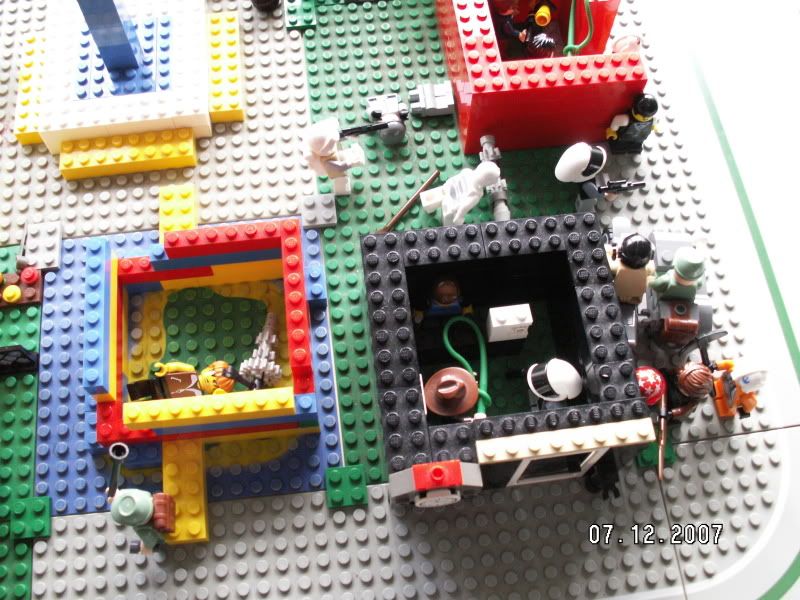 On a desperate move, Sybil Stratochevsky wings his pipe hoping for a good throw...
STRIKE!!!*bowling balls fall sound*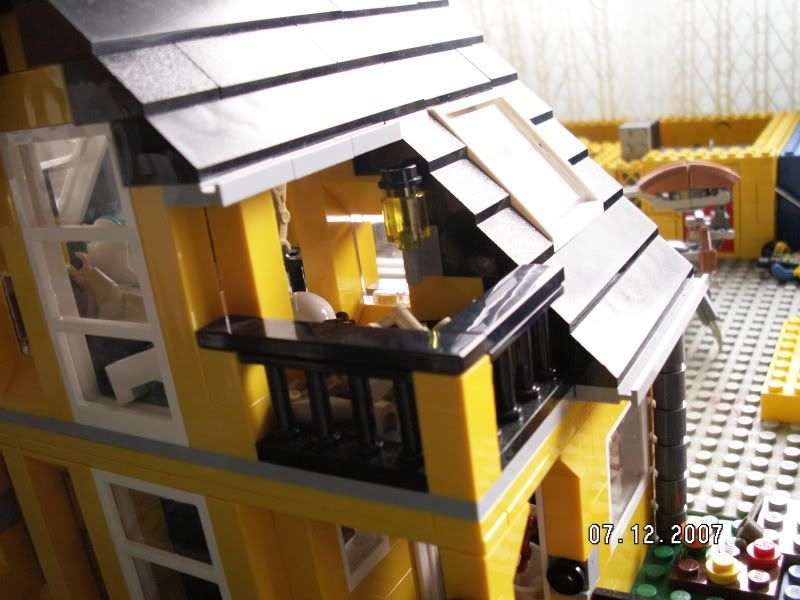 Another pair of droids came in right away.
Fails by a nail! Sybil lives.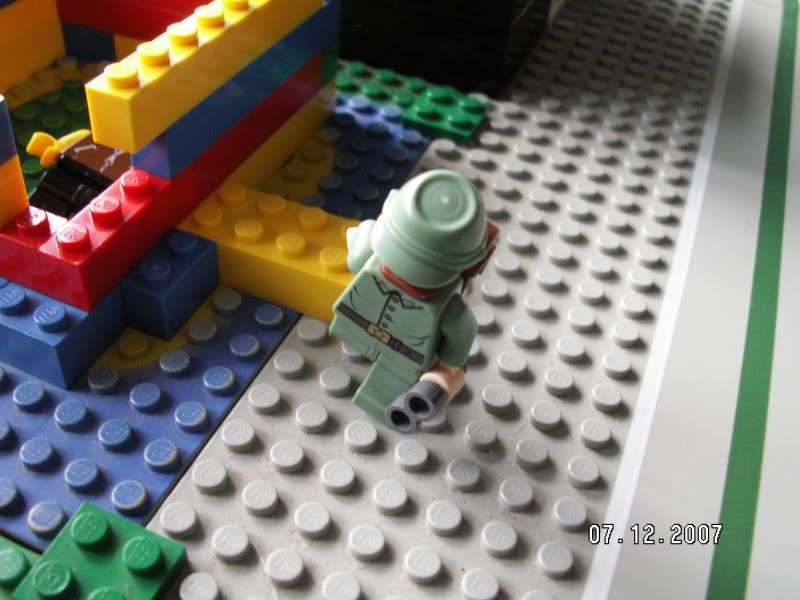 Every Rebel hides safely behind their small buildings.
More droids leave the base, hoping for some targets to show up.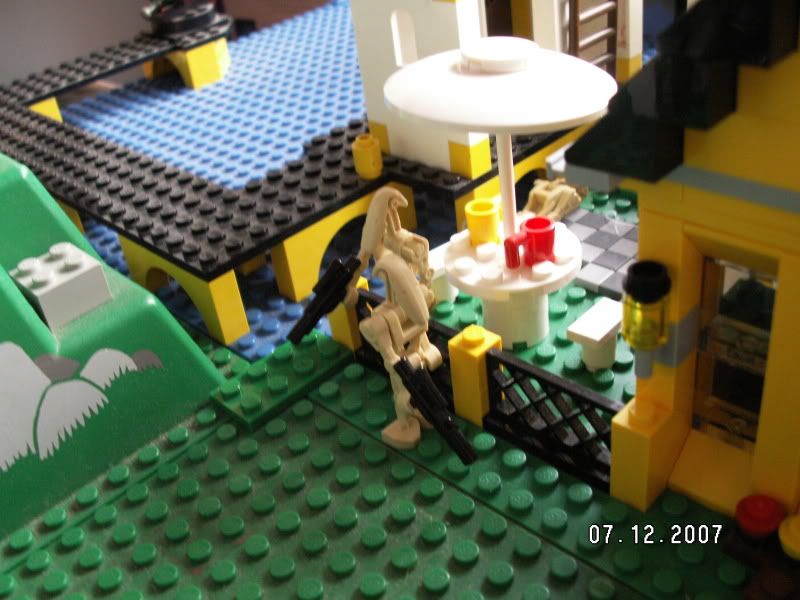 Following their leaders' orders, every lazy droid now walks to the plaza, ready for some target shooting.
ZIONN!! ZIONN!!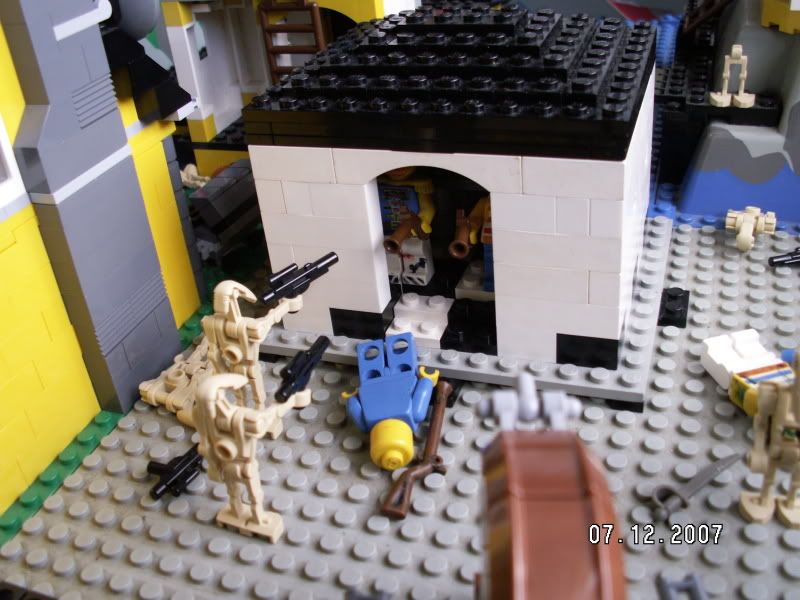 «Fire at will, pirates!»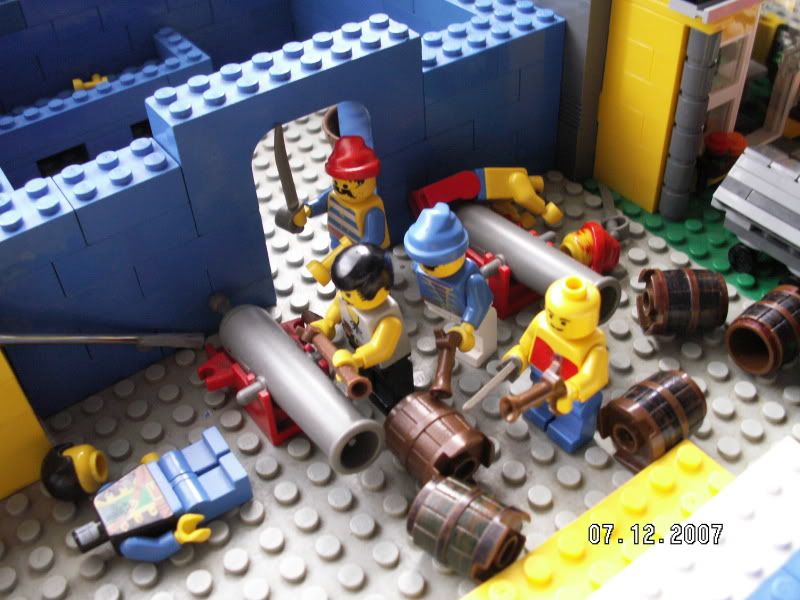 Feeling something on its back, the Droideka rotates and faces the pirate squad.
Meanwhile, Experiment 727, a Rebel hero, issues their leader's orders.
«Attack the Policemen, now!»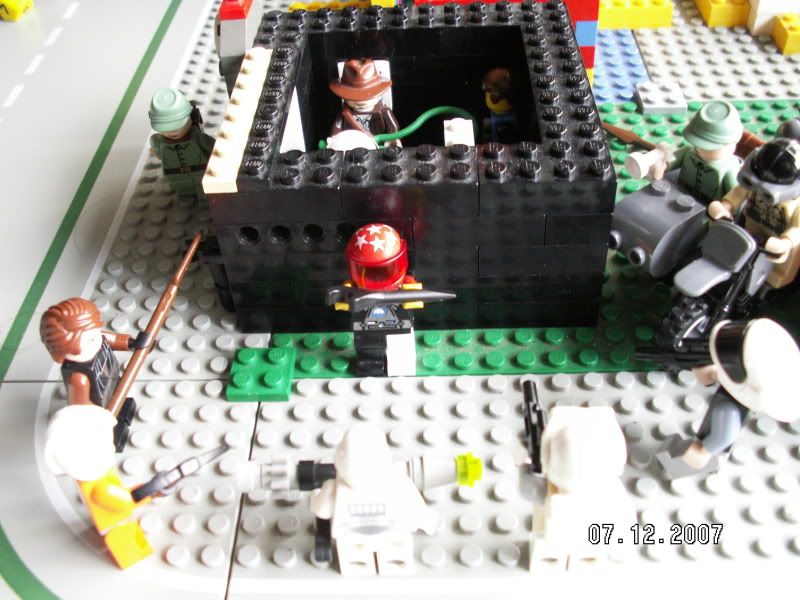 Major march! Determined to wipe out the policeguys, the Rebels approach the Police base...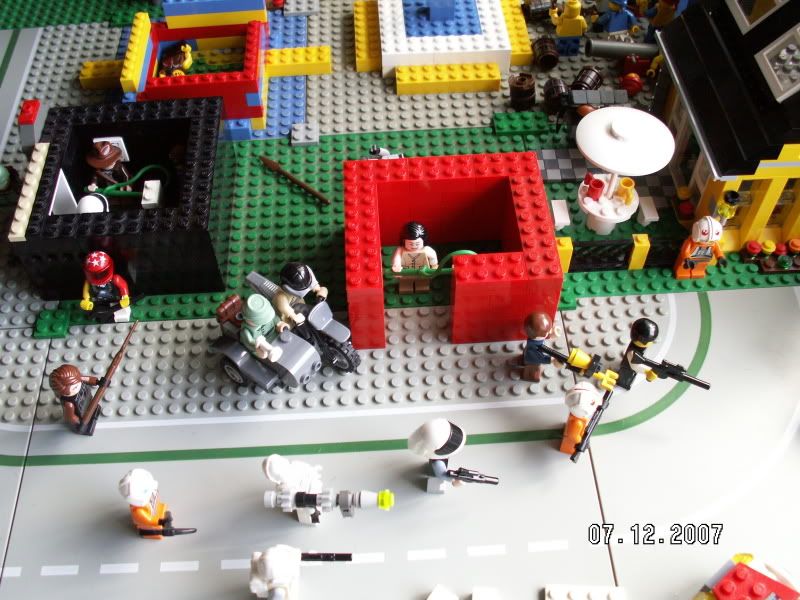 Luke Skywalker uses a successful heroic feat to help the Rebels on defeating the police(wo)men.
Three dead in one turn.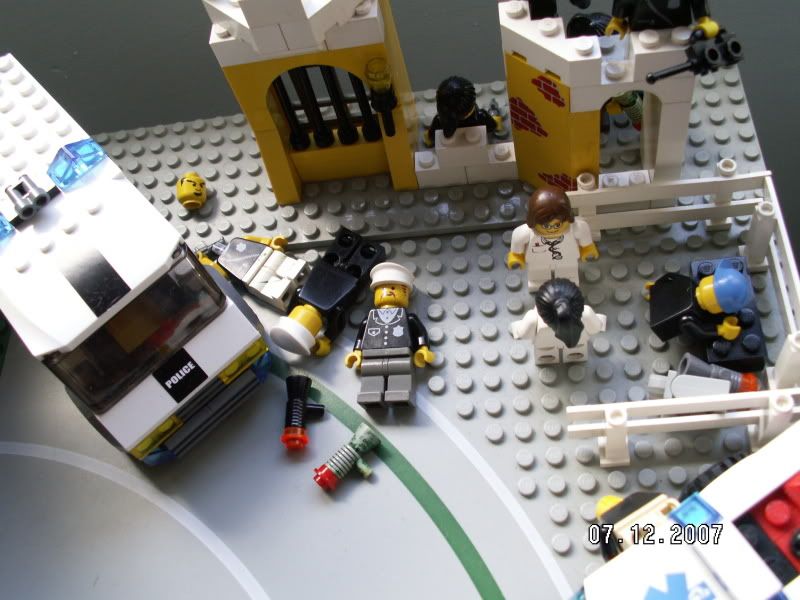 As a response, everyone alive grabs as many pistols as they can, but they fail miserably. Also, Dr. Otacon tries to revive a fallen friend. AND Dr. Juliet enters the medical car.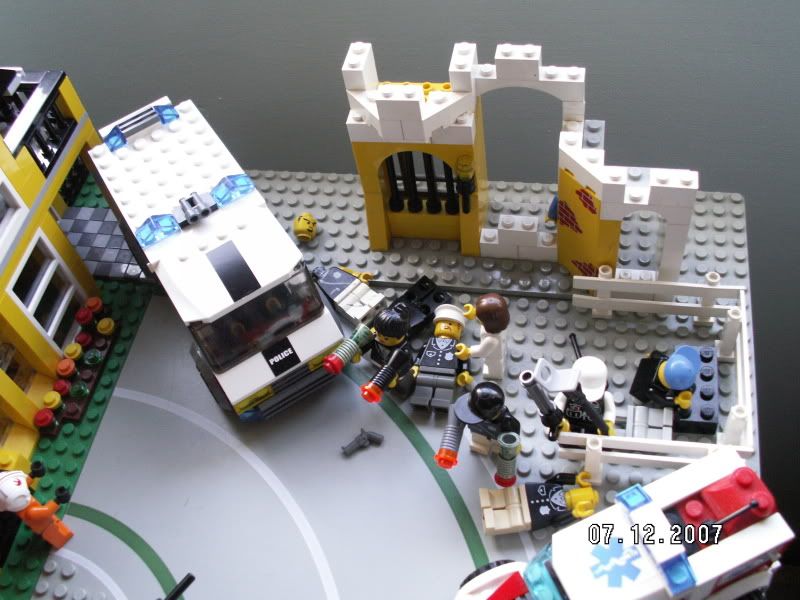 BAM!
Agent Summers enters the jail van. Luke is still meditating on how he used the force to kill someone.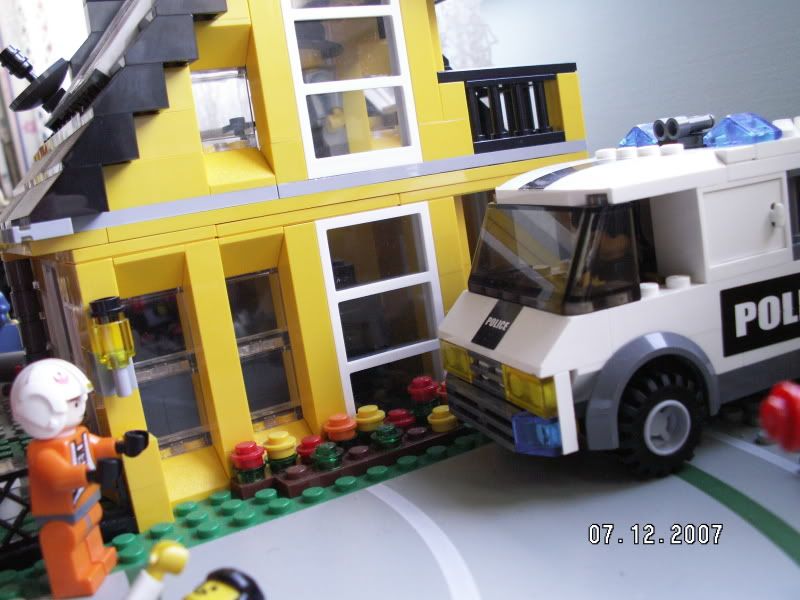 «YOU CARKHE-» *SLAM*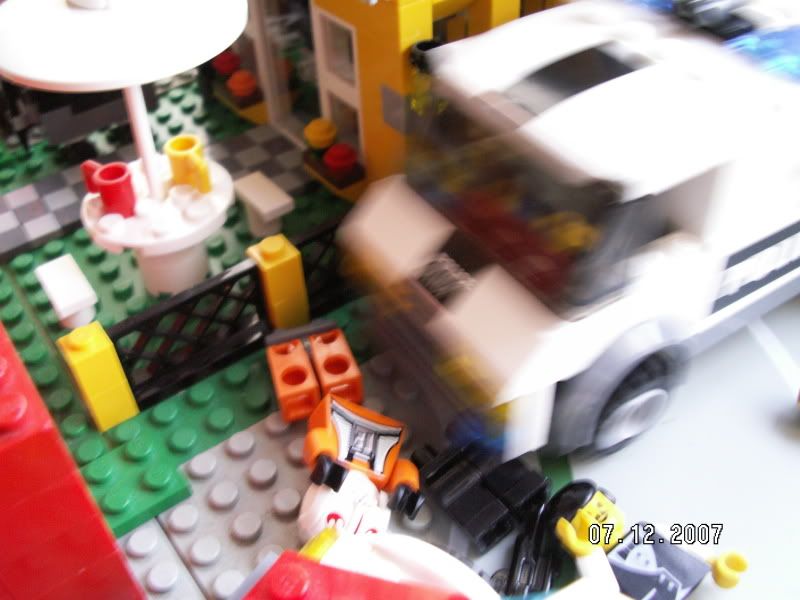 Polipeople move forward, whishing to blast someone else.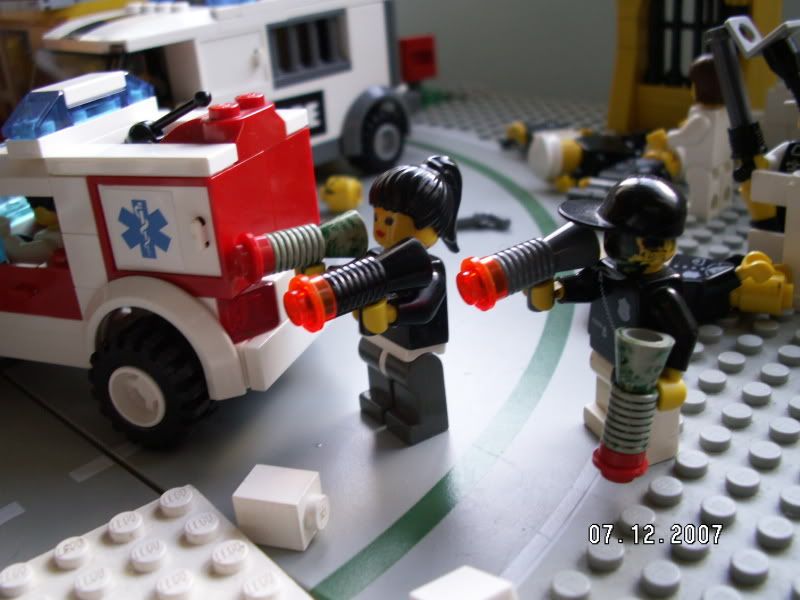 ...But maybe, just maybe, they're a bit outnumbered.
The last beach house still occupied by the Rebels is now empty. Chewbacca and the pseudo-wizard Uvitcha Dellos try to sneak into the enemy base.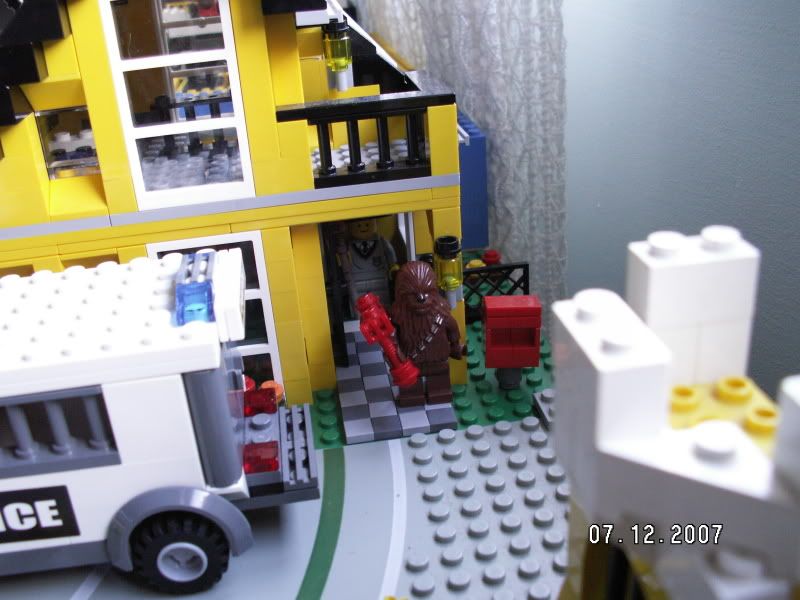 KA-BOOM!!! K-3PO blasts the back of the medical car and takes out 2 police soldiers.
Dr. Juliet is trapped inside the car.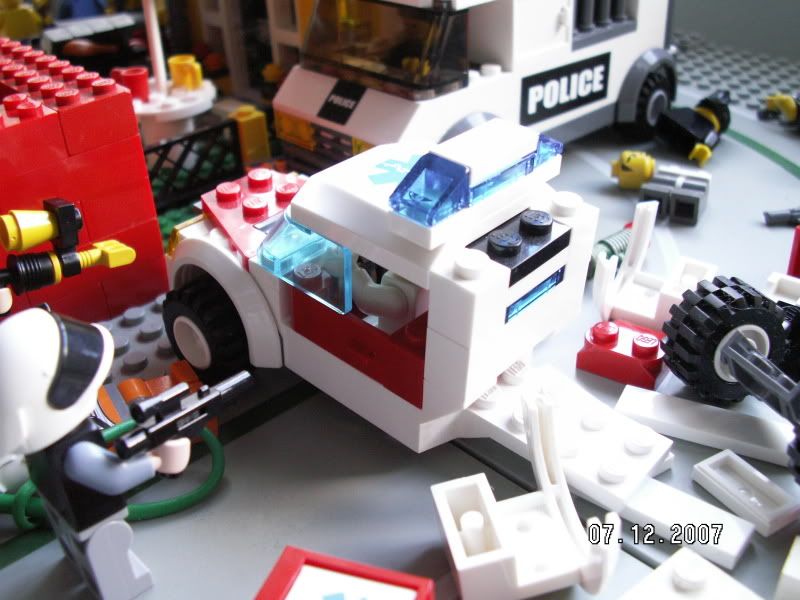 Because medics are useful for every "organic" minifig, they keep her alive.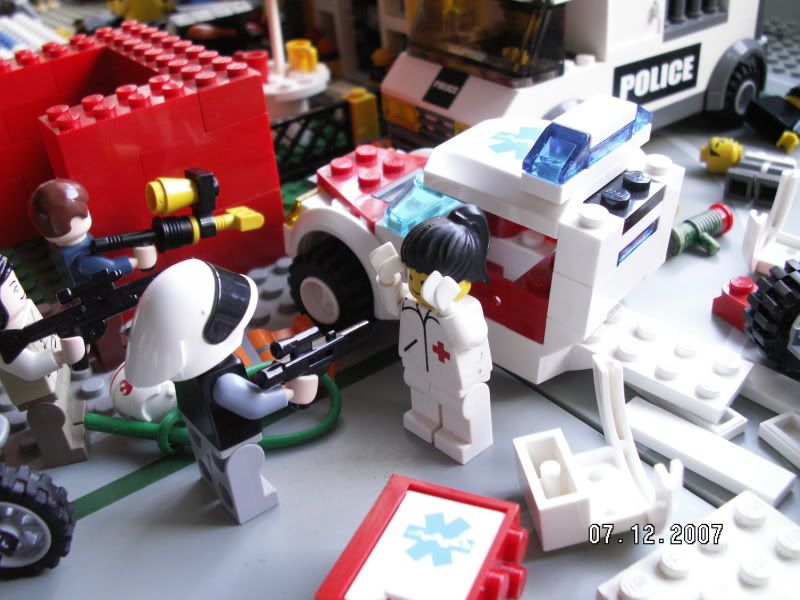 «Step aside!» shouts Agent Summers. Juliet takes a step back, and manages to avoid the collision. Han Solo and 2 soldiers weren't so lucky.
«But wait! We still have flamethrower!»
Seapolee (yes, that's the policeman's name) burns Jeofrei's hand with it.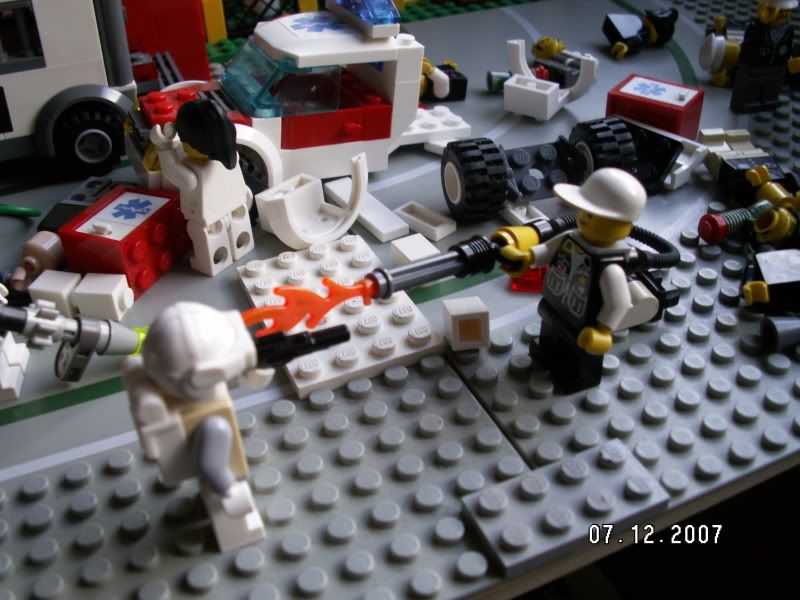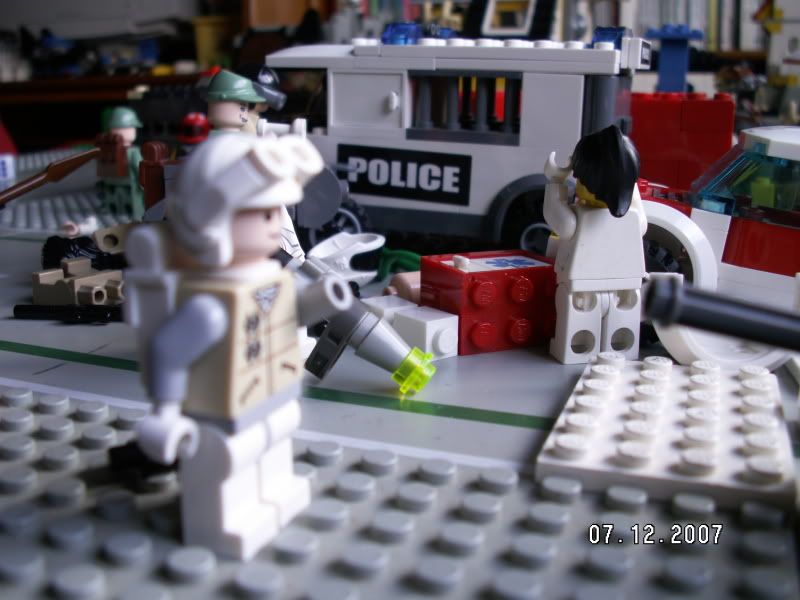 let's leave the Rebels and the Policemen to go back to the main plaza, where droids and pirates fight.
ZIONN! Another pirate down!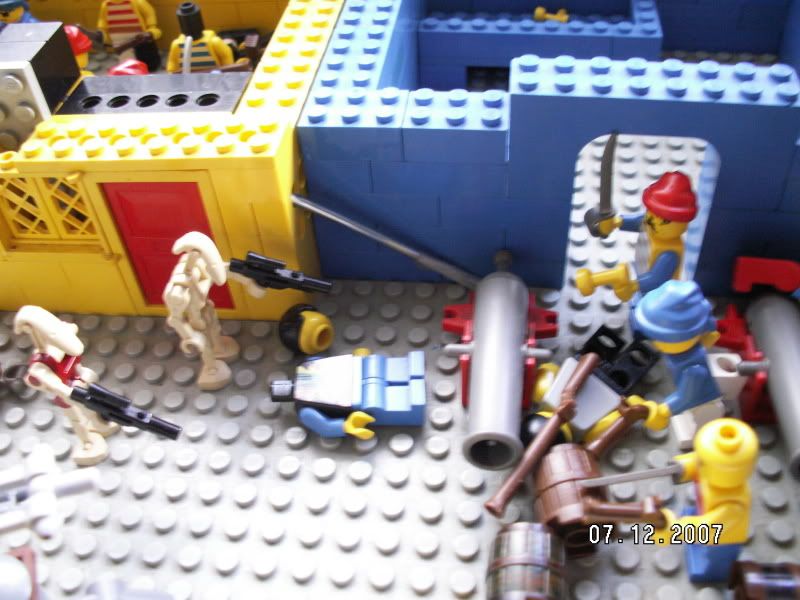 «You DON'T mess with the Droideka!»
A pirate officer is killed too.
The remaining droid commander is shot down by that small pirate squad.
...along with another little droid.
Inside the chapel (roof removed), Pseudo Vader thinks what to do.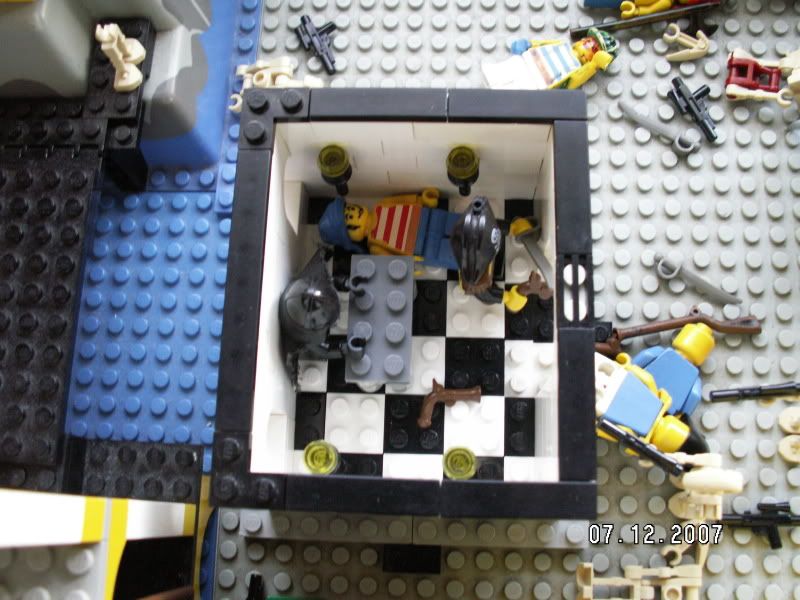 Heroic feat time! vader bets he can destroy those droids using a musket.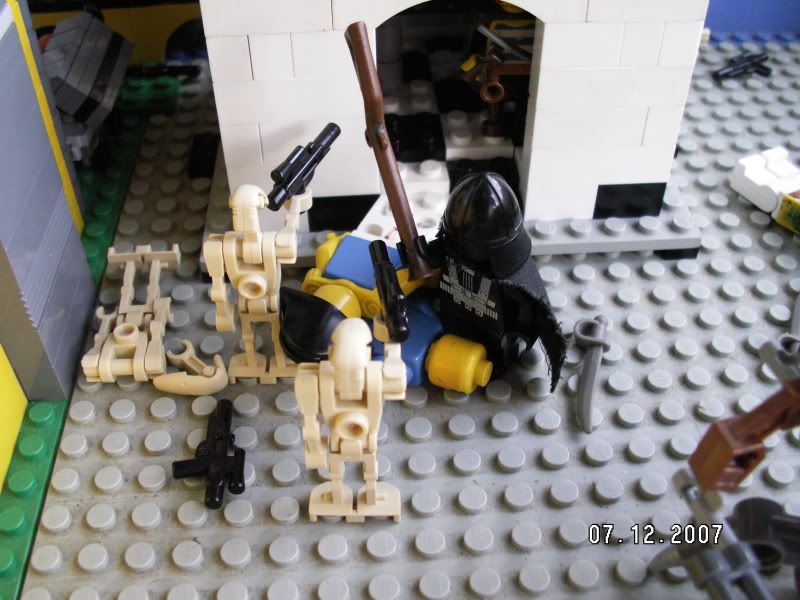 Success!
Titan Clash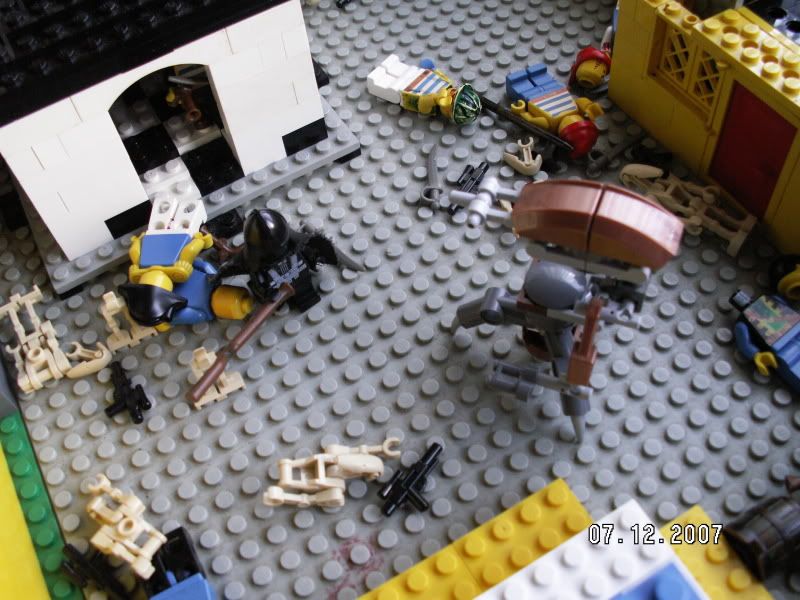 «I do not fear you.» says Vader.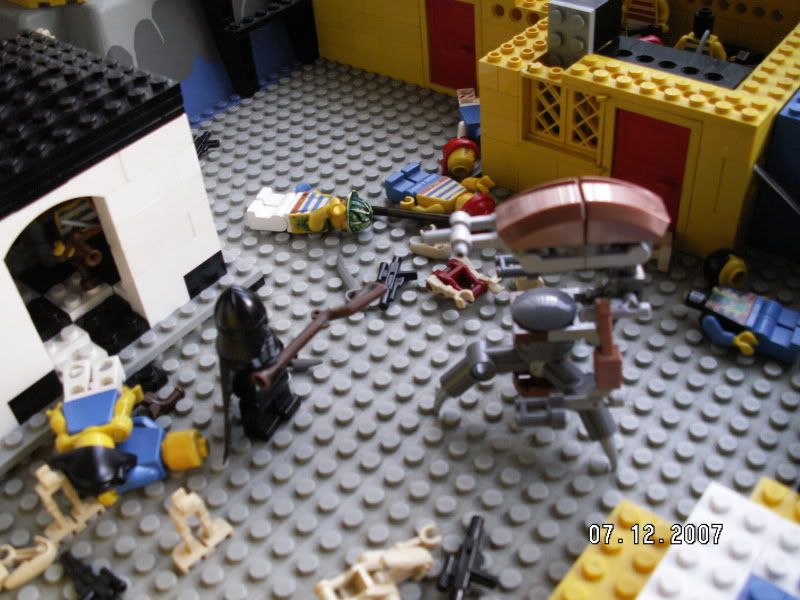 Hey, Vader, guess what???
SNIPED
The infamous squad tries to bust the Droideka since it's its last turn with the shield turned on.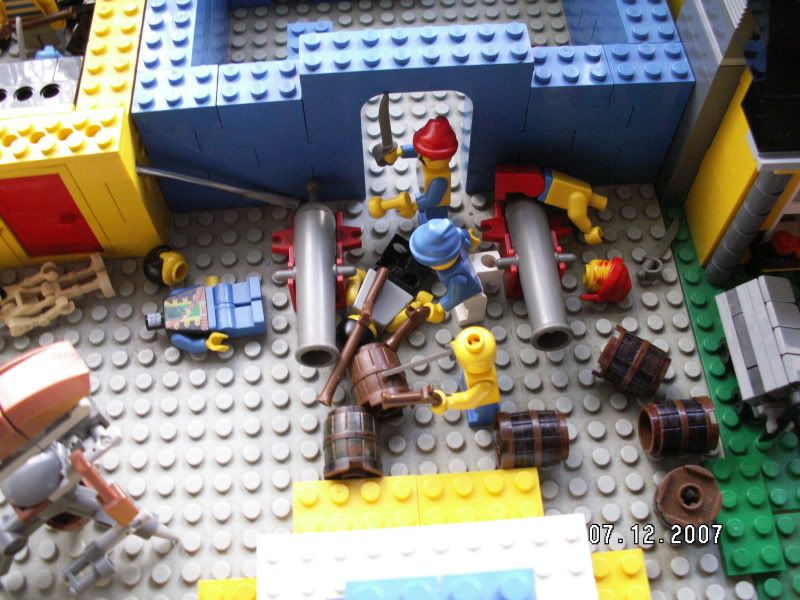 I repeat, DO NOT mess with a Droideka...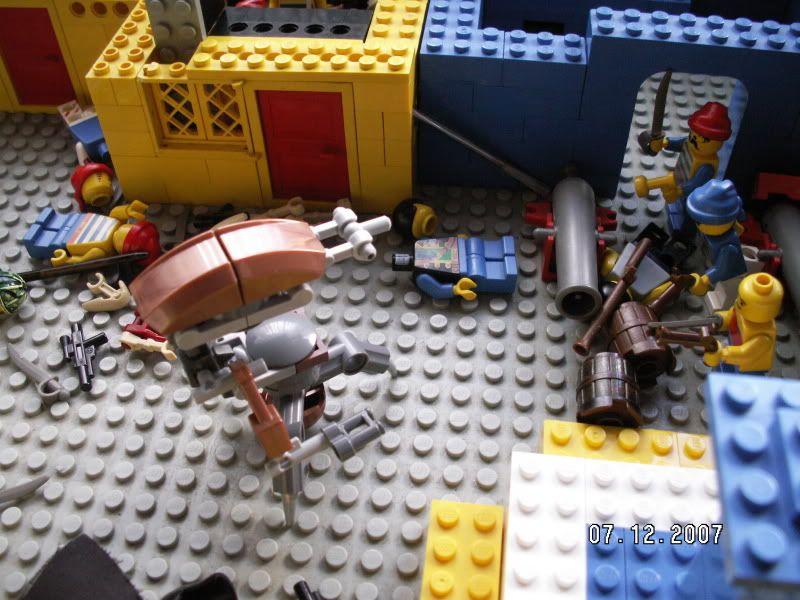 «Hummm...guys?»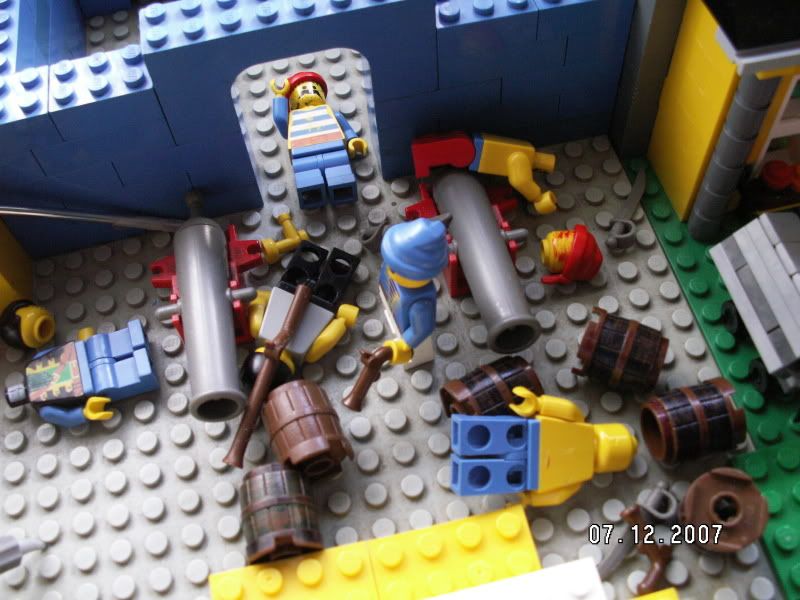 «Hyarr, hyarr, hyarr, hyarr! Got ye!»
Did the Droideka feel intimidated?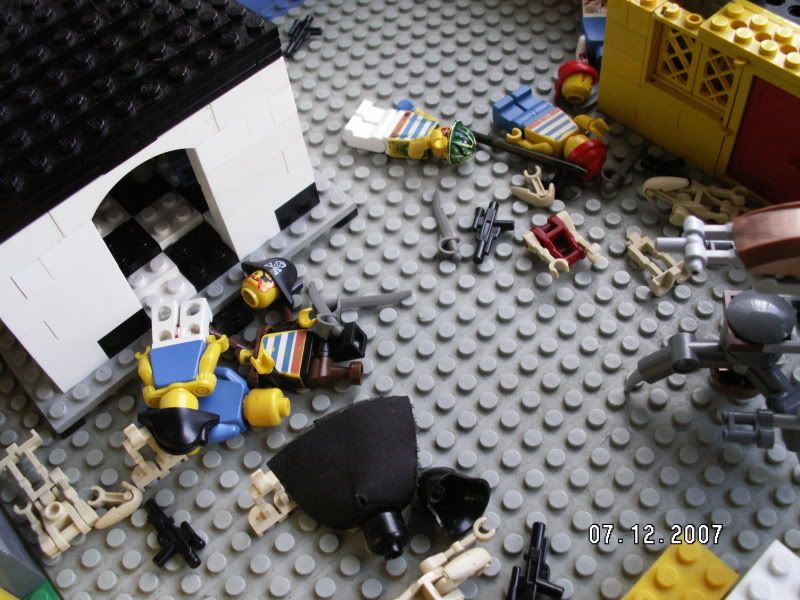 Remember those droids that left the base? Now they rest at the bunker, waiting for some enemy to pass by...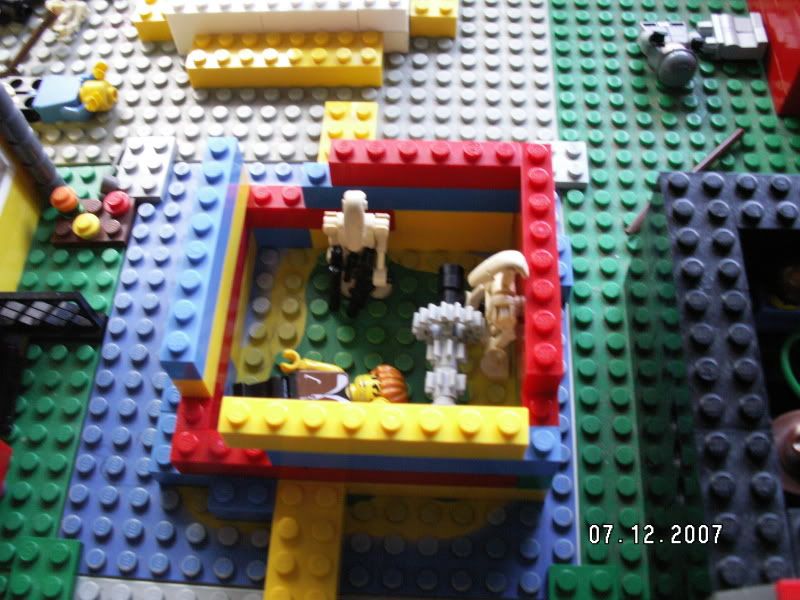 With the smell of almost-victory, this droid I won't repeat the name, falls back to a safer position.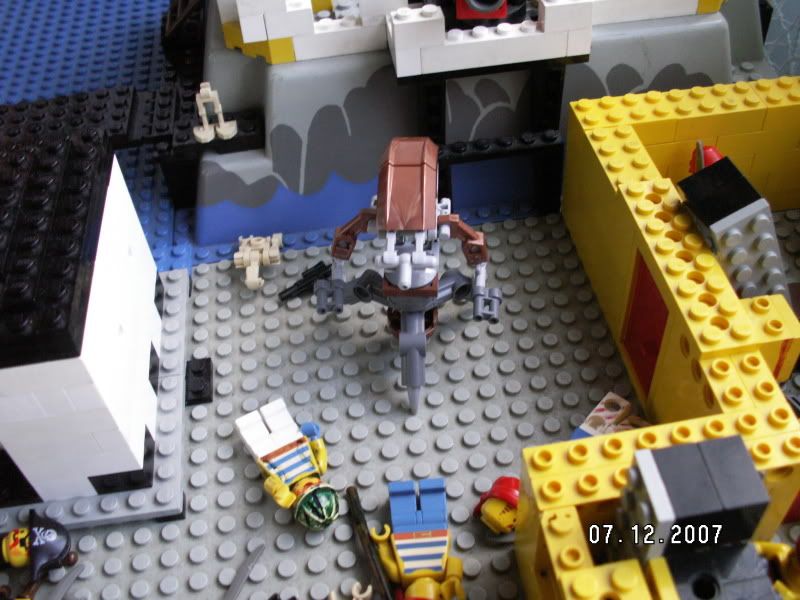 Back to the Rebels-Police fight, Agent Summers just had his brain trespassed by a wooden spear tossed by Anakin Skywalker (not a hero).
Whoops...after all "he" was a "she". I think this police force has...had, more women than any other faction.
«Want moar fi-ah?!»
«Arggh!!!»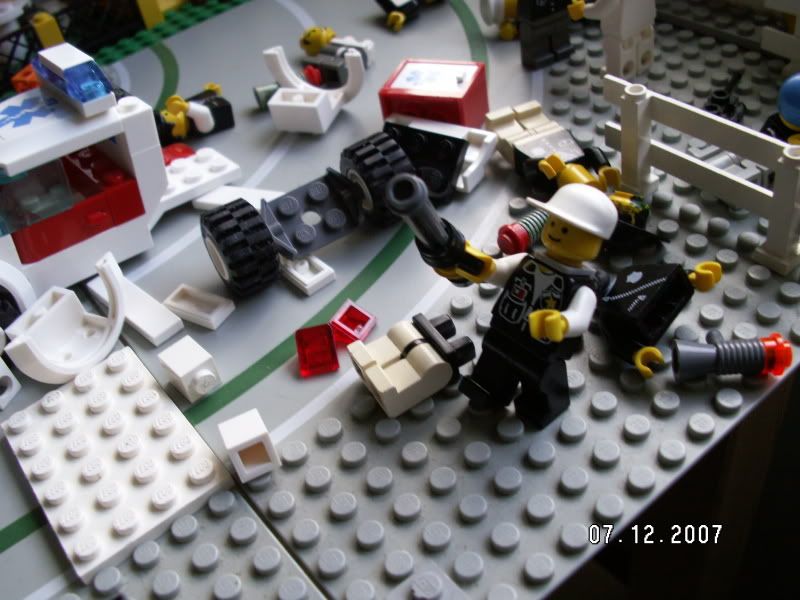 Dr. Otacon successfuly treated his friend.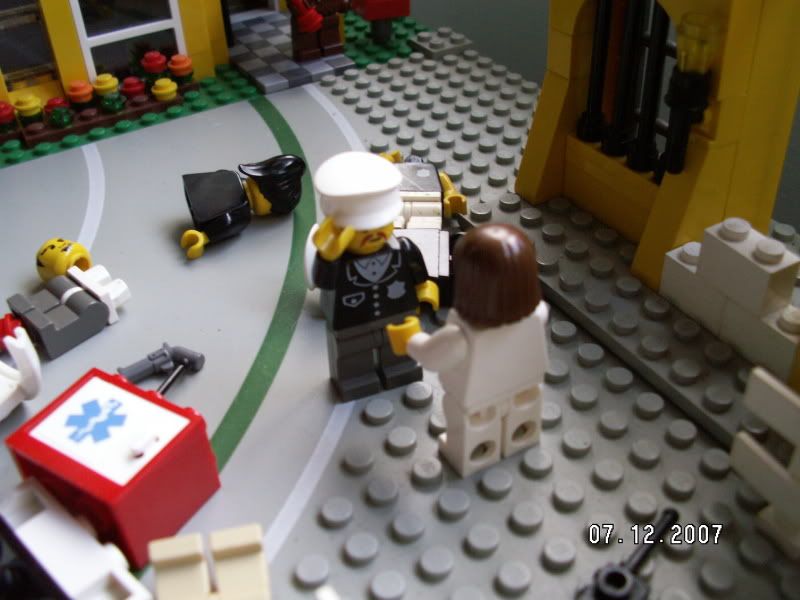 Now THIS was unpredictable...or was it really?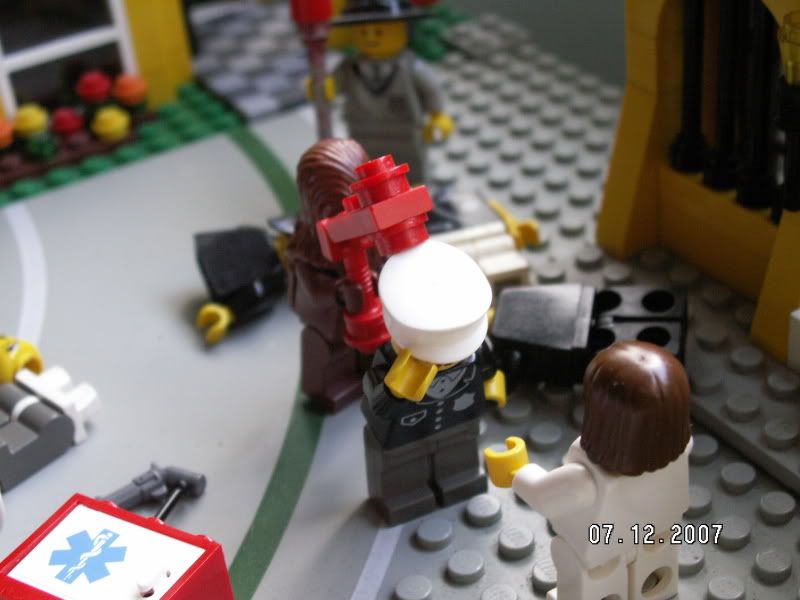 «Hey, fatt butt, look!»
*PAN*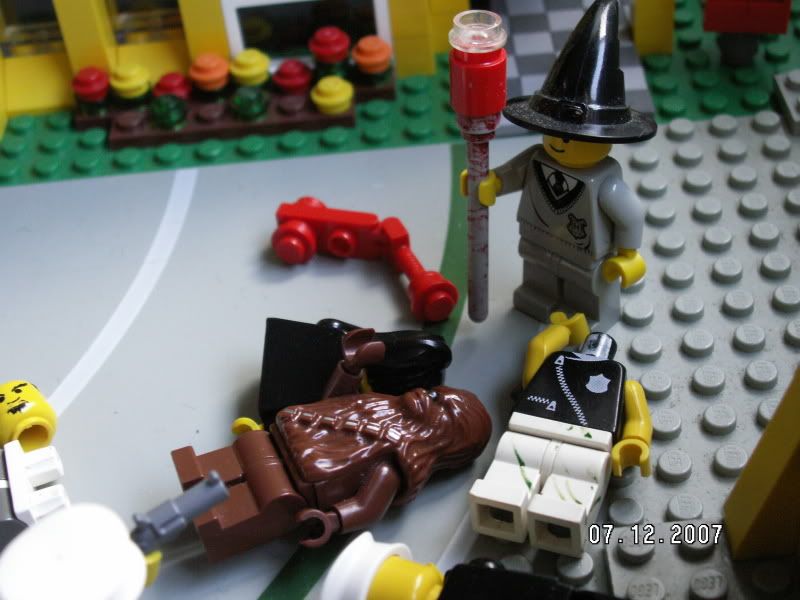 Otacon hurries to the nest fallen ally.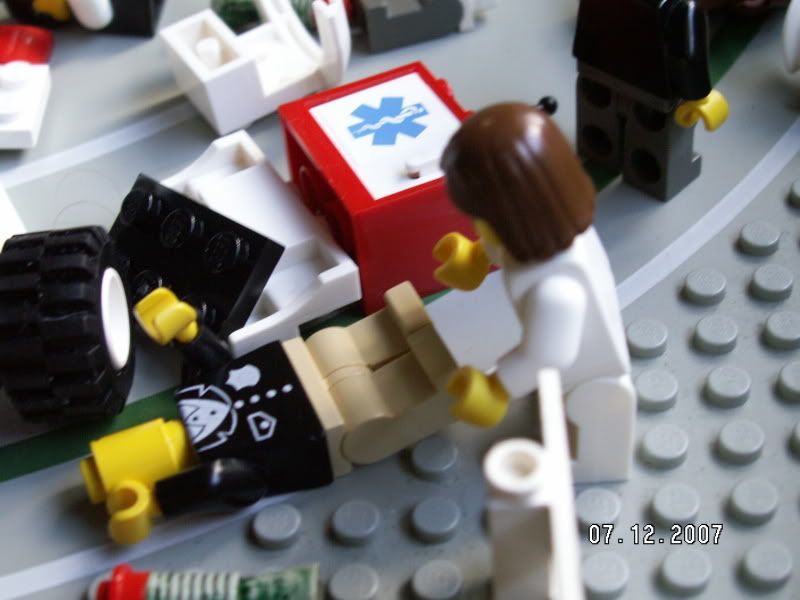 «Huh? What happened?»
«You almost died.»
«Thanks, mate. I owe you one.»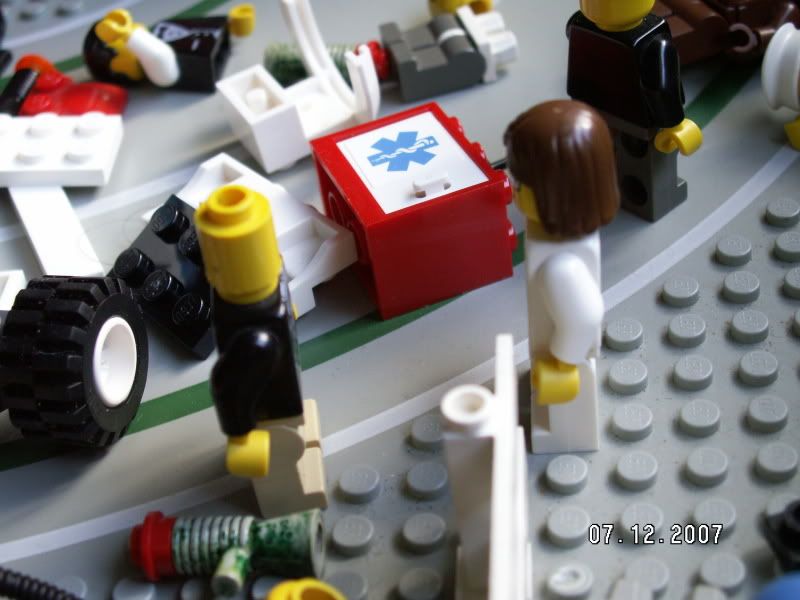 WTH? Wasn't Seapolee dead already?
«Burn, baby, burn!!!»
Protected by the base walls, Pedro Godinho, the former Godovian President, thinks about his life when everything was peaceful...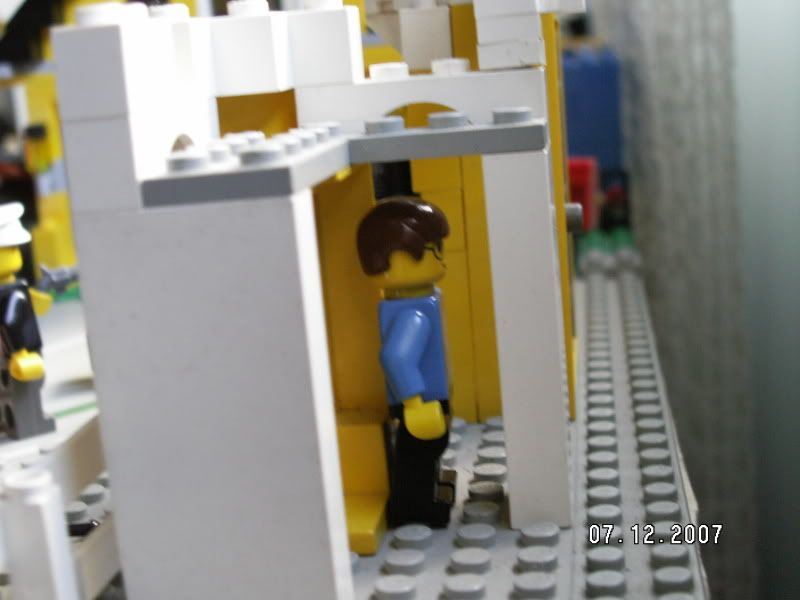 Fearing the mighty flamethrower, the Rebels take a step back.
VRAAAMMMM!!!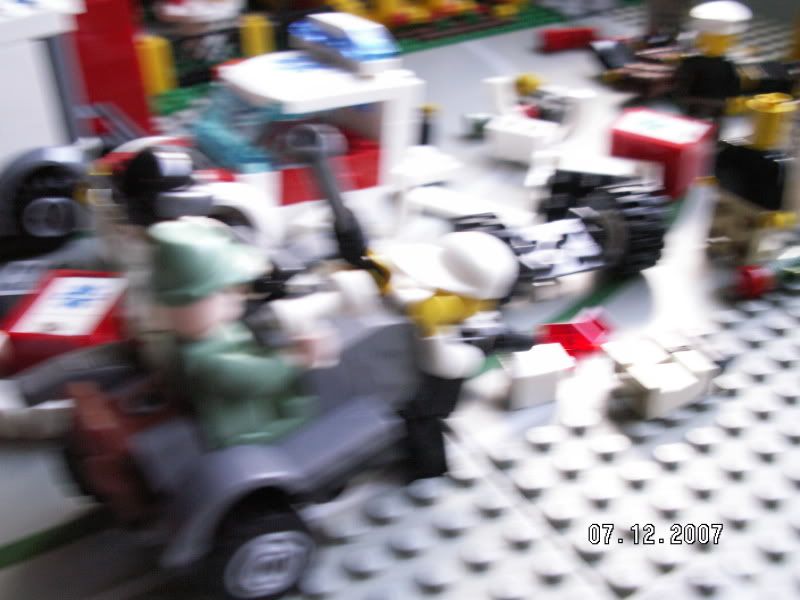 NOW he is dead.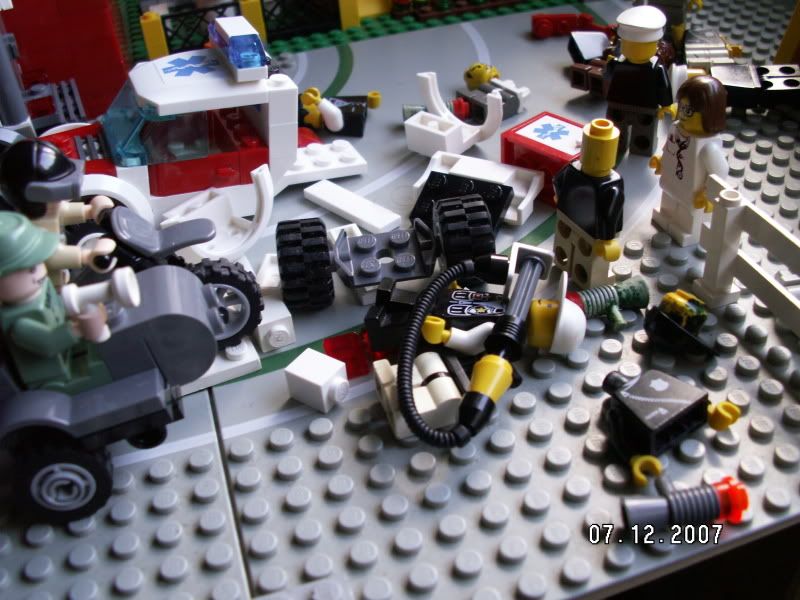 «Hands up, doc!»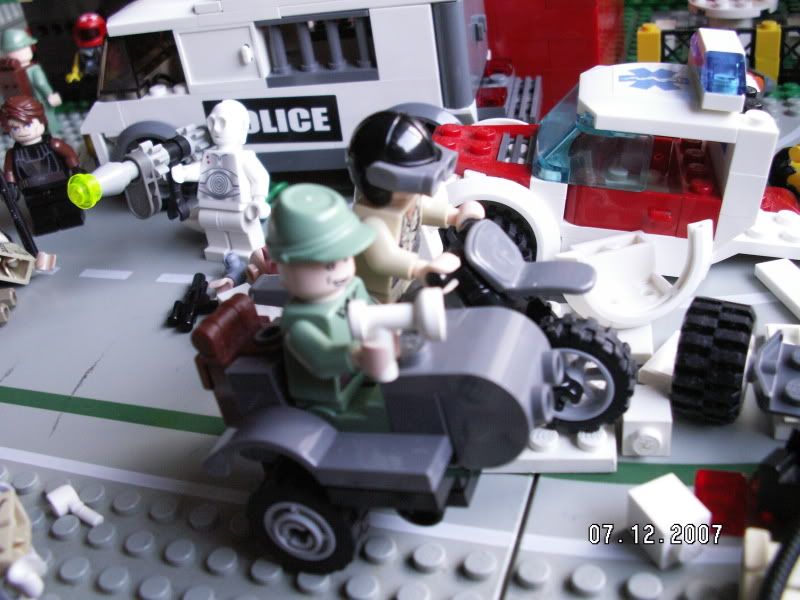 A bit reluctant, Otacon puts his hands up.
K-3PO tries to blow up one of the last policemen standing.
But the explosion wasn't strong enough to kill him.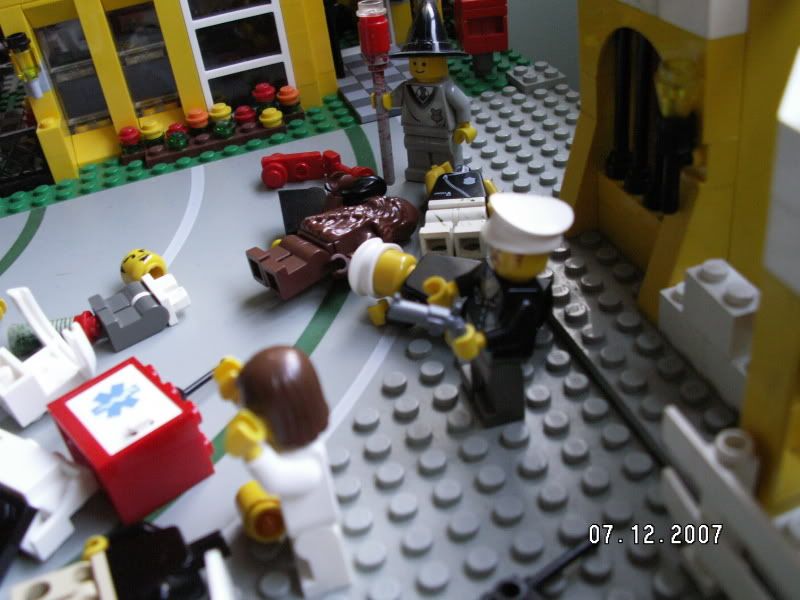 Anakin slowly approaches Otacon.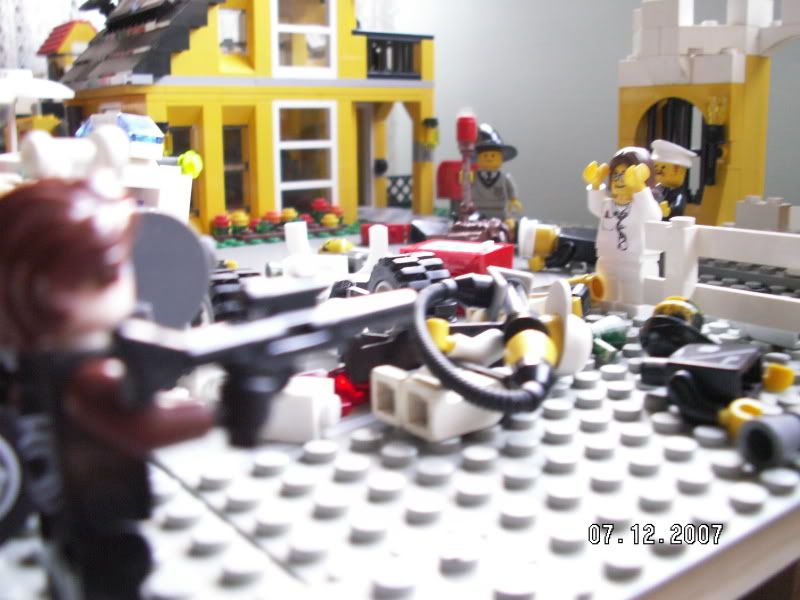 But he starts running!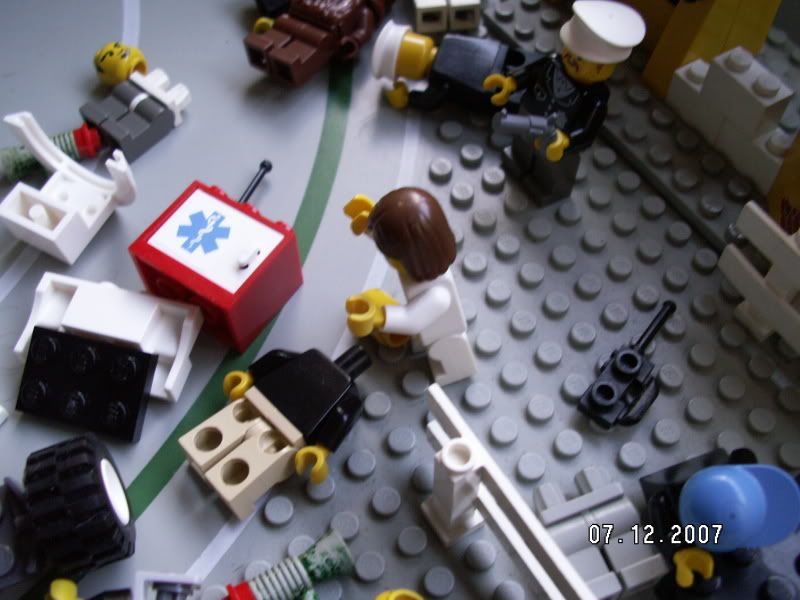 «Damn, I can't kill him. Boss would kill me!»
Juliet starts running as well, but she runs in the direction of the Maniel bank, controlled by Clone Troopers.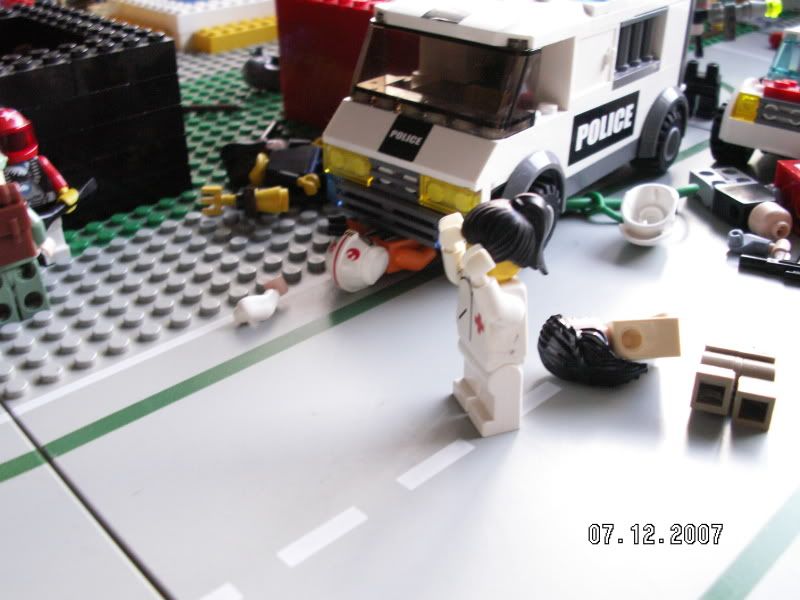 Otacon grabs the FT and ignites it.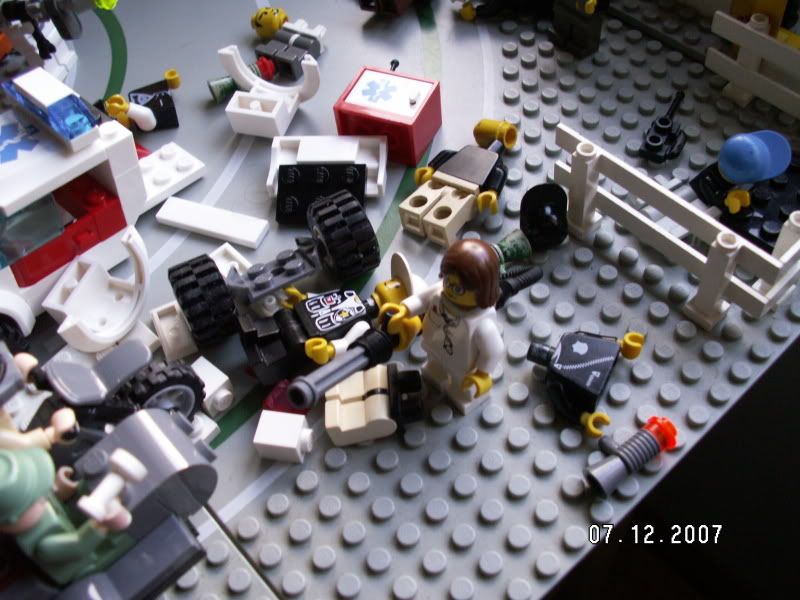 *ROARRR*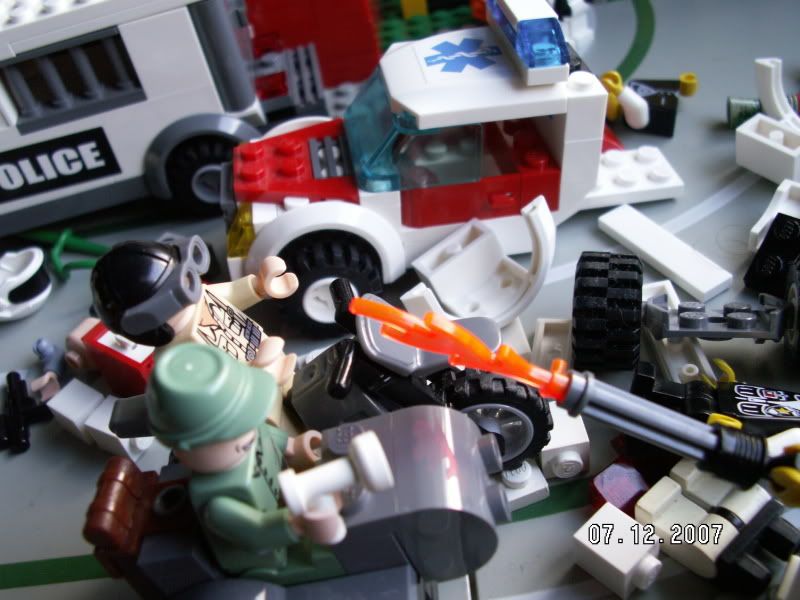 The biker is dead!
«Everyone! Fall back! We need to rethink this!» yells Experiment 727.
So, the end days. Because the card was full, I couldn't take the retreat moment photo. So you have an Overwatch of the battlefield by the end of Day 2.
CASUALTIES TODAY:
REBELS - Some of them
EMPIRE - 0
PIRATES - 4
DROIDS - 8
POLICEMEN - Almost everyone
Active factions:
Rebels
Empire
Pirates
Droids
Policemen
Now awaiting for your orders for DAY 3.