Hi,
Since my son (MiniWarhead) and I were shown this site we have been wanting to give it a go. Awesome site and game btw.
I had kept all my old Lego since I was little and had passed it all on to my son who loves it. I also play wargames and my son would really like to get into it. This game system looks fun and just right for our sense of humour.
I hope to have our first Battle Report played and posted after this weekend but before that I would like to make some introductions to the minifig characters and a little background. (Apologies in advance) Of course pictures always help. Sorry about the state of the minifigs. They are way old and made when I was a kid so kind of... dusty, tatty, old and abused. MiniWarhead is frantically still working on his own hordes of minifigs so their pictures will follow.
MANIAC LEGION... Of the Immortals (also known as The Family)
Disclaimer:
The following blurb is not intended to be lame. Any lameness is purely accidental and those responsible will be shot.
The Immortals are... well... Immortal, they don't, can't, die... ever. They have evolved from two original Immortals... oddly both male (females were involved but lets not go there) and their children and children's children etc form the core of their army. They also command vast armies of mortals but when a job has to be done a certain way it's the family that does it best. Even the meekest of Immortals have some form of superhuman power. Some are more blessed than others.
The problems of interbreeding and poor genetic stock has inevitably had it's effect on the family and so the MANIAC LEGION was formed. For every sane or intelligent Immortal in the family you can be sure of finding one absolute mental case of a psychotic and not very bright Maniac. These are always exceedingly strong, even by Immortal standards but reason, mental agility and cognitive thought are a alien concept... some may know it exists, but most would be very upset if they had to go there. They like to say Duh! a lot and what they can't fathom they eat or kill or blow up... depending on mood and how close to tea time it is.
These are THE Grandfathers of all Maniacs. The First in a long line of inbreeding. The dapper chap with the spiky hat (Maniacs love big hats. It can denote standing in the Maniac Hierarchy) is M.A.S. (Mad Animal Sandwich) He's dimmer than a minus one watt bulb. When he is near you can actually feel your own IQ going down. The other is his best mate and adventure bud Genghis. He likes violence, you know the type.
These are not specifically Maniacs as such as they have enough mental ability to use proper weapons. However, although they are smarter by far, they still have the same preference for unthinking violence that ranks them as lesser Maniacs.
The dude with the Minigun is Bradley, he invents things... mostly for killing things. The Dudette in black is Gunnar and she is all about weapons. She invents and makes them and is an expert on them all. She is very important to the Immortal Family for this reason. The Hard hated gent is Meanmachine (as per Judge Dread the comic) his head is impervious and he has an interchangeable weapon arm (claw or gun). Next is Quazzy, he is a hunchback and parody of the Hunchback of Notre Dame but is an excellent scout... the bell is... well. Next is Numbskull, he has a large Flamethrower... he likes burning things.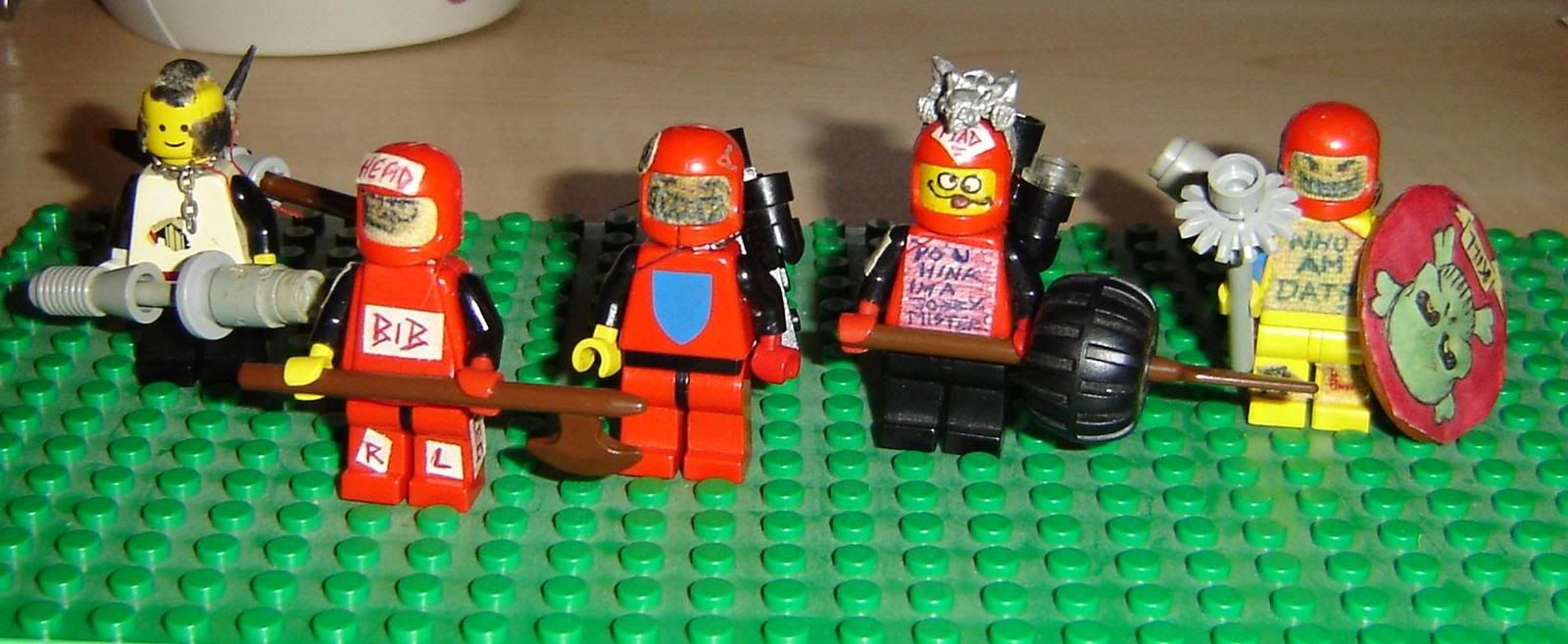 These are some of the densest and most stupidest of Maniacs. These are the Great Grand Children, the youngest and ultimately the most mischievous and random.
The bloke with the Mr "T" hair is Armageddon, he likes to try to eat his own head and says it tastes funny. The thicky with the words BIB on his Tommy tipper bib is Brain Dead... no that's his name... it's not hard to think why. He is not allowed a gun of any type... Next is Mongrel, his Grandfather had the power of lightning speed which he has inherited. Think Taz the Cartoon. He can strip a man to bare bones in seconds. Next is MAD... that stands for Mad... he's... well, you figure it out. Lastly is Genghis' Grandson Mongol he has the ol' boys strength and violent compunctions but even less brains.
Needless to say these are the bad guys...
This will be a raiding Kill Team sent to clear up a cell of Freedom Fighters or some such.