Yes its that time again! CftC - Turn 4 us here! And I think its the most dramatic BrikWar
EVER
- it actually has a conversation between three completely different factions during a fight! 3 factions are eliminated and 3 joined the game!
Overwatch of Turn 3: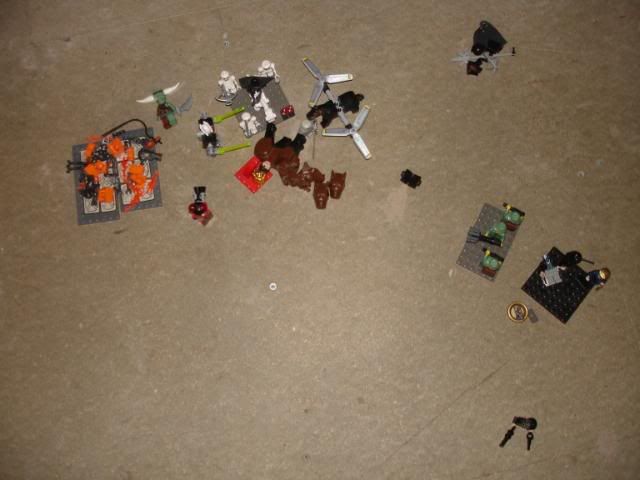 Mr Skul and the Army of the Undead's Turn: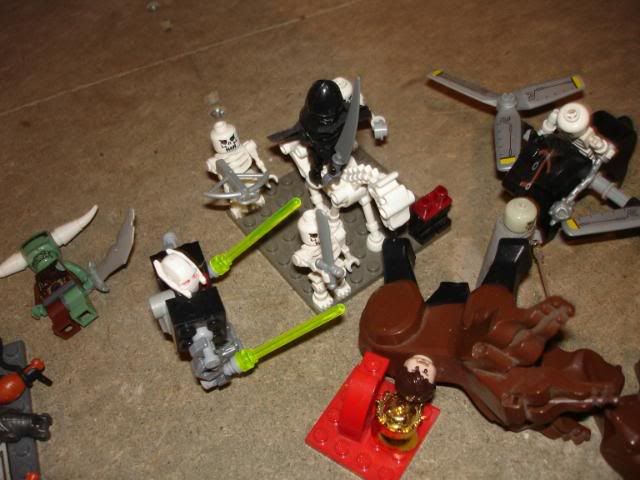 The mounted skelly tries to dismount...
...And succeeds with a skill roll of 3 against 2.
The Skelly Swordsman disbands from the squad...
And walks over to the ceberus' corpse.
Looks like he's cutting out the Mysterious Stranger!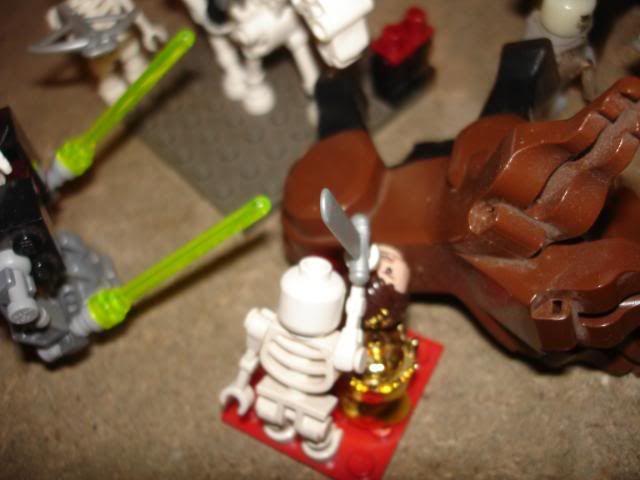 A skill roll of 9 against 5 and the Mysterious Stranger is cut out.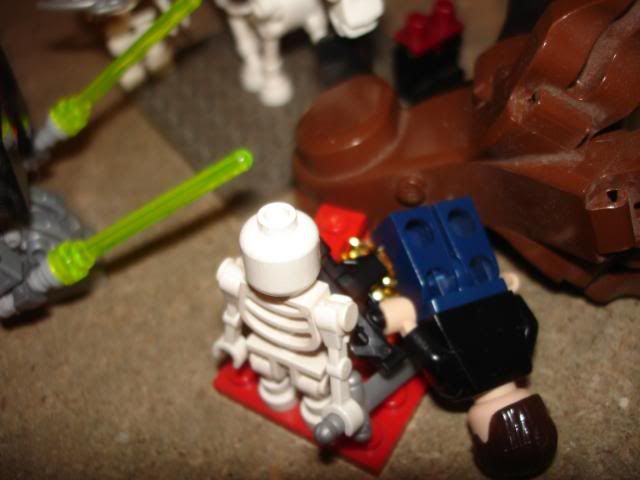 He gets up
"Hello, My name is John Connor. If you are listening to this, you
are
the resistance."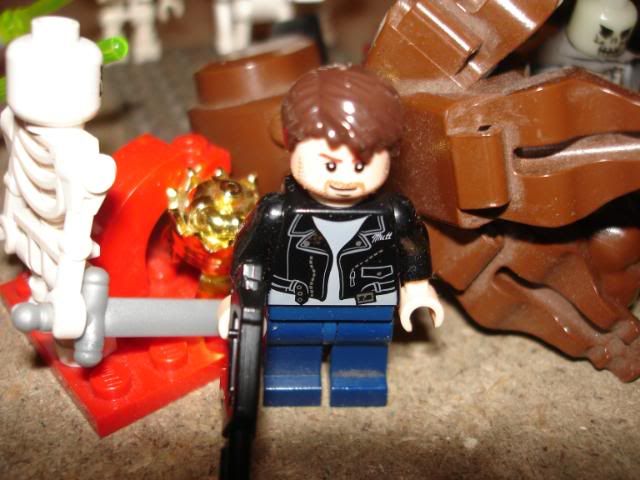 "How are we the resistance? We are killing each other for a magic Crown!"
"Its a speech - just a intro incase nobody knew who I was."
"NONE OF US CARE ABOUT YOU THOUGH, WE JUST WANT THE CROWN! EXTERMINATE!"
"Guys! We're in the middle of a ruthless fight to the death here! Save it for hell!"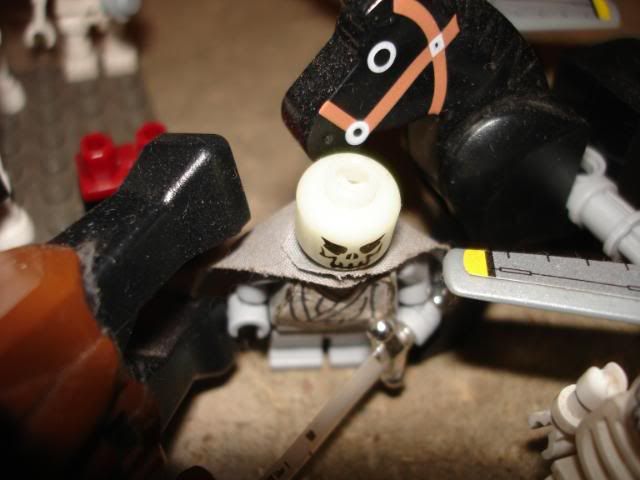 "HE_HAS_A_POINT_YOU_KNOW"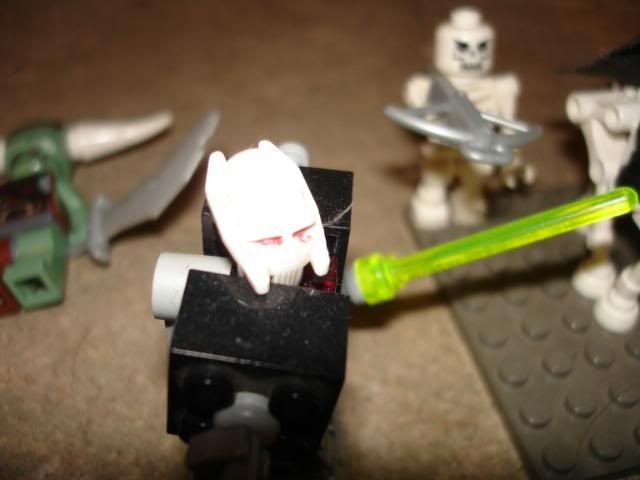 The battle continues
Gravious join's Mr Skul's squad and they charge the Dalek.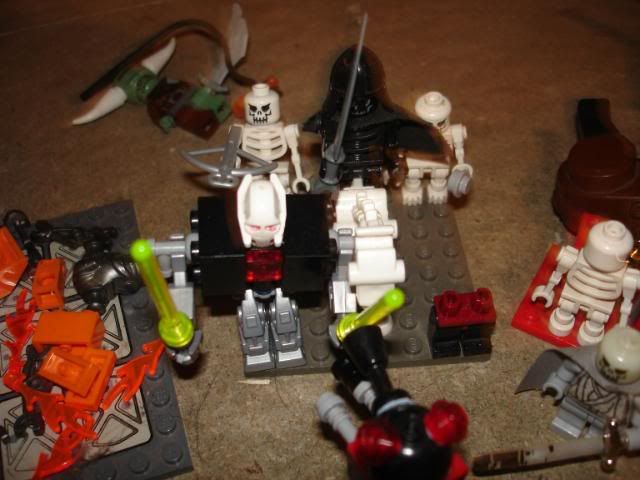 The Former, Former King is just out of range.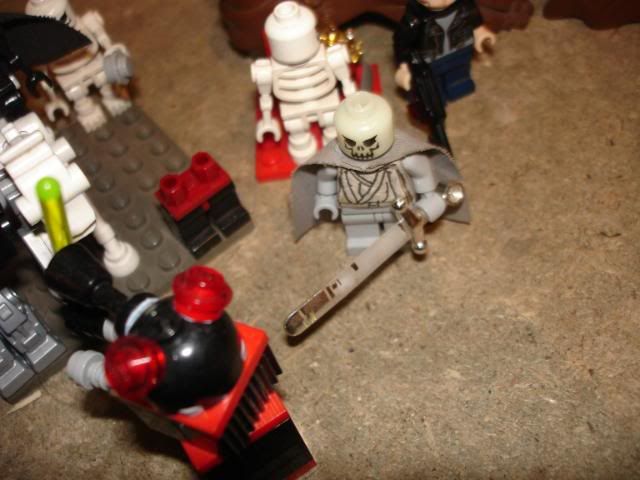 With a combined roll of 13+5+5+4(27) against The Daleks armor of 10, The Dalek is Destroyed - almost 3 times.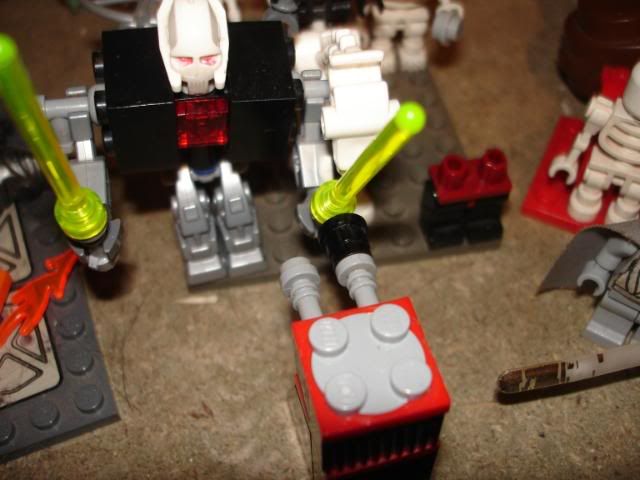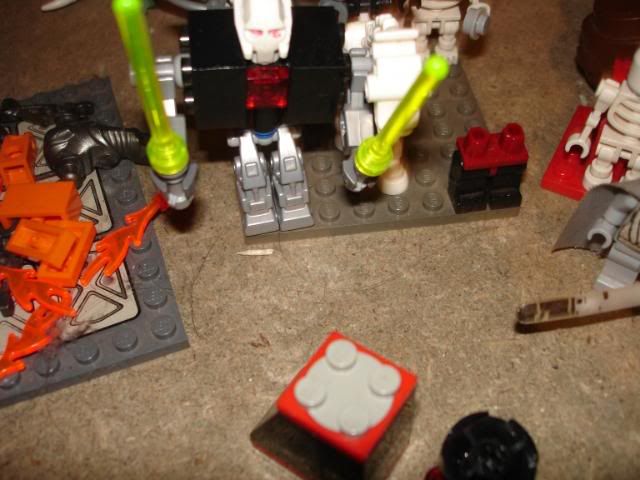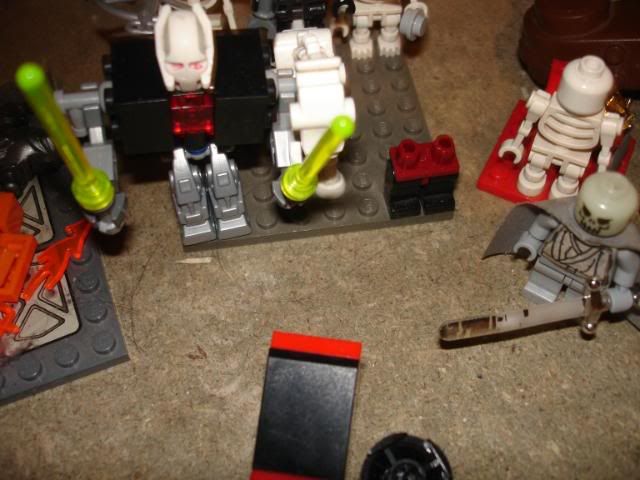 Meanwhile, Mr Skul charges another revive spell to revive Gravious' Drones.
But he has little life force to spare and the very effort makes him limp for a turn.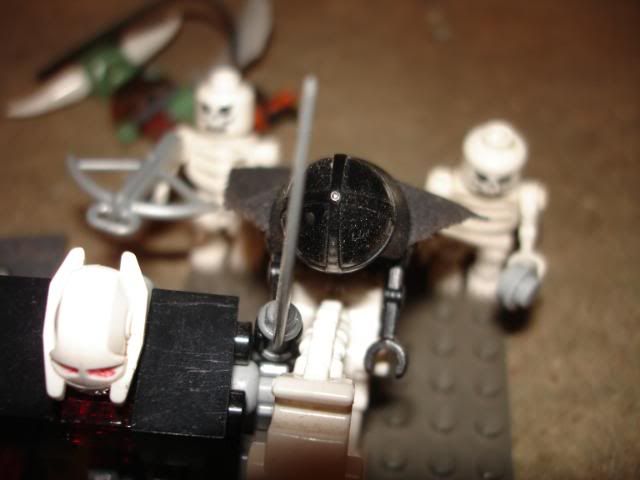 The Drones aren't revived.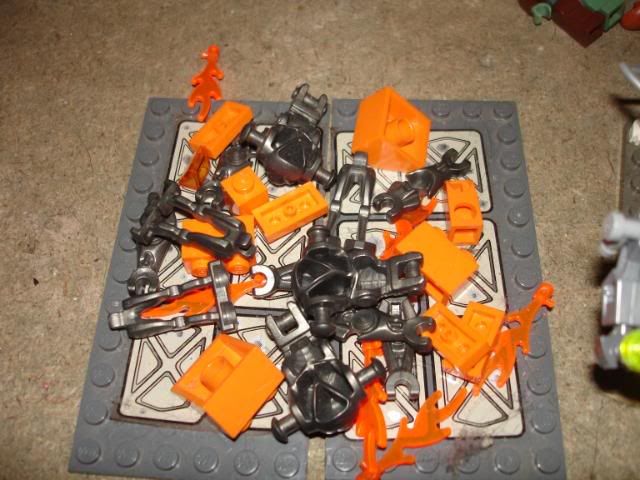 Bucky McBucks and Co's Turn:
McBuck's and his Agent, Creamy Vanilla, migrate onto a smaller sqaud plate.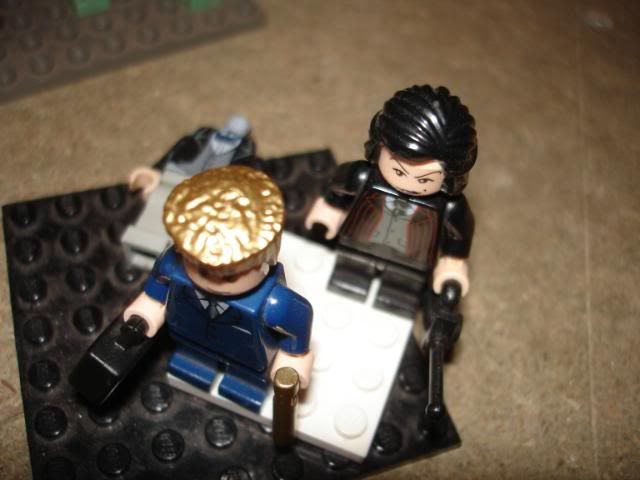 McBuck's sprints to The Black Guardian's remains dragging Creamy Vanilla so that she doesn't waste her turn.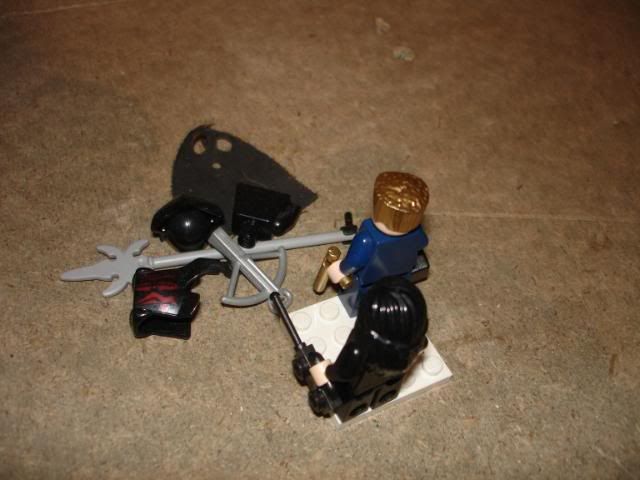 The Death Squad aim on The Terminator uncomfortably.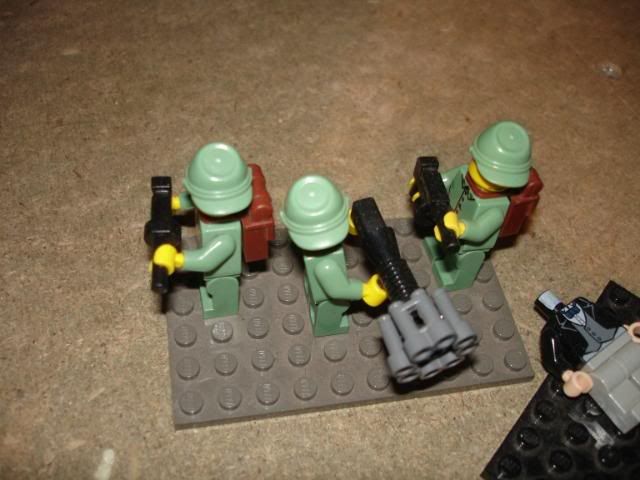 He's bound to win.
But wait! Whats this! Creamy Vanilla is calling more backup!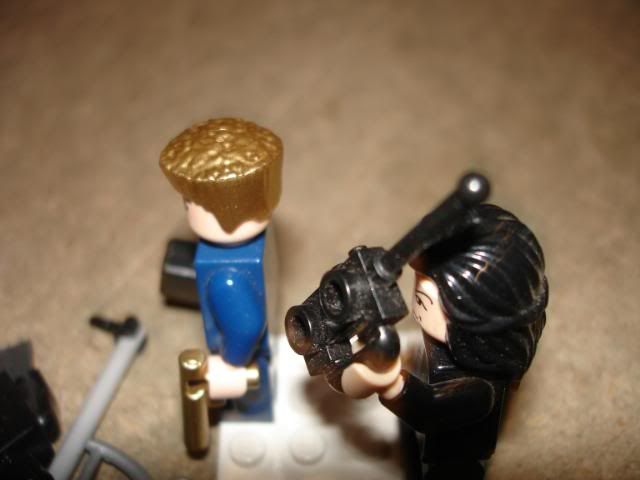 Everybody looks expectant.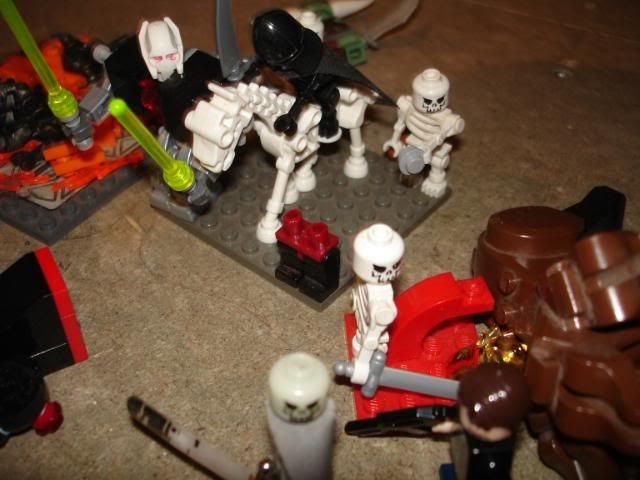 A huge shadow looms between the Terminator and the Death Squad.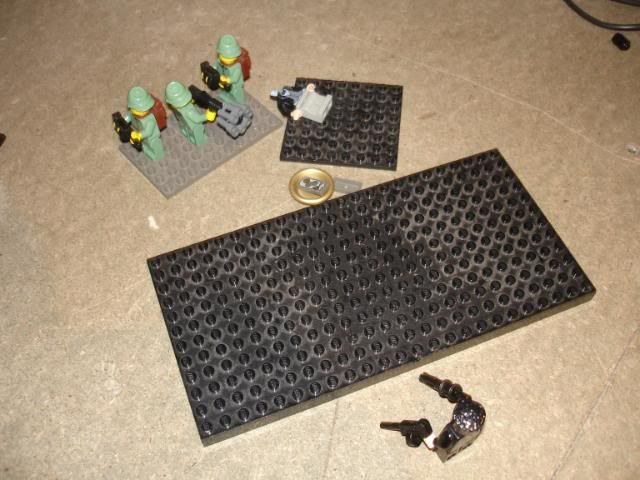 "ARRIVED_ON_TIME"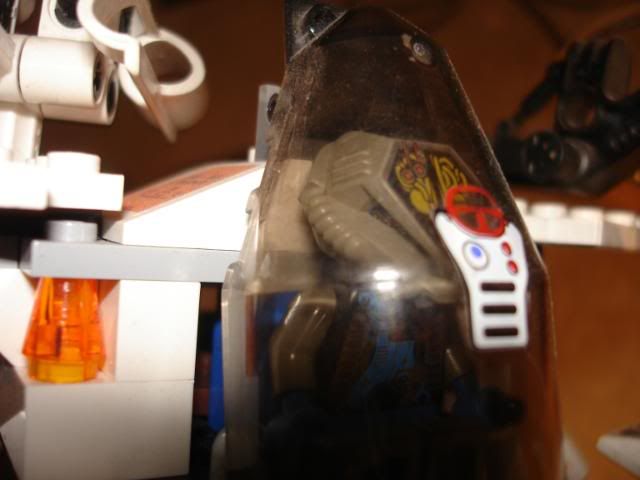 "TARGET_AQUIRED"
The Terminator looks up in awe - Its a prototype CUC (Compact Unarmored Core)!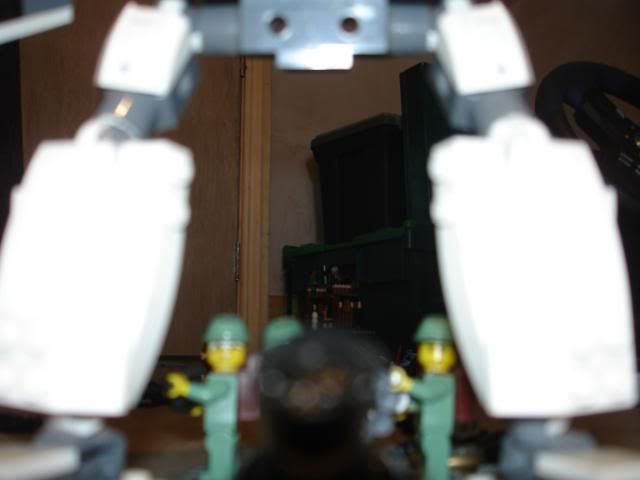 The Death Squad take their chance and open fire on The Terminator.
2+6+2(10) but the Terminator has a Armor Rating of 15!
But that CUC is very good at crushing 2/3 dead Terminator's.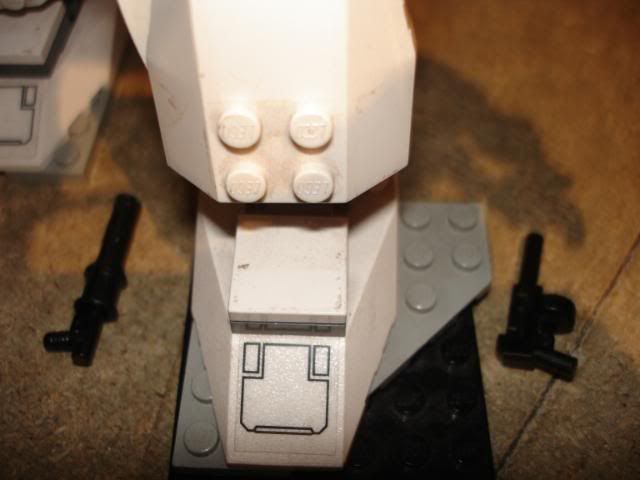 The Death Squads attack of 10 is added to the CUC's attack of 10 and the Terminator is Terminated.
But whats that walking up to McBucks and Vanilla?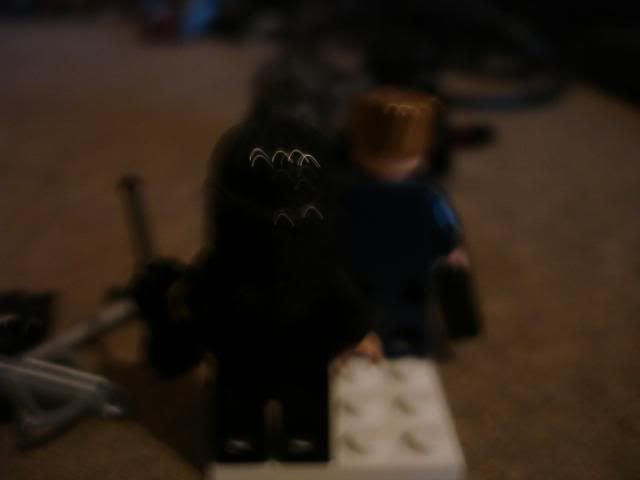 Its
The BLACK GUARDIAN!
V2 with his pet Raptor!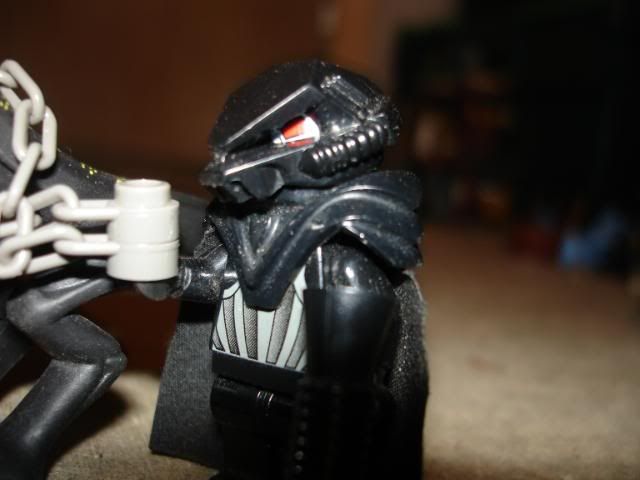 He releases the Raptor from its leash.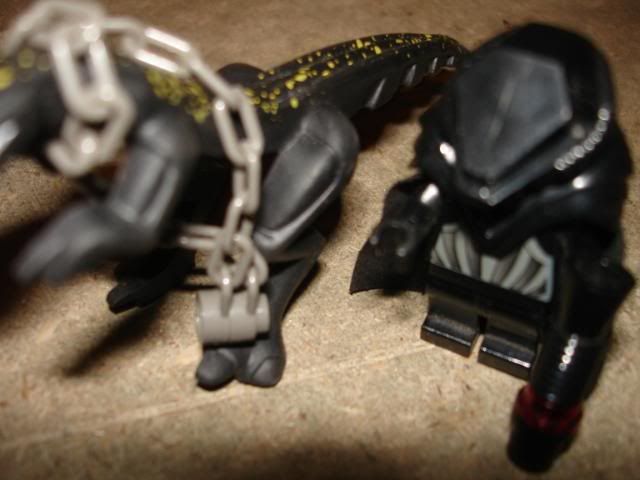 The Raptor charges over to the Death Squad.
And decapitates Pvt. Miller with a attack roll of 6 against 4.
The
BLACK GUARDIAN
V2 raises his lazer rifle to McBucks!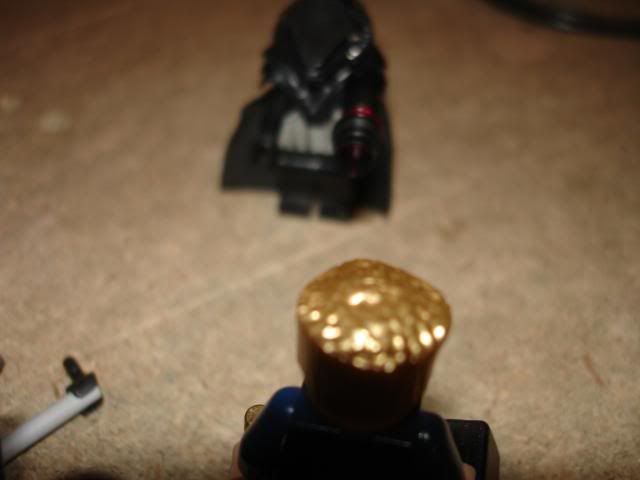 But Vanilla redshirts to save her boss!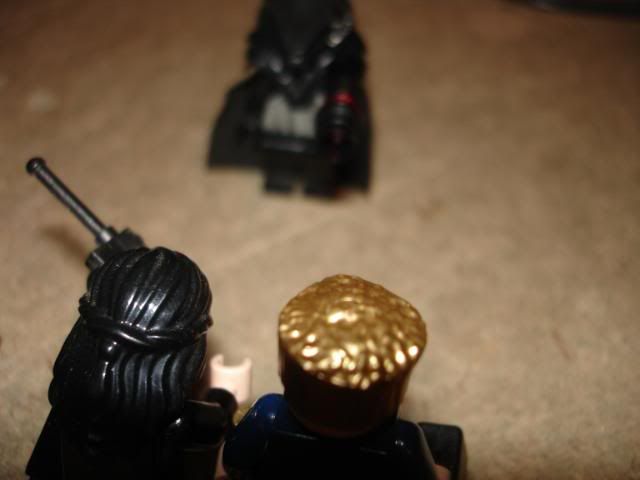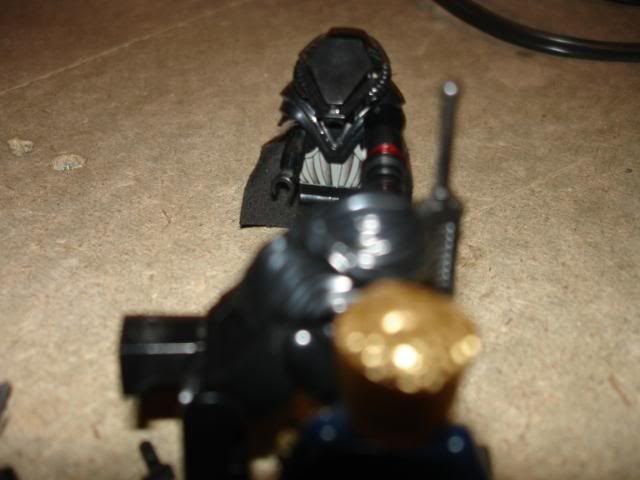 The
BLACK GUARDIAN
V2 raises his other hand and uses the ancient power of the force.
He picks up his old horse (with an impressive skill roll of 7 against 1)...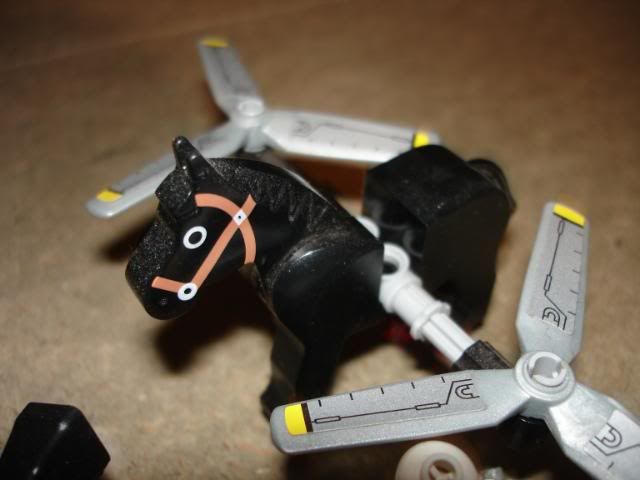 And throws it into the undead.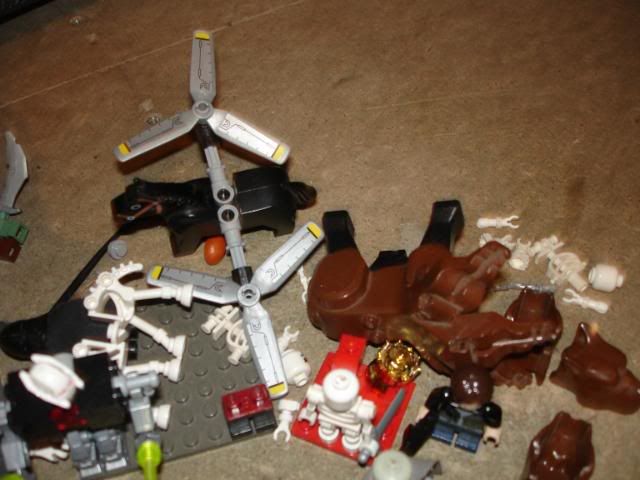 It kills three skellies. Only two are pictured.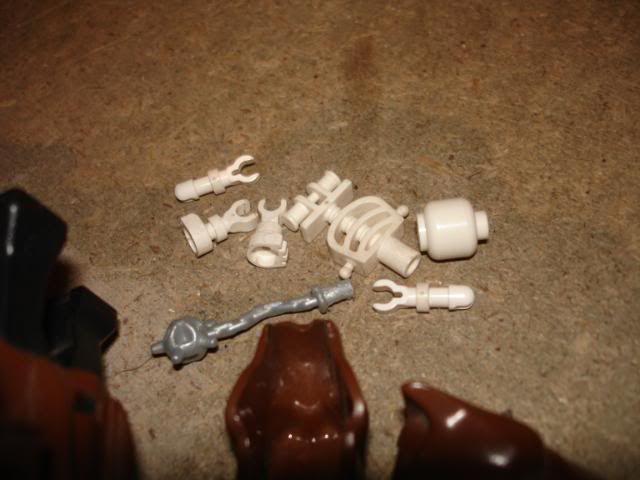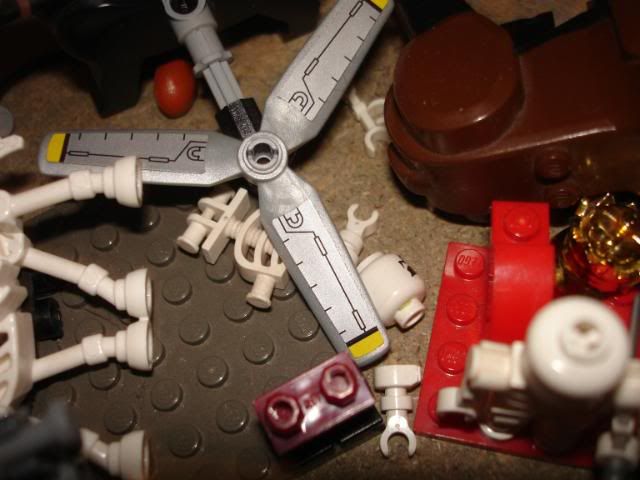 It also kills Mr Skul's horse - leaving Mr Skul trapped, disrupted AND immobile.
"Sigh" sighed Mr Skul with a sign.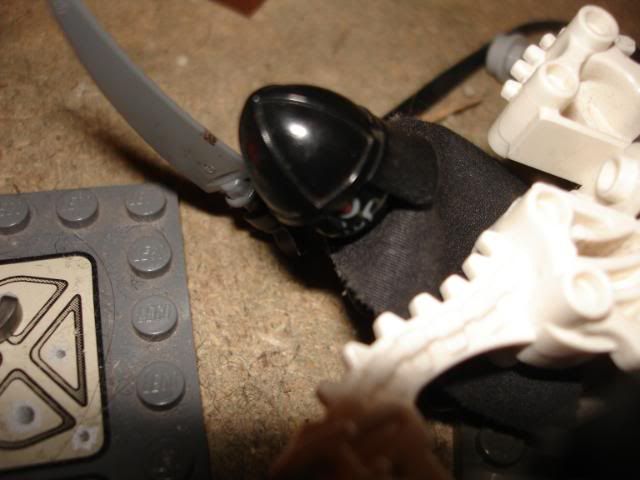 The
BLACK GUARDIAN
V2 is chuffed with his newfound powers.
John Connor's Turn: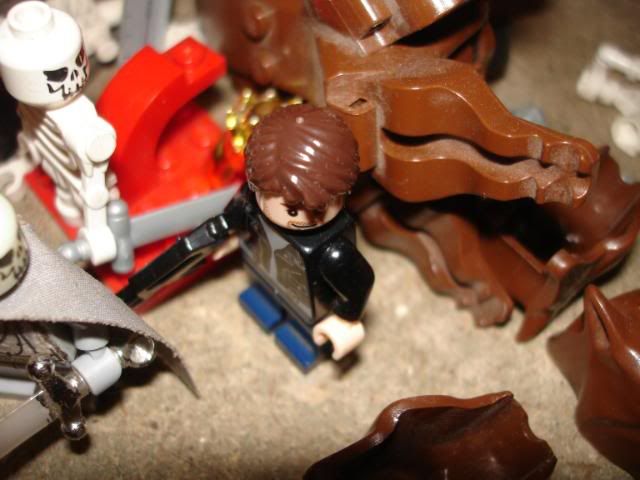 He points his Plasma Rifle at The Former Former King. I forgot to take a pic of John Connor blowing The Former Former King's head off with a roll of 8 against 4.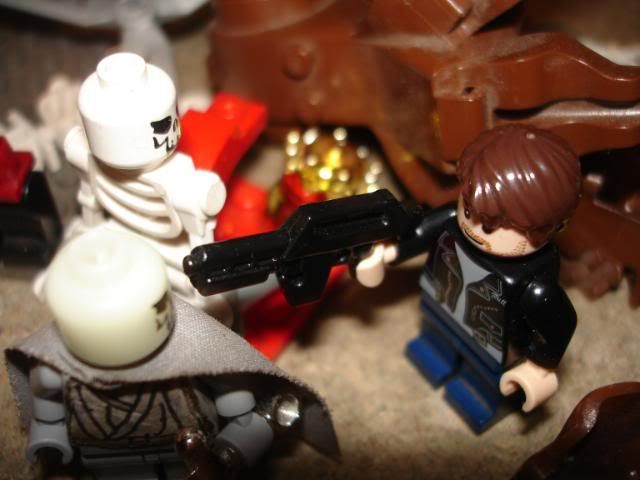 He then sacrifices his move for a second attack. He points his gun at the last Skelly.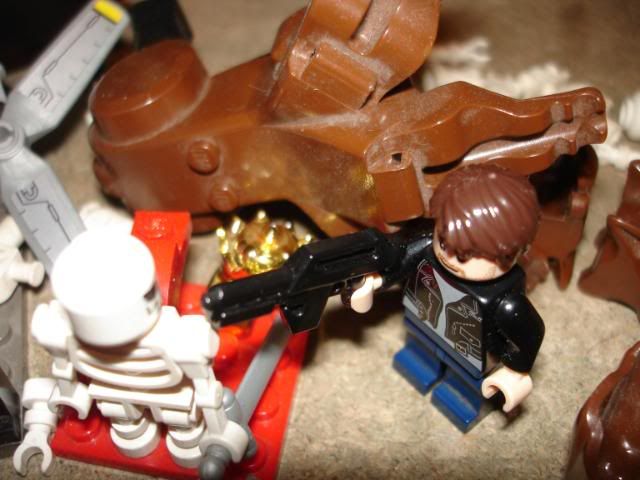 With a roll of 5 against 4 - John Connor's savior is killed by John Connor.
The Crown begins to glow.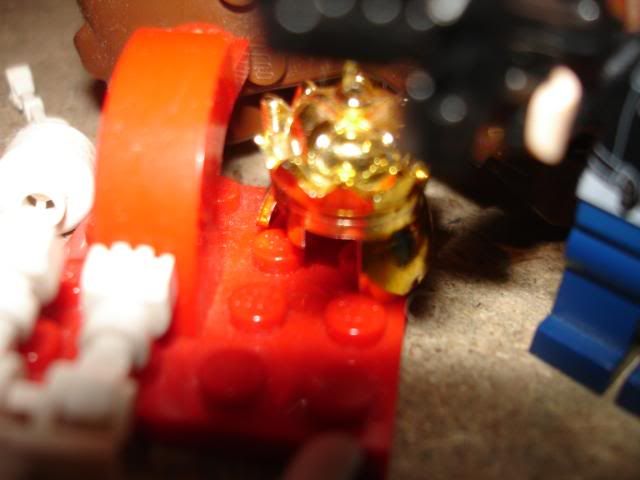 This is what the CUC looks like by the way.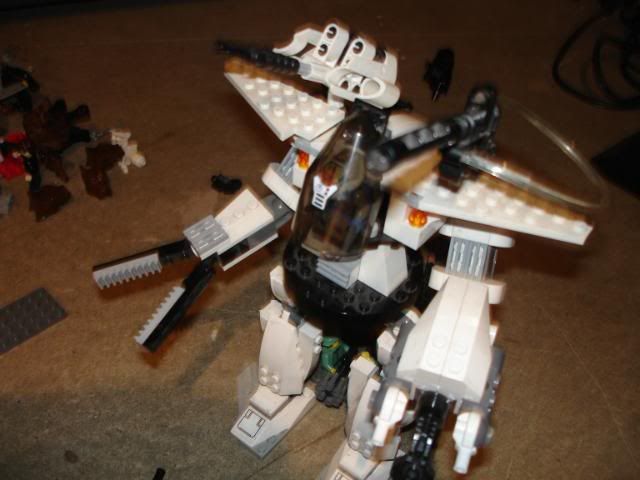 Overwatch - Yes - There is a reason i didn't say final.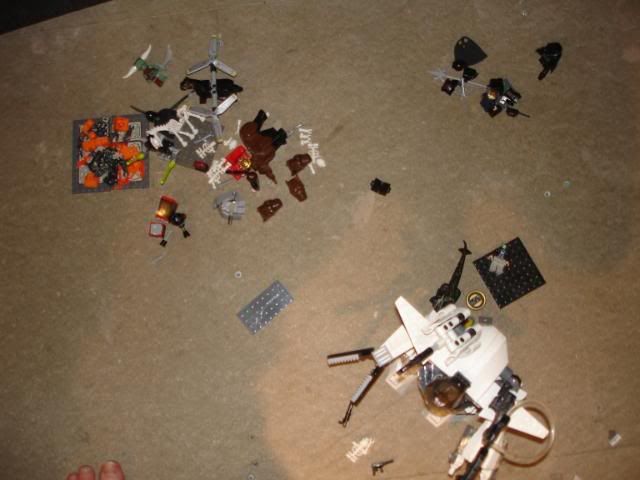 A mushroom clowd of flame bursts from out of the Phoenix and Fenix's ashes.
The Phoenix has risen from the ashes!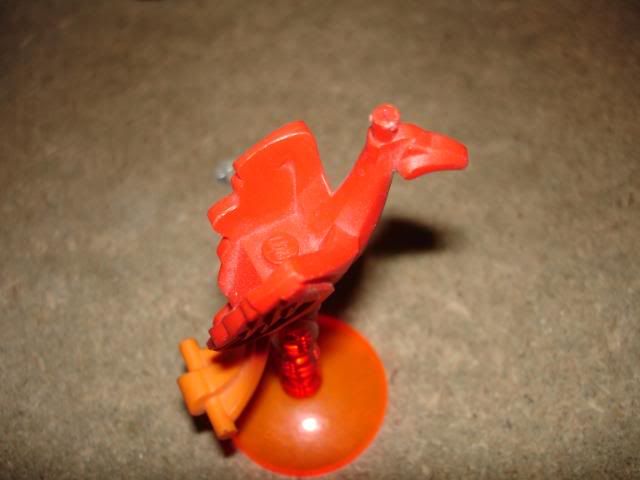 But it bursts into flames for a last time to revive his master - Lord Fenix.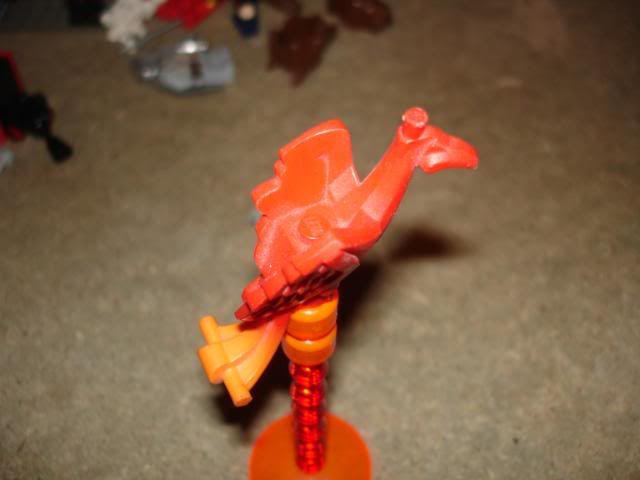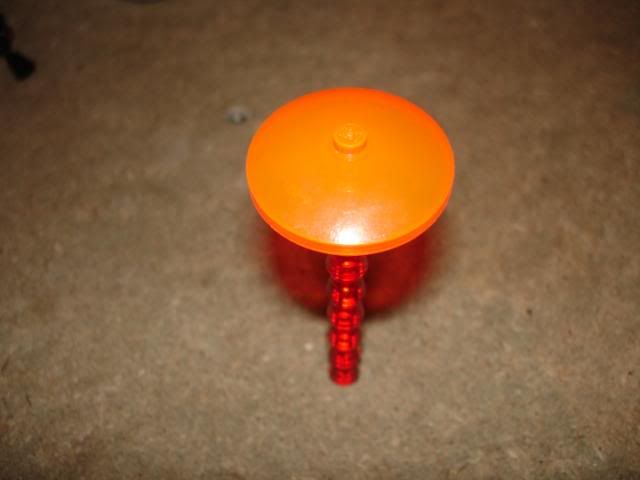 Lord Fenix's Turn:
Fenix runs over to the CUC's side.
And uses a burst of fire(and a skill roll of 5 against 4) to jump onto the CUC's right arm/claw.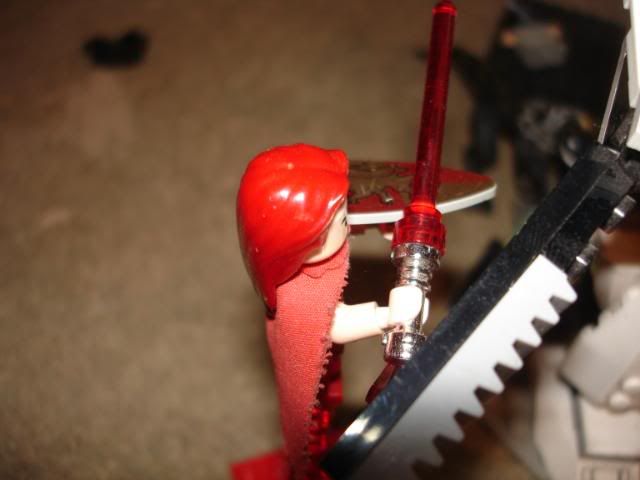 He then chucks his Phoenix Ruby Sword into the CUC's control panel with a skill roll of 5 against 4.
"UH_OH"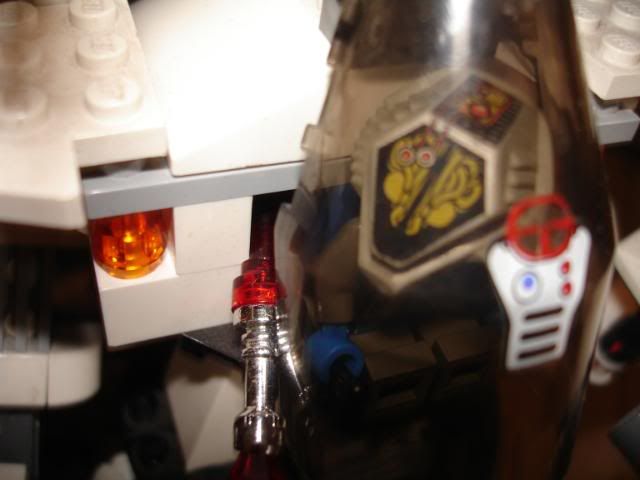 BOOM!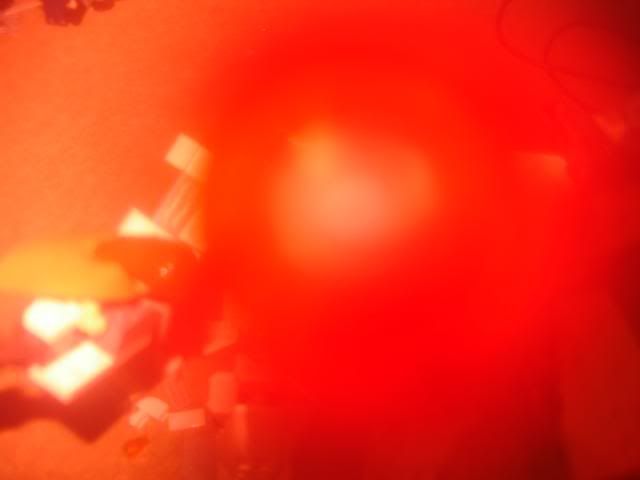 The CUC is torn apart - partially.
The Pilot's Arm is ripped off and the Phoenix Space Sword falls below the cockpit.
A piece of the CUC's armor falls on Pvt. Ryan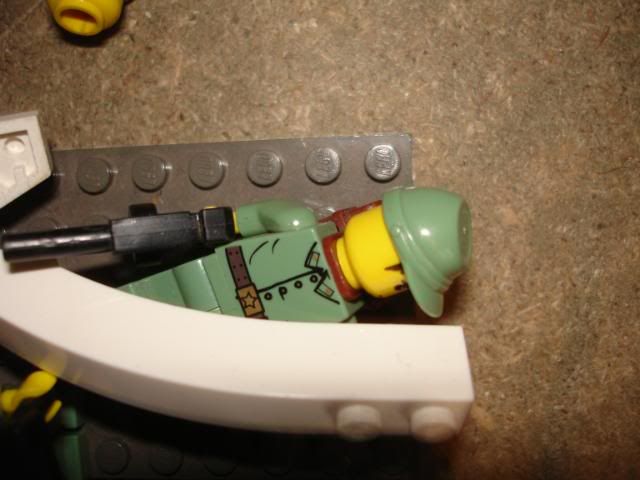 Pvt. Ross is so lucky I'm going to rename him Pvt. Smug.
But will the CUC's arm hold Fenix's weight? And not will Fenix roll high enough not to be crushed to death?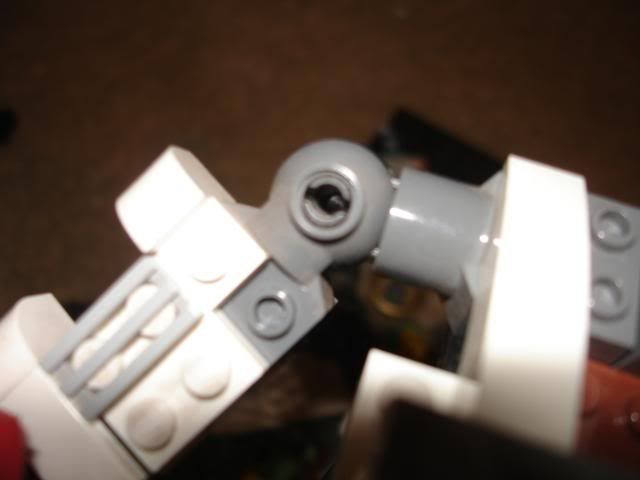 The answer to both of them questions is "OF COURSE NOT". Physics once again rolls a 4 against Fenix but instead of a 5 Fenix rolls a 3. Fenix is crushed to death.
Overwatch - Yes I didn't say final.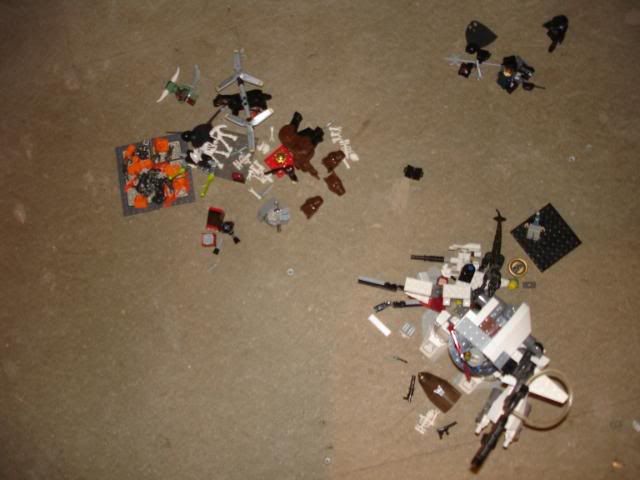 A small hat flies out of the CUC's exposed cockpit.
And lands exactly between Mr Skul and Bucky McBucks.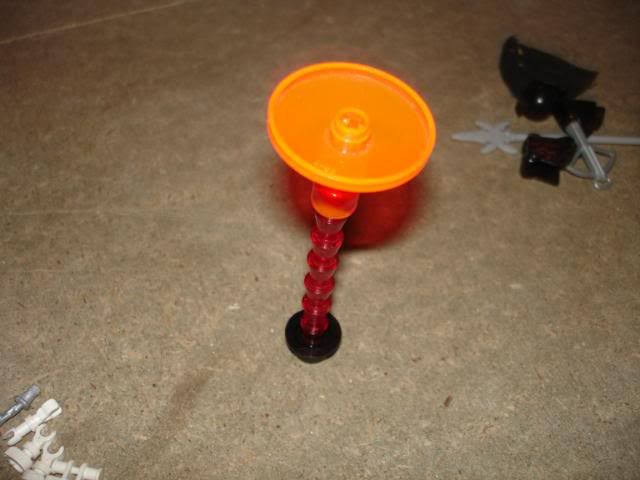 I wonder what importance it has - if any.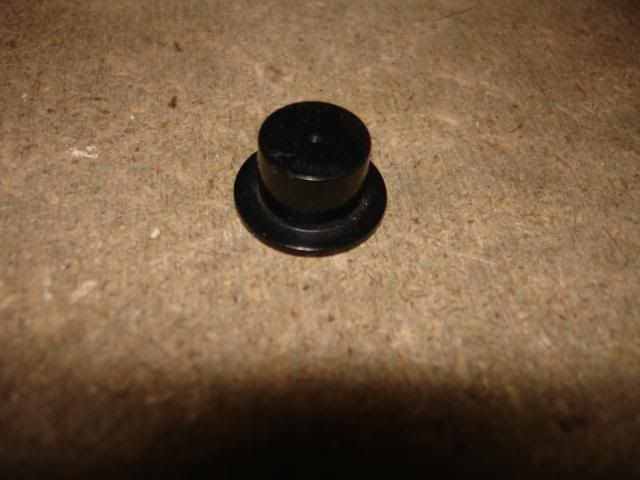 Final (yes final) Overwatch: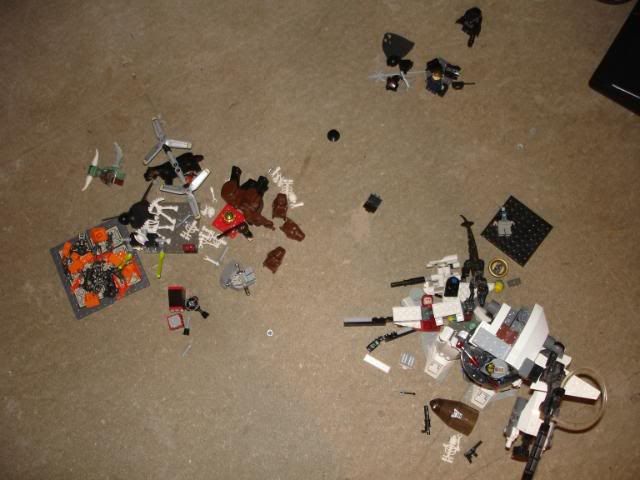 So thats it for this time. And i promise you there won't be any more factions. So that means I can make a complete list of all remaining factions.
Mr Skul (with General Gravious and Black Guardian's Pants)
Bucky McBucks (with Pvt. Smug and The CUC)
John Connor
The
BLACK GUARDIAN
V2 (with his pet raptor)
I need orders from Warhead, RDLC and MasterEcabob - as soon as possible - hopefully Saturday 20th June.