Since they were the first to send in their orders, Copenhagen Air got to go first.
First of all, the Downed Pilot picked himself up...
And jumped up onto the wall.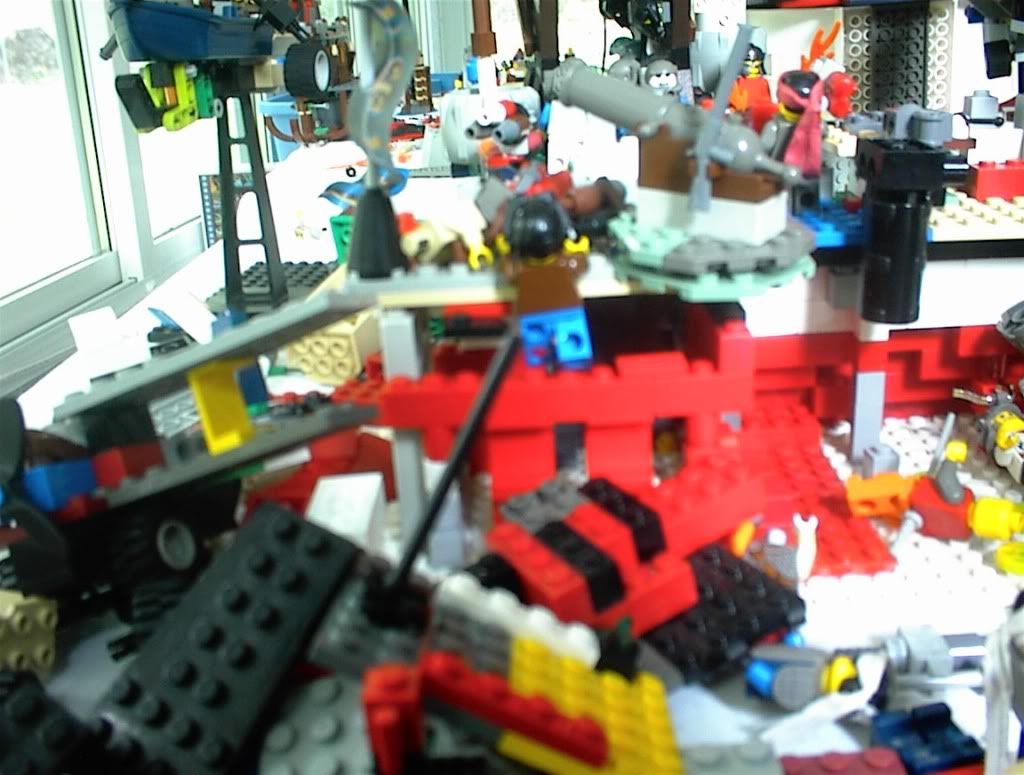 Then, the airship flew in, firing its guns.
Raking into the Blackbands, killing the Officer and Minigunner.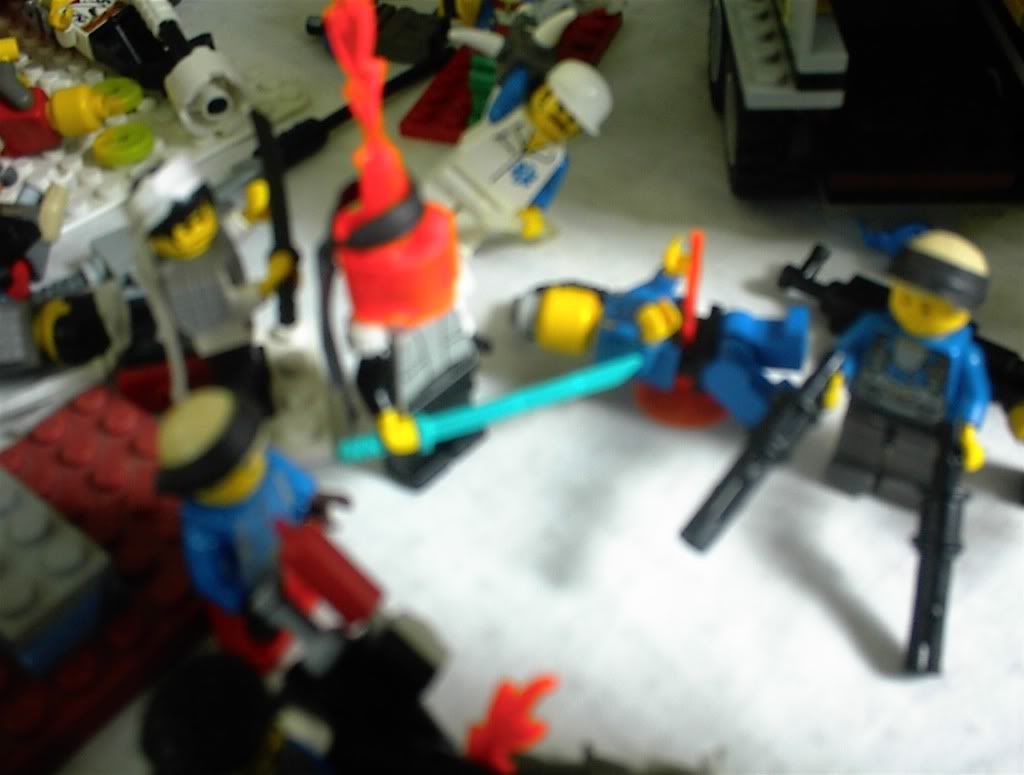 Meanwhile, the standing Stalker Tech revived the Flambee'd one.
Hess refilled her heavy bolter...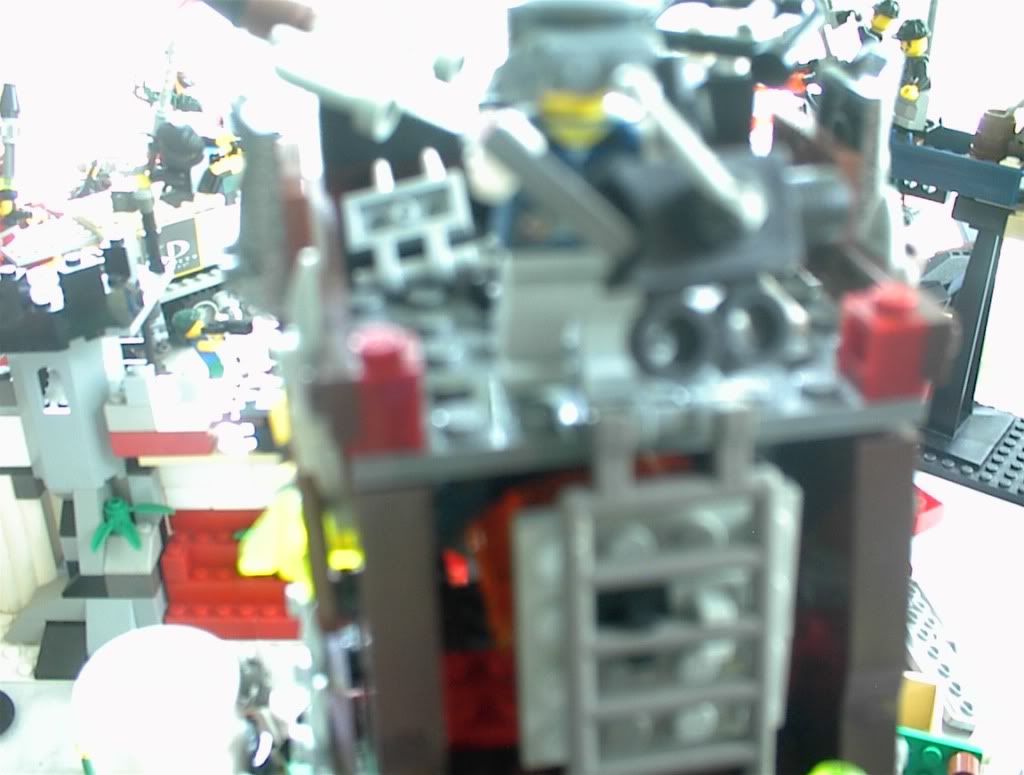 And fired at the Sigaw Na Bala...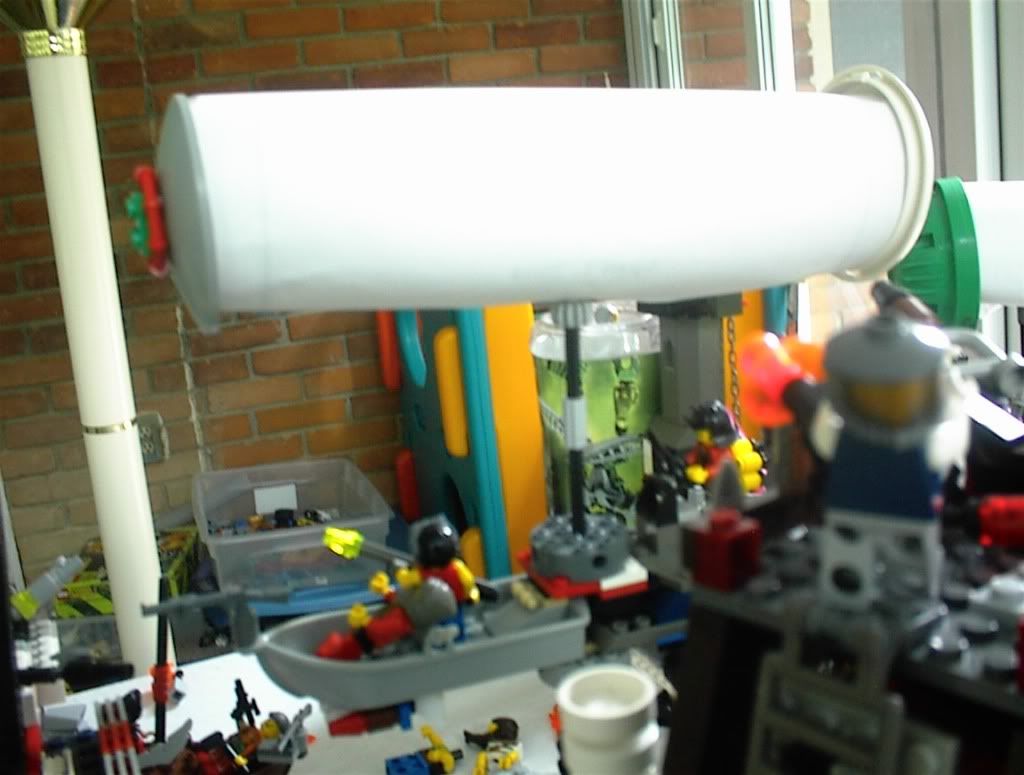 Burning out the balloon...
And sending it crashing to earth,
Minus the captain, who backflipped onto the battlements with a Heroic Save.
Under orders to gather up nearby weapons and bodies, Clydeside ate up two dead Mossie airmen and a Citybuster.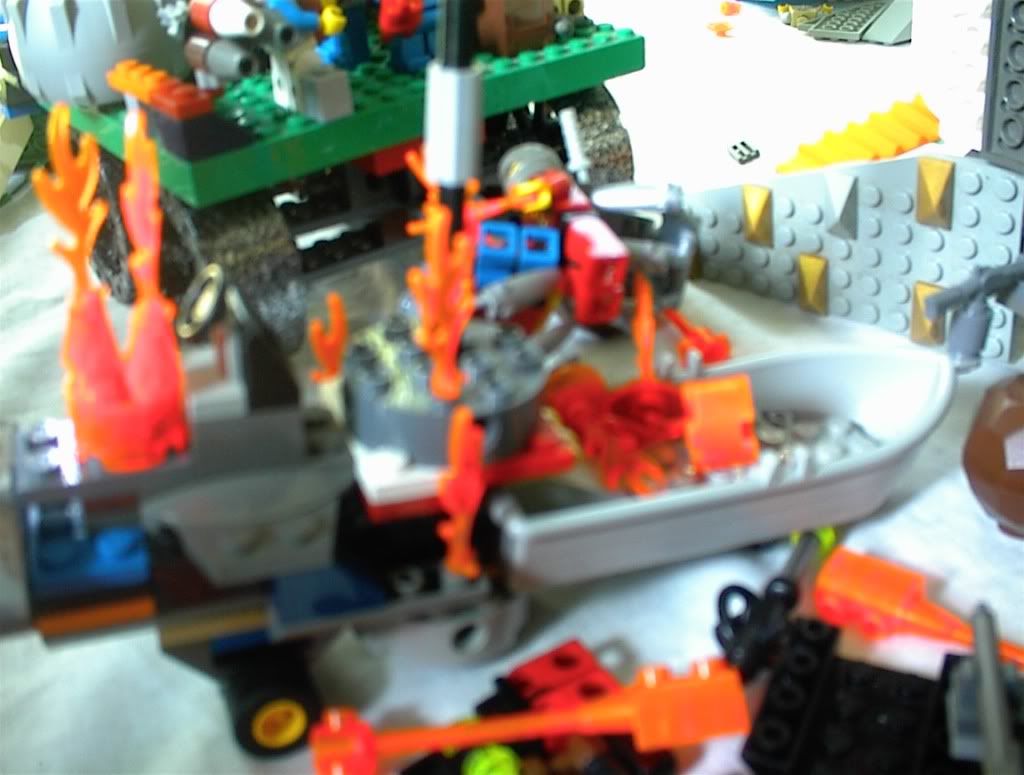 Elsewhere, the Death in a Large Package flew over Copenhagen...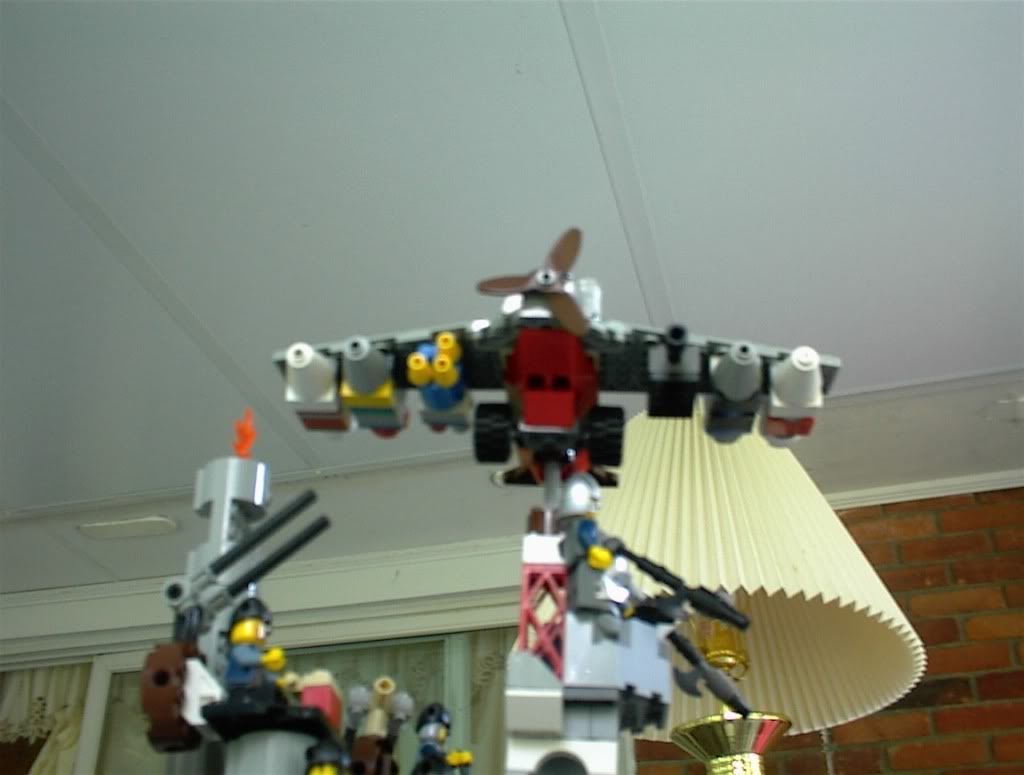 And dropped a bomb.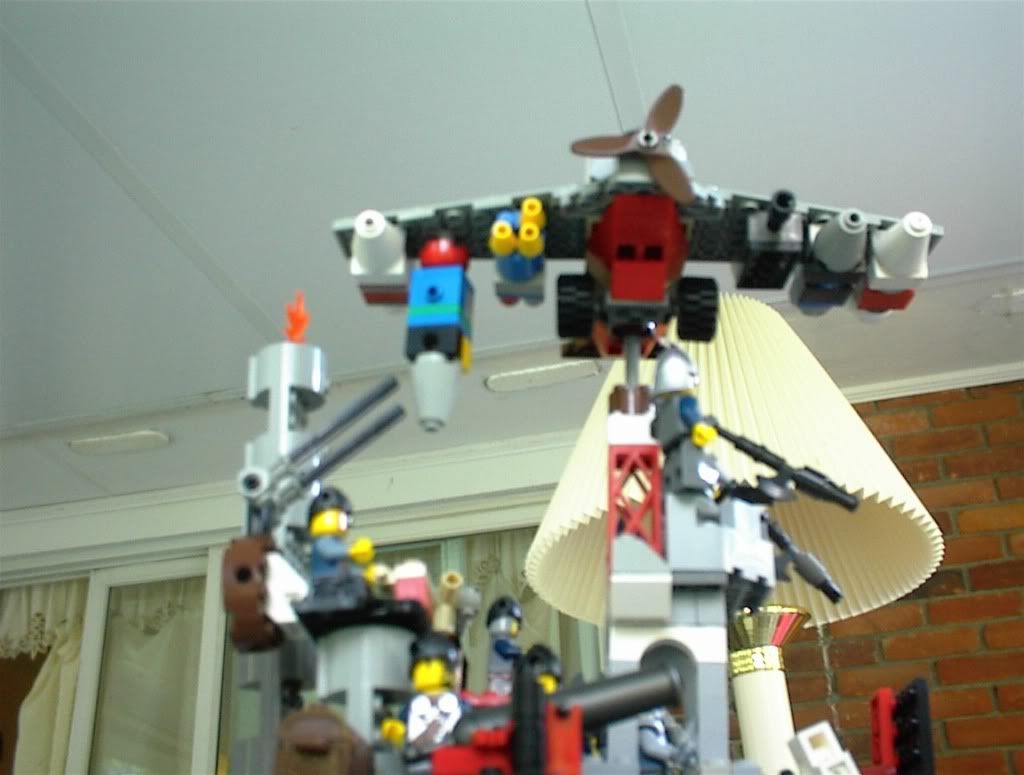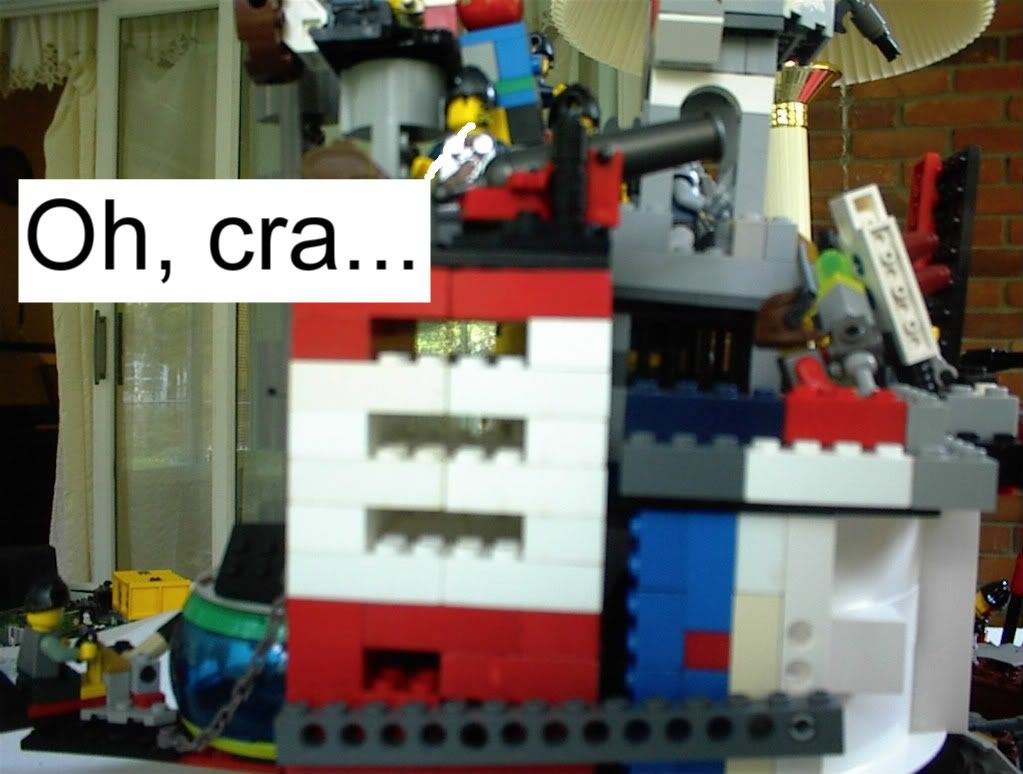 The DIALP kept going.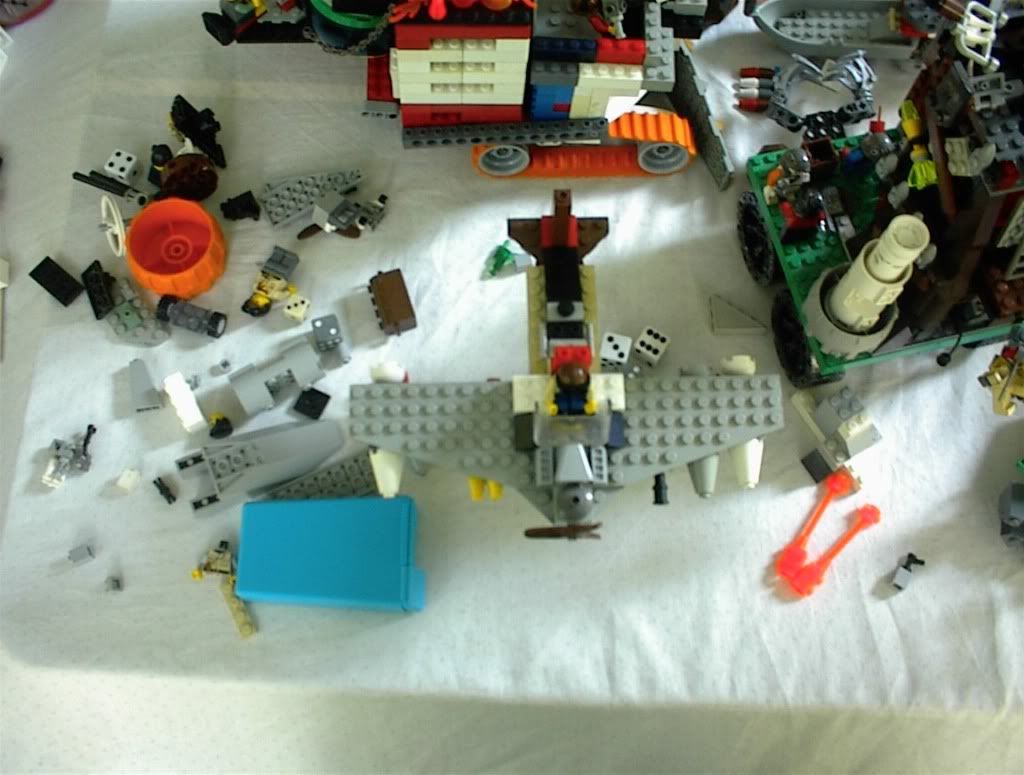 Elsewhere, the Downed Airman got chainsaw'd by the Black Ninja.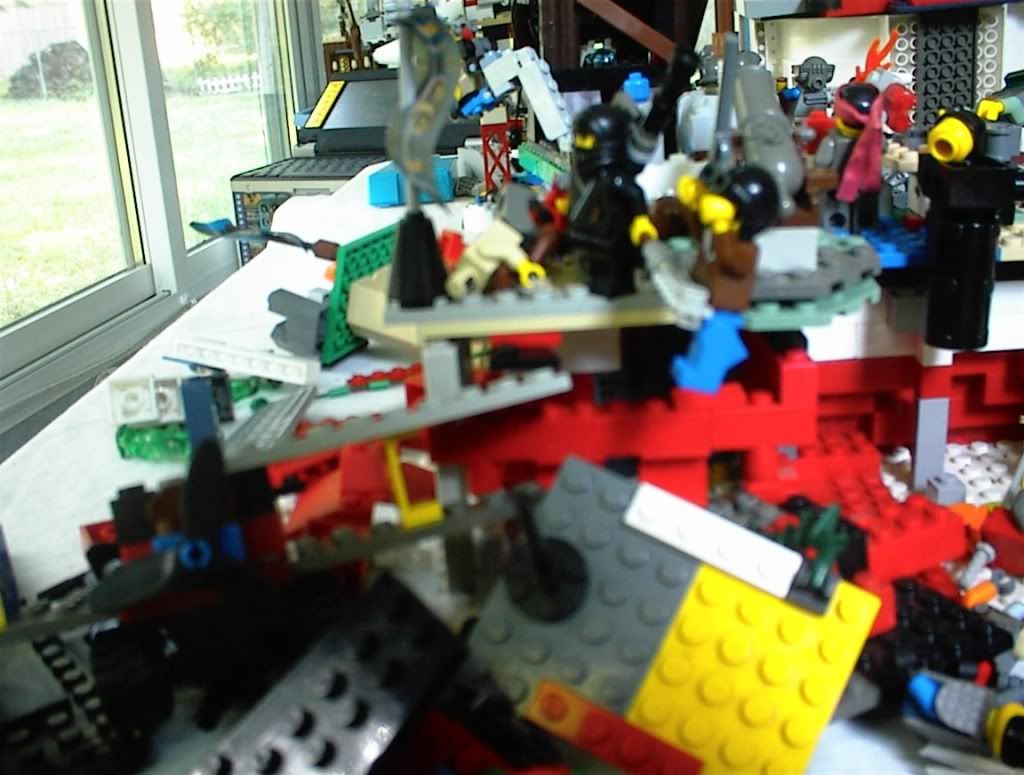 The Red Ninja then fired his Anti-Stalker rifle...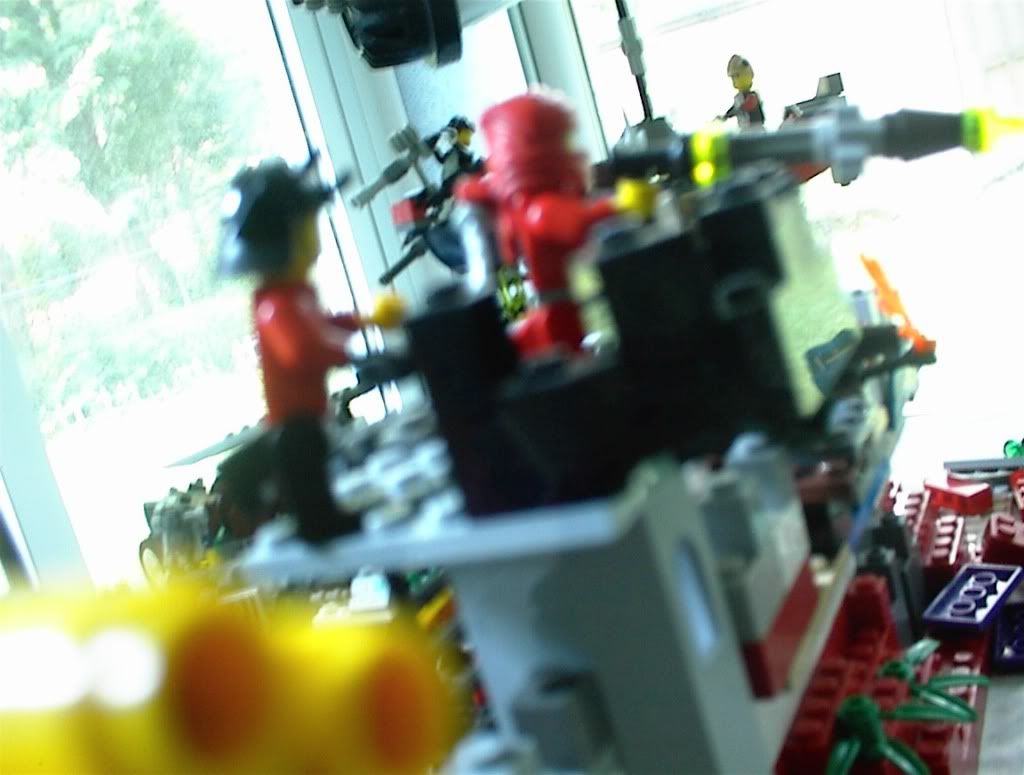 ...And hit the Beer Stalker. Anti-Stalker Rifles render the stalkers they hit unrepairable.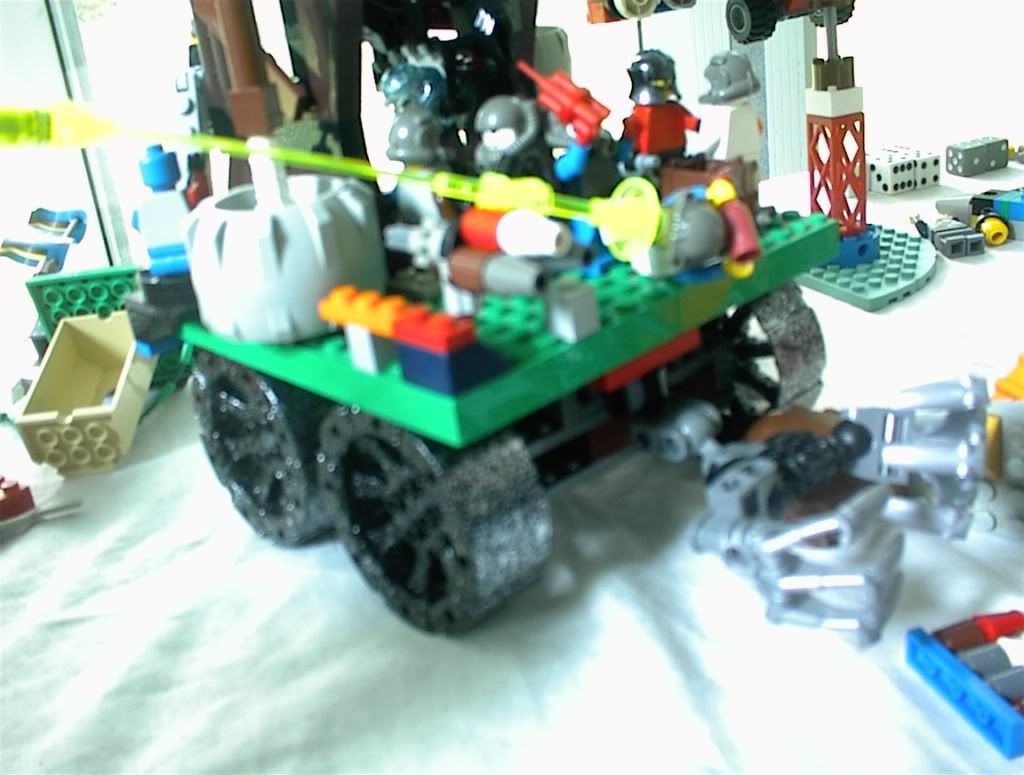 Meanwhile, the two Iron Dragon troopers opened fire.
This guy missed...
But the Blackband's L33T skillz netted him a hit...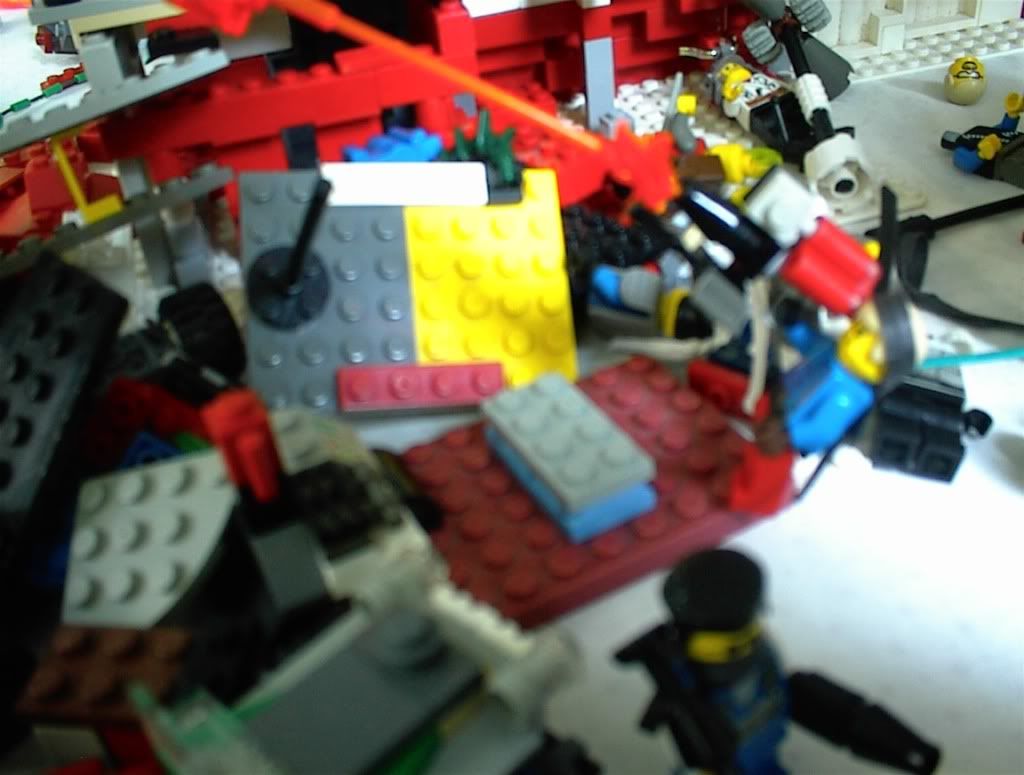 ...on the Copenhagen Airship.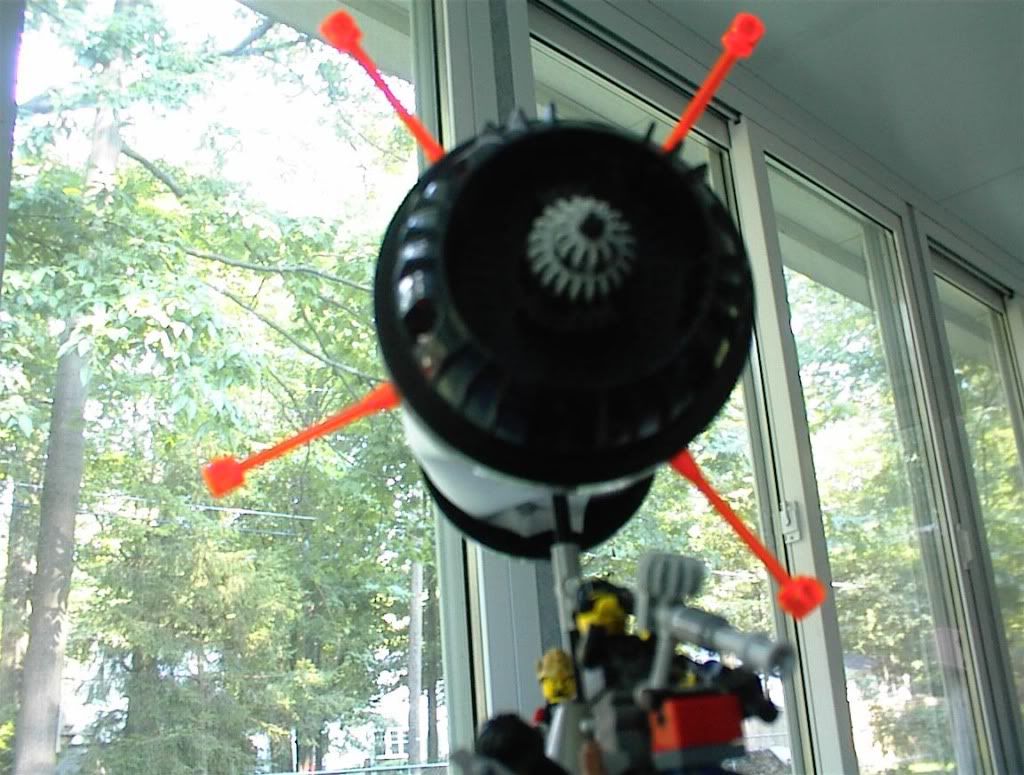 50% of the crew died. The other two...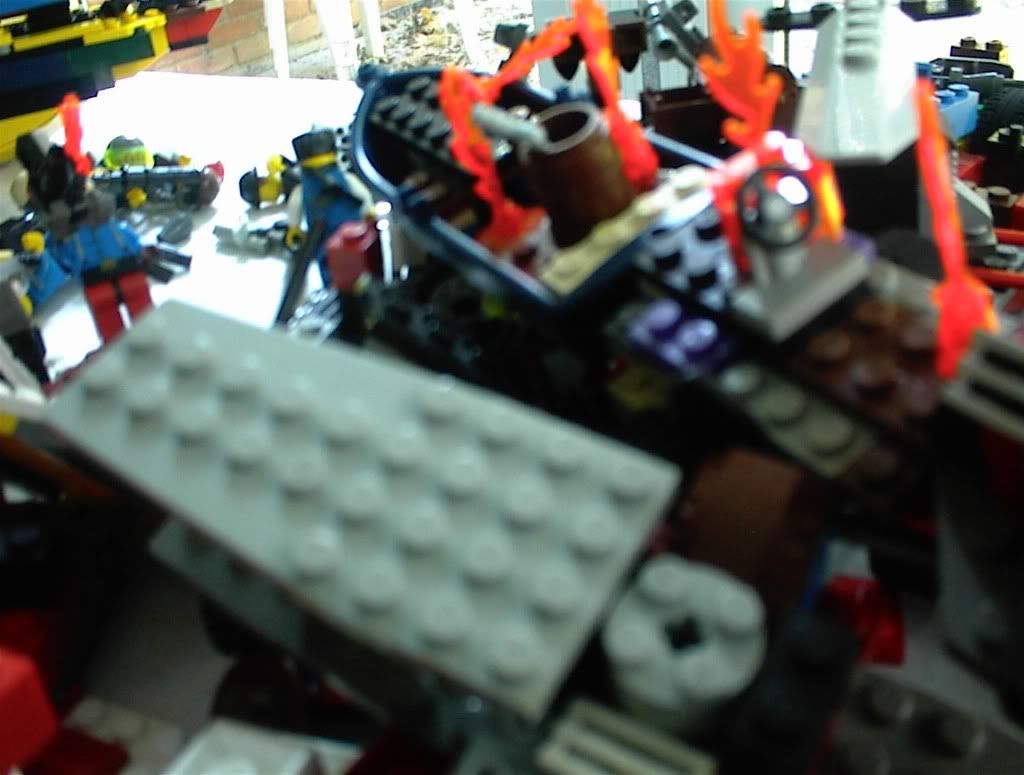 Either did a Heroic Save and grabbed a flagpole on the wall...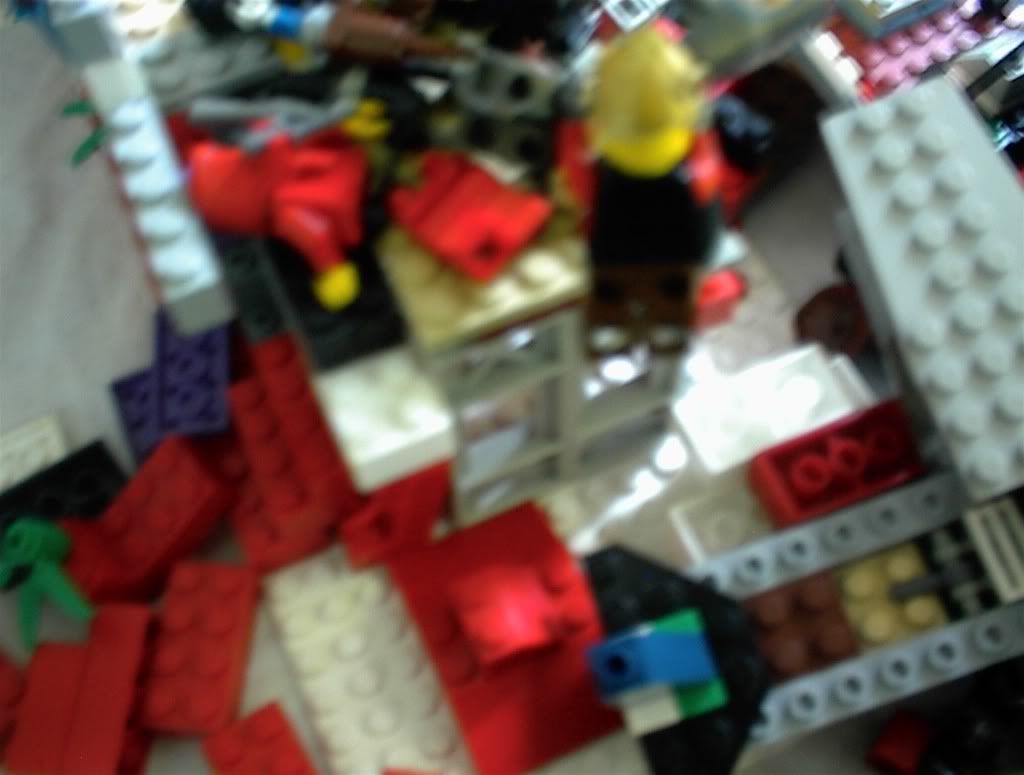 Or landed on the wreckage of the Medik Hut.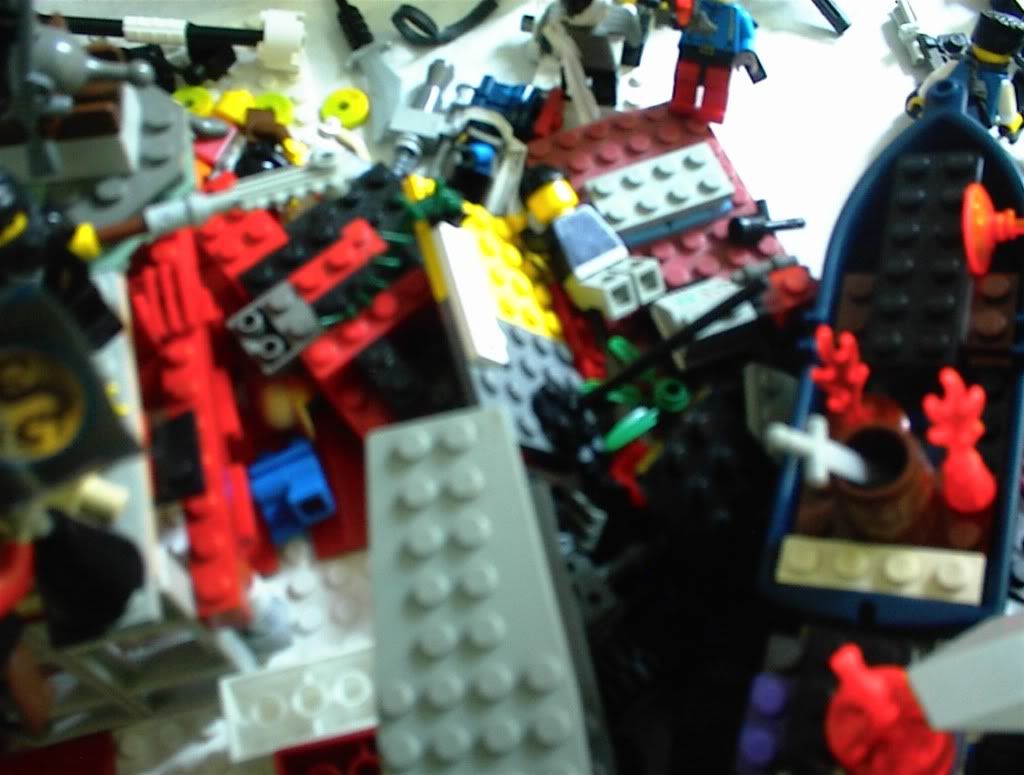 That downed airman was quickly dealt with by the remaining Elite Samurai.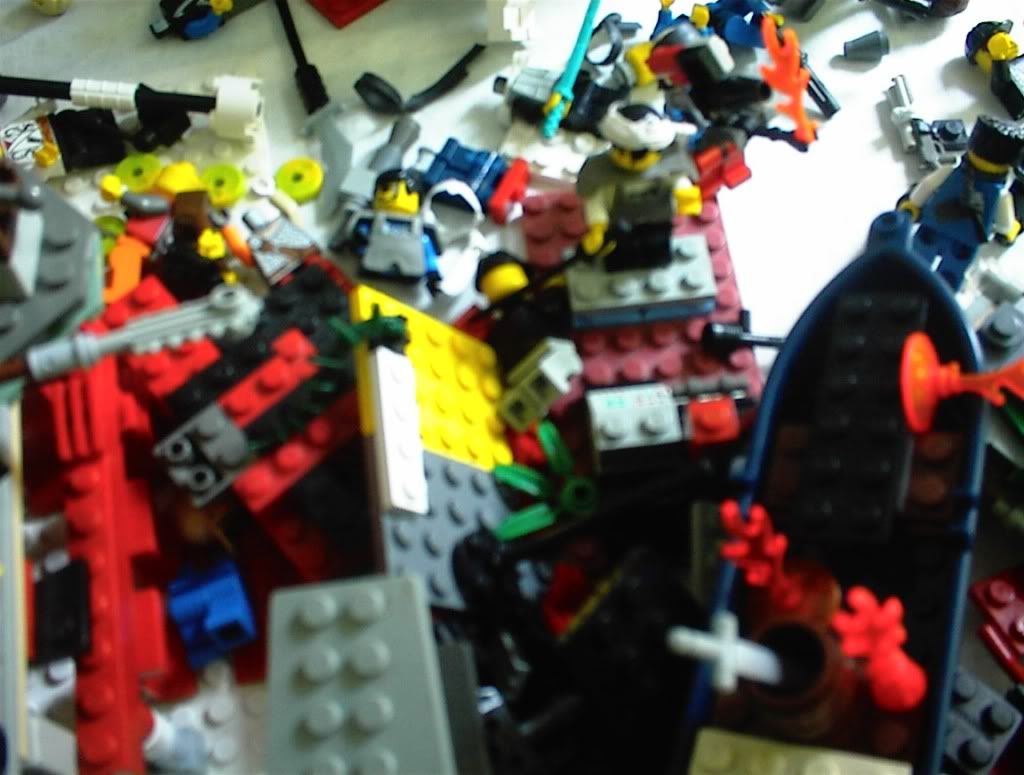 General Toryu is now revived and ready for Heroic Feats.
Elsewhere, Copenhagen's starboard batteries missed the DIALP, but barely. I like the effect I did here with the missile and lightning blast. I don't like the effect I did here with the thumb.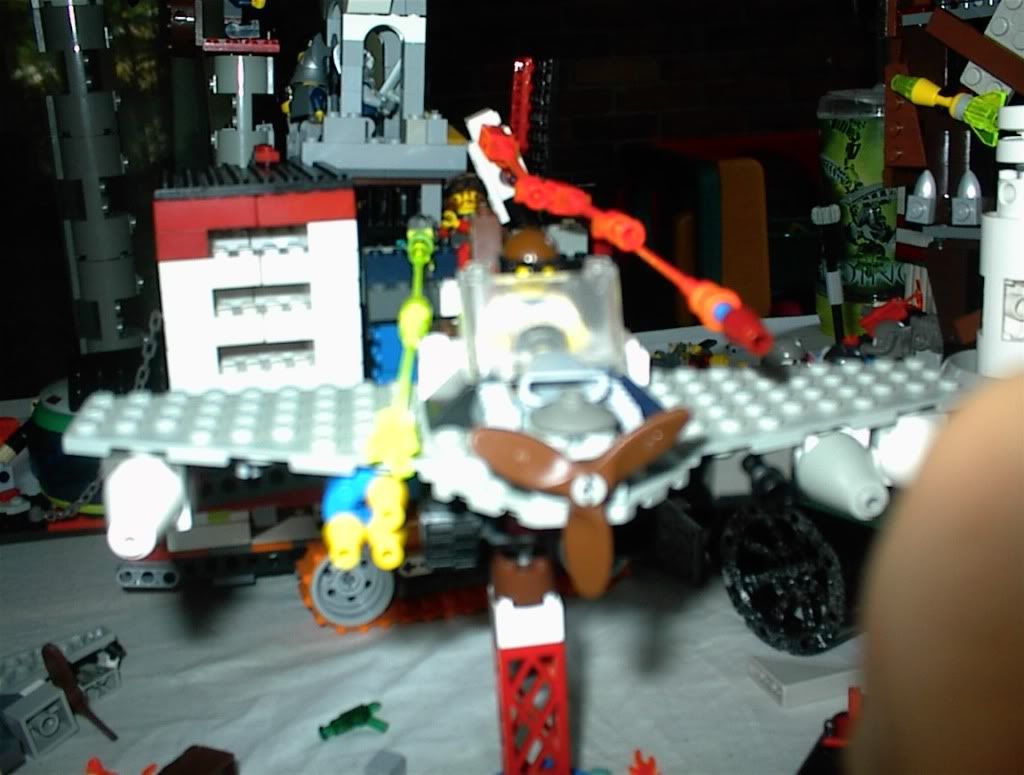 The Lord Mayor and his two bodyguards opened fire...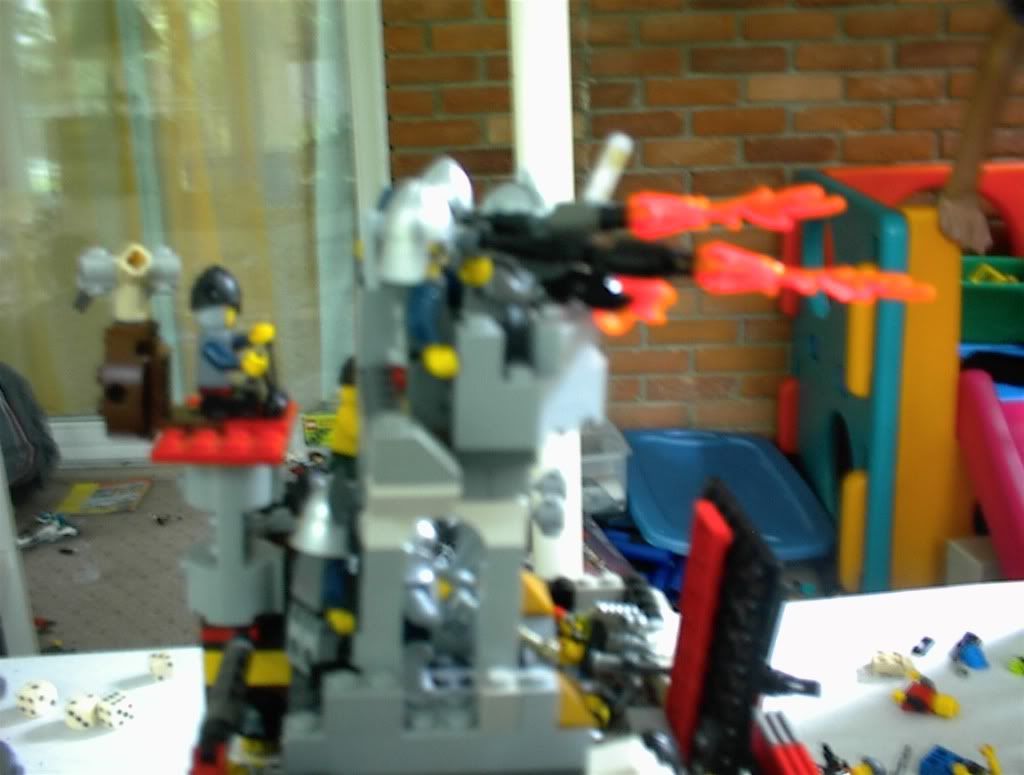 ...And fragged Stalker Hess! Pardon the blurry pics, I was so excited.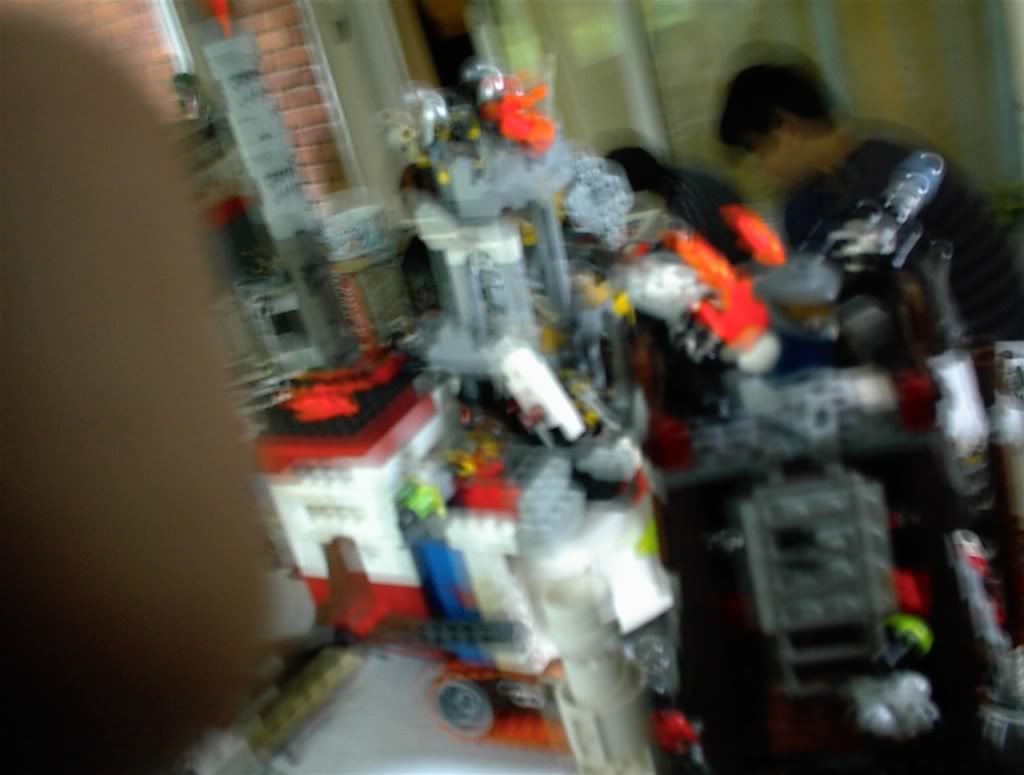 Copenhagen's rear battery then let loose a shot, blowing a wing off the DIALP.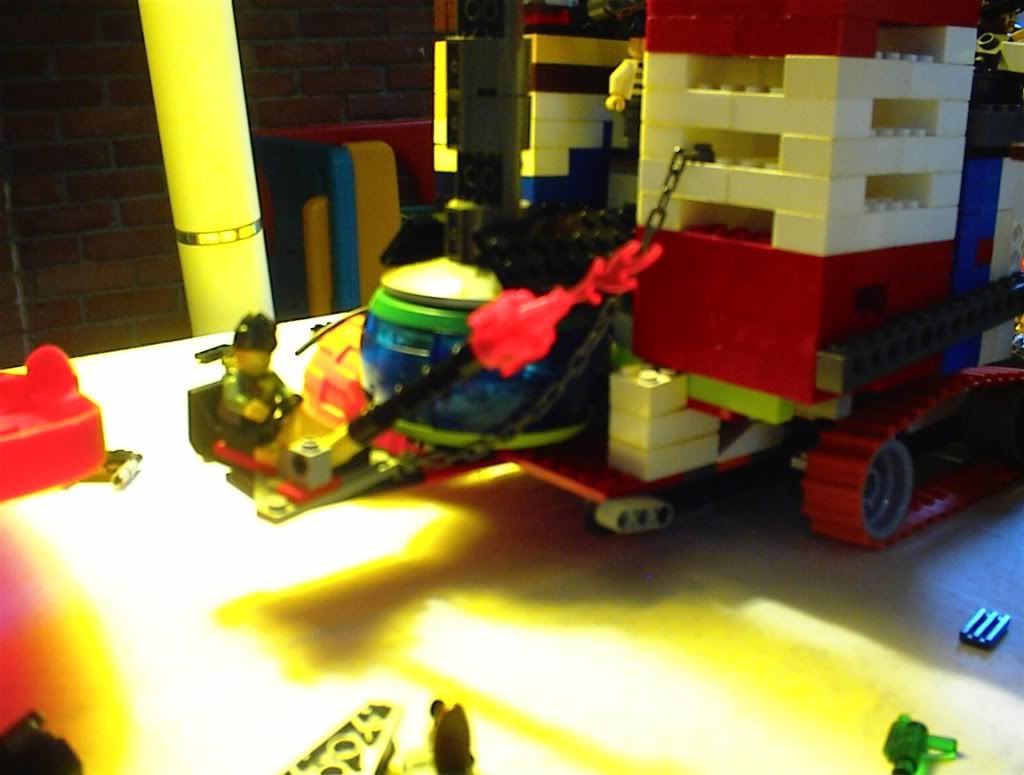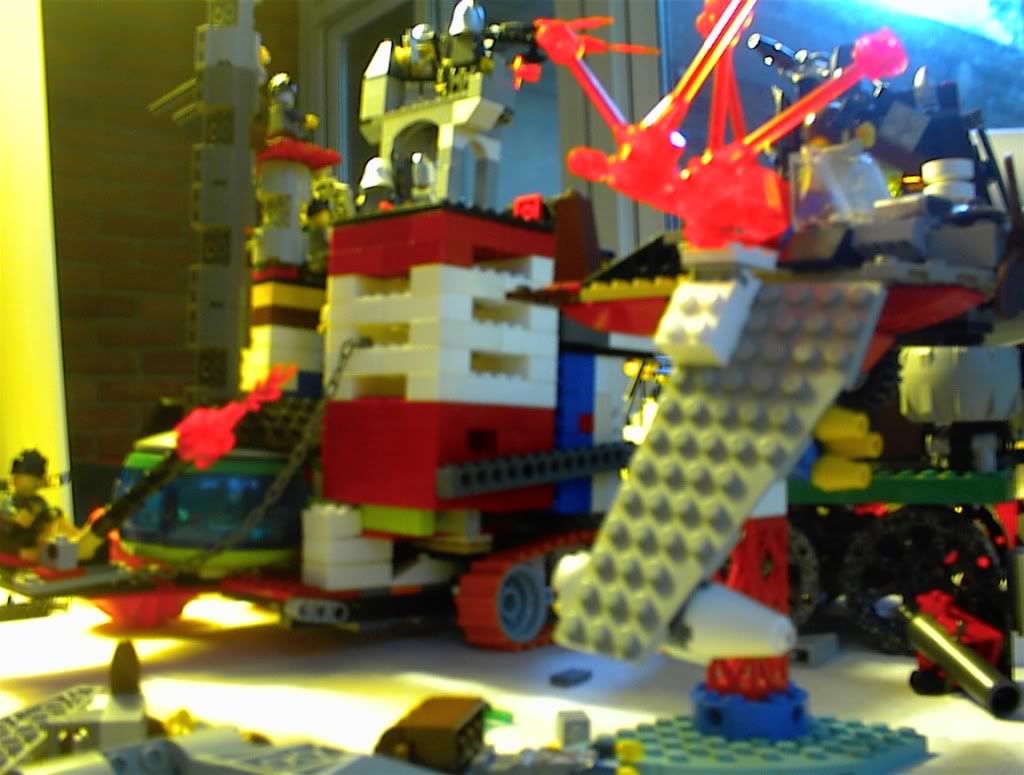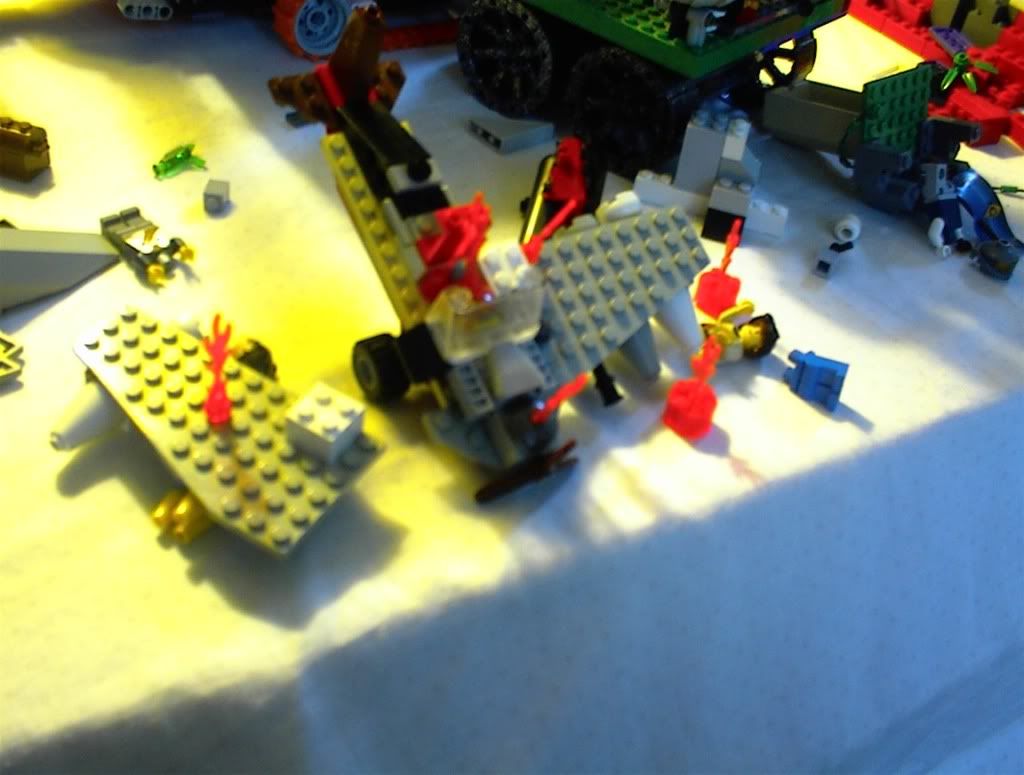 Then, the Captain of the Guard and another guard attacked the Stalker Techs, fazing neither.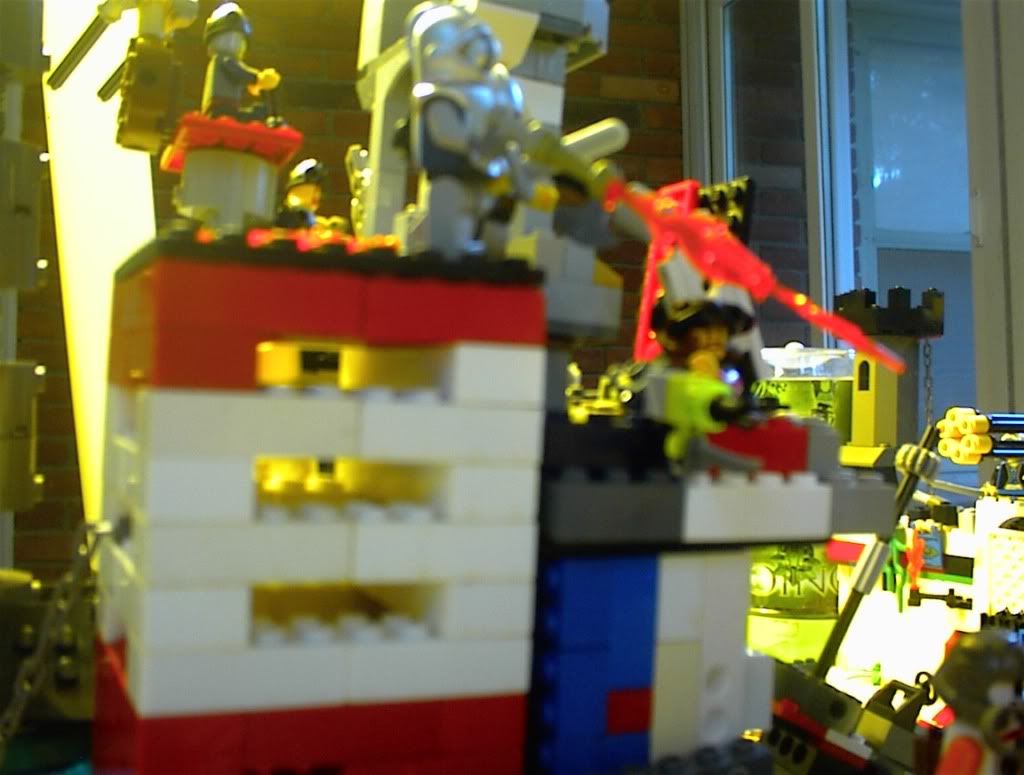 Meanwhile, Brutus the Grapplegunner scrambled aboard the Skybreaker...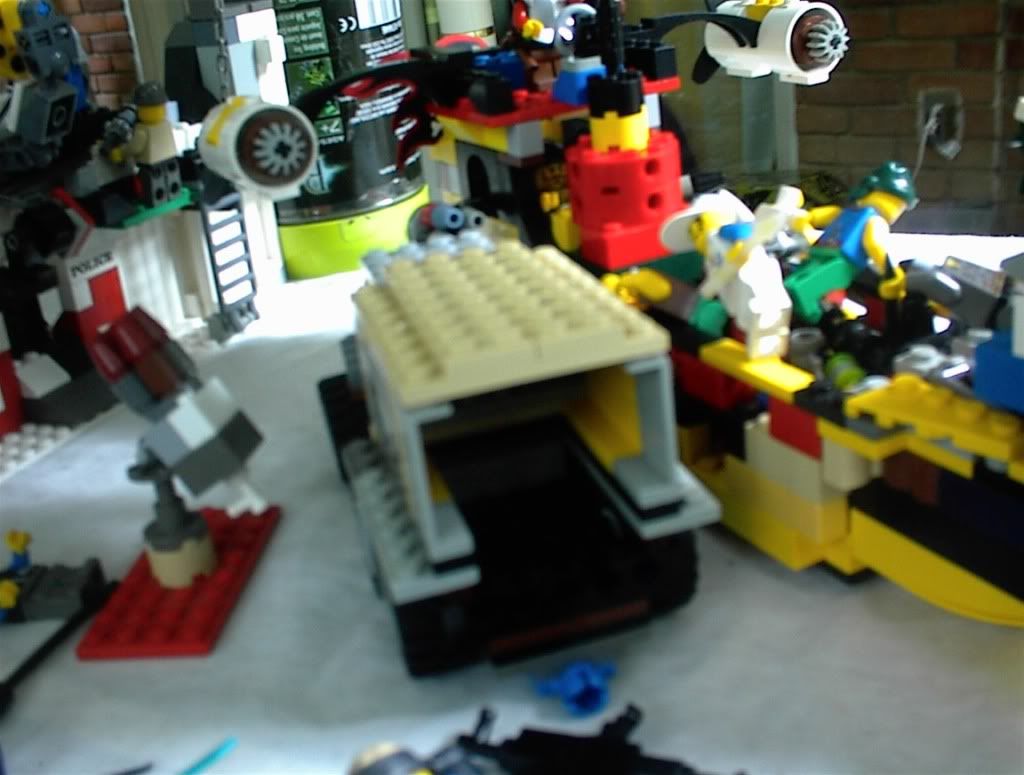 As it lifted off!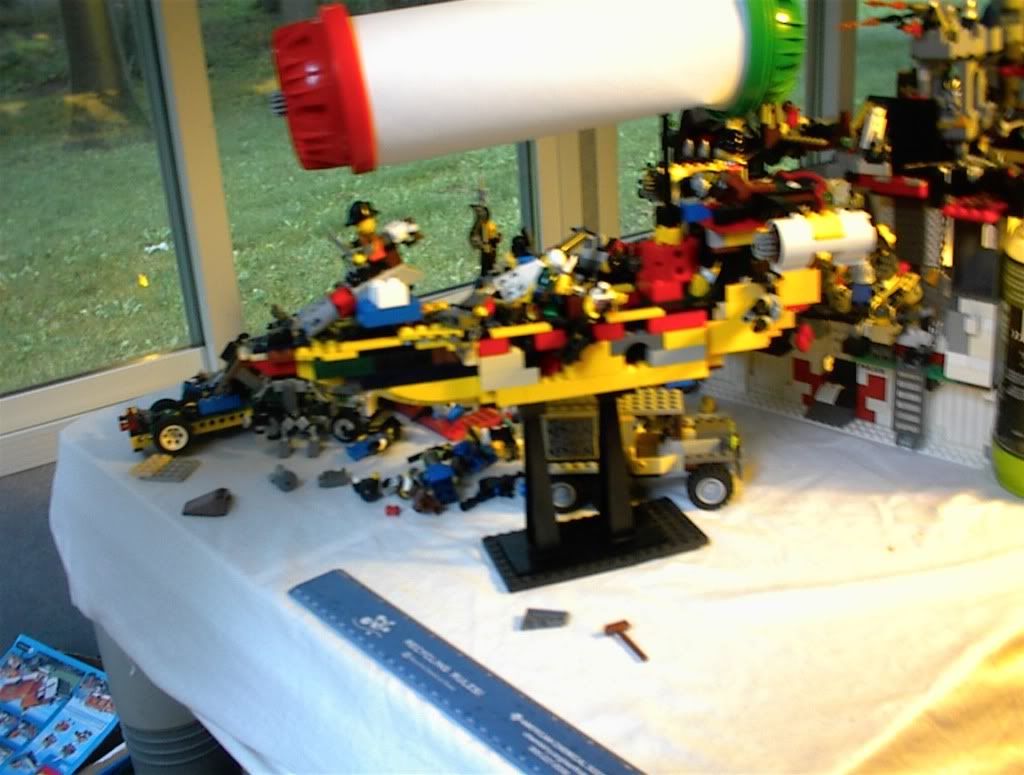 Meanwhile, Lord Cloudsword tried to use a Persuasive Feat to convince the Medik to heal his troops...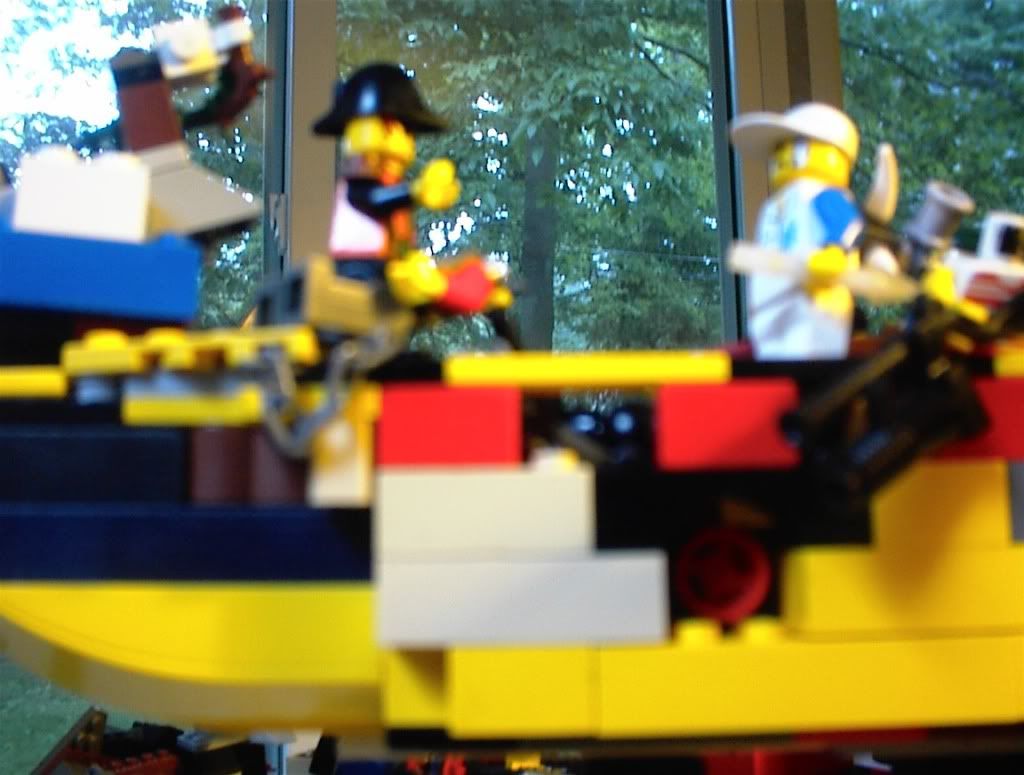 ...infuriating the exasperated medik, who said he has better things to do than heal Aero-bums. The medik then stabbed Brutus in the stomach with his hypo. The needle still has enough Medik Juice for one heal.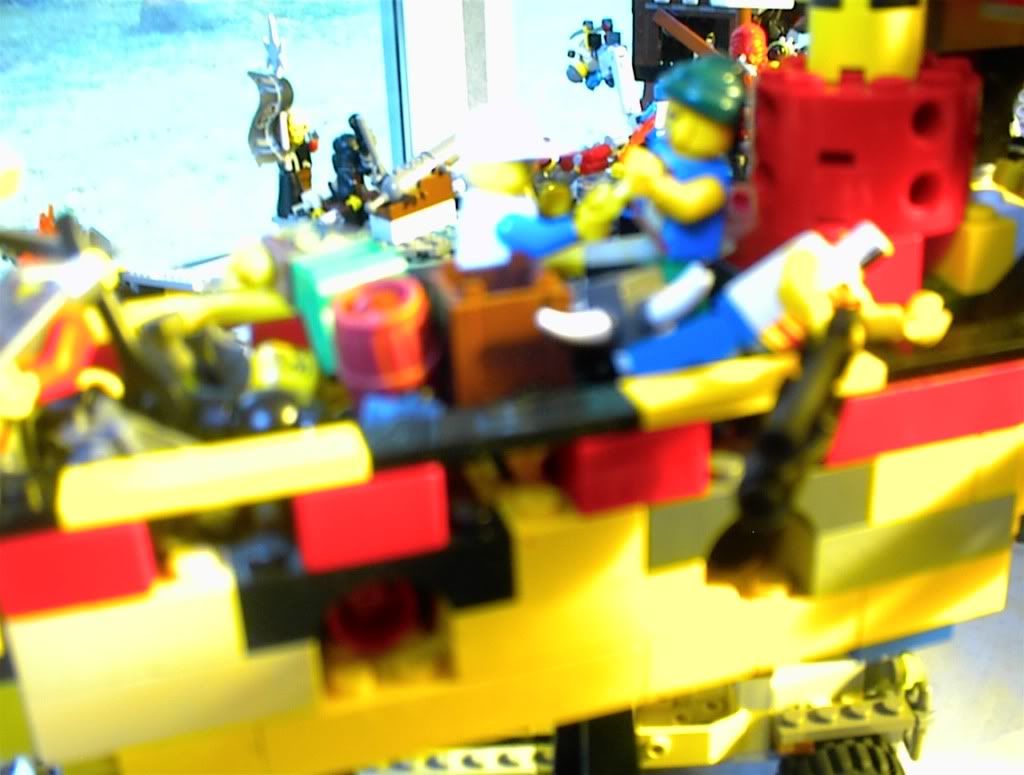 Insulted, the Skybreaker's pilot decided to take it out on the Blackbands, firing off a rocket.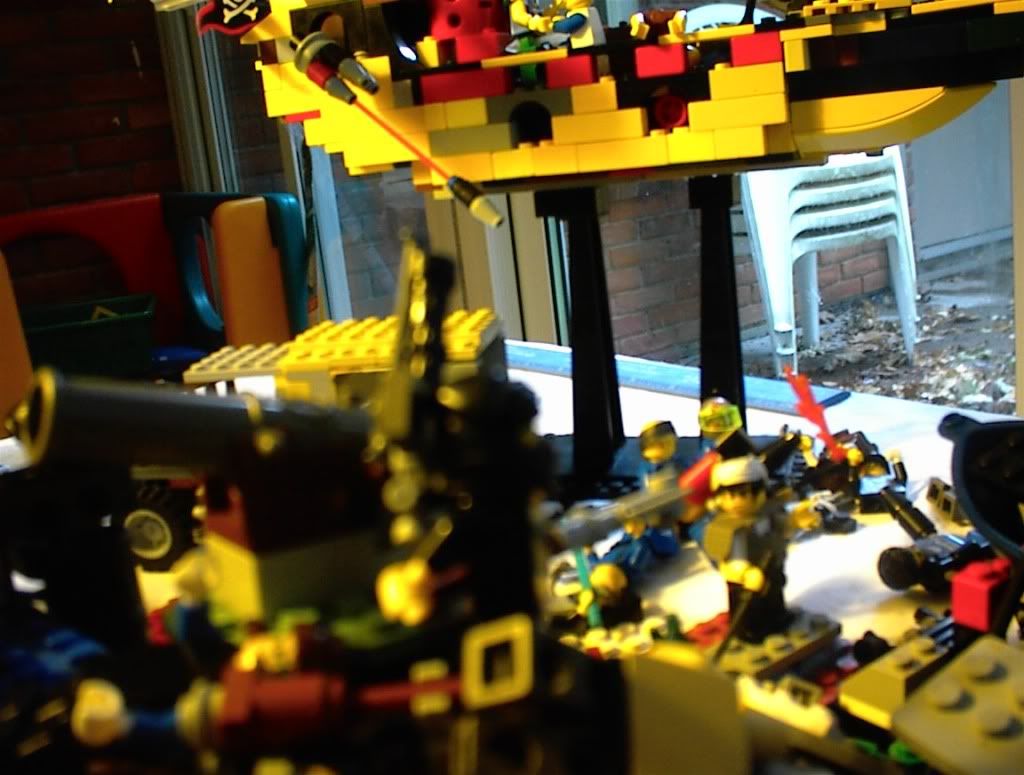 Pictured is the only remaining Blackband, the RPG-er.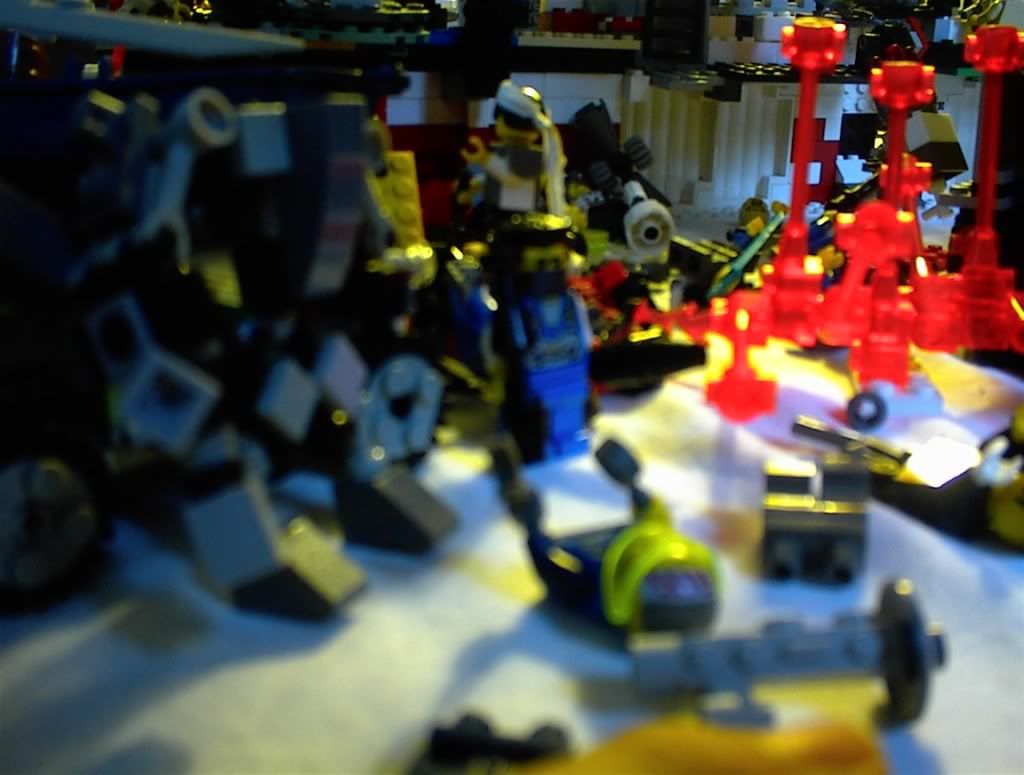 Overwatch(badly done):