Enraged by the death of her closest servant, queen Lara cried out angrily and swung the shield into the air with a sudden feat of strength.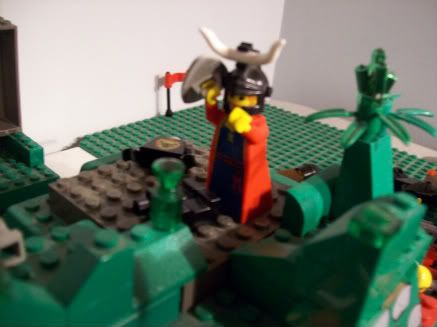 ... with fatal effect.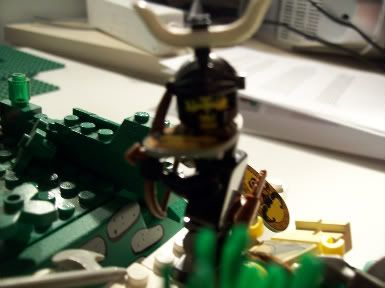 The remaining archer was swiftly beheaded.
Lara then turned to the White Mage and began a difficult ressurection spell.
Lara: "Hubris? You're not allowed to die of hubris, young man!"
And indeed, the body began to move again.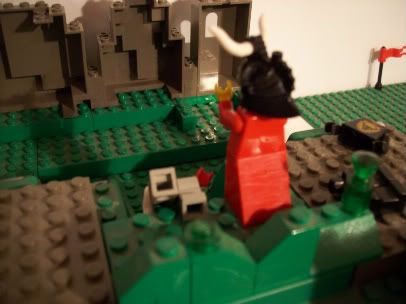 Exhausted and overcome by emotions as she was, something went wrong with Lara's spell though. The White Mage arose again... but as an undead! The negative feelings he had long surpressed in servitude to the Queen were finally set free. Lara was shocked.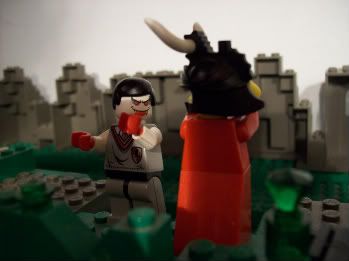 The undead mage attacked weakly and if it hadn't been for his poor attack Lara would have wished she wouldn't have cast away her shield. She managed to hold him off though: a part of the White Mage must have still kept him back from attacking his mistress.
Realizing he was the only one left, the phalanx shrugged and pulled his lance out of the dead body, deciding he'd get the job done even if it was the last thing he'd do.
He approached with an intent that was slightly beyond just killing.
Purple Mage to the rescue!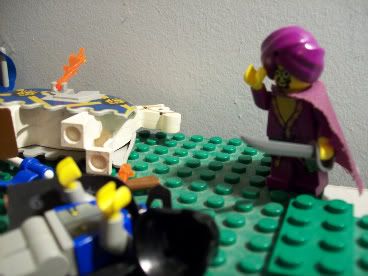 *zap*
"You fool! You forgot to teleport my helmet along!"
With no way to still gain on the Queen or capture her, the Bull's main objective failed.
Bodyguard: "Quickly! Let's go before more of them arrive. They have acquired strange powers: who knows what other evils they may have brought to these woods!"
As the lone survivor, the last Heavy chose to ignore the White Mage and moved away from the battlefield to report to his superiors. The Zombie dissappeared into the darkness, but likely this wouldn't be the last that would be heard from him...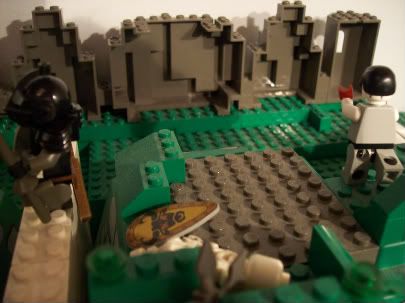 Victory
to Magus Guild, Imperials and Dwellers (though they didn't live to taste it)!
Aftermath, a few hours later
A fresh army of Bulls arrived to the scene. The Heavy who had escaped was with them.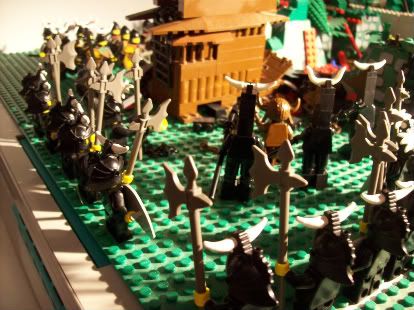 An enormous man in shiny armour that was very uncommon among the Bull Tribes walked at his side.
Chief: "What mess... This looks like the Magus' vile doings indeed."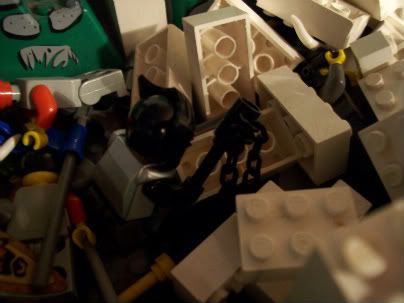 Chief: "So this is what became of your leader. I mourn the fact he let all his men die in the process more than the fact that he got himself killed."
Heavy: "Shall we set chase after the survivors, sir?"
Chief: "No. No more hide and seek. After today they'll be aware of our presence here. We move to Starkeep. We won't allow them to summon reinforcements. If their borders are threatened, their leaders will have no choice but to show themselves. The Kingdom shall pay."
So ... that was it. I had a good time, [thanks and stuff go here]