The Kingdom had been blessed with many years of peace since the last major war, with only the odd easily-thwarted rebellion, quickly-decided civil war or minor evil lord to keep their troops in shape. However, simultaneously with the recent Bull Tribes uprisings and whispers of their newly acquired powers, terror had gripped the Imperial lands. People were slaughtered at night and military positions were ransacked and destroyed over the unusually dark nights of that time... and no one could tell who was responsible! Only a fool or down to the grave optimist still thought peace could last. The King was neither, so he began mobilizing his armies.
The people marching to the frontlines would have to be equipped efficiently, and for this purpose the King had established a series of small holdouts and supply camps on the way to the border. Because there weren't enough troops ready just yet, the King had dispatched the Urban Guard, who's normal task was guarding the Kingdom's cities, in advance for the standing forces to arrive. Most were dispatched to the southlands, where there were most problems, leaving their domicile warriors to fend for themselves.
The armouries were tactical positions and the Urban Guard was expecting most problems there, so they were heavily guarded. Even at dusk, twelve urban guards and their commander, an imperial lieutenant, were guarding an Imperial armoury.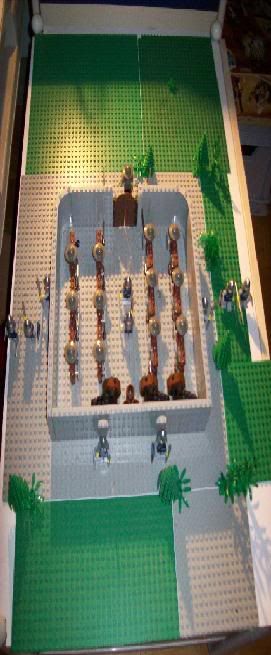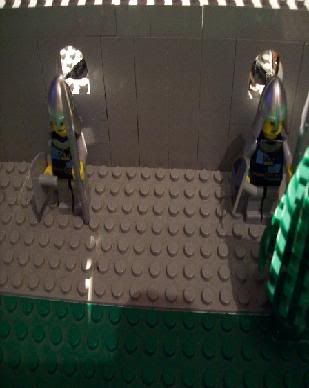 Factions:
Urban Guard (twelve guards and a hero):
Taken by Ogel96
Objective: defend the armoury at all costs (how you mean you already guessed that?)
Secret faction 1:
Taken by lrdofbricks
Secret faction 2: played by me, because they're only 2 figs, perhaps won't make their entry until a few turns into the game and because I want to.
I would excuse myself for picture quality if there was anything I could have done but photobucket died on me (ask Warhead) and then Imageshack did too and I ended up having to use paint and free image hosting. This'll be a small, hopefully short fight that is story-wise important rather than tactically, and I'm doing it because I just knocked down the first 39 pages of the guide down to 4 (you may have noticed the last forum battle was played out with very simple rules) and will try these out first before I let the next wave of rules descend on me. I will PM the player who picks Secret faction 1 with details on his faction and his objective, like I did last time with the secret factions. Factions are first come first served, no preferences.