I think I've mentioned these guys a couple of times before but never showed them, so here they are: (
This wasn't an actual battle, it's just a means to show off some stuff in a different way from usual and get some story elements across in something that wouldn't have worked for a real battle anyway. No dice were rolled and no innocent civilians were harmed during the creation of this work of fiction (they weren't innocent).
While a battle was being fought at the border, the Hitokiri of the Southlands were facing problems of their own.
Hitokiri kept a good eye on their lands in times like these and were always ready for battle, especially when the news of the undead ravaging the lands of the Imperial House Deverre had reached them. So when a scout had reported of a small portal spewing forth hordes of men, they had been able to move quickly to get a hold on the situation. As they noticed soon, the unknown men were hostile and didn't answer their calls. They were also numerous.
They charged the Hitokiri and their leader Subute (black katana) as soon as they caught wind of them.
Luckily, Hitokiri have multiple ways to kick some serious can. Though they view their own strength as normal, when they join up with other factions of the Kingdom for larger campaigns, they are always viewed and utilized as an elite.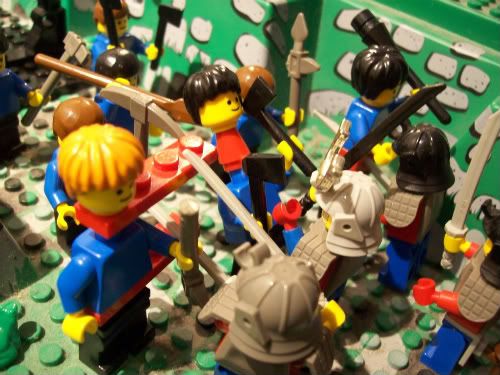 Combined ranged attacks are most likely the safest and easiest way of taking them out for regular soldiers.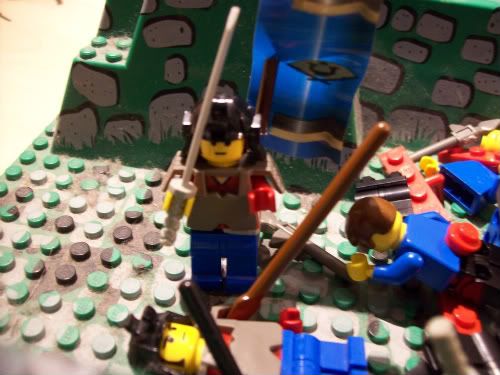 As this one got to feel. Which brings us down to the banner carrier. I don't usually put too much banner carriers in my armies but I've always found the way samurai run around with flags attached to them awesome (fe in The Last Samurai), so I wanted to create something alike.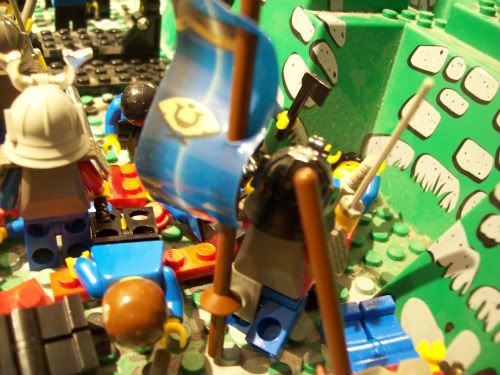 Pretty simple idea put to use, only it's a shame I only have one of those pieces. I know there's a high possibility it's been done before, but I came up with it for myself. Apart from looking awesome it also has another positive side effect, it allows the banner carrier for some good old-fashioned...
...dual wielding! Subute in the back cut down a helpless militia who was trying to pick up a weapon. Hitokiri are mostly well-meaning warriors but as Brikwarriors they don't let their sense of honour interfere with claiming easy kills and rarely show compassion in battle. Did I mention they hated ranged attacks especially when it involves throwing melee weapons? It kinda titches them off. Also, never mention guns in their presence.
The enemy runs after the initial and fatal clash (why not back through the portal?), but as a people who's almost sole occupation is warfare, Hitokiri of course also have a good deal of tactical sense. The other end of the gorge was blocked off by a company of Bushi (a unit used by Chinese armies in the ancient times).
The long weapons make pretty good tools for stopping off a charge or slashing things further away from you - or even above you.
However their long weapons weren't very easy to wield in such narrow spaces so they stood back.
So did those on the other side. What were they planning?
Well, Hitokiri generally don't mind a pinch, but will be the first to admit that in fights against much weaker opponents where little honour can be gained wiping them off the field in a more effective way is far more desirable... so they came up with this.
Yeeha! *splatter*
Cavalry on the other side crushed the remainders. One was trampled to death.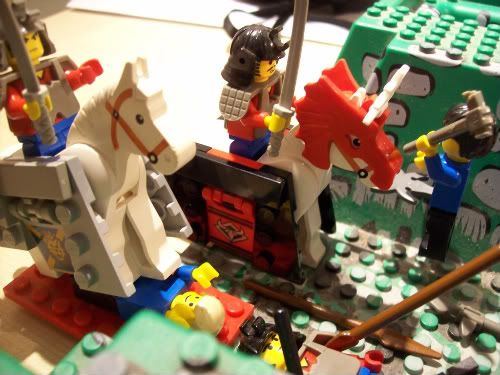 Lieutenant: "All aggressors reportedly dead, sir. One casualty on our side. The gate vanished before I could charge through it. The rest of the men are getting ready to split out and track down any more of them that made it out of the valley before we came."
Subute: "Good work. These men were desperate, neither armed nor trained for war, but clearly with ill intent. I have no clue on where they're from. Their attire is too generic to tell us anything. The way they came upon us is absurd, too... Perhaps we should have kept one alive."
Lieutenant: "None of them would have told us much, sir."
Subute: "How so?"
Lieutenant: "Didn't you notice? All of them had their tongues cut out. My best guess is that someone's forcing these people to attack us, though no one could be as vain as to think they could manage an invasion. Their commander must be truly heartless and without honour to have such men fight in his stead. None of them even carried provisions!"
Subute: "A strange situation indeed. We should inform the king of this. Will you take this upon you?"
Lieutenant: "I will."
The 'battle', if it could be called that, would go down in the history books as 'the slaughter of Suharto gorge'. It was never given any tactical value, but as the forebode of more important events would be remembered as fairly important nonetheless.
So, most of the creational stuff in here probably won't actively be used by my Hitokiri except for the banner on the guy's back, but with a great deal of my other guys occupied they were made to pose.
First of all, some Imperial horse armour, for which Rev. Sylvanus gave me the basic design: this one didn't turn out as well as I had hoped it to. I have really many of the smaller parts in different colours but I checked all my black and light grey and only found a few of the larger pieces needed for this creation... bollocks.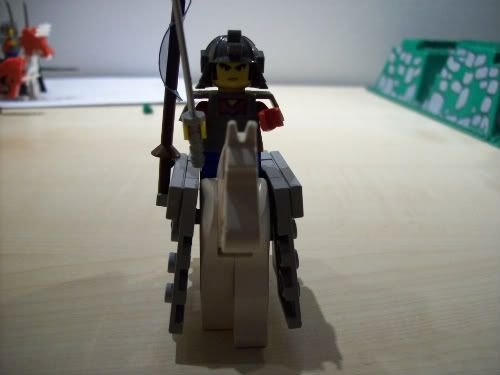 This one I came up with myself though, just as with the banner, someone might have preceded me or done a better version even. I still like it though. I was inspired by the movie 'Mongol'. In real life the blades would probably be shorter and attached to his shins. Whether a collision would then rip his leg off I don't know, I guess the swords would just have to be sharp enough! Anyhow, imagine you have a few of these running through a formation, what would you say, huh?
That's right. He hasn't got normal legs (well he does, but I had to take them off), see above explanation. It's undesirable but you can also make the normal horse bardings with these pieces if you don't have the smaller ones. Just put enough stuff on top of it so the rider doesn't look like a dwarf compared to normal riders.
Horse no. III is just about the same as those of Rev. Sylvanus, only I used a different plate for the back. I tried a lot of different ones and some worked for the back, but for the front really only 1 type really works (and I only have 4 of these pieces right now, crap!). Attempts at closing the armour off at the front as well failed (since it didn't look good).
My first thought when I saw the original design was of course 'I could stick a weapon on that'. Don't care if it's technically impossible, the horse is a lot more deadly now, and the rider won't always have to carry a lance into battle or use that for his charge attack.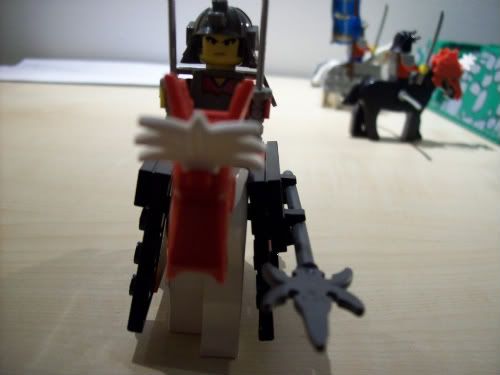 A final pic shows my Hitokiri assembled as they normally are. I badly need some more samurai helmets and pieces to stick those flags on. They're basically 2 squads of 6 elite swordsmen, with Subute possibly made into a hero depending on the outline of the battle.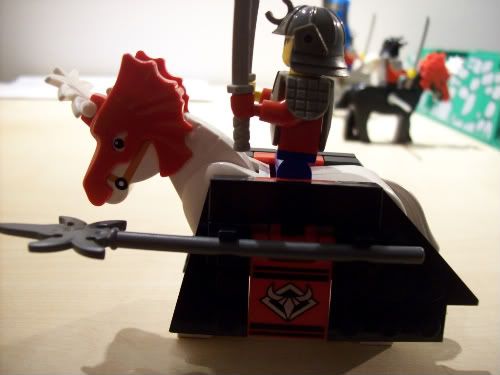 P.S. No, I'm not doing this while I should be working on my forum battle, I'm just waiting on some orders.