I'm gonna start off a whole series of smaller, manageable battles in which almost all of my factions will get to fight. The story will be decided on the outcome of the battles. This thread is to give you an idea of what's to come and myself an Overwatch of what I'm planning...
The King's Council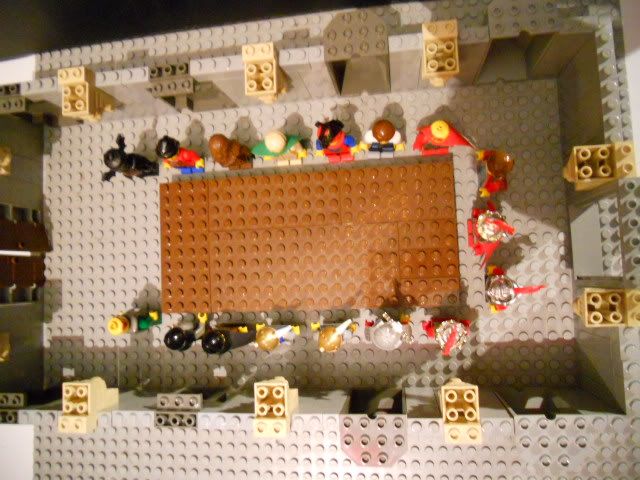 Following the recent crisis, the King called upon his war council.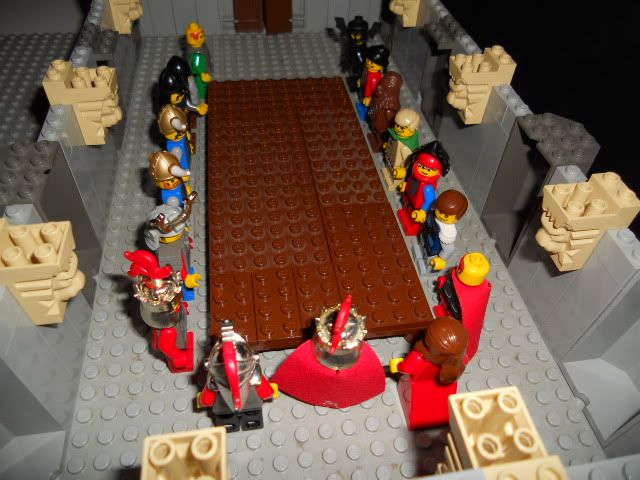 King: "I greet you all to my War Council. I'm glad to see everyone managed to make it in time, except for General Marnix of the Bulls, who is dealing with problems in his region, as we all now."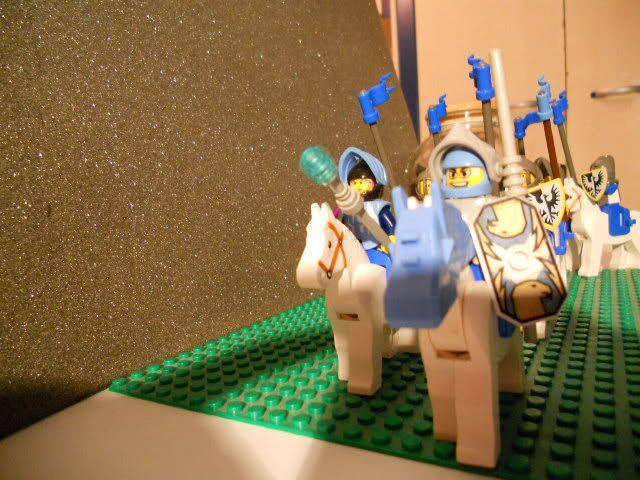 "Kerrat has blamed us for housing 'traitors' and the killing of the soldiers who trespassed, which is of course nonsense. Sir Garth has informed me that for the madman who has risen to power there, any reason would have been good enough. Judging by what my spies tell me, I'm prone to believe him. Regardless the fact remains a division has conquered Starkeep - it was apparently abandoned by the undead - and their first host has been sent forth into our lands."
The King looked at the representatives of the Waterdemons, Fishstache and Fat Olaf.
"Your men travel faster than any other, general. Will you take the honour of being the first to meet them in battle?"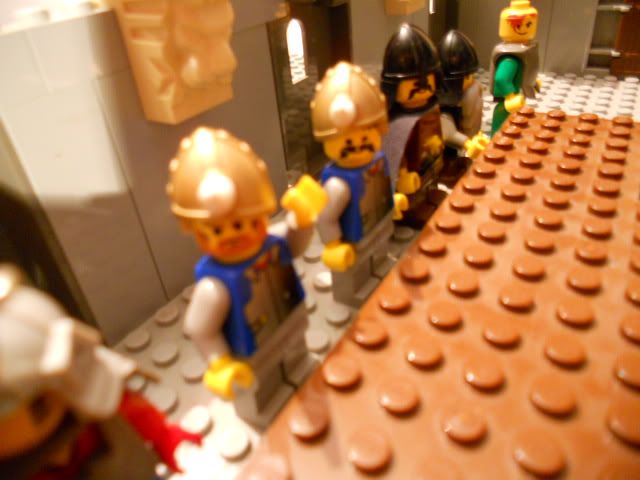 "I gladly accept, great king!"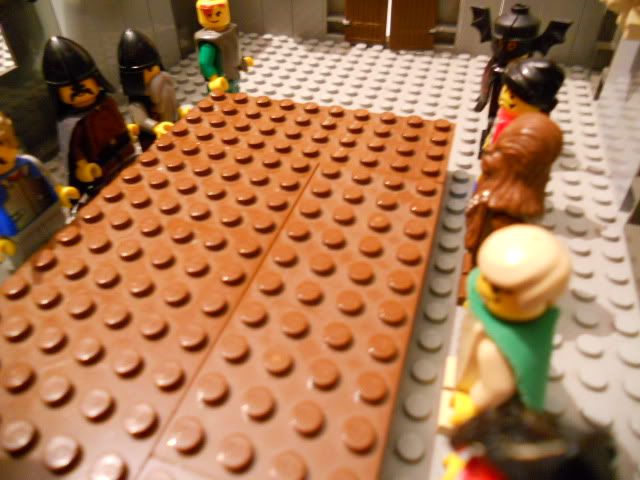 King: "Though Phineus appears defeated, I'm certain evil still lies within his Black Citadel. We must make sure no necromancer will be able to profit from the coming conflict! The Dwellers are the only ones who could make it over the passes unseen, so I'm sending you to contain the threat. Do not assault the Black Citadel, just make sure nothing - alive or otherwise -, gets out! Since you'll be stuck behind enemy lines you'll have to raid Kerrat's supply wagons for goods."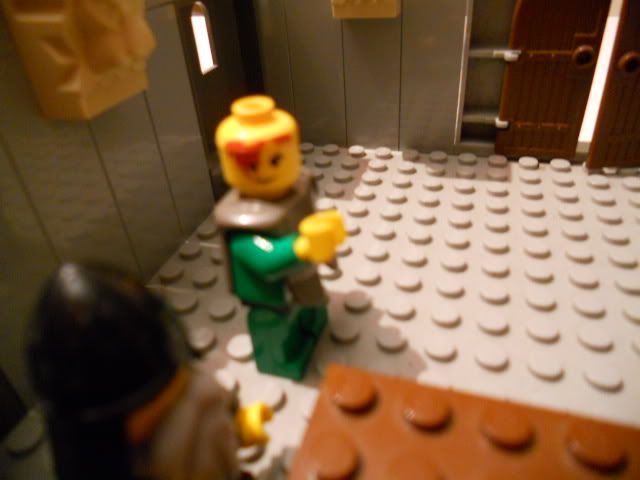 "Since this is a hard task, I will send Sir Garth with you, as leader of the expedition. He has experience fighting the undead."
"I sure do!"
"My wife, Queen Lara, will continue to lead the Magus Guild. They will attempt to trace Falx portals before they even appear and work together with the Hitokiri to make sure the Falx do not gain a foothold in our lands; they cannot be allowed to build a bigger portal or we'll be overwhelmed!"
"We can't expect it to go our way on every front. Myself and the Marshal will command the Bloodguard as a reserve to stand by any forces that suffer defeat, or react to unforeseen threats. We will also continue to defend the capital."
"The Urban Guard is undergoing an expansion under the supervision of Uncle Patch and the Scallywags are also being rallied so we can properly defend our cities even with our armies on the march. My sons will be spread out over the cities to help organise their defense and rule while you are all gone. However, commanders, it is your task to see every city is properly garrisoned, since we have to expect occasional Falx raids."
"Milord, since the noble bloodline of our order died out we've been without a real General, and I am but a garrison commander. Who shall lead the Golden Lion brigade in this war?"
"Ah, I kept the surprise for the last. In times of war it is important to keep the spirits of your generals lively. Look, and you will see the return of a long gone, thought lost friend!"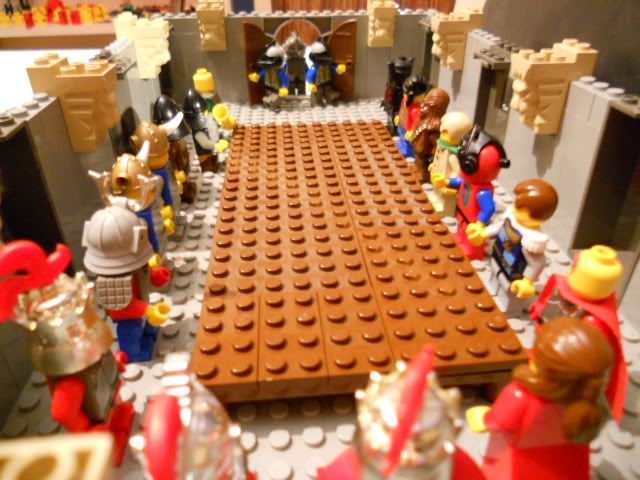 The doors were suddenly flung open by slender, armoured knights. Everyone turned their attention to the entrance.
Through the middle stepped a man encased in grey armour, but he held his visor down as he stepped into the room as if to keep up the suspense.
However, when he entered the council chamber, he raised his visor, and the few who recognized him gasped for air, Queen Lara amongst them.
Lara: "I thought you dead!"
Cales: "Then you were nearly correct. Dam- The Bulls, since they're now our allies, I hear, have hunted me like a dog for years. But I finally made it back."
King: "Cales will lead the Golden Lion brigade over the destroyed pass of Lion's Maw and try to reclaim Starkeep with a surprise attack from the rear. If we can shut off our borders again, the war against Kerrat will be an easy one and we can concentrate on dealing with the Falx. Though he lost the border to the Bulls a couple of years ago, he refused to lead the treacherous Imperials against us, so now he'll be getting a chance to redeem himself!"
Cales: "And what's more, if the Bull rebellion turns out bad for us, I'll get the right to discipline them myself - and become the feudal ruler of the former Empire after I'm done dealing with them. But let's not run ahead of time too much."
King: "You all know what to do, so go do it. May fortune favour you, but remember ability is and will always remain the key factor to succes!"
The commanders then started to leave the room, except for Xalen who, unnoticed, it seemed, made his way over to the King when he beckoned him to come.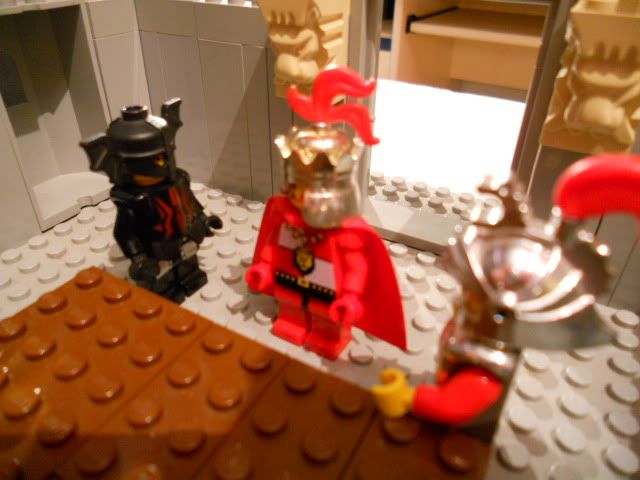 "Sir Xalen, finally, I have a mission for you. You seem like the ideal person for this job to me. I have no quarrel with the Bulls and don't desire them as my enemy, but this Valarius has betrayed me! Not only did he give up the defence of the border, he destabilized the entire Bull region with his so-called 'religious revolution' and split my forces there in half, forces I could have very well used in the coming conflict!"
"I want you to bring me his head. Make sure he dies slowly and painfully so he is made an example of, and everyone will know unquestionable loyalty is the only road to freedom! Hopefully that will stop the revolution and bring the Bulls to the fold again. Work together with General Marnix if you must. My estimates are that their conflict will soon reach a boiling point, so you will have to be quick. Use whatever resources you require."
Xalen: "Very well, my King. Consider his days counted."
And with that, Xalen was off, and finally the King and his Paladin bodyguard left the council room.
"Father, aren't you making a mistake by sending only Xalen? If we'd lend General Marnix some of our forces, he could easily crush the rebellion."
"Child, you have a lot to learn, and by my crown, I do wish you never rule my Kingdom. The Bulls are no good to me if they fight each other to the death, and I don't want to add personal losses to that tragedy, especially not if the religious Bulls turn out to be the majority, for that would make them our enemies. Besides, even if Valarius should somehow manage to unite the Bulls under one banner, it is unlikely they'll have the strength left to march upon us, and their territories would still provide a good buffer against Kerrat. We could then negotiate with them later."
"I see. You really think things through, father."
"It's my job..."
And so, the so far unnamed war began...