http://www.brikwars.com/forums/viewtopic.php?t=5773
Round 3
Rebels - Moronstudios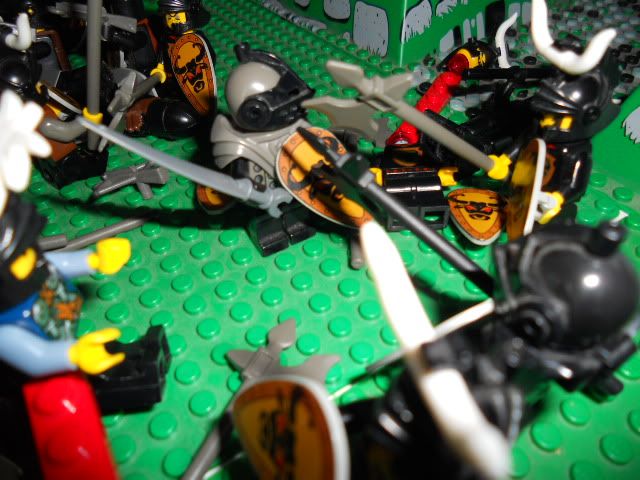 The rebels pressed their attacks. The general stood his ground.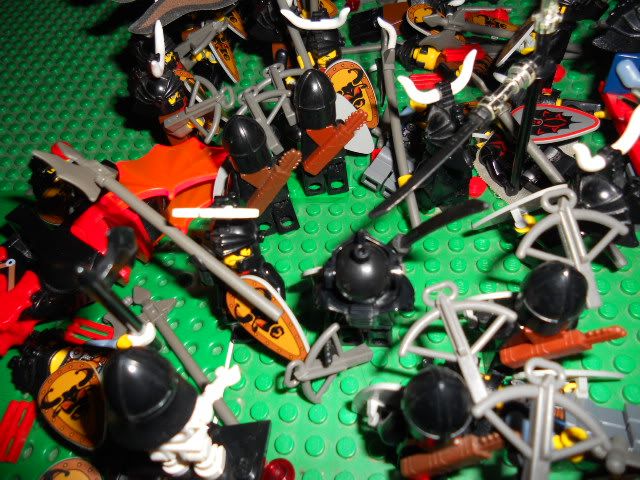 The grounded Xalen was attacked, as was the skeleton, but a lot of rebels messed up this turn. You can barely see the chief being chopped to bits, though.
In spite of the many fails the bullbeast managed to rid itself off the other chief.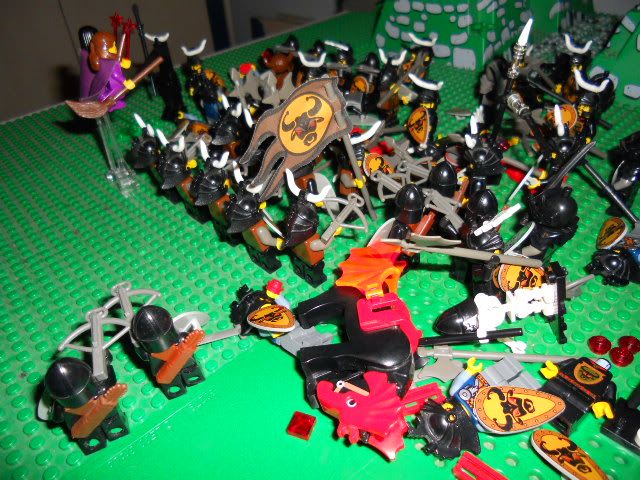 More crossbowmen got in range. Some crept around the back. (the skeleton wasn't supposed to have fallen over)
Again, they were hellbent on killing the purple mages.
Valarius: "This time, aim better you sods!"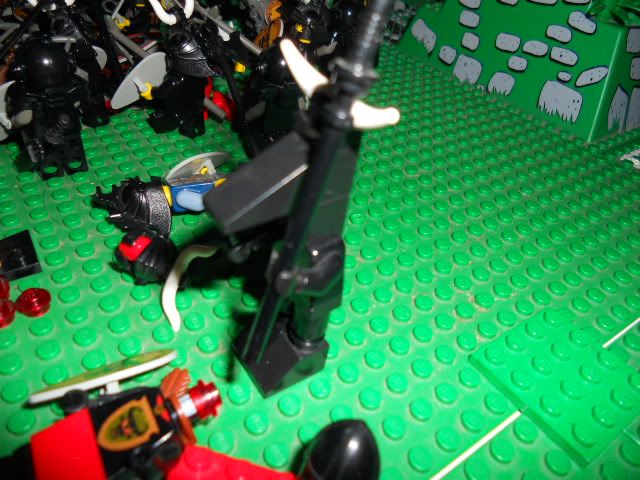 The disrupted icons got up...
Which means they didn't have an action to spend.
But the one that did managed to add magic damage to the nearby crossbowmen's rolls!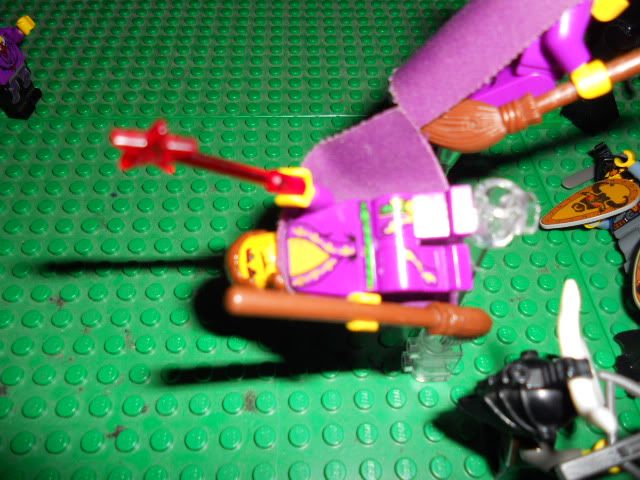 "Fire!"
One purple mage was obliterated.
Xalen - Silverdream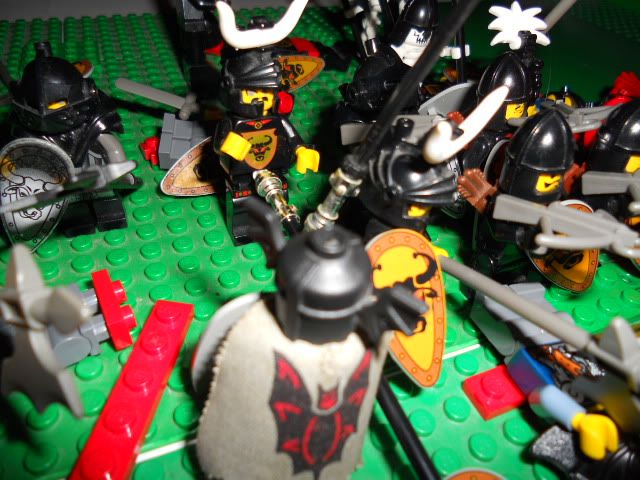 The black knight would have tried to go for Valarius, but had to deal with his attacker first.
Xalen: "Out of my way!"
The skeletons then charged in, but Valarius easily withstood their attacks, as did the chieftain on his side.
Purple Mages - Ross_Varn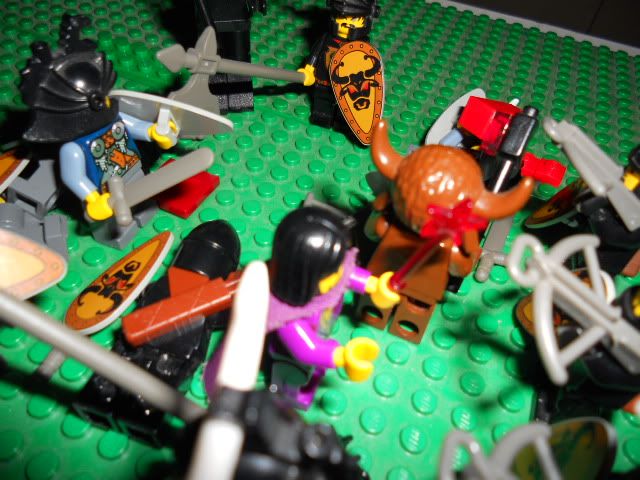 The remaining mage landed, cast a shield around him and moved into the battle.
The hero got out his staff and chose to support the loyalist army. Another critical success and Marnix' men would get +1 to their attack and damage rolls for their upcoming turn...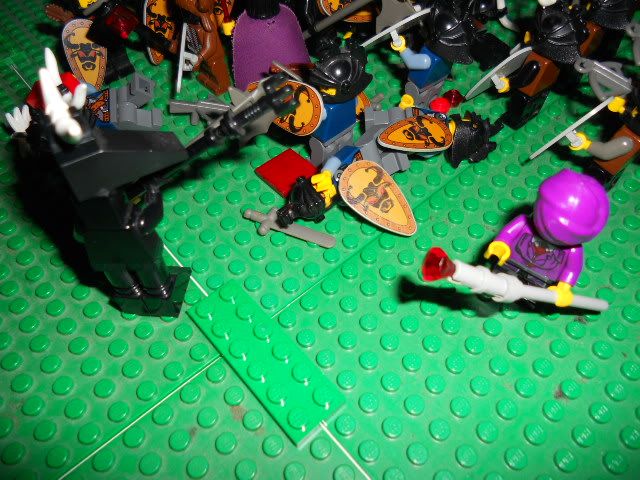 He then tried to blast the nearby icon but missed, only making it angry.
Loyalists - solvess
The purple mages' spell had dramatic effects: the loyalists hacked and slashed and killed a LOT of rebels. In total 10 of them died this round, which is pretty bad. Those that could then fell back into formation (I forgot to take the detailed pictures because I thought I had them - this is why you should never do rounds in two or more takes).
Marnix got up and killed the nearby crossbow chieftain.
Marnix: "I've given you a chance at redemption! You'll see the path you've taken is wrong when you meet your end!" (heroic feat: Rebel troopers will get -1 on their skill rolls on their next turn)
Overviews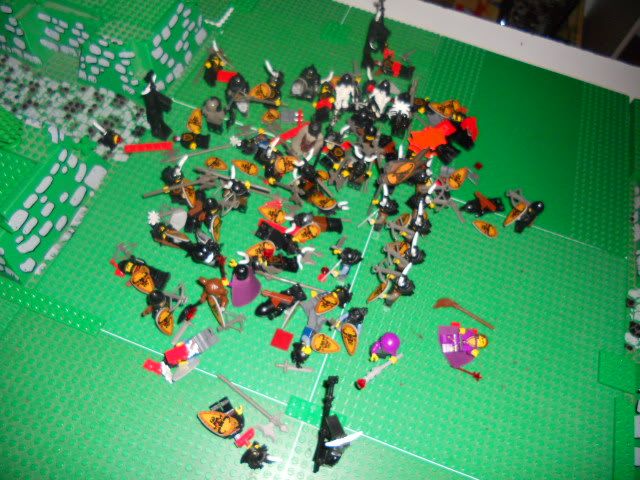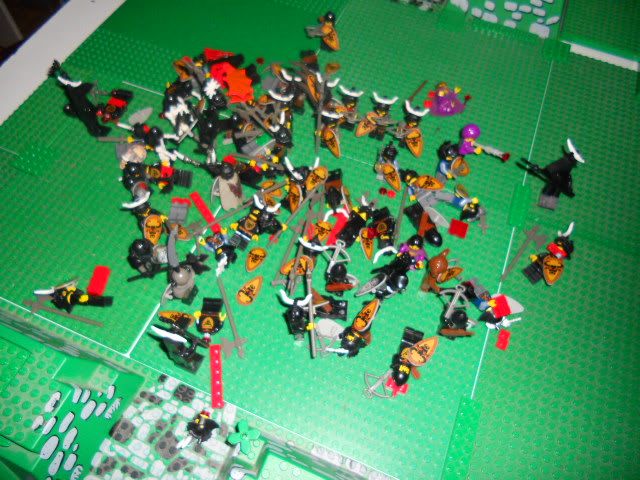 Kill Chart
Loyalists - 12
Rebels - 10
Xalen - 3
Purple Mages - 2
Alright I'm going to try and get back on schedule so make sure I have orders by friday midday, and prepare to send orders quick after that 'cos I'm going to try and get round 5 up around saturday evening - it would be easier if I could do this on sunday but I won't be at home then. Sorry for all the inconvenience but I really couldn't help it '-.-