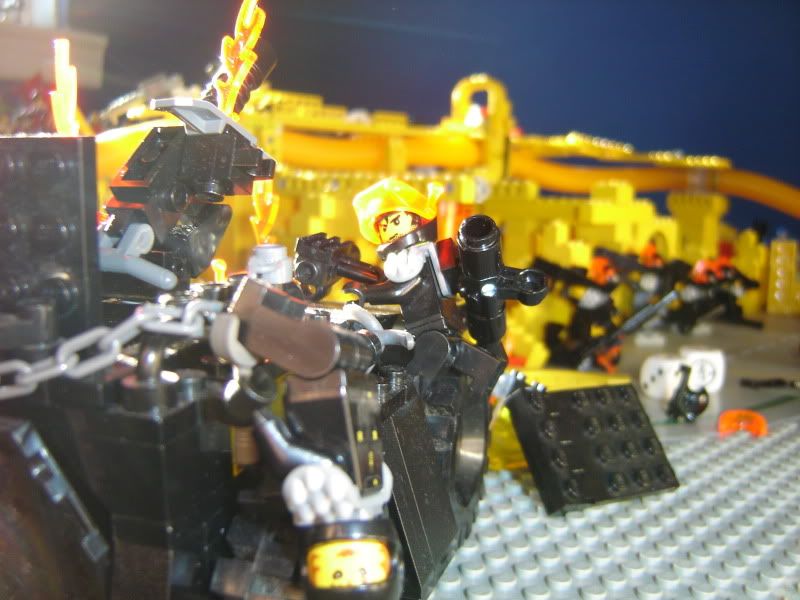 BFenix climbs up on the APC's wheel and grabs his rifle.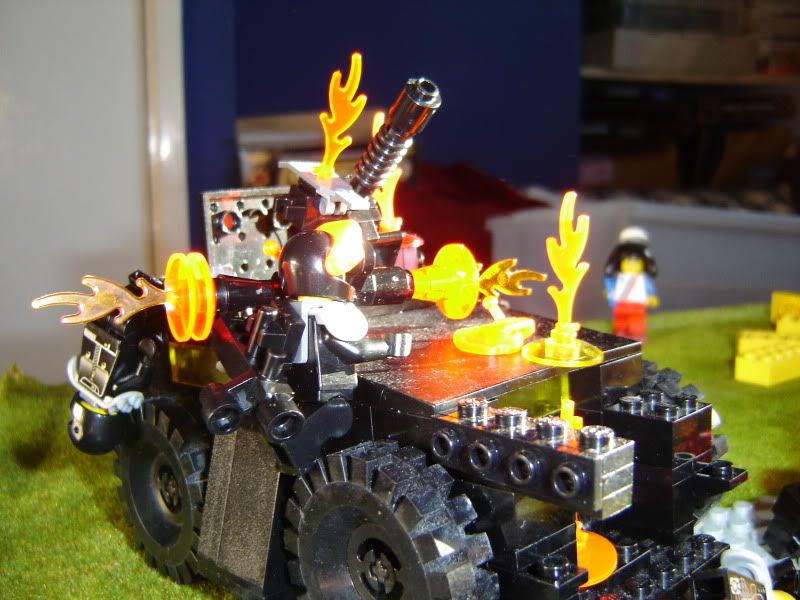 He switches it for his HIVE launcher tube and fires the one shot HIgh VElocity round at the Scav Crab...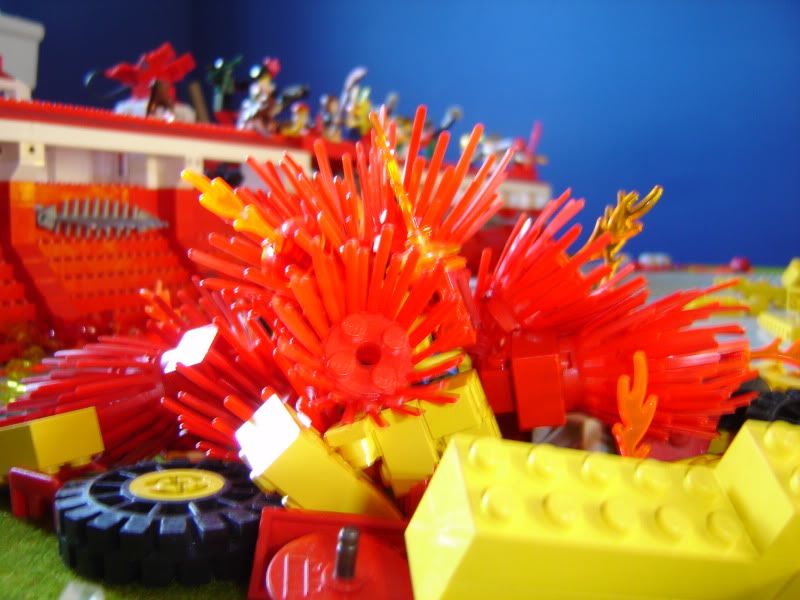 KRAK-KOOOOOOOOOOOOOM!!!
The solid core round instantly hits the target, no discernable time taken between tube and victim, what you aimed at gets hit with no chance of evasion or escape. Only the sonic boom of displaced air...
...and the hissing of cooling Crab wreckage remain.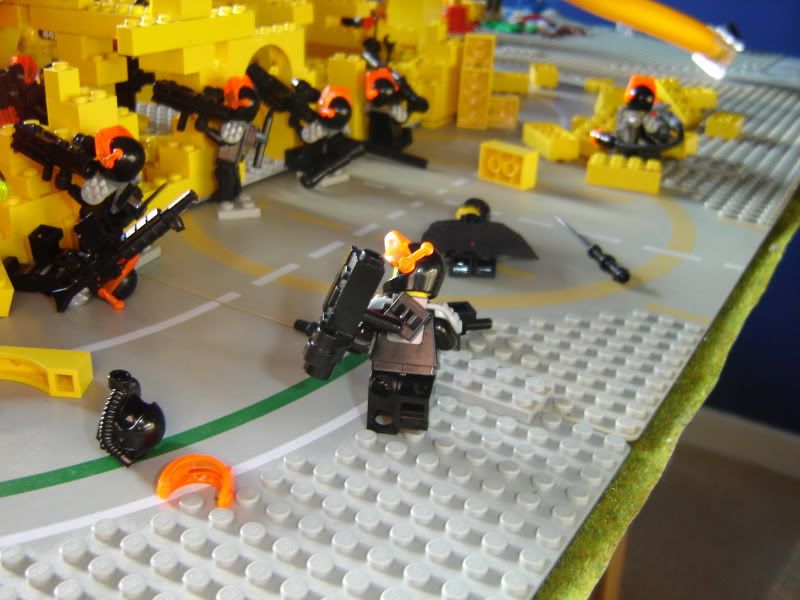 Ditching the now useless HIVE tube BFenix makes for the Colonel, but can only get so far.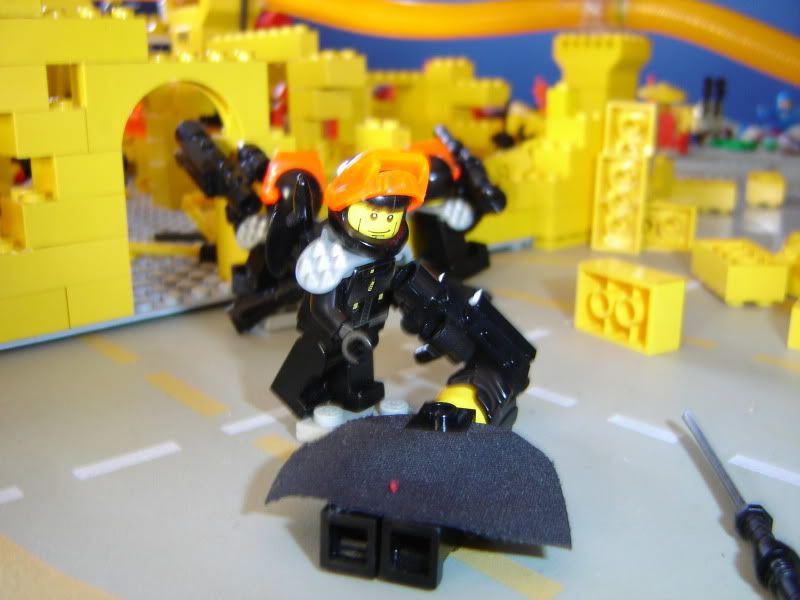 Silva seeing BFenix wont make it makes a run for the Colonel.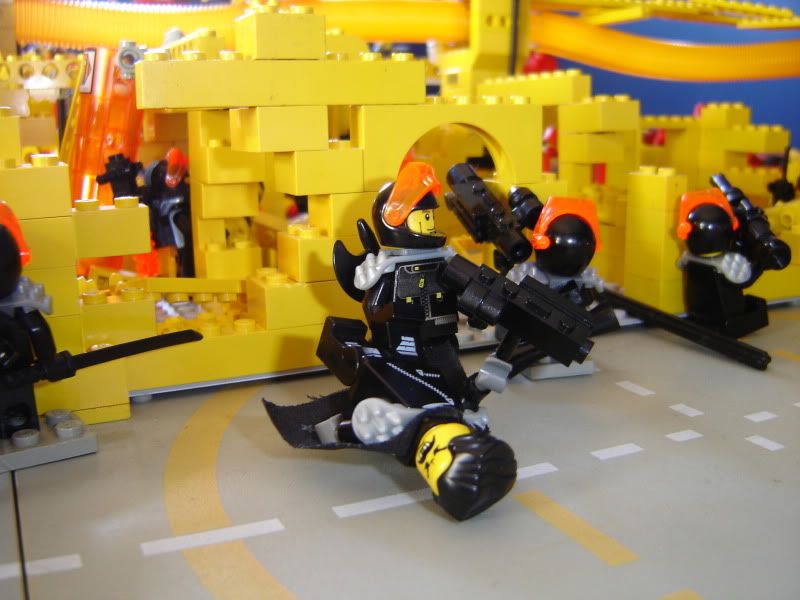 He drags him to safety single handed.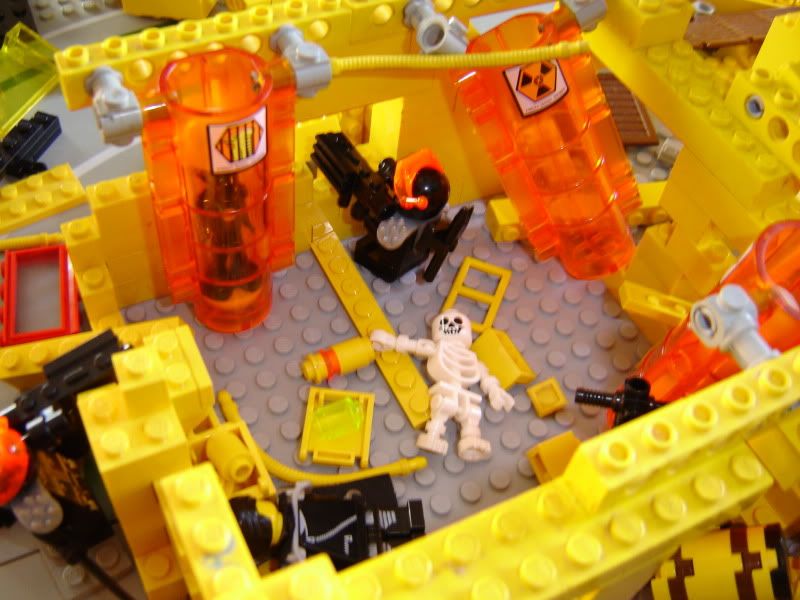 Making sure the Colonel is in cover he just has enough left to prepare a response action.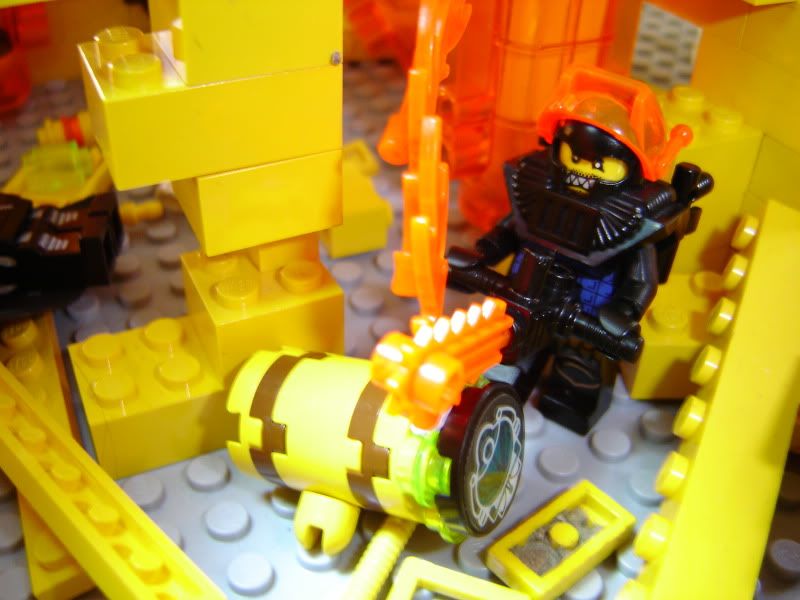 SKRRRREEEEEEEEEEEEEEEEEEEEEEEEEEEEEEEEeeeeee!!!
Moron the TerrorKhan Berserker has some fun his
OTC's
"I wonder what goodies I'll find here?"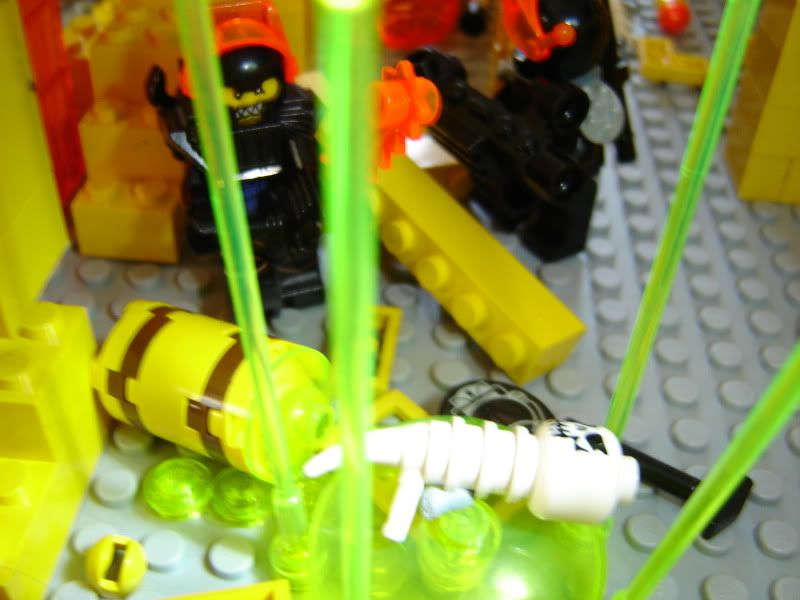 SPLODGE!
"Ew!.."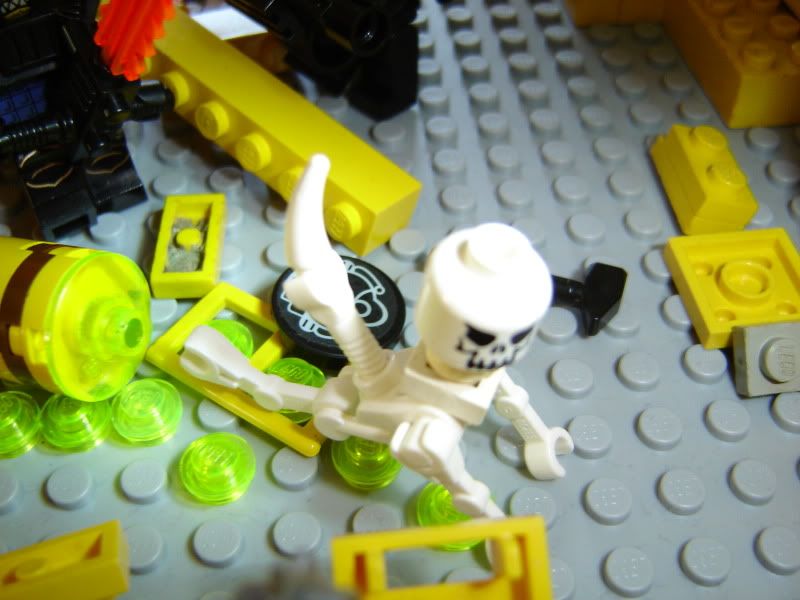 The abomination of Mini-Fig and Trans-Crystal Psi-Aliens begins to change and grow, it craws on the floor looking about. A psionic attack shrieks through the minds of everyone in a D6" radius. Check out the oh so eerie glow too.
(Lesson: All that is in containers is not explody or your friend).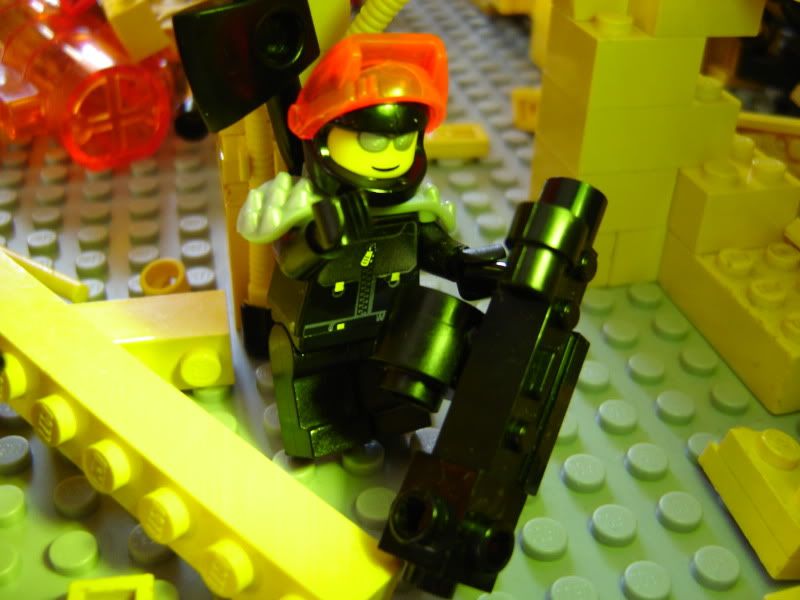 Aoffan is mind blasted and he looses his action. (I rolled for this, no really).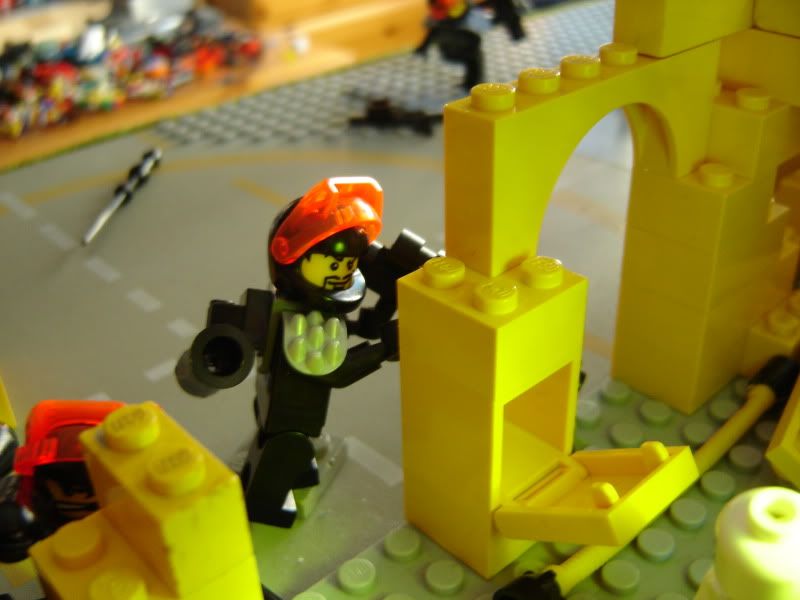 Trooper G'o'D is also caught in the attack and losses his action. (No, seriously! F!SH was also in range and he managed to resist the psi-attack).
The Terrorkhan is Fearless and the psionic attack has no effect.
Seeing the danger Moron attacks! The Abomination tries to call up it's psionic power but the TerrorKhan is immune.
SKRRRREEEEEEEEEEEEEEEEEEEEEEEEEEEEEEEEeeeeee!!!
The Psi-Alien Abomination flies apart in a frenzy of
OTC
death.
The Abomination destroyed the Psionic attack has been stopped and the weird green glow is gone. Everyone heaves a sigh of relief.
Meanwhile, outside mundane things are still occurring, like trying to stay alive. Piltogg unleashes another blast of Plasma energy. (I sorted out the stats from the original as I forgot this was supposed to be a flamethrower and used it as a Plasma Weapon last turn. It has Plasma Weapon stats now).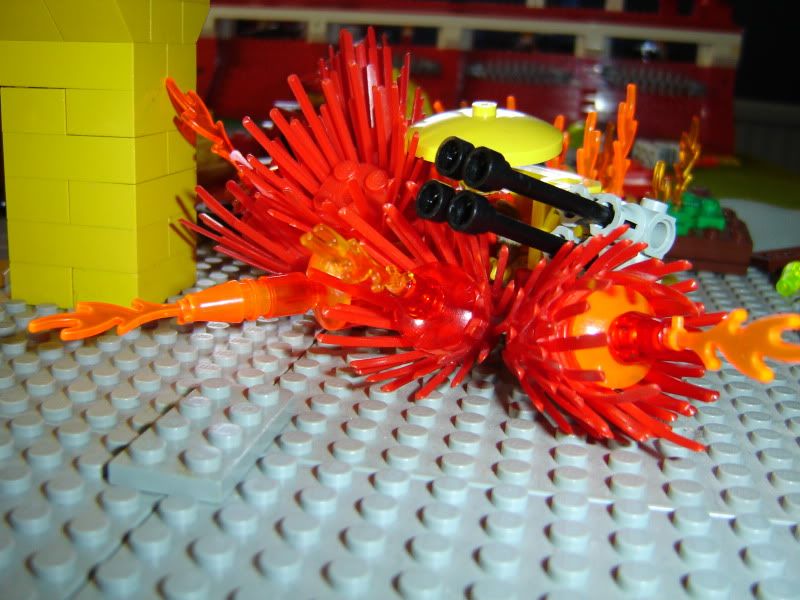 The Crab takes a blast in the front armour!..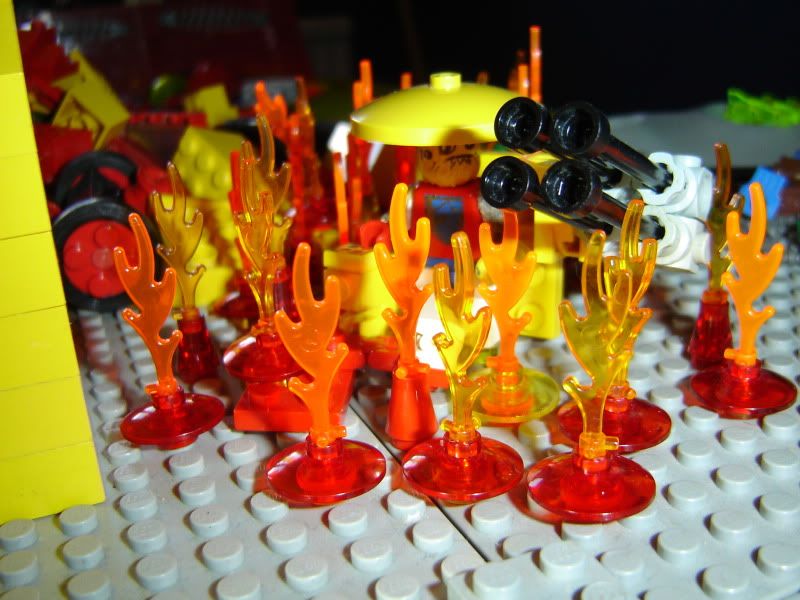 but despite losing it's front armour, which makes it very vulnerable it survives in working order. It finds however that it is unable to move through the flames since it's armour was stripped. (-1HP)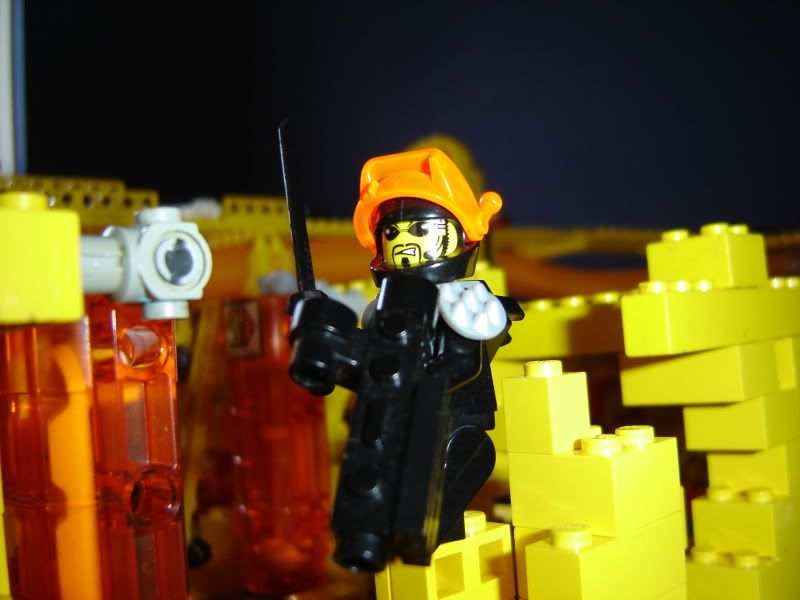 Master Sgt Ecabob gives a rousing yet brief oration "HOLD THE LINE!"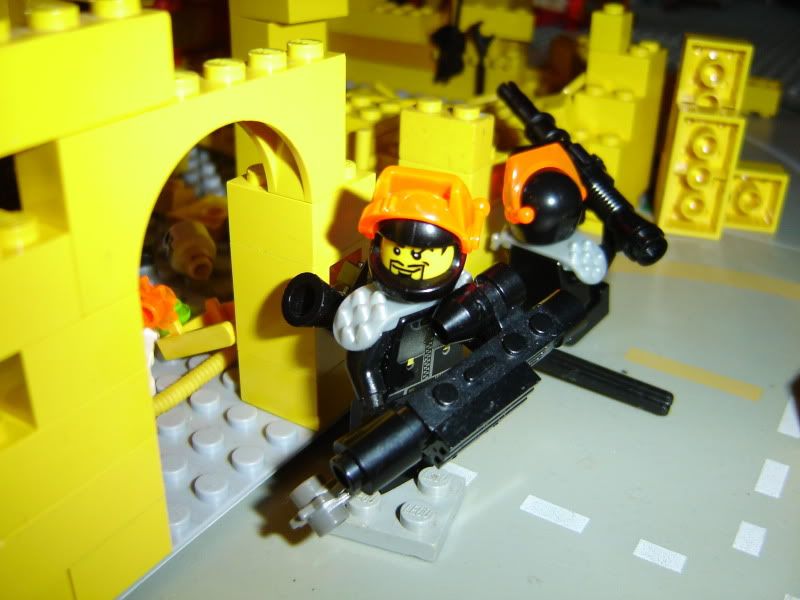 The sound of his clarion call gives heart to the men and rouses Aoffan and G'o'D out their stupor, they can now response fire but not act beyond that. Everyone else in a D6+6" (8" total) radius gains a +1 to their skill.
Staff meeting over the verbose NCO dives into cover and sets up a response action.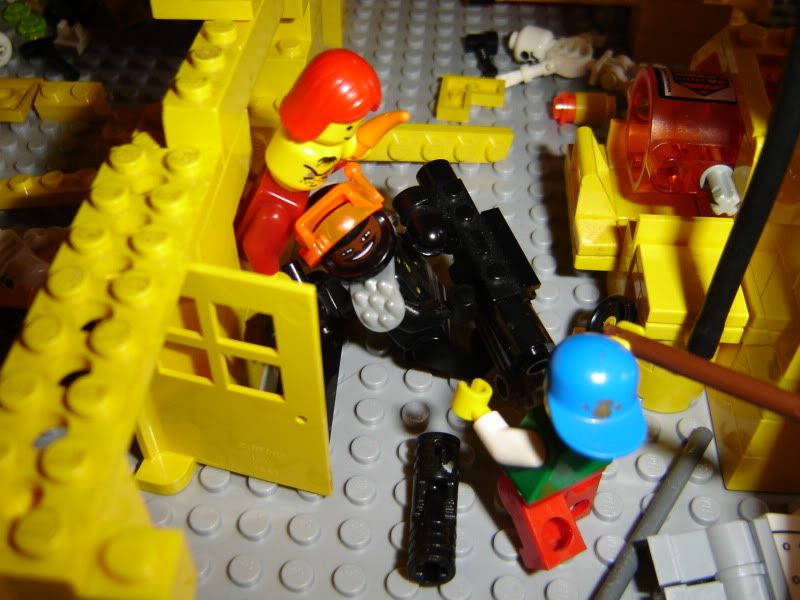 Trooper Killer smashes the two headed freak into a wall!
"eRk!!!" Winded, the little fucker falls off.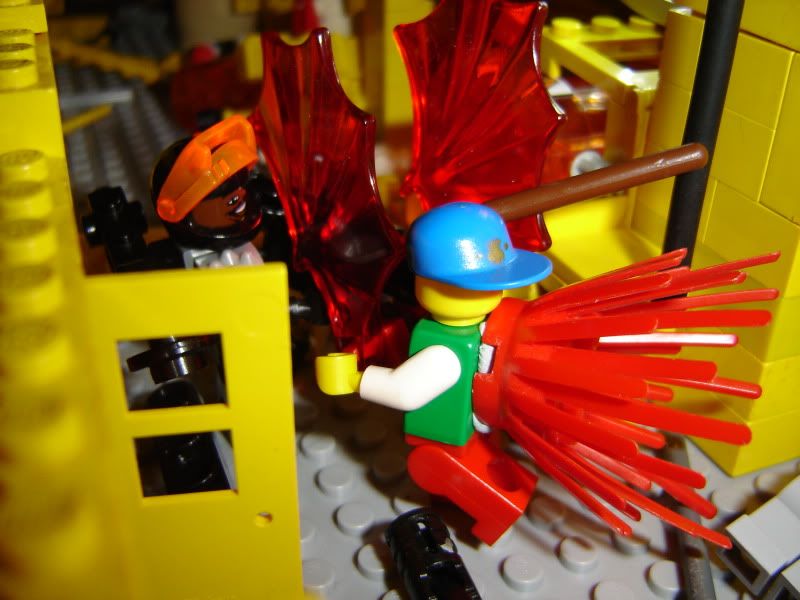 SKRRRREEEEEEEEEEEEEEEEEEEEEEEEEEEEEEEEeeeeee!!!
iiiiiIIIIEEEEEEEEEEEEEeeeeeeeeee!
The Scav Dimmie in front takes a Chainsaw bayonet in the guts...
SPLOOOOOSH!!!
...and flys apart.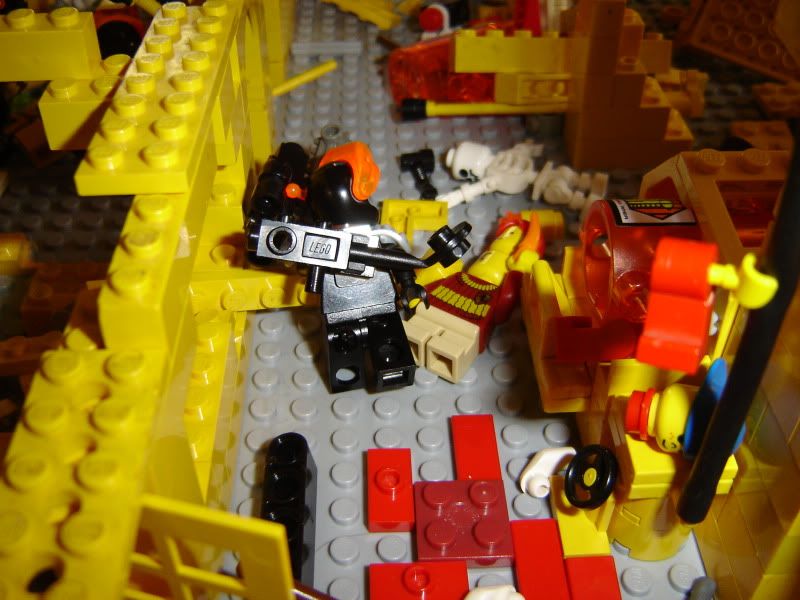 Job done Killer just has time to Bail.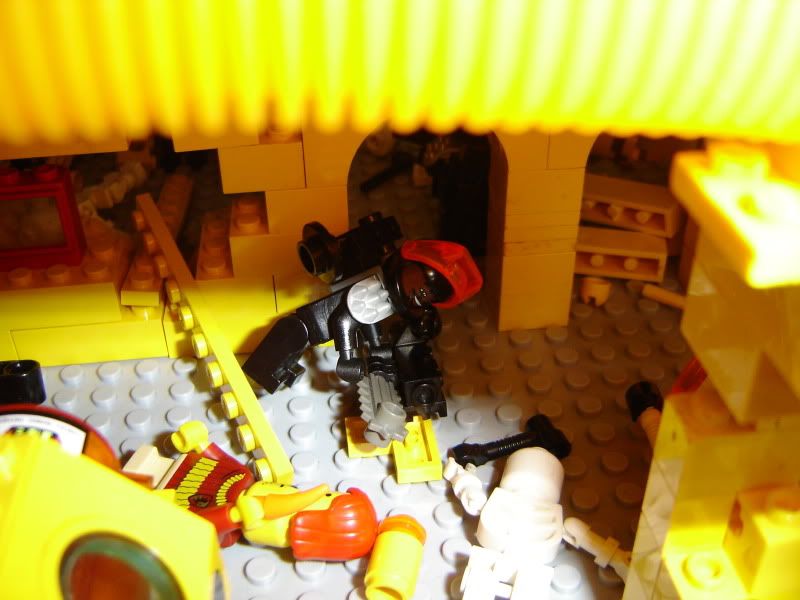 "Phew! Made it...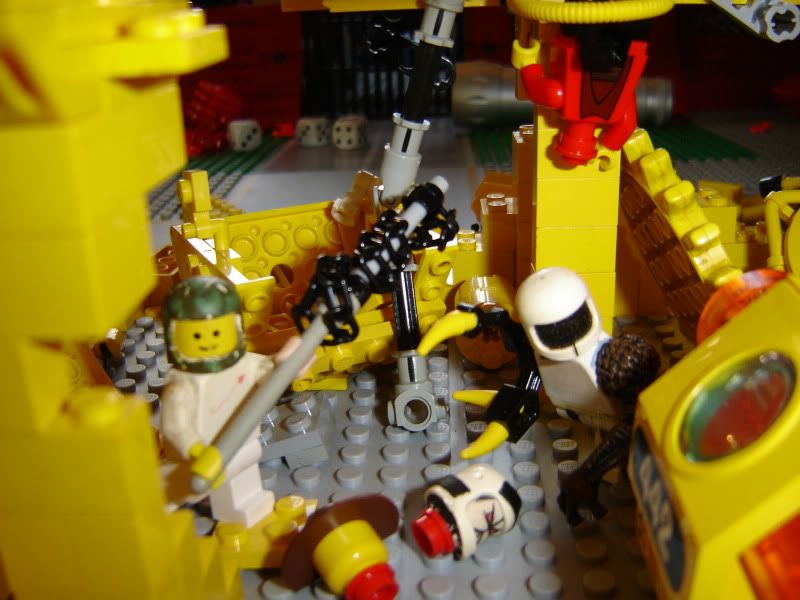 ...aw, shiiit!" Killer has just spotted his next problem. Two more Scavs who had been sneaking up are now rushing towards him.
F!SH, moves up fast to give support.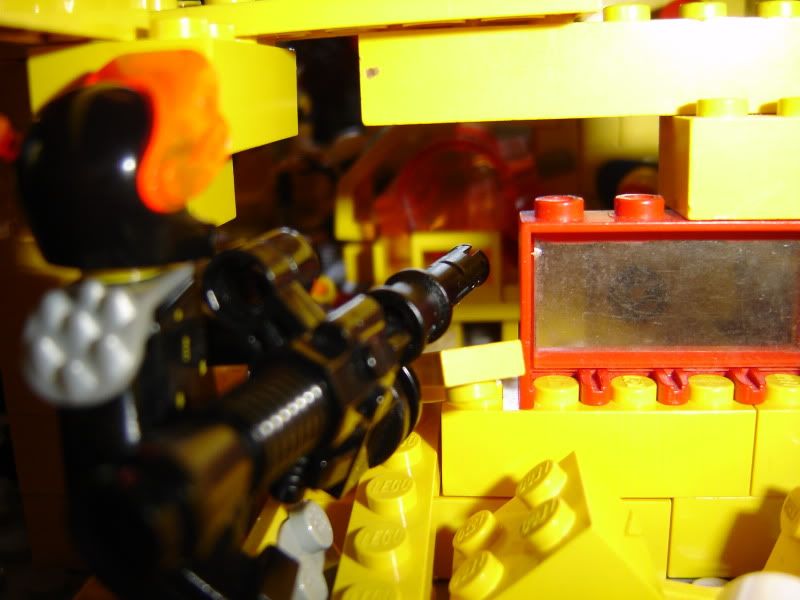 Shoving his Autocanon through a hole where he can get a good arc of fire...
...he finds an amazing lack of targets. (Goes to Response action).
CrazyHorse easily despatches the lone Scav. And seeing as the Crab has been delt with...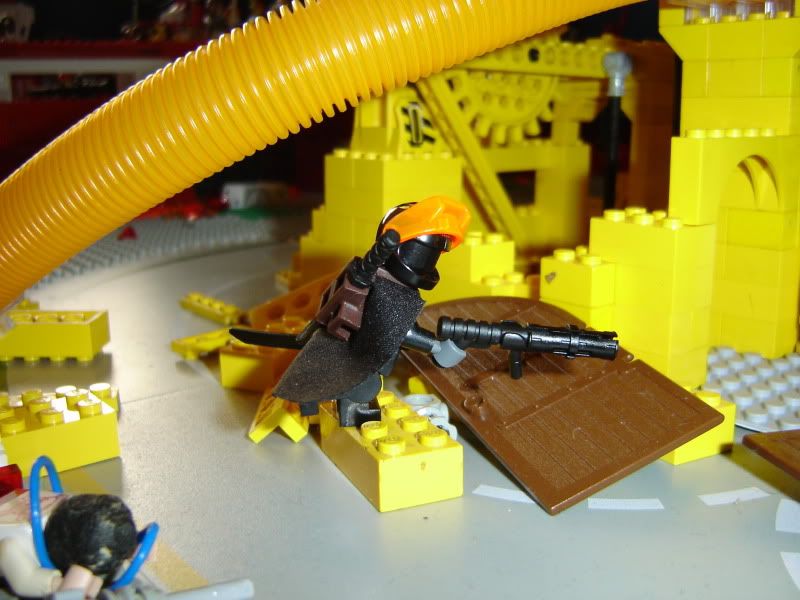 ...he legs it, sharpish!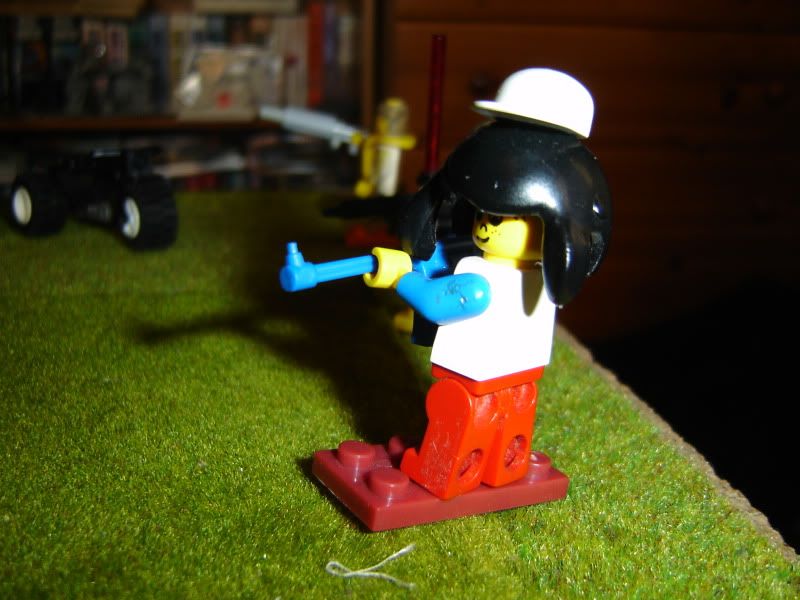 Only one of the Scavs with a ranged weapon manages to spot him, and fires!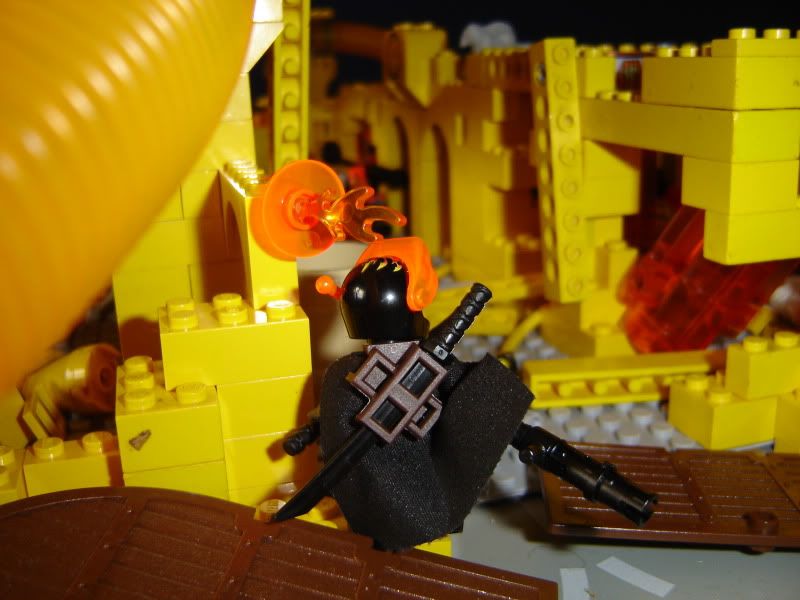 The shot narrowly misses and impacts the wall.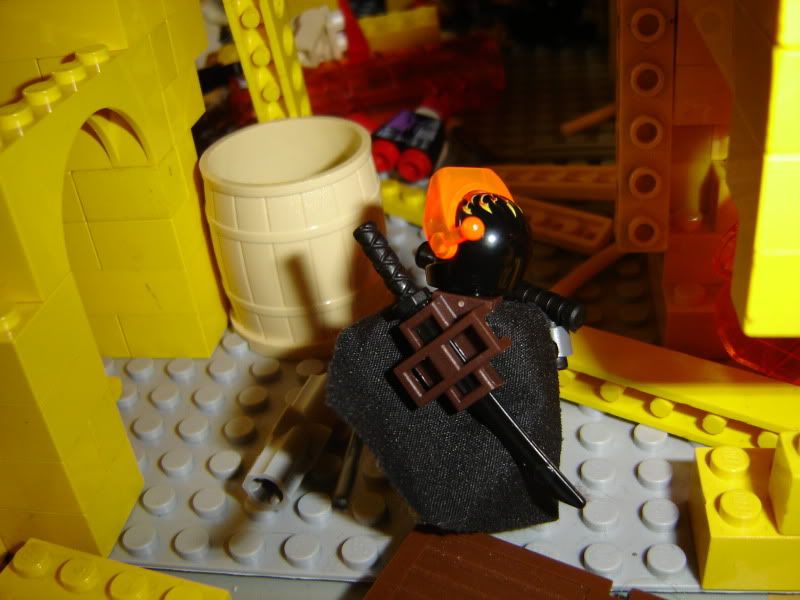 Double timing like a bastard CrazyHorse still has time to do his stuff, Scouting...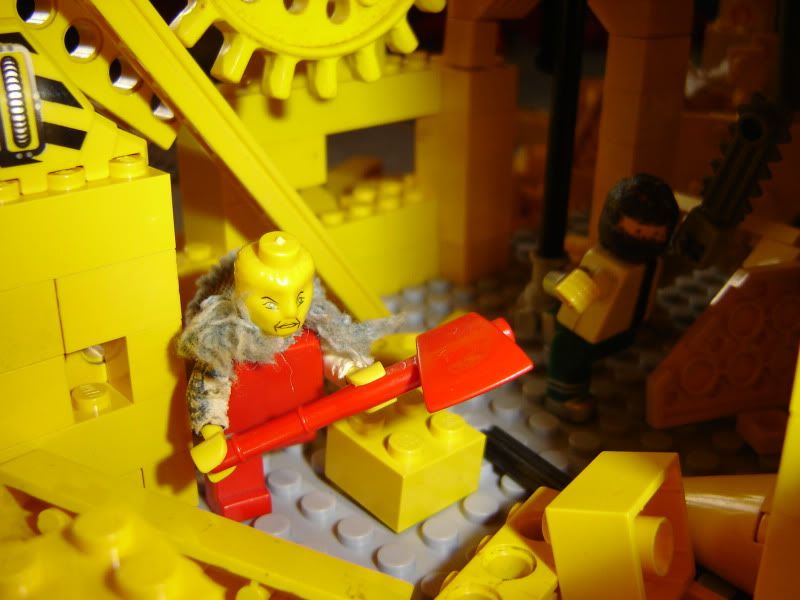 "...eep!" Two more Close Combat Scavs...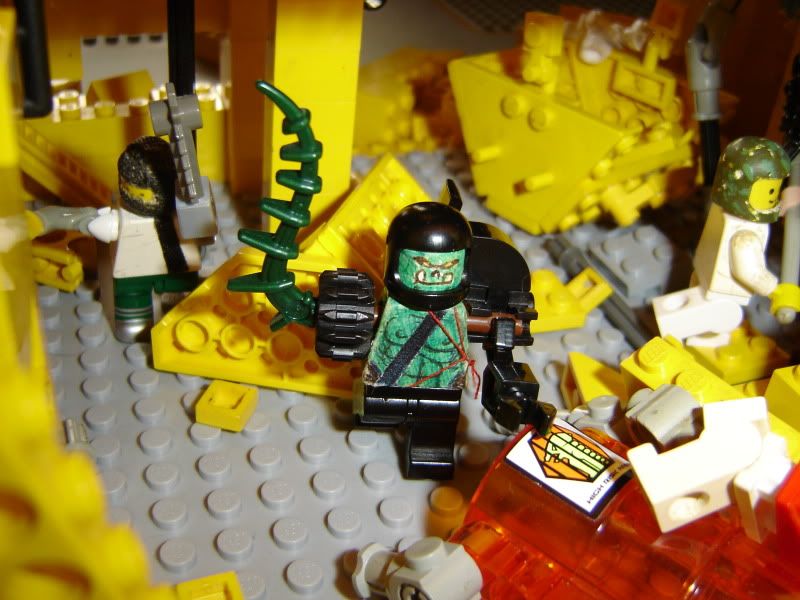 "Ah, fuck!" ...and another, a big bruiser this time!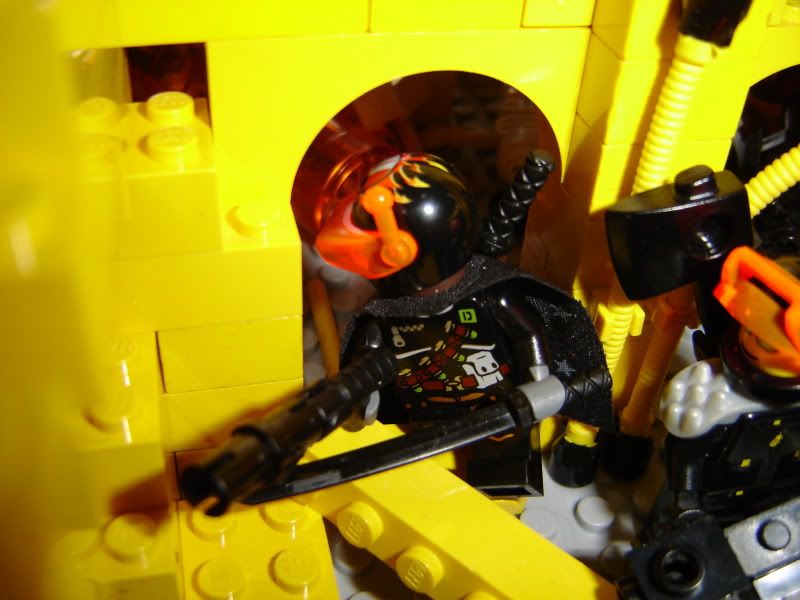 "
aaaaaaa
aaaaaa
aaaAAA
AAA
AAAGH!
There's more of 'em, QUICK!.."
"...hide." Managing to get back to his own lines CrazyHorse takes to cover, his actions are spent.
Krus slings his highly powerful 2+ to hit Sniper Rifle and finding no Skeleton close enough to reasonably lift on his back for cover he makes a dash for it...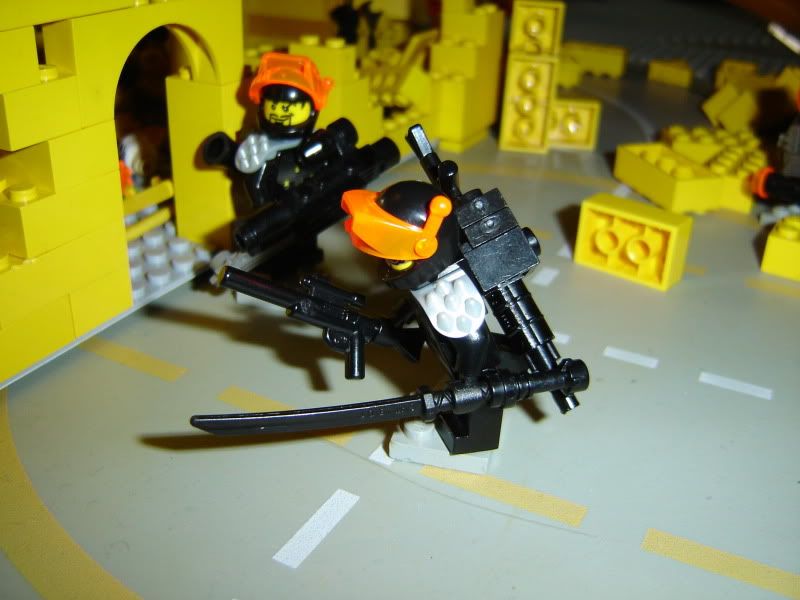 ...and collects some weapons.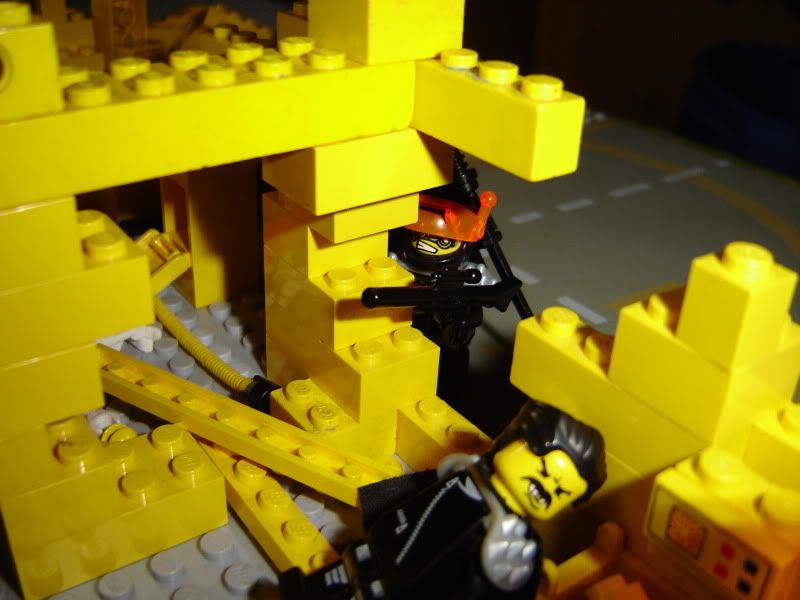 Reaching some good cover he sets up a response fire.
+ + + PLEASE WAIT TO POST AFTER I POST THE SCAVS TURN + + +