Assyrians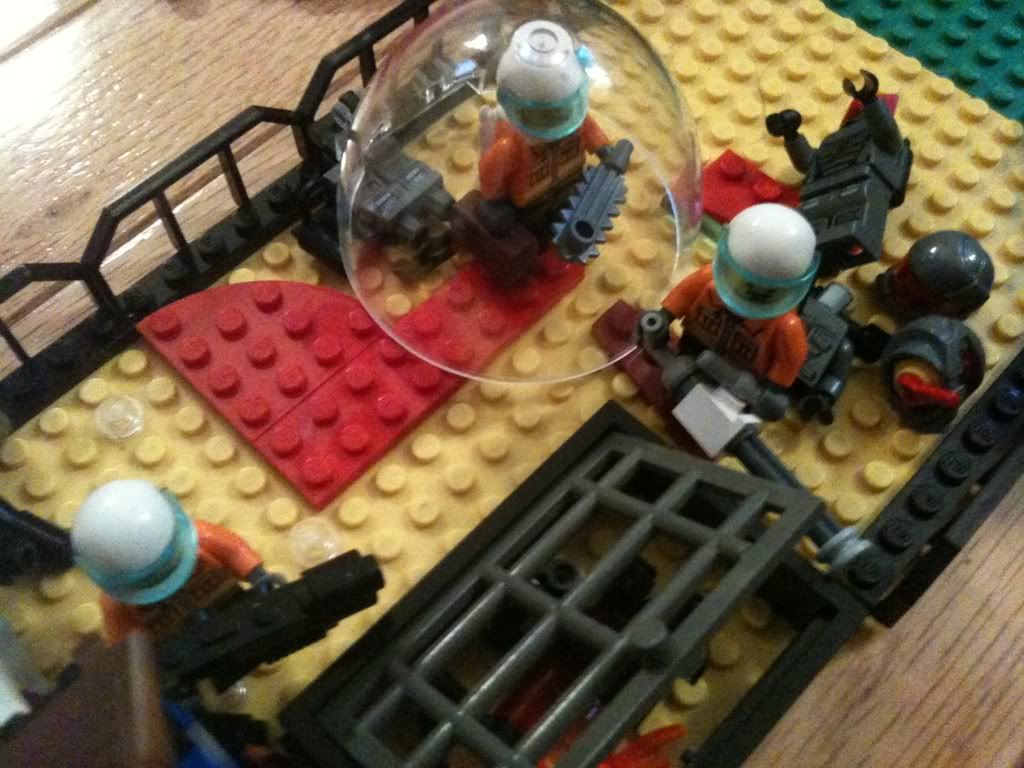 The Assyrian medic revives another soldier.
The hero hijacks a dump truck. Also, not in a picture, the soldier revived last turn sprints forward while the other 2 head for the raised baseplate.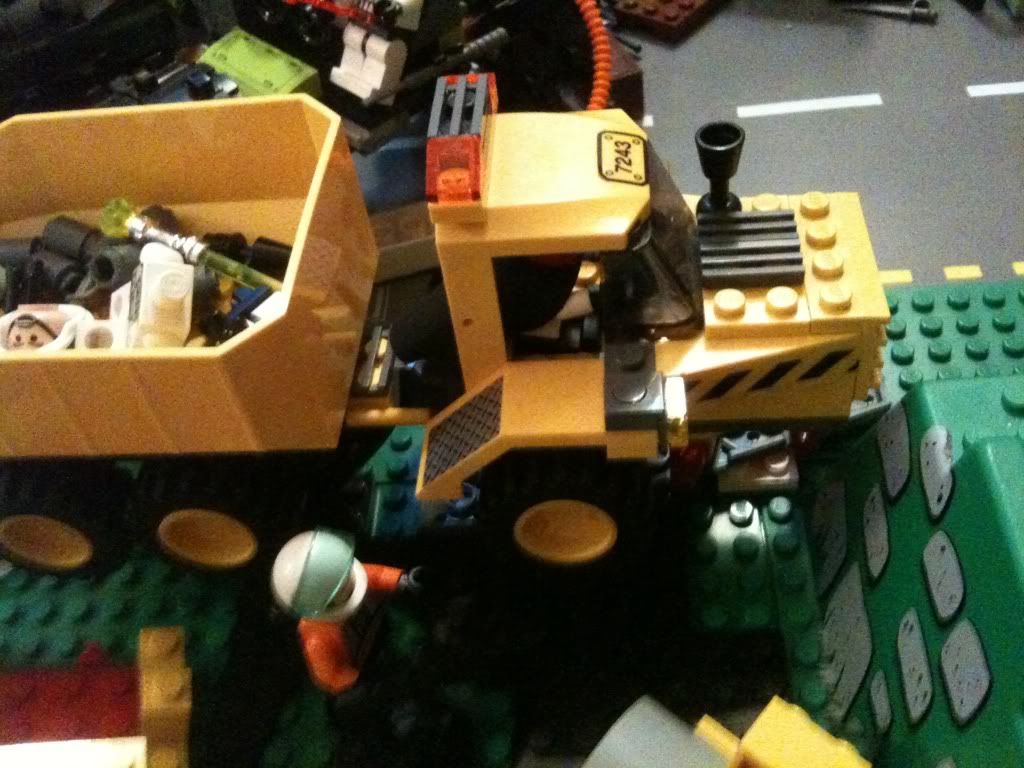 The dump truck reaches the hills.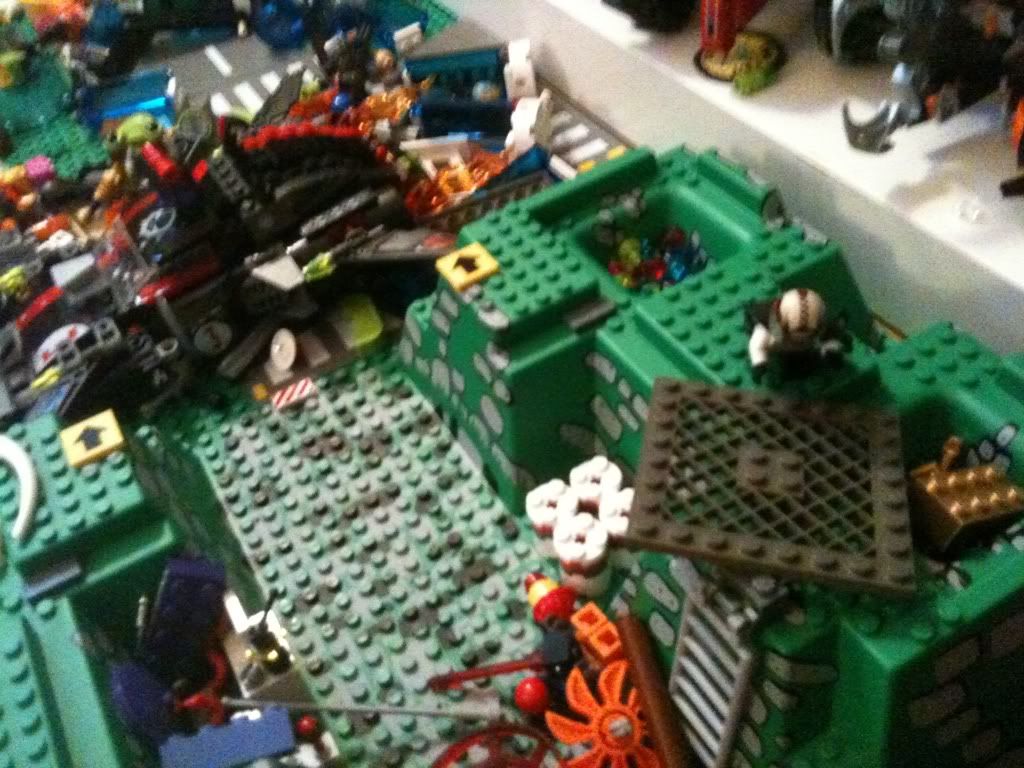 The hero orders the flying car to move so that she can take the covers on the treasure stores off and throw them away. She succeeds.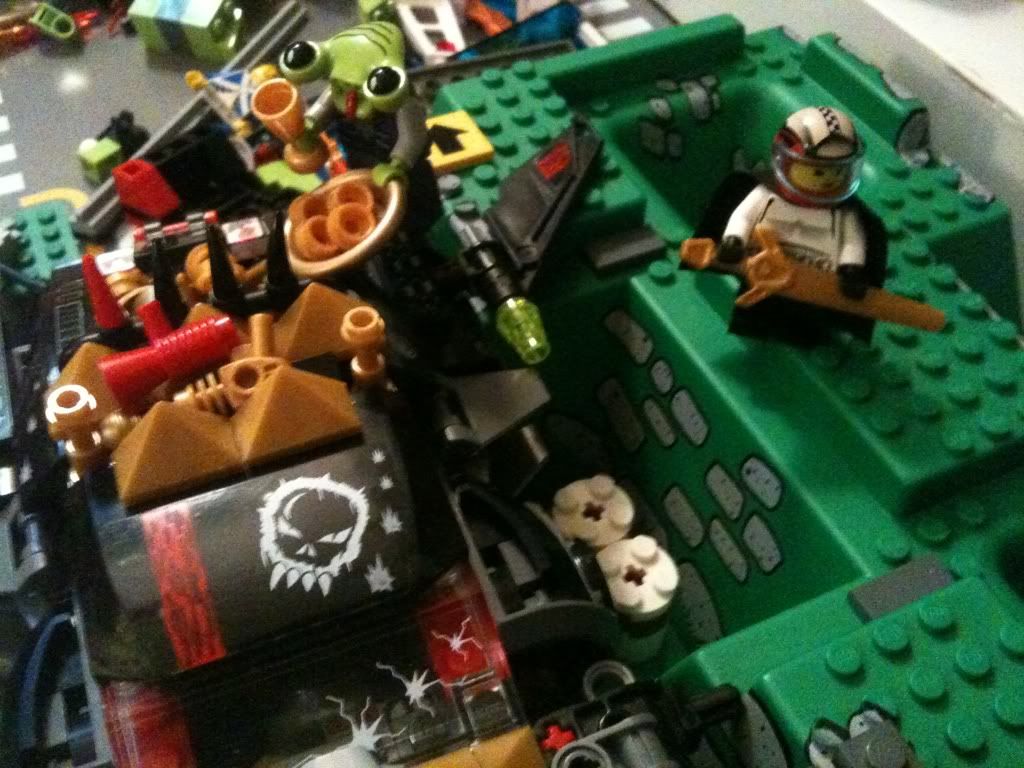 They start loading treasure onto the space car.
Peaches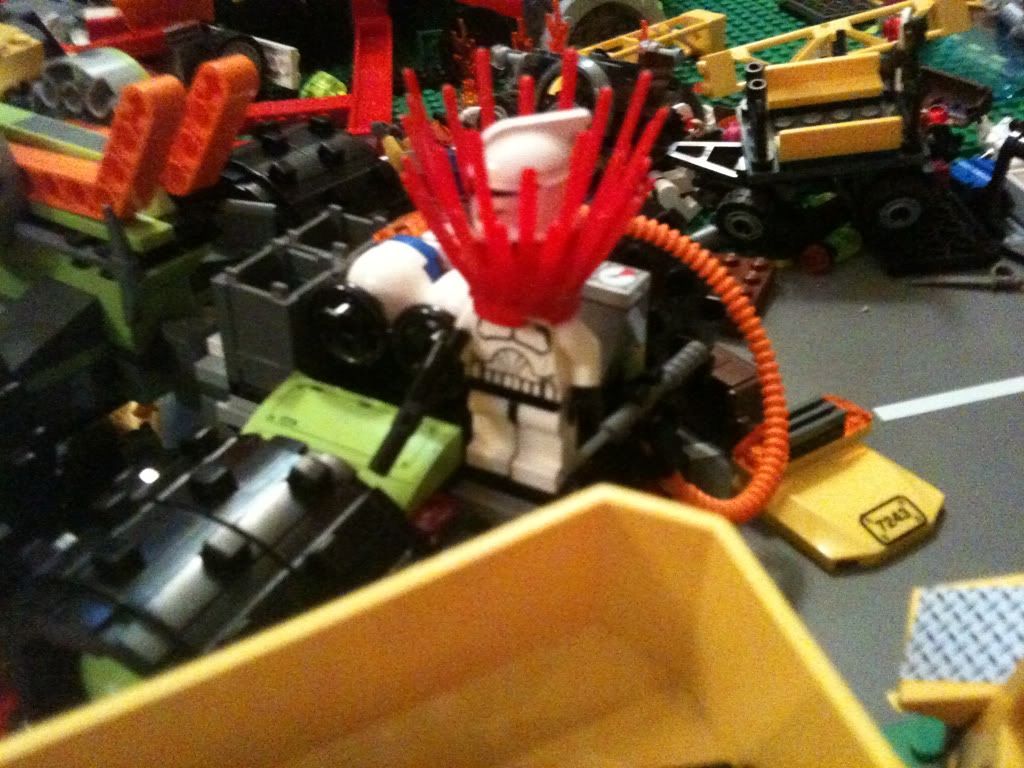 A peach succumbs and explodes.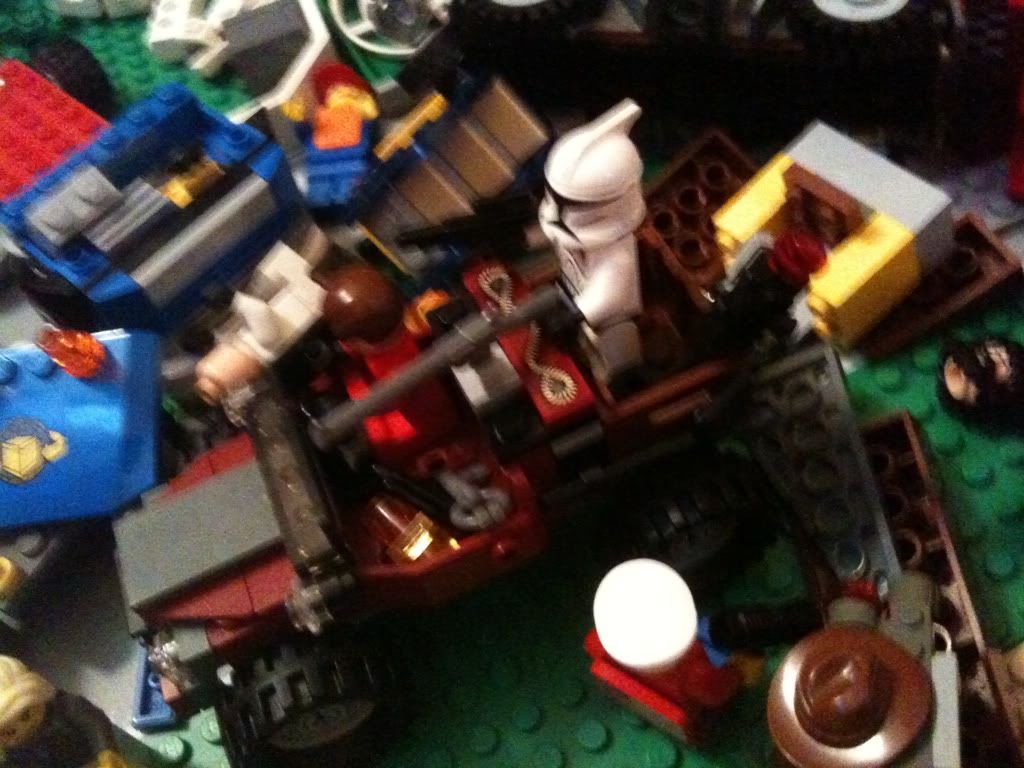 The others hijack a jeep.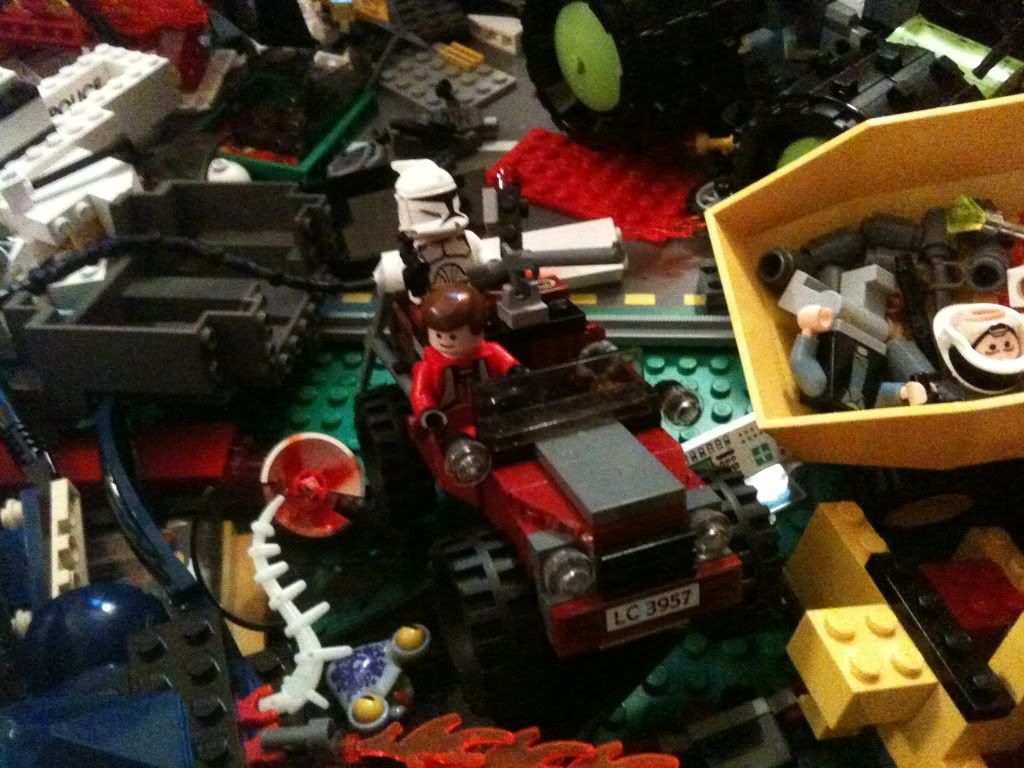 They drive as far as possible.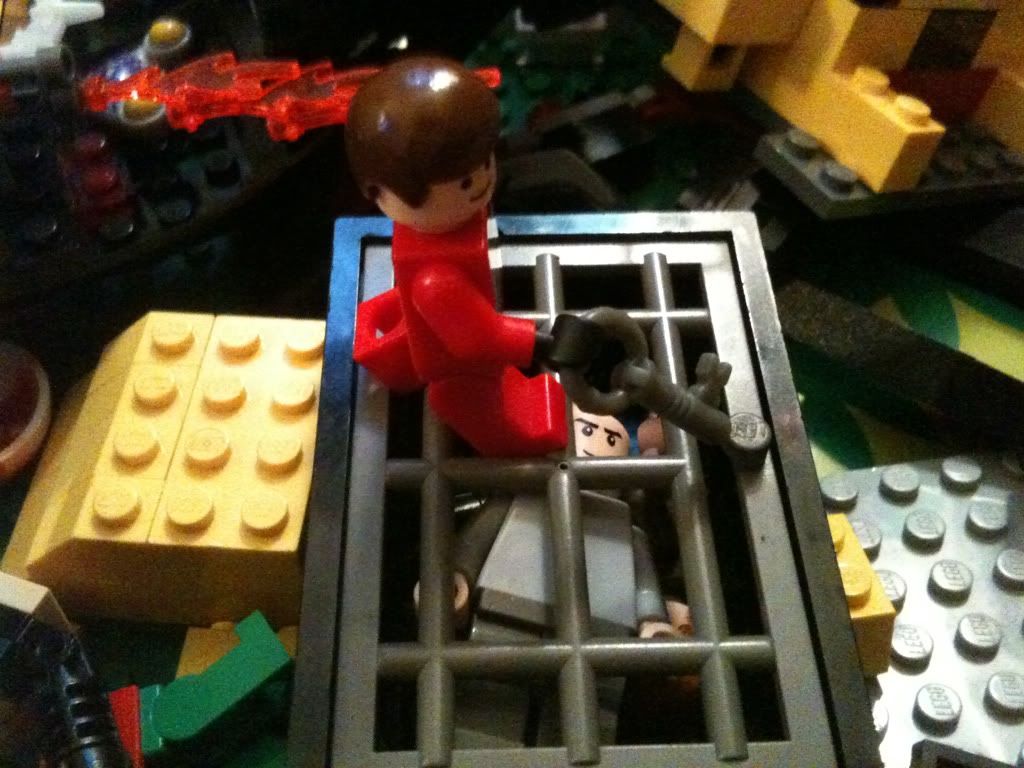 The peach pilot gets out with the key and unlocks the prison.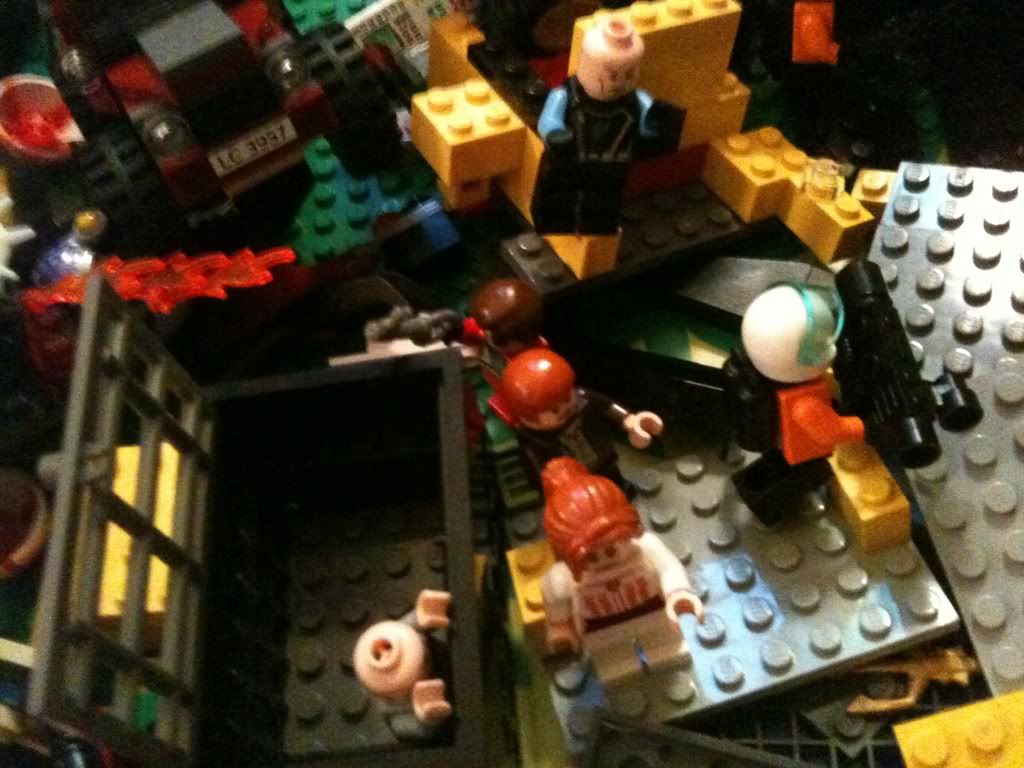 He frees them, as they file out of the extremely cramped cell.
PEACHES HAVE ACHIEVED THEIR OBJECTIVE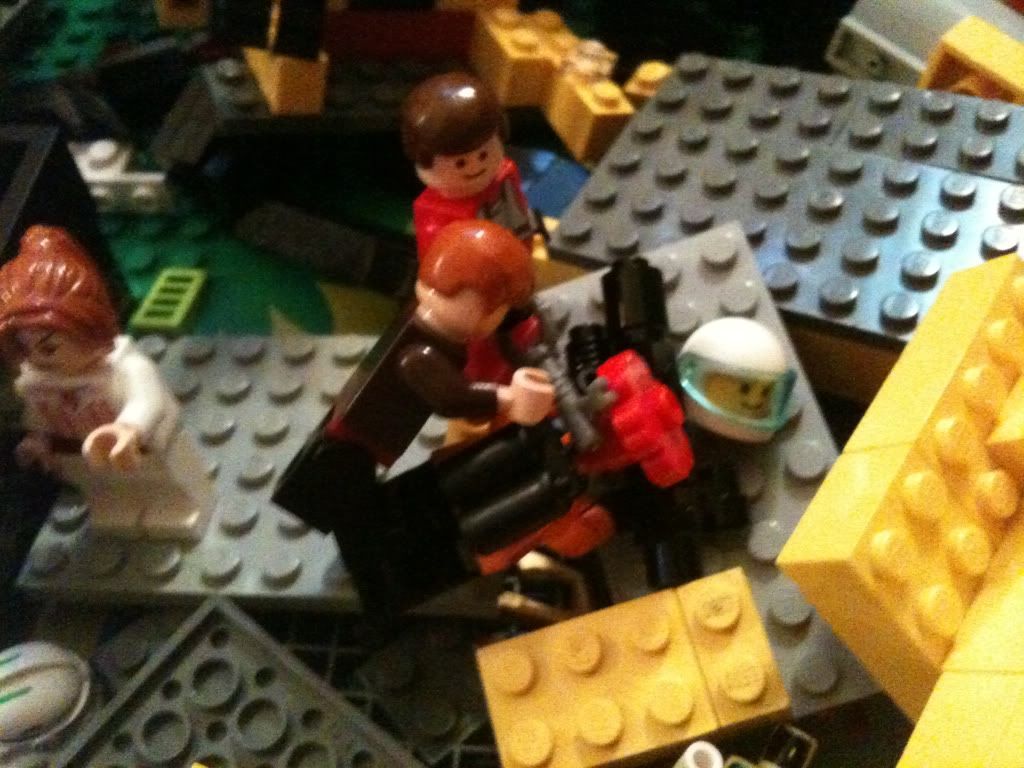 The pilot slashes an Assyrian with his sharp key and leaves him to die by the hands of another.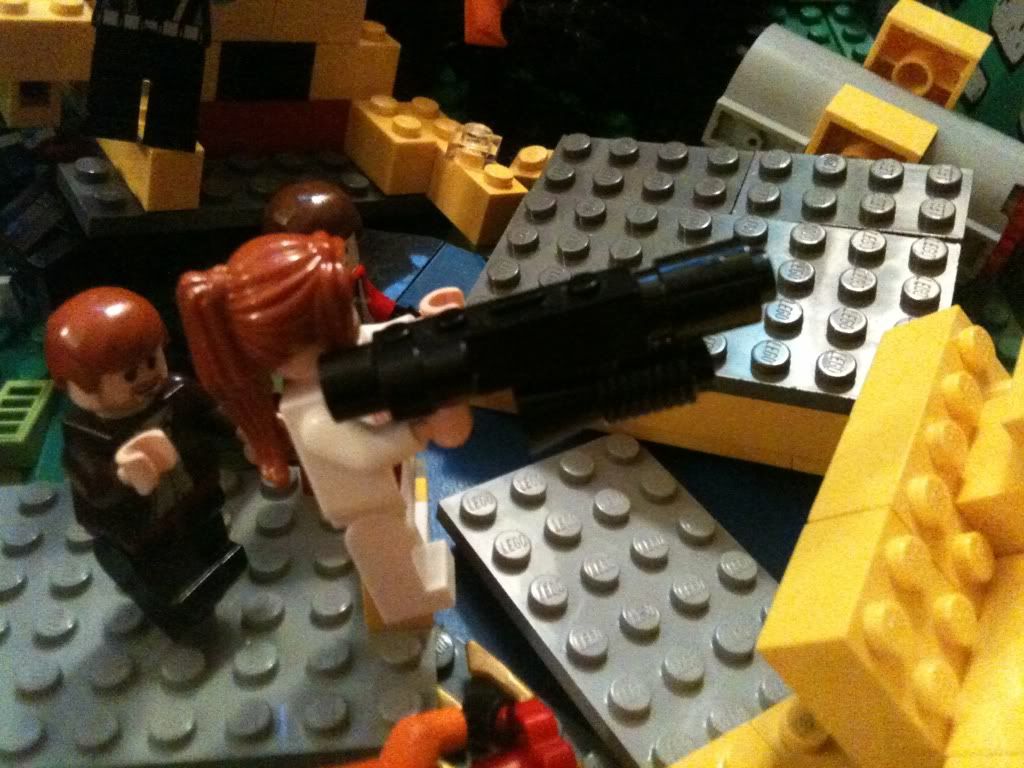 Another peach steals the soldier's laser rifle and fires...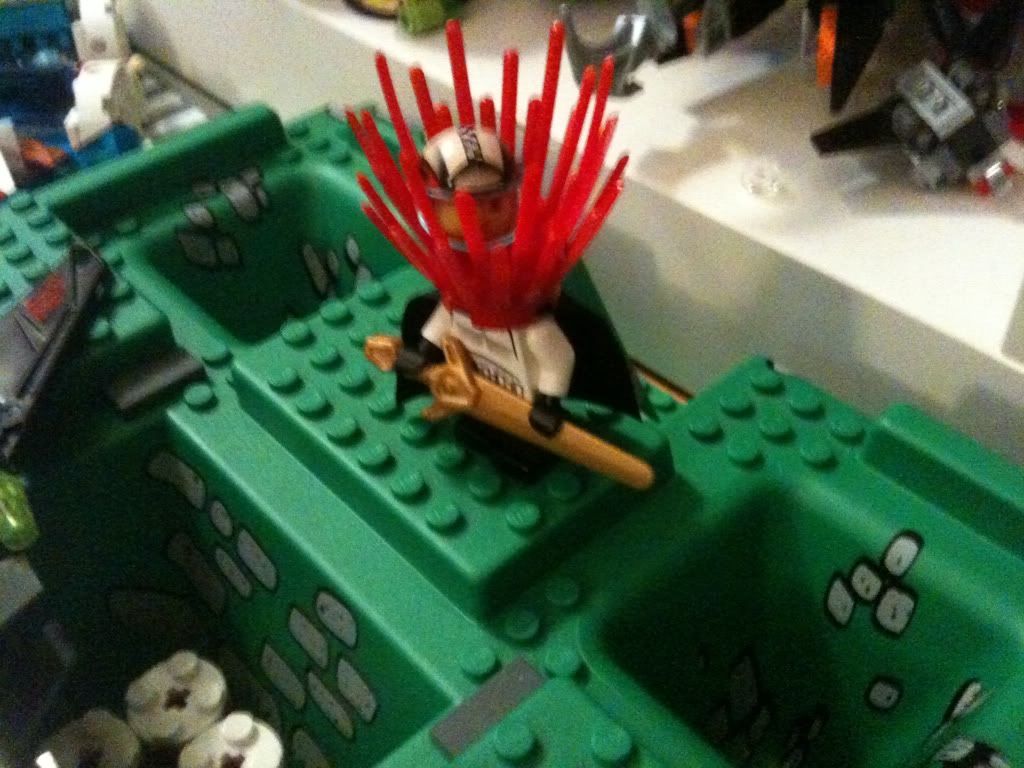 ...Killing the Assyrian hero.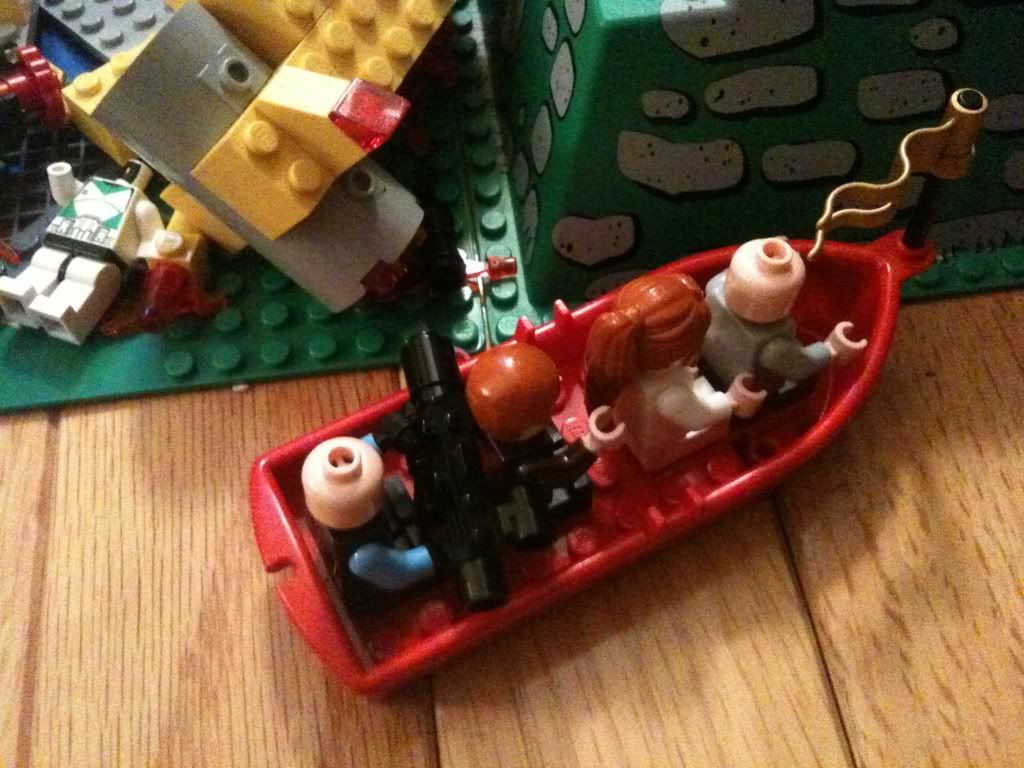 The peaches grab the nearest boat, this time with a stolen Assyrian laser rifle.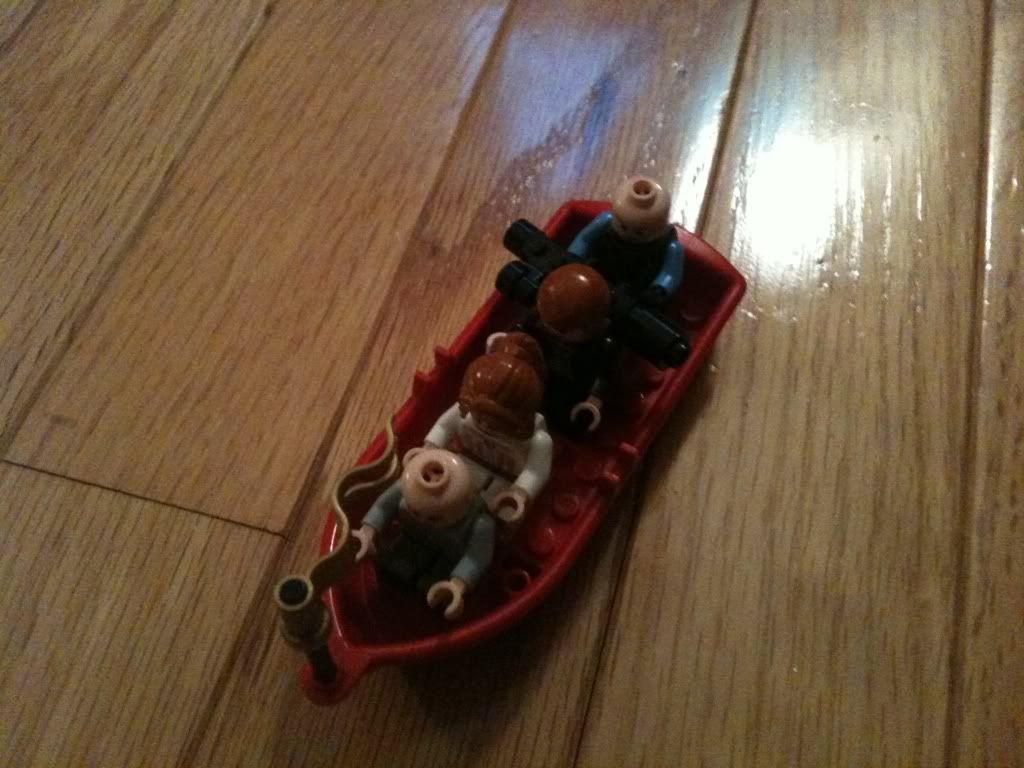 They keep sailing to destination unknown, perhaps an underwater peach base?
Channel 4 News Team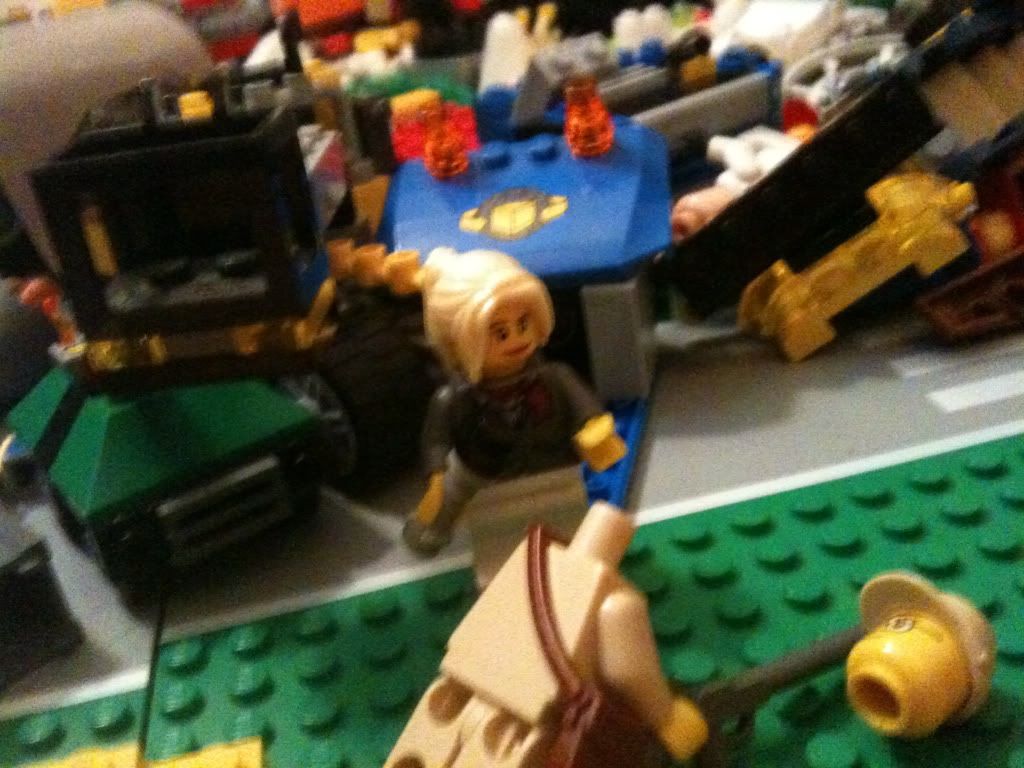 The reporter is distraught by the murder of her newest boyfriend...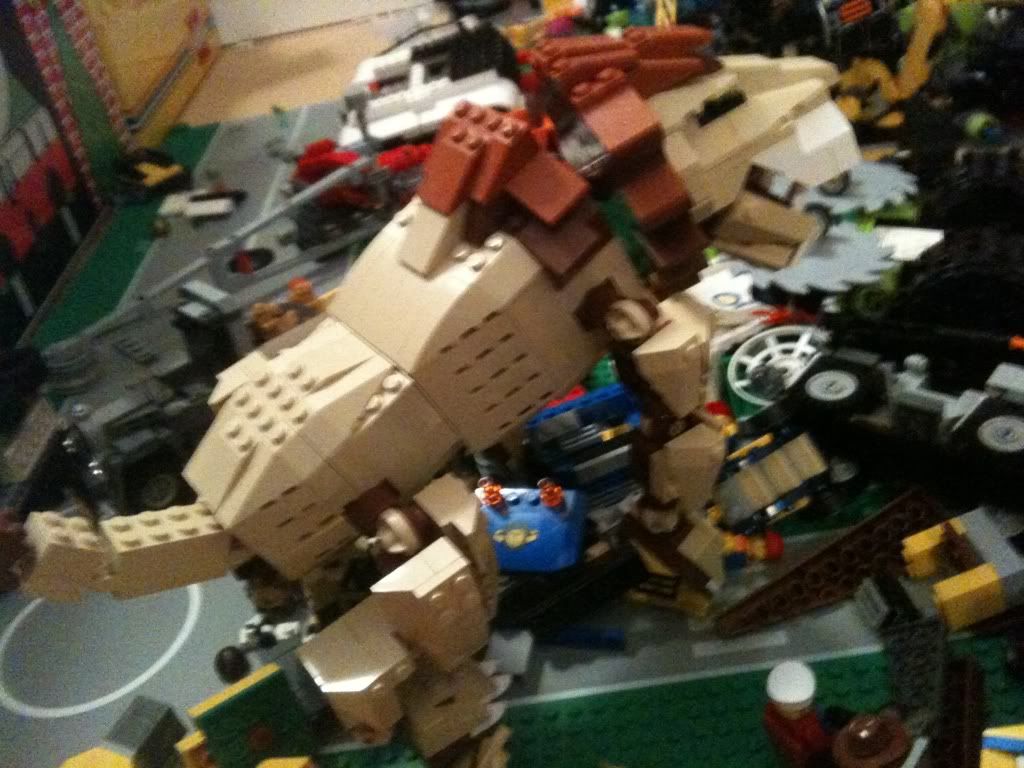 She lets her anger control her and she morphs into a lion of monstrous proportions.
Brittannian Space Force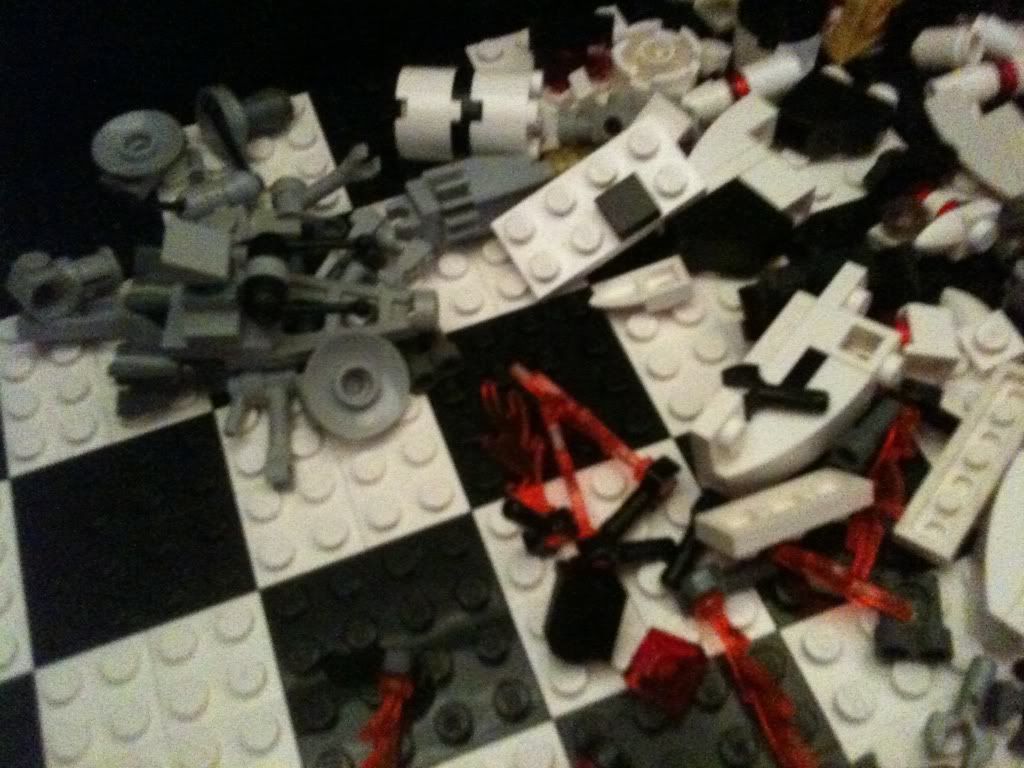 The remaining half of the Brittannian cruiser and the last fighter focus their fire at the destroyer.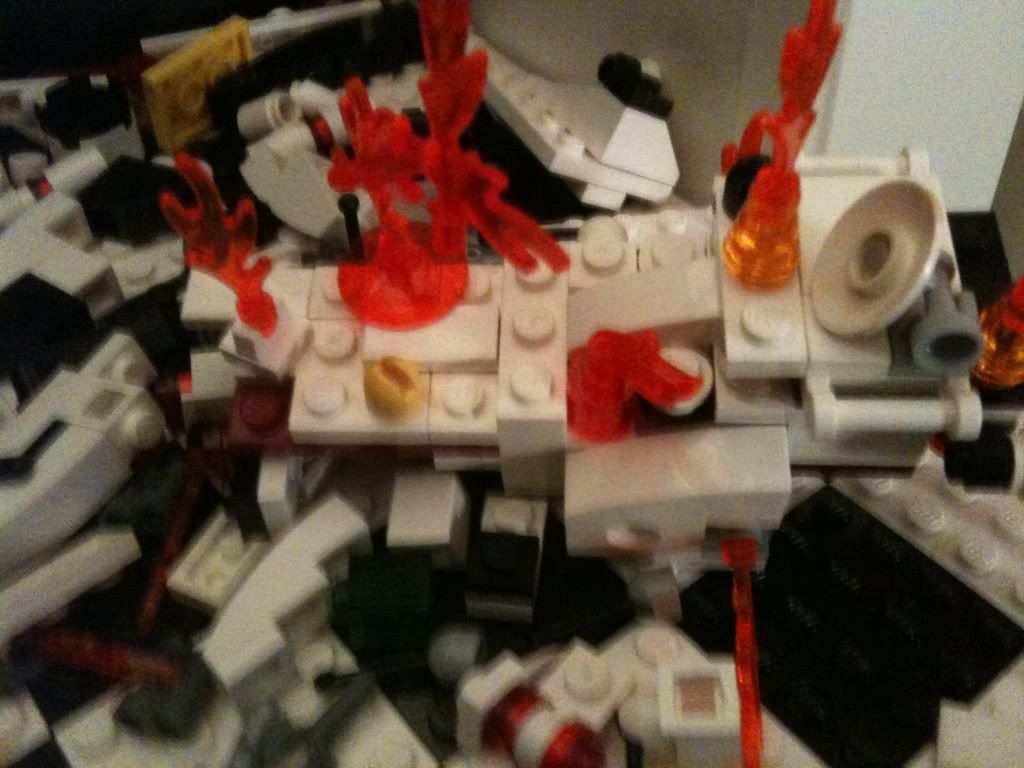 They chink off a few pieces off the front.
Assyrian Space Force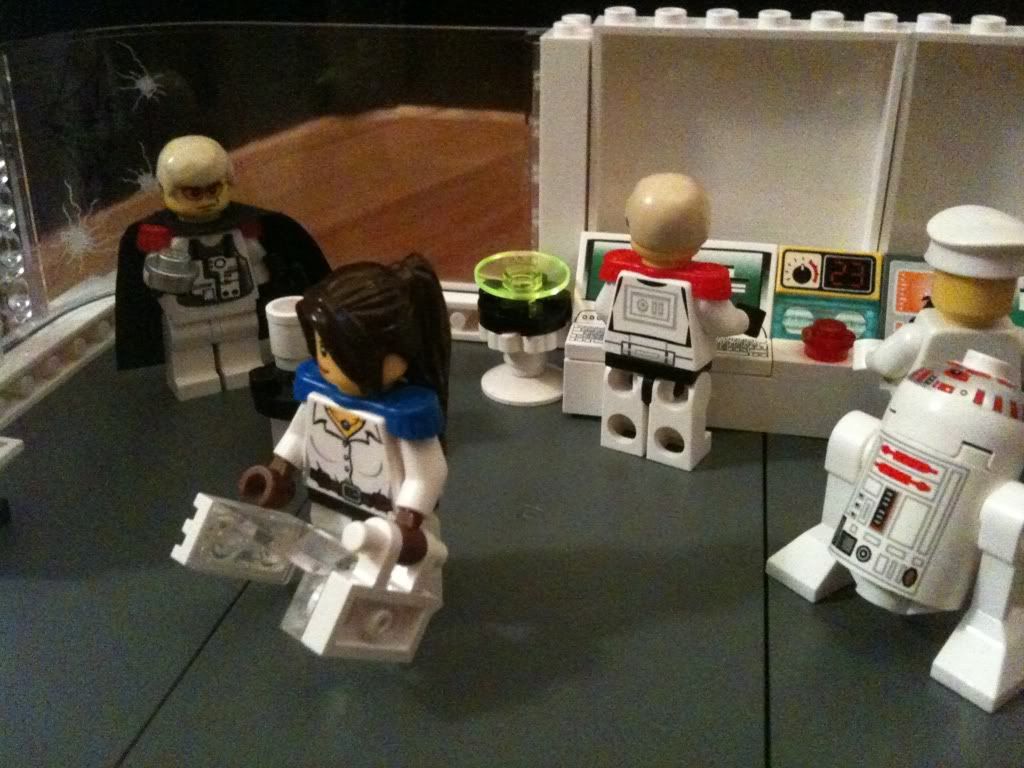 Assyrian Commander: Oh well, this isn't looking good. Communications officer, how are the distress signals?
Communications Officer (not in picture): Lieutenant Colonel, not looking good. Natalya's fleet is the closest, on routine patrol, but she has denied assistance. The love letter you attached to the distress signal hasn't helped, I suppose.
Assyrian Commander: Lieutenant, pull up the chief mechanic on your iPad thingy-whatever.
Female Lieutenant: He's dead. We have one maneuvering engine and have lost almost all weapons. The reactor core will be the Brittannian's next target.
Assyrian Commander: Communications officer, send out emails concerning our present situation straight to Austere's Head of Foreign Relations, Minister of War, Chief Executor, and the Emperor himself. The Brittannians are probably allied with the Immortals, the Nyphilians are our enemies, and it is imperative to declare war with the Brittannians. Since we're all going to die, hook up all cooperating troops' bank accounts and send out bribes along with the emails. Now does anybody have a bright idea as to what we are all going to do now?
Female Lieutenant: Almost all weapons are disabled. I say we self destruct, thereby taking out more enemy forces while accelerating the inevitable.
Assyrian Commander: *sips more tea laced with lsd* That's an excellent idea, officer. I'm going to bed with you again tonight.
Female Lieutenant: Uhhh, there won't be a to...
Assyrian Commander: Who cares?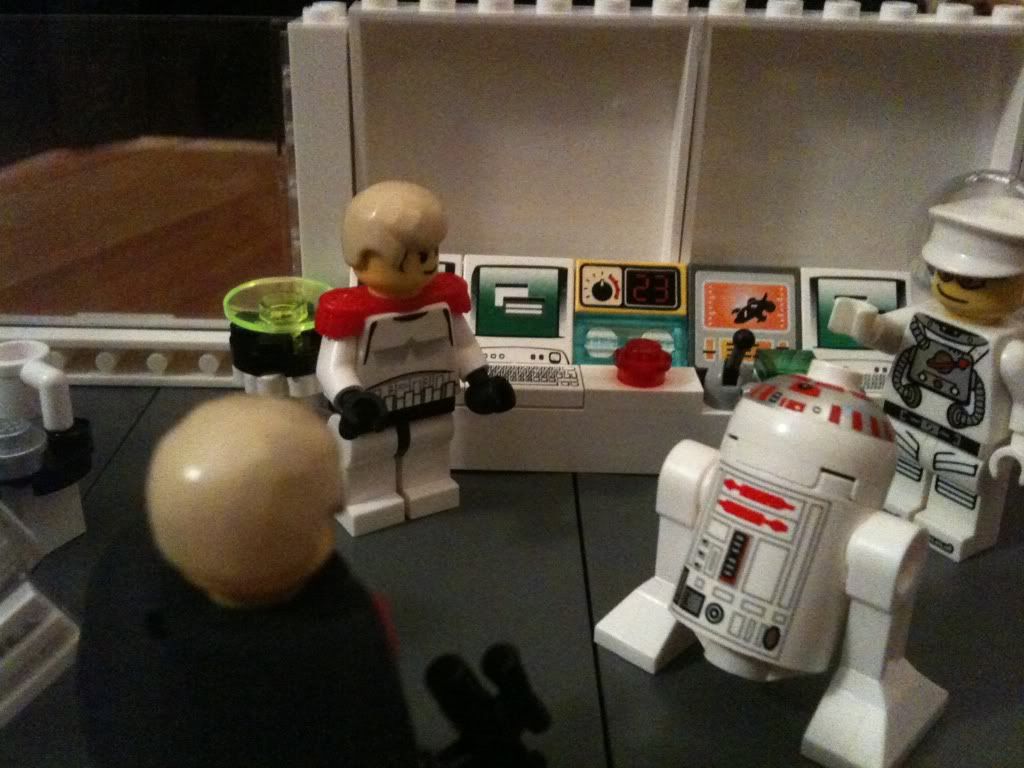 Assyrian Commander: Hey, you 2 guys, move out! Imma press the big red button!
Captain: ...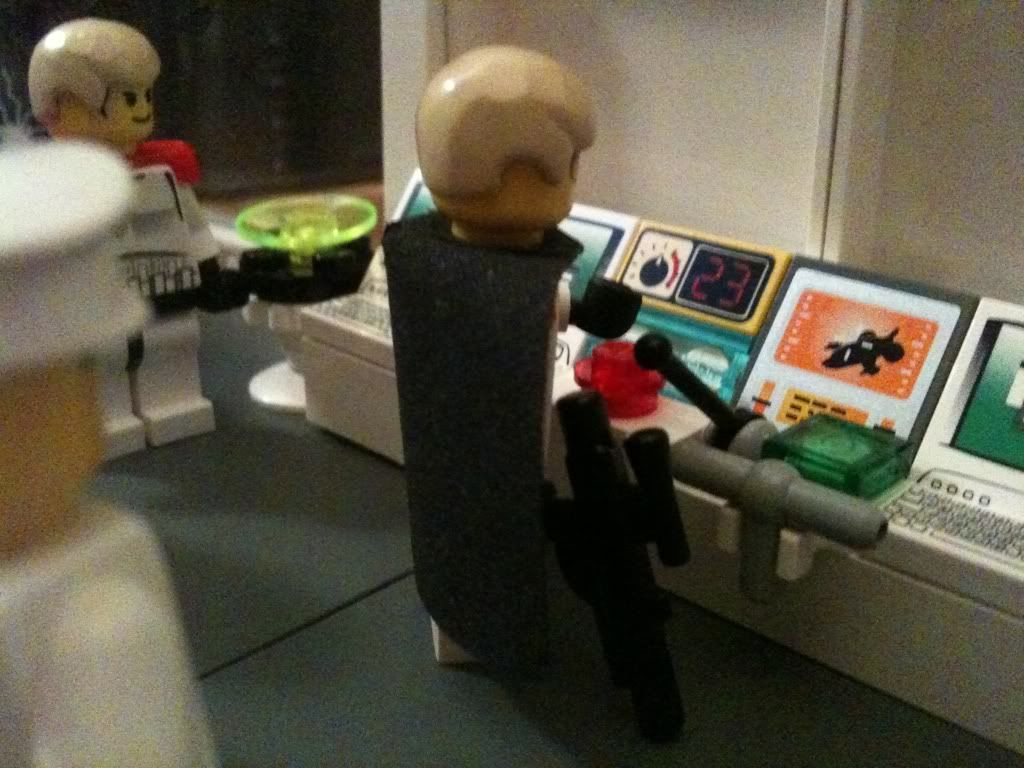 Captain: Wait, you're serious? No, no, no, no, no! We Assyrians are the best, we never surrender nor give up!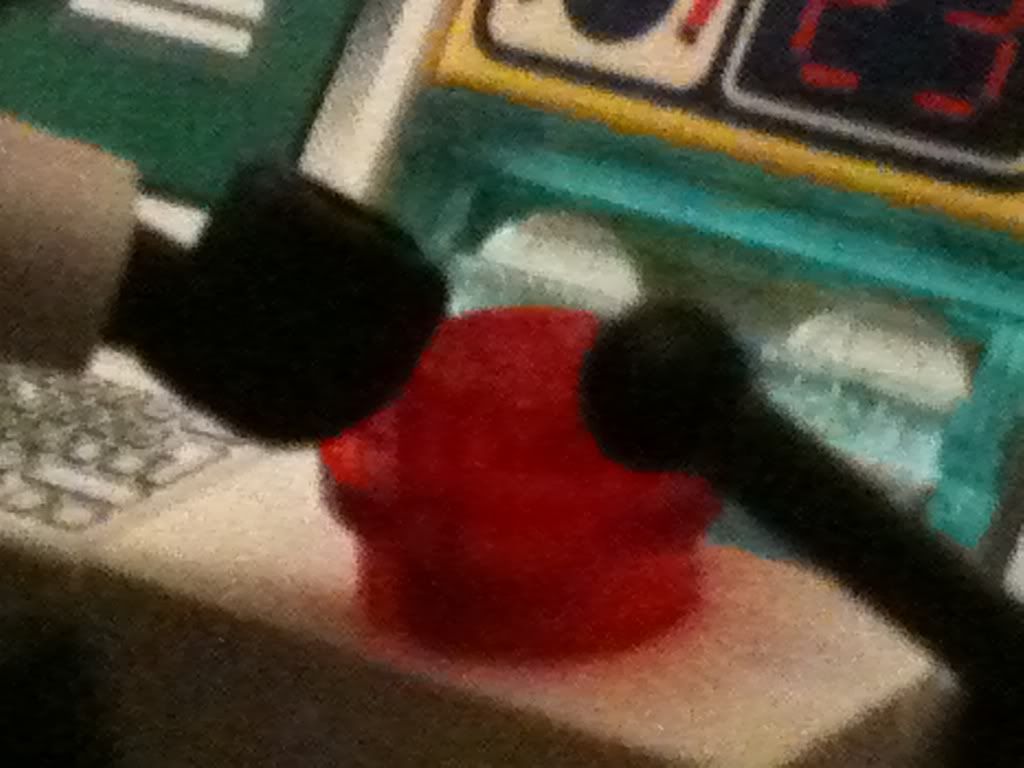 *klick*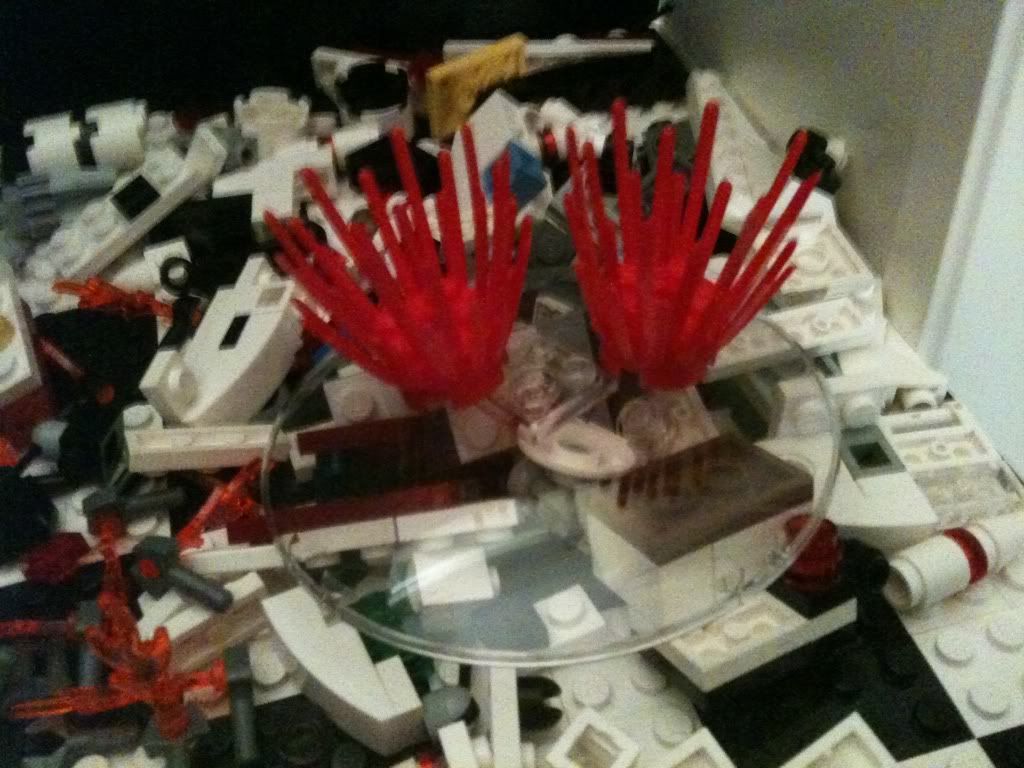 *boom*
*whoosh*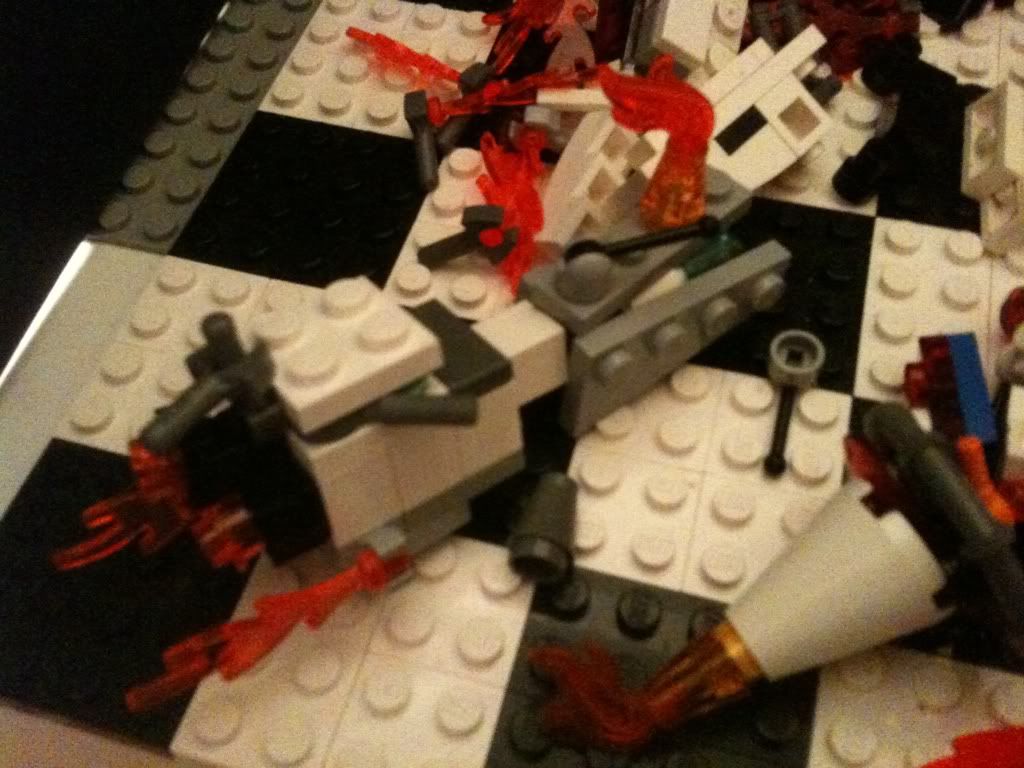 *...We survived!!!!!!*
Assyrian Commander:
I self destructed for nothing!!!!!!!
Nyphilian Space Force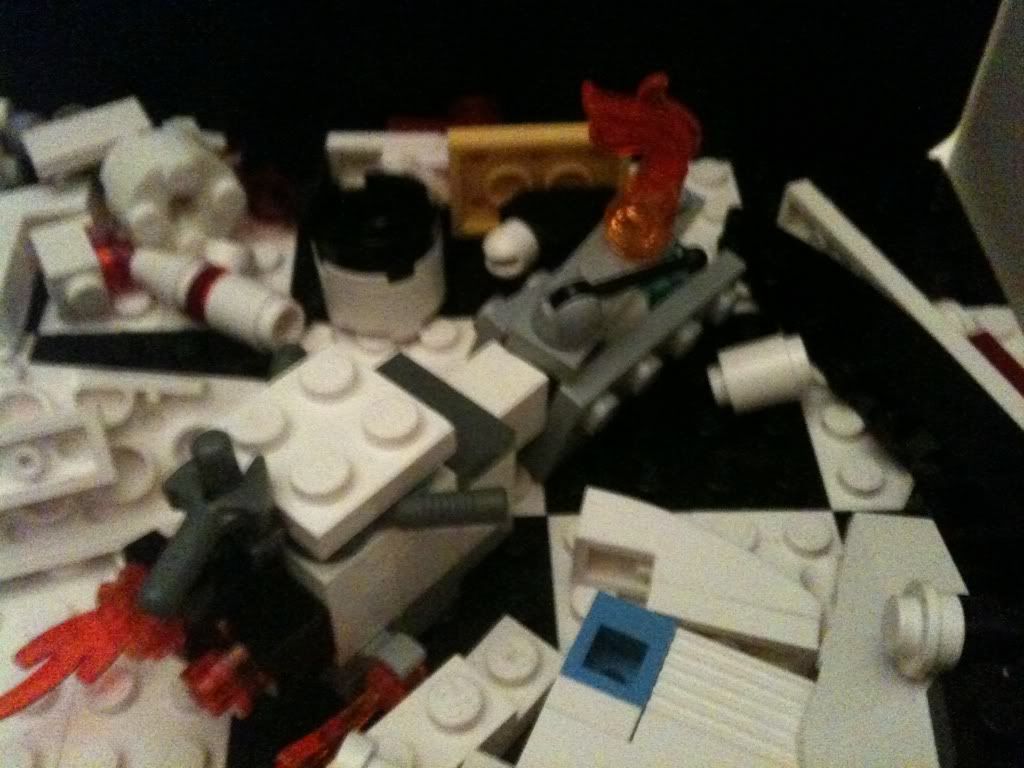 Nyphilian Commander: Alright boys, let's go home.
n00b Miners
Radar man: No threats as of yet detected...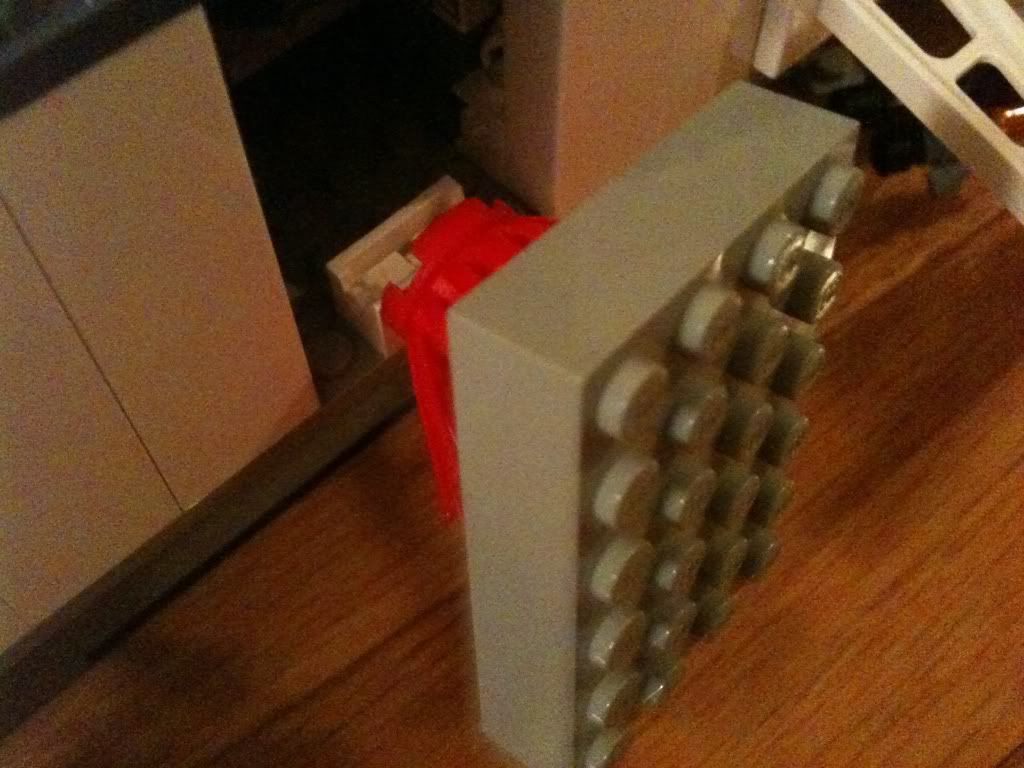 *bam*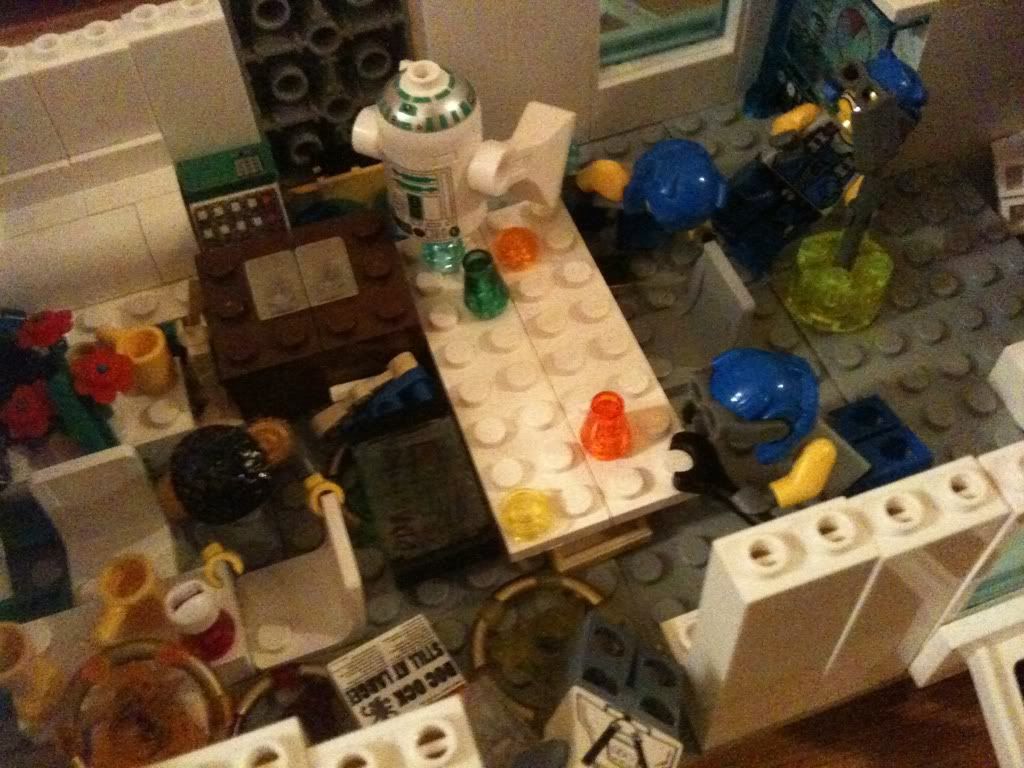 Almost everything is sucked out by the explosive decompression.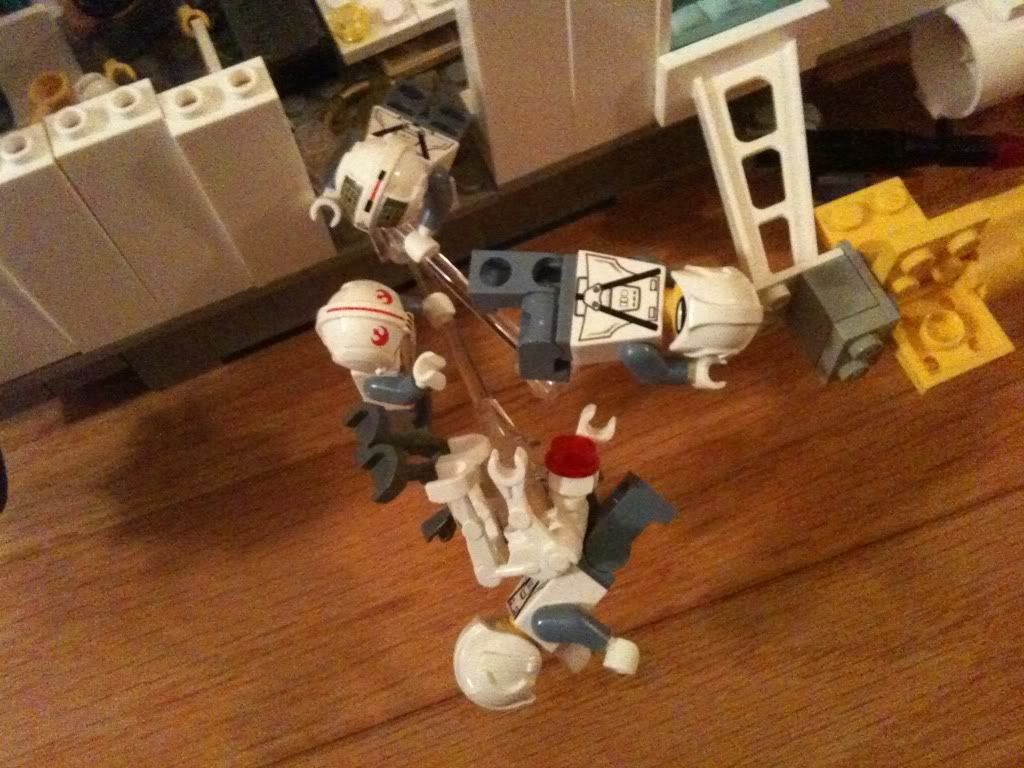 Unlucky fools.
The gunner managed to hang on though.
General Yadlin fumbled through his invisible pack and dug out a helmet and one of his guns.
He kills a n00b miner.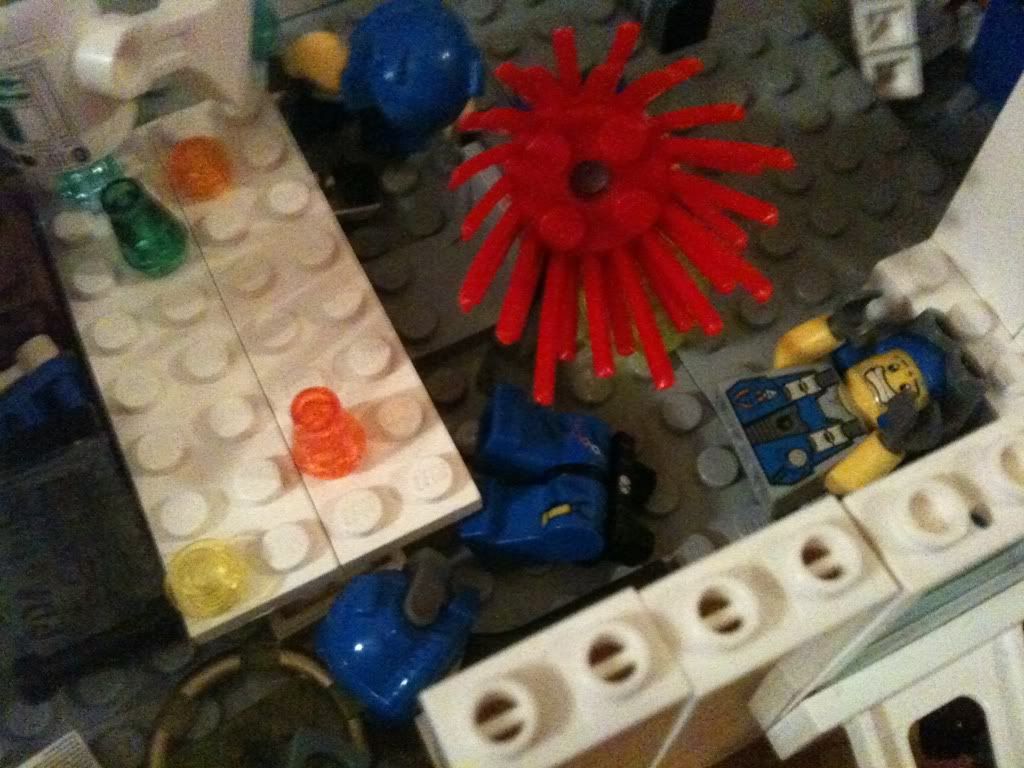 Another succumbs to breathing in a vacuum and his head explodes.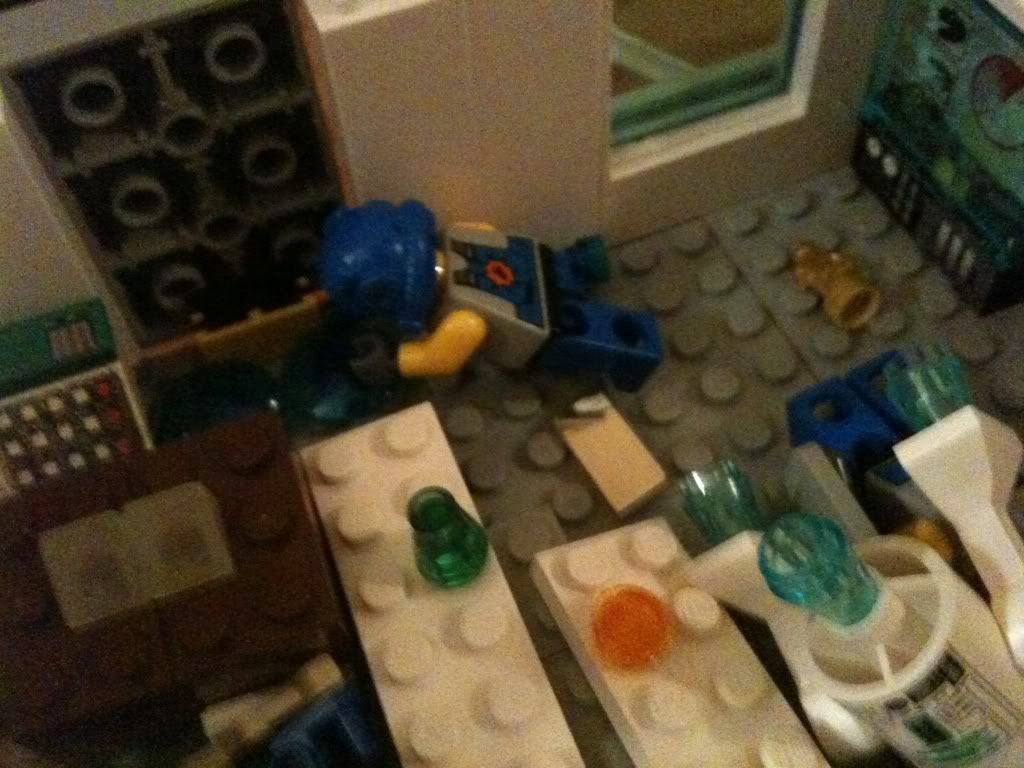 The last n00b miner gets lucky, and he crawls towards the teleporters...
Only to fuse with the nuclear bomb the Tyronian droid slipped in earlier.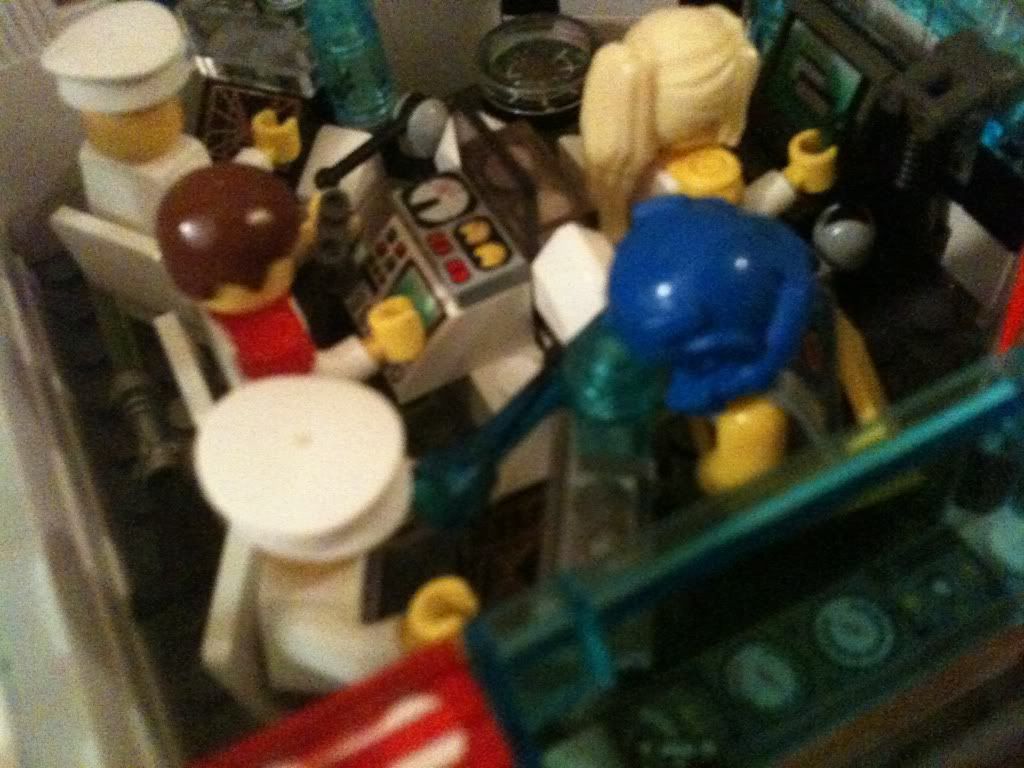 He attacks a crewmember but fails to do damage.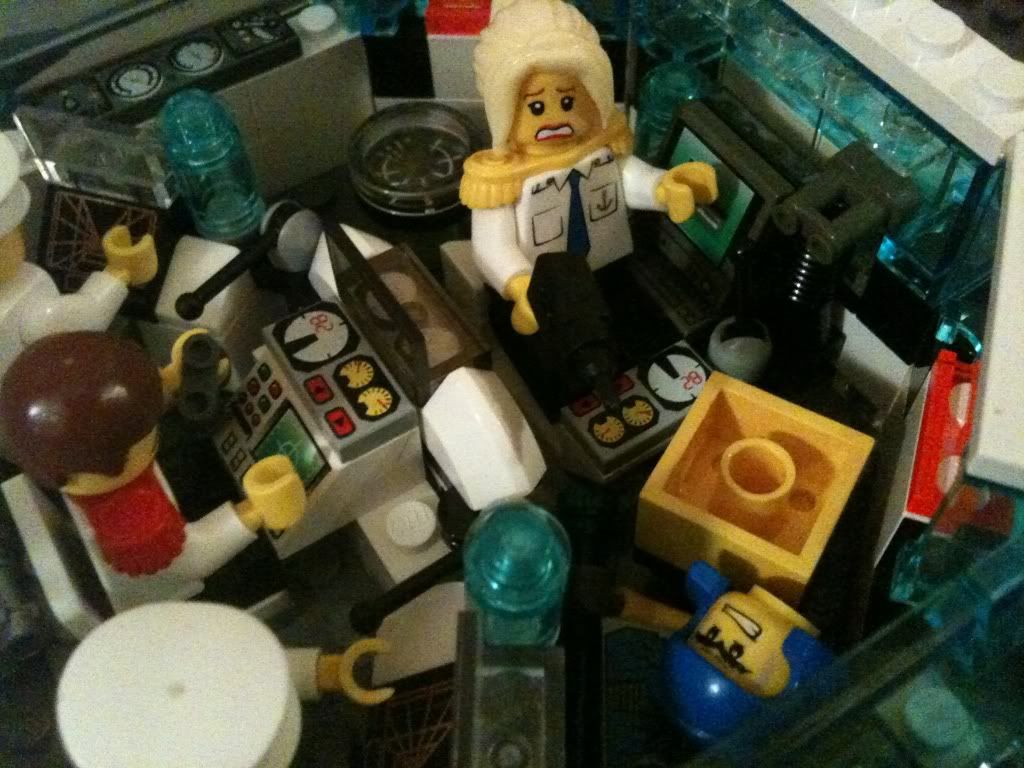 The captain gets scared out of her wits and grabs her gun, hitting her mark.
Overviews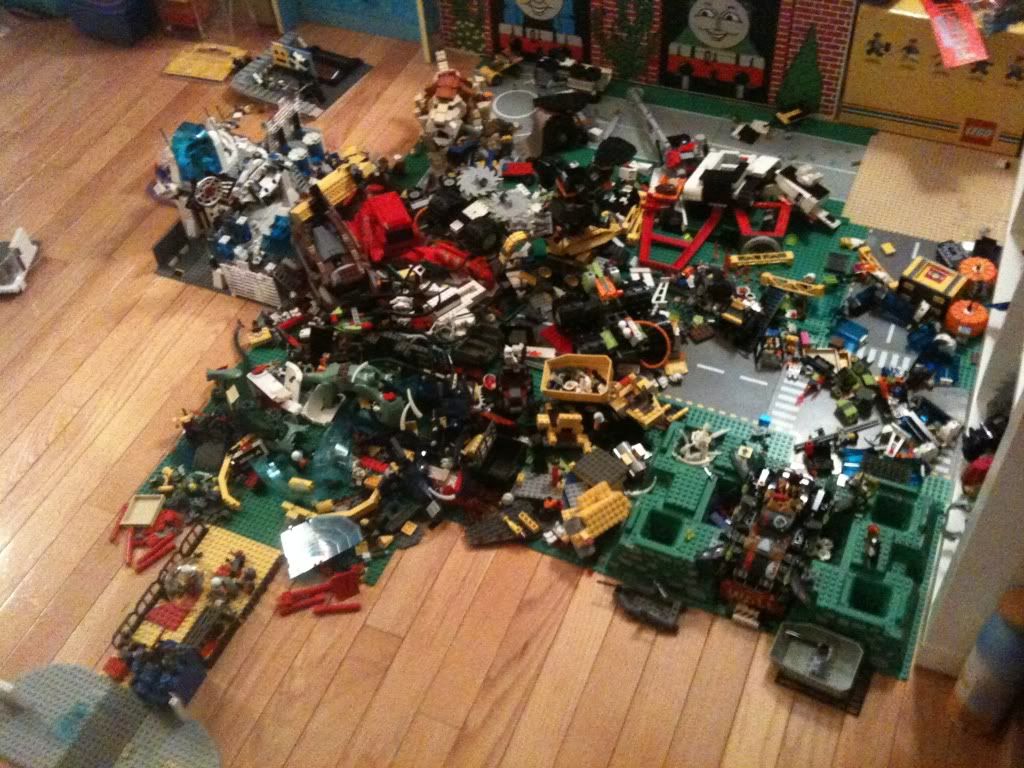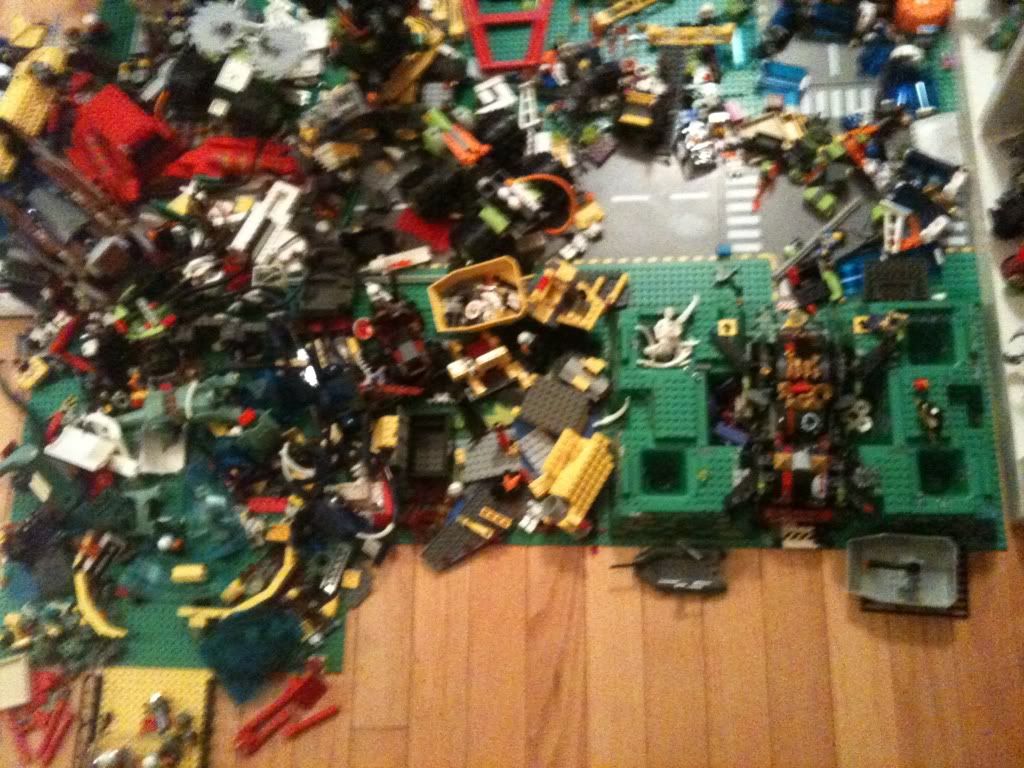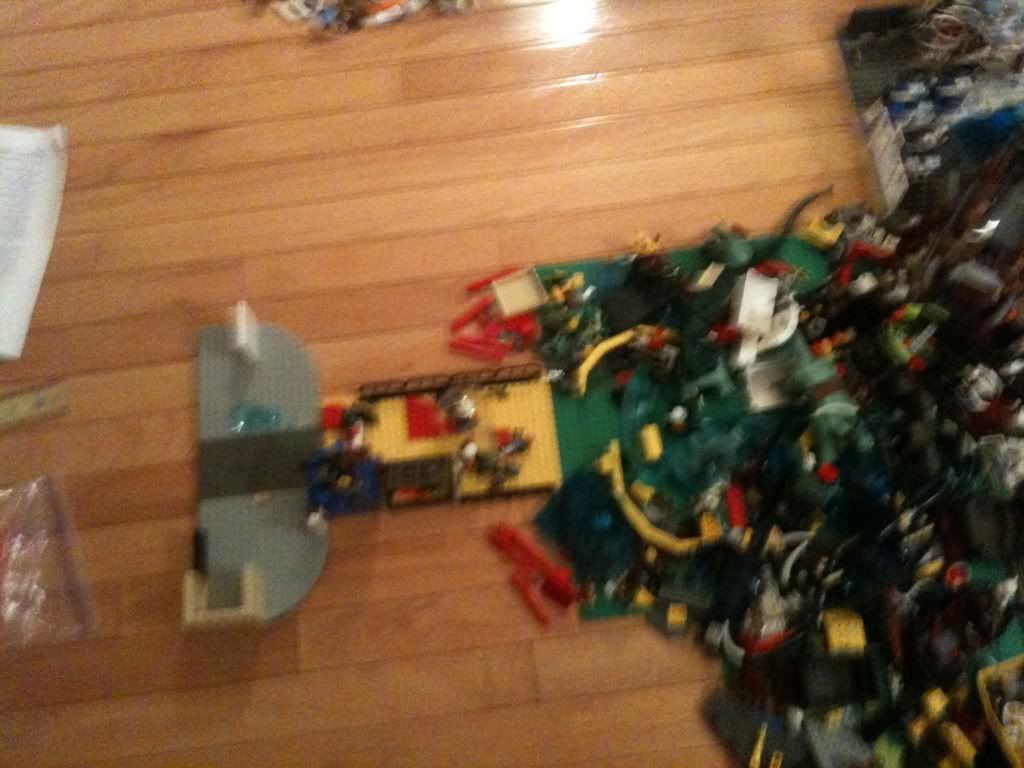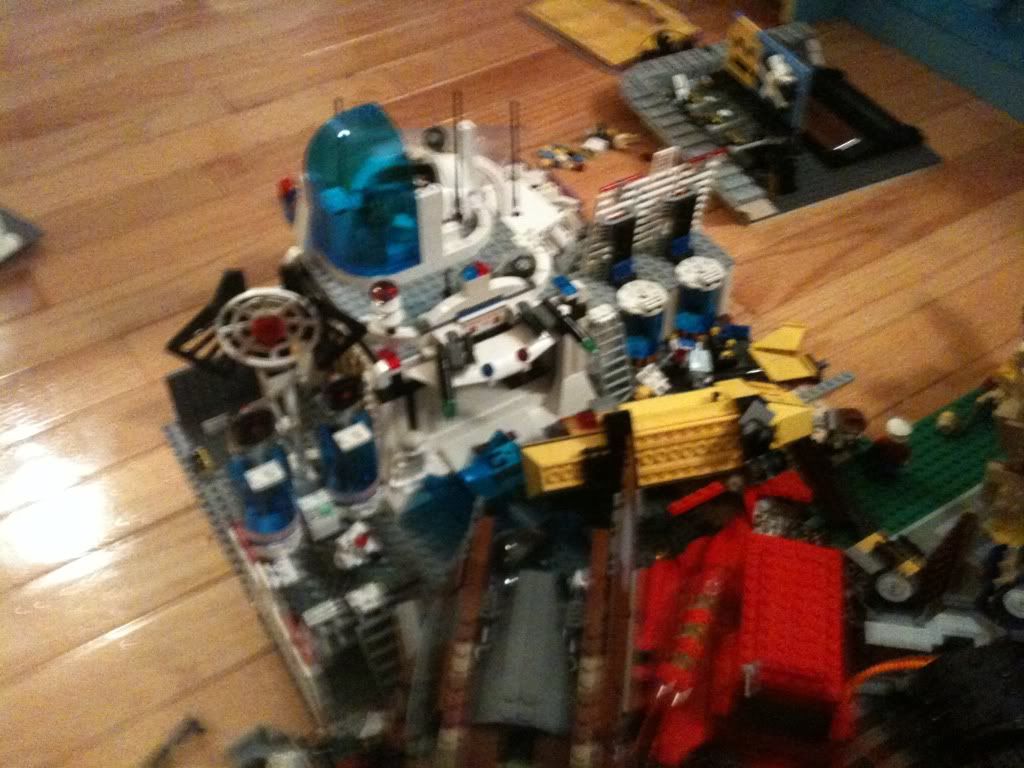 The space battle is now over!
Score Table:

Nyphilians:

Objective Achieved; Terminated

Kills: 21

Casualties: 53

Peaches:

Objective Achieved

Kills: 25

Casualties: 18

Assyrians:

Kills: 20

Casualties: 4

Tyronians:

Objective Achieved; Terminated

Kills: 9

Casualties: 7

Brittannians:

Terminated

Kills: 3

Casualties: 5

N00b Miners:

Objective Achieved; Terminated

Kills: 10

Casualties: 9

Channel 4 Paparazzi Action News Team:

Kills: 0

Uncovered Scandals: 3

Casualties: 2

Brikthulu and Friends:

Terminated

Kills: 1

Tentacle snuggled: 15

Casualties: 4

Nyphilian Space Force:

Objective Achieved

Kills: 0

Casualties: 11

Assyrian Space Force:

Terminated

Kills: 23

Casualties: 3

Brittannian Space Force:

Terminated

Kills: 2

Casualties: 9
SEND IN YOUR ORDERS NOW!!!