At long last done. Sorry guys, but let's roll!
Infantry Division
- Robot Monkey
After a successful revival, the Löwengard and swordsmen kill 1-1 ork.
The other side was less successful, only killing 1 grave guard.
Arthel and Blaze charge at the titan.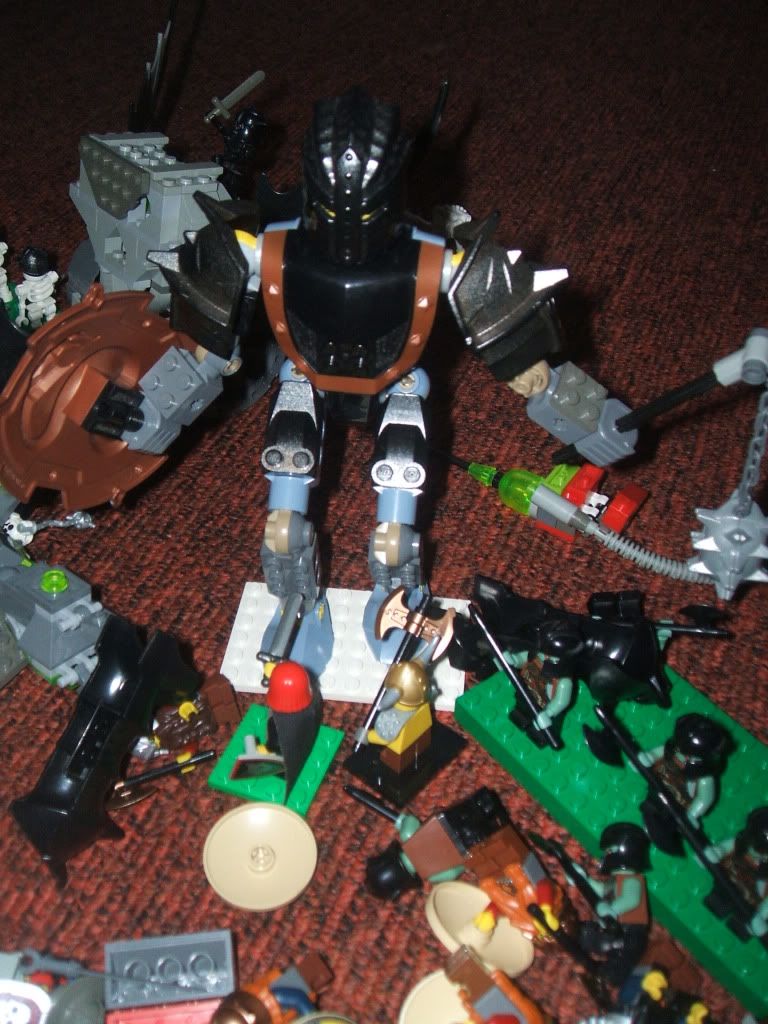 They hack his legs pretty badly (not enough momentum to decap, sorry), -2 hp.
Drakhirri
- Ham701
The lord bursts out and kills the warmachine operator.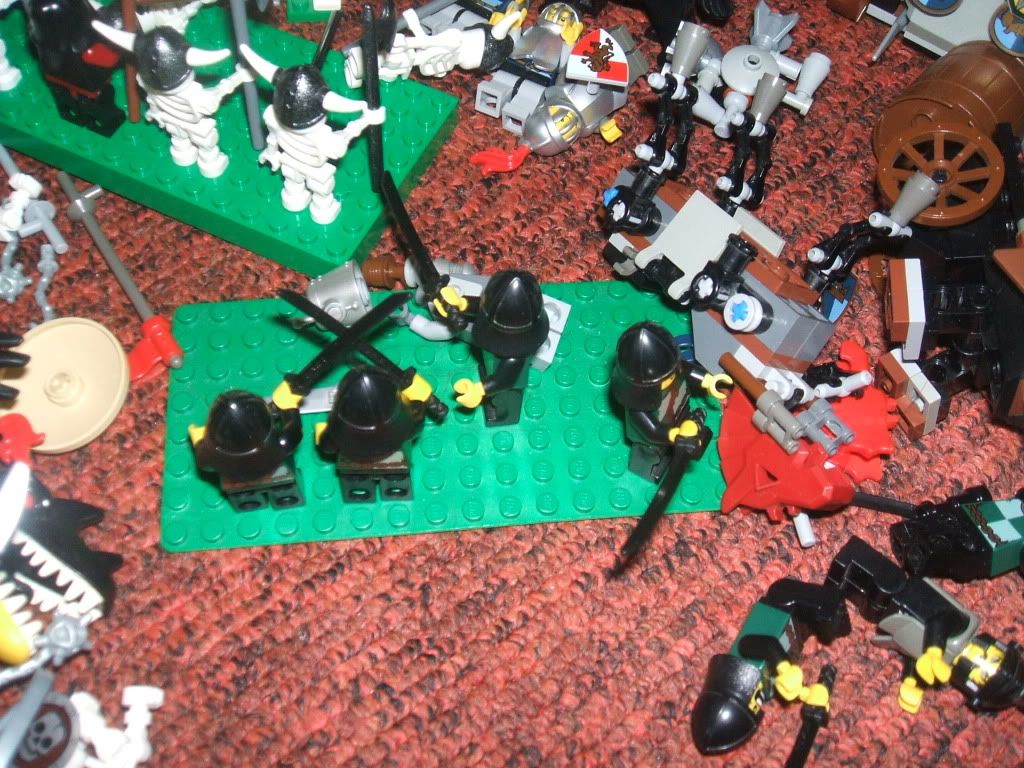 The rest gang on the techknight, and despite negative mods and misses, deliver a killing blow.
Engineers
- Ogel96
Rocketeer and engineer open fire on the lord, wounding him, -1 hp.
The ribault reloads, while the rocket rack fails to fire.
Cavalry
- Ross_Varn
Guarded by the knights, Majisto retreats. Niol's forces prepare for another charge.
Warhead
Corruptors move in and devastate crew members.
The glommox move in to fire, while ax-skellies would attack, but both fail. Necrolyte raises 1 ax-skellie.
Luckily the doom wailer deals enough damage without them, and kills 3 longbowmen.
The titan covers the heroes with his shield to keep them busy.
Then he picks up the rotten remains of rot walker.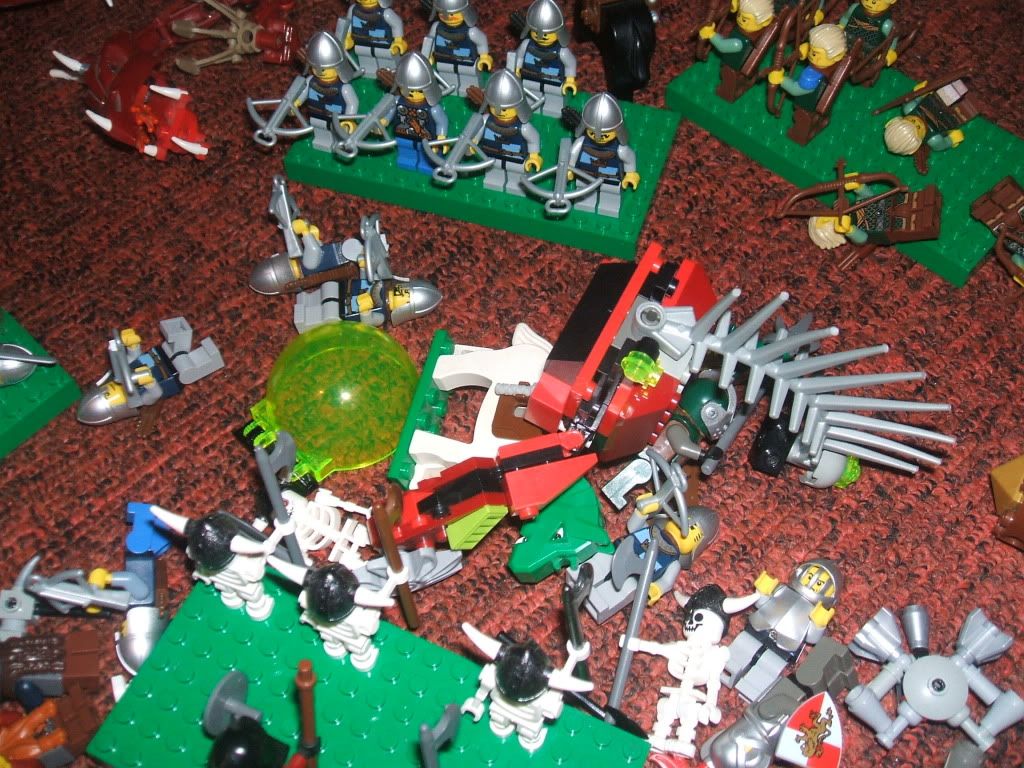 And hurls it right to the elvenknight! It fails to do harm, but will steal precious time from the champion to dig himself out.
Crossbow skeletons and the last GG kill 2 swordsmen. Necrolyte fails to reanimate.
Warhead's steed rolls some obscene speed, so he easily outflies his AoD entourage.
Warhead taps into the very soul of the enchantress and drains her essence. Enchantress loses 2 hp, and is disturbed, while Warhead gains some juicy bonus dice for his evil intents.
Orks - Solvess
Beaky swoops from the sky to crush Majisto, but to his surprise, the runeknights hurl their lances at him!
After some massive component damage, Beaky loses both feet, gets unbalanced, and due to some haywire misfire/fall damage rolls slams to the ground and smashes his skull. Bummer.
The boyz make way for the awesomesaur.
Which tries to ram the storm titan but fails, although tramples 2 löwengard and their cleric.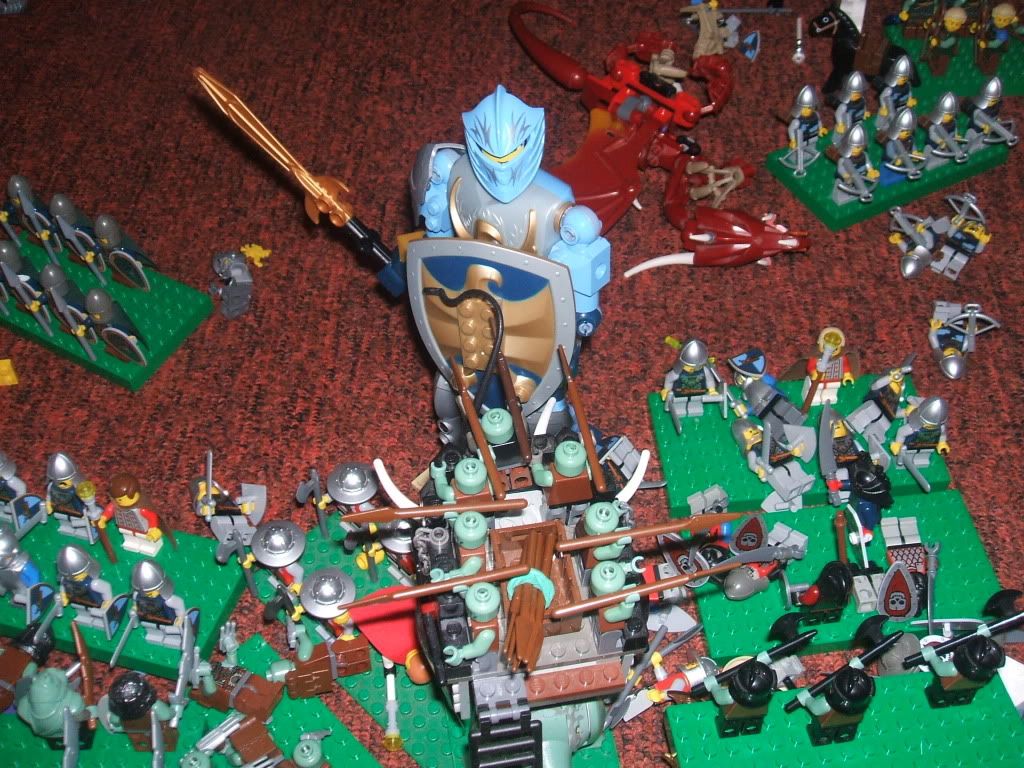 But what the saur failed to do, the spearboyz delivered! Hurling spears everywhere, they bust off 1 hp from the titan and kill 2 swordsmen.
The 'left flank' kills another löwengard, and a swordsman, while lock the elven phalanx in cc.
The black orks destroy the swordsmen locked in combat with the GG.
Elves
- Apollyon
Longbowmen move by and kill 3 cultists.
The knight frees himself, and kills an ax skeleton in his frustration.
The phalanx kill 3 orks.
The storm titan moves in and with an electrified strike, kills his evil brethren.
Overwatch:
Kill Chart:
Robot Monkey - 14
Ham701 - 2
Warhead - 29
Moronstudios/Silverdream - 5
Ogel96 - 9
solvess - 18
Apollyon - 17
Ross_Varn - 2
Orders are welcome.