Henry Freefig
- Bragallot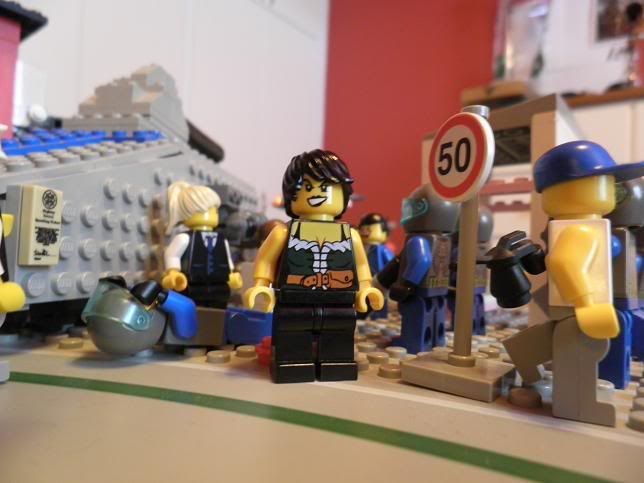 Hi my name is Ebony Dark'ness Dementia Hawken Ray and I have long ebony black hair (that's how I got my name) and icy black eyes like limpid tears and a lot of people tell me I look like Amy Lee (AN: if u don't know who she is get da hell out of here!). I'm not related to Gerard Ray but I wish I was because he's a major fucking hottie. I'm a vampire but my teeth are straight and white. I have pale yellow skin. I'm a goth (in case you couldn't tell) and I wear mostly black. I love Hot Tobrik and I buy all my clothes from there. For example today I was wearing a black corset with a matching belt around it and a black leather miniskirt, black stockings and black combat boots. I was wearing black lipstick, yellow foundation, black eyeliner and green eye shadow.
"Hey Ebony!" shouted a voice. I looked up. It was... Henry Freefig!
"What's up Henry?" I asked.
"Nothing." he said shyly.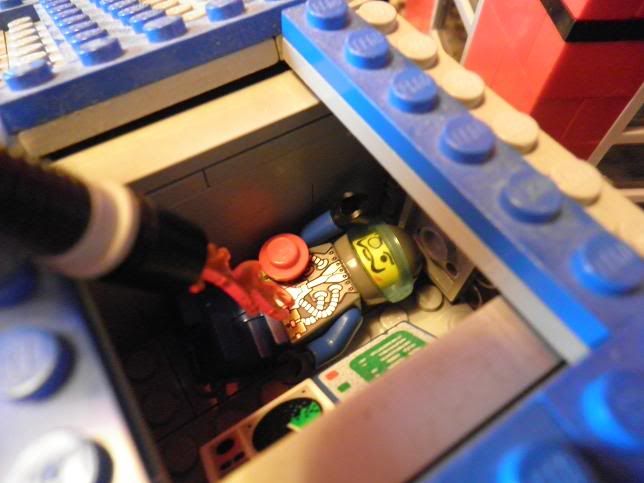 Then Henry Freefig went to a soldiers tank and shoot the soldier in it and went inside and used the controls.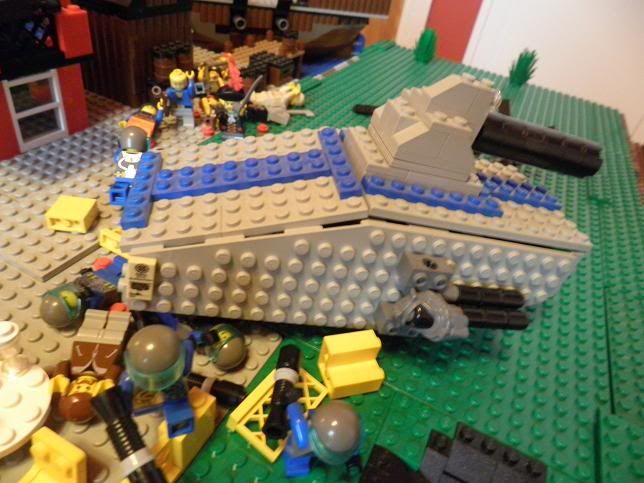 Henry Freefig made the tank drive over soldiers and make them squish. Some civilian died but no one cared because they had to do it.
Briktopians
- Apollyon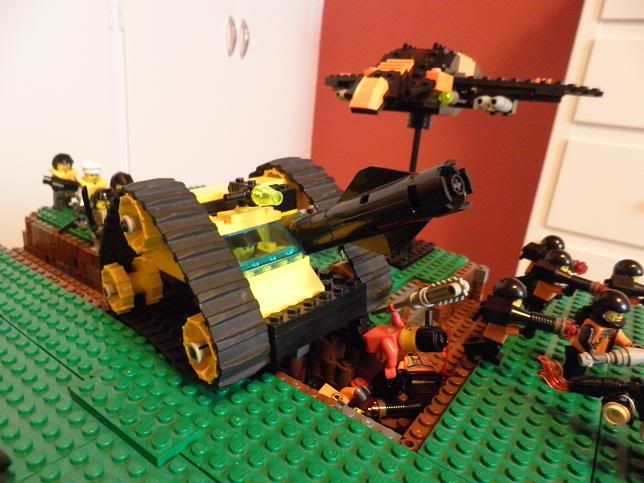 The siege tank rolls forward, but PottyHeed is standing in the way!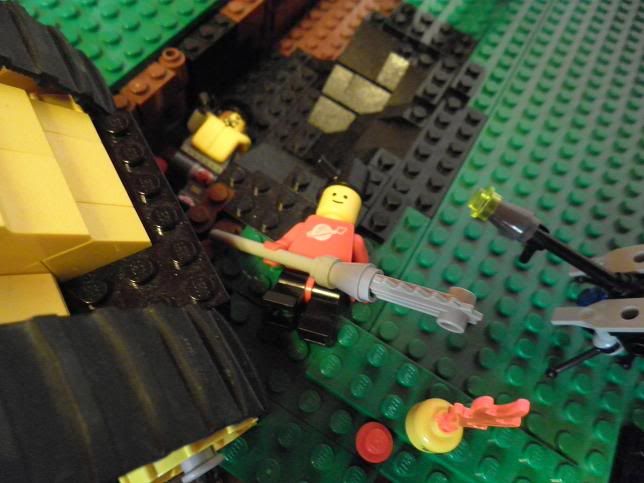 "URGH! AN PEEPLE WONDER WHY IM HASING A POTTY ON MA HEED!"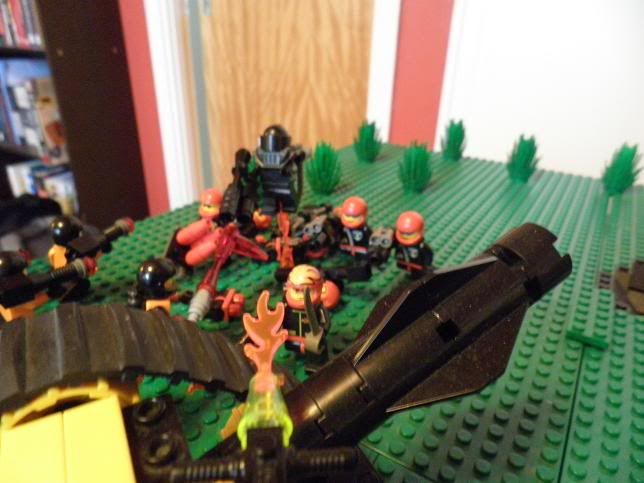 The tank fires its autogun at the Terrorkhan...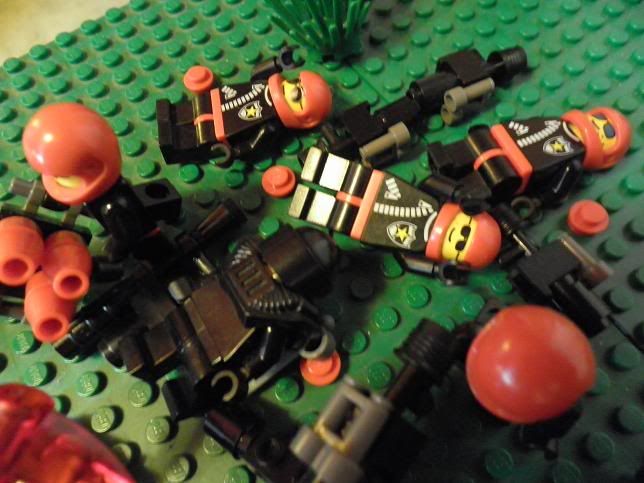 ...and brings him down.
It then fires the main cannon at Raskolnikov's soldiers, killing one.
The Briktopian footsoldiers head for the harbor, one of them entrenches himself in the water. No response actions since they had to sprint.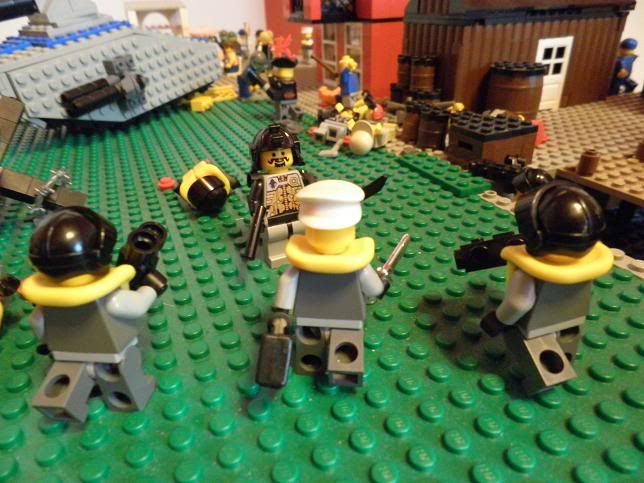 General Lukas believes this is a good time to inspire his soldiers.
"You utterly incompetent sacks of meat! You couldn't hit a barn even if you stood inside it! Why, I ought to send you to Strategos Apollyon's suicide..."
"...squads?"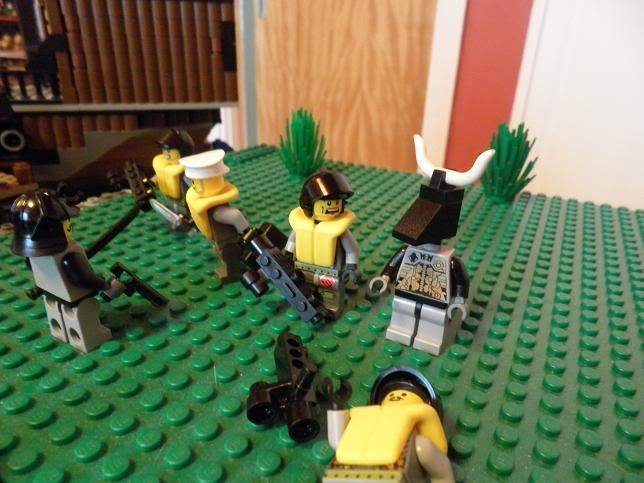 "Strategos Apollyon?"
"Greetings, general Lukas. I heard you had some fresh recruits for me?"
"Um, actually..."
"Don't worry, this man will be fighting Akkadia's finest before the day is over!"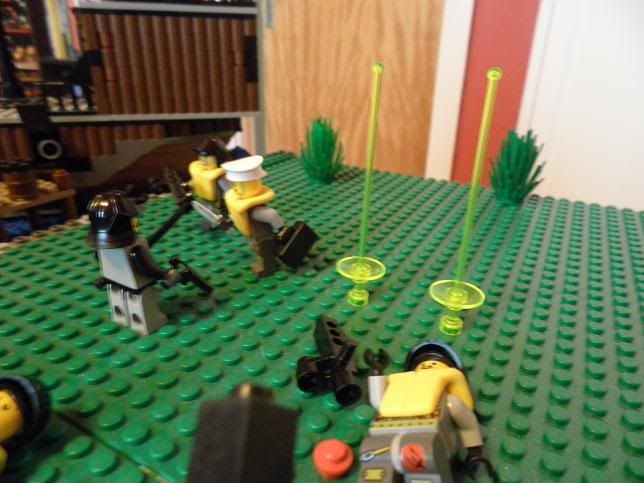 "But..."
Immortals
- Warhead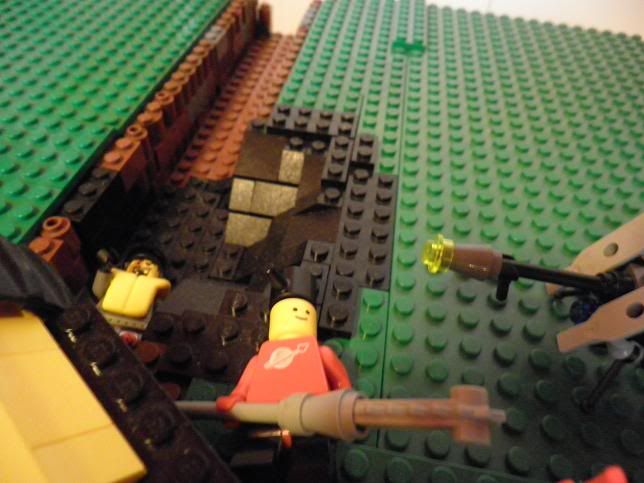 As PottyHeed lies on his back in the mud, he notices something in the sky...
"LOOK AT THA FLYING THINGY!"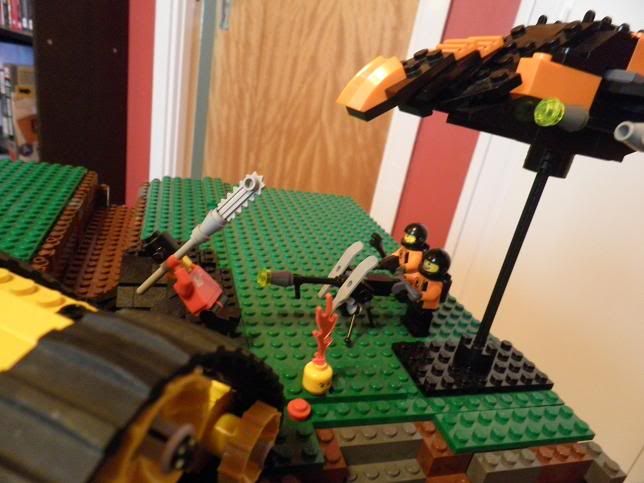 "BRING IT DONN 'ERE SO I CAN SWOOSH IT!"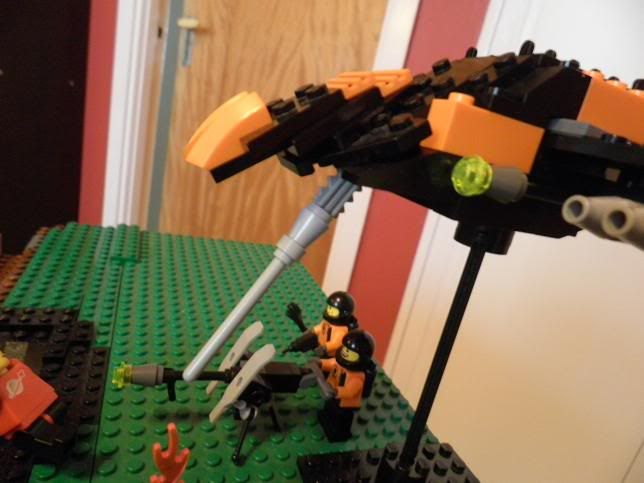 The chainglaive gets stuck in the inner workings of the FELC fighter, and while it does no major damage this turn, it will continue grinding until it is removed...
The Imperial troops open fire on the FELC, one of them dropping his missiles to pick up a gun. They all miss.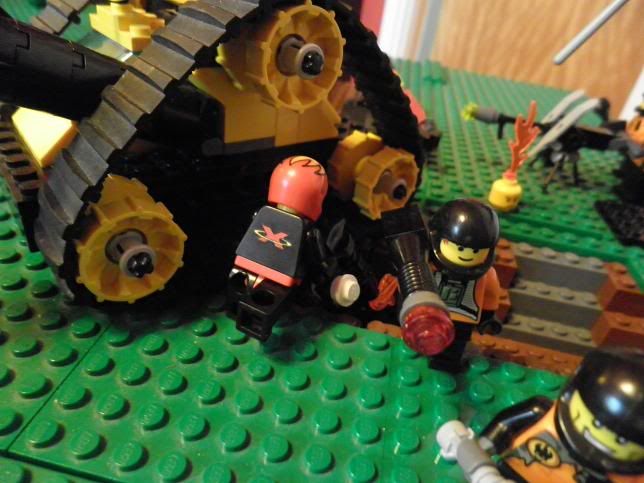 Joseph Paras dives into the trench...
...where he picks up a heavy gun, and prepares to shoot general Jaroslav at point blank range!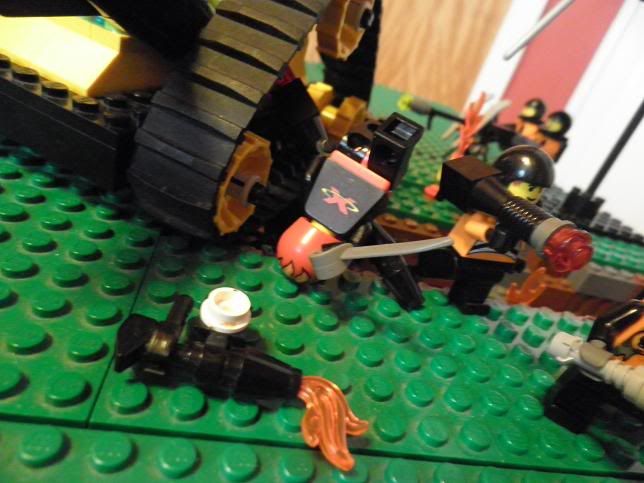 Paras was holding the gun the wrong way though, and is tossed about and disrupted by the recoil.
Vergilius Raskolnikov
- Killer Karetsu
Two soldiers diligently shoot at the stolen tank. The paint holds firm against any scratching.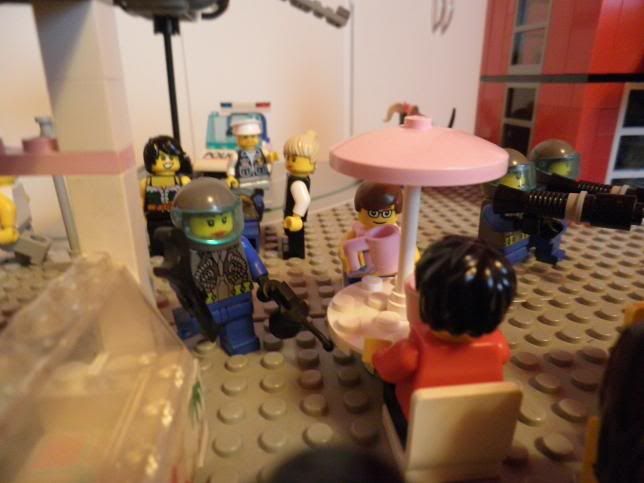 The Mechanik, angry at Henry Freefig for stealing her greatest creation...
...forces herself upon his mom!
Meanwhile the Medik attempts to heal the soldier killed by Freefig.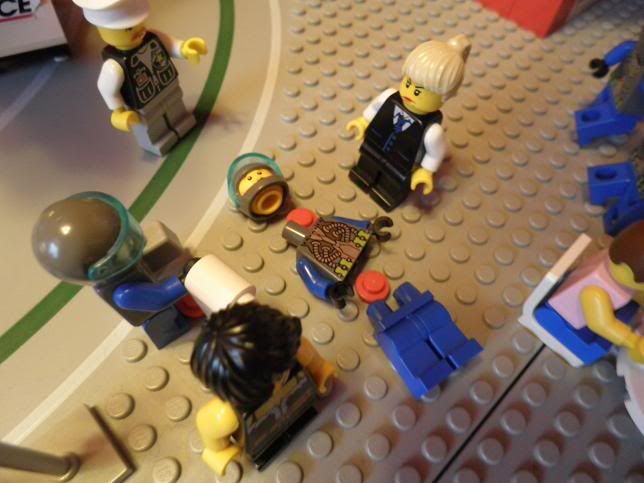 He makes an unusually critical failure.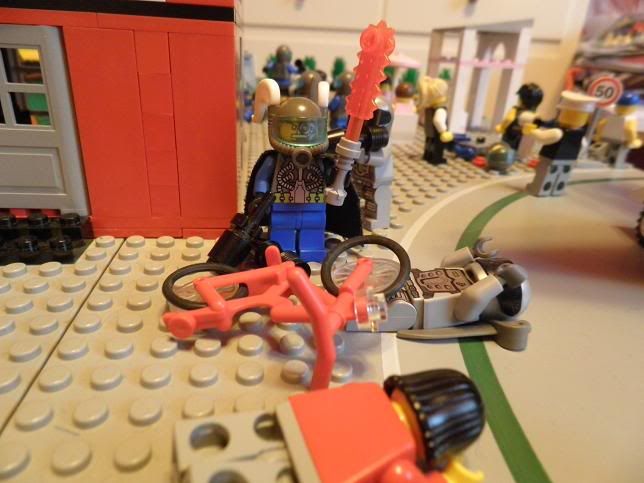 Vergilius Raskolnikov wants to ride the red bicycle... but it's broken and his Mechanik is unavailable.
"Listen, bicycle. I want you to be whole again. I am Vergilius Raskolnikov. You are not. Therefore, you must obey me."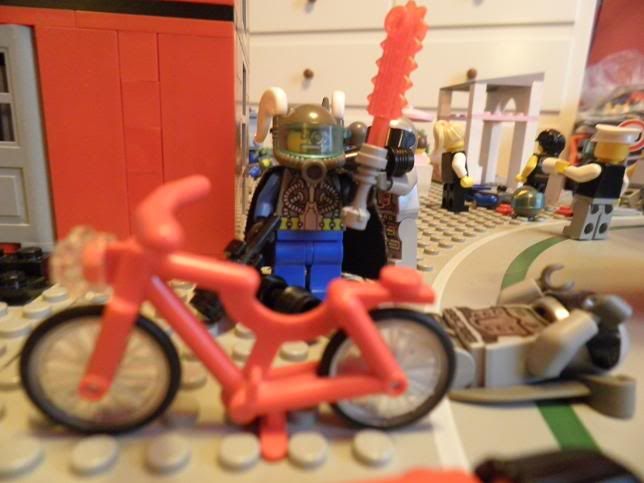 The bicycle sees the logic of this reasoning.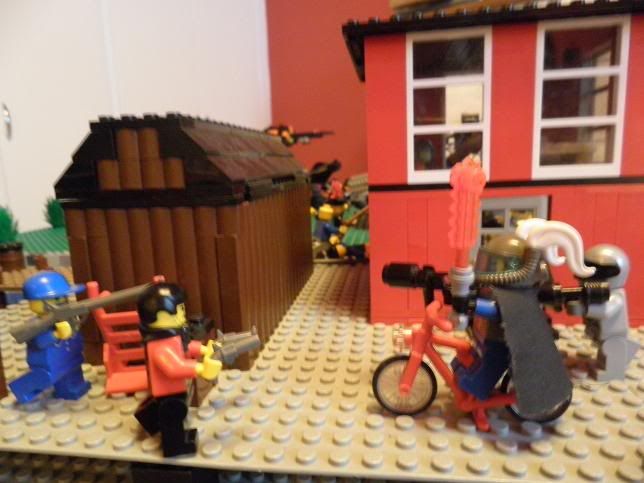 Vergilius pedals off towards the pirates, the Faceless following suit.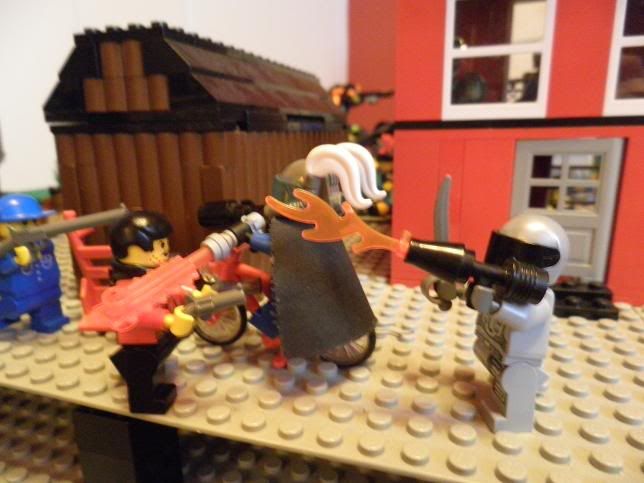 The Orange Transparent Chainsaw makes contact with the pirate's bare flesh... and nothing happens. Who'd have thought an OTC damage roll could be so low?
The soldiers who survived the tank's onslaught take up new positions behind what's left of the fence, and prepare response fire.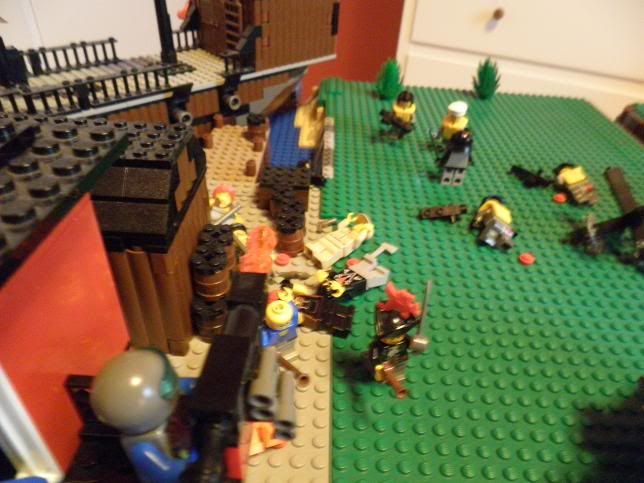 In the red building, the running soldier has finally reached the machinegun. He opens fire on the Briktopian hiding in the harbor.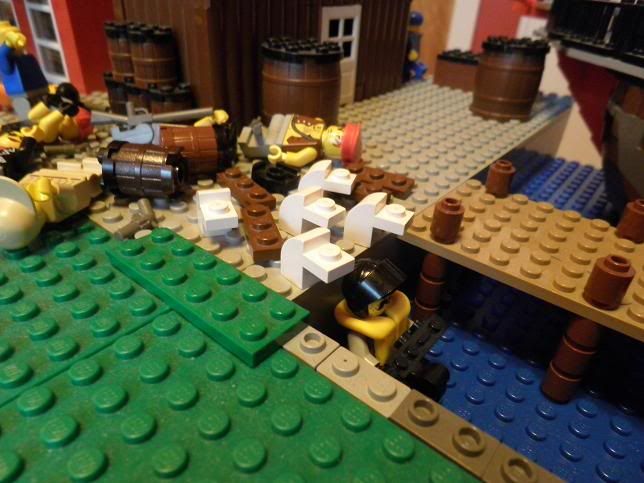 The nearby crates are reduced to firewood, but the Briktopian keeps his head down.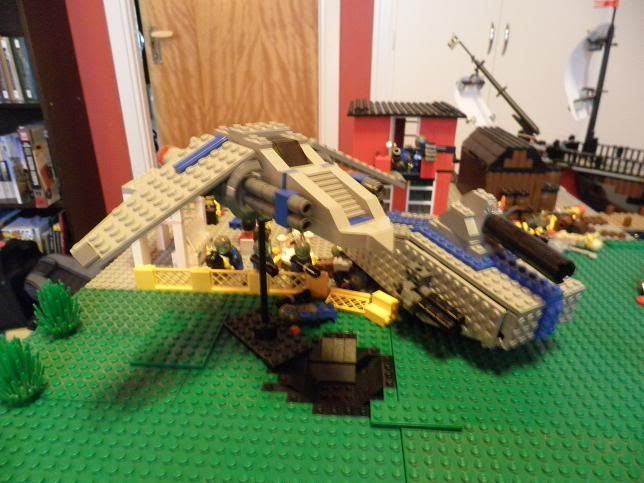 The fighter sweeps onto the battlefield.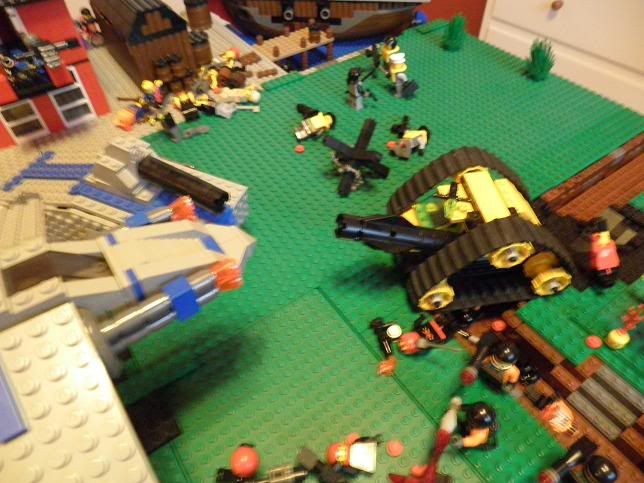 It opens fire on the Briktopian siege tank...
...destroying the cannon.
FELC
- Ross_Varn
The FELC fighter also heads for the action.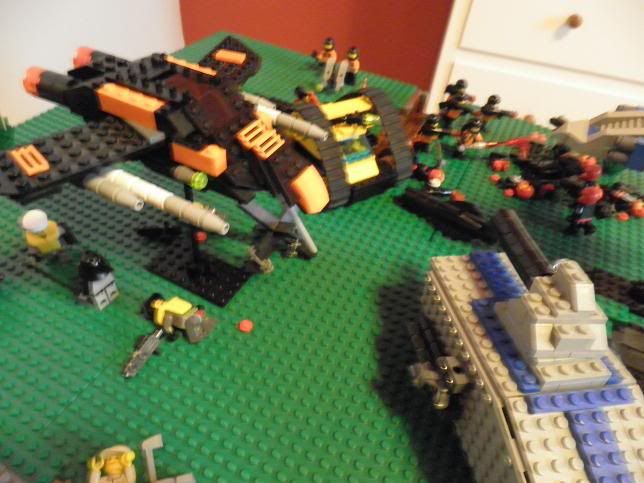 It launches a pair of missiles at the Freefig-commandeered tank.
The missiles hit and the tank loses two structure points. Five remains.
General Jaroslav leads the troopers against the Imperial soldiers...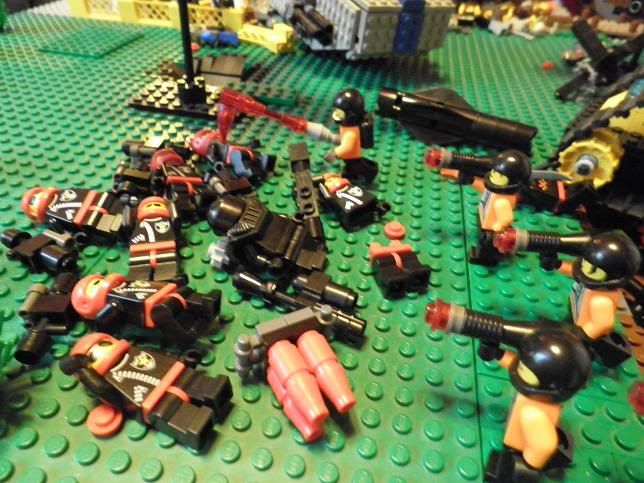 ...killing them all.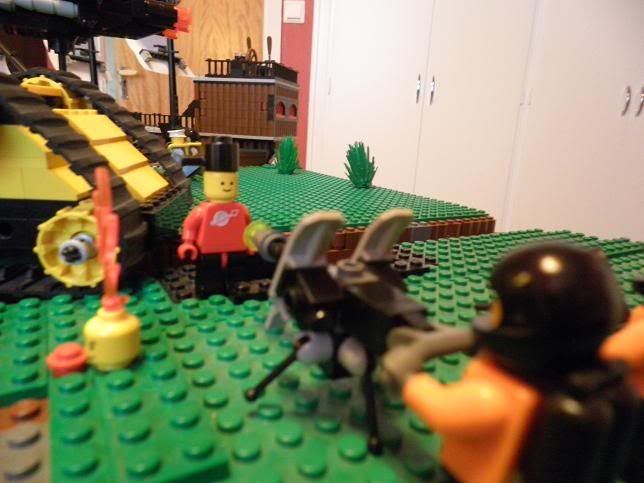 The tripod gun has an obvious target.
"I NOW DEM MAYTRICKS, HUR HUR!"
Pirates
- KittywithLEGO
These pirates withdraw to regroup, and an attack of opportunity reassures Vergilius that his OTC still works.
"Rodrigo! Looks like they put a new lookout in the nest."
"Aye..."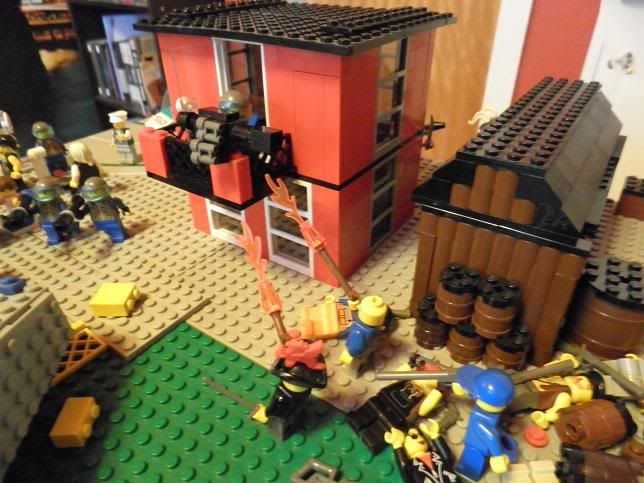 "...we'll take down this one too!"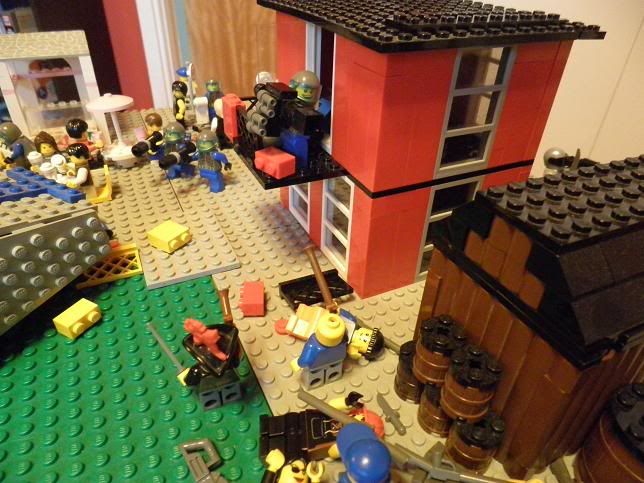 The soldier survives, but the balcony fence is destroyed.
Civilians
- NPC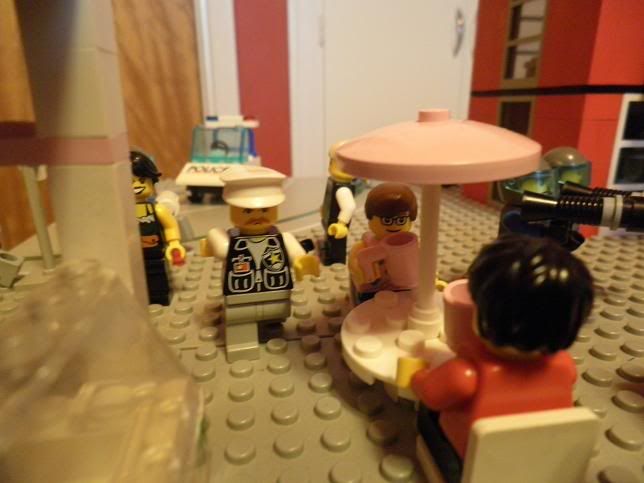 Crime never rests on Remarque, but neither does the law!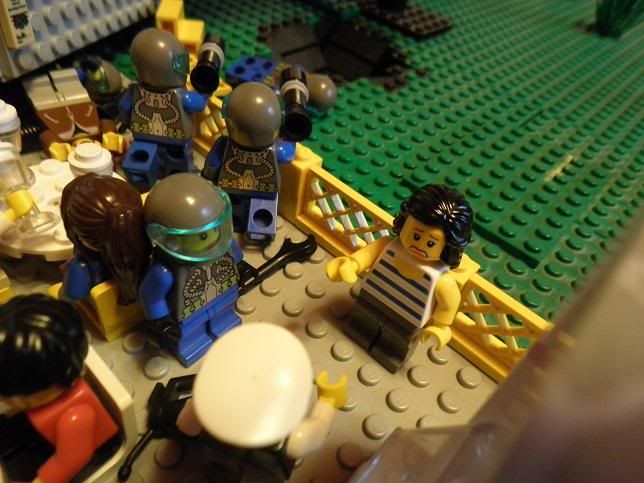 "Alright, break it up, you two! What's going on here?"
"She snuggled me!"
"What are you talking about? Women can't snuggle. Besides, what do you expect to happen when you're walking around in lipstick and a sleeveless top like that?"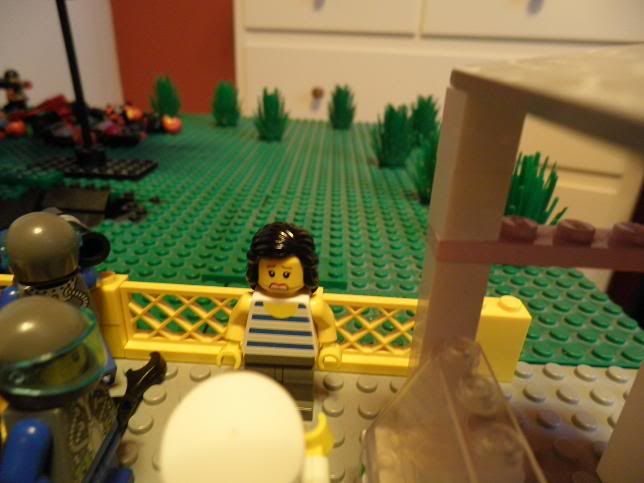 "Ma'am, you're under arrest for slander and for wasting an officer's time."
"You have the right to remain silent. Anything you say can and will be used against you in a court of law."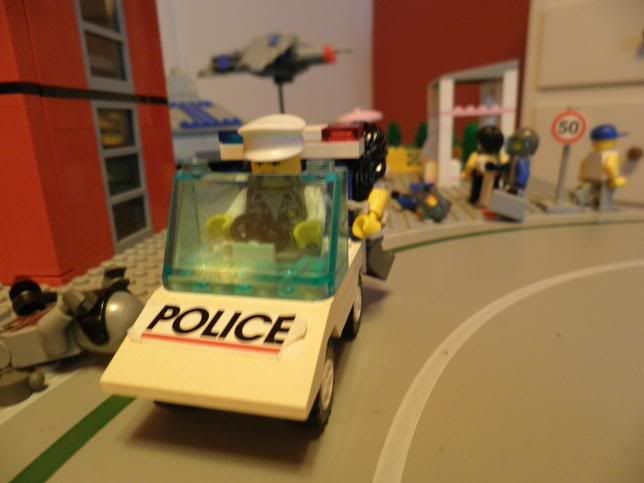 "Another criminal off the streets... a good day's work."
http://www.youtube.com/watch?v=G_cWSCyJ89s&feature=related
Faction stats
FELC
- Ross_Varn
Kills: 7/28
Units left: 8/10
Briktopians
- Apollyon
Kills: 3/28
Units left: 5/8
Vergilius Raskolnikov
- Killer Karetsu
Kills: 8/28
Units left: 12/18
Pirates
- KittywithLEGO
Kills: 4/28
Units left: 3/10
The Immortal Empire
- Warhead
Kills: 3/28
Units left: 2/10
Henry Freefig
- Bragallot
Kills: 3/28
Units left: 2/2
Civilians
- NPC
Kills: 0/28
Units left: 6/8
Overviews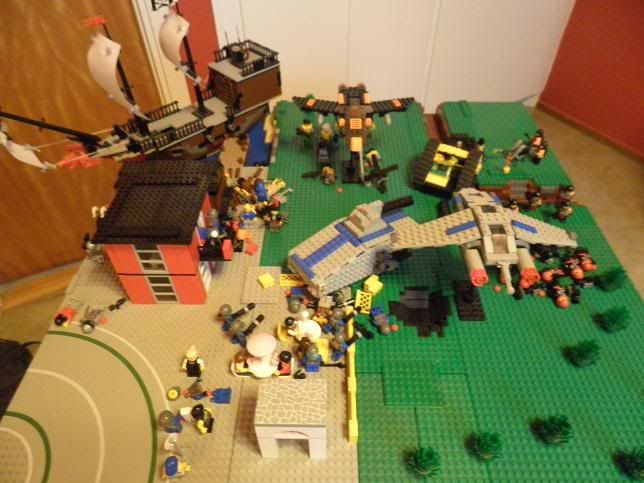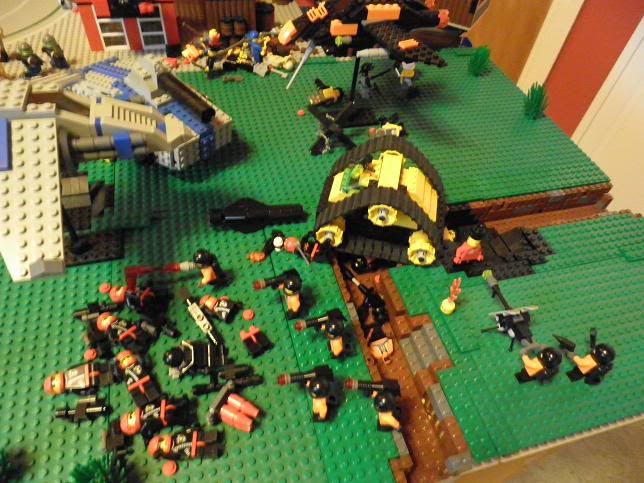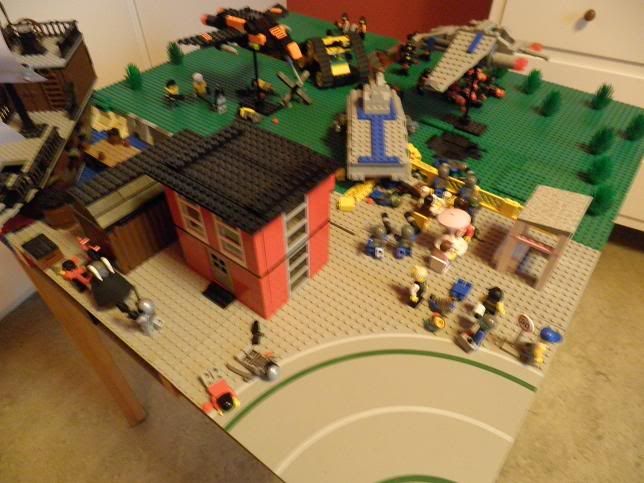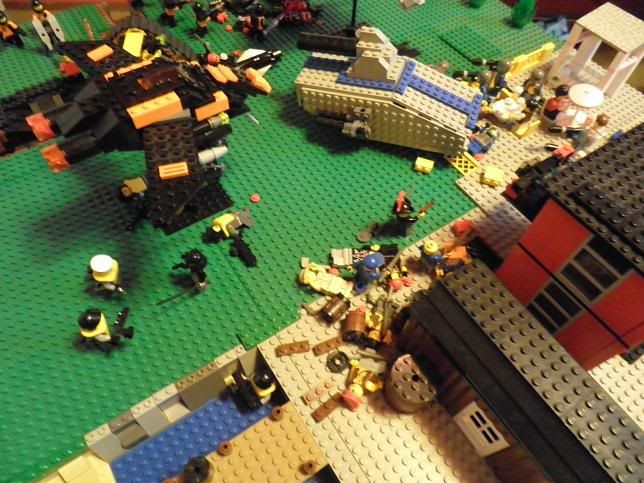 Send in your Turn 4 orders!
Top Thread