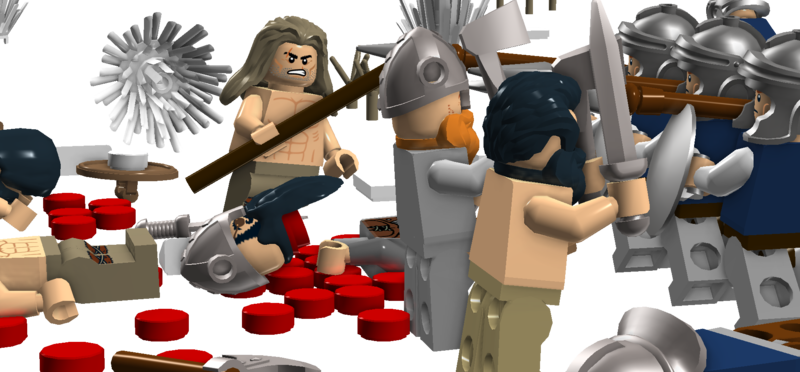 The north man looks ahead and sees his approaching doom.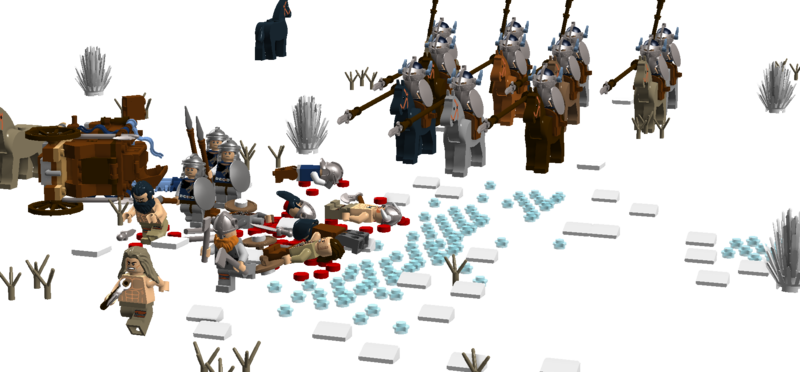 The north men flee as the cavalry thunders upon them. A Dalrish soldier manages to thrust his spear into one of them.
"What happened here?!" roars the captain.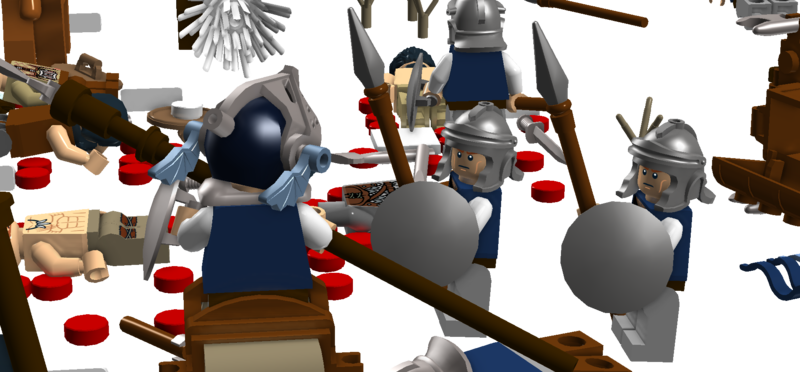 "T'was a yeti sir. The northerners brought one and unleashed it's evil upon us."
"Are the prisoners accounted for?" asks the captain.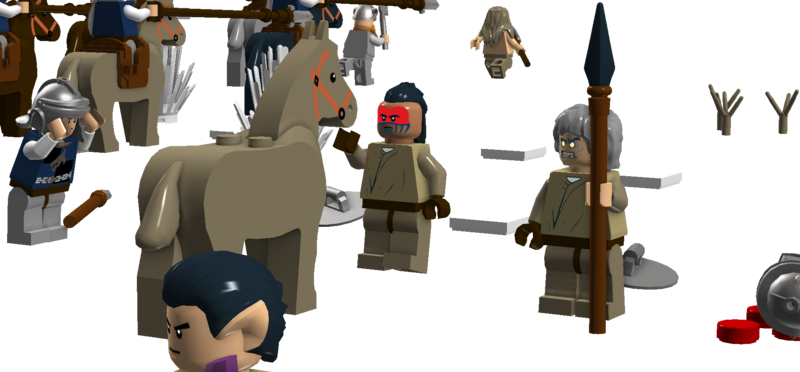 Cuetlachtli soothes the horse while Chulaínna leans on the spear.
"Friends, we are most certainly not friends of Dalron! Our chances of survival from a cavalry charge are low. Perhaps we should consider using the carriage as cover or to retreat!" says Florens as he bandages his wound.
Anna and Orin make their way to the group, assessing the situation and preparing to defend themselves if need be.
Elwin, curious as he is, pockets the crystal after failing to find a pack and investigates the knights. He scans the ground for a bow, but does not see one.
"There's no need to fear." says a soldier. "I saw what your elf friend did to that beast. Honestly, I would have done the same if I were in your place. That officer deserved what was coming. I'll speak with the captain on your behalf."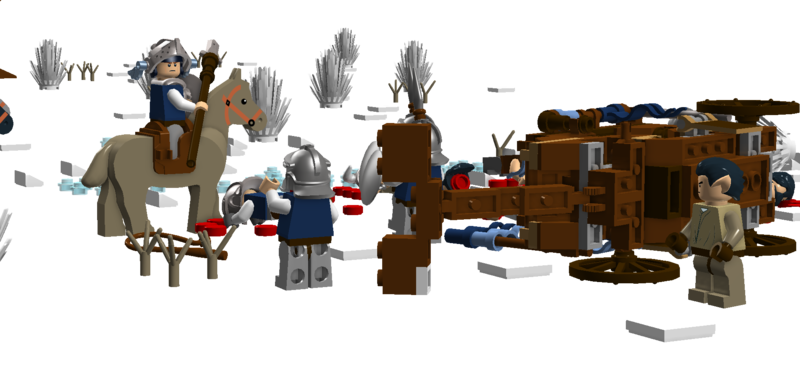 "Sir, these prisoners are simply the victims of a misunderstanding-"
"Ah! I see you've rounded them up!" says the captain.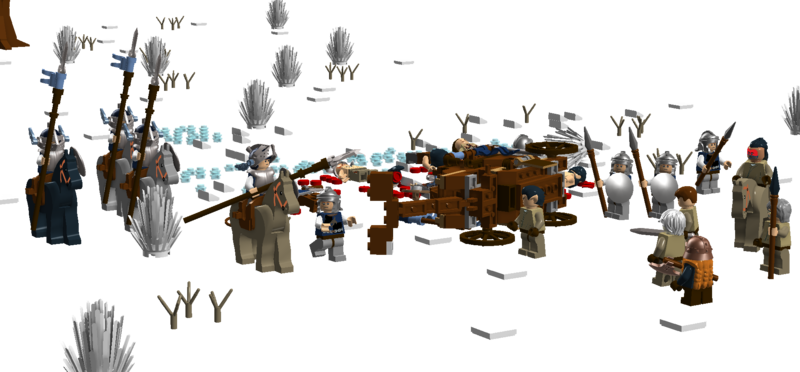 "What is that foreigner doing with a sword?" The captain sees the slain soldier behind Florens. "Murderer! I'll have your head!"
"My lord, mercy!"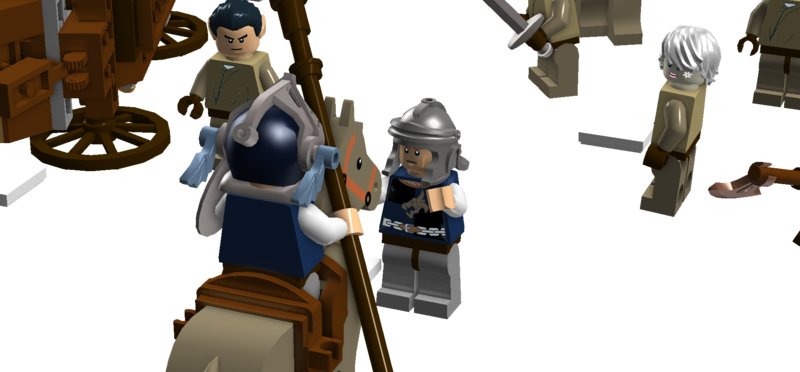 "We were carrying a shard, a power that none may touch and yet this elf-"
"Will die with the rest of these trespassers and murderers! But you will be the first to feel my lance, traitor!"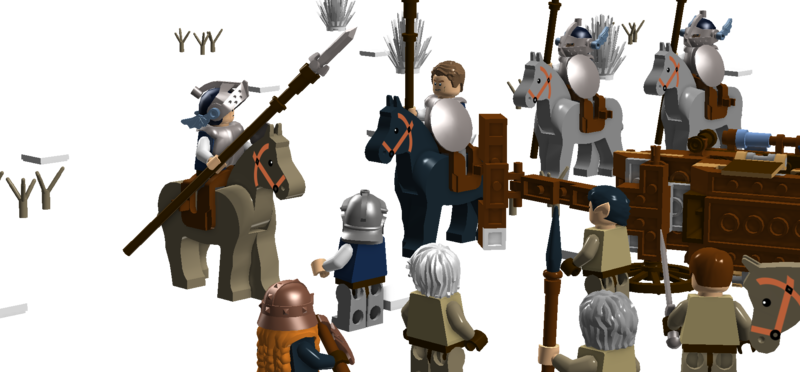 "
ENOUGH!
" shouts a knight as he removes his helmet.
"Prince Rothgert! I- I had no idea- These criminals have been apprehended and-"
"This man tells you they can contain a shard and yet you would still seek to slay them? Get out of my sight."
"Yes, my lord..."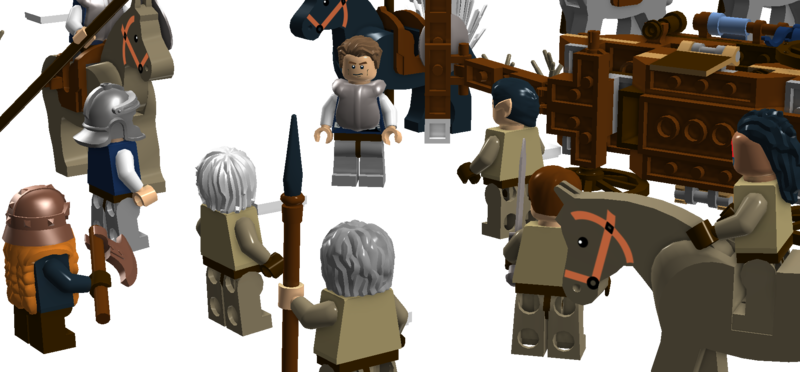 The prince dismounts and faces you. "Now tell me who you are and why is it that I've seen you in my visions."