Spanish Inquisition (MGB519)
Inquisitor Cortez succumbs to the flames of his fanaticism. Sometimes even the Spanish Inquisition doesn't expect a Spanish Inquisition.
Spanish Inquisition Eliminated!
Britannians (Motorhead Fan)
With Cortez dead, the Britannians now focus their fire and blast the party guest who attacked them the previous turn.
Freedum States of Murica (Red_SPAMbot)
"Studs for the studgod!" Raygun shouts as he judo throws Roche into the maw of Brikthulu. Roche proves he's a tough SOB to kill.
The Redcap's attack is equally ineffective.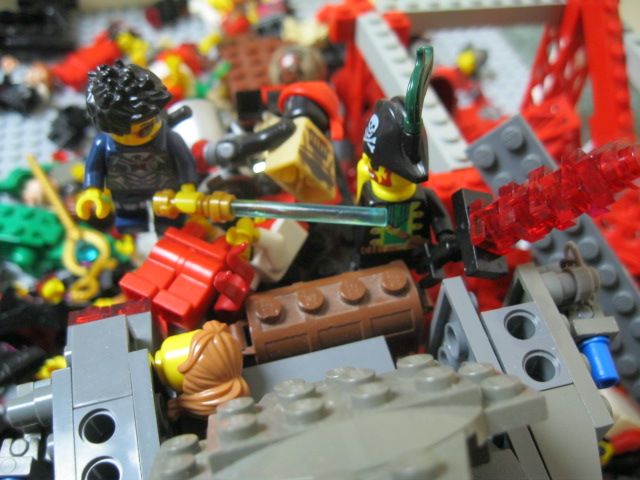 Agent Dangerzone brandishes his beam cutlass. "Well Strongarm, you almost made it with your ill gotten booty. I hope you brought a big trunk because I'm going to put my boot in it!"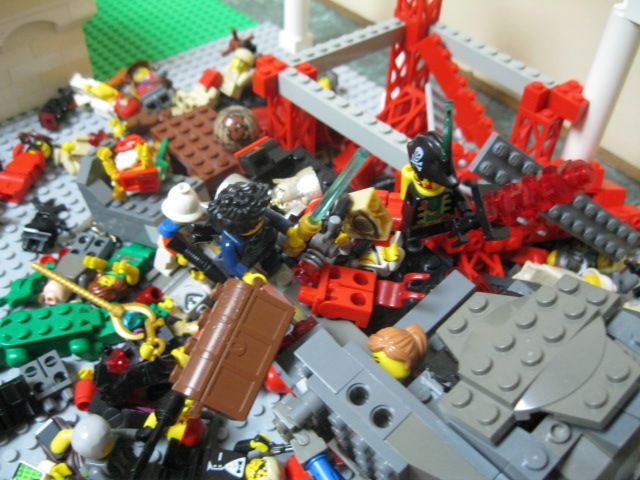 With that, he grabs the chest and tries to kick it into captain Strongarm.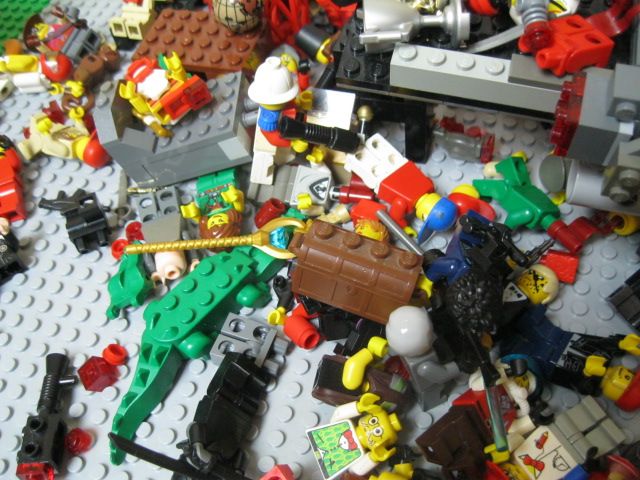 However, he loses his balance and falls off the skiff instead.
Party Guests (Zupponn)
Realizing his mistake, Carlos Satana tries to summon hammerman to bannhammer Brikthulu.
He succeeds in summoning a hammer, which would have smashed him, had the bartender not dived and pushed him out of the way.
Space Pirates (Apollyon)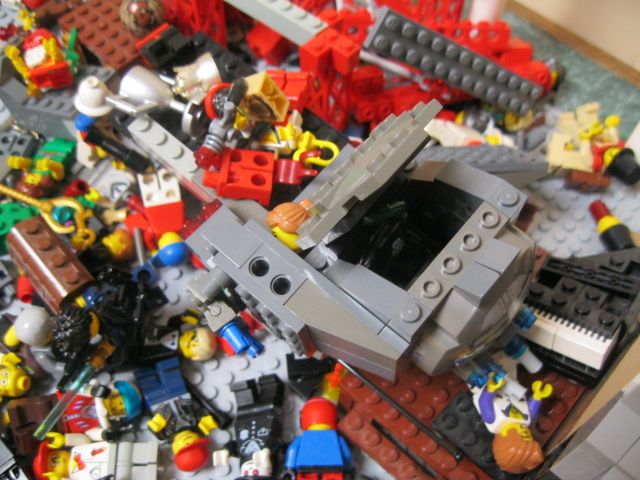 Getting into the cockpit of the skiff, Strongarm takes off. He fires a parting shot at the yellow car, which is undamaged.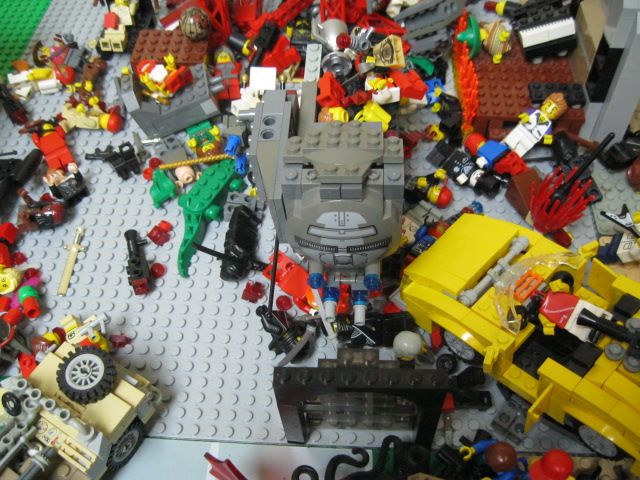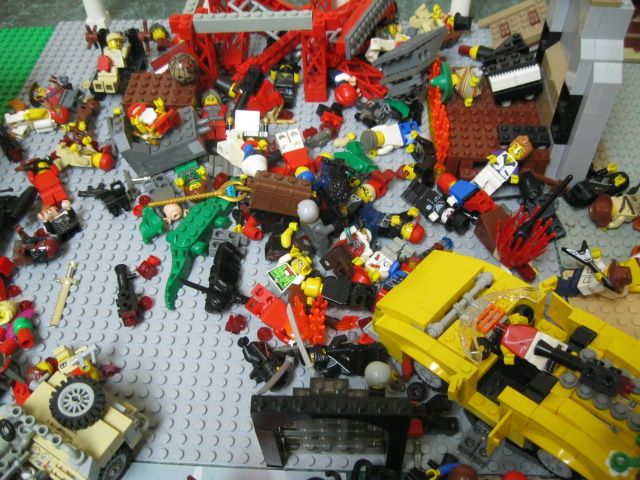 He then flies into the portal, in search of a new crew and more booty.
Interdimensional Raiders (lordintype)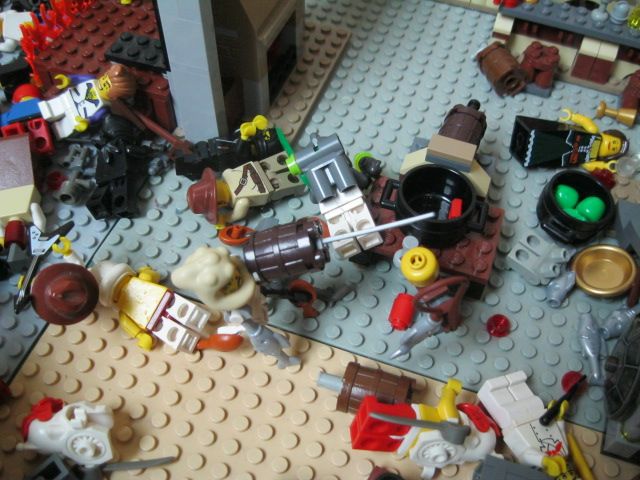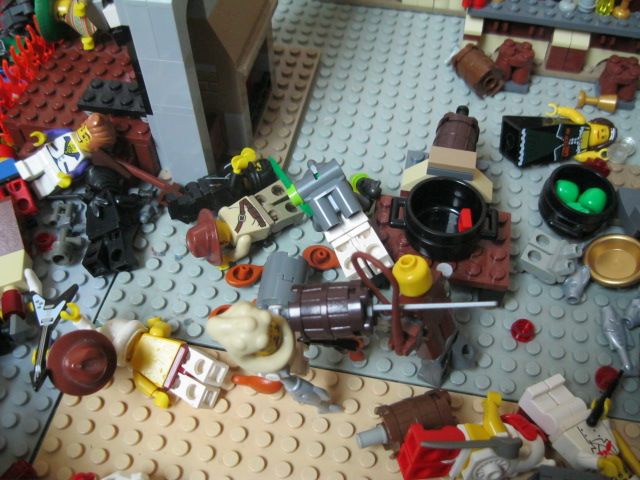 The raider dives between the abominations, causing them to attack each otehr. They are unharmed however.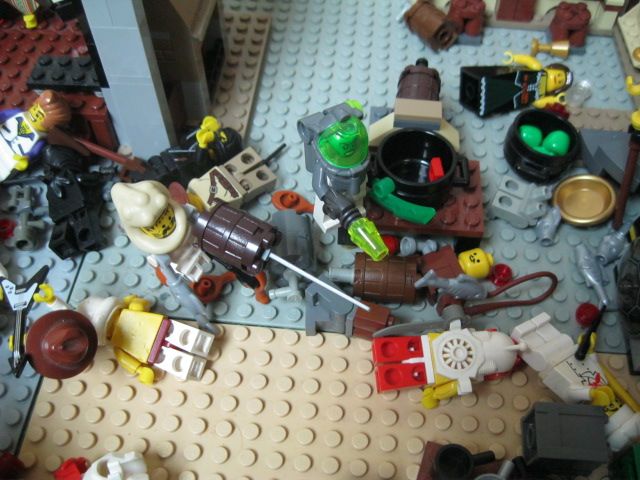 She kills the lesser abomination.
Culinary Abomination (TastySkippy123)
Secretary Frankenfood attacks the raider in turn, but her armor protects her.
Brikthulu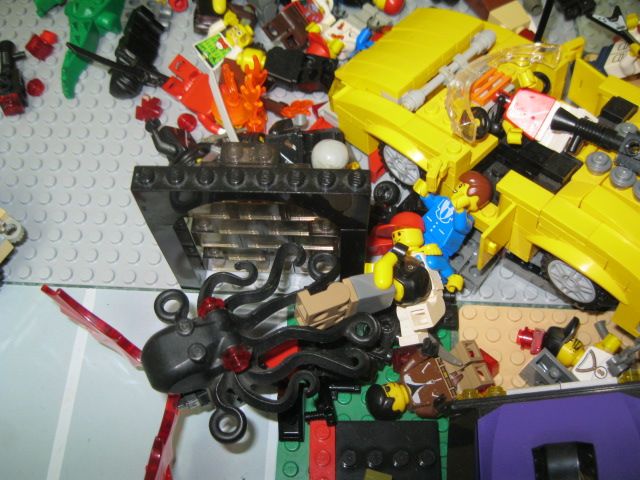 Brikthulu swings Roche like a club, injuring Roche and killing the redcap.
Roche (Bann154)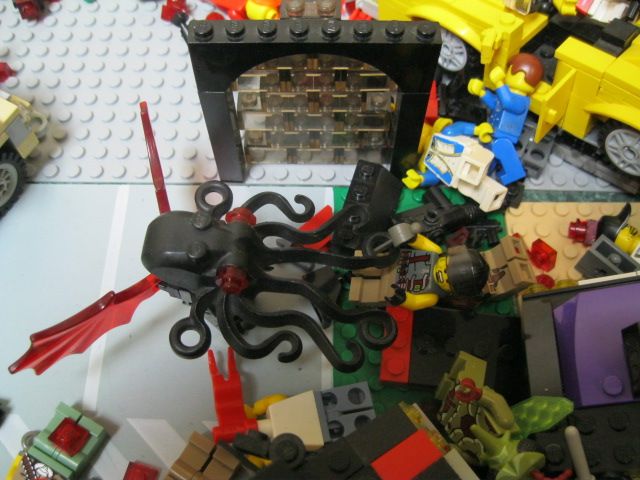 "I'm not gonna get eaten by some stupid squid thing!" Roche exclaims. Grabbing a sword from the ground, he cuts his way out of Brikthulu's tentacled grasp.
Dos Briquis Guy (Steel_Valkyrie)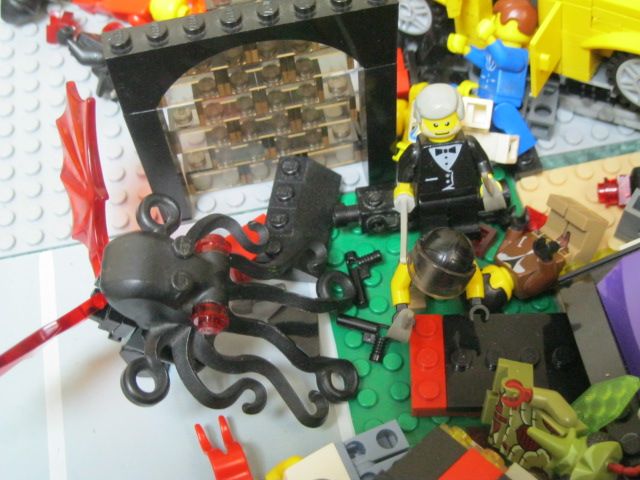 The Dos Briquis guy attacks Roche, who survives.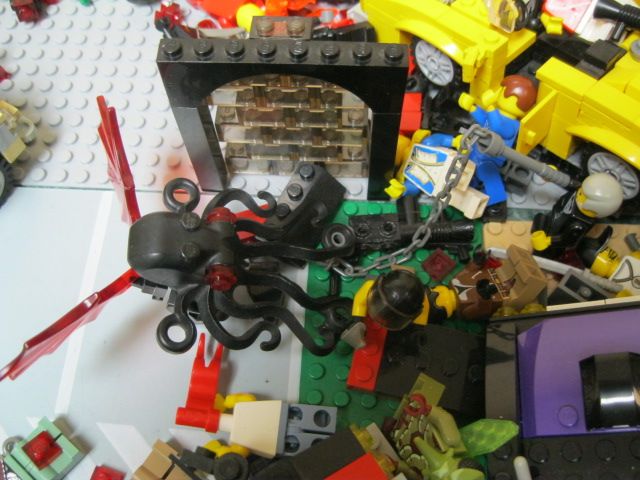 He then grabs Agent Dangerzone's grappling gun from the tree and shoots Brikthulu.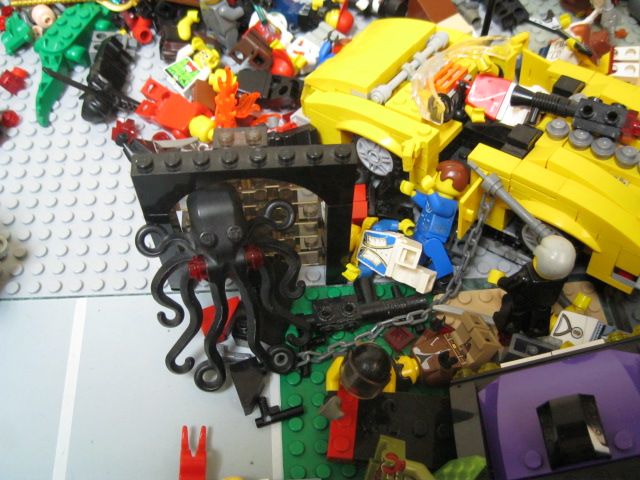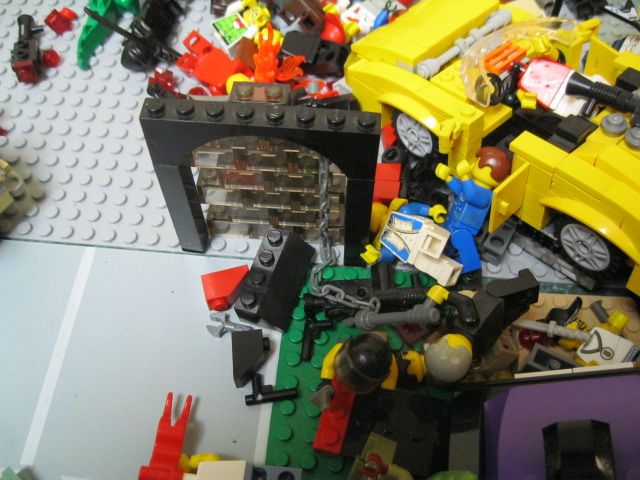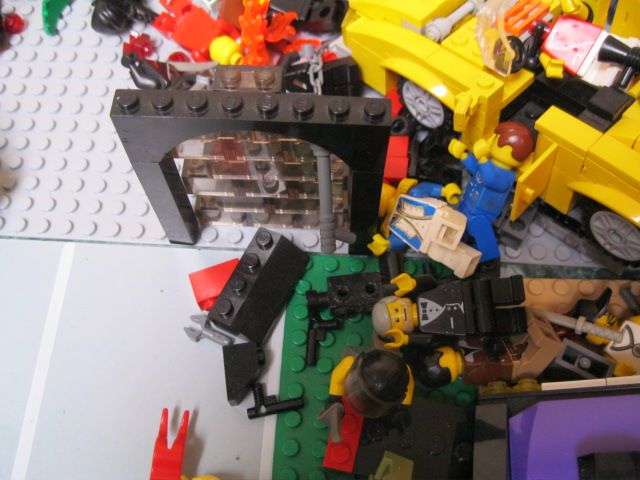 Casting it like a fishing line, he pulls Brikthulu back into the portal.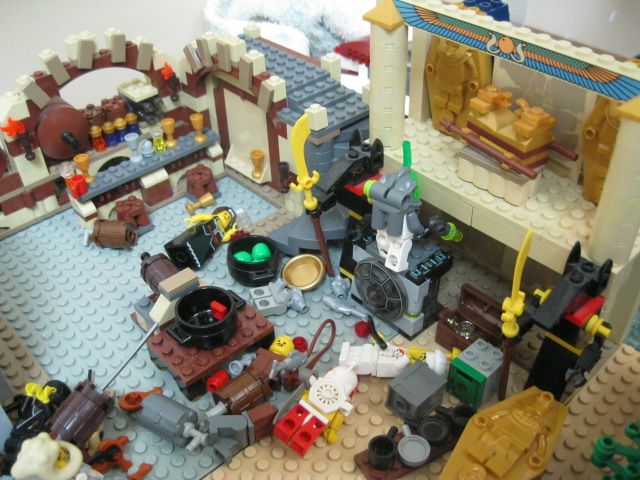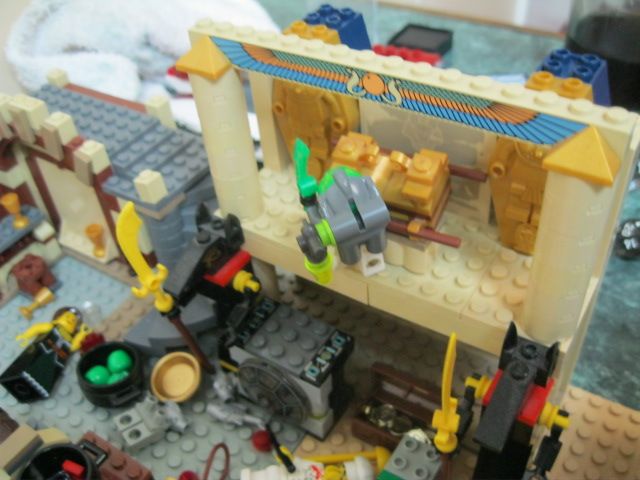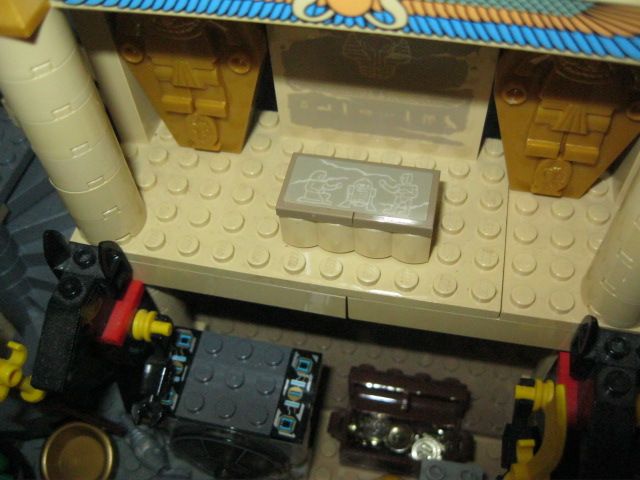 Seeing an opportunity to escape with her objective, the raider jumps up to the ancient artifact, grabs it, and disappears.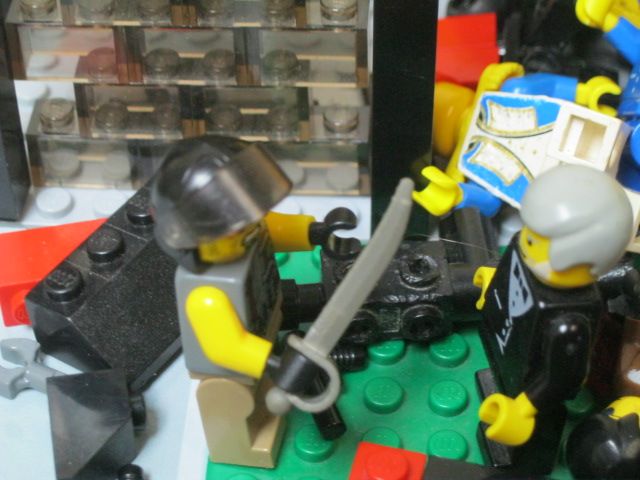 "You want to know the definition of insanity?" The Dos Briquis guy asks Roche,
"Let me show you!" The Dos Briquis guy tries to shove Roche into the portal as well.
Roche counters and smashes him into the side, which destabilizes the portal.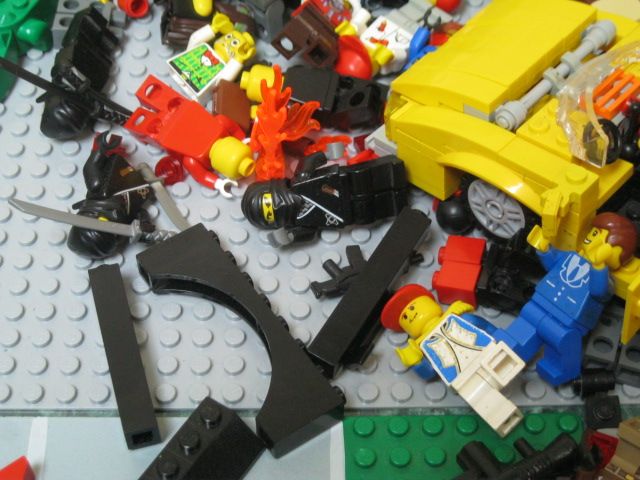 As the portal collapses, both the Dos Briquis guy and Roche disappear with it.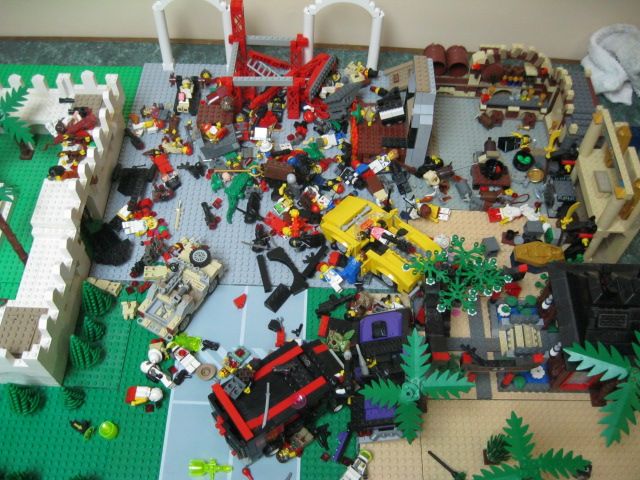 What's left in their wake is silence, and a whole lot of mess. "Hey guys!" Agent Dangerzone shouts across the carnage, "I think there's still some scotch at the bar!"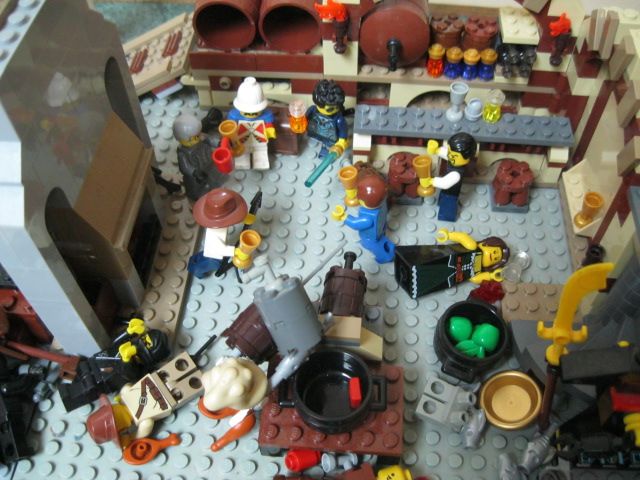 Thanks to everyone for playing and making this a great battle!
Kill Count:
Dos Briquis Guy (Steel_Valkyrie)- 2+2 friendly fire
Dos Briquis Entourage (Legomc) (Eliminated)- 6+3 friendly fire+ 1 pirate skiff
Space Pirates (Apollyon) -20
Freedum States of Murica (Red_SPAMbot)- 13
BA Team (Open) -8
Britannian League of Explorers and Gentlemen (Motorhead Fan) -6
Thugs and Mercenaries (Bann154) -2
Party Guests (Zupponn)- 5+ 1friendly fire + produced one culinary abomination and summoned Brikthulu
Ninjas (Duerer)- 1
Spanish Inquisition (Mgb519) (Eliminated)- 15
Culinary Abomination (TastySkippy123)- 3
Inter-Dimensional Raiders (Lordintype)- 2
Brikthulu-1