The GIMF is the main military force of the Trans Glaxtik Independence Alliance. (TGIA)
The TGIA's history mainly revolves around a mineral called Nokiu. Nokiu was first discovered in BR2005, when a displaced empire, searching the galaxy for a new home, came across it in a few isolated planets on the edge of the galaxy, primarily one they called Crosstinian. This small faction used the raw power of the Nokiu to build an empire that spanned several systems, with Crosstinian being used as a home world.
Before long, a war with an alien race broke out over the mineral-rich planets, the Crosstinian Empire began to heavily tax its worlds to fund the war, especially a planet called Zone, the primary mining planet of the CE.
Zone rebelled, using quick strikes on the already pressed CE military the Zone Military Corps managed to take more than half of CE controlled space. Yet Zone was weak, although the element of surprise and quick attacks granted them much victory, the Zone military was not a disciplined and ordered army, so when CE retaliated, Zone was pushed, slowly but surely, back to their home world.
Just when all seemed dark to Zone the ZME top scientists found a hybrid of Nokiu, they called it LNP, Liquid Nokiu plasma. (Which is kind of ironic, as Nokiu is in a plasma-like liquid form naturally)
LNP gave Zone the power they needed, one LNP bomb can decimate an entire system, which is the exact propose that Zone used it for. On the centennial of BR2008, Zone launched its missiles, 400 of them, onto CE controlled space. CE only had ten minutes of warning, yet they had no idea of the size of the detraction that was coming, so very little Evac operation were carried out. Only 2 military cruisers, and the emperor's flagship got out, using Nokiu for FTL they were able to escape.
Unfortunately for Zone, their plan backfired, the explosion was underestimated by 506%, meaning effectively, they blew themselves up with their own bombs.
Survivors of both sides left the small cluster, as all that was left was the dust of worlds, unfortunately there was a problem, the absolute size of the blast caused a "Black Rip" effectively a long black hole almost completely surrounding the local sector, and (except for one small loophole) closing the survivors in.
CE and Zone searched for "un-blown-up" worlds to settle, by koincidence they picked neighbouring worlds, CE on Crosstinian II, and Zone on Planet Strip. Thus, the war raged on.
TGIA was first founded in BR2009, when the Stellar Repuplick of Crosstinian II, (SRC) was finally exterminated by ZONE. In the Purge, Crosstinian II was destroyed, and the SRC military scattered across the minor worlds of the SRC.
The SRC fragments then got together in small groups user the command of Markill II, son of the SRC Emperor, Aycas I. Then, calling themselves MRI (Maindor Rebellion Initiative), Markill stared to conduct a rebellion against ZONE, primarily on the planet Maindor (Bet you didn't guess that). Using guerrilla tactics, MRI managed to acquire some small ships with FTL through raiding old warehouses. The MRI left Maindor in these stolen ships before ZONE could react, and found a planet they christened Kandors. Unfortunately, Kandors was already occupied, fortunately the occupants were friendly towards the MRI, unfortunately again, ZONE had followed, bent on destroying every last fragment of the SRC.
Large scale wars followed, MRI with joining with the original occupants, the Red Galactik Systems Alliance, and ZONE bringing over their major ally, the Planetary Leaf Empire. MRI started to get the worst of the fighting, and in BR2013 it launched operation "Get The Hell Out", and with the help of RGSA, retreated to the Red galactic system, at the same time forming the TGIA with RGSA.
Overwatch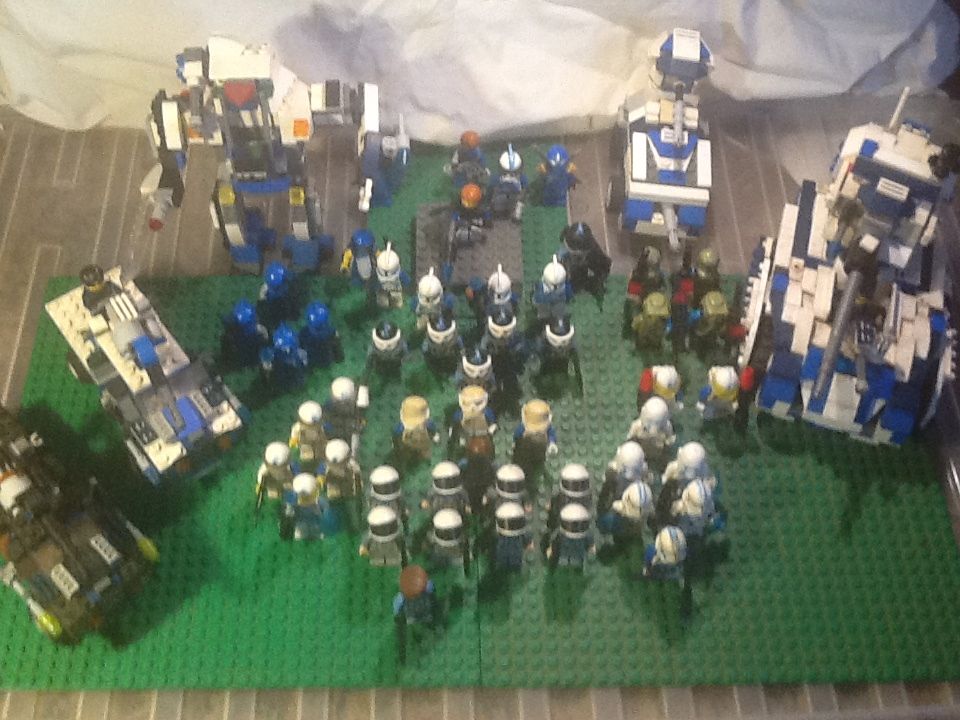 Main Troopers with officer. and field medik in back.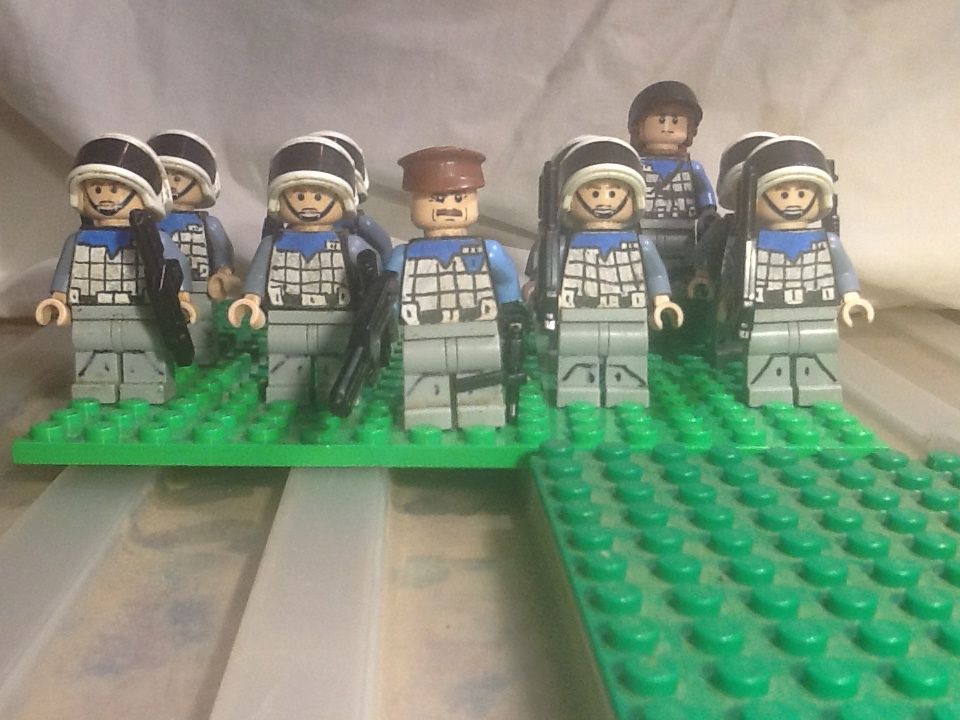 When GIMF joined with RSGA to create TGIA, RSGA had a "All race equal" policy, thus the RSGA was almost 50% peach vermin. As a result, TGIA launched a public law that 'All peaches have 75% more chance of being picked for the military, have 98% more chance to be sent into the front lines, and a peach cannot be promoted over the rank of officer.' So now the peach population have been diminished to 14%, due to the heavy casualties in the front lines.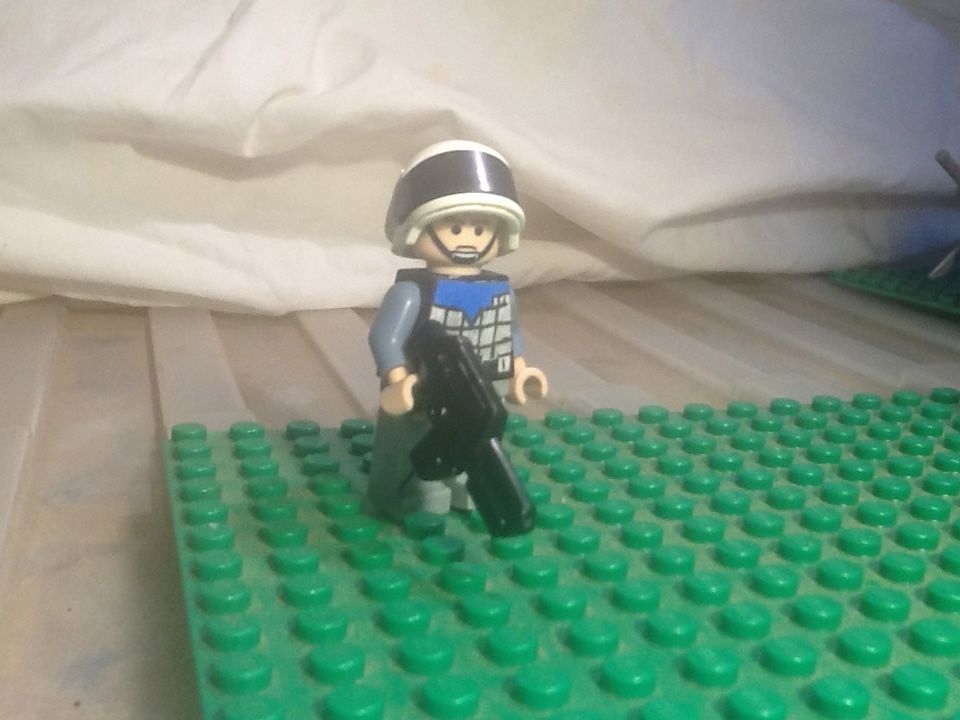 Machine-gun troops with sergeant and rocket troopers.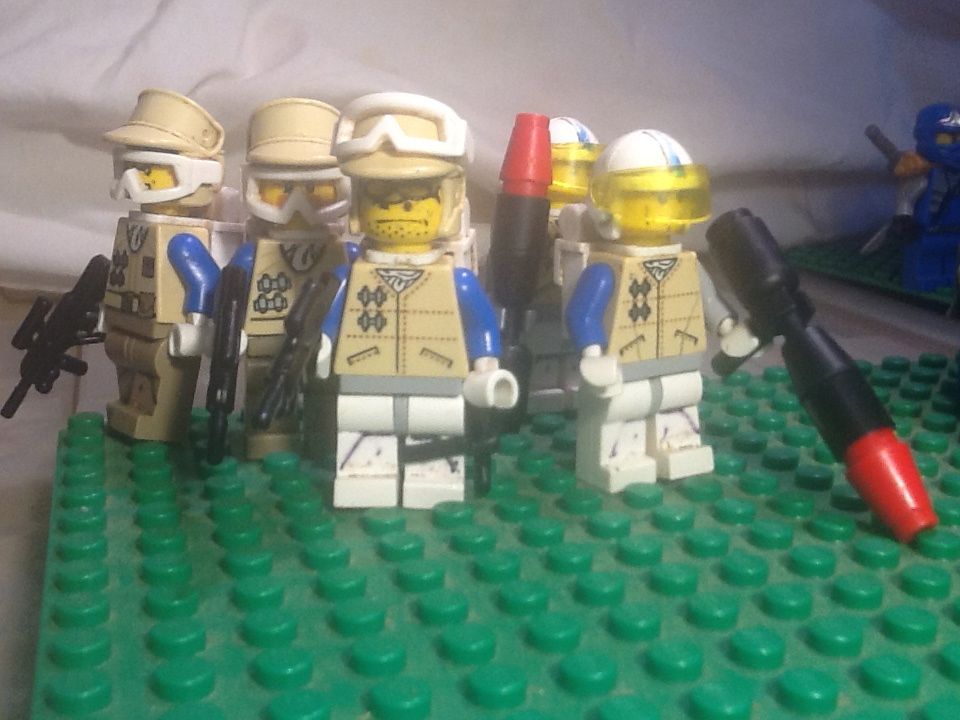 HAZAT hazard assault troopers with lieutenant and HEAT trooper in back.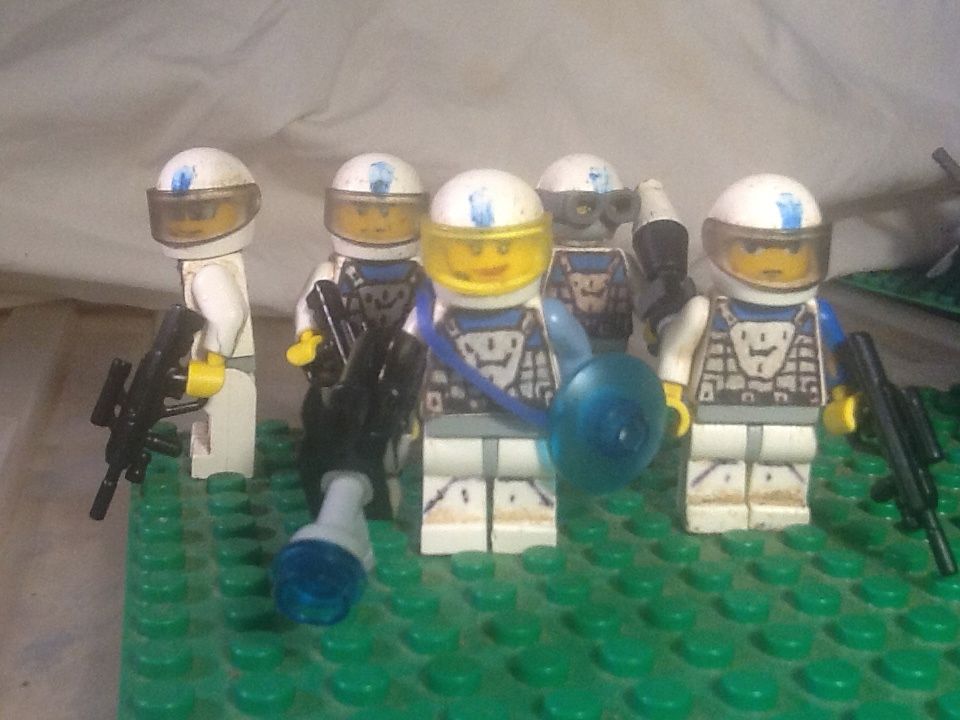 Flash Assault force with Commander Flash in middle.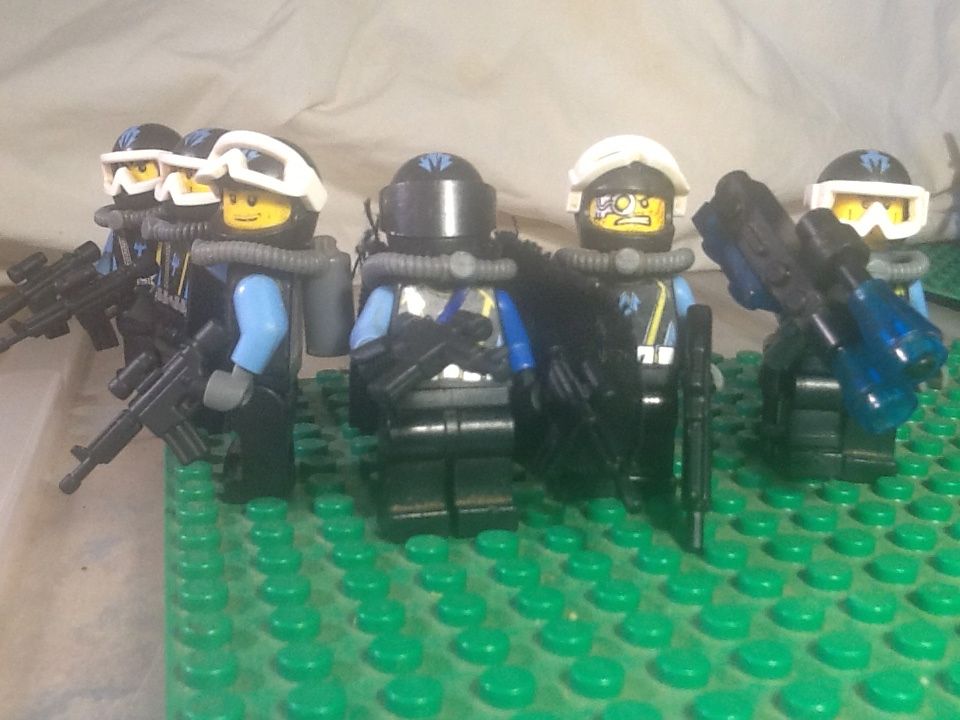 Sock troopers with Grenadiers on right and Commander Chop with shield.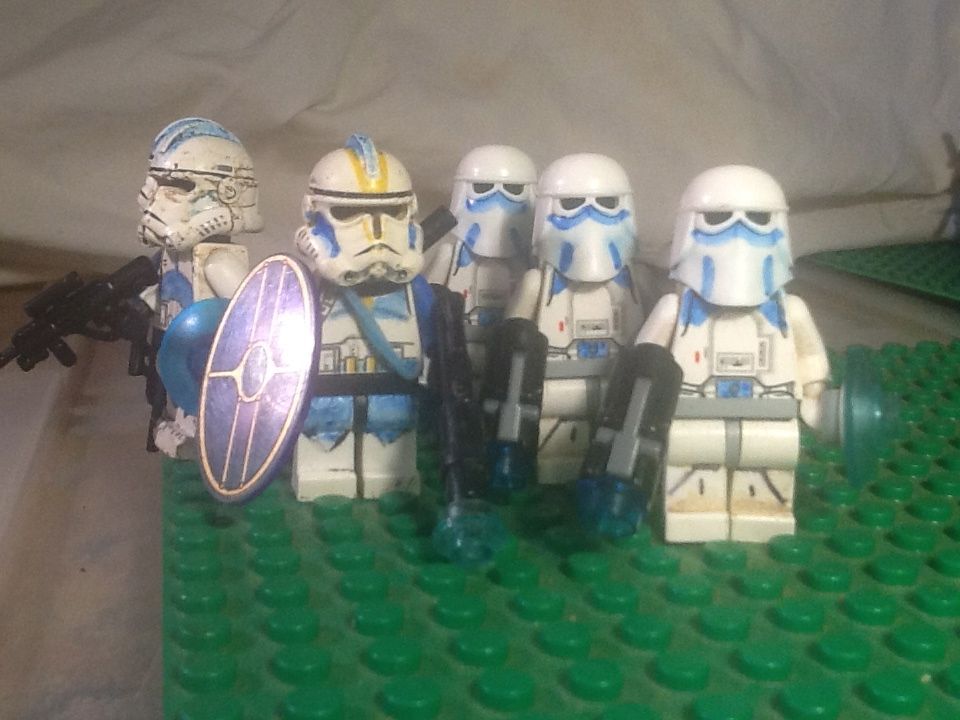 Airborne and Sniper units with sweet brick-built guns.
Senatorial Guard squad with Captain in middle.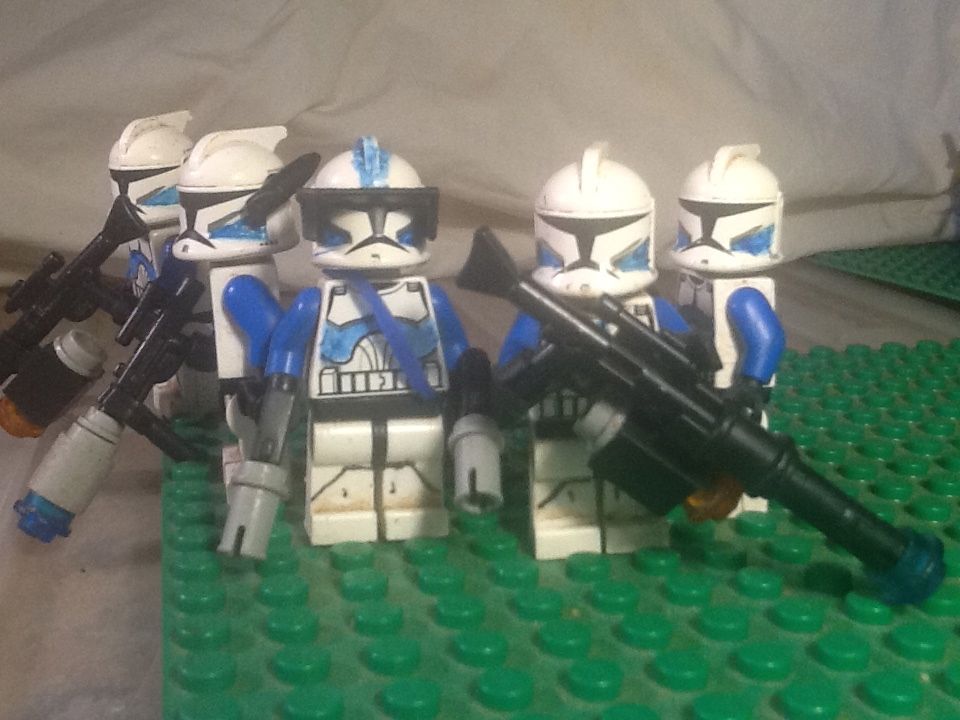 The Senatorial Guard allegedly has original CE Military Armour, conspiracy theorist say this is evidence that the CE army was cloned.
The TGIA battlefield generals, Jack Ringale, Samin Flash and Joshua Rush. (Not included: "Streaker" Chop)
T5 "Thylacine" Heavy Tank
With a Mk V Cannon on the top, a shock-laser Machine-gun on the hull, TROPHY, ERA and a portable EMP cannon, the T5 can take on almost any MBT despite it's small size of 7"
"EMU" Support SUVs, one in parade print and one in field print.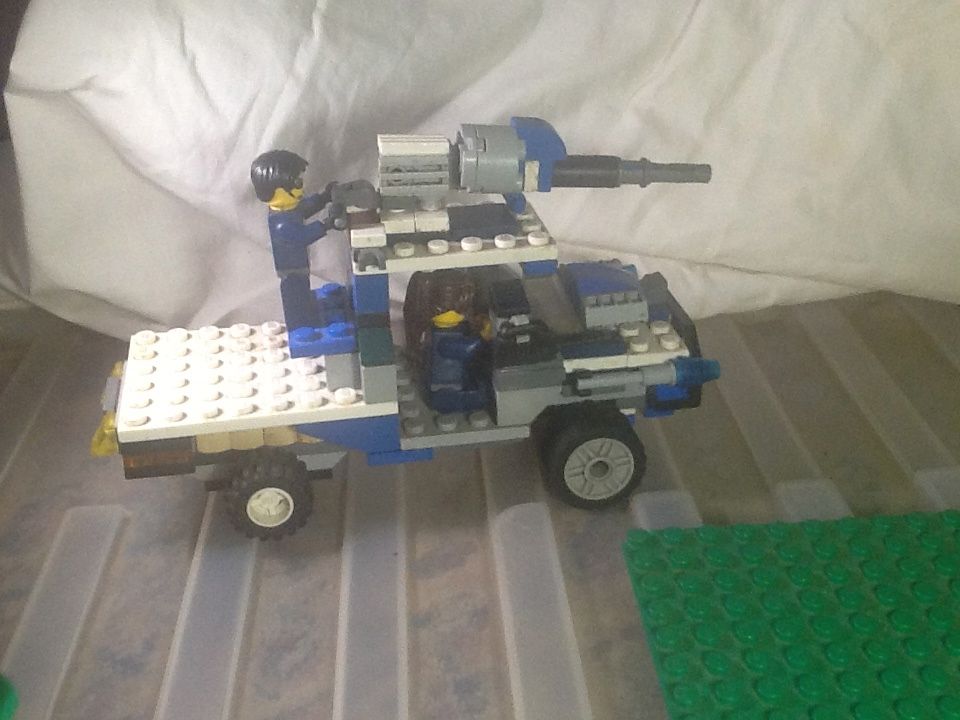 Fits 6 troops comfortably.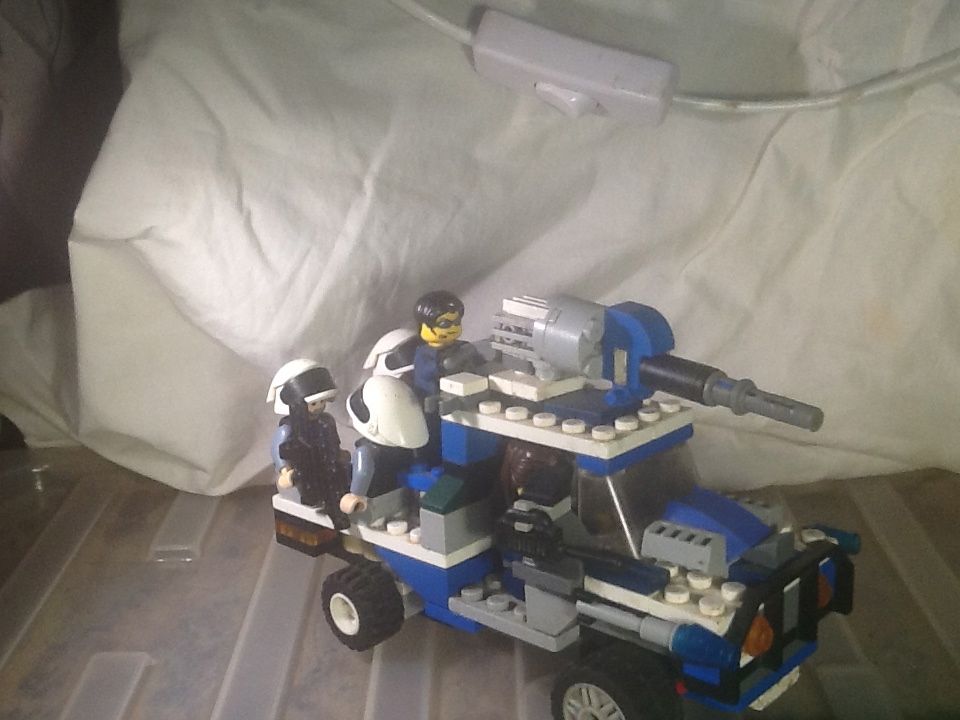 The "Wallaroo" Advanced armour, armed with a CT sword, MkII Cannon and a fully loaded missile-rack.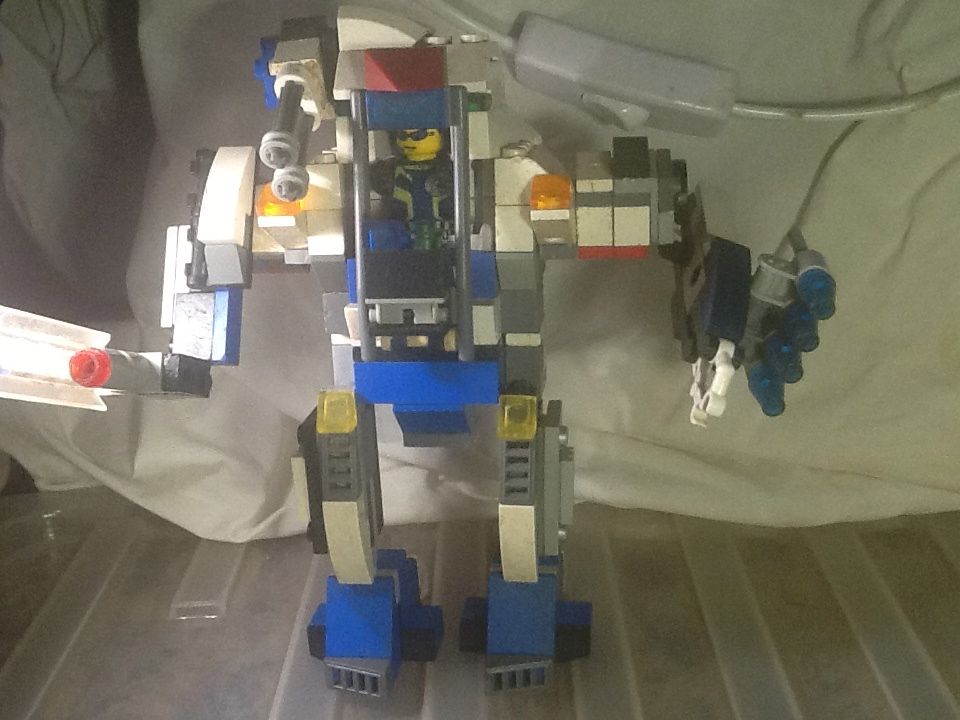 T6 light/medium tank.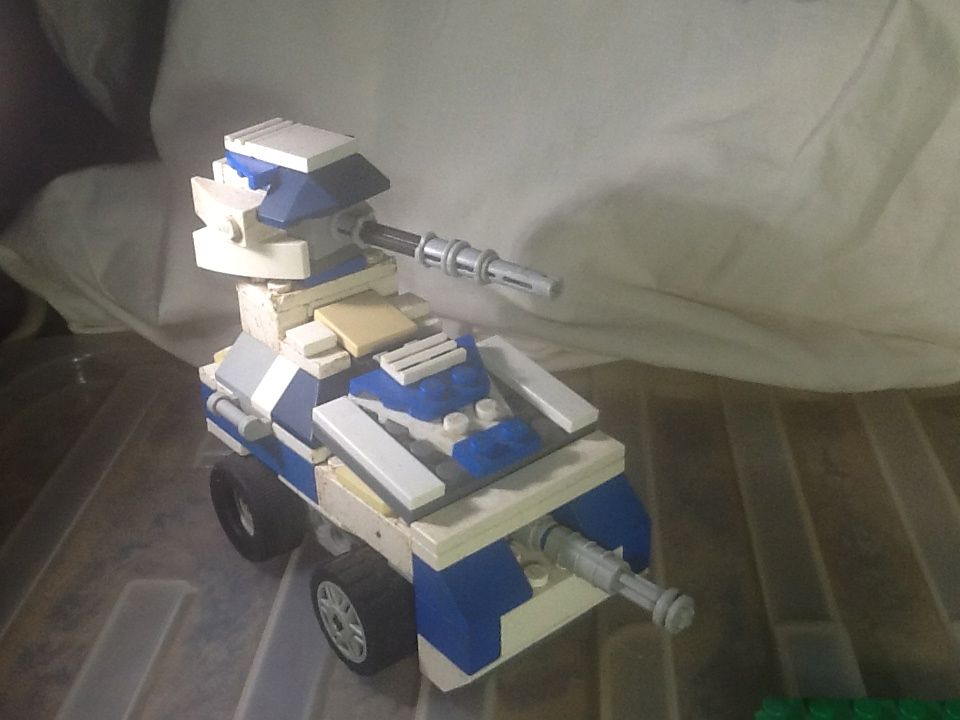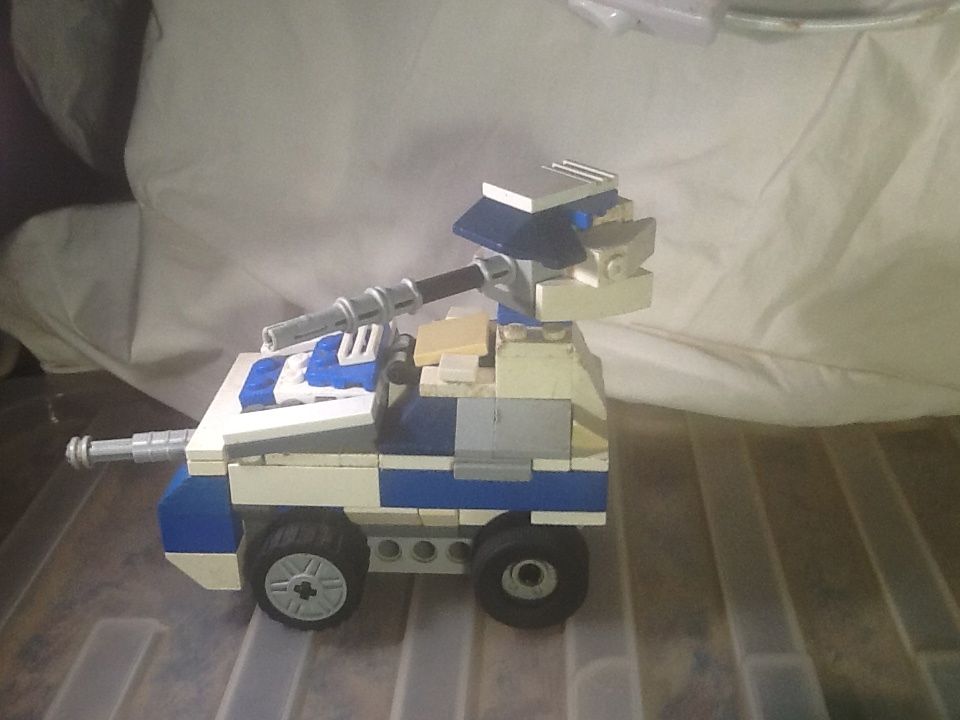 Quite happy how such a small tank can still fit a pilot and gunner.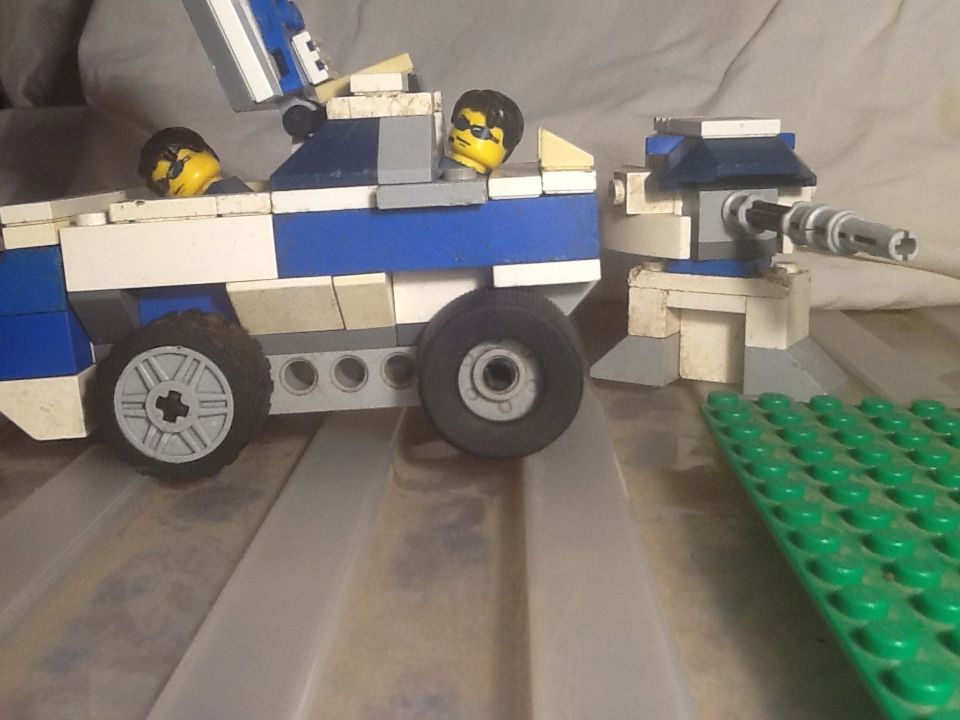 Air force, Dropship (right) Gunship (left) Fighters (middle) and Advanced fighter (not featured due to cult bumping it off table and smashing it)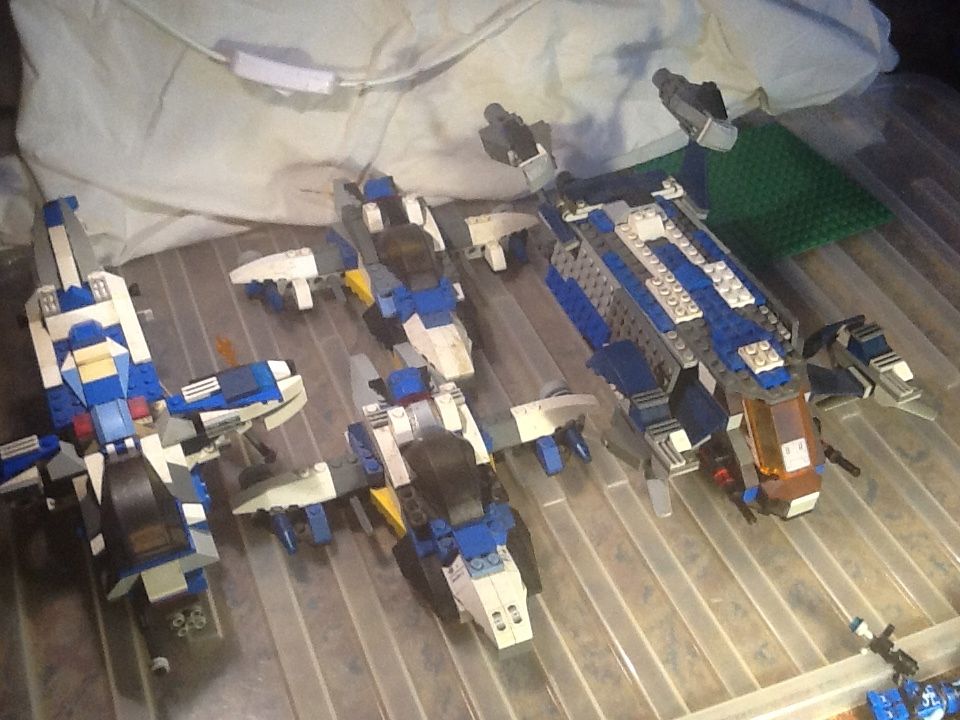 The Emperor Markill III has had a recent assassination attempt that left him in hospital, his son Nattus, was convicted of the crime, this is how he looked last time he was seen.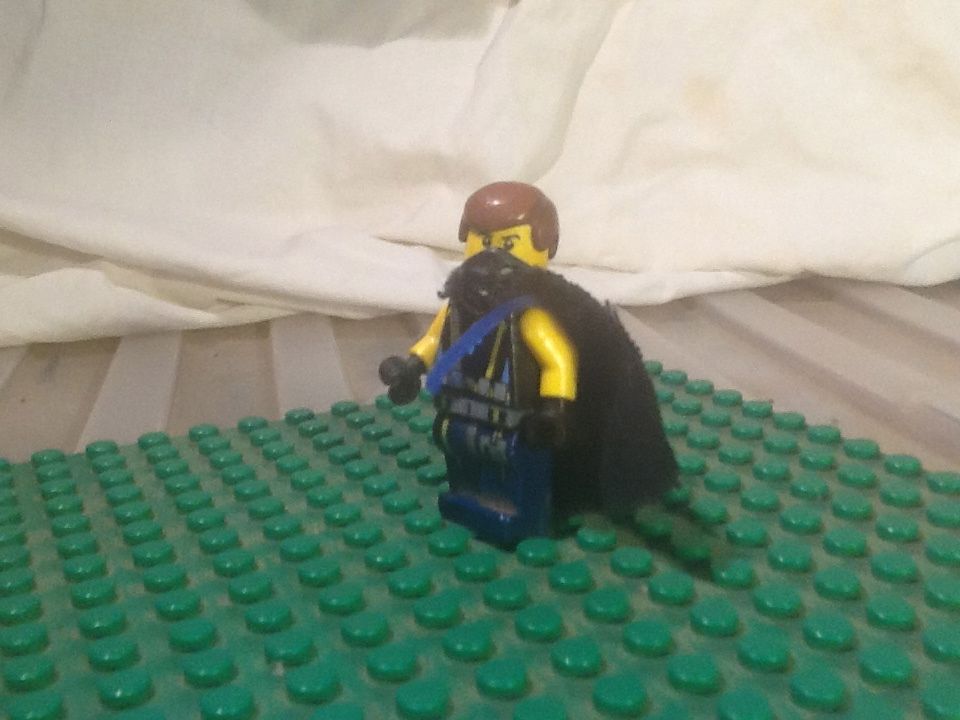 Will give the airforce a say later, this is it for now.