I don't have much in the way of vehicles or minifigs(never really had a surplus of matching minifigs), but i do have common themes going. I'll post the pics and get into the lore.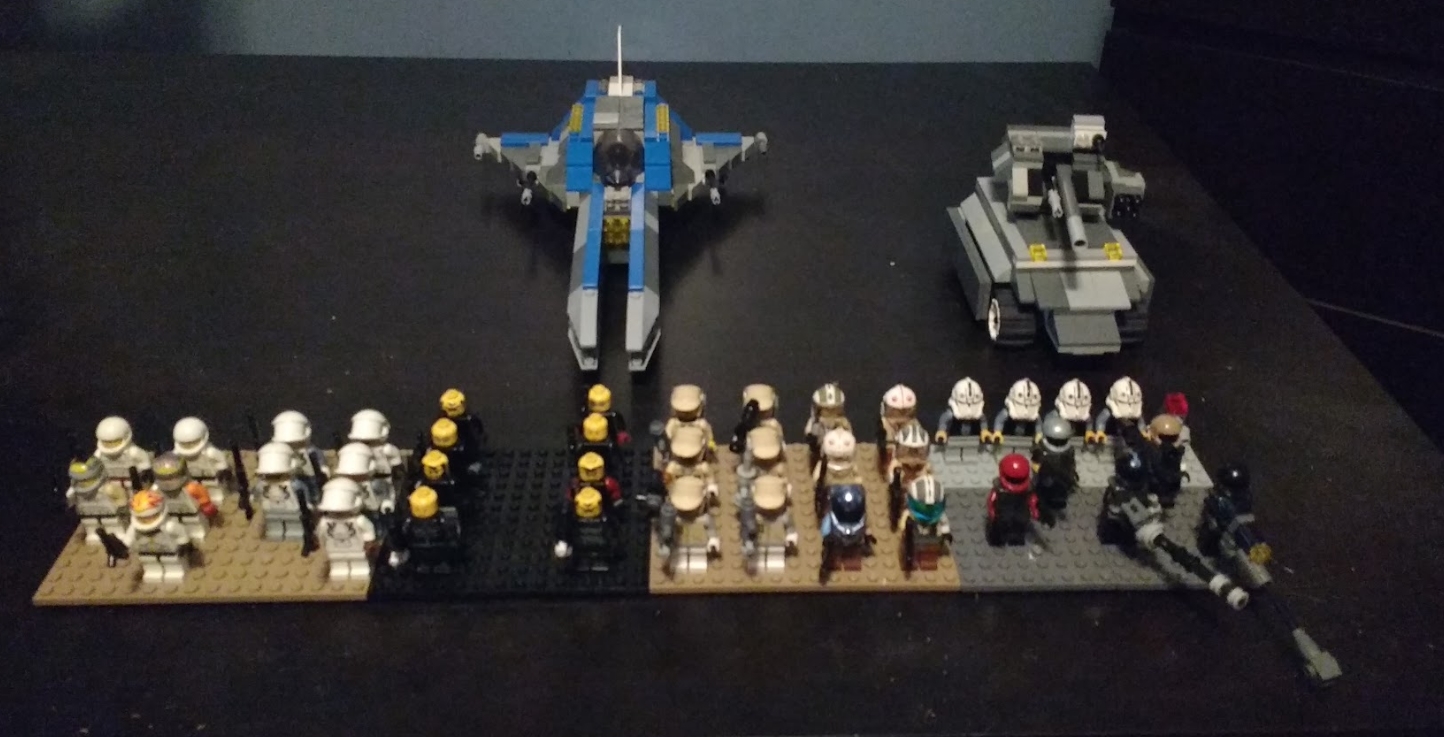 The Solar Federation of Razgrizia is a comparatively small but tough Federal Republic in the "North-East" corner of the galaxy, located at it's heart in a solar system filled with material-rich, rocky planets and thick asteroid fields that provide much needed supplies for it's growing fleet and army. It has stood the test of centuries, as refugees from the Inner Core of the galaxy fled from the Immortal War in hope of refuge amongst the stars. These refugees consist of a wide range of cultures, and is notably unusual in that, while limited, peaches are permitted to live in Razgrizia and serve in it's military, though usually restricted in their ability to gain rank or serve with more elite units. This leads to tensions between Razgrizia and the Assyrian Empire, though there is a unwary but stable trade relationship between the two nations, with Razgrizia trading it's vast quantities of metals and rare items in exchange for needed goods and the promise to not invade and slaughter their peach population.
Razgrizia is most noted for it's excellent vehicle production, which helps to compensate somewhat for it's occasionally lacking Infantry numbers. Razgrizia simply does not have the numbers to afford to place troops in a meat-grinder role, so even the most basic of it's ground troops are reasonably well trained. They are vehemently opposed to the Immortal threat, and all who support them, and have skirmished with several Immortal battlegroups, noting with pride their own fleet and individual craft rival that of the Immortals.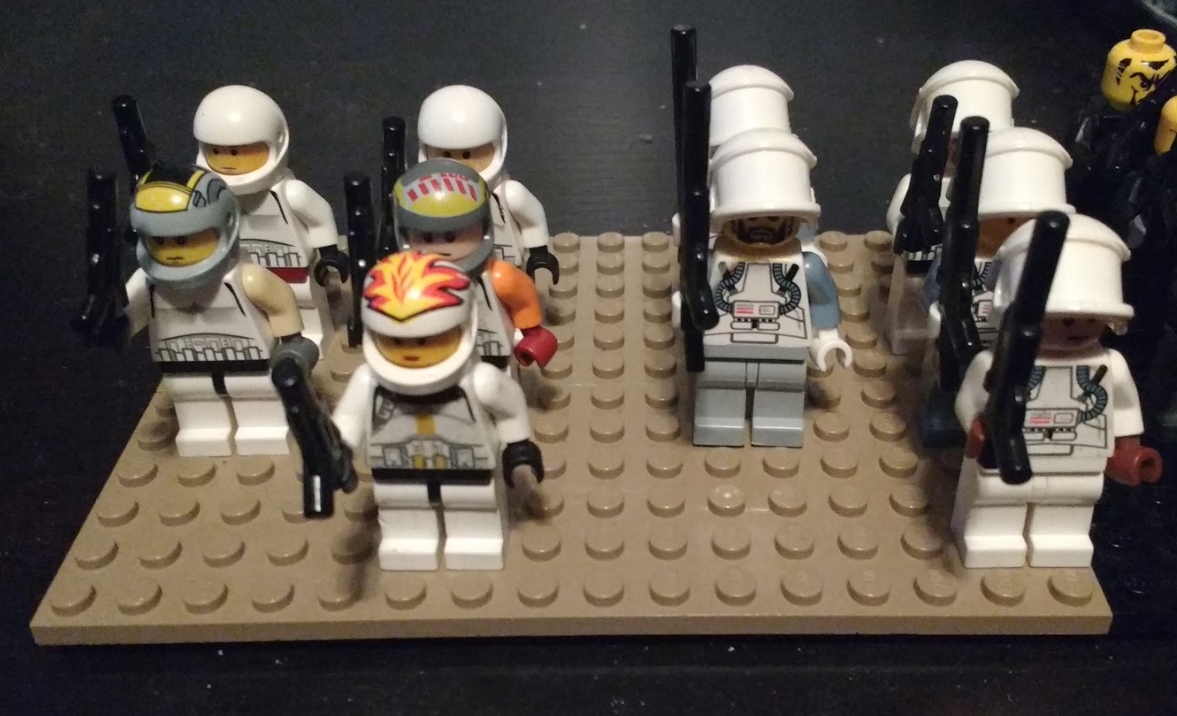 On the left are the basic Shock Troops of the Federation. A small number of well-trained and reasonably well equipped soldiers. Basic equipment for a Shock Troop is an all-white uniform with white body armor, and a standard sealed white helmet, though it is common for veterans and NCOs to decorate their battle gear. In addition, they are provided a standard issue assault carbine, useful in the close spaces that Shock Troops need to fight in, whether it be the urban environments they are regularly deployed in, or an enemy vessel they have boarded. Rank can usually be identified by either colors on their left arms or chest plates, and follows this standard:
All-white: Lance Corporal
Tan arm: Corporal
Orange arm: Staff Sergeant
Orange chest plate, white arm: Gunnery Sergeant
On the right are Scout Troops, typically Shock Troop veterans who have displayed an aptitude for marksmanship or exceptional physical prowess. These are usually deployed along-side Shock Troops on planetary missions, and utilize their longer ranged marksman rifles to provide cover for Shock Troops advancements in any environment. They are easily denoted by their lighter armor and helmets.
Shock and Scout Troop numbers have waned over the years; As large-scale conflicts have winded down, Special Forces units such as Ranger elements have seen the vast majority of any combat action. As such, Scout Troop veterans have been frequently promoted up into a Ranger role and received additional training, bolstering the ranks of Special Forces regiments. While still a strong arm of the Razgrizian military, Rangers are almost always called to action first, and it is likely to stay that way until Razgrizia finds itself embroiled in another large-scale war.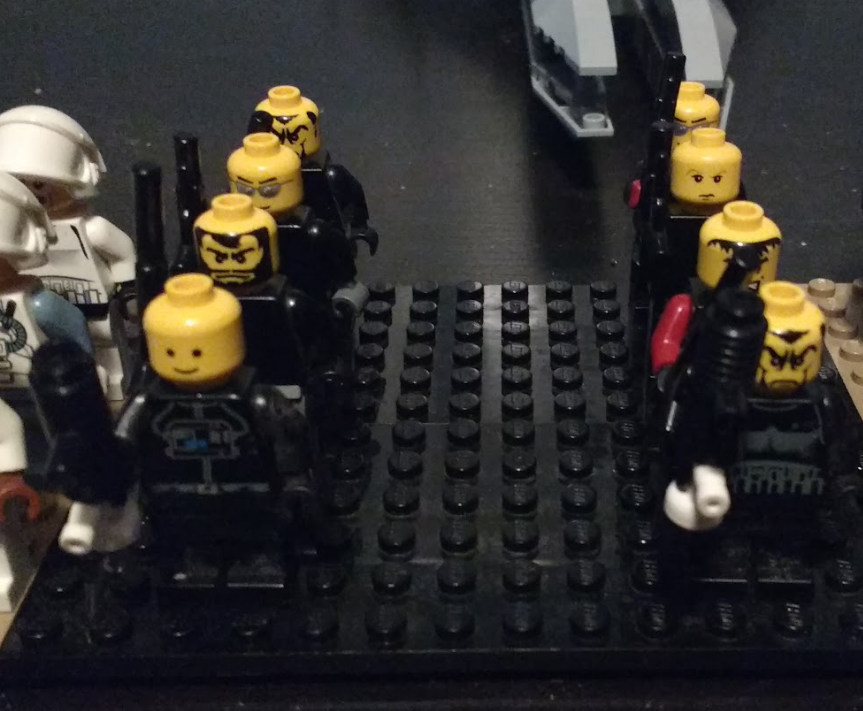 These Marines serve on the various capital ships in use by the Federation, and are trained almost exclusively in tight, close-quarters combat that occurs on spaceships. They're armed with light, black body armor and assault carbines. NCOs will occasionally be issued more advanced assault rifles, like the two Marines in the front.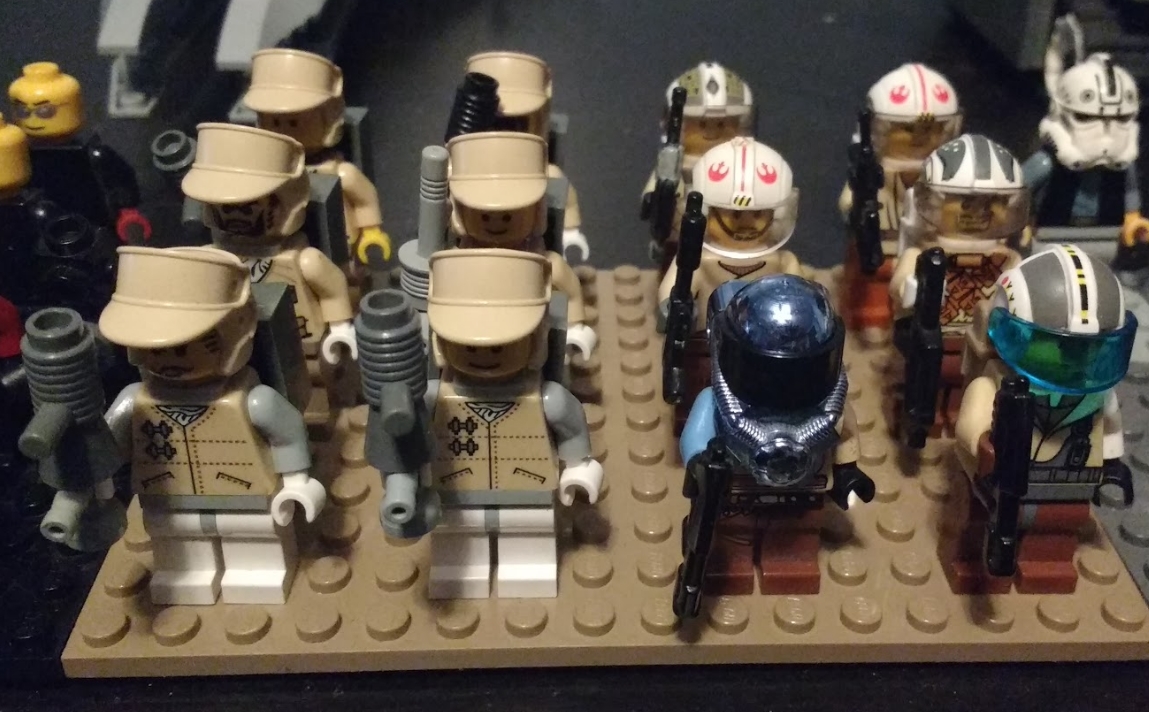 The soldiers on the left are the 31st Ranger Division, the most rapidly growing division of troops in the entire Razgrizian military. They receive specialized training in all kinds of warfare and tactics, including SERE(Survive, Evade, Resist, Escape) training, and receive above-average equipment and support. These troops are expected to be in peak physical condition, as they are most commonly deployed at long-distance from their target and must ruck into their AO, usually under the cover of dusk.
They are, however, considered "Traditional" Warfare units, in that they are deployed in open conflict against an enemy, rather than the surgical strikes of more elite Special Forces units. Their numbers are usually more limited than that of the Shock Troops, but they are more capable soldiers in general, and use more advanced equipment.
The standard uniform is a tan blouse, tan ranger cap, tan pants, and a grey rucksack. They tend to carry assault rifles or scout rifles with the occasional light machine gun, which have a longer effective range and punch than assault carbines.
NCOs, typically Staff Sergeants to Gunnery Sergeants, can be identified by their grey arms and white pants.
On the right are the elite 25th Special Engagement Group, or SEG. These soldiers are distinguished and decorated Ranger veterans, handpicked for their independence and combat prowess. They receive further training, including stealth, close-quarters engagements, long-distance sniping, and many other realms of tactical knowledge, and are primarily used for extremely dangerous surgical strikes, both in atmosphere and vacuum. On the left you can see the heavily armored EVA suit utilized during vacuum engagements, which includes an integrated jump pack, which also functions in atmosphere as well. This is but one example of the excellent equipment these soldiers receive, as can be noted by their lightweight yet well-protective visored combat helmets and hand-tooled assault rifles and scout rifles, as well as a niche shotgun, for close-range engagements and for busting down doors.
These soldiers gain a significant amount of freedom with their personal kit, able to tune every piece of the equipment to their needs, but there is a standard base uniform, of a tan top, typically with a chest rig and lightweight body armor worn over, and brown bottom. Their helmets are typically decorated as they see fit. As usual, rank can be inferred from the color of their arms:
Light Blue arm: Master Gunnery Sergeant
White arm: Captain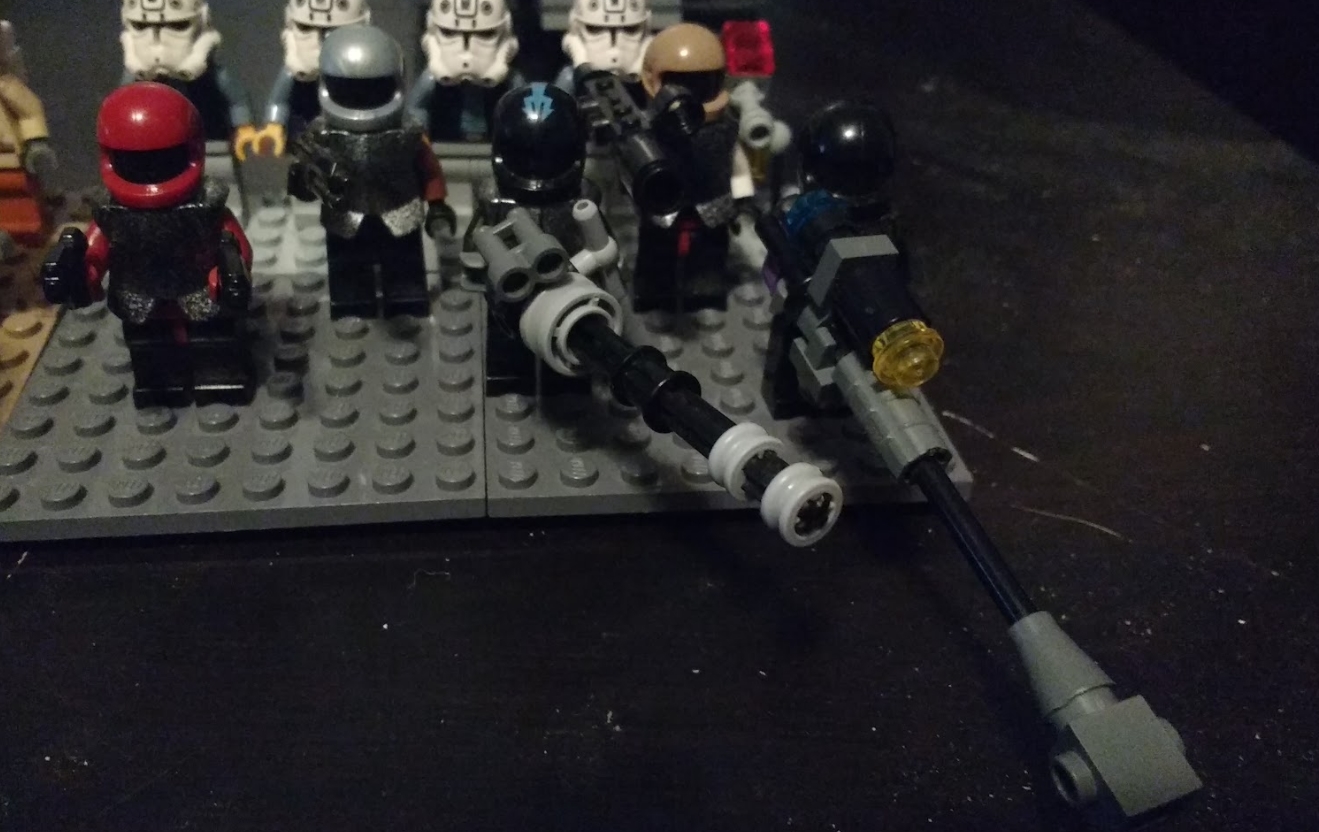 Currently a well-known but officially top-secret project, the Powered Individual Exoskeleton Project, or PIE Project, is designed to take an infantryman and give him or her the ability to wield weapons typically mounted on vehicles for their heft, such as the M12 Heavy Anti-Tank Cannon, a 30mm anti-tank weapon typically mounted to a turret on a vehicle, being held by the right-most armored trooper, the M8 Anti-Vehicular Launcher carried by the soldier in the back right, or the M34 Mk.II Rotary Autocannon, a 15mm minicannon hoisted by the armored trooper in the center. The kind of strength and armor in each suit allows one trooper to go toe-to-toe with armored vehicles, even hoards of Immortals; and win.
The large downside is that A. the suits are individually worth an entire RF-68 Mk.22 Fighter thanks to the large amount of miniaturization needed to fit servos powerful enough into the suit, and B. The heavier the carried weapon, the more the servos compensate for the weight, and consequently the slower the unit becomes. These armored troops could carry a light car by themselves; but the servos would focus all their strength on holding it up, and wouldn't be able to allow the soldier to actually move. The reverse advantage is that if the soldier is carrying something that they can support with their natural strength, the servos can focus on boosting the speed of the unit, making the suit very useful as both a unit that can move faster or hit harder, but also withstand heavy amounts of damage. The two troopers on the left are carrying dual machine pistols and an assault rifle; weapons that a normal soldier could hold on their own; So the servos boost their speed to very high levels.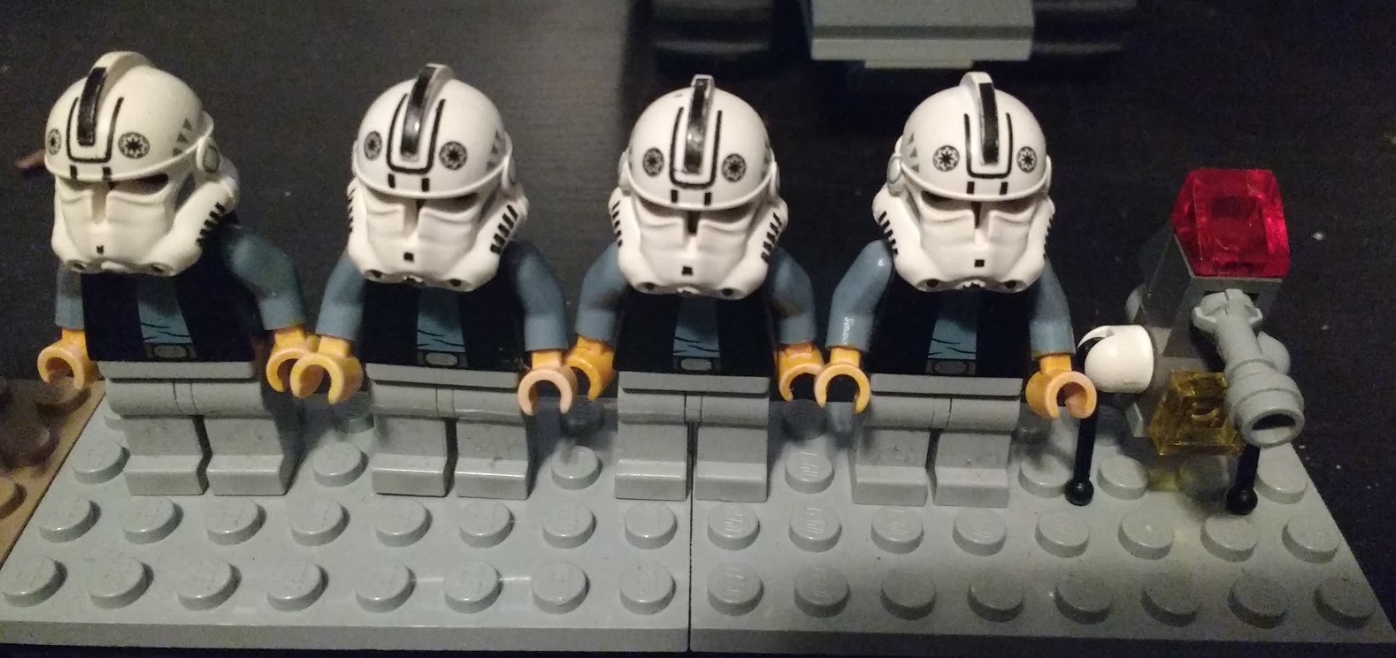 The Engineer's Corps is responsible for a wide variety of duties, from construction to repairs to combat duties such as planting explosives or deploying and maintaining equipment, such as the unmanned turret to their right.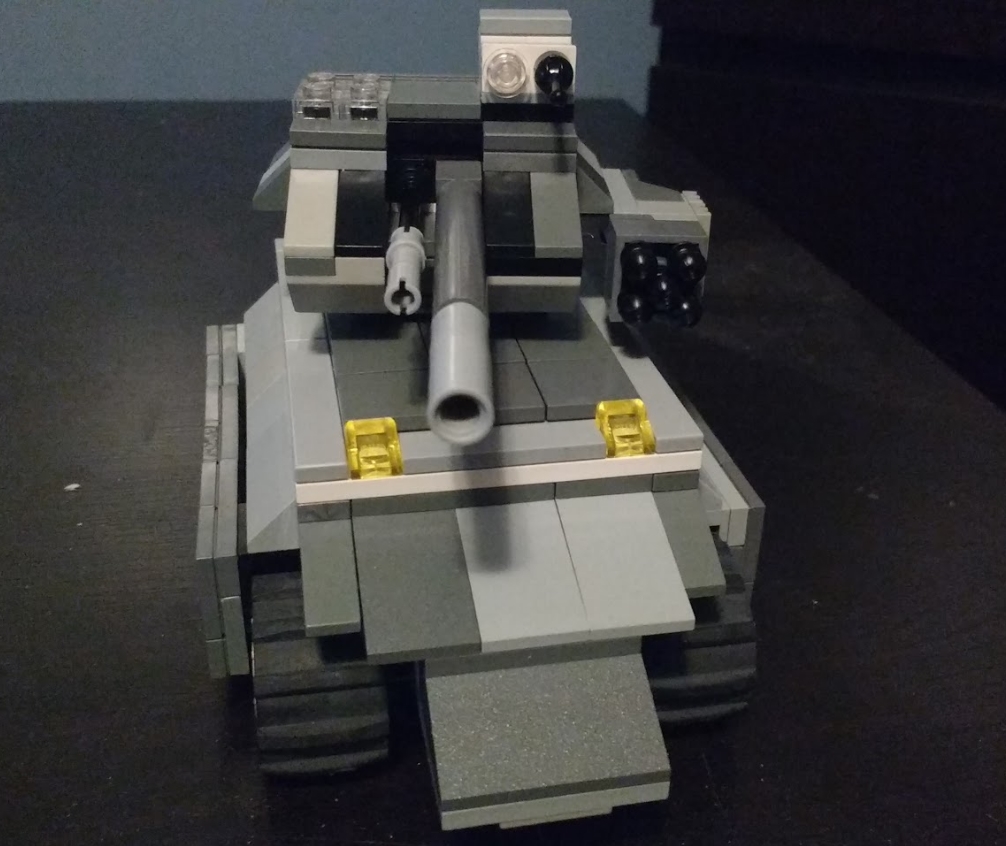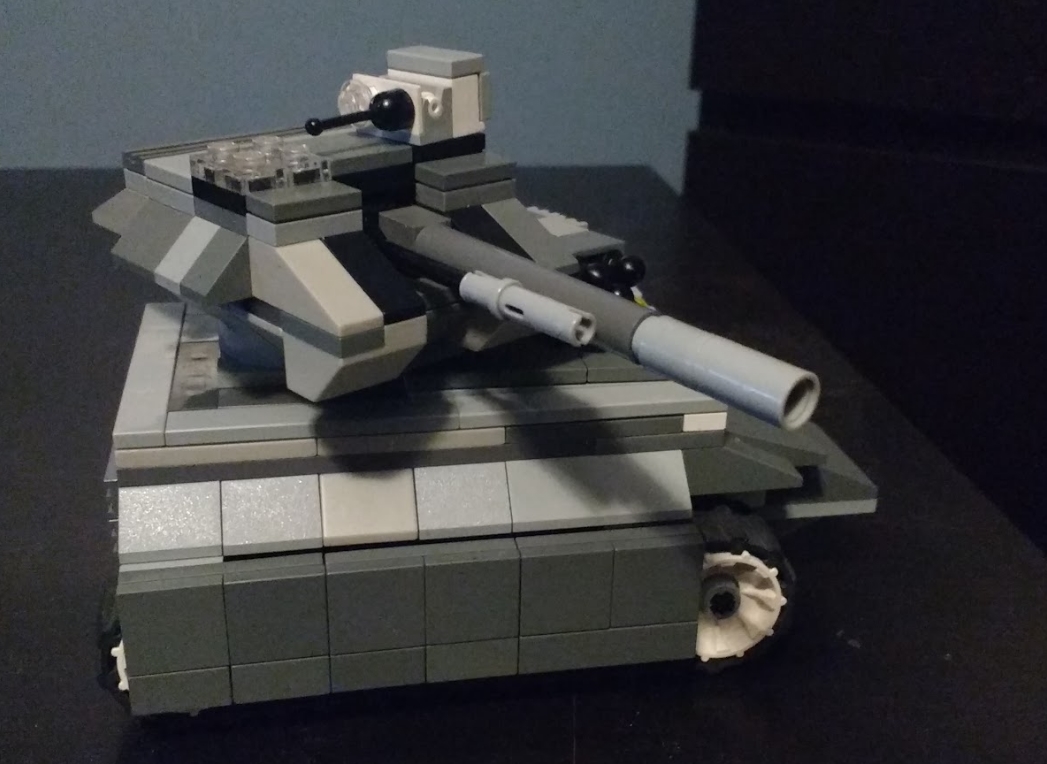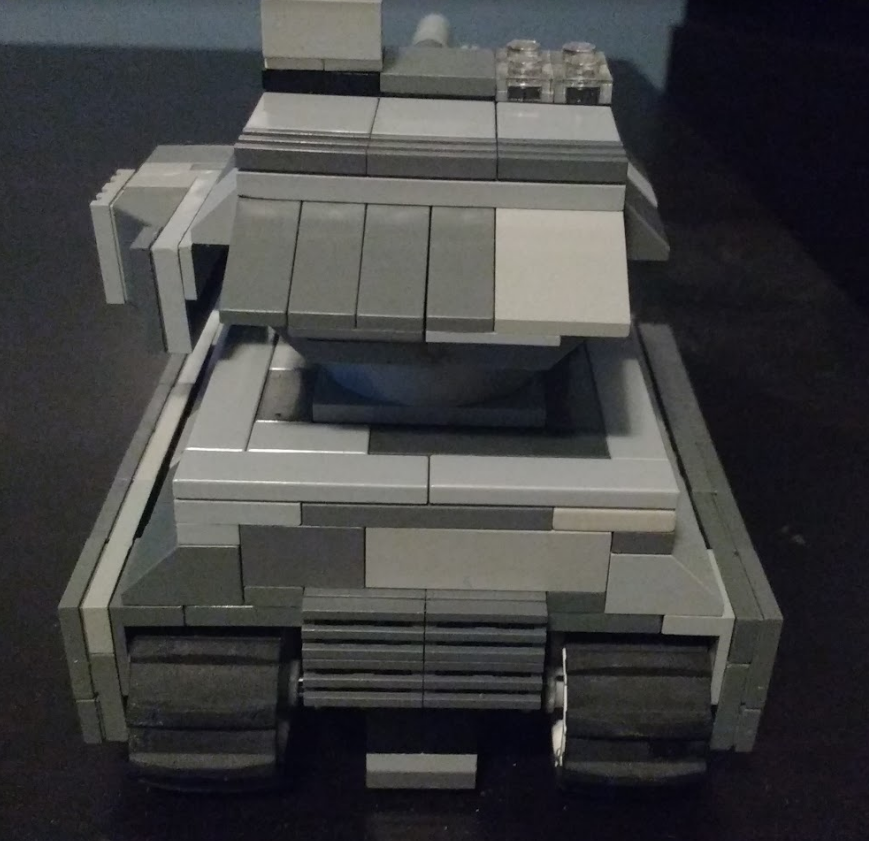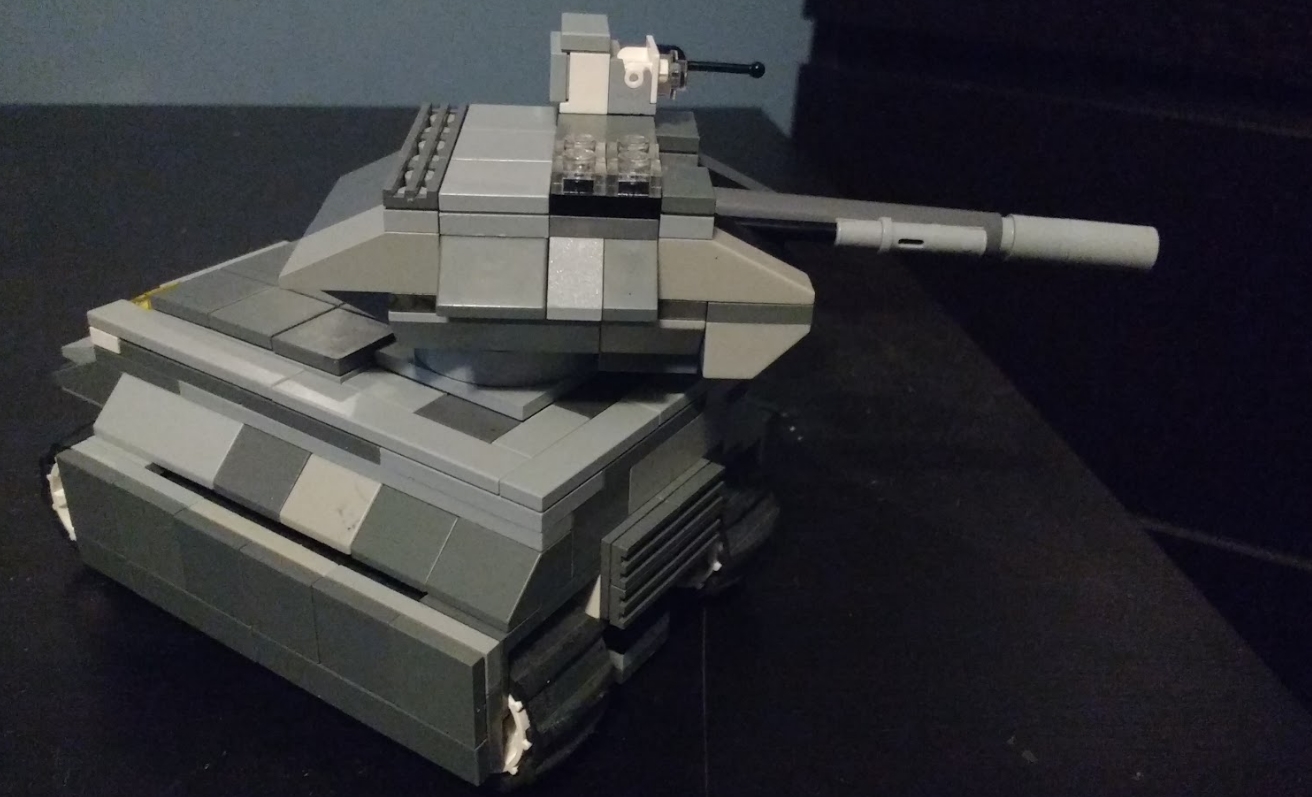 The M122 "Assailant"-Class Main Battle Tank is a heavily armed and armored tank, equipped to support armored advances as well as infantry, in addition to a tank-killing role. It features a 95mm main gun(there is ammo for it in the turret, i just forgot to take pictures) for anti-armor roles, a general-purpose 25mm coaxial autocannon, a missile pod carrying 5 anti-armor missiles, and a turreted 12.7x99mm machine gun for light vehicles and infantry. It offers well-sloped armor, thick Explosive Reactive Armor(ERA) curtains on the sides, offering substantial protection to the tracks against anti-armor shells and high explosives, and a minimum of 700mm of armor plating across the entire vehicle, with a maximum of 1200mm on the front.
While not as fast as some counterparts, it balances it's average speed with excellent armor and offensive projection, allowing it to serve in a number of roles effectively. It's lock-on missiles afford it an ability to engage at extreme ranges, beyond that of even it's main gun, killing or softening up targets before their close into weapons range, while it's main gun and it's armor-piecing shells prove excellent against heavy enemy armor. It's 25mm autocannon excels against light enemy armor such as APCs or LAVs, and do well at saturating defended infantry positions with it's high explosive rounds. Finally, it's turreted machine gun allows suppression of infantry at close range in a 360 degree radius around the vehicle, even possibly allowing for engagement of light aerial vehicles such as helicopters or dropships.
As is standard issue with Razgrizian vehicles, it sports a grey camoflague theme.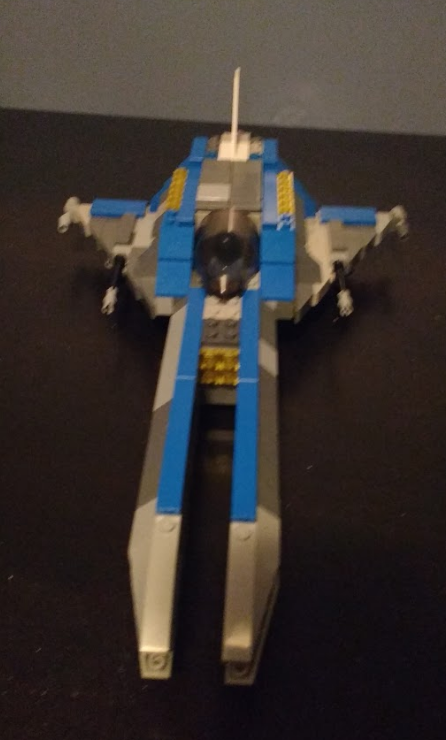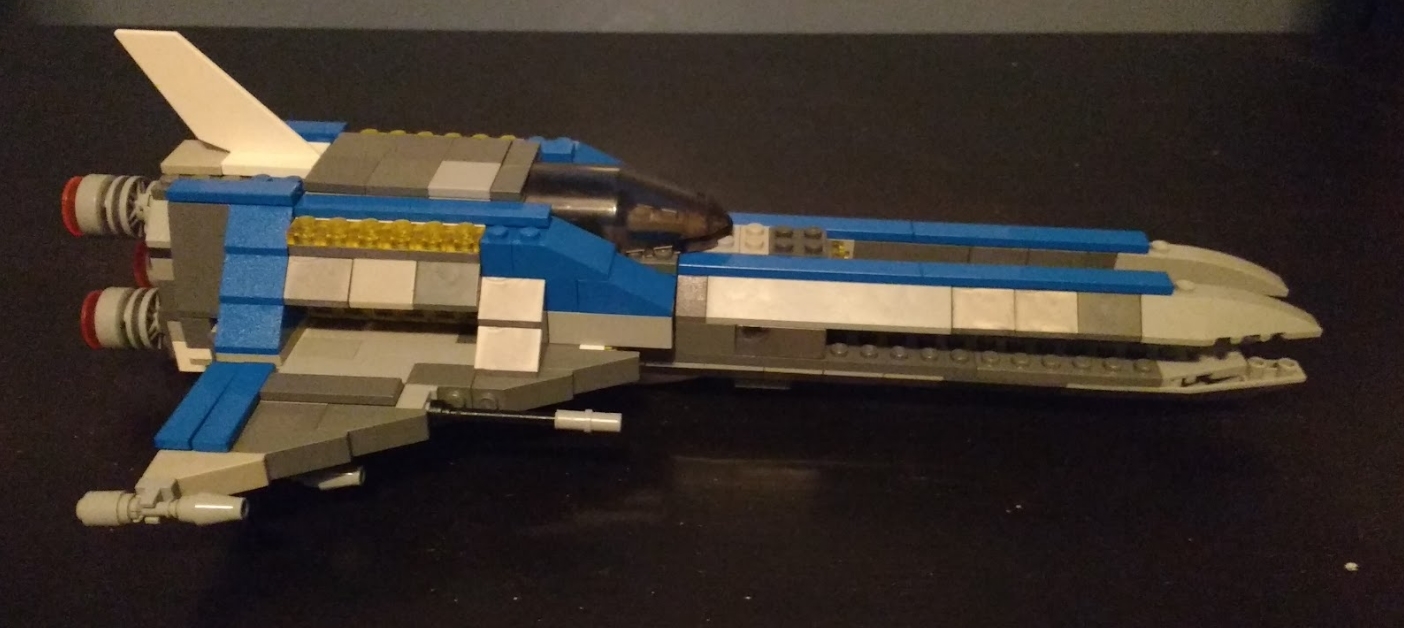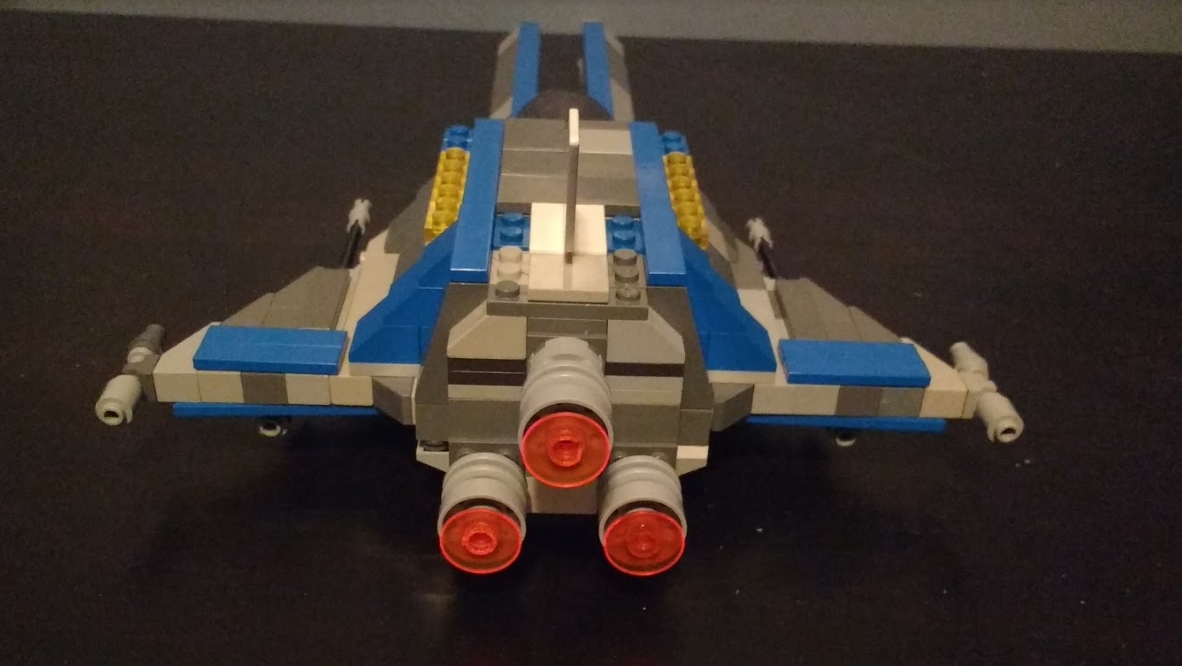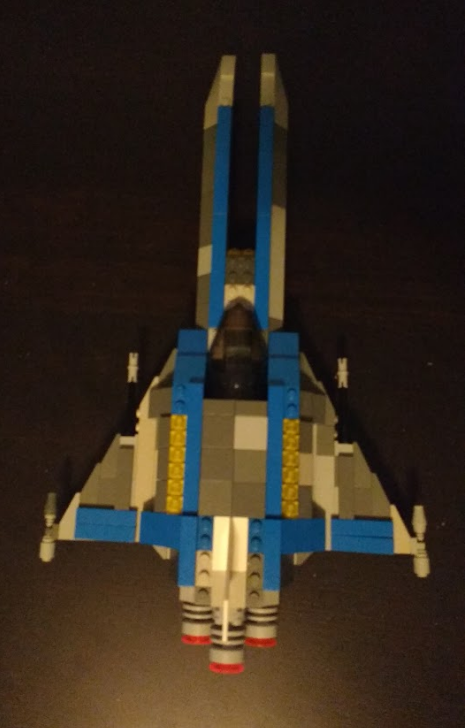 The RF-68 is the primary multi-role fighter of the Solar Federation of Razgrizia. It's primary role is that of Aerospace Superiority, though it's wide range of ordnance and dual multi-purpose 25mm autocannons can easily be pressed into almost any application with relative ease, from capital ship assault, in-close dogfighting against enemy air assets, to close air support against ground troops, even tank-busting roles. Unlike most models in the RF-68 family, it is capable of combat operations in both atmosphere and vacuum. The RF-68, in it's many incarnations, have been in service with the Solar Federation for almost a century, and each new model brings a new, innovative advancement to the table. As with all models of RF-68 after Mk.18, the Mk. 22 boasts extraordinary control over it's flight characteristics, with it's numerous highly-advanced vectored thrust modules spread over every cardinal direction plane in 3d space. These variable thrust nozzles can instantaneously thrust in any direction needed, affording it the necessary maneuverability in vacuum, but also now of the brand-new Mk.22 model, work in atmosphere as well, taking up slack from the wings and allowing significant increase in combat load and armor plating, while still providing a net increase in aerial mobility over previous models.
These also grant the Mk. 22 the unique ability to hover in place in atmosphere, and provide directed close air support of ground troops. These technologies have afforded the opportunities to engineers to implement airframe innovations previously only available to space-only RF-68 models: The distinctive ramming strakes, mounted on the stern of the craft. Since the thrusters around the ship are able to support it at any angle, orientation, and gravitational environment, the aerodynamics of the airframe can be compromised with no effect to speed, maneuverability, or combat load. Thanks to these innovations, the nose of the craft has been split into 4 ramming strakes, able to, in the event of a lack of ammunition, continue to aid in combat, at only minor risk to the pilot, thanks to the aforementioned increases in armor thickness and structural integrity. It additionally also carries light shielding, as with the previous Mk. 21 model.
Another major change is the addition of a short-range hyperdrive, allowing squadrons of Mk.22s to operate independently of their battlegroup, and vastly expands it's tactical repertoire to potentially include hit-and-run tactics, as well as blitzkrieg tactics.
The major disadvantage to offset them is a marked increase in weight, part complexity, lack of significant backwards part compatibility, and the need to significantly increase the size of the on-board reactor, which required a noticable bulking of the airframe, not to mention the enormous cost to produce one. The increase in size means carrier and fighter-capable battlecruiser groups will be forced to carry less Mk. 22s than they could of Mk. 21s. Some vessels, such as Ravager-Class battlecruisers, will need to undergo retrofits to allow Mk.22s to launch from their fighter bays.
Anyways, thanks for checking out the thread! I'm kind of scraping by for certain parts like helmets, visors, and standardized weapons, so this is the best i can do until i find the money to clean it all up and get a standard weapon and equipment for all units.