MAGOG STRIKE FIGHTER
http://www.brikwars.com/forums/viewtopi ... ight=magog
BLACKSTAR FIGHTER BOMBER
http://www.brikwars.com/forums/viewtopi ... highlight=
DEATH RACE
http://www.brikwars.com/forums/viewtopi ... highlight=
The T.a.r.r.e.n MkI
http://www.brikwars.com/forums/viewtopi ... 321#183321
Imperial Army (There are many different Imperial regiments in the Immortal Armies that fall into this category. Many were first founded or cloned from DSM but over the centuries some have gone on to distinguish themselves further and become specialist units. The following link refers to 7th Cavalry Armour Recon Mechanized Infantry, as seen in Lego Wasteland)
http://www.brikwars.com/forums/viewtopi ... =20&t=6244
+++ THE TERRORKHAN ASSAULT REGIMENT +++
Move: 10" (4" without Jetpack)
Skill: 1D6+2
Armour: 7
Special: Classified
The Terrorkhan are fearless Elite shook troops used by the Immortals in the opening stages of invasion. Wearing Heavy Armour that encompasses a jetpack these troops can be dropped without the need for an assault shuttle to land. They can arrive with a large arsenal of dropped equipment that allows them to quickly seize an objective before they dig in and defend it from the enemy until reinforcements arrive.
Once a foothold is established the Terrorkhan are more than capable troops in support of a breakout and will count towards some of the heaviest mortal troops available.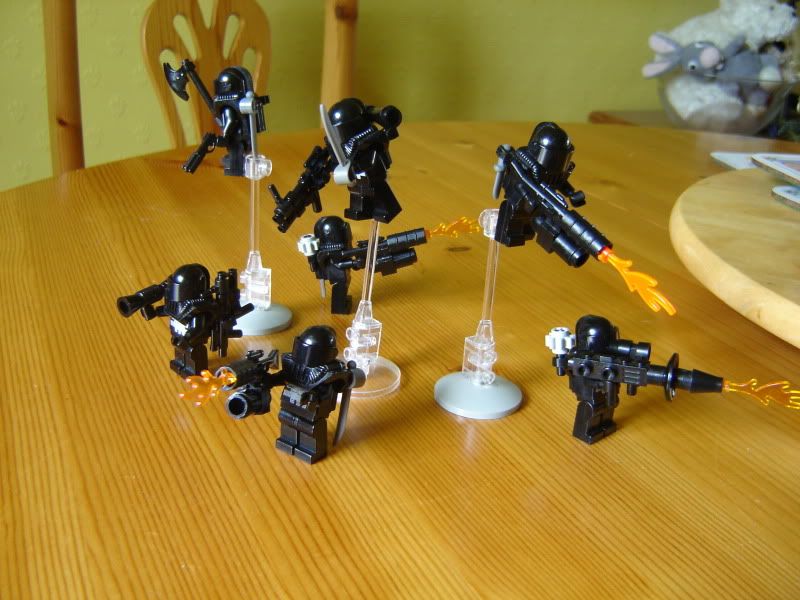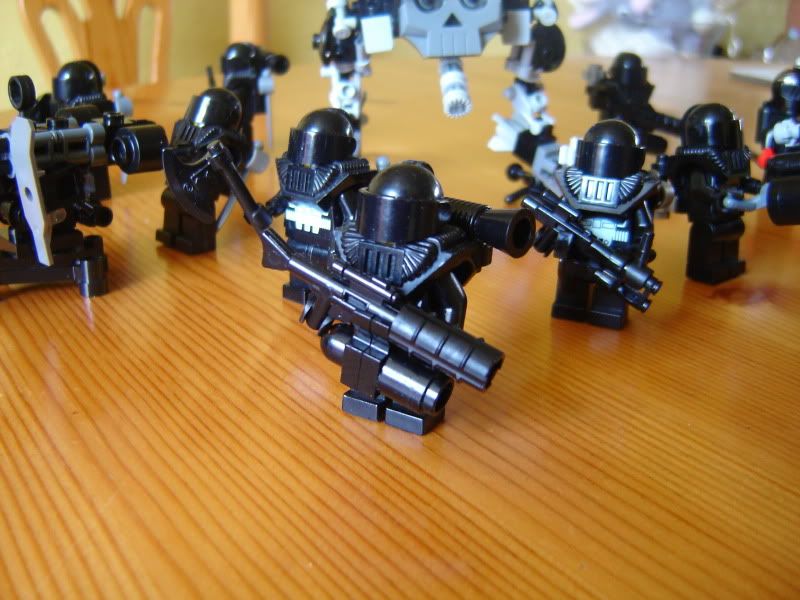 Armed with various weapons from the Immortal Armouries they do however favour the Blast Rifle with under-barrel Grenade Launcher...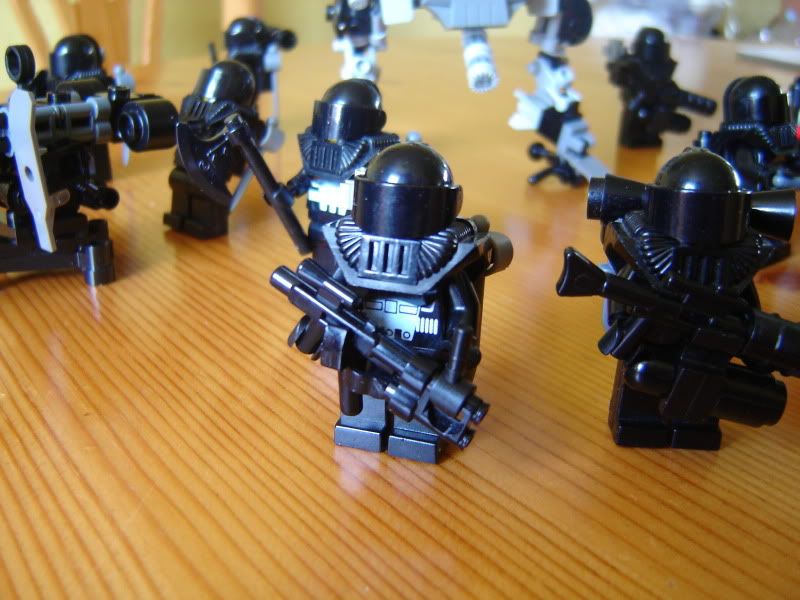 ...and the Burst Flechette SMG. Typically each trooper has one Flechette Grenade and a Electro Sword Bayonet.
SUPPORT WEAPONS
+++ THE HEADHUNTER RECON/RAIDER +++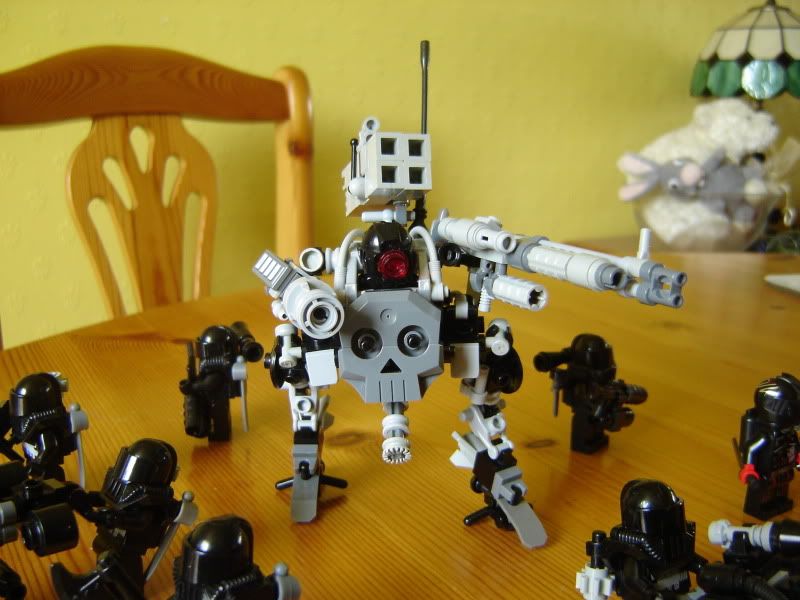 One of the few vehicles favoured by the Terrorkhan is the Headhunter Recon Walker, as seen in a previous thread. It has proven light enough to be easily delivered by dropship in a planetary invasion and it's speed and firepower have proven their worth in countless battles.
Armed with a small Gatling Canon for flushing out light infantry, a heavy plasma canon for hard armour targets at short range and a very large 20mm Battle Rifle with a centreline railgun for sniping and an under-barrel Grenade Launcher plus four barrage missiles for counter artillery or anti infantry work this unit packs a punch.
There are small rockets on the rear of the legs to allow it to make impressive jumps across rough terrain or to provide a burst of speed along clear terrain.
While able to withstand most small arms fire this machine is still considered a light unit and would be unable to hold up against heavier weaponry for any length of time which means this machine is mostly utilised in the role of a recon/raider.
+++ AWESOME QUAD MINI-GUN SUPPORT PLATFORM +++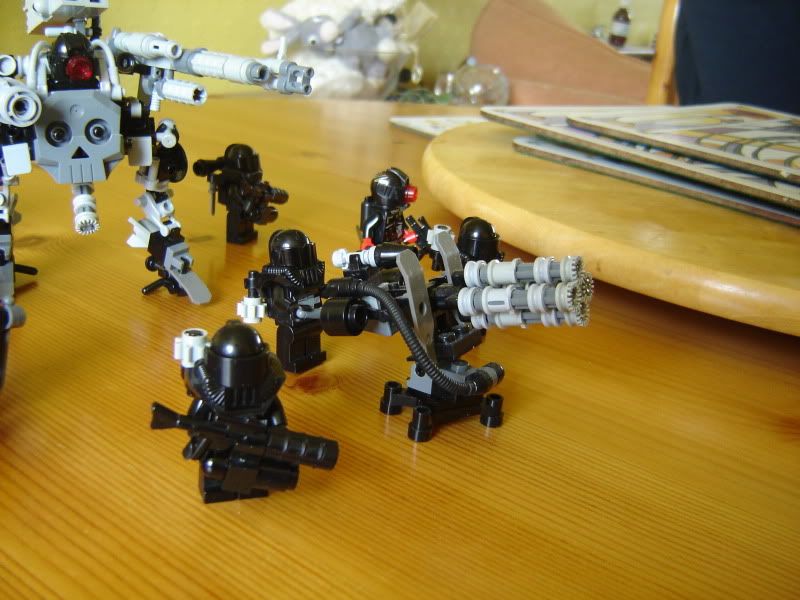 As seen on the Dial'O'Death thread. The Terrorkhan utilise this weapon for defence against massed infantry attacks or anti-missile/flyer point defence. The Repulsorlift travois allows the weapon to be moved across rough terrain fairly easily but it must be clamped in place before firing.
+++ TSUNAMI ANTI-ARMOUR SUPPORT PLATFORM +++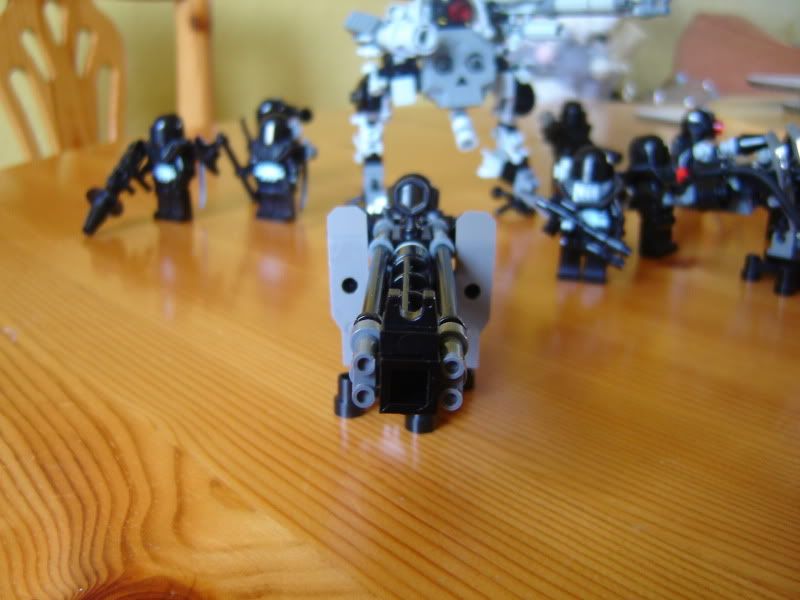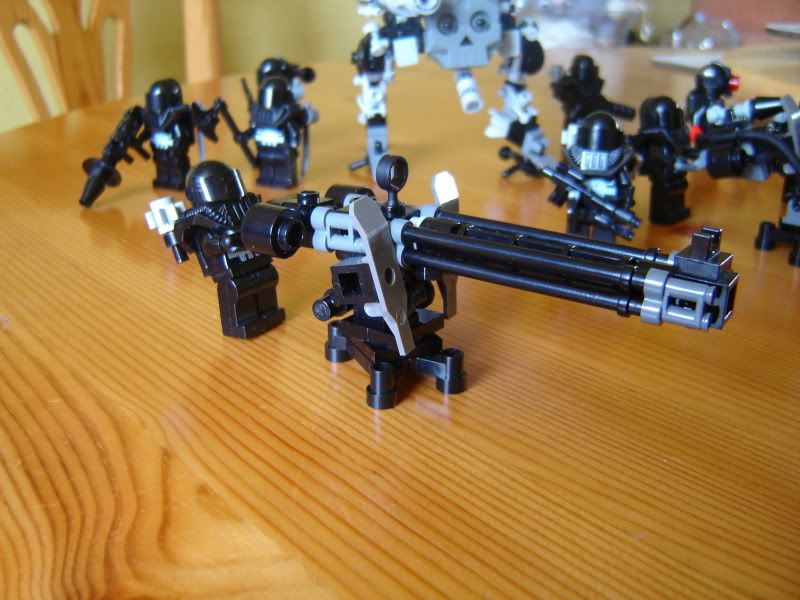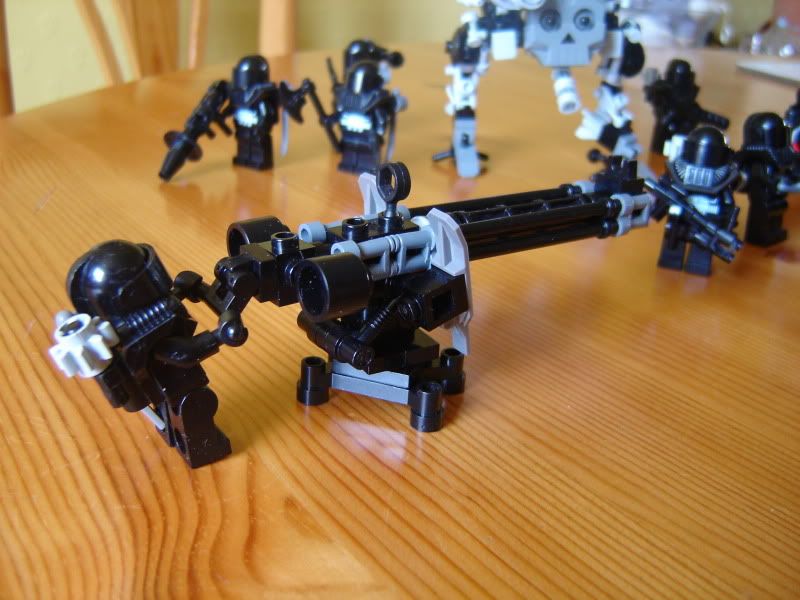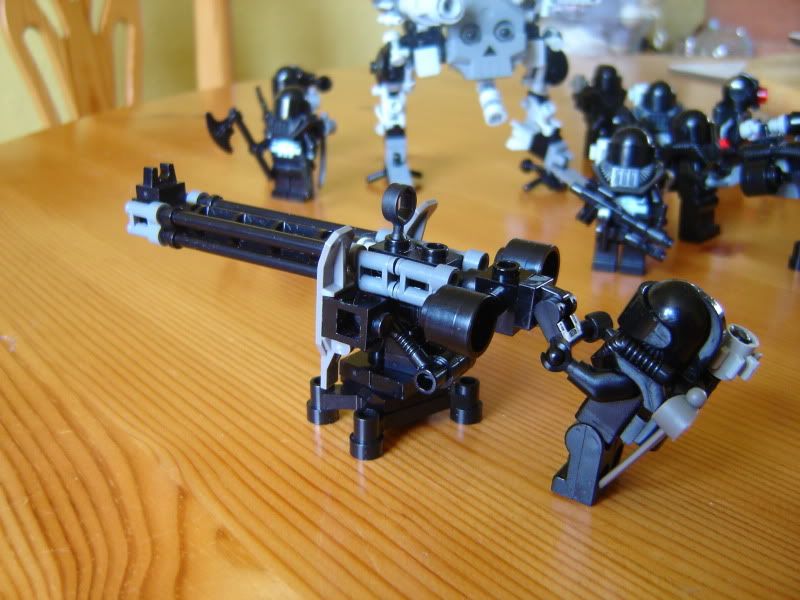 This humongous Rail Cannon may not be able to take out a battleship but they'll certainly hear you knocking when you call. The depleted plutonium saboted ammo core is more than enough to ruin any land based heavy mecha or tanks day. It has a fair rate of fire allowing for seemingly continuous fire in the event of a Blitzkrieg armoured charge. Again, the Repulsorlift travois allows the weapon to be moved across rough terrain fairly easily but it must be clamped in place before firing.
Note: Both these weapons can also be hull mounted on various Immortal vehicles.