The Conglomerate of Salt Miners is a paramilitary organization consisting of essentially ticked-off salt miners. From these humble beginnings, the Conglomerate moved onwards to the shores, fighting Arghbeard's Arrmada and eventually claiming large areas of the sea so they may mine ocean-salt. And all was happy.
...Until the zambehs attacked.
The Conglomerate of Salt Miners quickly became the last hope for many, many unzombified people. They manufactured many more weapons and anti-zambeh ordance. And here, it their current progress.
The Conglomerate of Salt Miner forces arranged.
The leaders. On the left is Outback Jeff, the psychotic founder of the Conglomerate. On the right is Captain Subordinate, a crazy survivalist who has prepared for any and every disaster. He led a four man band deep into zambeh-infested areas and survived. Outback Jeff soon discovered him and now leads the way in anti-zambeh combat.
The infantry. The black and grey-armed fellows are Salt Soldiers, who valiently fight with their submachine guns. The blue-hatted guys are the officers, who wield green assault rifles and provide tactical guidance on the front lines. This picture doesn't show all the infantry; I just finished building two more squads, which I will update whenever possible.
The guys on the right are drivers. They're trained to drive stuff. On the right are the Conglomerate's elite Rangers. They are the original soldiers of the Conglomerate in its early days; but now are the finest firefighters in the land.
These are the skirmish carts. Armed with a light machine gun, these little guys have been valued from the first conflicts up until now. The skirmish cart was the first and most reliable of any Conglomerate vehicle, and once numbered three carts. However, their relative fragility have made them largely outmatched in heavy combat, and are being phased out by newer cars.
And these are the skirmish carts' successors. The combat pickup. Machine guns are cool, and pickup trucks are cool. Therefor, the sheer badassery of these machines have made them a formidible force. In addition, these are popular due to the simiplicity for independant survivors to build; just bolt a machine gun to a pickup truck!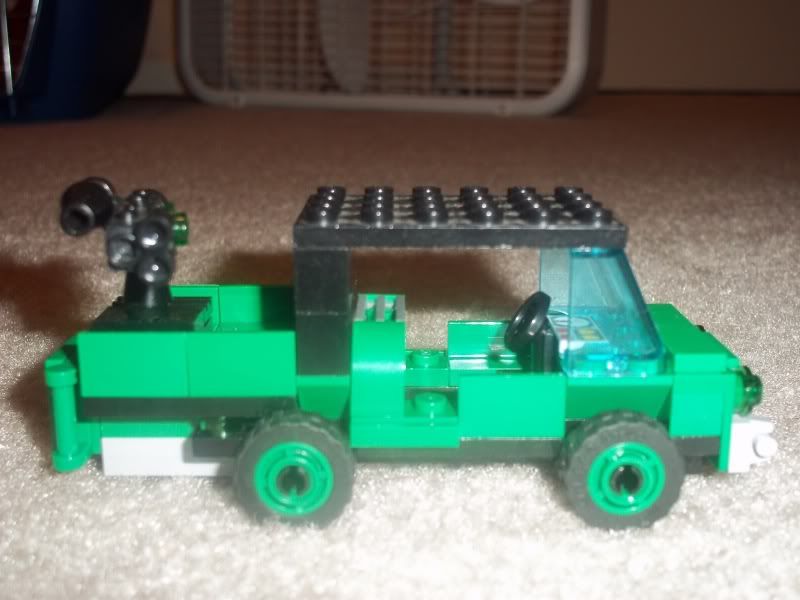 Finally, the latest in Conglomerate technology, the Assault Artillery Platform. These beasts are armed with two dual-linked machine guns, and an artillery gun. One is in undefined colors, while the other is in standard Conglomerate green, and more will hopefully be in production soon.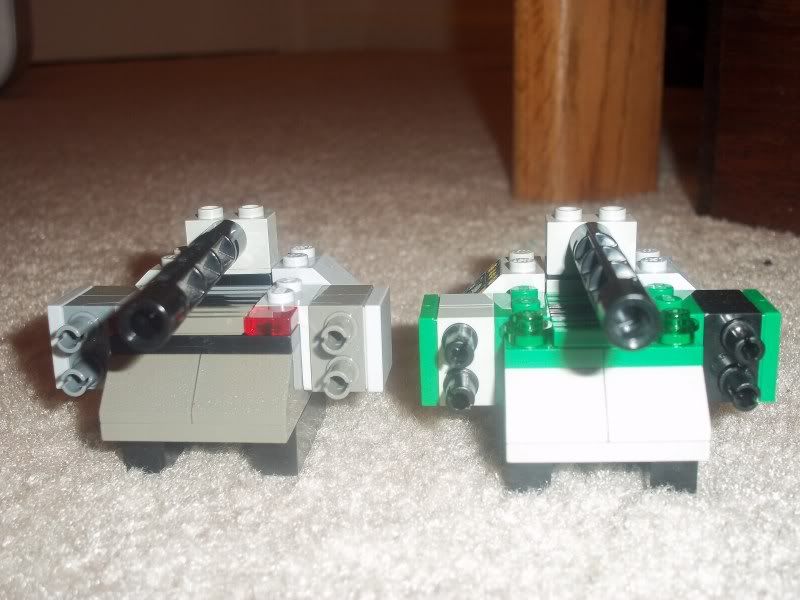 So there's my army. It ain't as fancy as many of ya'll here, but I hope it's considered alright.