Background
The Neo-Prussian Empire is a continuation of the ancient Prussian Empire by people who at the time were disgruntled by the political course their Empire was taking and how it 'officially' ceased to be.
They first reformed on a planet they dubbed 'New Prussia' in a remote, desolate corner of the Brikverse and purposely spent a lot of time there in isolation before finally being discovered at the eve of the Immortal War, knowing the vast richness of their planet would inevitably attract other space-faring factions and lead to conflict. Apart from their homeplanet, the base of their power, the Empire also holds military bases in tactical locations on nearby surrounding systems.
The Neo-Prussian Empire boasts a very military-oriented culture, with a proud, patriotic, nationalistic people that stands as one and will likely be perceived as 'arrogant' by many outsiders, even though their love for their Empire doesn't bring forth an exaggeratedly strong feeling of superiority with most of them.
The Empire is considerable in terms of technology, allowing them to field an army that is well-modernized on all levels and even go as far as to be quite innovative at times.
They believe in the powers of the Farce and people who wield or are in touch with the Farce are widely praised across the Empire and usually the most successful amongst them.
Neo-Prussians are quite serious about their neutrality, freedom and independence, but it is questionable whether this attitude can be held onto in the current political climate the BrikVerse finds itself in.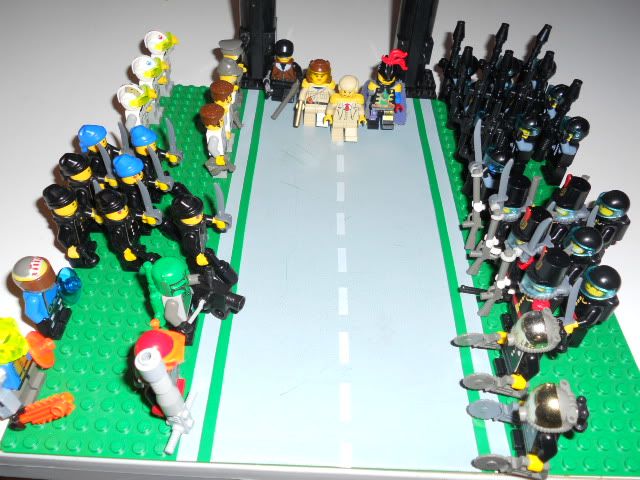 Der Kaiser inspecting his army, right after the 'Brittanian incident' that marked the beginning of the Empire's involvement with the Immortal War.
Characters
Kaiser William V with his two most trusted lieutenants. On the left we find the military mastermind of the Empire Supreme Marshal Johanna, followed by her pilot and main companion Arnolds. To his right their lead designer, engineer and overall source of intelligence Sir Bragallot, a mysterious individual sometimes said to be the person behind most of the Neo-Prussian Empire's endeavors.
New Prussia wants only the best from its military leaders, and a system where rank is gained through ability makes sure the commanders are competent. On the left we see Sky Marshal Ritt, leader of the space navy with his deputee commander. On the right we see Field Marshal D. Schneider, commander of the ground force and second only to Supreme Marshal Johanna. The masked figure to his right is known only as 'the Captain'. He is a mysterious individual who never speaks and no one knows of his origins but he is sometimes called 'the Empire's trump card' for reasons that have remained obscure.
Units
Pilots fly the Empire's ships and starfighters as well as drive their vehicles. They are always picked from those who are strong with the Farce, and trained to use laser shields and beamsabres in combat so they can defend themselves or serve as shock troops in dire situations.
'Wolves of Prussia' are the main infantry you'll find in the Imperial armies. A system of conscription where the main part of the citizenry has endured military training and a willing, patriottic populace provides the Empire with a ready supply of soldiers when the time arises even if not all are actively serving.
All troops are outfitted with high-quality gear and a mic for easy communication across the battlefield. Their only weakness, perhaps, is that they have only fought indigenous tribal aliens up until now during the conquest of their home planet, even though those enemies couldn't be underestimated either.
Wolves are proficient with a variety of weapons but are mostly known for the damage they can dish out at range. Shown here are the typical Prussian
Zerreißer
-model Machine Lasers and Panzerfausts. At the start of the Immortal conflict, Sir Bragallot immediately endeavored to develop a new type of armour for the
Wolves
to bring them up to par with the powerful enemies they would no doubt be forced to face.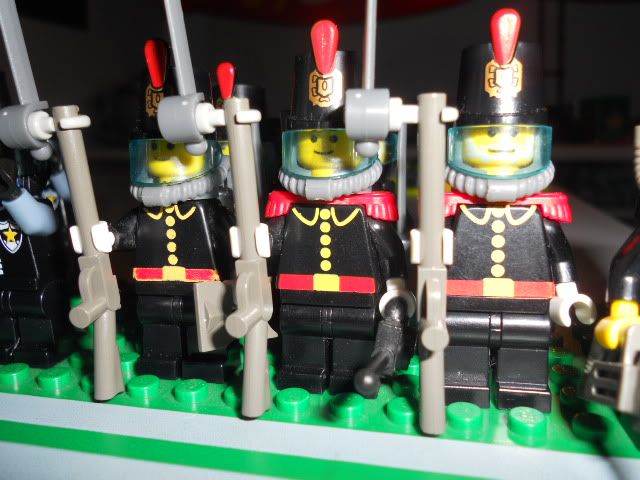 Jaegers
are a mostly defense-oriented force that are usually stationed in key areas and are the personal regiment of
Der Kaiser
himself. They fight in more traditional uniforms but anyone encountering them will soon find out they are more than just parade soldiers and their function as Imperial Guards gives them an Elite status. They are sometimes even known to still fight from horseback if the situation allows it.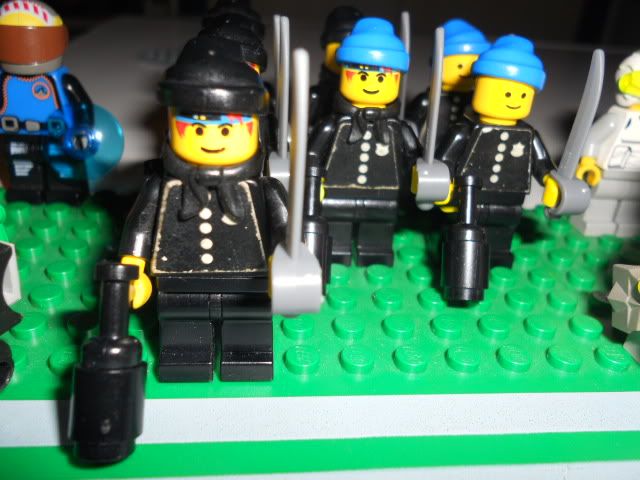 The young men of Prussia are inducted into the army culture from a very young age, and these recruits typically form the
Miliz
, a kind of police force and first line of defence for the
Reich
filled up with young recruits that have to serve for a few years first before they can go on to join the
Wolves
or the
Jaegers
.
At the start of the Immortal conflict, measures to integrate this force into the Jaegers as a defence-based unit immediately began, as Supreme Marshal Johanna was quick to remark they would suffer in intense battle situations against heavily armed foes and this would be a waste of many potentially useful men that could prove devastating in the long run if the war was to become a long one.
Some of the
Miliz
are armed with jetpacks and buzzsaws to soar into enemy formations and create as much carnage as they can before inevitably perishing to either enemy of friendly fire... Unofficially this is a way to put old equipment from the Empire's early days to use and get rid of 'difficult personas' in society, but they have their uses if well-deployed.
Sir Bragallot also supplies the army with his own robot/cyborg units, products of his research. These are believed to be the key to fighting off the Immortal Maniacs and the Empire's best hope at defeating Immortals themselves, while being typically devastating against normal units. From left to right: Flamer, Troll,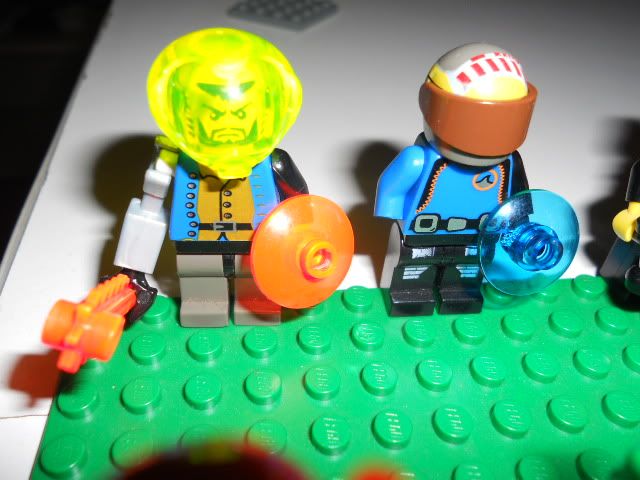 , Basher and Banner.
Sir Bragallot has a love for destruction, as can be guessed when looking at his weapon of choice, the Tank Sniper Mk. 2.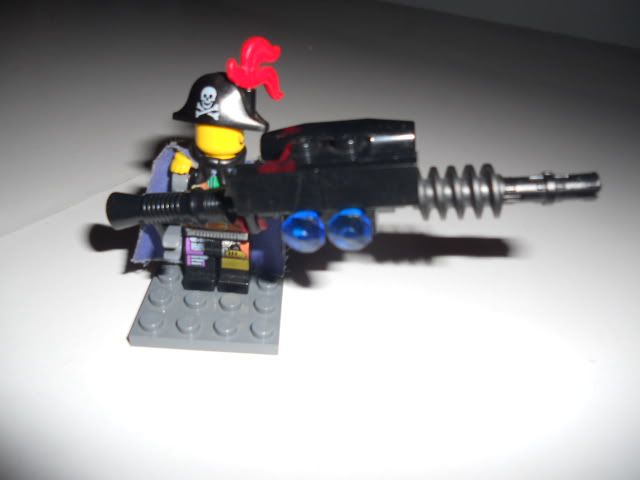 It has two external power crystals to make up for the enormous amounts of energy it requires. It is said Sir Bragallot now has a robotic arm because his own arm was ripped off by the recoil when firing this gun, others believe he severed and replaced it himself to be able to better fire the thing.
Vehicles
Navy
Displayed from left to right:
Mobhunter-class Mk. 2 fighters
starfighters,
Dominator-class Mk. 2 frigate
and
Eagle-class Mk. 1 frigate
.
The Prussian Navy has kept their home planet eluded by driving off enemy ships for years and has become a potent, well-organized force in this time but was, just like their land army, inexperienced in major battles against well-organized enemies at the start of the Immortal conflict.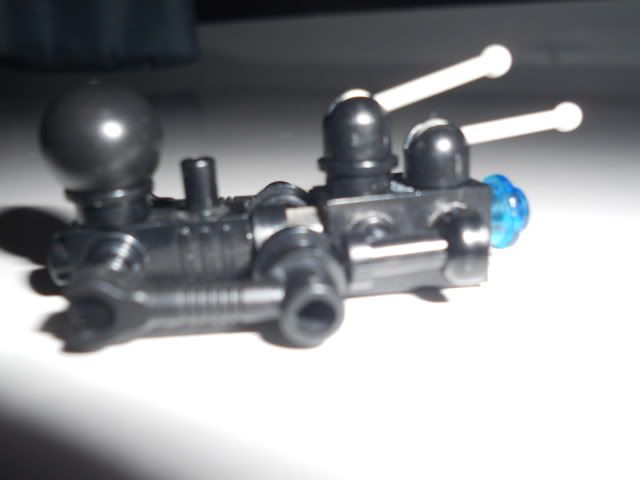 The
Dominator
is quite heavily armed for its size, with twin photon cannons, two main turrets and a large central ion cannon. The bridge sits on the end of the ship and is protected by an anti-fighter turret. It may carry up to two
Mobhunter-class
fighters with it in it's fighter bays. In terms of personnel it has an officer, a pilot and a single squad (6 men) of marines.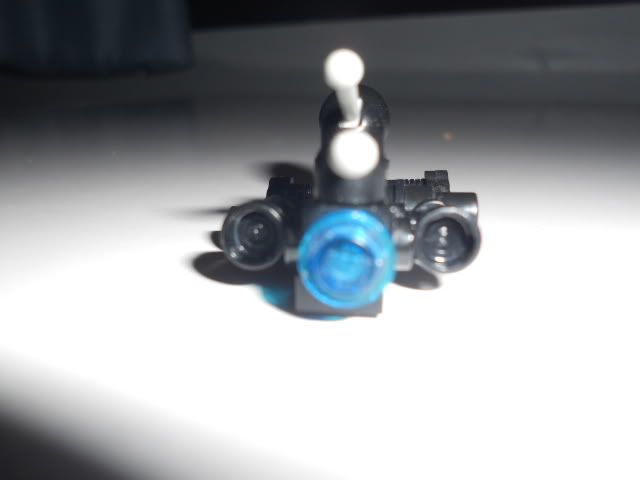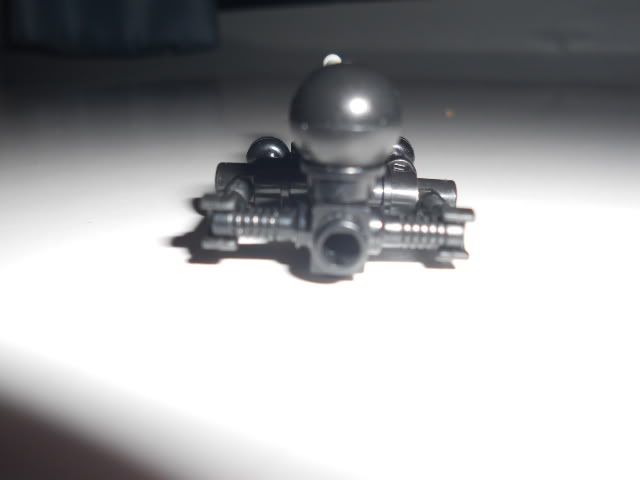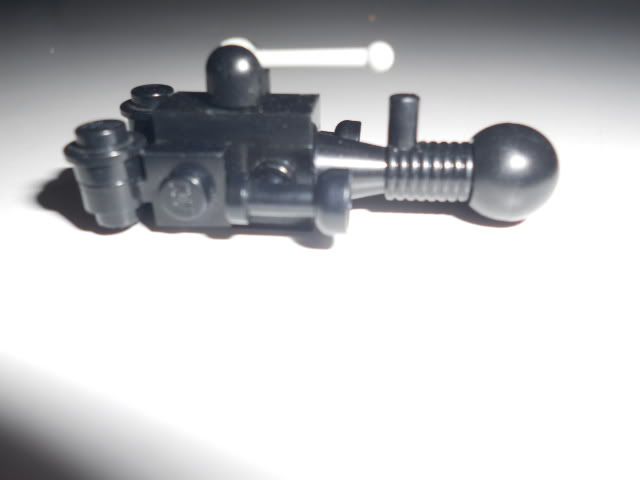 The
Eagle-class frigate Mk.1
is more lightly armed and it's bridge is located on the front of the ship, but what it has in vulnerability in design and lack of weaponry compared to the
Dominator
it makes up for with speed and a greater energy reserve to put towards its shields. It has a single turret, twin photon cannons, an anti-fighter tower and two anti-fighter turrets capable of releasing an EMP wave to disrupt enemy vessels that get close. It carries a single fighter, the ship's officer, pilots and 4 marines.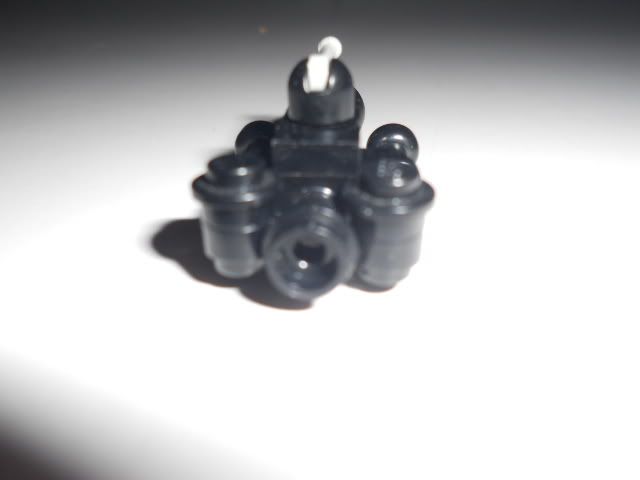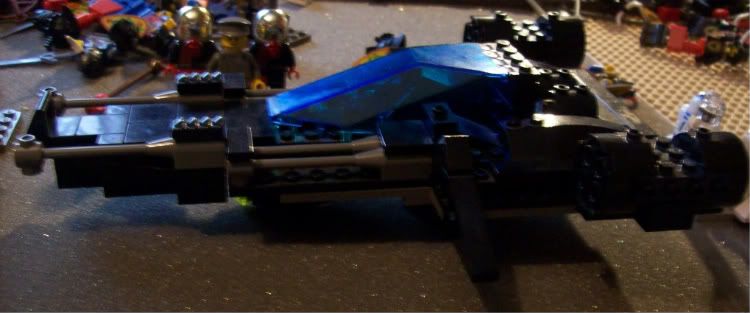 Mobhunter-class Mk. 1 starfighters
(click for thread) are perhaps the best thing about the Prussian Navy. With their sleek design and triple cannons on either side as well as a torpedo launcher they are capable of laying down a lot of punishment and difficult to hit, if perhaps a little vulnerable when they do get hit, but this is partially made up by the advantage of having Farce-wielding pilots.
The Prussian Gekka Mk. 1
(click for thread) is a prototype of a superweapon developped by Sir Bragallot. If it is unclear why 'the Captain' should be called the Neo-Prussian's trump card, the Gekka certainly has no reason to be doubted. It is believed that, after a while of spending time on other research, Sir Bragallot has finally gotten off his ass to make this baby ready for battle at the eve of the Immortal War. It's existence is still largely unknown to their enemies.
Other Threads
First Prussian thread
- Horribly outdated, the troops have been expanded and changed a lot since then, but it's useful for the backstory, perhaps.
Brittanian Envoy
- mostly useful for backstory.
Sir Bragallot's Laboratory
- an important location for them, Sir Bragallot in particular. Also some backstory.
The 'Brittanian Incident'
, a disaster that marked the beginning of the involvement of the Neo-Prussian Empire in the Immortal War.
Updates