Yet another reorganization of my main faction, the Conglomerate of Salt Miners. I've tried to emulate how modern NATO nations would form a company-level group. So, here we go.
Here is a CSM infantry company. It consists of the following:
39 Conglomerate Employees
1 Captain (Company Commander)
1 Lieutenant (Company XO)
1 Master Sergeant (Company Sergeant)
2 Liuetenant Minors (Platoon Leaders)
2 Sergeants (Platoon Sergeants)
4 Corporals (Squad Leaders)
21 Soldiers (Disposable Henchmen)
A close-up of the Captain, XO, and Company Sergeant.
Here's first platoon. The soldiers with light blue hats are NCOs, red caps denote a CO, and black hats denote rank-and-file soldiers.
And second platoon.
This soldier was called up to show the standard SMG issued. A squad consists of seven soldiers and one squad leader (Corporal). With each squad, there are five SMGs, a long-rifle, and a SAW.
Now for the long-gunner. Due to the zombie threats that plague of the world of Lego, these gunners are essential to picking them off from afar.
And the auto-gunner. Equipped with a SAW, he's wields the most effective weapon in an infantryman's arsenal.
Now, for the three weapon types just walking around, and ready for battle!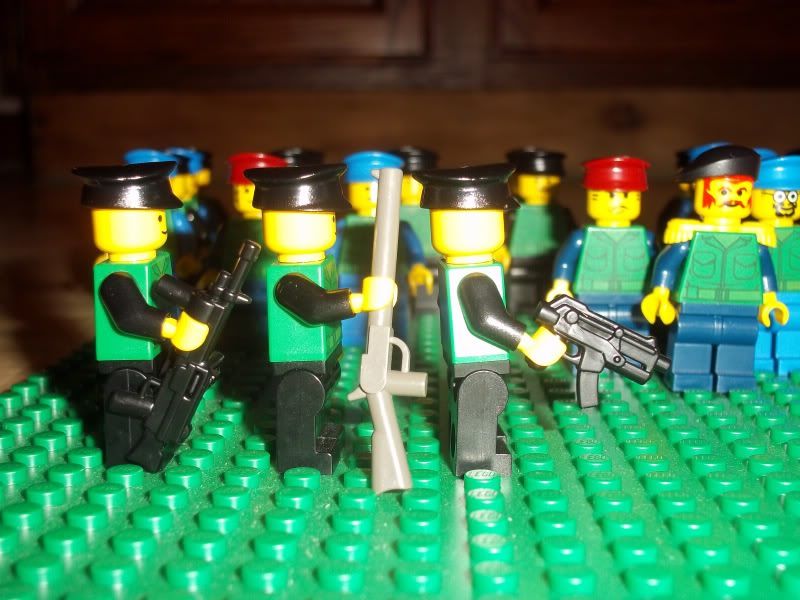 And there you go, one CSM company! I've actually made both enlisted and commisioned ranks for the Congolomerate, and will one day make stickers or something to better denote them. Hope ya'll enjoyed! ^_^