Hi folks,
I've relatively invisible for the past year aside from posting Brickfair stuff from 2013. Such is life I guess. The Dragon Guard have continued to increase in number, thanks in part to Lord Mercat offering some suggestions and simply wanting to add more bodies and punch to the army. The Dragon Guard was my
very first faction
, consisting of a mere 31 figures, a ballista, 4 horses, and my iconic griffin. I've had a goal for some time that I would like to hold a fig-count of at least 100. Well, I'm nearly there! For the sake of nostalgia, here is a walk through the years of the development of the Dragon Guard:
The original army of 31 figs!
By 2011 the army was up to 50 figs, essentially a bolstering of all the core units.
By 2012, the only major addition to the army was the Dragon Cannon.
I moved in 2013; and the Dragon Guard came with me. The number of cavalry more than doubled with the addition of dragon riders, and the army's other newest unit--fireblades--made a debut. Fig count hits around 68.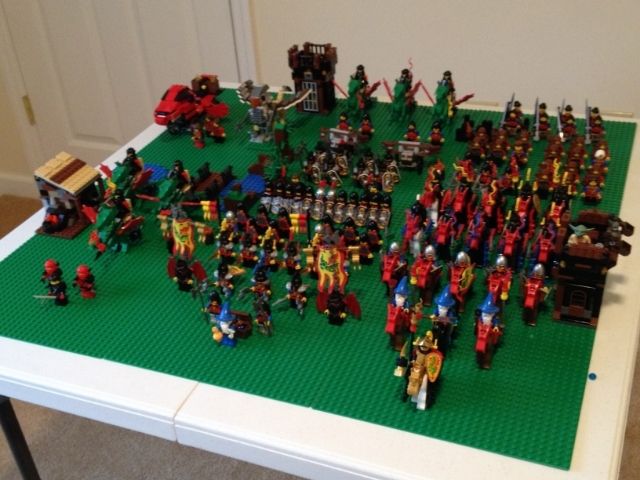 And again, in 2014 the Dragon Guard have 115 figs. 40% are dedicated melee infantry, 20% are infantry archers, 18% of the army are support cavalry, 13% operate war machines, and 8% are specialists or heroes.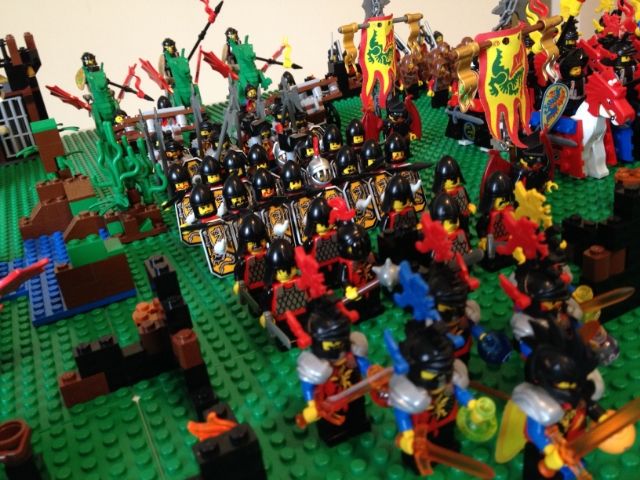 The forces are quite expanded since its original days. The total army shot is not great quality, but can hopefully glimpse the expansion that has occurred. A full headcount now is:
INFANTRY: 12 Militia, 6 Fire-blades, 12 Spearman, 10 Halberds, 18 Archers, 6 Crossbow Skirmishers, 3 Grimfang Lieutenants, 2 Flying Standard Bearers, 2 Mediks
CAVALRY: 5 Crimson Dragon Knights, 5 Cerulean Dragon Knights, 5 Outriders, 6 Dragon Riders
CREATIONS: 1 Dragon Cannon (3 crew), 2 Ballistae (2 Crew), 4 Heavy Crossbows (2 crew) 1 Griffin,
WIZARDS/HEROES: 4 Mages, 1 Cavalry Captain, 3 Ninja
Totals: 115 figs, 19 horses, 6 Dragons, 1 Beast, 3 War Machines
Estimated CP: Over 1,500
ARMY ADDITIONS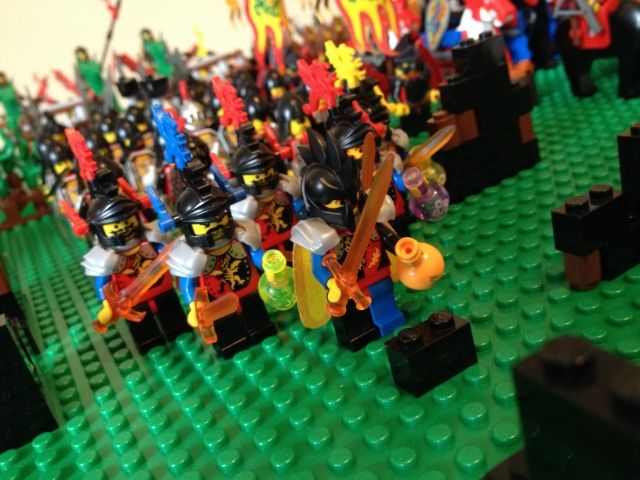 I LOVE brickforge customs, and in February, Brickforge had a 1/2 off sale. So...got me a bunch of stuff (read: lots more wizard swords). My Fire Blade unit seems to constantly go through iterations, and these are have the ossum
OTC
swords and brickforge's line of potion bottles.
Another truth that became apparent in battling last summer was that I didn't really have a resilient infantry specimen. Spearmen are--by the rules--very points effective, but staying power is good too. These are kitted out not unlike Brag's bulls. Halberds (2d6) and tower shield, also sporting the
compensating
Speciality (to use both at the same time).
The Dragon Guard have a bolstered cavalry, now. I added two more dragon knights to the fray, and a whole unit of mounted cavalry archers. From a CP efficiency stand-point, I've never been wild about mounted cavalry. Yet, battles with the likes of McLovin and Mercat could be changing my mind...These are armed with crossbows, shield, and spear; a very versatile combatant.
There are a couple pictures elsewhere, but for the record, my griffin is now
armored
. Yeah, I'm scared too!
What you see here is shamelessly stolen from a hero in Lord Mercat's Mythic Order. A 2" crossbow design. Here they represent very mobile ballistae that are treated like a size 2" Gun. In order to keep from using more compensating figs who can either stand OR shoot, each crossbow is operated by 2 so that moving and shooting can happen on the same turn.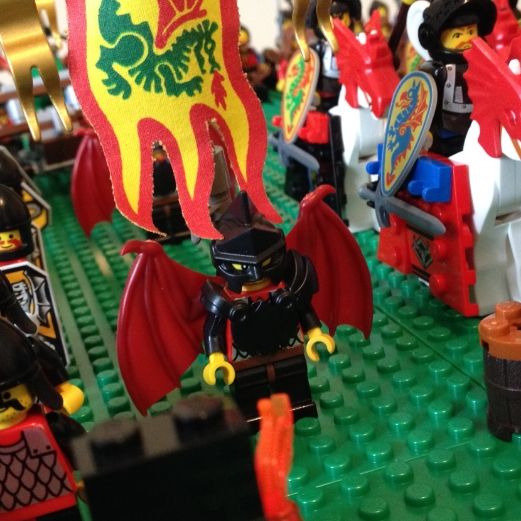 And I have two of these standard bearers. I love the visual that comes from having banners, flags, and standards in a medieval army, so I always try to include them. Brickwarriors Demon Armor houses a stud in the back, which--after a bit of clipping and gluing--works great to accommodate a standard bar clip, even with wings attached. And so we've got these two intimidating, armored, flying standard bearers. I have no special stats or loud-out for them yet, so if you have any ideas, do tell!
At any rate, this is how the Dragon Guard stand in 2014. I haven't had a battle in AGES, so if you can't tell, I'm just chomping at the bit for an opportunity...
~ Rev.