Greetings all,
Welcome to another edition of Rev's Battle Reports. I'm Rev, and I'm bringing you a battle report from Central Pa, a battle against my colleague and new brikwar sparring partner McLovin. We met at his place, had dinner, and rang in the new year with some plastic carnage.
TL;DR
if you need to, but I'm going to "set the stage" for this battle a bit. First,
the battle is very one-sided
. If that bothers you, go read one of my old reports. But it's lopsided for a few reasons; first, there may have been some fudged and/or forgotten rules. Second, for our last several games, McLovin has actually been
FLOORING
me. I beat him in our Hell Hunt battle quite handedly with my Barbarian army, but every time I pull out the Dragon Guard, McLovin has consistently been pulling out decisive victories against me. This has been frustrating since he's new to the game and with the number of battles I have under my belt, I think I can call myself a vet. He tends to use an archer-heavy force with small screens of spearmen and cavalry in the wings to set up charges. He rarely brings creations or MOC's, so since we play by CP value for starting armies, his CP efficiency is often higher than mine since I've tended to bring several high-cost creations in my forces (Dragon-riders, Griffon, artillery, etc.)
For this match, McLovin says he wants me to stop experimenting with lists. He and I are planning a campaign of brikwars battles together through the winter, and all of these games have been learning for him. He wants me to show him what Supernatural Dice can do, and play as dirty and competitively as possible. I say, "Ok," and draw up the following 400CP army:
This is my medieval answer to an infantry/archer-heavy army that has been pantsing me multiple games in a row. The army has two essential elements that play a major part in the game. Two ballistae with crew that fire MKII "grenades". This is a decent enough counter to masses of minifigs. What you may not immediately be able to tell from the photo is that beside each ballista is a wizard. Both wizards have the same Supernatural Dice Pool: 2d4, 2d6, 1d10. While you continue to reflect on the nuances of this strategy, let's look at the rest of the battlefield:
Close-ups of my deployment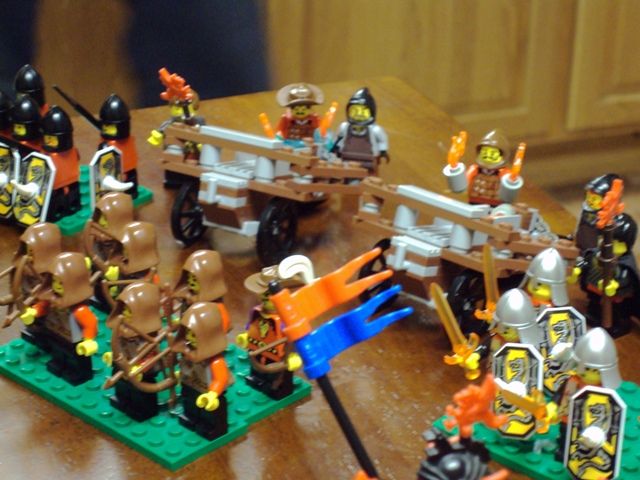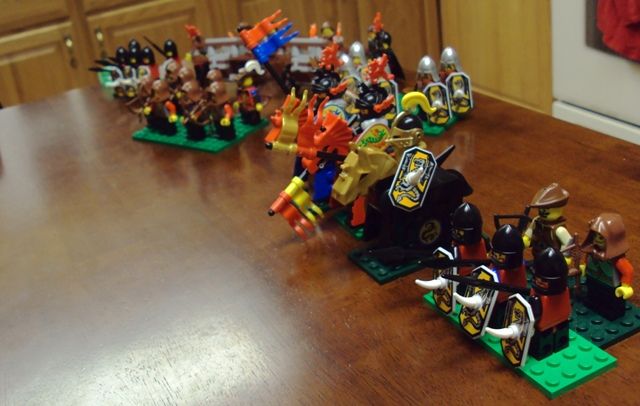 McLovin's deployment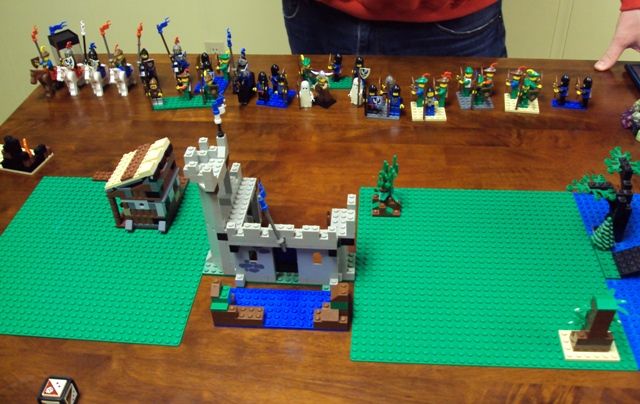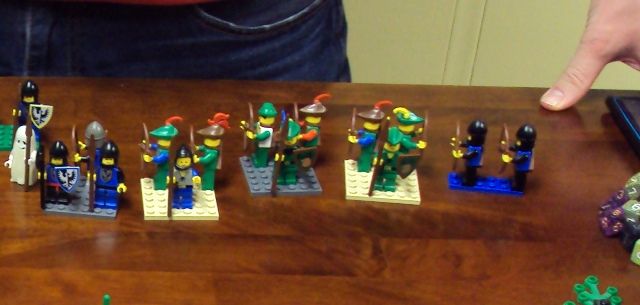 Experienced wargamers will immediately recognize my strategy. I've
castled
my artillery on a single flank of the field. In normal brikwars, this is not a super-effective strategy because Size 2 and Size 3 weapon ranges are not massive, and the
use rating
for such weapons can be prohibitive against infantry. Yet I have paired each ballista with a mage who will each turn be able to use an action to augment the
range
of each ballista anywhere from 8" - 12" (accounting for a fumble or two). The mages can also supplement an extra 1d10 for the ballista's damage, turning what was otherwise an MKII into an MKIII explosion.
Each ballista is also flanked by a squad of heavy infantry; once McLovin's forces or my forces close the gap, the mages will enter these "bunkers" to provide squad buffs against survivors from the artillery barrage. At any rate, this was all my "plan" entering the game with a chip on my shoulder. Let's see how it panned out?
McLovin Turn 1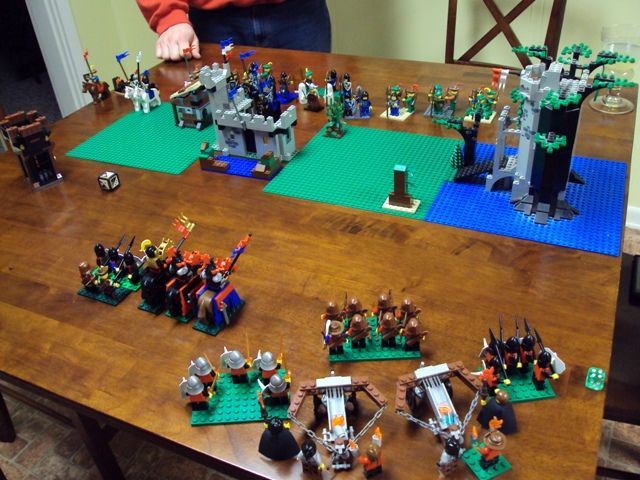 Turn one for McLovin's Forestmen is pretty uneventful. He pushes all of his units forward their maximum
move
without sprinting. McLovin doesn't know it just yet, but saving actions will allow him to bail once the grenades start falling.
Rev Turn 1
Not much has changed, but in order to make the ranges more agreeable, the Dragon Guard move the battle line forward about five inches.
The archers screening the ballistae take aim at and demolish a tree; this way the ballista engineers will not have to worry about LOS.
I likely attempted some Supernatural rolls to augment ballista ranges, but nothing was long enough...
McLovin Turn 2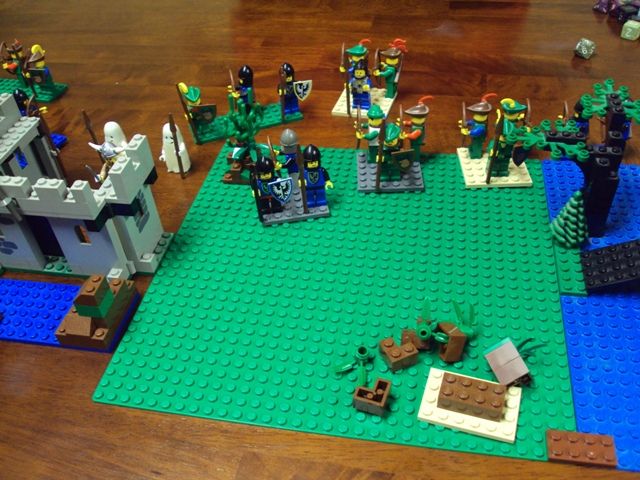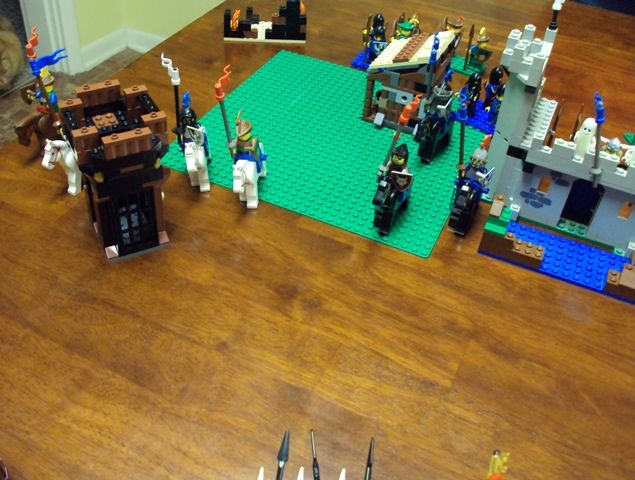 Sorry for another boring turn, but McLovin just pushes forward again. Don't worry. Things are about to heat up; the Forestmen have entered what I'll fondly call the "kill zone."
Rev Turn 2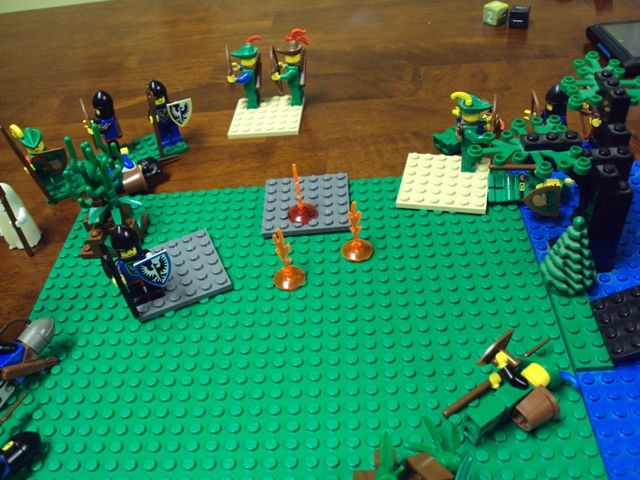 After a nice Supernatural Roll, the right ballista sends a "grenade" at several Forestmen. The blast only fries two, but three or four others find themselves disrupted after bailing.
The left ballista incinerates one of the McLovin's knights and injures a horse.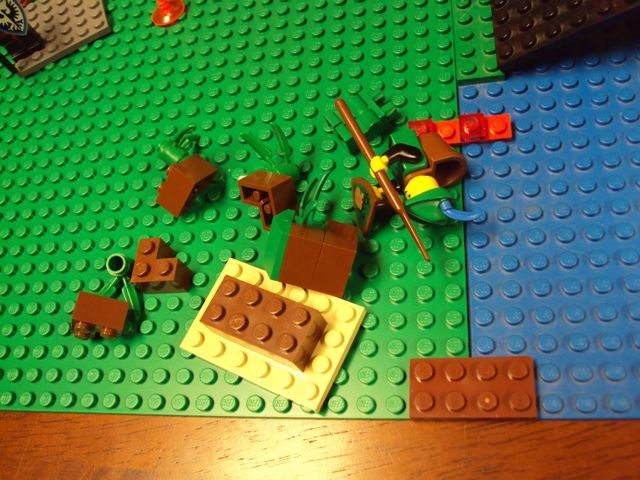 And a forestman who bailed quite a ways forward of his lines is shot down by the Dragon Guard archers.
Before we get too much farther into these turns, I want to mention one other rule that is playing into the favor of my strategy:
missed shots
. Any player (according to 2010 rules) may insist on tracking payload projectiles that explode. This means they will come down somewhere. Because my lauchers fire MKII "grenades" the total blast radius is 4". The net result is that even a shot whose
use rating
missed technically will land nearby the intended target, keeping him--if no one else--in the explosion. Drifting shots like this will actually account for a number of kills I accrue this game.
McLovin Turn 3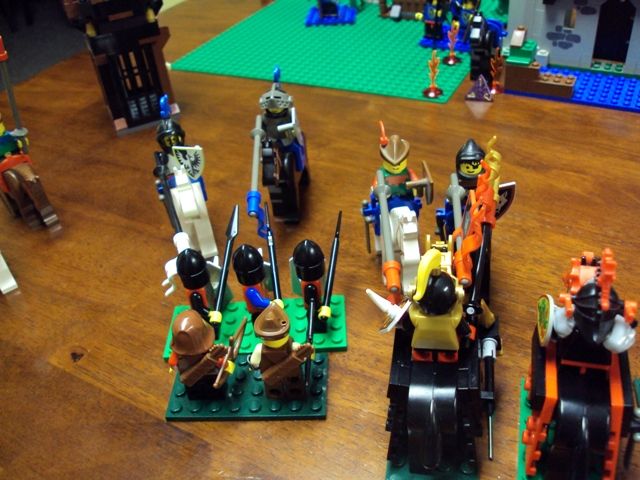 McLovin's Forestmen cavalry come thundering around my left flank, careening into some spearmen and the mounted hero.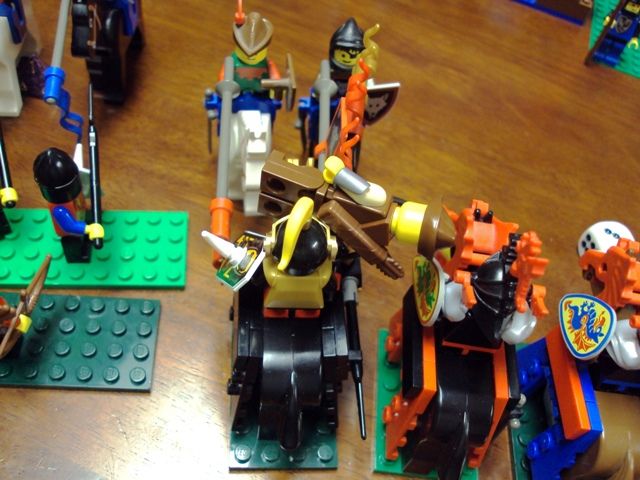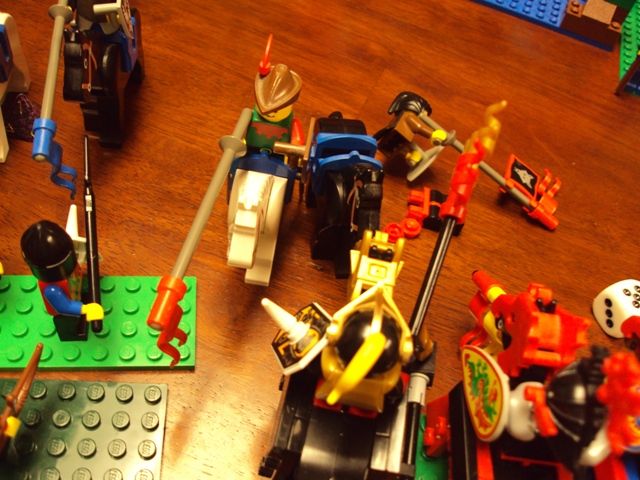 An archer red-shirts for the mounted Hero, and the counterattack from the Hero eliminates a wolf-pack knight.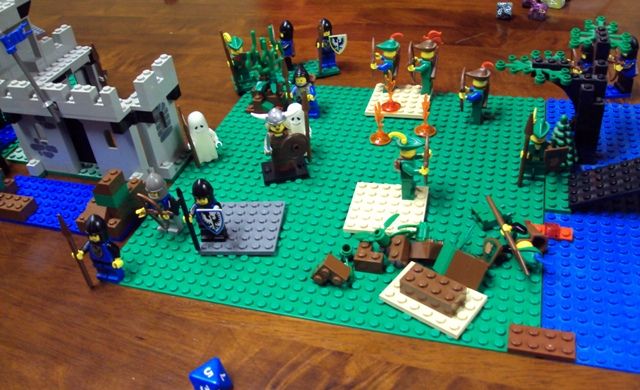 Disrupted forestmen right themselves, and McLovin's lines continue to press forward, hoping to overwhelm me.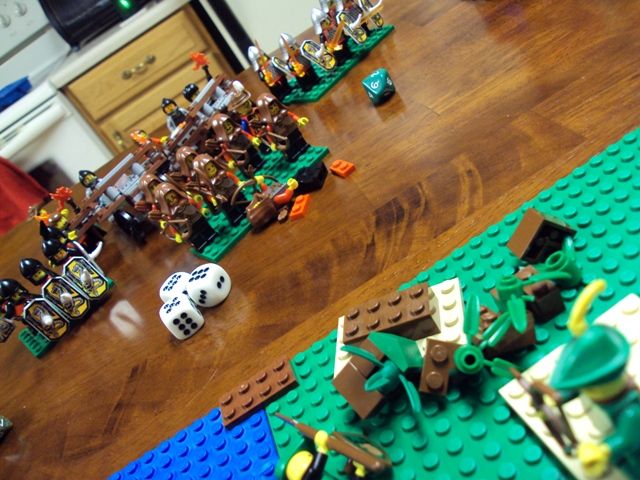 A Forestman downs one of the Dragon Guard.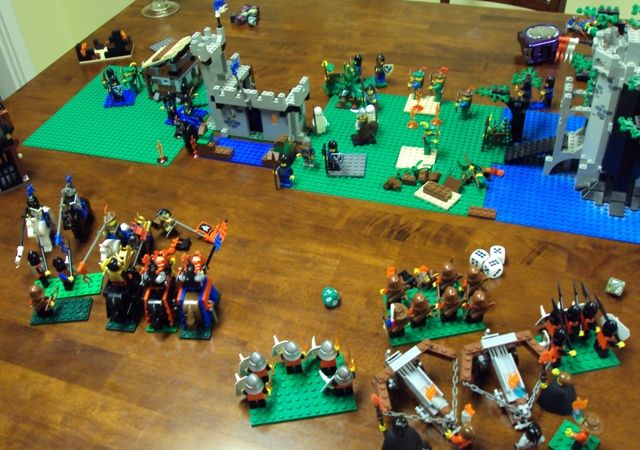 Battlefield Overwatch, Bottom of 3
Rev Turn 3
Spearmen retaliations on the left flank lead to the demise of two more of McLovin's knights. I'm of the opinion that McLovin should have had a few more
armored
knights in his force this game. It made sniping and attacking riders out of their mounts easier than it should have been...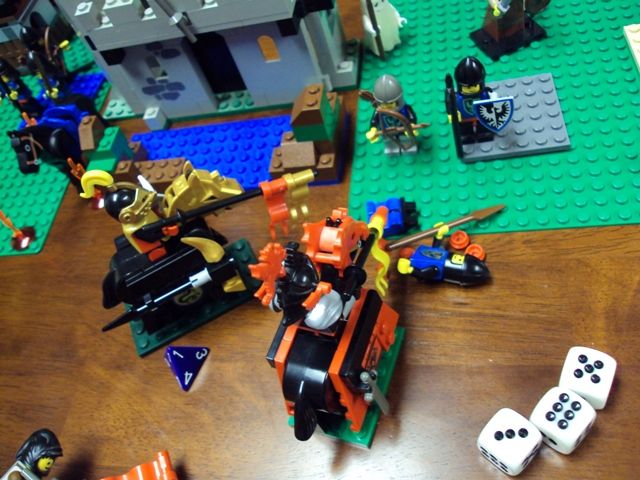 The Dragon Guard hero and a Dragon Knight change directions and ride toward the right flank, eliminating a Black-Falcon soldier.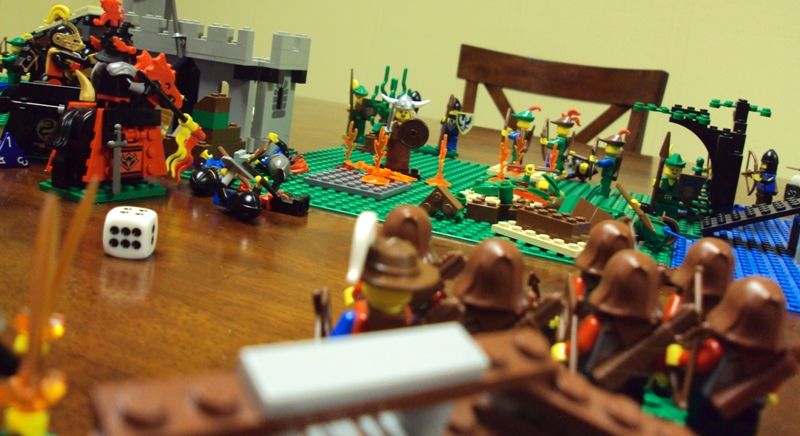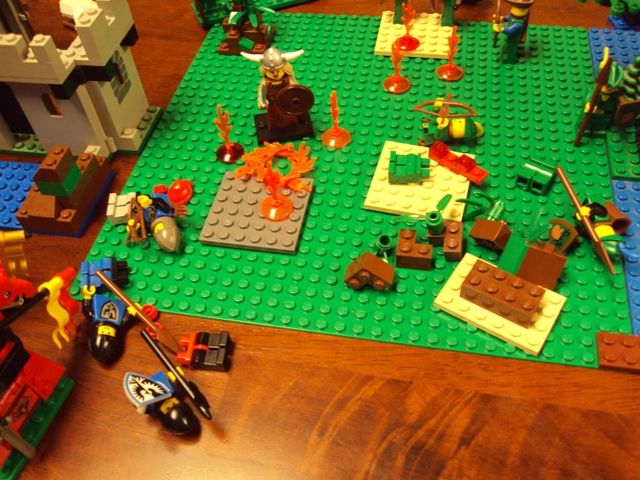 Another round of magical ballista augmentation finds several more forestman in ash-piles, including one of the Vikingess Heroine's bodyguard.
McLovin Turn 4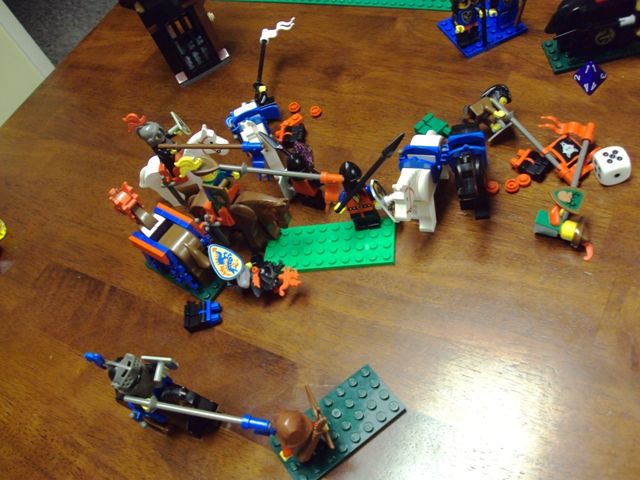 One thing I admire about McLovin's gameplay is his incredible ability to use cavalry more effectively than I. Here he sets up three counter-charges, all of which eliminate their Dragon Guard targets (2 spears and an archer).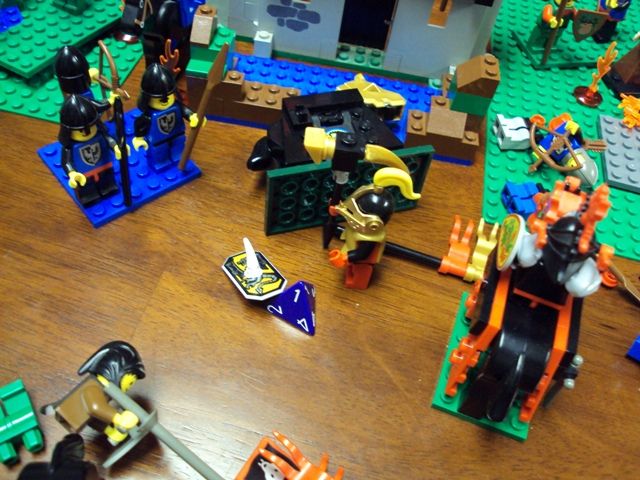 The Forestmen Allies also set a number of their own soldiers and archers on the Dragon Guard Hero. Once the combined damage connects, the hero's steed selflessly decides to red-shirt the damage for his master.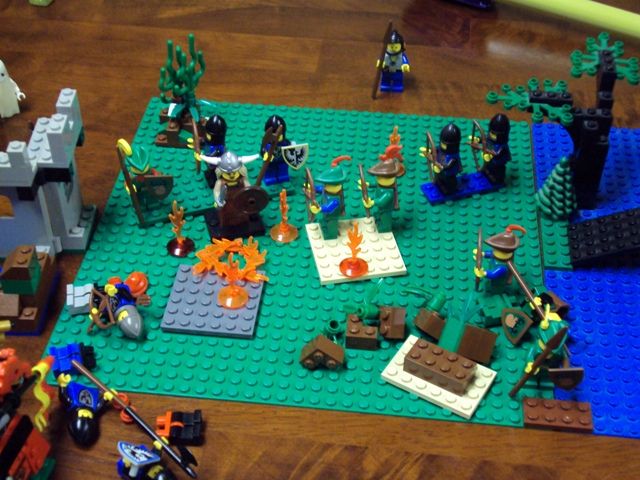 On the right flank, the forestmen continue to surge forward.
Rev Turn 4
Even more fiery death; the leftmost ballista shot--I think--managed to eliminate two knights and a horse with this blast. Granted, there were a few crits to be had...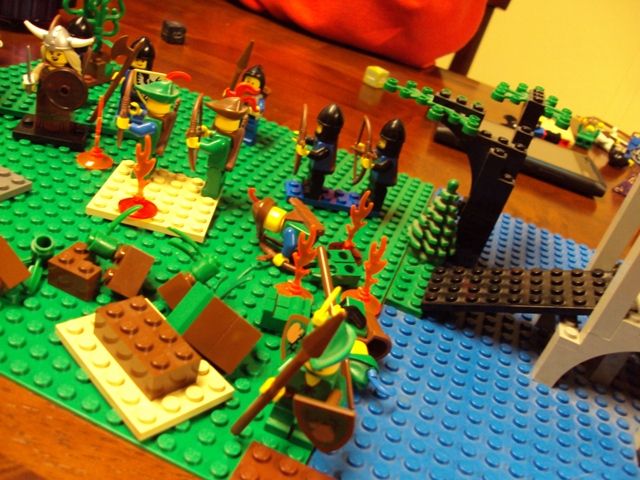 The Rightmost Ballista claims only one forestman this turn.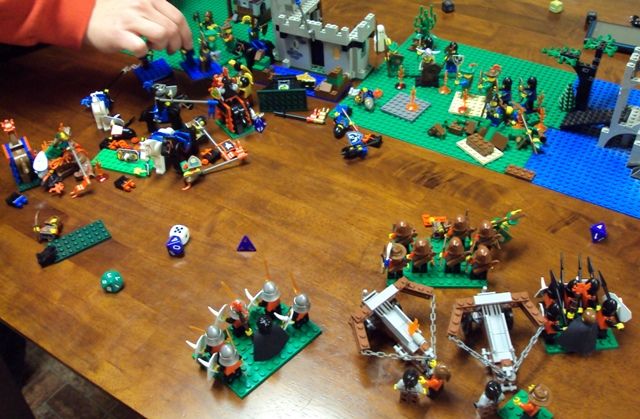 Overwatch, Turn 4. All of the Dragon Guard's melee combats for this turn were pillow fights.
McLovin Turn 5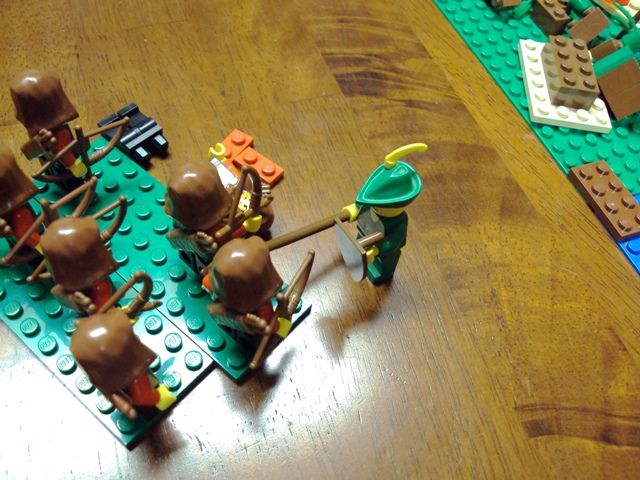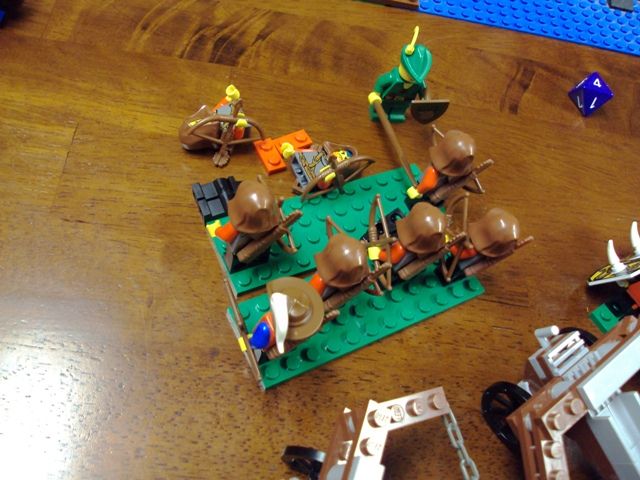 Infantry charges on the right flank are not incredibly effective; only a few Dragon Guard casualties.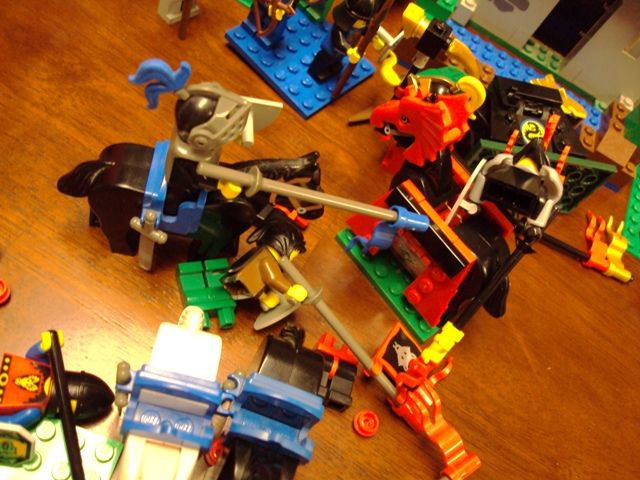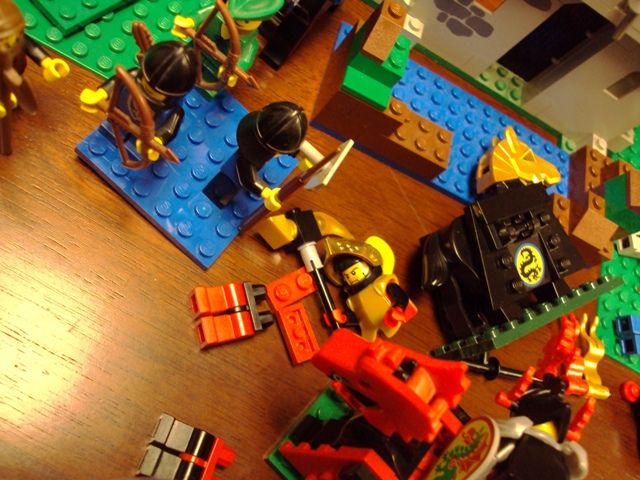 Nevertheless, an excellent knight charge slays the last Dragon Knight, and a sick amount of combined damage (2 spears, 4 archers) puts paid to the Dragon Guard Hero
My left flank has officially crumbled. Last turn, however, I did move that mage away from the ballista and into his swordsmen bunker. I'm ready...
Rev Turn 5
And the last remaining ballista projectile is sent careening onto the heads of several forestman archers. This shot actually sealed the deal; the arches could not bail because they had used their actions. It took about 3 or 4.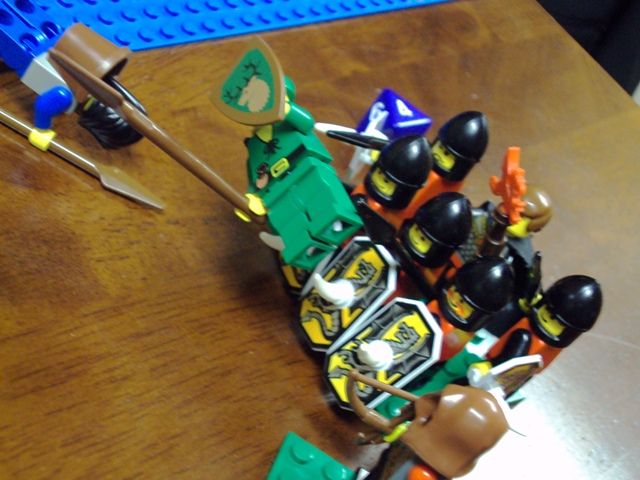 The rightmost mage bunker skewers a forestman.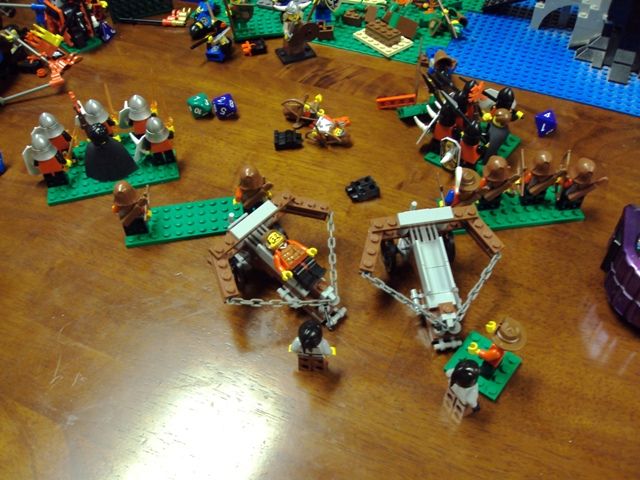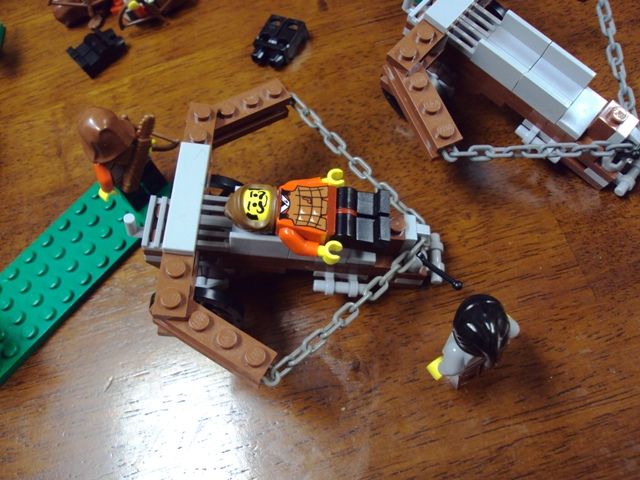 And the ballistae prepare to fire the only remaining ammunition that they have!!!
ENDGAME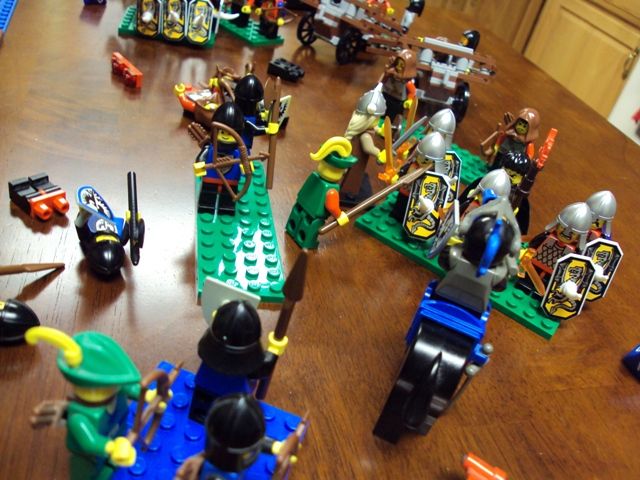 This is the last maneuver of the game. McLovin throws his remaining guys at at my left-flank swordsman mage bunker. Having save his action, the mage used his 1d10 to augment the squad's armor for the turn, meaning the squad took no casualties (in fairness, McLovin's knight failed his attack as well).
At this point in the game, it was nearing midnight, and the field was very lopsided. I still had two wizards, 10 heavy infantry, and 5 archers surviving. Mclovin had a knight, two or three archers, two or three spears, and his hero. Victory went to the Dragon Guard.
FINAL SHOTS: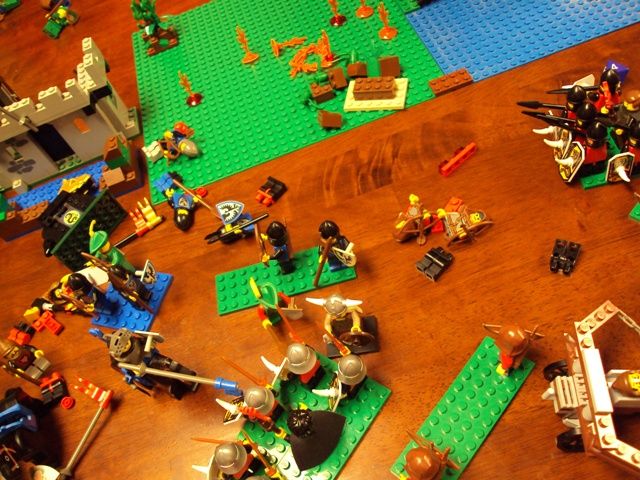 PARTING THOUGHTS.
In addition to playing a bit more competitively this game in this game than my last several with McLovin, the addition of two wizards in my roster was an attempt to further playtest the Supernatural Dice rules from the 2010 book. Based on this game, McLovin and I both think that Supernatural Dice are quite powerful, especially when one army has wizards and the other does not. The game also demonstrates the effects of
turtling
versus being more aggressive in gameplay and maneuvers. I'm exhausted, so I'll continue with my reflections on the outcome of this bat rep in the morning. For now, thanks for stopping by.
~Rev.