A big thanks to Zupponn for extending the limit of the HellHunt and allowing me to post the report
Edited pics with some sweet effects
will
(might) be uploaded later. Turn order might be a bit messed up picture-wise, but nothing major.
After Warhead's arrival at Hellius in the Copperwind Fields, near Ironfall, the Metal Warriors have been put on high alert. Constant patrols maintain a vigilant eye around the area, for the flaming skull is certainly plotting his next power move against the leather rebels, somewhere. However, Fenix and his warriors would soon realize that the Immortal commander isn't the only- thing, they should worry about....
Ancient DUPLOdian ruins are fairly common in Hellius' landscape, although usually avoided and cursed due to their connection with the Jugger Summonings.
But apparently someone didn't get the memo.
Parry: Professor, I believe this is the place.
Professor: Indeed, my young cultist boyo. The radioactive aura of the DUPLOdian bricks is still strong, even after hundreds of Rekonstruktions. This will do.
Parry: Do you think we'll have enough time? I can swear those bikers spotted us earlier. Not to mention that these places can be home to-
The cultist wouldn't finish his worrisome sentence until two large creatures appeared.
Parry: Gaak! DUPLOdian monstrosities!
Professor: Cute. But not what I'm looking for.
Waving his staff of arced lightning around, the creature easily stuns the DUPLOdians before turning them into-
Regular ABS bloks?
Professor: There. Now, bring out your tomes. We have a portal to rebuild, ahah!
Meanwhile, a troubled servant of the Metal Gods meditates on the whereabouts and doings of the newly acquired enemy. But the news Captain Steel was about to deliver weren't regarding the Immortal.
Fenix: Where... Where are you hiding, match-head? What move are you planning to take?
Steel: Hail Protector. Am I disturbing?
Fenix: Hail Captain. Not at all... Any reports from the Hell Patrols?
Steel: In fact, yes. Darius and Michael have once again found disturbances close-by .
Fenix: Warhead?
Steel: I'm afraid not. They spotted a small group of weird fellows with pointy hats and staves heading towards the DUPLO ruins. Probably some wannabe cultists or LARPers.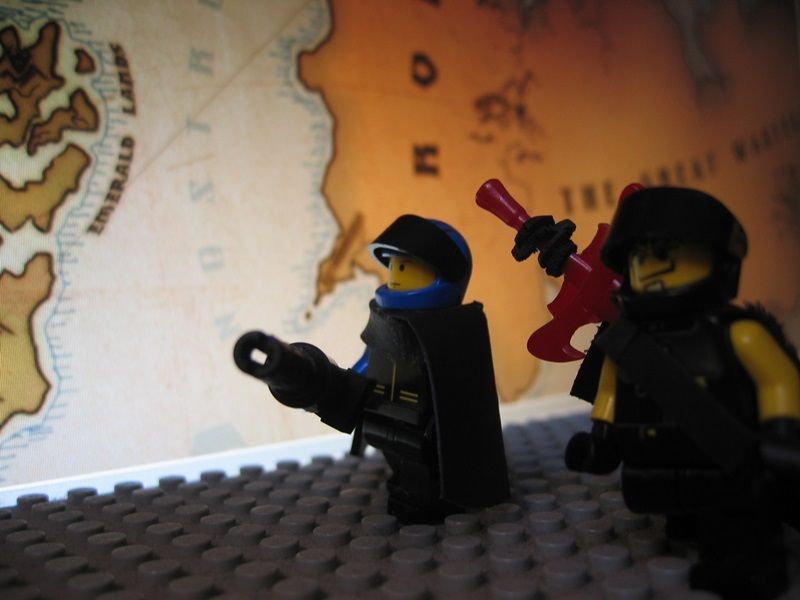 Fenix: Possible cultists nonetheless, captain. We all know how dangerous they can be if left undisturbed. Bring whatever men you can, but maintain the rest on their patrols. Also, give Leeta a call, we might need her. We're going to pay them a visit, if nothing serious is up, at least we might get a laugh.
Dark chants fill the air like an ominous humming as the cultist channels power to his masters' artifact in order to raise the huge bloks.
Parry: The last pillars are in place, Professor! I think it's ready.
Professor: Excellent. Even if we are disturbed, I doubt anyone will be willing to face the forces we're about to unleash. Our invasion is just about to beg-
Fenix: -End. I was hoping for some kids with plastic swords and foam armor, to be honest. I have more important things to take care of than fumbling your attempts of summoning interstellar horrors.
Professor: Ah, right on time, Fenix! You're about to witness my venture into dimensional tourism!
Fenix: How do you know my-
The creature disperses into nothing-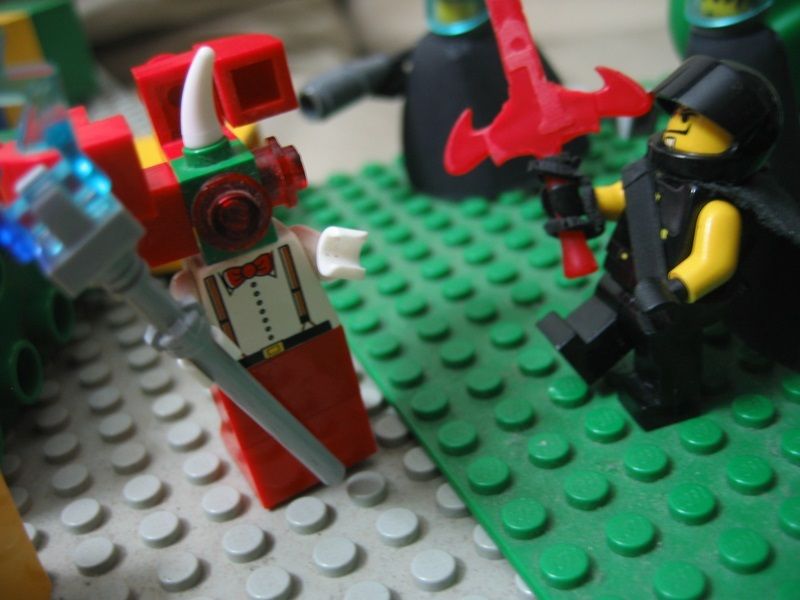 -only to reappear somewhere else.
Fenix: Uhh! What?
Professor: See how rude interrupting someone can be?
Fenix runs his mighty blade through the air in front of him, only to see another another empty spot.
Professor: Plus, that's no way to welcome foreigners into your planet, is it?
The staff sparks with energy once again and sets the ruinous portal alight.
Steel: Blokbots!?
Professor: Quite the canon fodder and army feeders, I'll say. It was not cool getting rid of them once you got here all those years ago, Fenix. Poor little fellas, bahaHA!
Fenix: *Leeta, while he's giving his villainous monologue, plant the charge. We'll keep them busy to give you enough time to blow that thing up.*
Leeta: *You got it, I'm in position.*
Parry: Hip! Mip! Protect the Professor while he makes his summoning!
The skirmish commences.
Hip spots someone sneaking behind the portal.
Mip moves up to put his weapon to work.
The mysterious Professor prepares to summon another wave of evil blokbots, while the first ones to arrive march against the Metal Warriors.
Fenix loses no time in rushing to the front and taking first blood, relieving Mip of his head.
Leeta, an elite steel-bikini commandette, does her magic and places a powerful explosive charge on the portals' foundation.
Though Hip is focused on doing what he does best, he doesn't notice the charge on the wall. But Parry does.
He is, however, capable of disrupting Leeta during her escape with brutal strike of his Power Maul.
Two ranged blokbots ninja their way up a wall and combine fire on a Metal Warrior, taking him out.
Fenix parries the bloky abomination.
The MWs take out a bunch of 'bots with melee and ranged response actions.
Parry makes use of the opportunity and attempts to defuse the charge. He'll need to figure out how to do that first.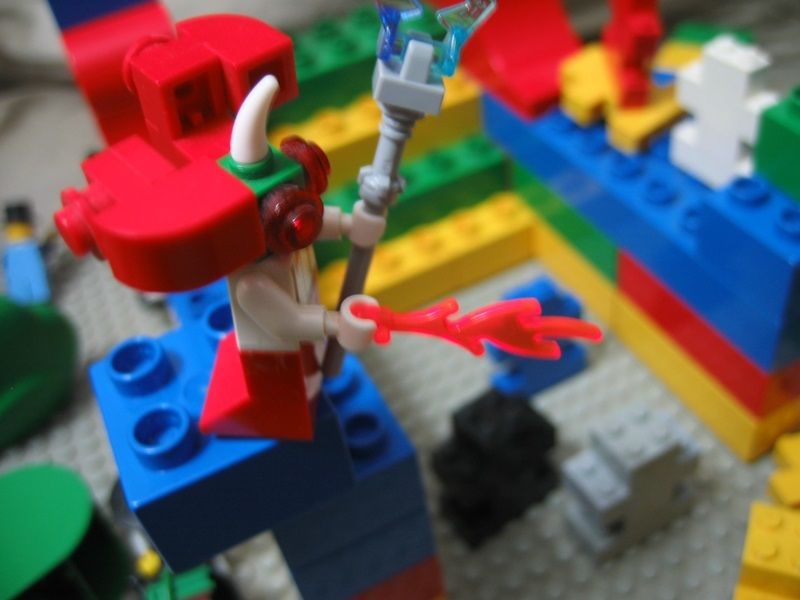 Professor: I need to get more competent henchmen to play with you guys, daddy's trying to raise an army here!
Flickering flames appear from the Professors' fingers as he point to the middle of the MWs.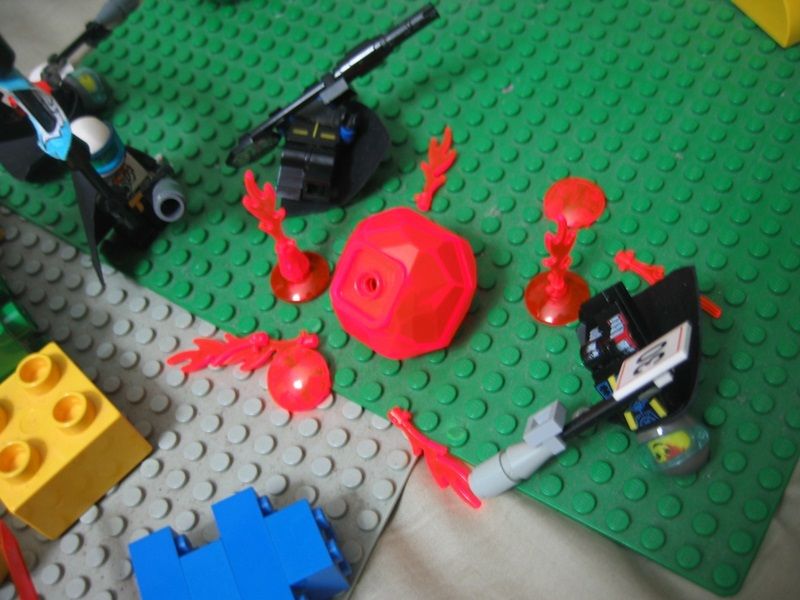 Two warriors barely survive as a smoldering meteor lands at their feet, they got shaken up pretty badly though.
Hip's maul eventually found its prey and Leeta meets a splaty end.
The sneaky blokbots make their way down to the flank of the warriors.
But some don't seem to be as agile, as the clean headshot suggests.
The Professors deadly intents continue to show themselves fruitless as a feat for a chain lightning attack fails, only disrupting its targets.
*beep* *beep* *beep*
*BEEEEEEEEP*
Parry:
BOOOOOOOOOM!
The mighty blast takes the portals' pillars out and shuts down whatever evil energy was maintaining it open, seizing the short-lived invasion. The Professor is sent flying and gets disrupted. Hip and Parry get obliterated.
Fenix gets a successful feat and takes out a couple of 'bots while the rest of the warriors quickly mop up the remaining ones.
Professor: Ugh... what the fudge?
Fenix: Yes, creature. I destroyed the blokbots that had been tormenting Hellius for years and we're not looking forward to letting them spread and convert more minifigs again into bloks.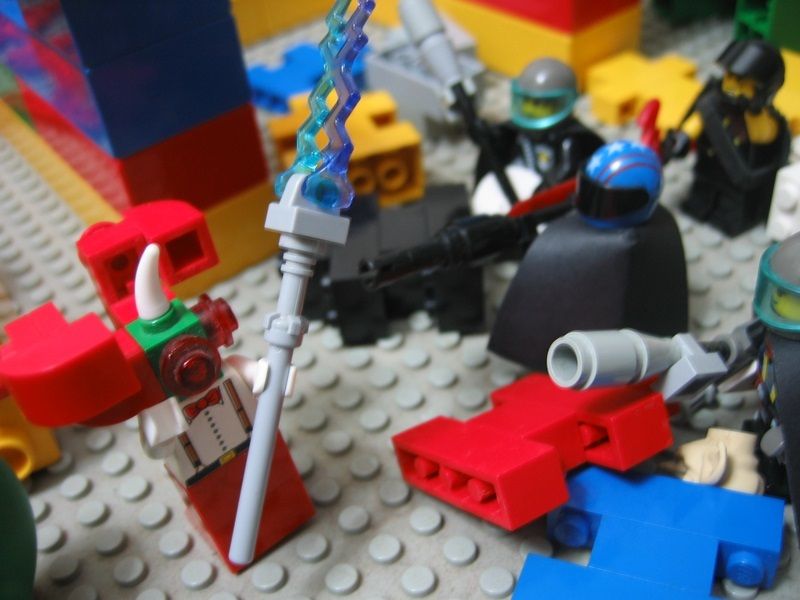 Professor: Well, that's just a shame. But hey, it only makes me find another option! Or another ruin. Oh, and another apprentice! I should probably write this down. Welp, I'm getting out of here, later!
And once again, the creature vanished.
Steel: What was that all about?
Fenix: More problems, for sure... His staff was incredibly powerful, we were lucky the portal collapsed when it did. Who knows what other things could come out of there. Anyway- headcount.
Garmus: Besides Leeta, Calus... what a shame to die at the hands of blokbots.
Fenix: *sigh* He died in battle, that's what we all should aspire to, Garmus. I'm sure he'll dine with the Gods tonight. Gather his gear and guard his body. We'll get someone to pick him up soon.
Steel: Our enemies grow bigger in numbers and ours dwindle...
Fenix: Do not despair, captain. Let us focus on the challenges at hand, we have a darker foe to face.
Fenix: Come on, we ride.
-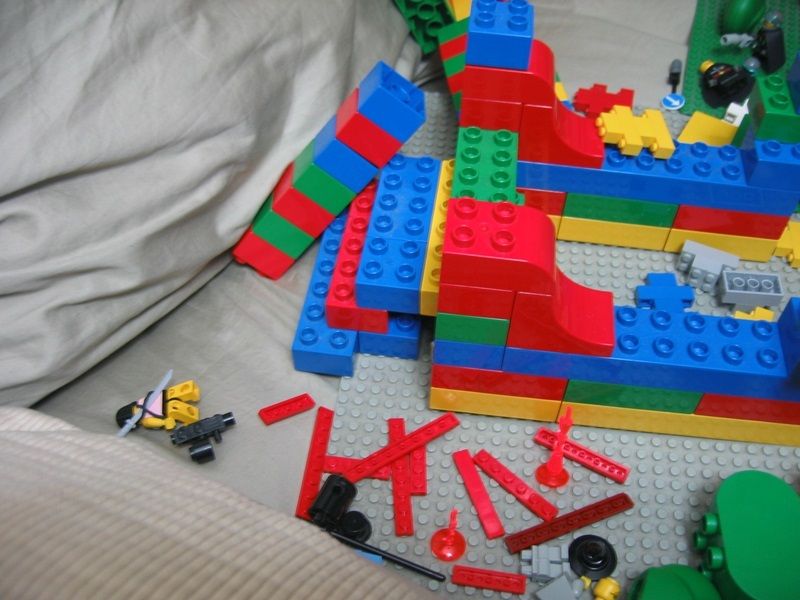 Warhead: Well, the only difficulty here was not tempting myself to go down there and crush Fenix's skull in.
Warhead: We got what we came here for. There's much work to be done.
Warhead: Are we in agreement, minion?
Mr.Skeletal:
*DOOT* fuccboi *DOOT*
Warhead: RATS' ASS!
Who's this weird and powerful creature dubbed "Professor"?
Where does the map Warhead took lead to?
Did you fuccbois get spooked?
Aftermath
Well, I admit that due to my lack of time, my contribution to this year's HH was rather bland and simple, but hey, it's in. Plus, I hope this puts the rest of the soaps that are planned in motion, it has been a while.
Cheers for reading and good luck everyone!