[I'll be submitting this in pieces as time allows me to. I will say once the submission is completed.]

A week has passed since
the Empire repulsed the Federalist Star Union's attack to retake El Deplorablo
. By order of General Ecklen, now acting as the FSU's President de facto, the Federal government was extracted from the state of Fiat Lucs to evade the potential military threat posed by Imperial-occupied territory. With the Federal courts, legislature, and himself placed aboard the commandeered luxury space liner, The Bucephalus, Ecklen has effectively changed the FSU's capitol to being fleet-based.
It is aboard this ship, outside Ecklen's command HQ room, that the highest military and security officers in the Union have gathered to formulate a plan to resolve the El Deplorablo crisis.
From left to right they are;
Cruciphere, the most senior Agent since Plex's disappearance,
General Thermaleis, veteran Tithe special-forces commander and theorist,
General Kurezohn, an old-school hammer & anvil proponent fond of combining fast tanks and mechanized infantry with slow and durable walkers,
General Amlax, a Tithe air-assault specialist,
Fleet Admiral Bellendswood, the head of the Union Navy and the only Brickingrad veteran here besides Ecklen,
and Major General Stukkins, the head of the Air Corps.
These men await outside the HQ for one more senior officer to appear.
"I wonder why he's cutting his timing so close," said Kurezohn.
"He still has nearly two minutes to get here," replied Amlax.
"I don't know how you find time and energy to worry about our most junior member's possible tardiness, brothers," said Thermaleis flatly. "My mind is ate up," he went on, "with how the Union will survive intact at all from this. Against our whole force the 'Empire' has no chance, but in their actual context of ambushing and establishing themselves in one of our cities, with most of our forces engaged far away with the BNP, their threat is exponentially magnified. Already there is growing talk of secession among the nations on the grounds that we in the Federal Government have failed to protect that Pantarox city. Further, Ecklen's seizure of power, for better or worse, has added fuel to that fire among political puritans."
Suddenly the veteran Admiral Bellendswood interjected into the discussion. "We persevered through Septic Springs, we pulled Brickingrad from hell itself, and we will redeem the Federal government in El Deplorablo's reconquest."
"Let us just pray that the numbers of Tithes stays high," said Kurezohn solemnly.

"Ah, Turan, you finally made it," began Amlax, "now we can get on with business."
"Right, inside," added Thermaleis.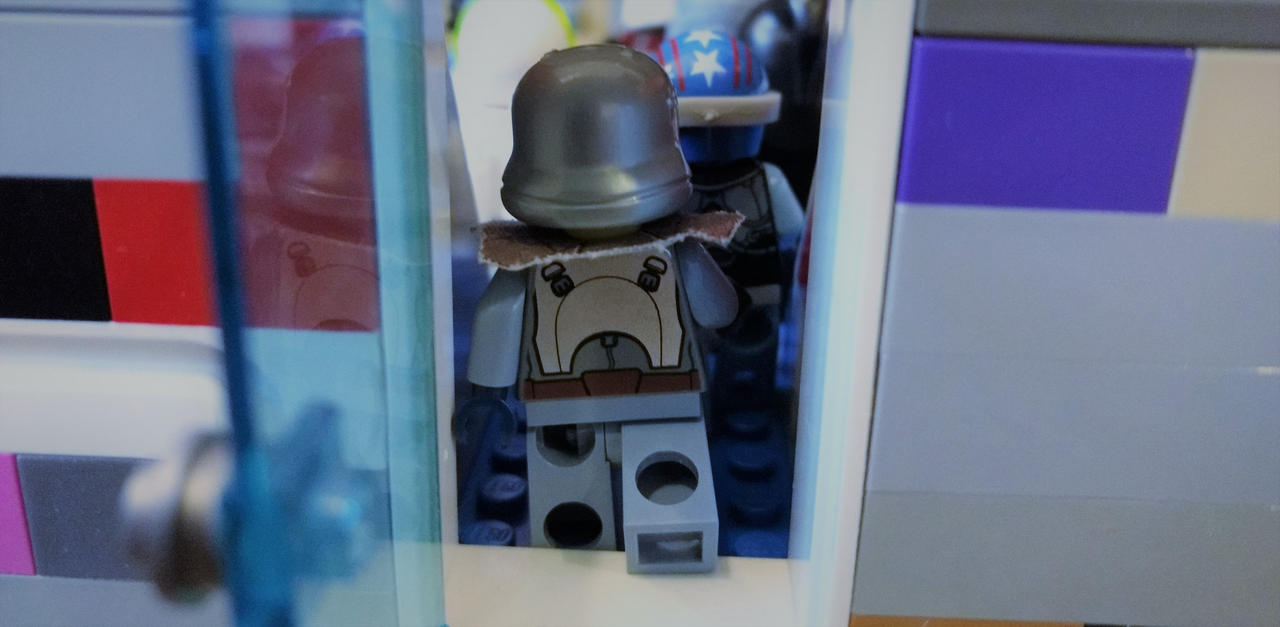 All together the officers proceed into Ecklen's HQ.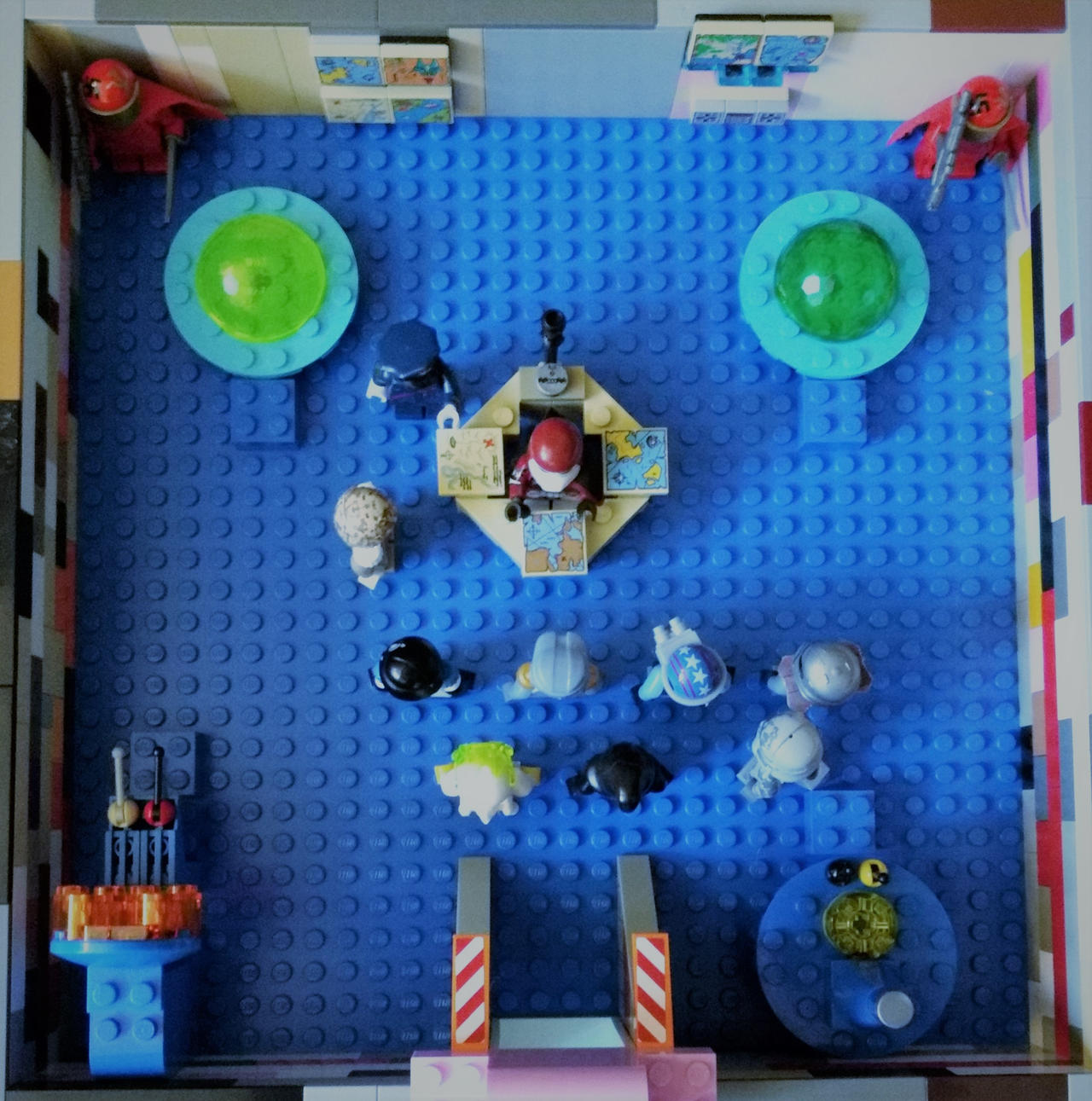 The officers stand before Ecklen's command booth, finding Agbennfeld and Phanto already there from having debriefed Ecklen on the disaster of the counter-assault. 3-D map stations sit in each back corner, and special command interface stations lie in the other two. Maps of Fiat Lucs the planet are arranged on the back wall and a pair of Red Guards watch over the whole scene.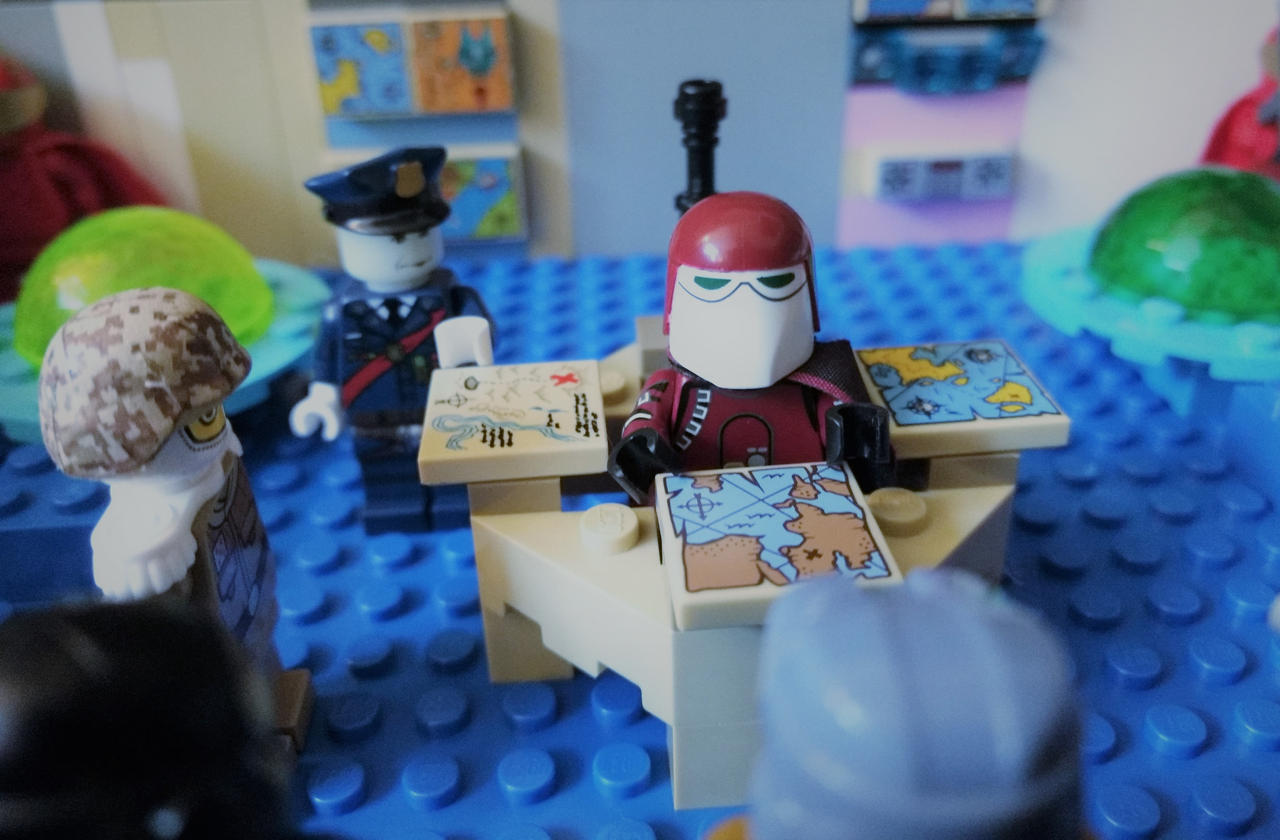 "Welcome, gentlemen," said Ecklen energetically once his guests had assembled before him, "To the Blue Room."
"I have had this place built from a recreational computer room of the Bucephalus to act as my personal command office, and it is from here that I will reaffirm the Star Union's vitality. From Agbennfeld and Phanto's first-person information I have devised a plan that involves all of you to reverse our country's fortunes. So listen up like you mean it because I've no time to repeat myself.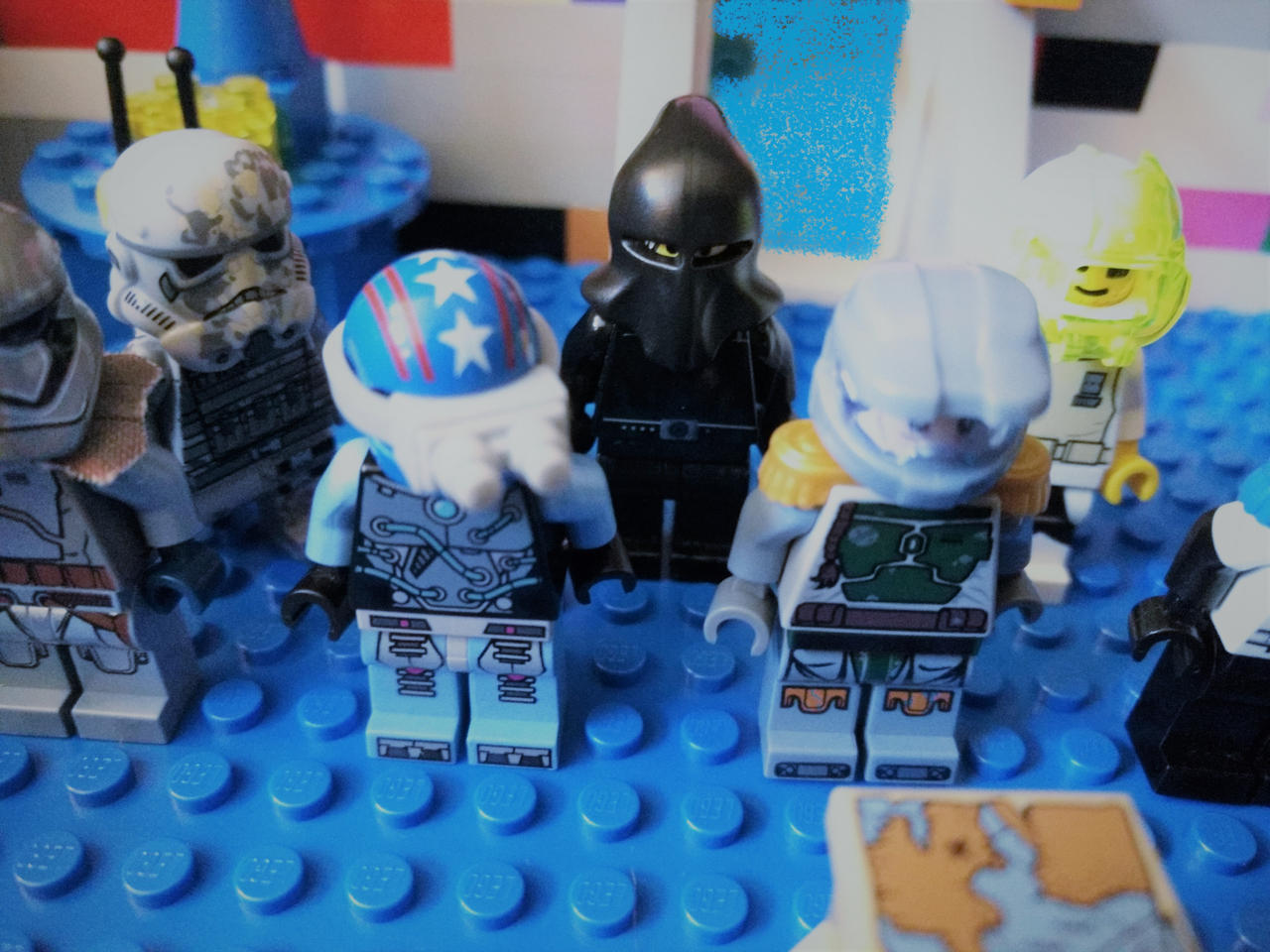 Ecklen turned first to Cruciphere and said, "You are to work in tandem with Phanto and Options Civic forces across the Union to stabilize the domestic situation by any means necessary. In these extreme circumstances you will be given control of Tithe Ranger forces along with the executive commando forces, Shade and Specter. Phanto's men will be the watchers for trouble, while yours will be the ones to turn over every rock in search of it. Whether it be separatists eager to squirm out of the Union at the first sign of trouble, those who use my taking power as pretense to cause strife, or pro-Imperial elements in the Reddish-Brown population, you will cover them all over. Understood?"
"By my jackboots it will be done, General," said the hunter.
"That reminds me," replied Ecklen, "for the duration of my stay as pseduo-president, I must demand that I be addressed by the title of 'Cromwell.'"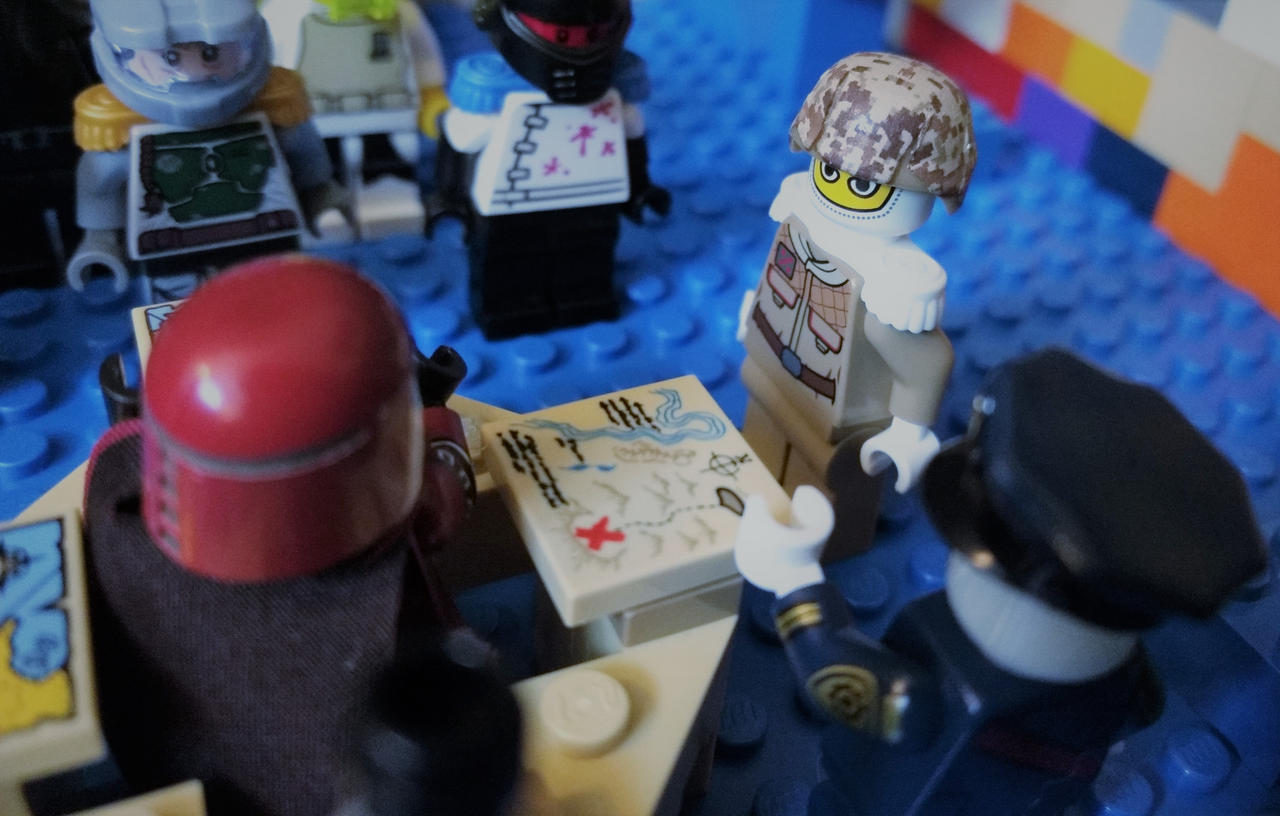 The next to be spoken to was Agbennfeld. "Field Marshal, I'm afraid that with the popular dissent caused by your defeat I cannot allow you another field command at this time," said Ecklen.
"Yes sir," replied the disgraced man with a sigh.
"Fret not!" retorted Ecklen, "your service is not over. You are to go out and rally as many militia forces as can be found. I'm also authorizing you enough funds as required to hire any mercenaries available. Gather them all up and direct them to our main forces near El Deplorablo. With them so amassed our infantry pressure on the city will be overwhelming."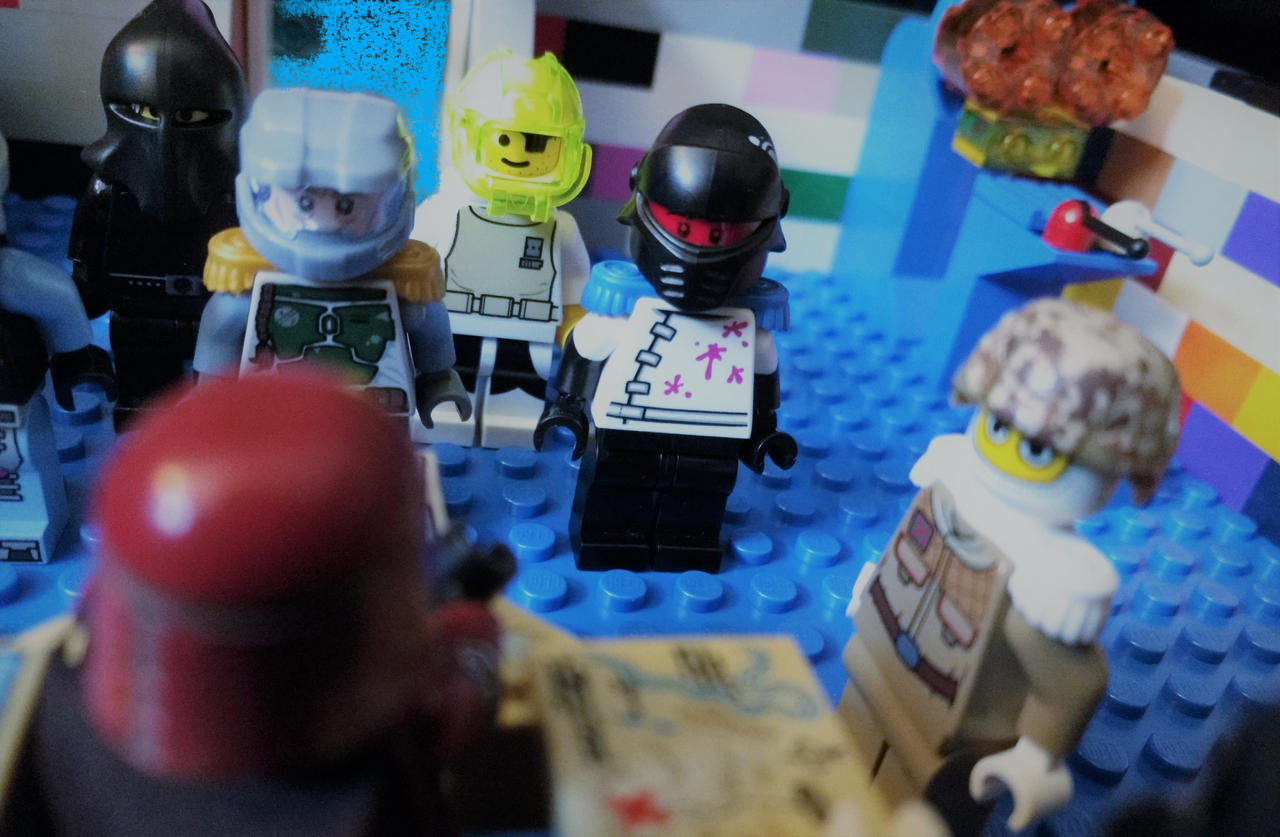 "Stukkins," said the Union leader to his Air Corps head, "I want you to not only round up all available aircraft for the assault, but also to pull all prototype models from testing for combat use."
Stukkins blinked and hesitated before saying, "It will be exciting, sir."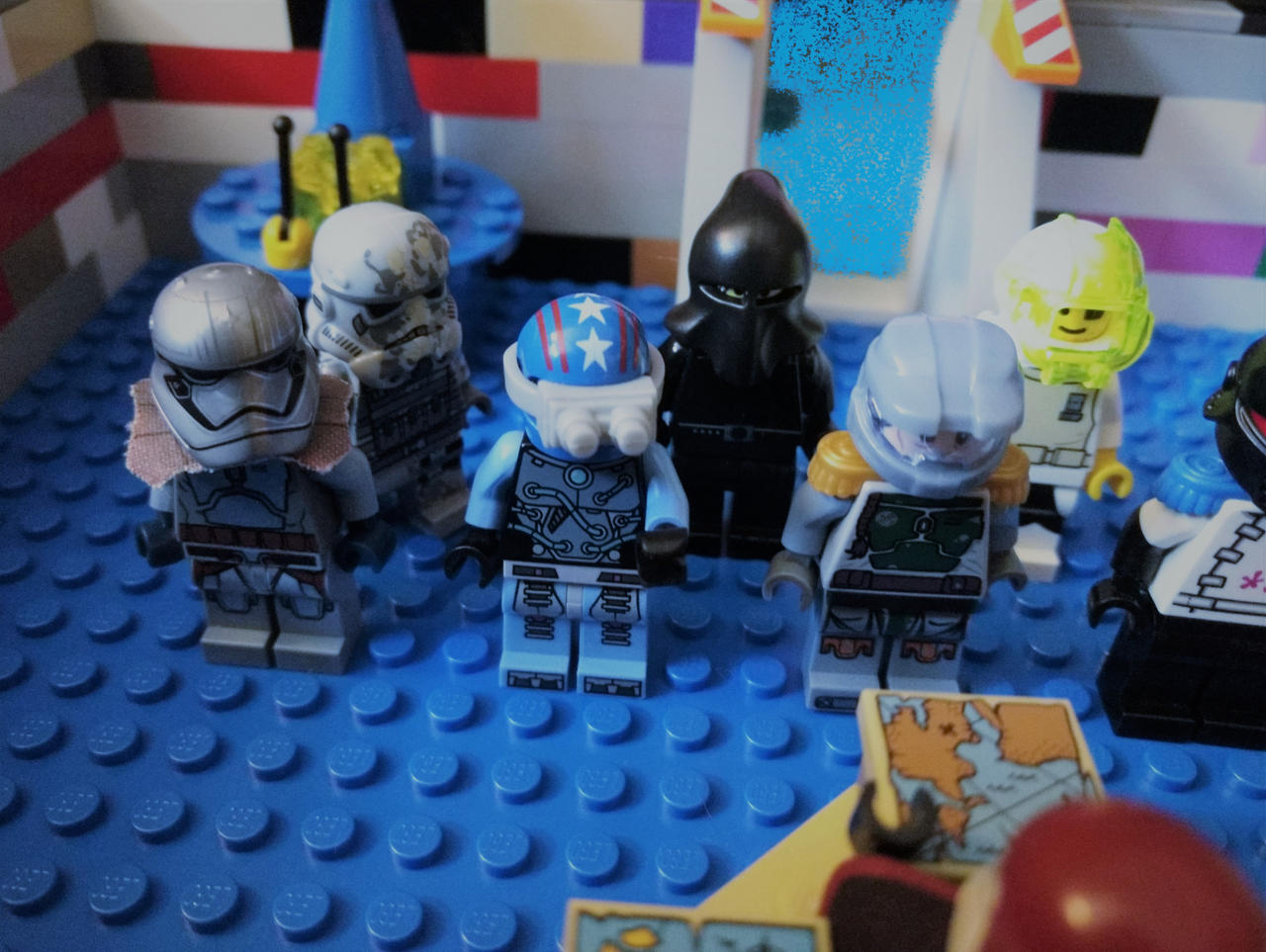 "Assault?" asked Thermaleis, "You must mean on El Deplorablo. Why are four of us Options Military generals summoned here instead of just one? You don't expect four of us to split command of one operation do you?"
"Oh, no," Ecklen said while ignoring Thermaleis' impertinence, "it's true that I do plan only for one of you to lead in the field."
"Who?" Thermaleis spat out.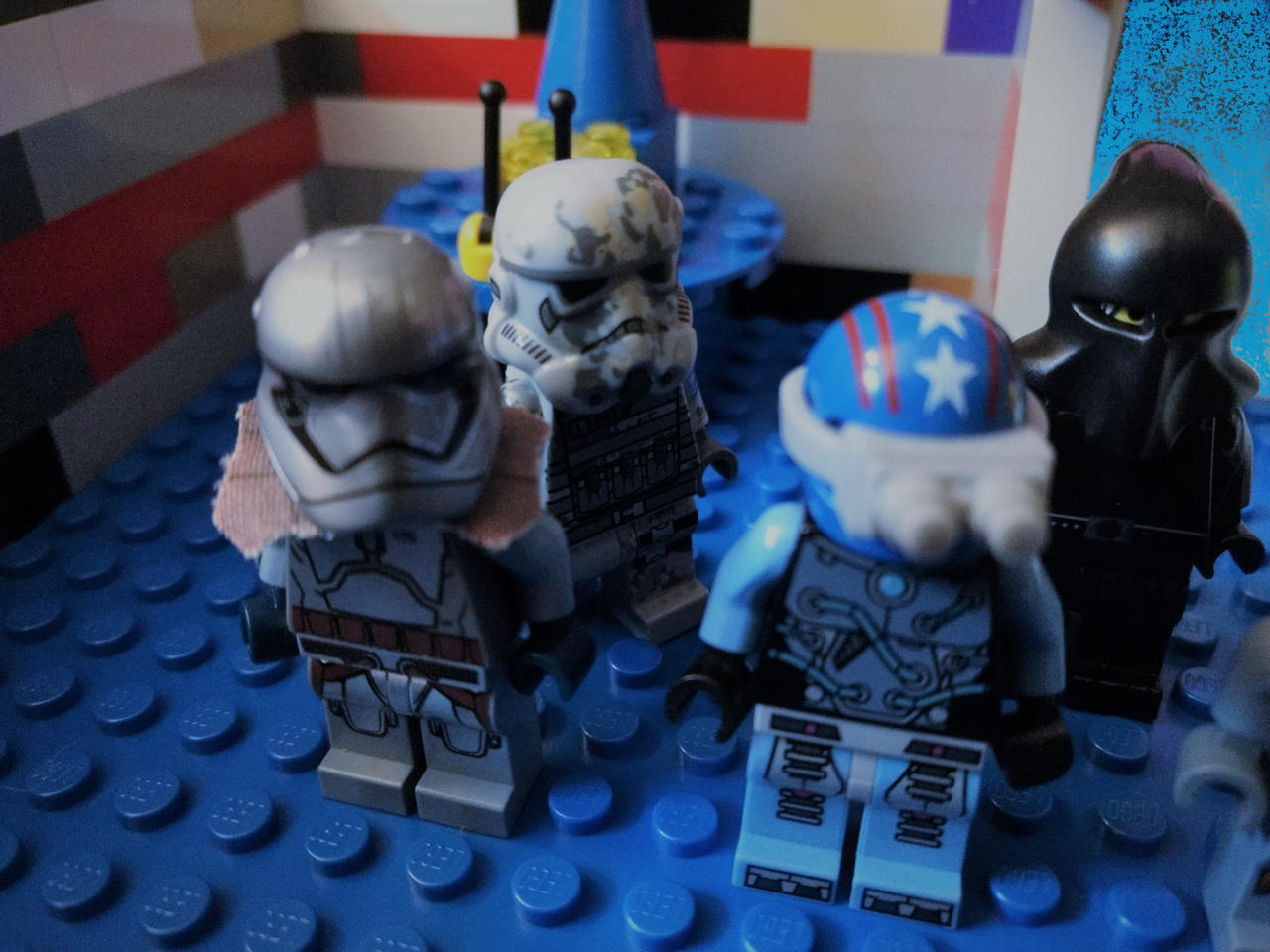 "Turan, of course," Ecklan stated plainly as he motioned to the general wearing mottled armor in the back.
"What? But of all of us here he's the youngest and least experienced!" Kurezohn protested.
"Exactly," Ecklen replied. The emotion seemed to drain from his voice and turn cold as he explained, "Turan IS the least among you, and that is why I need the rest of you here. I expect whoever is sent to lead from the front, and so risk death. If you die, Turan, it will be a lesser loss to the FSU at large. Does this give you pause, boy?"
Turan's 33 years flashed before his eyes. He was the disgruntled son of a lumber mogul and his father had tried to force him to take over the family business. The man had disowned Turan in his late teens when he refused. Things only got worse when his fiance at the time joined with his father in trying to compel him down a path he willed against, and Turan at that point turned into an unbound and ruthless person. He joined his state's militia forces and by merit and aggression went from getting an officer commission within it, to becoming a Paternite leader of Tithes, to becoming the OM General he was now. He was above all known as a dramatic risk taker, such as when he had personally chucked a satchel of TNT into a comboint hive.
All this the young general recalled in a second, and in his soul he understood that his life had led up to this moment.
"No sir," he said firmly, "it does not."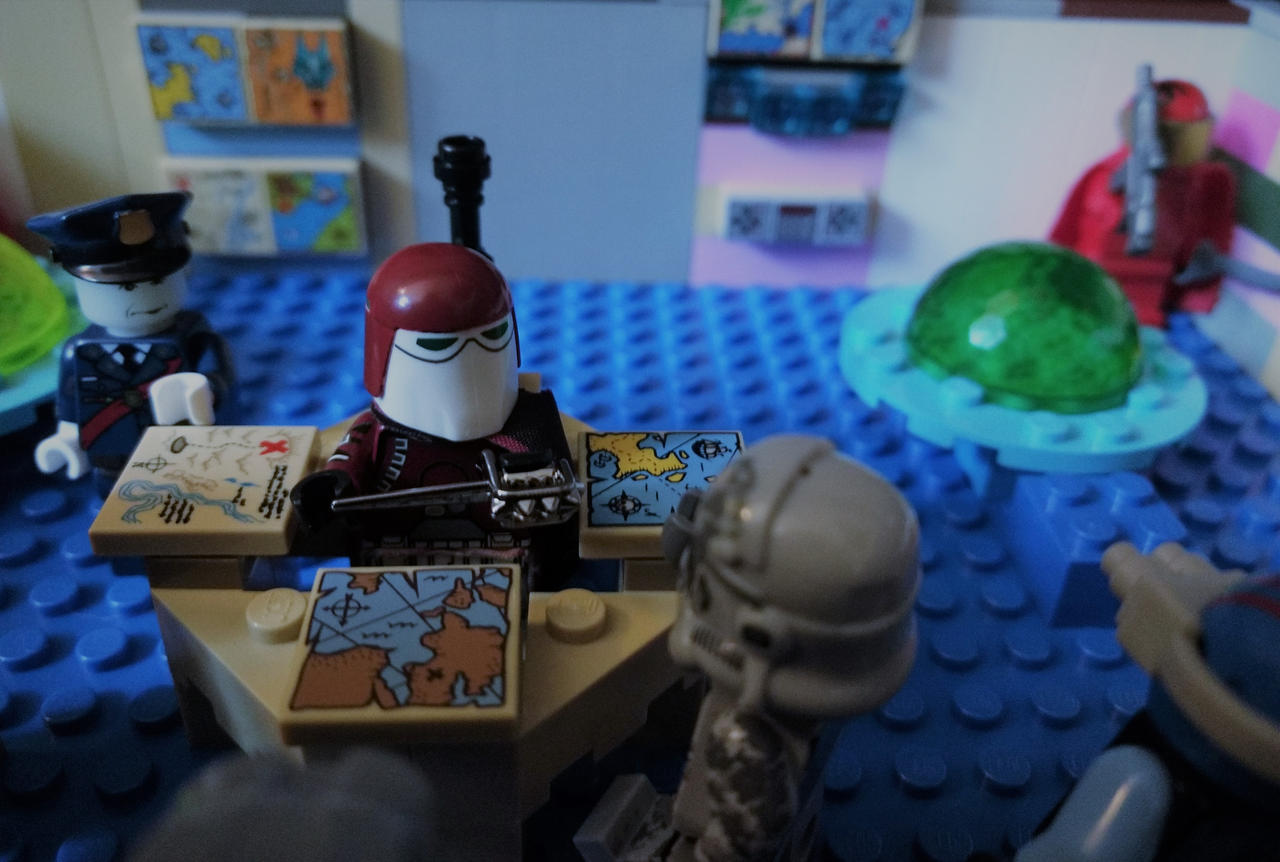 "Then step forward and take this chromium war dagger, Turan," said Ecklen as he held the blade's handle out. "The priesthood had it commissioned for whoever I appointed this task. Its blade is three sided, as the recognized priesthood has three denominations. They ask that if the Emperor be taken alive, that this knife be driven underneath his chin and into his skull."
"It is an honor!" said Turan with audible joy, "I hope my efforts will not disappoint them, whatever happens."
"You may express such to them yourself, Turan; a representative for each of the three will be attached to your forces."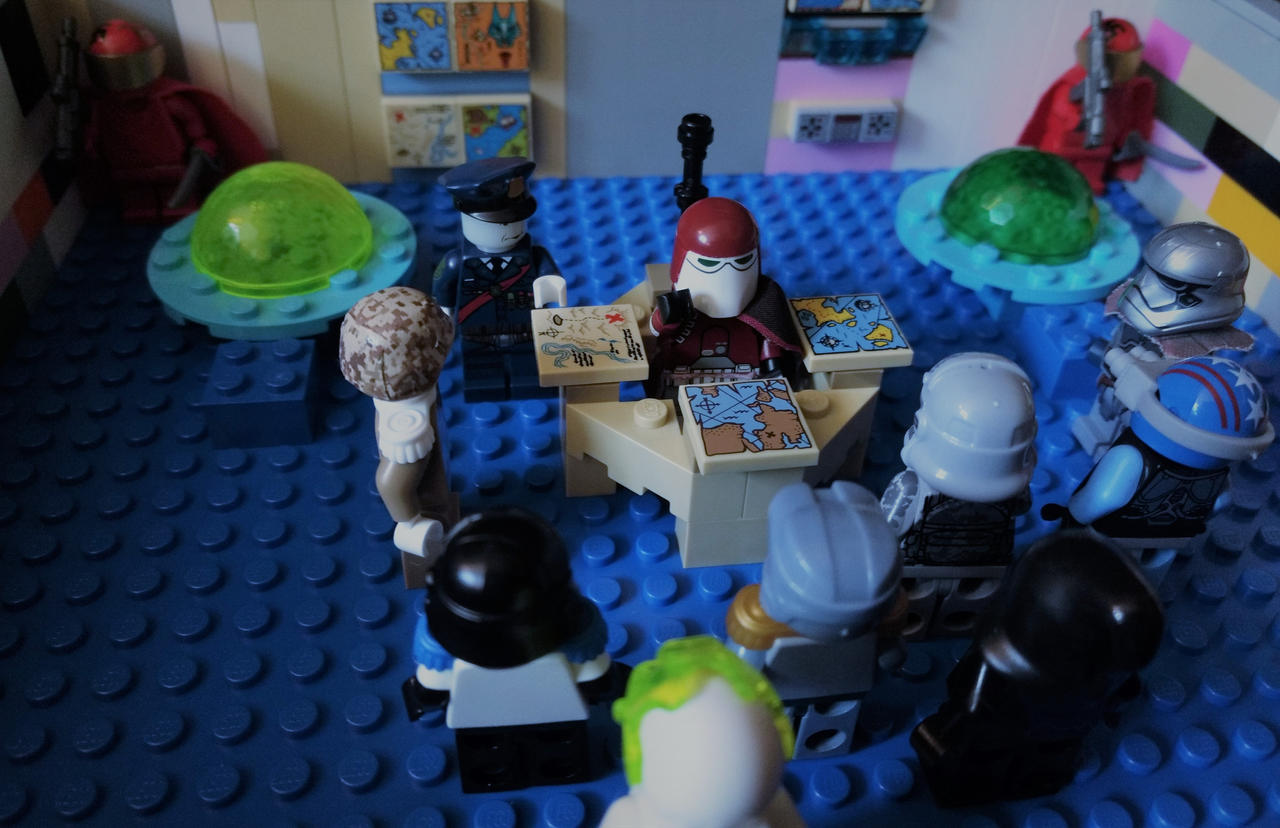 "Now," began Ecklen as he turned away from Turan to the others, "Amlax, Kurezohn, Thermaleis and Bellendswood; all of you will remain with me here at the Blue Room and act as my staff. At the stations built here you will assist me in coordinating the resources of the Union during this crisis."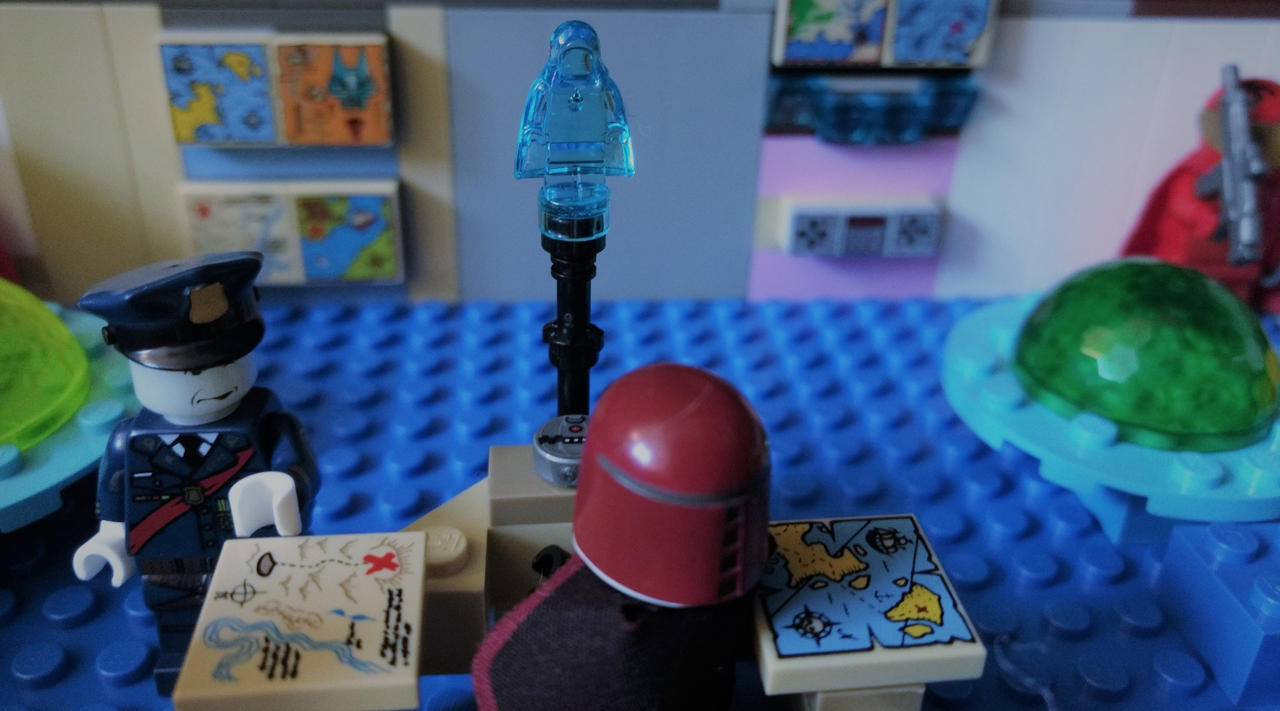 Suddenly an alert noise sounds from the command booth. Ecklen smashes a button and a hologram of Air Corps General Mahzyom appears.
"Hello, sir," said the tiny blue figure in a crackling, digitized voice.
"Hello, General. I already received your confirmation that Planetary Assault Fleet Venator was turning around to head for Fiat Lucs. What is the occasion?" Ecklen asked.
"The situation has changed. Shortly after we left the group of other fleets on the BNP frontier, the enemy launched a focused attack. Apparently a blockade running task force made it through and is headed for Fiat Lucs as well. They're not far behind us," reported Mahzyom.
"Is that so?" spat Ecklen rhetorically.
"That is not all either," continued the little specter, "my fleet's picket ships have detected a small, unidentified fleet forming near Fiat Lucs. I asked an OC Void Patrol squadron to investigate and the unknown ships opened fire on them."
Underneath his maroon and white casing, Ecklen was frozen. "Will this be more than we can overcome?" he thought to himself. Yet he knew that fearing failure, entertaining the idea of its likelihood, was the surest way to guarantee that outcome. He was trained to think that way. He had seen it in action. Practiced it. It had to be practiced again now. Orders had to be given.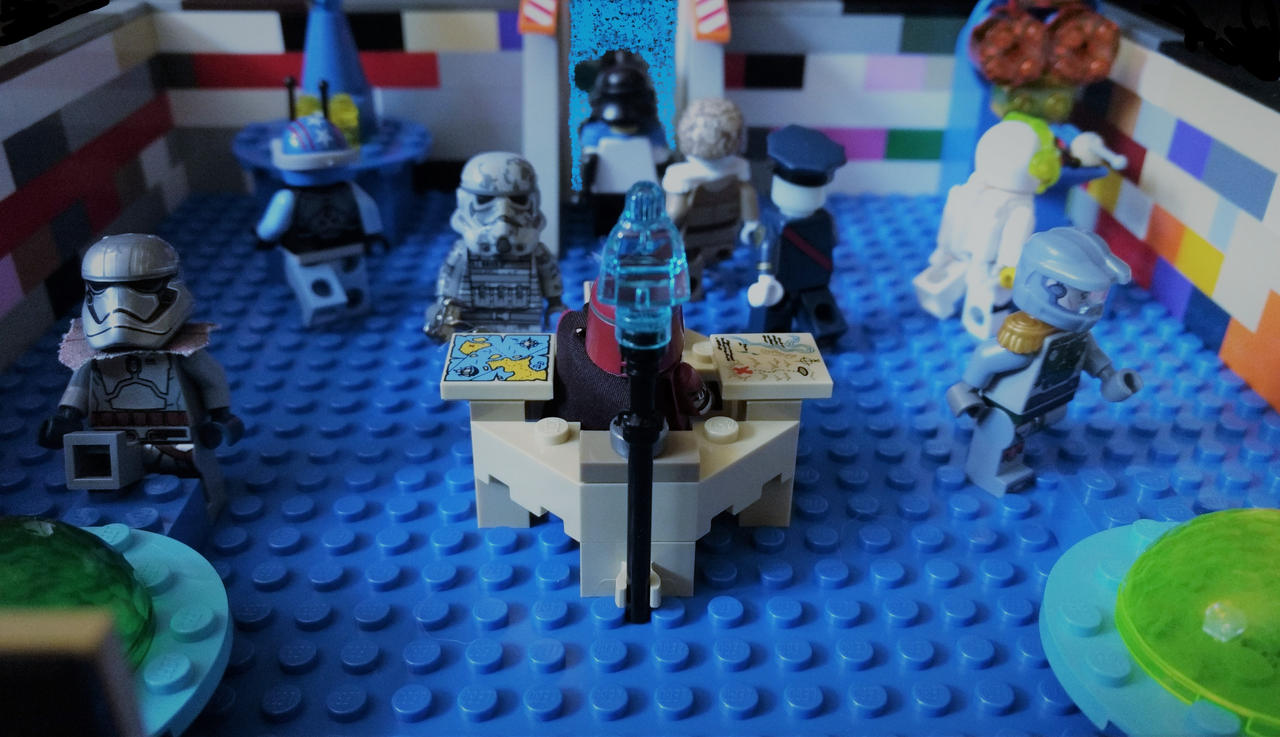 "Time is now even more of the essence! Officers of the Union, execute your orders!" shouted Ecklen as his subordinates rushed for their stations. Only Turan lingered.
"Through the bottom of his chin, sir," said Turan confidently.
"Drive it deep," replied Ecklen as he afforded himself a smirk beneath his helmet.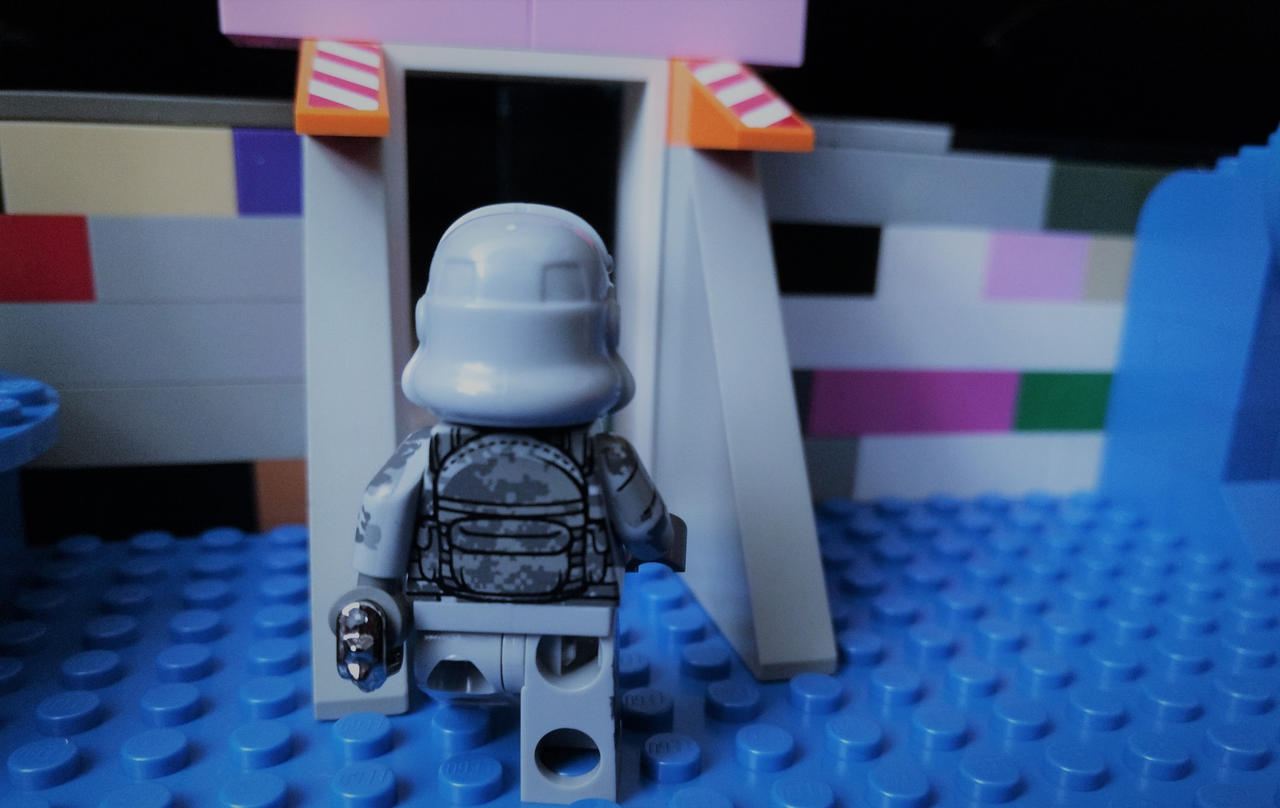 Turan leaves to take command of PAF Venator's ground forces, and hopefully retake El Deplorablo.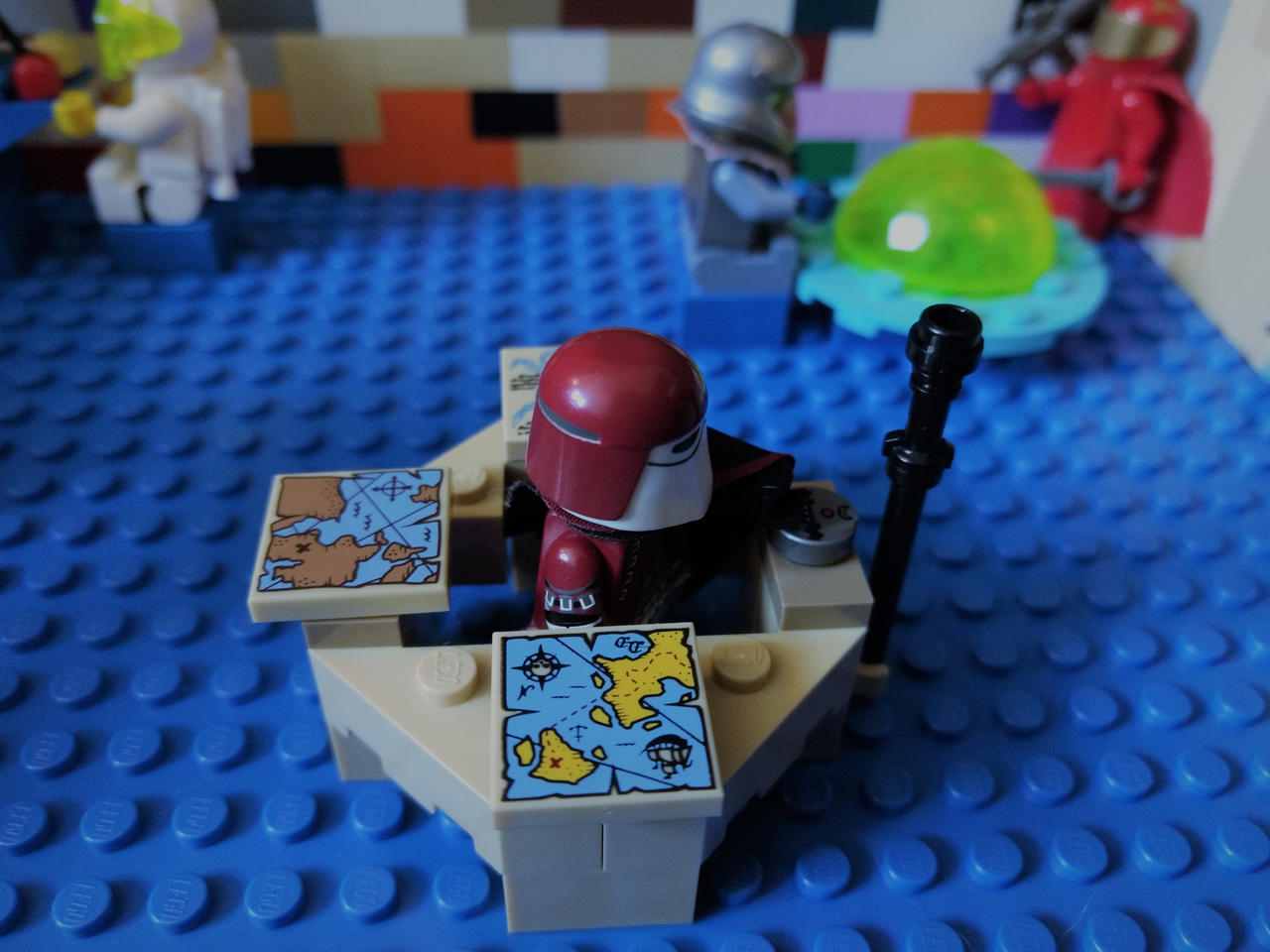 With his first wave of guests, Ecklen summons the next by smashing a button on his booth.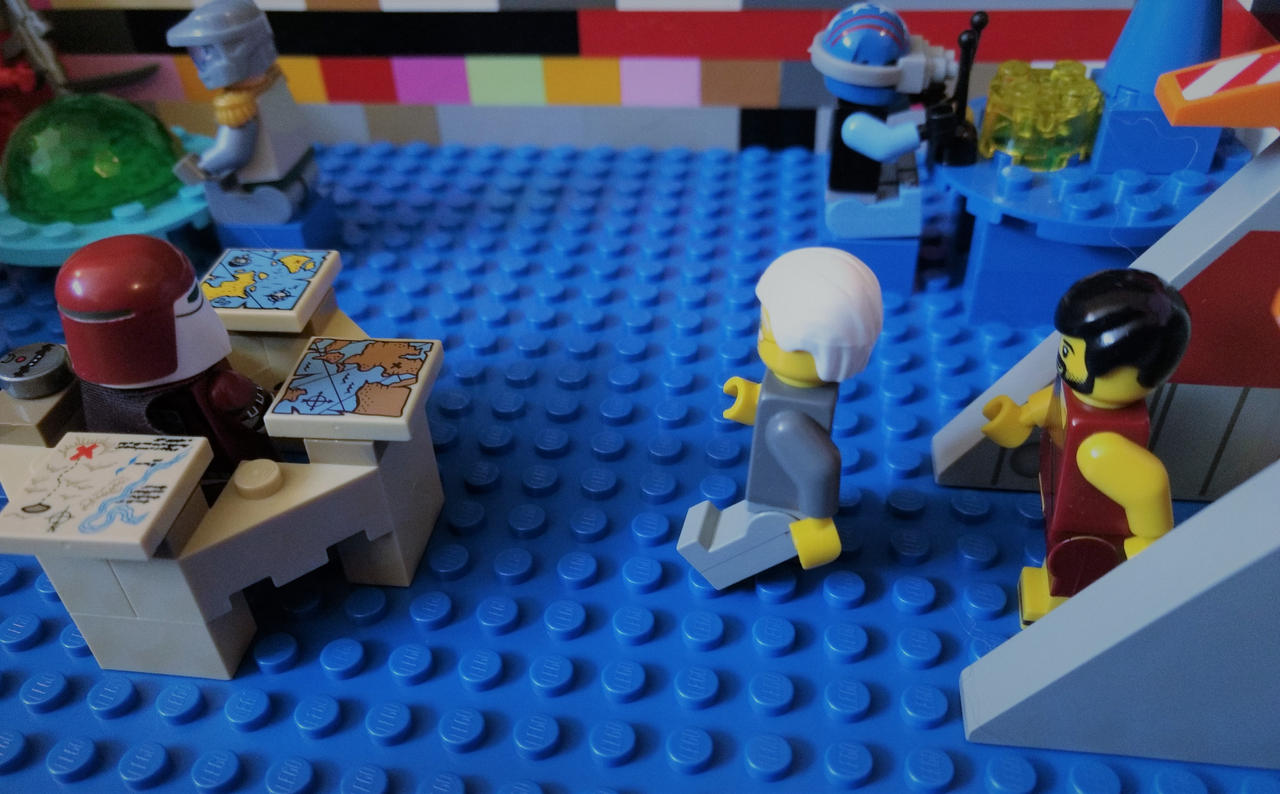 The head of the Developmental League party, Finn Quinn's, entered the Blue Room. He was followed by the head of Roma Intra Vacuum, Rumaldin. RIV had been 'Dubya' Caesar's party, and had not held the presidency since the end of that great man's term.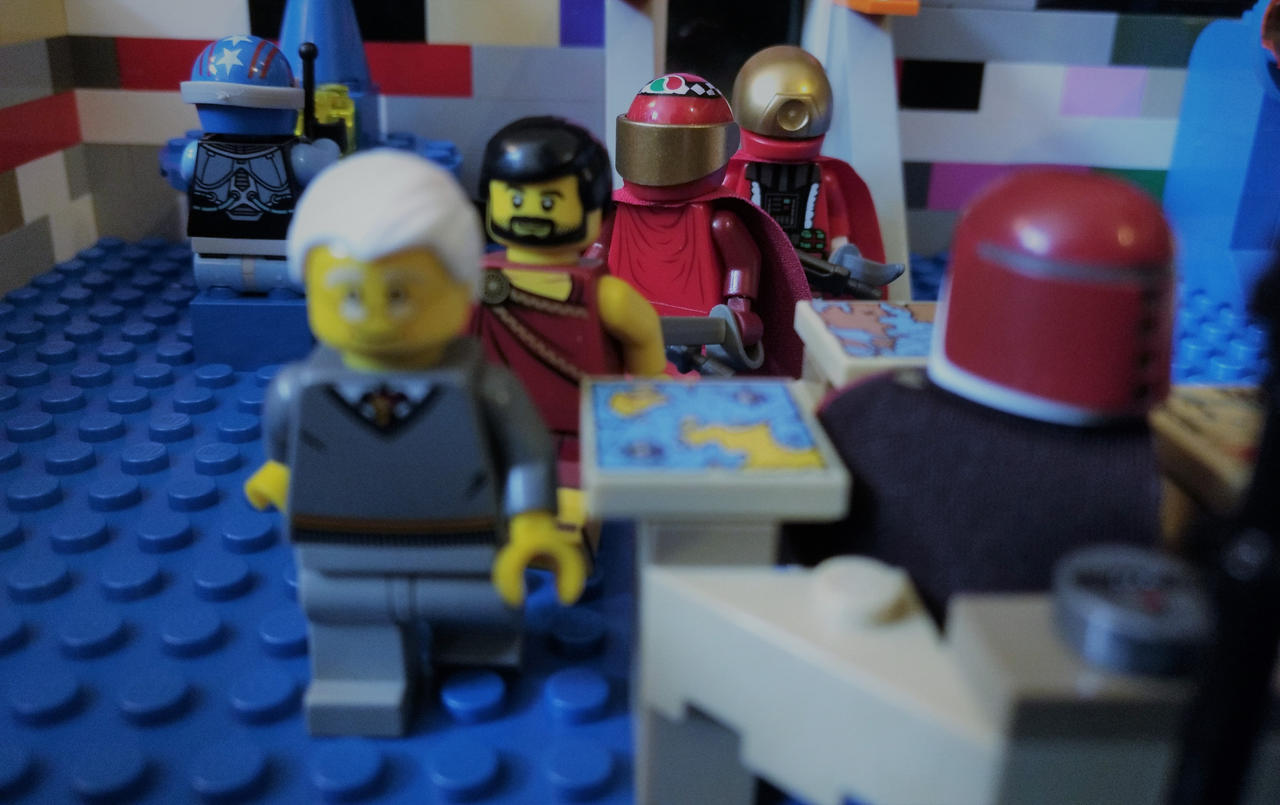 Behind the pair of politicians come two more Red Guards watching over them. There is total silence as the group passes Ecklen's booth.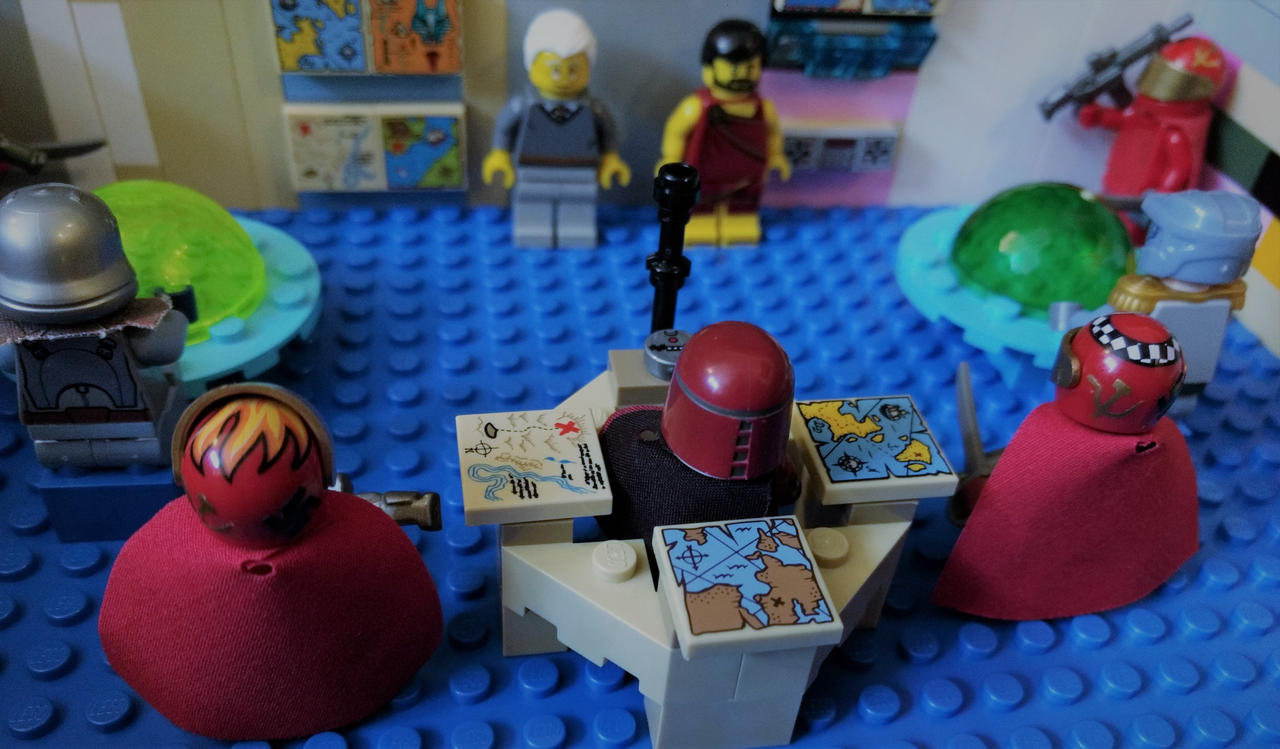 "Greetings gentlemen," Ecklen says to the politicians once they stand between the map displays.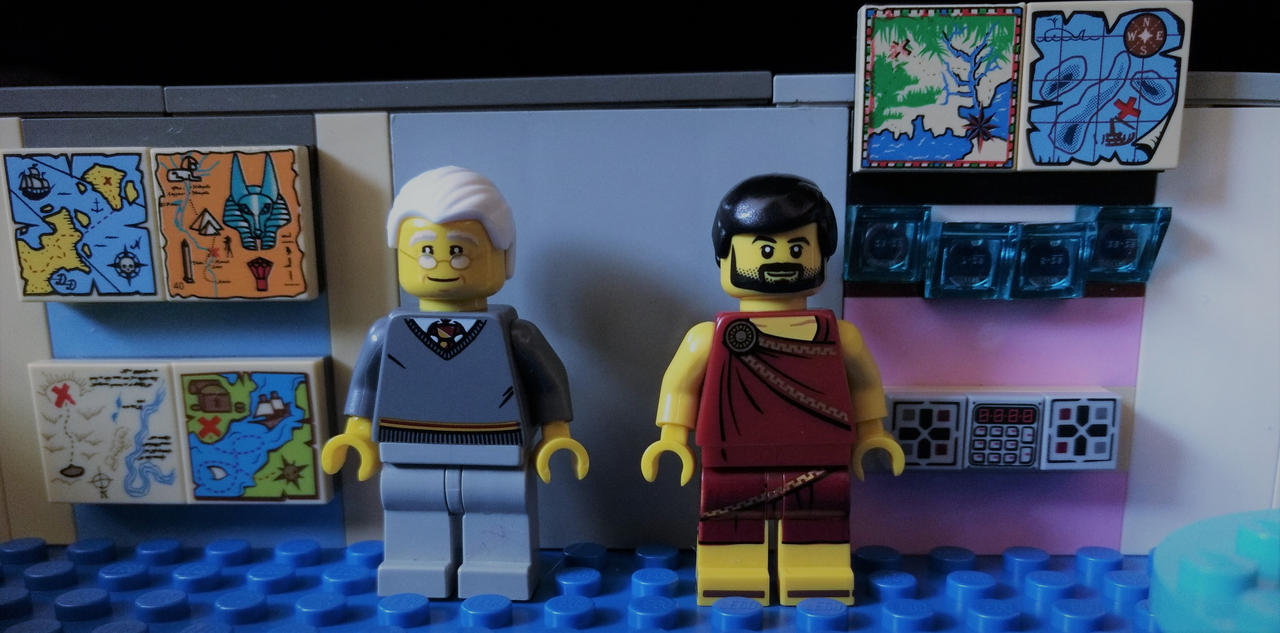 "I know we have been summoned to discuss our party's loyalty," said the DeL leader, a Mr. Domas.
"That's not why I'm here. I asked to be allowed here, unlike you," Rumaldin chimed in.
Ignoring the RIV leader, Ecklen replied, "Indeed, Domas. Go on; make your case why we shouldn't have your party's elites thrown into space."
Domas made a disgusted expression, but after a pause responded, "Because I've already arranged for transparency between my party's records and any internal security forces. If there remain elements of Quinn's sell-out clique, they'll be found. Not only that, I've ordered our party's Wyvern Group to head for El Deplorablo and combine with your reconquest force. The most lethal mercenary band in the Union should be able to make a difference, don't you think?"
"Indeed. Considering all of that, once security forces are done fumigating your party DeL will have gained my trust." Ecklen then turned to Rumaldin and asked, "and your business here was what?"
"I have come," Rumaldin began as he stood straight and projected his voice, "to ask to be handed the arms and armor of my party's greatest leader."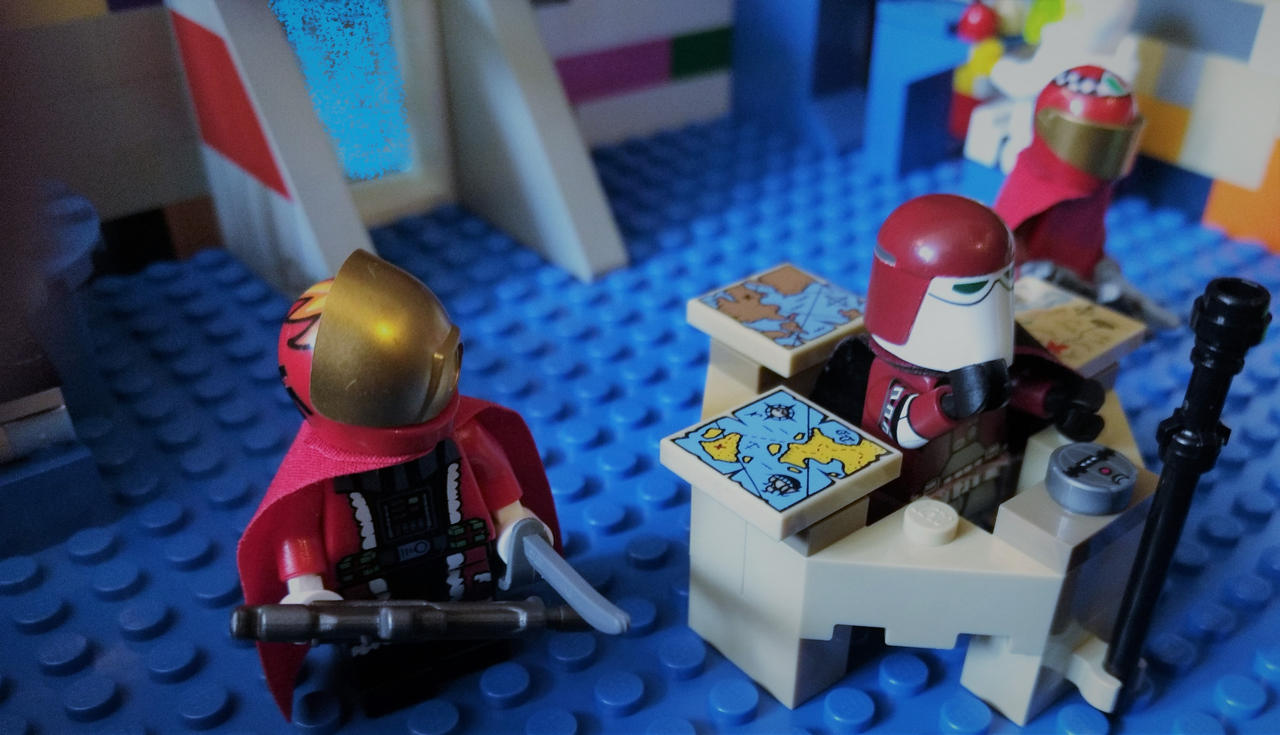 "Granted and dismissed!" Ecklen exclaimed.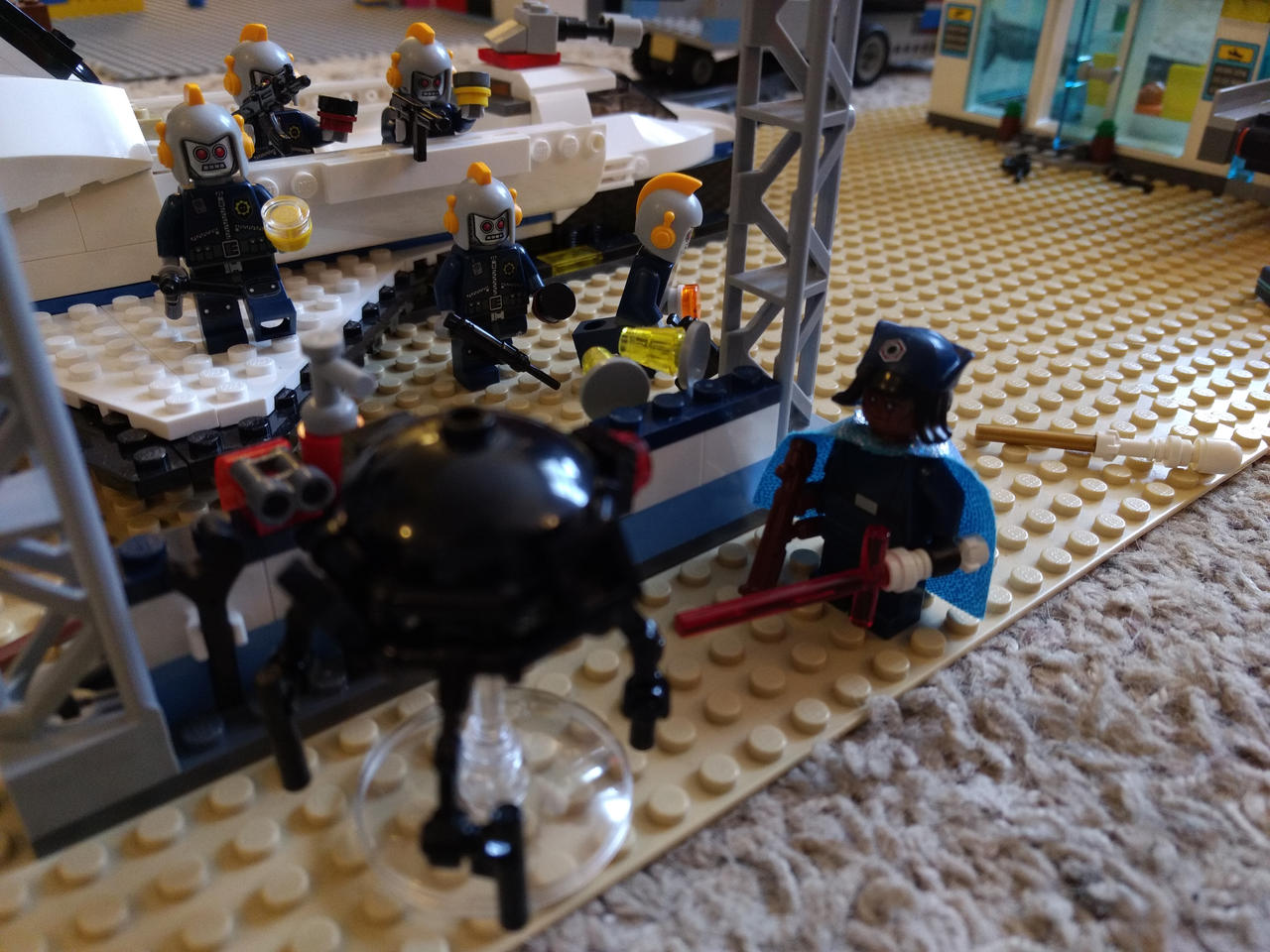 "This is all you've sent?" shouted the Imperial lieutenant at the robotic liason, "5 cyborg infantry?"
"Oh don't be silly, lieutenant," began the robot, "they are not infantry for your city, they are my bodyguards."
The lieutenant was visibly taken aback, but the robot continued before she could say anything. "Do not forget that we have also brought many crewbots to man your primitive weapon systems. That should free up plenty of men to bolster your infantry with. Further, my bodyguards have been ordered to setup a special shield generator to protect the city center from cannon fire. That should hold you over until my masters' main cohort arrives, don't you think?"
"Indeed I do."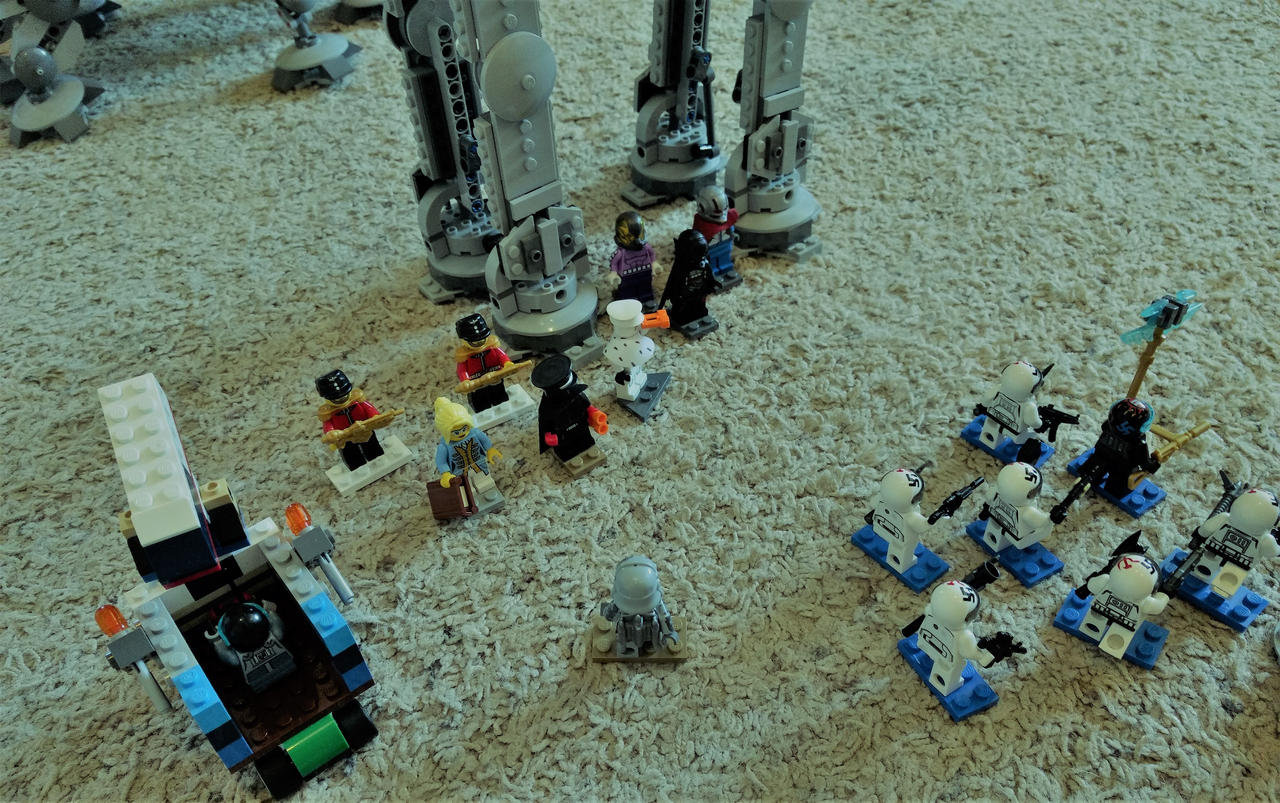 On Fiat Lucs, near El Deplorablo, General Turan arrives at Planetary Assault Fleet Venator's staging area. Here, the ground forces get organized for the big attack. Turan approaches the force's command staff.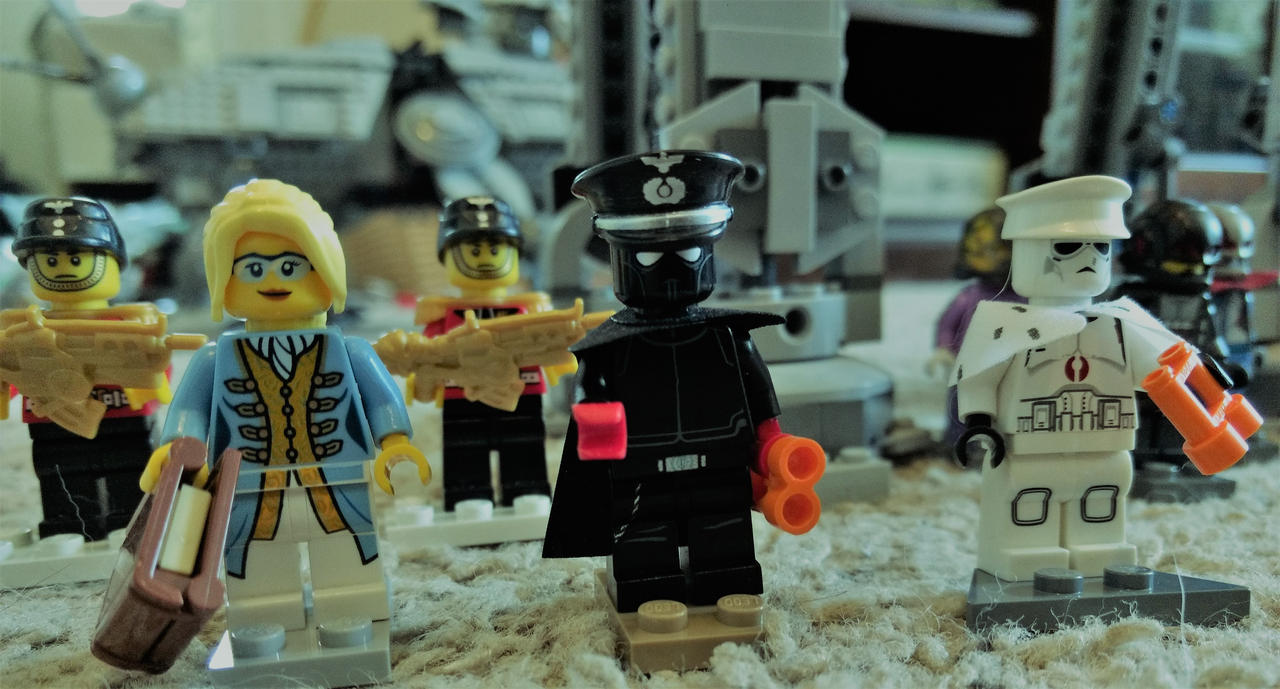 "Greetings, brother General," began the Air Corps commander in the center, "I'm Major General Mahzyom. To my left here is Venator's XO, Colonel Delore. Across him is Lady Lamissa, Venator's Options Diplomatic Proselyte. Now that you've arrived, all ground forces are yours."
This was proper; Mahzyom technically outranked Turan, not to mention that he was older and more experienced. Yet he was of the Air Corps while Turan was Options Military Prime. Thus without an executive order overriding procedures, Turan had sole command of ground troops.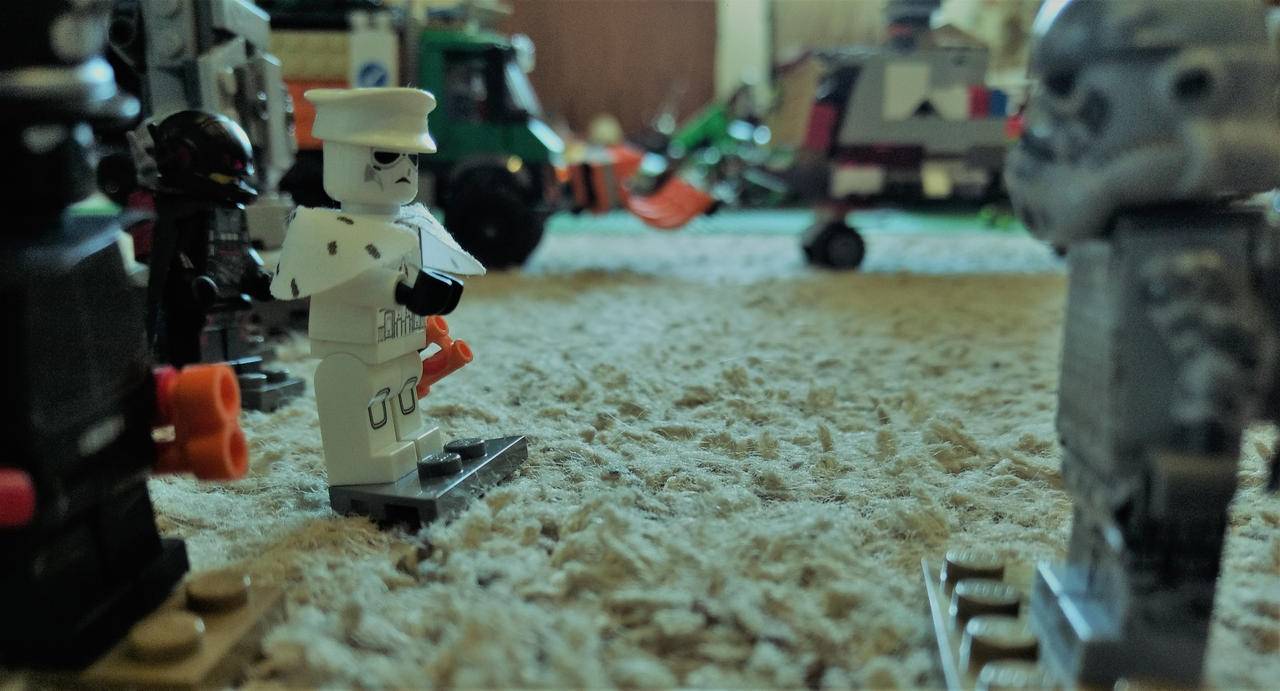 "Would you like a report on Venator's combined ground strength, comrade?" Delore asked of Turan.
Turan had spent the time in transit to Fiat Lucs studying the layout of El Deplorablo and intelligence reports on the enemy. He had not been able to review what troops he would have command over.
Considering this, the general said, "A comprehensive one, Colonel."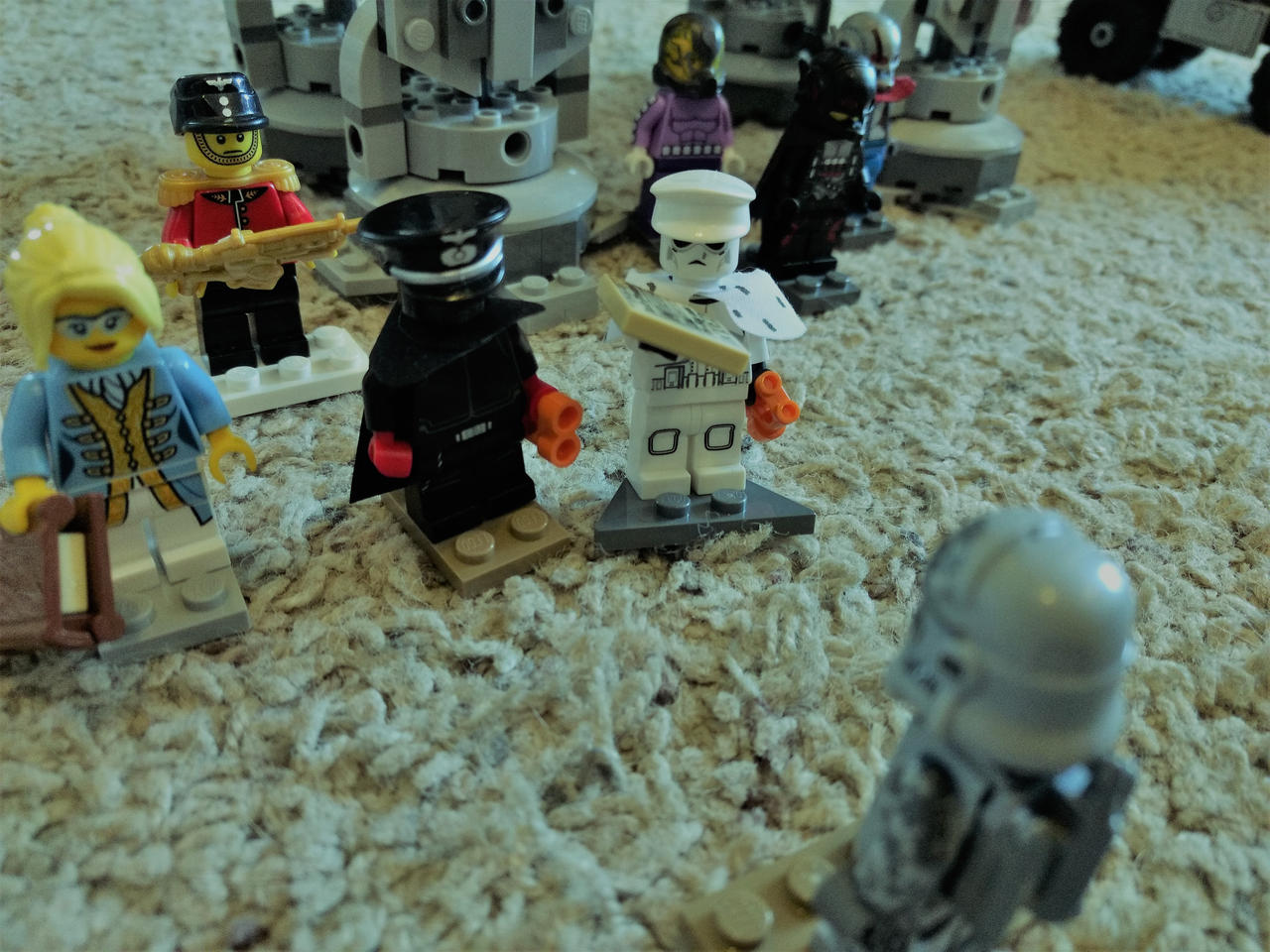 Producing a large card-stock sheet, Colonel Delore began to read out exactly what troops the FSU had been able to assemble for operations today.
"Planetary Assault Fleet Venator's ground complement consists of,
Fifteen standard squads of Tithe Infantry,
A squadron of Tithe Saurian Dragoons,
A unit of Tithe Ebon Rangers,
A heavy assault walker company,
A tank company,
A light assault company,
A three-man Air Corps weather commando team,
And a 4-man team of Command Tithes to accompany you in person.
Additionally, we linked up with the survivors of the first attack; Naval Infantry, FSUMC regulars, a RAOTS chapter, and the militia forces of Kaitar and this particular state, Pantarox. Militia troops from the other Fiat Lucs states have also arrived; Durdedotte, Leo Prime and Fiat Lucs itself."
"What are our deployment assets to get the infantry into the city with?" asked Turan.
"Well," Delore said as he scanned his roster, "we have enough orbital drop-packs to deploy six Tithe squads with, enough light transports for five more, and the tank and walker companies are able to carry two each."
"My air fleet also has two transports that can fly in a squad from reserve per trip each," Mahzyom added.
"What else is in the air fleet?" Turan asked again.
Delore began to rattle off another list. "Five air superiority craft, three ground-attackers, three multi-roles, and two light escort fighters."
"You forgot your own fighter, Colonel," Mahzyom reminded his subordinate.
"Oh yes!" Delore said in audible excitement, "I lead the air superiority wing in person."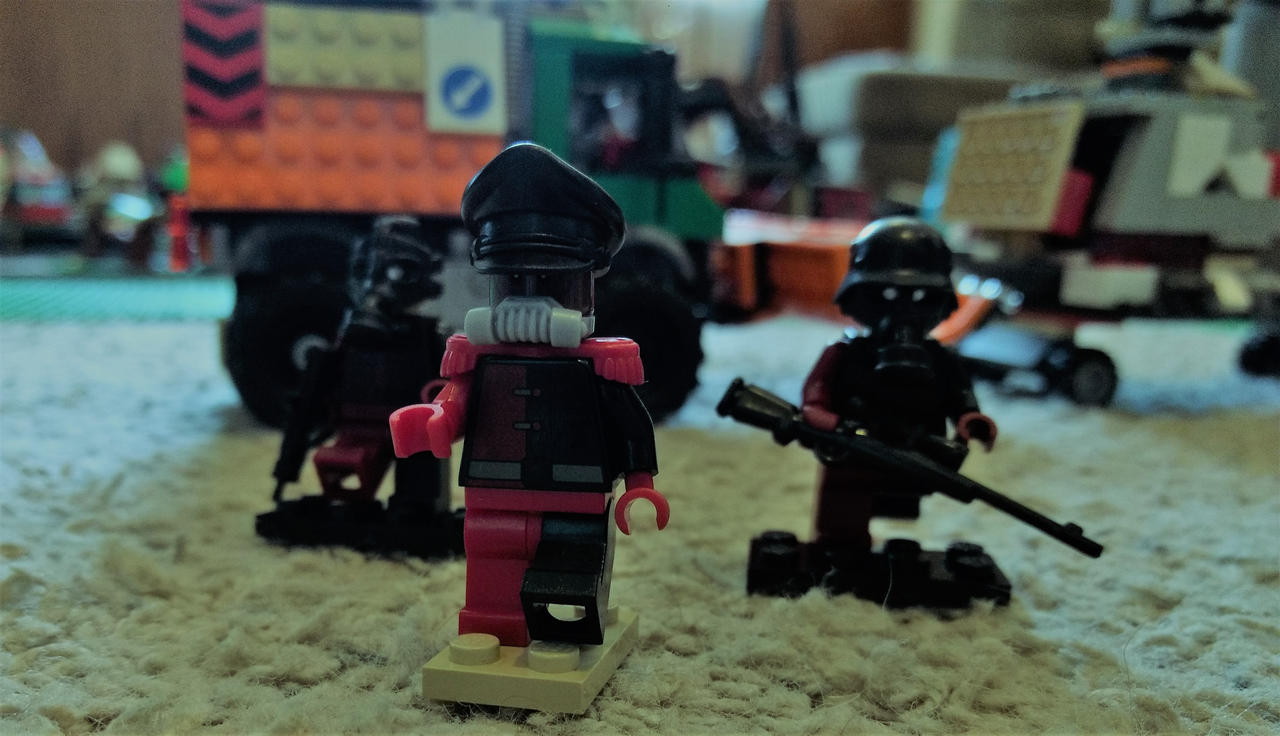 "You forgot about us!" shouted a man in an officer's uniform as he ran with two men toward Turan's group.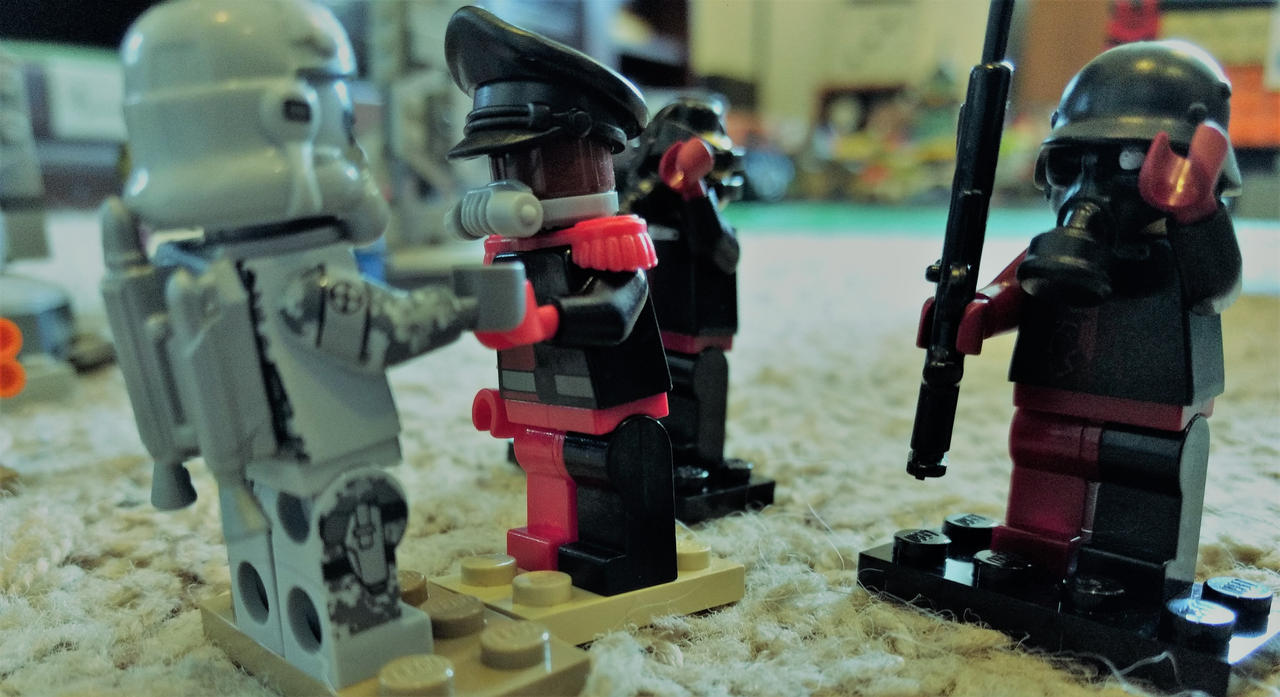 "Marshal Brutalon of the Blood Gorge Society, at your service general!" shouted the stranger cheerily as he grabbed Turan's hand and shook it. Meanwhile his two paramilitaries gave clumsy salutes.
Confused for a moment, Turan eventually said, "pleased to meet you. Are you a mercenary group hired to help today?" He knew they were forces belonging to no government organization, and knew of no other source they could hail from.
"Oh, no!" replied Brutalon, "we're with the Eleutherian Synthesis Party. We are their armed force of concerned citizens, working for the benefit of all our countrymen troubled by enemies foreign and domestic. Our party HQ was in the city, and my leader's last command to me was to take control of the organization. I have decided to use our resources to directly aid in retaking the city. All we ask is to be included in the attacking force."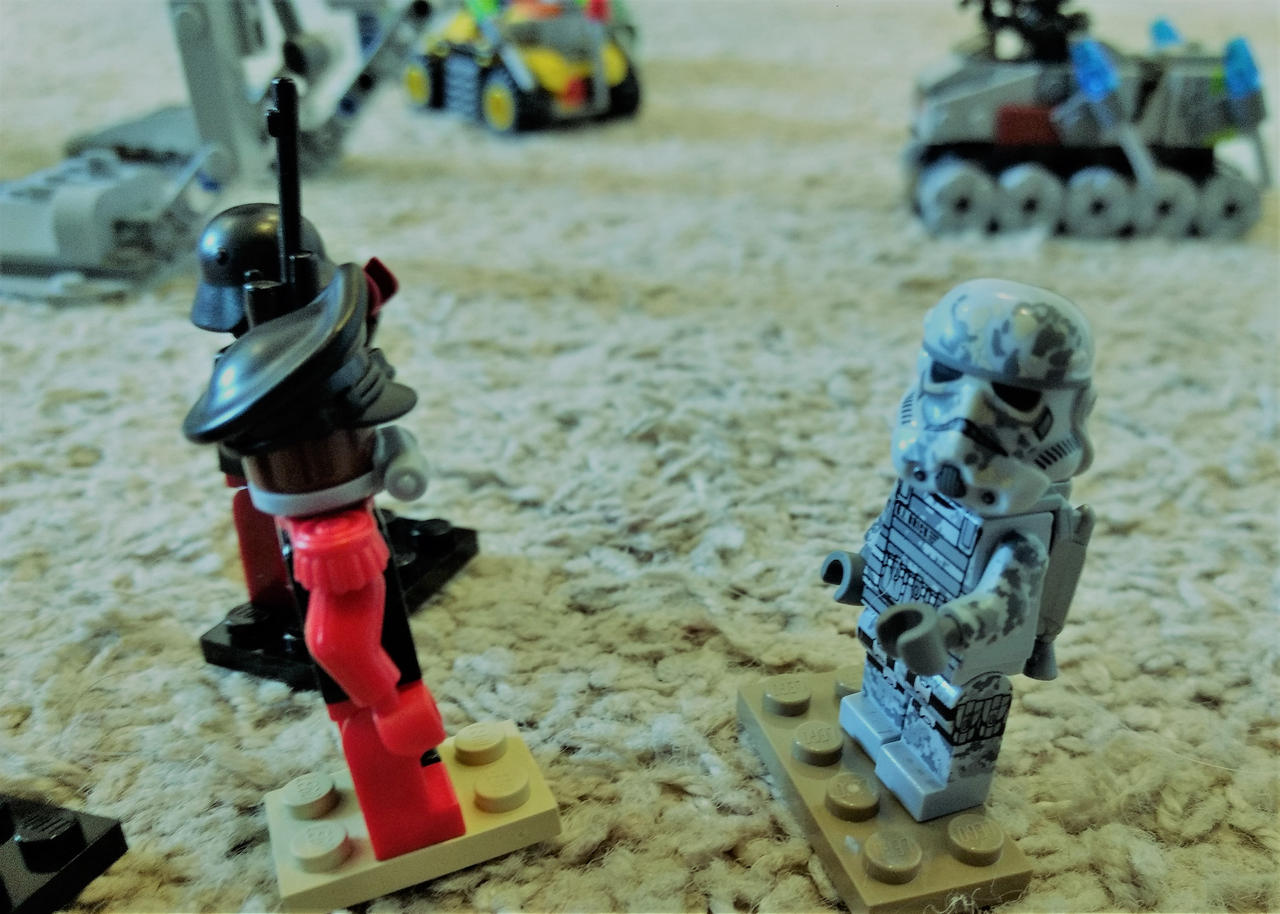 "You look dressed for show business," said Turan. If what the paramilitary said was true, Turan admired their passion but feared diluting his force with untrained men.
"You judge a book by its cover," replied the Marshal, "we come here from extinguishing many Comboint hives on the beset planet of Der Dunkle Ort. All men with me are combat veterans. True proven men of action!"
"Wait, I have heard of you," Turan said at this; it had jogged his memory. "Yes, in news stories and intelligence reports about that planet. Your group was cited for driving civilian deaths down over ninety percent in your area of operations. I'll be glad to have you aboard."
"Great!" Brutalon shouted through his gas mask. He truly was delighted; his party's forces would not only be remembered for participating in retaking the city, they would be recorded as having done so before either other party's troops came. If they showed at all. There was presently not greater opportunity to heighten the ESP's profile and popularity.