This is the start of a Full fledged Britanian LDD Navy. When I was commissioned by Colette to do the Nimitz/Concord Class, someone suggested in chat I should do the Brits, which sounded like a good idea, they're an important faction in the Immortal war, which is about to come to a boil the way things are looking. I only had three reference pieces, The ships in ZZD, a brief description in the excellent border patrol story, and Scythe's LDD cruiser, so I decided to start from mostly scratch. Obviously these are semi-official, in that it's a somewhat disowned puppet faction, but is still under Warheads control. It's only one ship for now, but I'll be expanding quickly if this vessel is well received
The
Spithead
Nebula is the home base of the Britanian Navy. Tall ships of all shapes and sizes can be found here, some of them dating back decades in construction, A patient observer can make out the lineage of many of these ships, as vessel design changed between ships of the same class, to a point where very few looked truly alike. The largest and most powerful, aswell as some of the newest ships found here are the
Glasgow-Class
second rate ships of the line.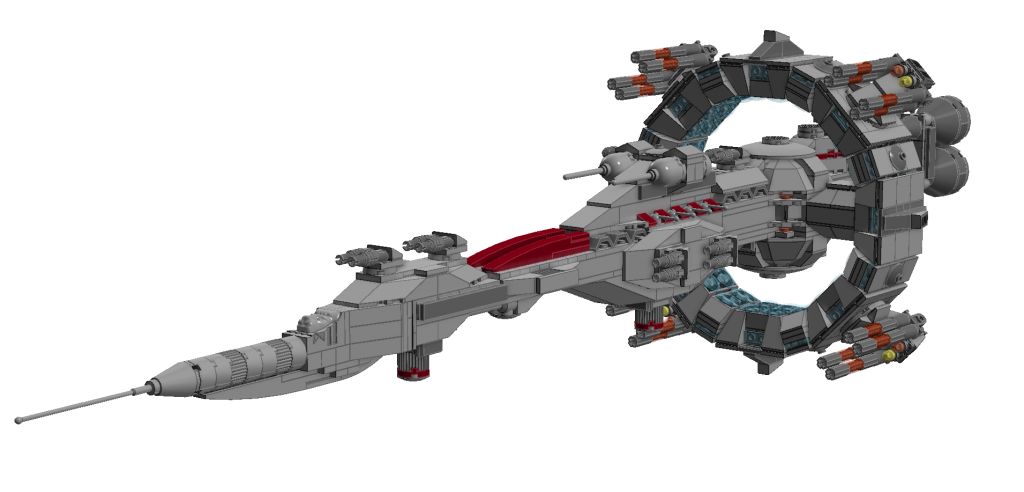 Very few pure bread heavy artillery platforms exist, and the
Glasgow Class
revels in this status. It's stature puts some Dreads to shame, and its primary armament of four quad repeating artillery guns is designed to dessicate hulls in quick fashion as targets are bombarded with high velocity hybrid ammunition, battleships are ripped in two, and when multiple
Glasgow
ships bring their combined strength onto larger targets, the results are no less devastating.
The defining characteristic of the ship is the large ring that surrounds it, within it the vessels warp and shielding equipment is contained, in this configuration the vessel can have a faster warp drive compared to most other vessels, and can run shields over a larger area with minimal drop in intensity.
Sub-light propulsion on this vessel is surprisingly low-tech, with four vectoring-chemical rocket motors providing forward propulsion, and a reaction wheel system for turning.