Open the spoiler for a "who's who"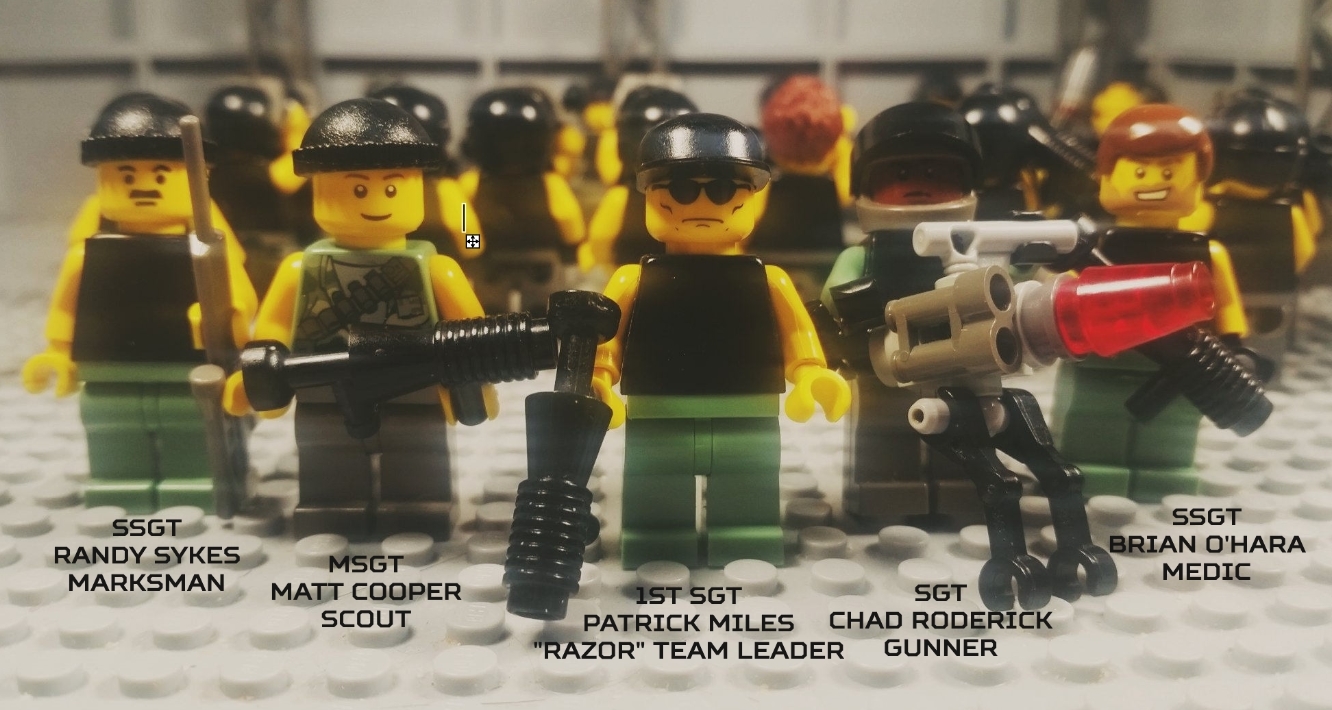 Razor Team is a Force Recon team apart of the USA's 8th Marine Expeditionary Unit, or MEU
You may recognize these names... if you do... you know how this will end up :>
Onboard the USS Khe Sanh
Half a parsec from the southern border of the Gold Sector, 72 hours after the conclusion of the Arhus Crisis.
20180506_201611
by
Dic Jacobus
, on Flickr
MSgt Matt Cooper: So are the guys coming?
1st Sgt Pat "Cueball" Miles: They're already waiting for us.. Hopefully the Captain isn't there or we're both gonna be in the can.
Ship's Captain in the background
Welcome to Operation Harvest Red, just a few lightyears to the North is the small country of Zagoria, home to 10 billion Native Zagorians, and some 2.5 billion Ethnic Galacian expats... they are not the best of friends...
20180506_201815
by
Dic Jacobus
, on Flickr
Cooper: Hey guys...
SSgt Randy Sykes: Hey Coops, Cueball caught ya sleepin in did he?
SSgt Brian O'Hara: yeah.. snoring and all I bet..
Sgt Chad Roderick: Yup, I'll vouch for that
Cooper: awww. shut up!
20180506_201838
by
Dic Jacobus
, on Flickr
Ship's Captain in the background
To those of you who watch more Cartoons than ANN, this may come as news.. but thankfully, you're all not like me...
20180506_204259
by
Dic Jacobus
, on Flickr
Ship's Captain: Gentlemen.. WE ARE GOIN TO WAR!
20180506_204347
by
Dic Jacobus
, on Flickr
USA Marines: YEEAAAAAAAAA . YEEEEEE HAWW!
20180506_204259
by
Dic Jacobus
, on Flickr
Ship's Captain: Politicans will call this a peacekeep'n Operation, but make no mistake. we have a Clear enemy! We're up against a well armed insurgency called the Cherhovna Bryhada.. These are the guys responsible for the attempted Coup two weeks ago.. Now some of you were involved in the recapture of Monolith Station, So you know what these insurgents did to the local Garrison. But you gentlemen are USA Marines, you Fought in the AN-TA war, and most of you still have sand in your buttcracks from the deserts in the Irak system... And these Cherhovna Bryhada will not present you with a challenge..
20180506_204436
by
Dic Jacobus
, on Flickr
*Marine Captain Shaftoe approaches the group*
Ship's Captain in the background
tommorow Morning, you marines will step from your landing craft, and do what marines were made to do, to KILL! They on the other hand.. will wish they picked a country bordering freespace
*Cheering*
Shaftoe: Miles... Razor
Miles: Captain...
Ship's Captain in the background
Gentlemen, Now it's gonna be hard to distinguish between enemy, ally.. and civilian.. you sandy crack boys should be used to that by now, but I wanna make one thing very VERY clear... Shoot a civilian during my operation, and I'll have your ass court-martialed before the barrel has cooled... The next few days will be intense gentlemen, good luck
*Razor team silentley follows Shaftoe to another room on the ship*
20180506_210213
by
Dic Jacobus
, on Flickr
*Razor team takes seats in the office infront of a holo screen*
20180506_210432
by
Dic Jacobus
, on Flickr
Shaftoe: Gentlemen. I'll keep this as short as possible, Miles.. you and I will go over this in detail later, but I wanna sketch it out with your men before that.. OK... Roll the slides..
2018-05-06_10-35-29
by
Dic Jacobus
, on Flickr
Shaftoe: WHELP.. The whole damn Country is in chaos boys.. It was hoped that the MEU presence would deter an all-out war.. but since we shipped out the situation has actually gone downhill.. We're now facing balls-out conventional civil warfare.. so listen up..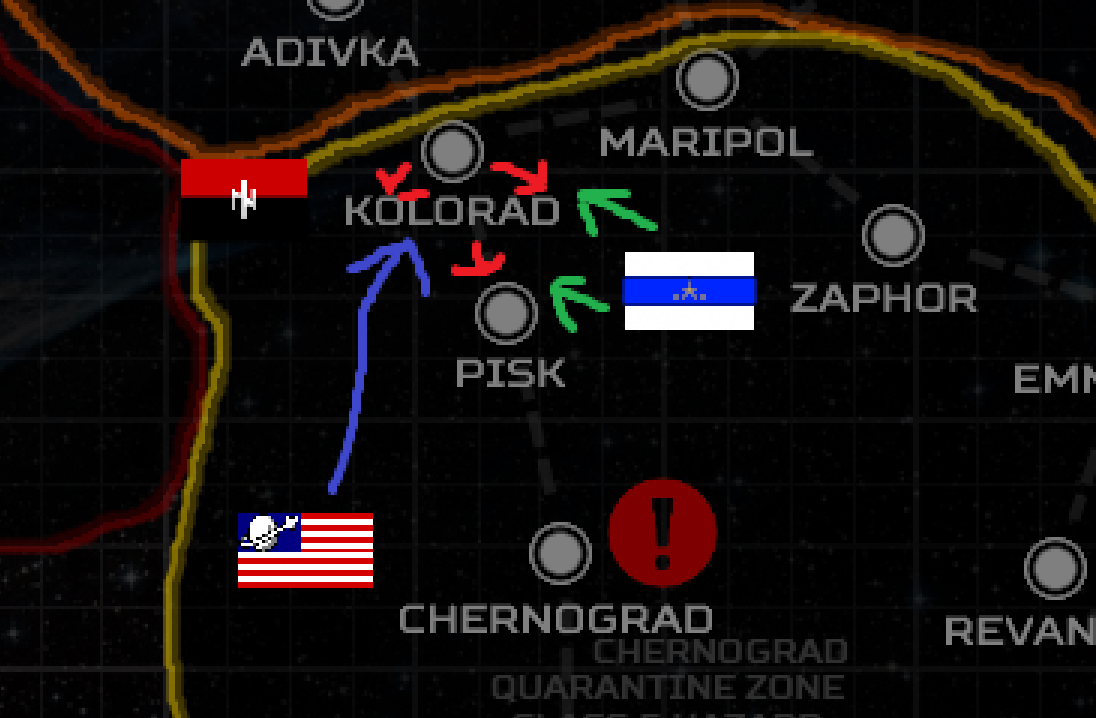 Shaftoe: an estimated 40'000 strong of the Mostly Galacian Western Red Brigade... the Cherhovna Bryhada as the locals call them.. have seized control of systems all over northern Zagoria... take a look at the screen here, note the Insignia
20180506_224554
by
Dic Jacobus
, on Flickr
Shaftoe: Take a look at this group.. The guy in the middle is Lopotev, callsign Akula... means Shark..He's the chapter commander of the Bryhada invasion force.. along with his henchmen here.. they've been terrorizing and torturing Zagorian Civilians. If you happen to meet them.. report the contact immediately. We want them alive if possible
20180506_224606
by
Dic Jacobus
, on Flickr
Shaftoe: What's left of the Loyalist Confederate Army is holed up in the Kolorad System and making it's last stand... If we don't step in now.. there may not be anyone left to help..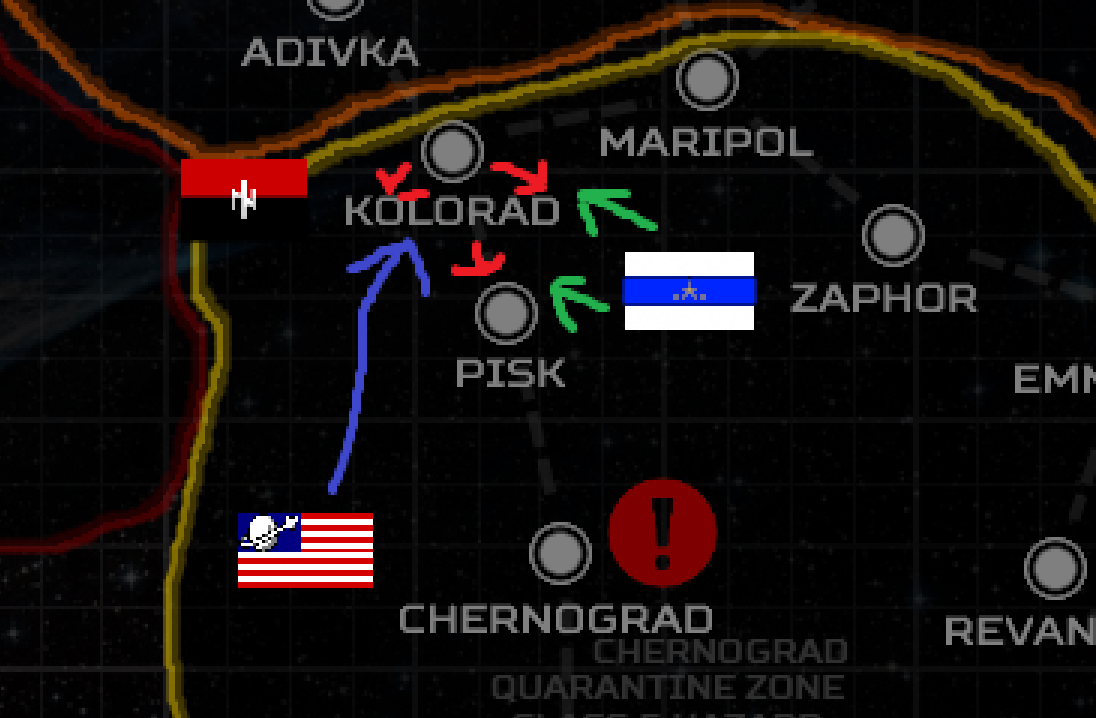 Shaftoe: Operation Harvest Red, will re-take key areas across the theatre.. and re-establish Loyalist control.. Force Recon, yourselves included.. Will lead the attack ahead of the main landing force... For you Razor.. that means neutralizing a key communications hub just outside the Pusta Region on Kolorad. It's believed this hub coordinates enemy anti-air defenses across the region... You are to recon the area, find the comm hub.. and report it's position to the fleet, which will then target the hub with an orbital strike ahead of the assault. You will then confirm the destruction of the hub, and wait for extraction....
Shaftoe: Gentlemen.. Make no mistake. This conflict has the potential to destabilize the entire Gold Sector.. We need to intervene now, to prevent this crisis from escalating any further... Are there any questions? I've got a lot to do so I'll have to limit this to one question each
Sykes: How do I get out of this chickenshit outfit?
Shaftoe: You secure that shit, Sergeant.
Ohara: Who are these Confederate Army. Sir?
Shaftoe: The Zagorian Confederate Army are our allies in this conflict.. Logistically they're pretty cut-off at the moment. but once we open that up for them, they'll become a very capable fighting force.
Roderick: The Gold Sector's known for being a clusterfuck.. are there any other forces in play here?
Shaftoe: For the moment. No. Syndikat Pirates may be fighting alongside the Bryhada... but aside from that... you'll be briefed on the other players in the game. IF they become relevant..
Shaftoe: okay, that's enough questions for now.. if you have more you can grill Miles Later... for now, go get some rest. hit the range... or do whatever it is you do before an op. Dismissed, gentlemen.