After having bought this set, constructing it and then cannibalizing it for parts, I sought to find a way to use the lime green pieces it contained. Initially, I thought of building some kind of wasp mech, but after deciding that one of the green pieces kind of reminded me of a tyrannosaurus snout, I had a better idea. Using mostly a large pile of scrap parts, this was the end result: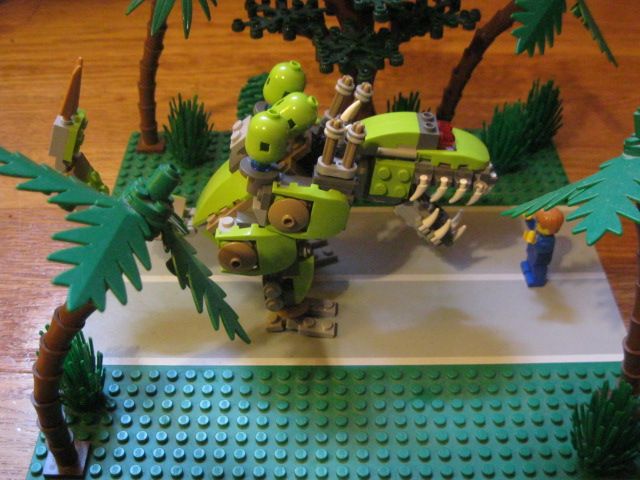 This is the Mechasaurus Wrex. A robotic reptilian on a rampage, it's been literally armed to the teeth. In addition to its jaws of destruction, Wrex has arms consisting of gatling guns (and useless little claws), three high explosive rockets and a tail tipped with metal blades. Wrex's origin is a bit of a mystery, although some think it was built in a top secret government research facility. According to one scientist (who later mysteriously dissapeared) Wrex was developed as a combat robot to hunt down enemies on jungle worlds with dense undergrowth. Although constructing Wrex was pretty straightforward, other than some balance issues at the start, the real issue with Wrex was with its programing: although extremely intelligent, Wrex's AI simply wasn't aggressive enough for the military's purposes. Instead of destroying targets in the test area, Wrex seemed to prefer frolicking in the forest. The top brass were having none of this, and threatened to shut down the entire project if progress wasn't made on improving the situation. The researchers wracked their brains, but couldn't find a viable solution. One day, shortly before their funding was to be cut, one of the researchers had the bright idea to show Wrex Jurassic Park, in hopes that it would give him a better example on how to behave. After queuing the movie on repeat, everyone left for a long weekend, sure that this last attempt couldn't hurt. When they came back in on Tuesday, Wrex proved most of them wrong on that point. After destroying the research facility and it's occupants, Wrex escaped. They tried to track Wrex, but she was to much of a clever girl, and had already disabled her tracking beacon. That's the story anyway; there are rumors someone hacked Wrex's programming and is using her for their own nefarious purposes, but there is no way to verify this.
Occasionally reports of Wrex will surface, but survivors of her attacks have a strange habit of vanishing. Is it Wrex coming back for seconds, or is some shadowy organization trying to remove witnesses? The world may never know.