This is Arthur: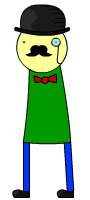 and this is Milly: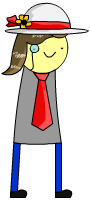 Once upon a time they loved each other and decided to get married. They were deeply attracted to their spouse's monocle. Milly especially loved Arthur's fine and gentlemanly mustache and Arthur really liked Milly's tie. Soon, Milly bore Arthur a child. They named him Jimmy Boy after his grandpa, Jimmy.
This is Jimmy Boy: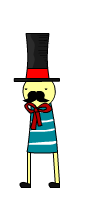 As he grew to the age of 5, they began to worry about his features. Jimmy Boy had his father's proud 'stache but he had a top hat and a bow. He didn't even had the jeans his parents both had. He had khakis! And his monocle! He was missing the parents' stylish monocle! Very much concerned for their beloved Jimmy Boy, they took him to a genealogist to see what had gone wrong with their child. They took him to Doctor Manfred.
This is Doctor Manfred:
He said that Arthur and Milly should look over the trait charts that he'd drawn up for them about Jimmy Boy.
Jimmy Boy was found heterozygous for his Mustache.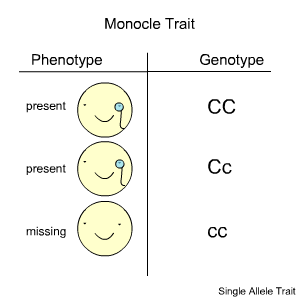 Much to his parents' dismay, Jimmy Boy was found to be homozygous recessive and thus did not have a stylish monocle.
Again Jimmy Boy was found to be homozygous recessive for the pants gene and had Khaki pants instead of genes.
Doctor Manfred explained to Arthur and Milly that because they were BB and TT, Jimmy Boy had a 100% chance to get a bow phenotype.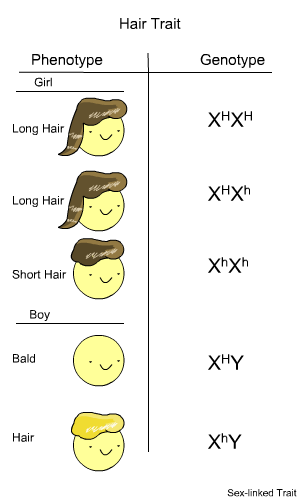 Still distraught about the monocle, Arthur asked the Doctor to check and see if the monocle gene was sex-linked. Doctor Manfred found that it wasn't and he showed them an example of a sex-linked gene.
Arthur and Milly were surprised to find out that their Jimmy Boy had a rare Top Hat phenotype. Despite the normal bowlers in Arthur's family, they were both proud of their son's rare Top Hat.
When Doctor Manfred finished explaining the genes, he gave Milly a
pedigree of her family
so she and Arthur could trace back the roots of Jimmy Boy's mustache. Arthur was shocked to see that Jimmy Boy's great uncle and great aunt had married each other and was shocked that the incest had brought about Milly's cousin. She explained that her relatives were ignorant hicks and Arthur left it at that.
Arthur and Milly were happy to know what genes had been passed to their child. They didn't like all of them of course but it felt better to them now that they knew. They even accepted the monocle gene outcome but they asked the doctor to find out the chances of a child of theirs to have such an awesome mustache but not have a fashionable monocle.
So Doctor Manfred did a dihybrid Punnett square and gave them the results.
They were sad to find out it was 12% chance and resigned themselves to live with a son with no Monocle.
Fin