This bout of building brought to you by; many many buckets of megablocks purchased for almost free at garage sales over the course of several years, and an experiment to see if I can create something cool/interesting out of them all.
The result: The castle Dragonblack!
A history:
Deep in the recesses of the Negaverse, there exists a negablokian lord named Dagon the red. Dagon is so named because of his affinity towards dragons, (he keeps several as pets), and for his known high level bloodthirst. In his younger years, he waged many a war within the Negaverse, conquering many smaller nega-villiages, taking their inhabitants as slaves, and stealing any treasure of brick which may be seen as having value. Of course, as all people do, even great warlords grow old, and so, in retirement, the great red lord Dagon ordered the contruction of a mighty fortress. Built and manned by his many slaves, to protect the treasure he had fought sohard to collect in his younger years.
But that was long ago
in the current erra, the decendents of Dagon and his many slaves continue to man the fortress and protect it's treasure. However, in an attempt to raise enough money to upkeep the castle, Dagons bastard son Ulrich has taken to renting out the castle's many rooms as a luxury hotel; and displays it's treasures as a museum of the past.
Using this opportunity as a cover, can a team of highly trained minifigs infiltrate the ancient negaverse fortress and steal the treasure which consists of several minor artifacts?
the castle is very large and imposing, it's walls tower high above the average minifig, and it's ramparts are maned by countless canons and balistae, ready to tear any unwanted visitors to shreads at the master's signal.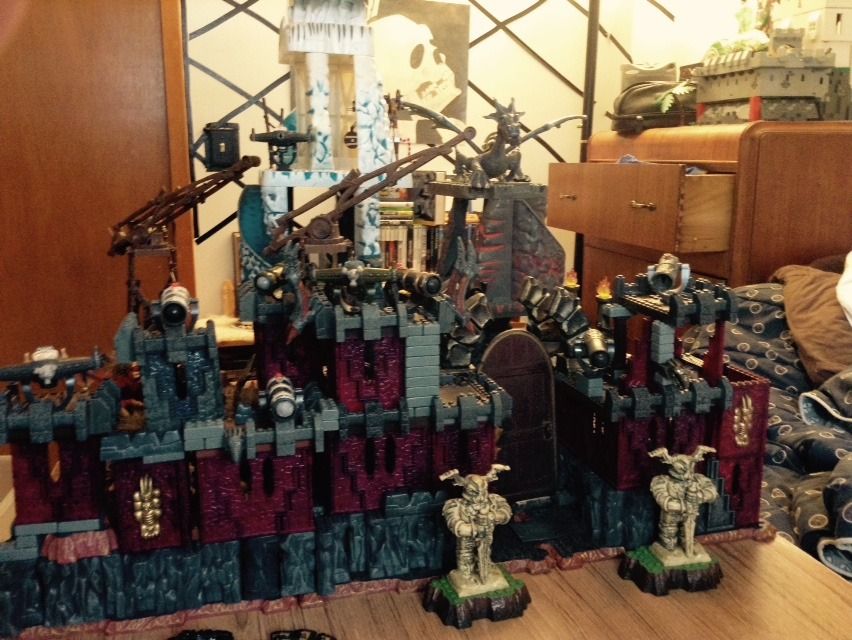 Its heavy gate is sure to prove a challenge to any whowould attempt to beseige the castle Dragonblock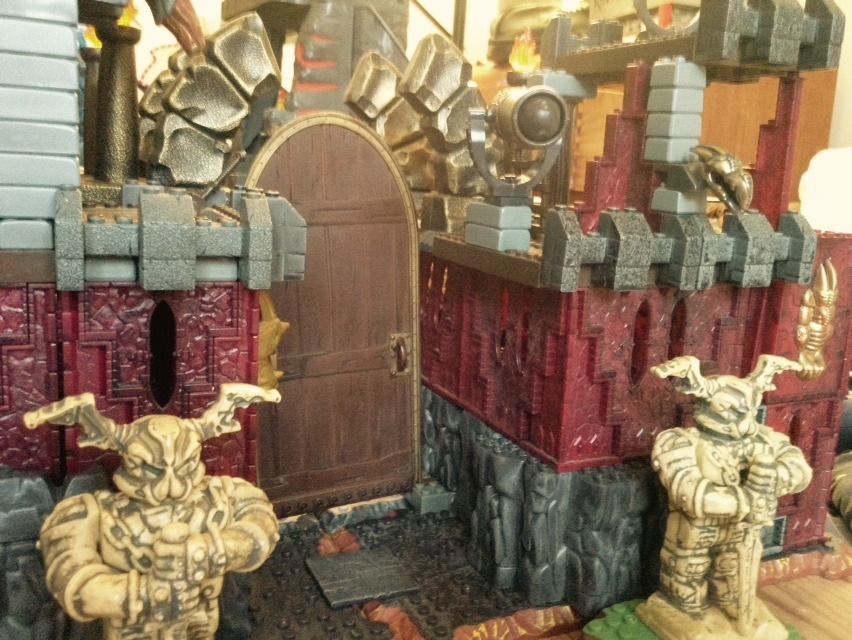 I mentioned the cannons right?
The lower levels are still home to several minor dragons. Rumor has it that these dragons are fed on the corpses of the castles many uninvited guests.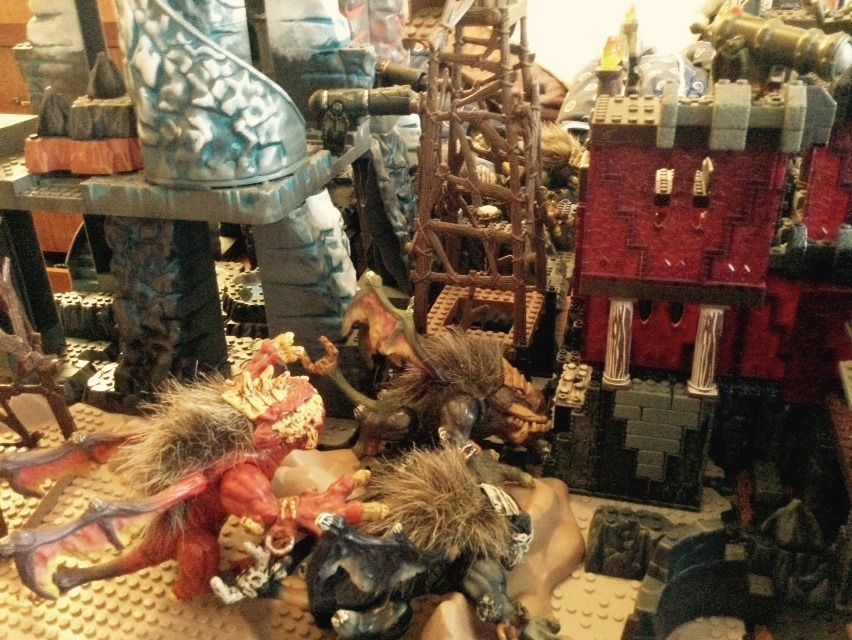 That's not to say that there aren't still many other areas where the welcomed nega-lord guests can reast easy in relative comfort and safety. Often, the castle draws tourism from new warlords seeking to find inspiration by old Dagon's example.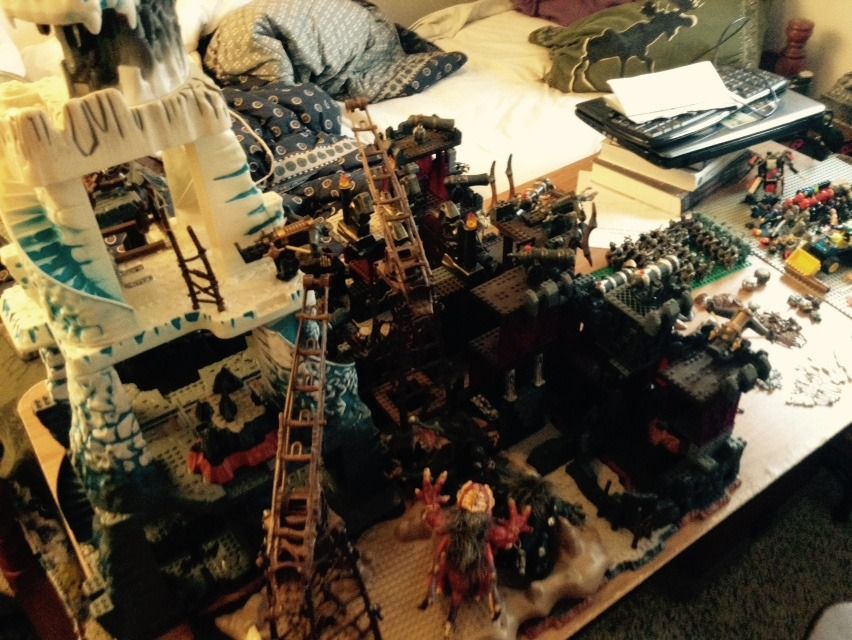 Or perhaps, to bear witness to several old artifacts kept inside of the castle. Each bears a +2 to die roll enchantment. More than enough to give even the most incompetent of nega-blokian warlords some degree of power on the battlefield.
In fact, the fortress boasts quite an armory in general. It's forges have been running for many years, producing a great quantity of finely crafted weapons in preperation for the birth of a new lord of the castle; worthy of taking up Dagon's long lost mantle.
The garison of the castle is not quite what it once was, but is still more than enough to man the walls, and to serve Ulrich and his guests in whatever context necessary.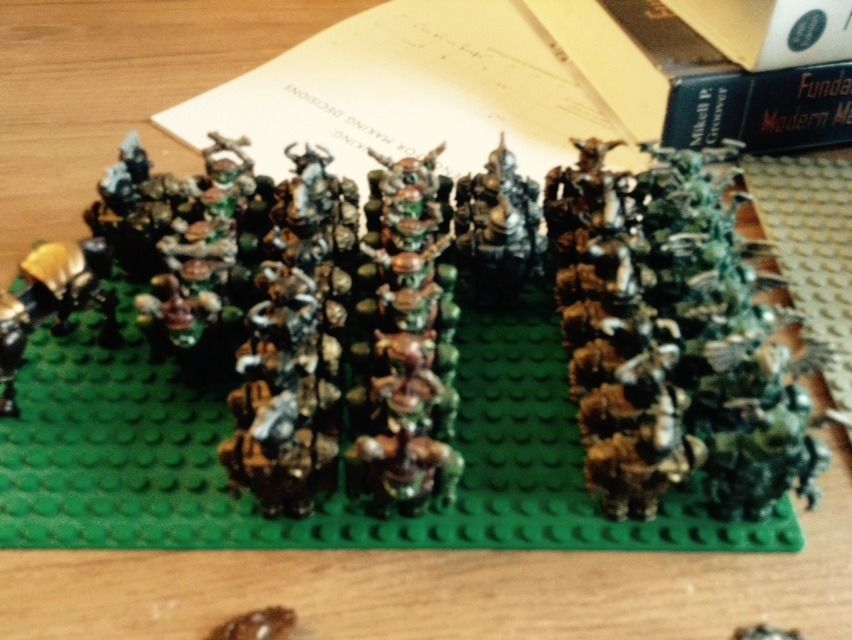 Dagon's own Dragon steed Pelicer still lives on at the castle, and enjoys gazing down into the fortresses depths from his mighty perch. Laughing to himself in amusement at hwo far the great have fallen.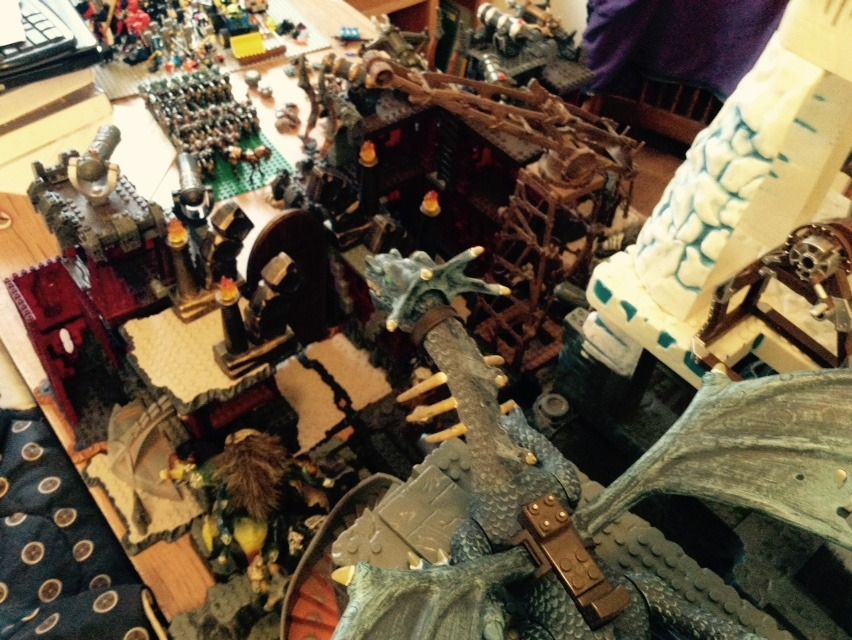 So anyway, I still have quite a bit of megablocks left over after this project (mostly in the form of 4 large pirate ships), which I may or may not include in this setup as I mull over it's possibilities for a while longer. But overall, my analysis of this experiment is that megablocks are actually pretty useful. For scenery at least. I mean.. it only took me like 2 hours too build this whole thing. And if I were to try to build something of similar size and scale out of lego, it would have taken much longer and used many more pieces, and have been much more expensive. (I think in total I've spent maybe $70 on all these megablocks?) which is nothing compared to anything lego. So um yeah.. we may or may not actually see this castle in brikwars action.