I played a game of BrikWars with my son on New Years. It was his first. He had a blast and has been setting up battles every day since (what have I done?). We played a sort of amalgam of Quik and Brik, with liberal doses of fudge. I sort of controlled the bad guys and he mostly controlled the good guys. Apologies in advance for the fluctuation in picture quality. I was playing with a kid so the recording of the experience was always going to take a backseat. I wanted to make sure he had fun.
I decided that, since I was going to record it anyway, I'd weave in a little story for you guys, as a sort of thanks. Keep in mind that I wrote the report up after the fact so the language is mostly mine (and I've bent parts of it for story) but the orders and spirit are his.
So here it is. Thank you, BrikWarriors, for being a part of my life.
Contents
Round One
Round Two
Round Three
Round Four
Round Five
Round Six
Round Seven
Epilogue
Introduction
The helicopter touches down, long enough for Quantumsurfer and Scratch to deploy into a hot, dry desert in the middle of nowhere. Giggles can faintly be heard over the roar of the rotor, coming from the direction of the cockpit. The two QS!s pay it no mind.
Scratch:
"Ugh, what is this place? I feel…limited here. And it was already bad enough after being dragged away from the other thing. Splitting consciousness this many times is hard, even for me, Quantum."
Quantum:
"I know, and I'm sorry it's taken this long for me to explain. But it's necessary, trust me. This is…was…a Lesser Place of Power, dedicated to the DieFour and hidden on this FringeWorld for eons. The Dice Cultists who built it prophesied that, one day, the DieFour would shake off its incompetent status and rise up to become an important power. Funny…I don't usually put too much stock in prophecy."
Scratch:
"I can hear you talking in Capital Letters again. What do you mean, 'was'?"
Quantum:
"We've been investing power into this place, to use it as a lure and bait the most dangerous prey."
Scratch:
"What could we possibly be baiting and who's 'we'?"
Quantum:
"Stability. One of the Four Horsemen of the Brikpocalypse. I've learned that he is hatching an apocalyptic plot most foul…"
Scratch:
"Stability!? That rube? Who cares? Those guys are always hatching plots and trying to ruin everyone else's fun. They're hardly worthy of a QS!'s attention."
Quantum:
"Normally, you'd be right. But these things have a way of sneaking up on you when you're not looking. When The Shadowscythe opened this Rekonstruction with his Shitty Tit Farts Happy Cunting New Year maneuver, there was much rejoicing. He had cut a swath through the stagnation growing in the BrikVerse, after all. Gave us all a chance to reinvent and grow, as any new Rekon should. And for the most part, we did. But Stability saw his chance then and slipped in under the radar. Every day of inactivity, every consistently unoriginal shitpost, that whole gods-forsaken anime thing…he's been tapped into from the root and no one has run any kind of interference."
Scratch:
"Ooooh, I see it now."
Quantum:
"Precisely. The Horsemen are usually weak ass and lame. But everyone forgets that they have unlimited
potential
for power."
Scratch:
"So who's the 'we' you were talking about and what have you been doing here?"
Quantum:
"I've enlisted Silent-SigFig. He's always going on about how things were much better in the olden days anyway, so I figured he'd be perfect for the job. He grumbled a bit about the d4 thing but saw that it was for the best. He's been hanging out here, his QS! power slowly seeping into the land around him. He sends his consciousness out to the Czat every now and again to make it easier to trace him…and, more importantly, this place. Go on, see for yourself, say hi."
Scratch sends his senses flying outward and locates Silent easily. He says hi.
Scratch:
"So he'll be drawn to this place both because its d4 nature suits his origins and because it's steeped with QS! power. That'll give him the boost he needs to affect the very fabric of the BrikVerse. He's smart, though, and he'll see it coming. It's why you can't trap him in the Legitimitium Digital Dimension. Dilanski, Scythe, Duerer, and you, for starters, could easily crush him under the weight of your MS! SHIPS…"
Quantum:
"But then the Dimension would just crash. We'd stop him from doing this but wouldn't take away any of his power. You've got it in one. And even though he knows this is a trap…with this place being Brik-Low and our powers being limited here…it's a trap he thinks he can avoid and a battle he thinks he can win."
Scratch:
"So this is time sensitive, then. Can he? Win, I mean."
Quantum:
"Maybe. We've got our people and I hired a couple of Ketir-Iah to guard the temple. Plus, I've got a few tricks up my sleeve."
Scratch:
"So what do you need me for? Looks like you have this thing under wraps."
Quantum:
"I'll need as many of us as I can get. But you, specifically, for two reasons. One, you're the Czat's best sounding board. You spin Kanon faster than you spit mad rhymes. There are a couple of others that can do it almost as well but only you can tell me if this plan is bananas."
Scratch:
"This plan is bananas."
Quantum:
"Good. I can always rely on you guys for encouragement. Two, you will do what is necessary when the time comes. You have a healthy separation worthy of a QS! With the others, I might have to resort to emotional manipulation."
Scratch:
"Okay, just one question left. What the hell is that, above us, breaching the fabric of fucking reality?"
Quantum:
"That…is a Kanon Ball. Specifically, it's BR 2,015 hurtling toward the BrikVersal Reality Core. It's why we're here, at the end of all things. Stability wants to stop it from hitting the ground. We want to stop him from doing that. If he succeeds, all of reality just…sort of…continues. We just keep going on, eventually all becoming the same. No new Kanon will erupt. No new heroes will rise. We'll all just keep on pretending like…I don't know…the Immortal War is still a thing."
Scratch:
"Isn't it? I mean, it's badassness continues to echo throughout time…"
Quantum:
"I guess, I don't know. Who cares? Look, my point is that we won't be able to experience any new Immortal War stuff, or anything else for that matter, because we'll all be, gods, I dunno, Konstruction Workers following instruction manuals and pretending that everything is awesome.
Scratch:
"…Little heavy handed, that."
Quantum:
"Shut up. I had to work it in somehow."
Scratch:
"So, what's that over there?"
Quantum:
"What? Oh, that's Harold. He's fine, don't worry about it."
Scratch:
"What's he doing?"
Quantum:
"Fondly regarding creation, I imagine. In any case, that thing's coming in pretty fast, so we don't have much time before Stability comes in and mucks things up."
Scratch:
"Alright, well, let's see some of these tricks of yours then."
Quantum:
"Sure. Let's start with this one."
Quantum raises his

OT

Staff. His power surges outward and grips the fraying edges of reality. Scratch's power leaps out to join his and a shining, spiraling wormhole spins into existence, pulsing with otherworldly power.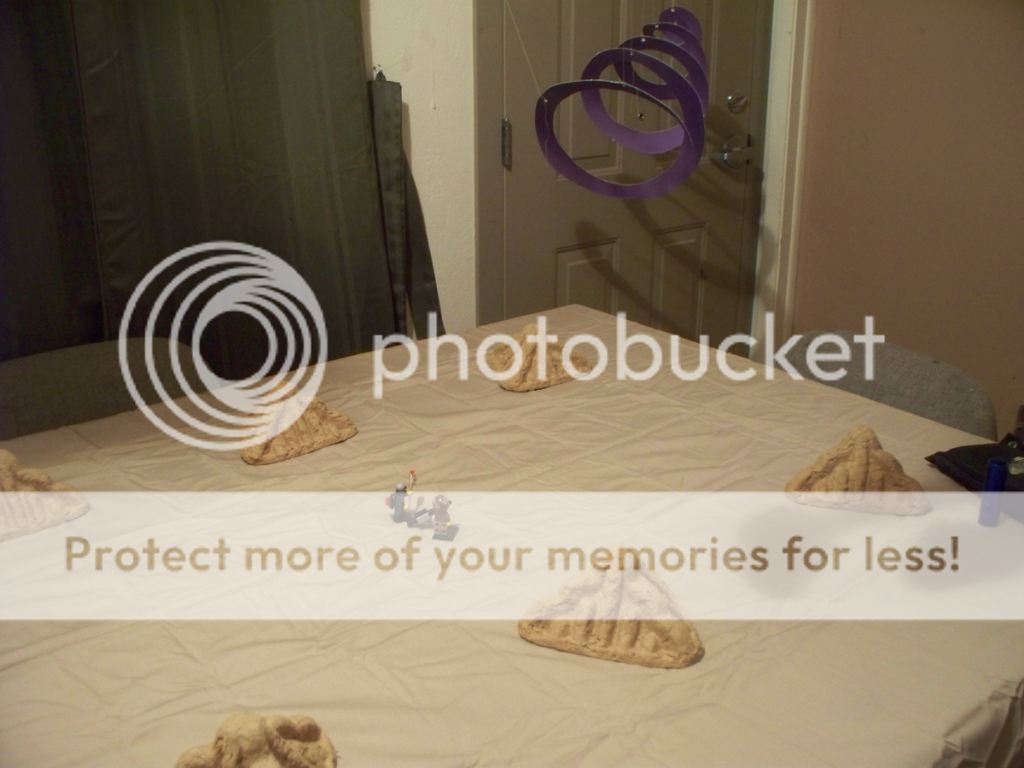 Scratch:
"Oooh, neat. What's it going to do?"
Quantum:
"Well, if I've got it right, we've torn a hole into the HumanoVerse."
Scratch:
"No shit? How'd we manage that?"
Quantum:
"I picked up a few things in my travels. One of the greatest secrets I learned is that we are, all of us, across MultiVerses, connected. We form reality consensually, with the web of our minds and souls facilitating this grand collaboration. So a trick like this only takes a relatively small amount of power, for us, to enact. All you need is an anchor and…"
A BIN SHIP tumbles through the wormhole and slams into the earth of the BrikVersian FringeWorld. The noise is cacophonous and the shuddering boom echoes out into the wasteland.
Quantum:
"Success!"
The BIN rumbles to a stop, just shy of a DieFour Effigy. Rattling booms can be heard echoing from inside the SHIP. The two QS!s wait patiently.
Eventually, the lid of the BIN snaps open and slides several inches to allow the egress of an oddly dressed minifig. He scrambles over the lip of the opening and dangles for a moment, his legs scrabbling for purchase.
The minifig drops the prodigious length to the ground and lands in a crouch. He seems extraordinarily unharmed.
The minifig stands up quickly and draws his weapons, an old saber and an archaic firearm of some kind. He quickly spots the two QS!s.
Scratch:
"Your anchor, I presume?"
Quantum:
"Yes, of course. Meet Sam."
Scratch:
"Sam? That sounds like a Human name…Great AFOL's Neckbeard! That's a SigFig?"
Quantum:
"Kind of, yes. That would be the closest thing we have to describing him, anyway. He's the Human version of one, born from the imagination of a Human Child and carried through to Adulthood as a treasure. In many respects, he's more powerful than the whole of the Quantum Surfer Kontinuum could ever be."
Sam:
"Yo."
Quantum:
"Yo."
Scratch:
"Hey."
Sam:
"So, you're me. Kind of."
Quantum:
"Yep. We need your help. A brikpocalypse descends upon us that may well end our entire way of life. The loss would be staggering and the tragedy profound. With your aid, serving as a direct connection to Human Power, we may yet turn the tide and save our Universe."
Sam:
"Cool. I'm game."
Scratch:
"Nice."
Scratch:
"Oh, looks like we're out of time. Company's arrived!"
The two Quantum Surfers and the SigFig turn to see Stability and several cronies teleport in. On closer inspection, it looks as if they're all clones.
Scratch:
"By all the gods, his face is even more horrifying than I imagined!"
Sam:
"What's wrong with it!?"
Quantum:
(grimly)
"He's brasso'ed it off. The ultimate expression of conformity. The Monster."
Quantum:
"No matter, here come our people. I knew I could count on Ninja Queen of the England. That diverse force is sure to shake Stability to his core!"
Scratch:
"Good choice! But where are the rest of Brian's Irregulars?"
Quantum:
"There are several other apocalypses occurring right now. They're probably out among them, helping the rest of our people. I'm hoping some more of our guys can drop by soon to help out."
Scratch:
"Hmm…a quick probabilities calculation estimates that they'll probably show up around Turn 3."
Quantum:
"Awesome."
Stability:
"Fools! Your ragtag band can do nothing to stop me from blowing this Kanon Ball out of the sky! I've already won."
At his words, he summons a sniper rifle and several reinforcements fly in from the flanks.
Quantum:
"Sam! In this Verse, you have the powers of a Quantum Surfer. Let's gain the upper hand here."
Sam:
"Oh, really? Cool, I'll see what I can do."
Sam turns and taps into his new powers. Already a talented technomage, he is familiar with both magik and the inner workings of Creations. He summons an extraordinarily large version of himself. He turns back and grins at Quantum and Scratch.
Sam:
"Like that?"
Quantum:
"Wow, I didn't expect anything quite so…mary-sue…but there's no denying that it's pretty fucking badass."
Sam:
"Please…haven't we already crossed that line?
Quantum:
"Now for my second trick. Scratch, if you'll assist me, I think we can pull in some more reinforcements."
Scratch:
"Okay, sounds good."
The QS!s power again flows together and lances out at the already crumpling boundary of reality. They punch through with some difficulty and manage to rip a small tear not only in the Legitimitium MultiVerse but also through to another Toy MultiVerse! Figures from an alien, but similarly Imaginative, universe pour in through the rent. Quantum uses his Wiki Scribe Special Ability to bring them up to date and they willingly join the Hero Army.
Stability:
"Enough of this cock measuring contest! Let's fight!"
Notably, Stability summons a mech for himself as he leaps forward and makes this statement. He fires an energy beam at the heroes.
Round Zero
Overwatch A
Overwatch B, Stability's Forces
Overwatch C, Heroic Army
Next:
Round One