Dos Briquis (Steel_Valkyrie)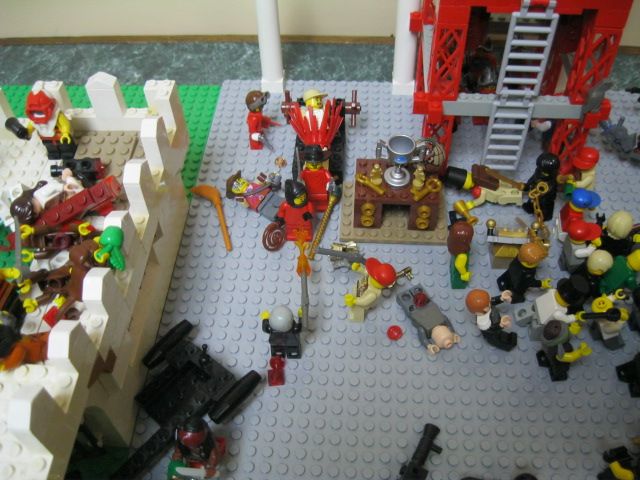 "I don't always fight people who should be regulated to the page of failures in history, but when I do, it's usually either Nazis or The Spanish inquisition. I toast to your memory." Dos Briquis fires at Inquisitor Cortez, but one of the other inquisitors redshirts and survives the damage.
The Dos Briquis guy then begins to climb up towards the rocket.
The French legionnares fire on the Spaniards, "Those Rude Spaniards. Zhey got beaten by ze English, no? Zey reek of defeat and What ze barbarians call "Wine". Very inferior, honhonhon." In addition to the stinging nature of their taunts, they kill one Inquisition trooper.
Ninjas (Duerer)
Moving from below
The ninja leader strikes true
Wounding Dos Briquis
Running through the crowd
The other ninja reaches
Obtaining his goal
Secret objective completed- Get the Dragon Katana!
Spanish Inquisition- Mgb519
The inquisition troopers continue to fire, but generally don't do very well. They do succeed in killing the Britannian's turbaned swordsman.
Inquisitor Cortez fetches the comfy pillow.
He whacks the Dos Briquis Guy with it to try and distract him, but it doesn't work.
The whip armed inquisitor tries to attack a guard, but accidentally whips himself in the face so hard that he kills himself instead.
The other inquisitor fires at the guard, who survives.
Freedum States of Murica (Red_SPAMbot)
Witnessing the Space Pirate reprisal, Agent Dangerzone exclaims, "Hey Horatio Hornblower! Those are Freedum citizens you're gunning down!"
He fires his grappling gun at the pirate skiff. "Permission to come aboard...YOUR FACE!" he says.
He then boards the skiff, but is unsuccessful in throwing the nearest pirate off.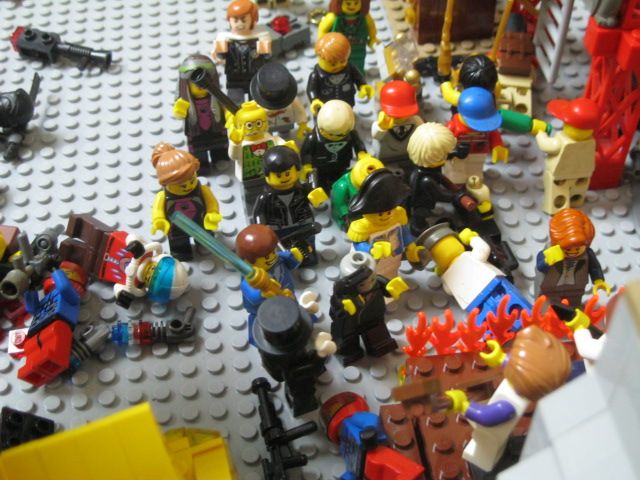 The rest of the FSM continue to mosh.
More to come. I also still need orders for the space pirates and the BA team. Apollyon has said that someone can fill in for him and give orders, and if I don't get orders from Brikguy soon, then I will let someone else take over the BA team for now as well.