Car Wars
is a game my friends and I tried to play when we were kids in the 80's, and utterly failed to wrap our heads around the complexity of the rules. Since then I've had a love/hate relationship with
Car Wars
: loved the idea, hated the implementation.
As a result, I follow "vehicular combat" miniatures game blogs a bit, and what should I spy?
Gaslands
, a "post-apocalyptic vehicular combat" game that Osprey will be publishing in November.
Shoot, ram, skid and loot your way through the ruins of civilisation with Gaslands, a tabletop wargame of car-on-car destruction in a post-apocalyptic wasteland. Players control small fleets of armed vehicles in battles for resources, dominance and survival. With rules for multiple vehicle types (from motorbikes to big rigs), varied special weapons and accessories (including oil slicks, caltrops and nitro boosters), and a host of options for scenarios, environmental conditions, crew and campaigns, players can tailor games to match their own visions for an anarchic future.
Looks like it's a
Car Wars
style game (but not as complex!) played with converted hotwheels/matchbox cars on tabletop. Here's some photos from a game the author ran at Salute 2017:
Skimming through the
design blog
, it looks like the game will have a vehicle design system, factions & a campaign system. And skimming through the
Gaslands
twitter feed
, it looks like the game will use
X-Wing
style movement templates: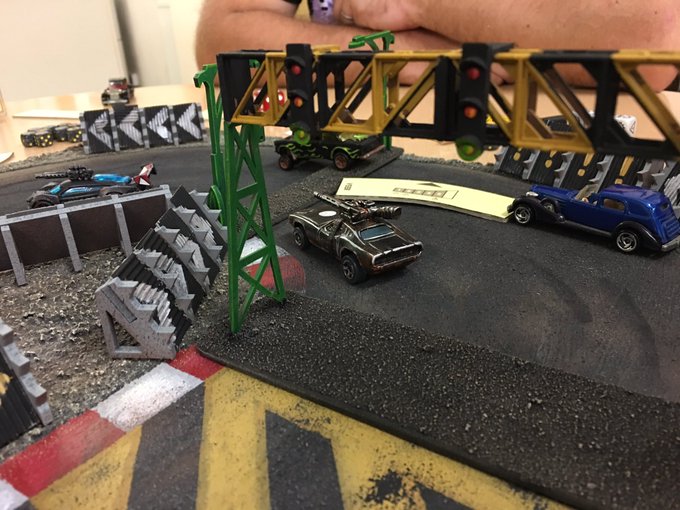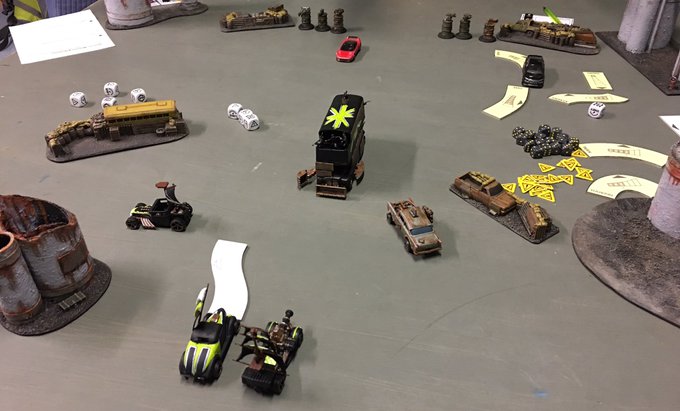 I've been buying hotwheels & matchbox cars for a while with the thought of converting them for "vehicular combat" gaming. This might be the kick in the arse I need to get started on that...