Apologies for the shit lighting.
Liana
- Killer Karetsu
Liana uses her Almighty Benny to give the party a +4 speed boost.
Using this, se reaches the objective marker. Success!
Commander Magnus
- Crazywolf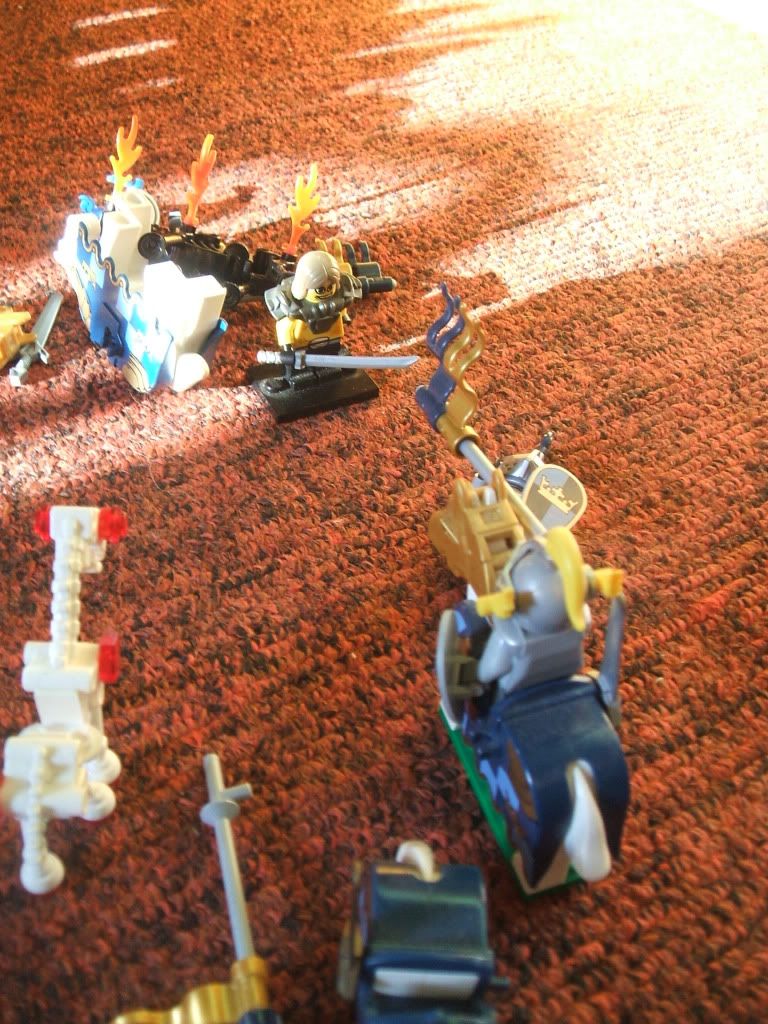 The Rune Knight returns and charges at the Destroyer, but due to poor rolls, he only manages to slighty knock it back.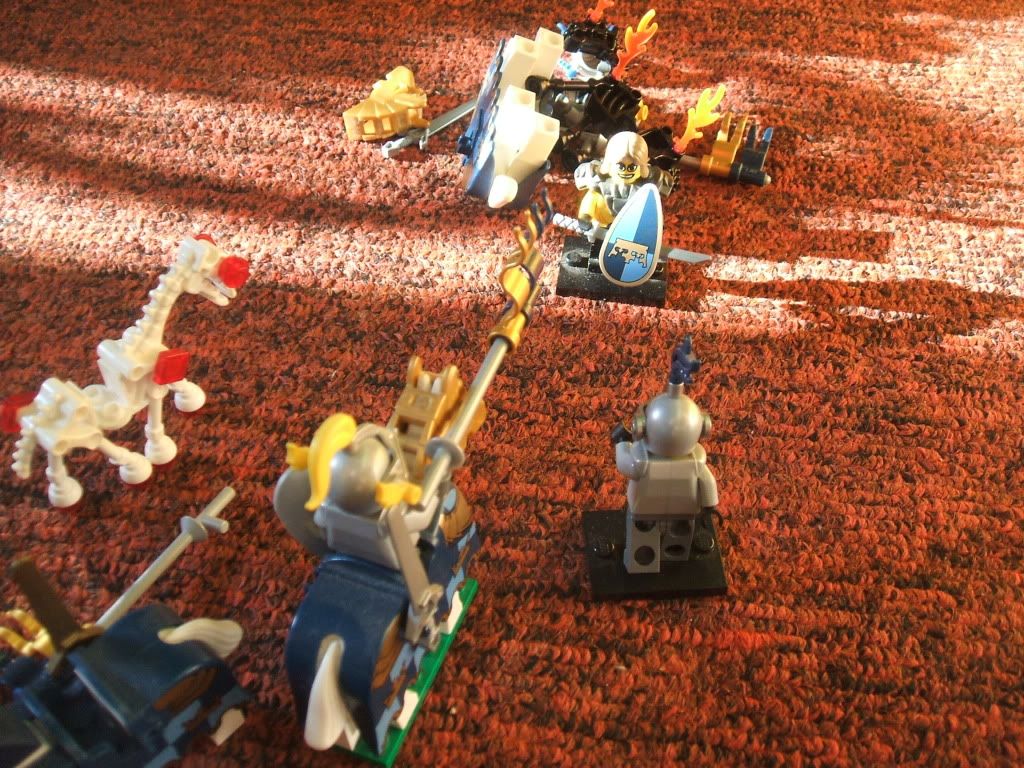 Magnus stands up and uses his shield as a makeshift thrown weapon, though it doesn't has much impact.
Then he summons his steed and grabs his runesword.
Nikodim's Forces
- Ham701
The Titan calls forth lightning on Corpse Grinder, which has little impact.
Then it charges in and slays 3 orks.
The Cleric resurrects a swordsman, Nikodim inspires his troops, yet no damage is done.
The two knights regain consciousness and return to their mounts to arm themselves.
The Destroyer
- Silverdream
The Destroyer charges Magnus, dice are cast...
The clash is decided by 1 damage, which is enough to kill Magnus. Sadly, the knight's counterattack is 1 damage less than the Destroyer's armor, so he emerges unharmed, again.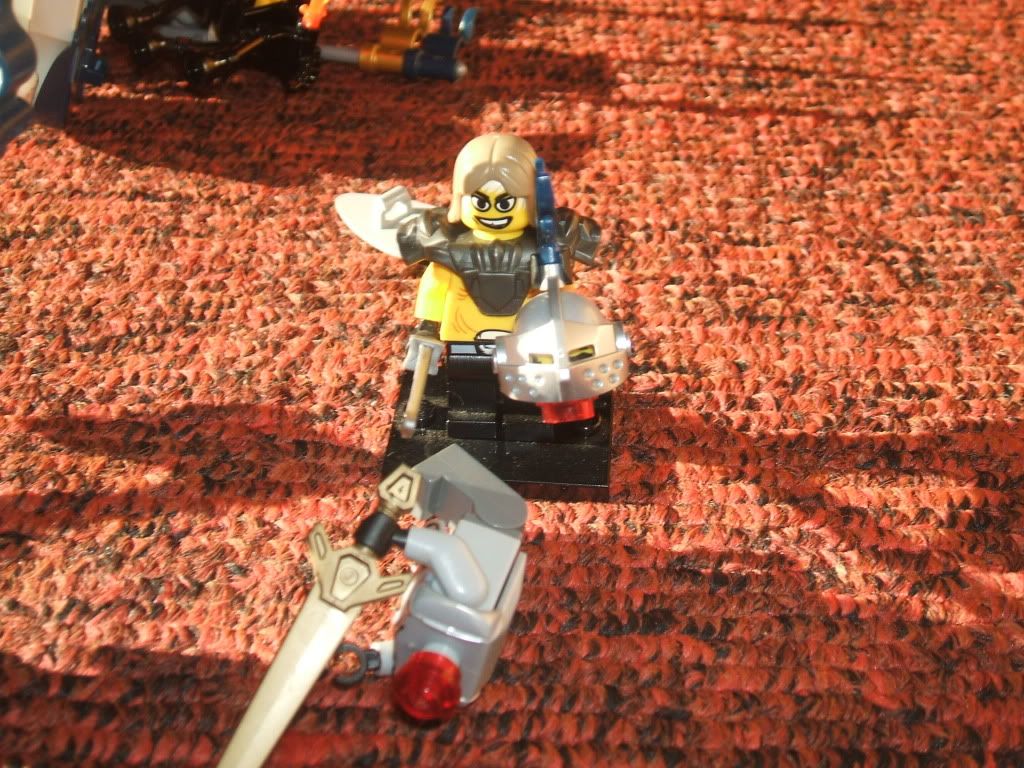 To add insult to injury, The Destroyer claims the head of Magnus as a gruesome trophy (which also gives -1 to each roll for everyone in combat with him).
The rogue titan advances and pokes his brethren (-1 hp).
The Infernus ignores Bjarn and pursues the Rune Knight.
Ezra von Bragstein
- Bragallot
The Doom Wailer and the Necrolytes both blast the Titan (-1hp). CG joins the party but doesn't do anything noteworthy.
Ezra succeeds obscenely well with his feat: he attempts to roll a critical success on raising d6 plague zombies (left side, coloured dice); as a reward he gets 2d6 to raise (right side, white dice).
FOURTEEN Plague Zombies (ork and man alike) are raised; one of them is immediately sniped by the crossbowmen.
Continuing his lucky streak, Ezra shots down Nikodim.
All infantry focuses on the remaining swordsmen, killing two.
Zuleika
- heavyfishcannon
Zuleika joins up with Liana.
Bjarn
- Cpt Halan
Bjarn rolls for sprint and arrives as well. 'Sorry for the wait, I couldn't resist a good brawl!'
Gillaume
- BFenix
As a last-ditch effort, Gil shots at the Infernus as its the nearest target, but fails to pierce its armor.
So he meets up with the rest.
PARTY OBJECTIVE COMPLETE
The party arrived safely and alive to the marking, from where they shall continue their journey off-screen.
Overwatch:
Kill Chart:
Ham701 - 22
Bragallot - 21
Killer Karetsu
- 0
Silverdream - 2(+3 horse)
BFenix
- 1
heavyfishcannon
- 0
Cpt Halan
- 0
Crazywolf - 0
Players in
italics
have dropped from the game, congrats for them. Still expecting orders from the remaining four players; deadline is next Friday as usual.