Greetings, folks!
This week I'm going to have a treat for you: a Brikwar waged with two forum members in the same room! It does not happen that often, but when this sort of battle does it never seems to disappoint.
In spite of some wintery and treacherous road conditions in central PA on the afternoon of the battle, yours truly and lawmaster both traveled to a common-ground gaming store not incredibly far from either of us (and by incredibly far, I mean I drove about 45 min to get there). Though I have been knee-deep in medieval battles recently, lawmaster convinced me to bring out the OOF for a good old brik-slugfest. With some combined effort on terrain and base plates, we were able to construct a 40" x 40" battlefield that-like most brikwar battles I play abroad-attracted the attention of onlookers young and old. Anways, here is the set-up:
Turn 0: Deployment
lawmaster's Trovian Army setup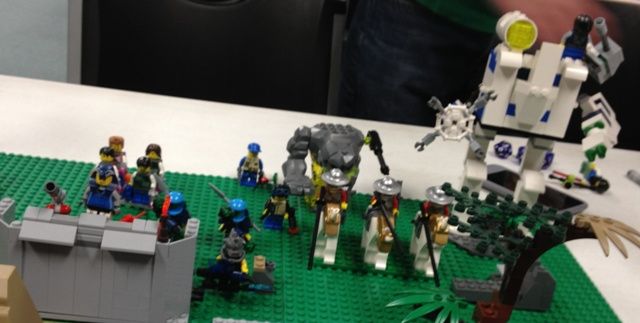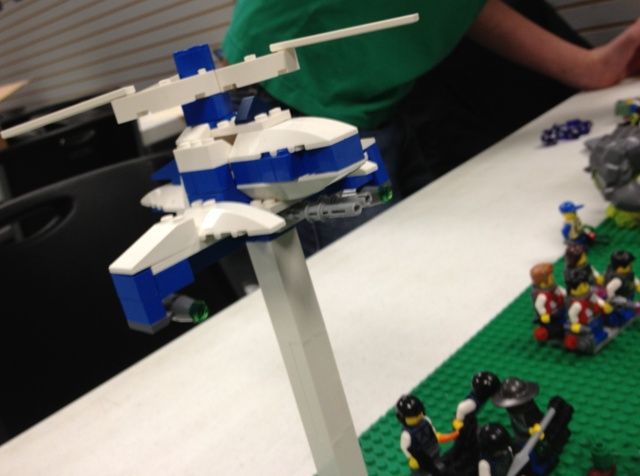 Rev's OOF setup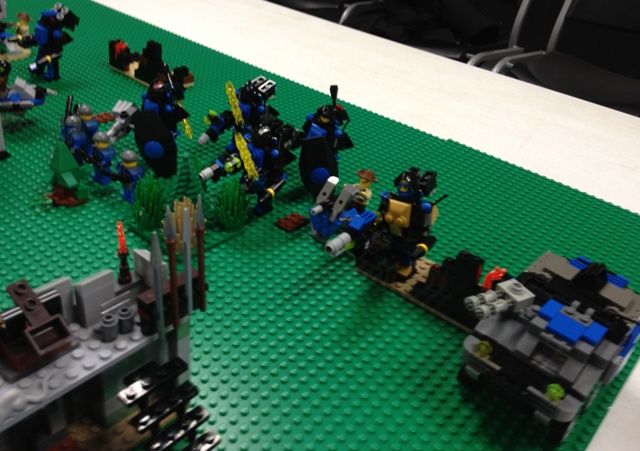 Turn 1
- lawmaster
Turn 1's can be pretty bland. My own turn one is actually picture as the "deployment." Here is lawmaster's Trovian battle line surging forward.
Here is a little close-up of lawmaster's hero. I don't know its stats, but that weapon is brutal both at range and CC.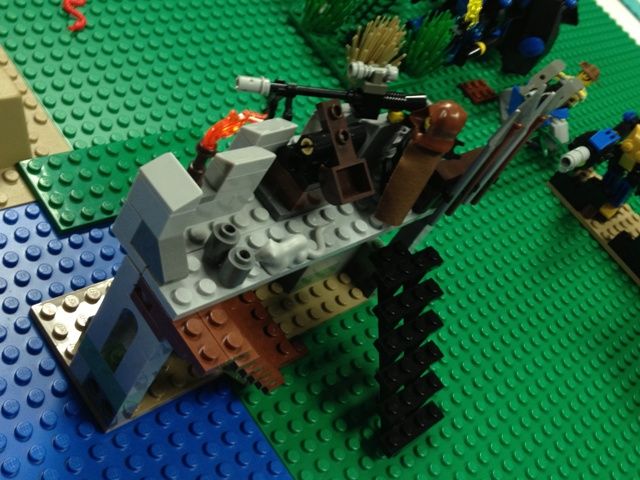 At the end of lawmaster's turn, the two OOF snipers materialize using my
recon
specialty.
Turn 2
- Rev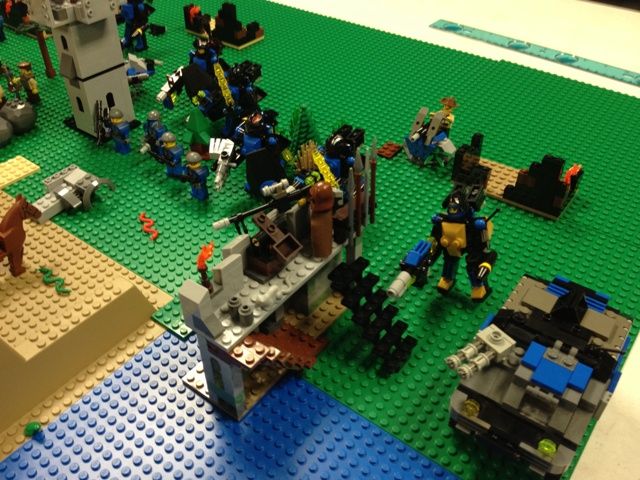 The OOF press toward the center of the battlefield on both flanks.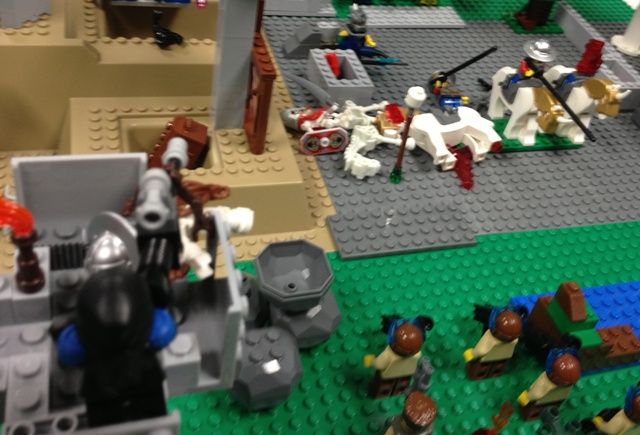 Shooting by the sniper and APC minigun eliminate some Trovian cavalry; unfortunately, Trovian horses are intelligent...so eliminating the riders won't be as effective as it usually is!
An Alltimate hardsuit with bombarding launchers rolls a critical failure; the rocket pod explodes.
Turn 2
- lawmaster
A wall-mounted mortar decides to deal component damage to an APC's minigun; the minigun is destroyed.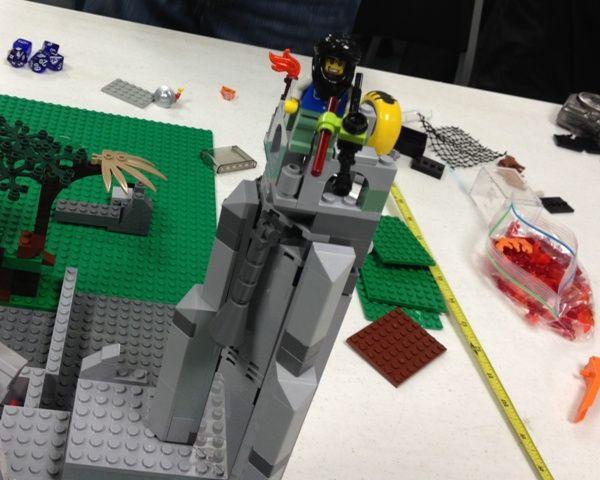 A Trovian sniper takes aim at another Alltimate hardsuit...
The sniper's bullet aims for one of the wrist-mounted rockets. The damage rolls for the exploding rocket hit crits while the hardsuit's armor rolls stink on ice. Ka-Blam!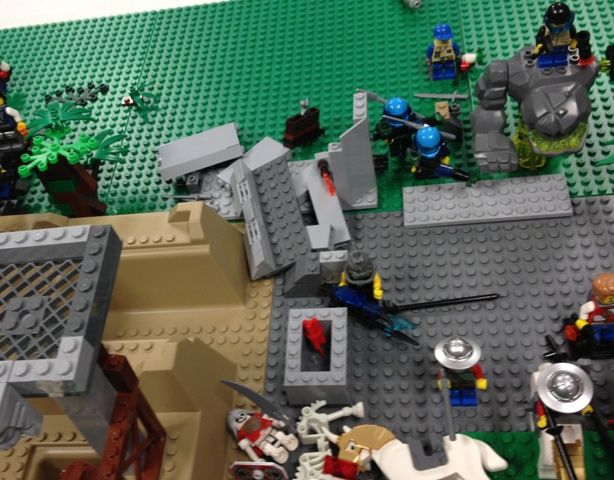 The mortar on Rev's right flank crit-fails. The grenade explosion ignites the rest of the explosives being stored on the wall. No more wall.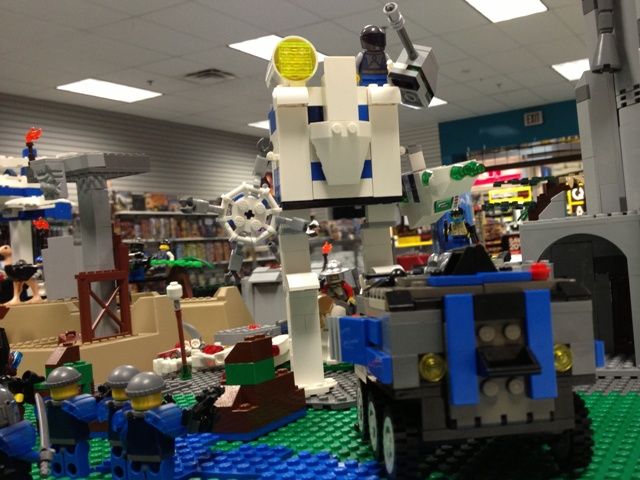 lawmaster's rather large Mech rounds the corner and threatens the OOF APC. I think the Mech might dish out 1 point of damage to the APC.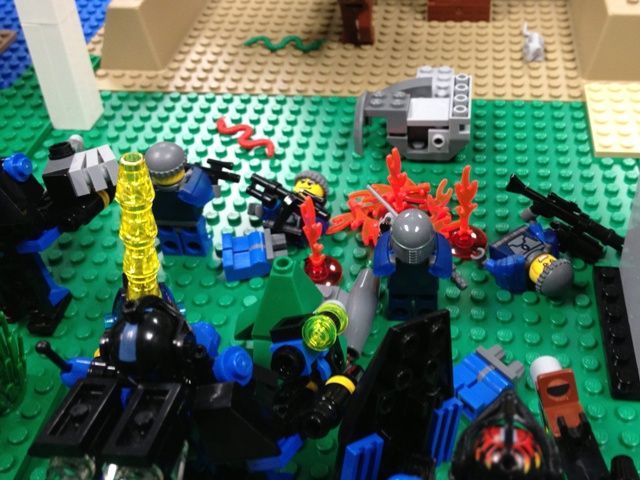 The Trovian battle copter zooms into Rev's territory, dropping payloads of death on an OOF sniper and some commandos.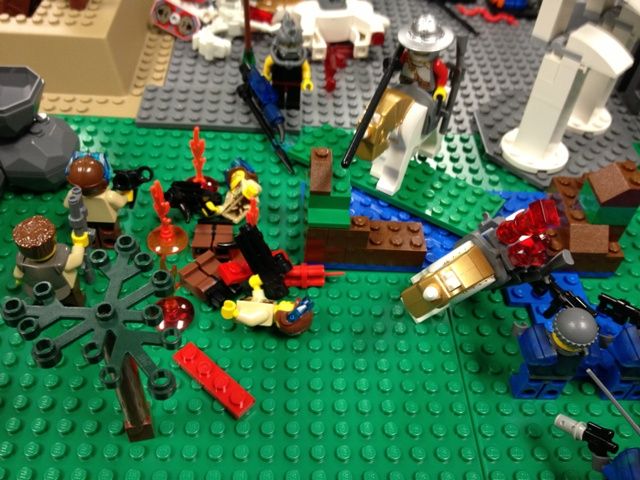 Some sort of explosion happened back over here on the right flank, near the OOF sergeant hero (buzzed hair). Some cavalry charged, but I think the deaths were from bombs only.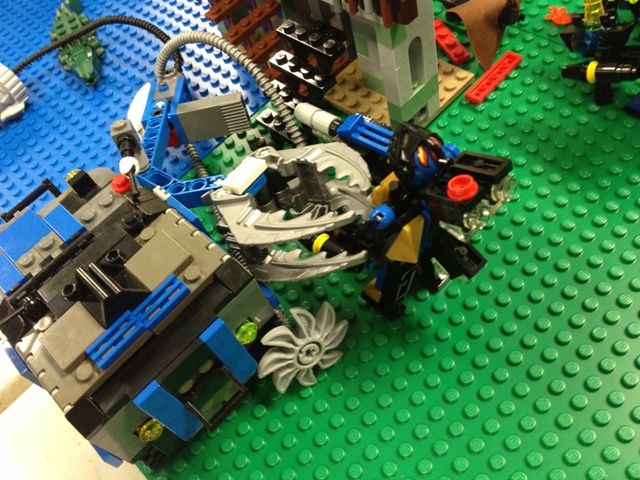 And rounding out lawmaster's second turn, an infamous sea monster pops out of the lake and tries to nom an Alltimate hardsuit. I believe one size HP is nommed.
Turn 3
- Rev
Combined firings from Hardsuits and snipers eventually deal enough damage to take down lawmasters large mech. In hindsight this might have been a mistake since it left me with very little firepower left over to care for any other enemies this turn.
My Hero also shotguns a knight to death.
Here is an Overwatch of the field after I destroy the mech. My next target is to eliminate the helicopter.
...which I do with abandon. I cannot recall, but one of lawmaster's soldiers may have been wasted in the explosion, while one of my Alltimate suits takes a point of structure damage.
One of the "fallouts" of the crashing helicopter was that a Trovian solider on an Ostri-mount bailed OVER 6"...
One of my heavies (who have disembarked from their turret placements) smacks a Trovian in half as he treats the minigun as a random object in CC
And lawmaster's sea monster continues a rain of carnage. This hardsuit had attempted to disengage in order to shoot the thing. Withdraw reactions took a structure point down, and then a crit-fail on the rocket caused the hardsuit to explode anyway!
Turn 3
- lawmaster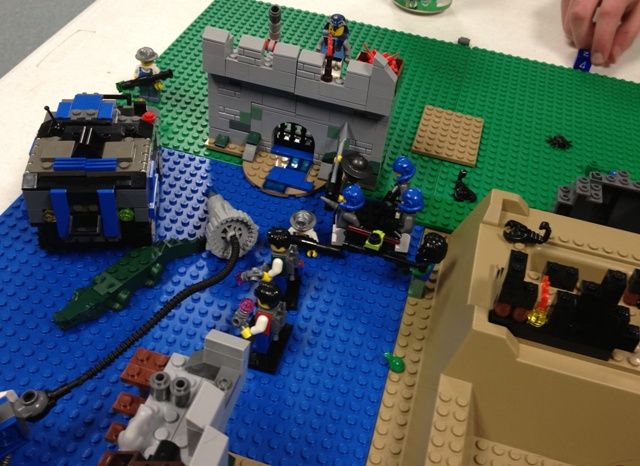 On Rev's left flank, Trovian infantry converge on an isolated APC, many of them diving into the shallow water...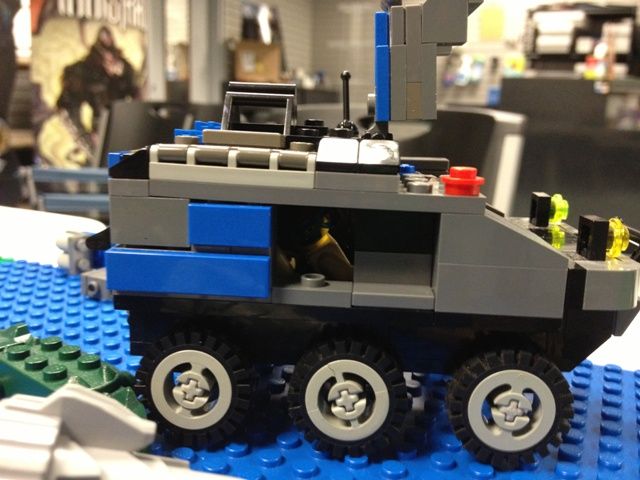 They target the hinges on one of the side panel guns. The chunk they bust off will also be enough for a few shots to waste one of the OOF soldiers inside.
Shooting takes out a CC Comando.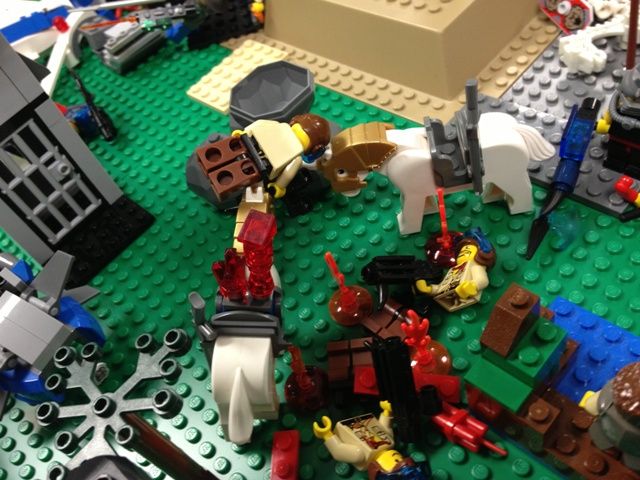 Intelligent Trovian horses skewer a Freadom Fighter!
lawmaster's medic on the right flank decides to attempt Ker-Triage! on a nearby skeleton (apparently chillin out from battles long past). The roll is quite successful.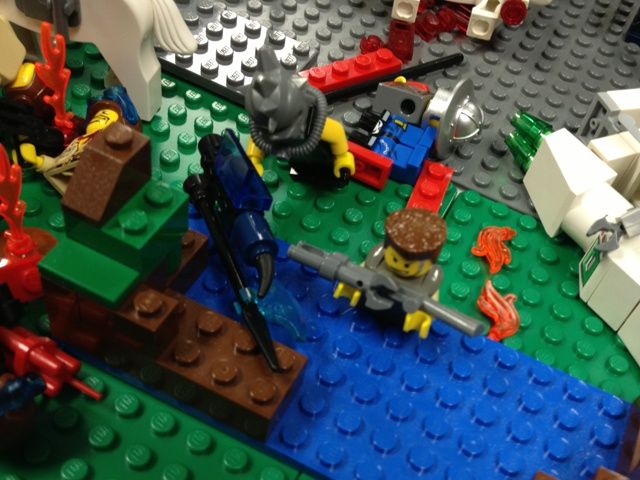 I believe at this point I tried to use a heroic feat to drop-kick lawmaster's Hero into the nearby Geo-golem with the minigun arm. The feat failed, resulting in my sergeant sinking into the nearby pond; lawmaster decided that he could not get himself out without help! Another Trovian tries to sneak up on the sergeant to no avail.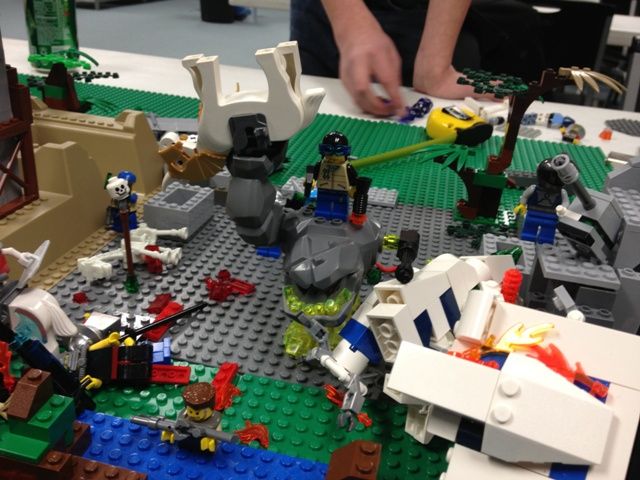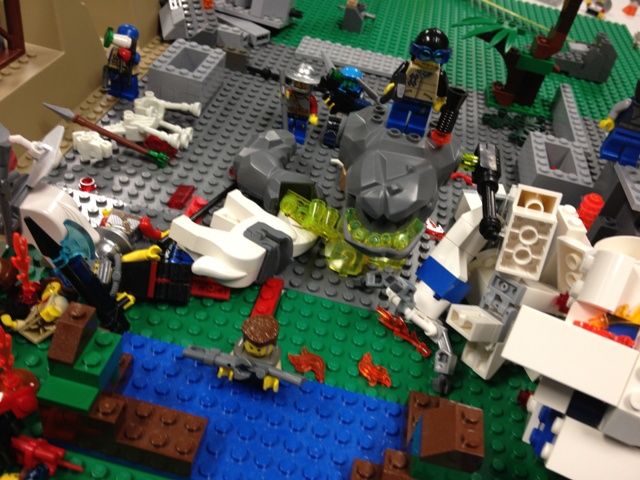 The Geo-golem attempts to chuck a horse at the sergeant to make him sink even more! Too bad the Golem looses its arm in the process...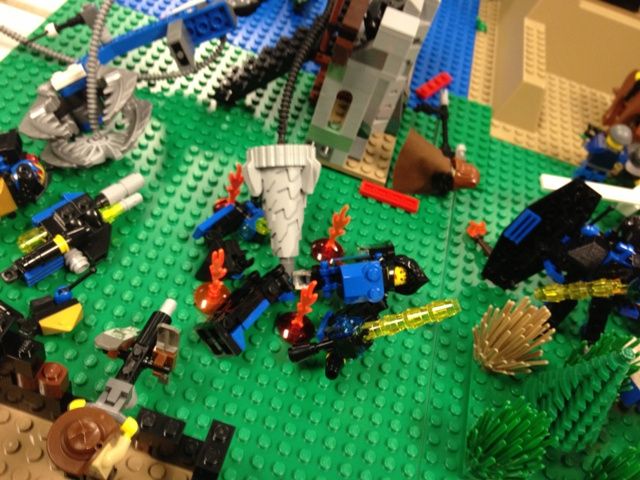 And lawmaster's sea monster continues on its rampage, sending its drill-tail in to eviscerate yet another Alltimate hardsuit (I swear, this sea monster is turning into a 6 magnet...)
TO BE CONTINUED...
All the best,
Rev.