To preserve the peace between the Bulls and Cales, the King had sent a host of Bulls and Golden Lions across the desert to attack Kerrat. Despite his general's advice, Junatan had the unit of Crimson Glory he had sent North recalled and sent into the desert together with a great deal of his remaining units, claiming they 'had to keep the war off their people's doorstep.' Now these armies face each other under the scorching desert sun...
Golden Lions
- Alex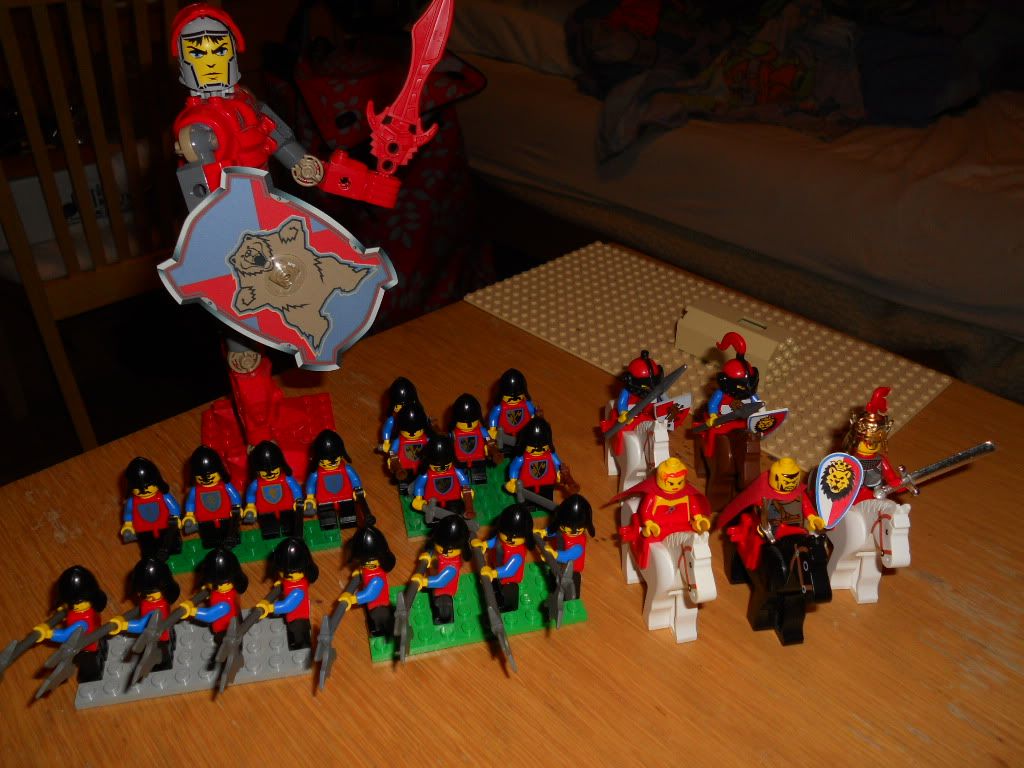 Stanis' host marched to support their allies. Tired of losing Golden Lion generals, the King had also sent him a Bloodguard as a personal guardian tasked to keep him alive.
1x Stanis Barafeon (hero)
1x Bloodguard (hero)
1x Melisander (mage)
1x Titan
2x Bodyguards
2x Halberdiers squad
1x Musketeer squad
1x Pistoleer Squad
Bull Main
- RunsWithLegos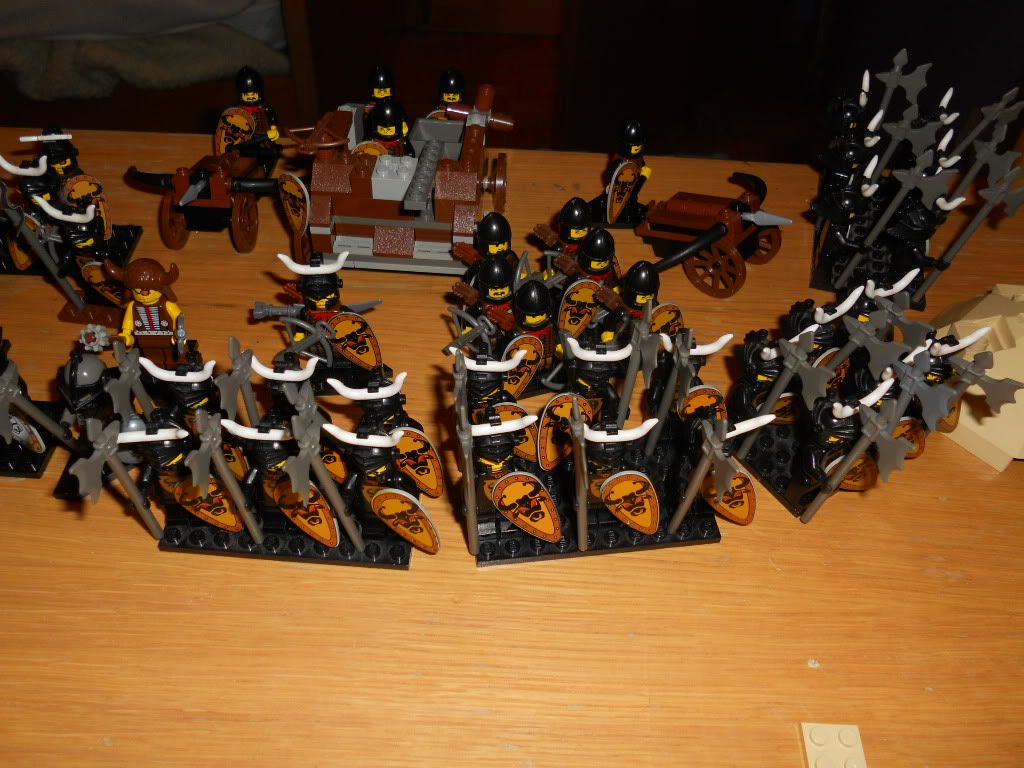 A large, powerful force of well-disciplined infantry backed up by siege weapons, their phalanx would be vital to defeating the enemy cavalry.
1x General (hero)
1x Voytek (hero)
4x Phalanx Squad
1x Crossbow squad
5x Engineers
1 Catapult
2 Ballistae
Bull Elite
- Warhead
The Bull Elite was once again strengthened by the presence of their Icons despite denouncing their religion, for it appeared these creatures had not been following the Boar God of their own free will.
1x Marshal Marnix (Champion)
1x Berserker (Specialist)
1x Banner carrier (Specialist)
3x Heavies
3x Icons (mages)
1x Elite Axemen Squad
1x Elite Crossbow Squad
White Dragon Knights
- IVhorseman
The remnants of the beleaguered Dragon Knights were leaderless, and thus put under the command of a Drakhirri lord. They seemed rather unsure to be serving under him, but did so either way.
1x Lord Daerion (hero)
1x Drakhirri Knight
1x Mounted Archer
1x Earth Dragon
2x Mounted Knights
2x Lancers
2x Wyrm Riders
2x Green Dragons
2x Dragon Mages
1x Sword Squad (with officer)
1x Pike Squad (with officer)
House Adlersflügel
- lawmaster
Lord Grahel von Adlersflügel commanded a host of his House. He knew a charge against the Bull's phalanx could lead to disaster.
"Remember men, if we capture any of their commanders, we can trade them for Lord Skarr and Lord Hitlerr's freedom!"
1x Lord Grahel (Hero)
1x Sir Jaiko (Champion)
1x Waterbinder (Mage)
1x Elite Knight Squad
1x Mounted Knight Squad
1x Knight Squad
2x Crossbow Squad
2x Swordsmen
1 Mangonel
Crimson Glory
- me
Lord Goeting had serious doubts about this battle. Not only was he against such a straightforward approach, the immediate departure of Cassandra when his force had been recalled had also left him puzzled.
1x Lord Goeting (hero)
2x Batlords
2x Iron Grannies
1x Battlemage Squad
1x Mounted Knight Squad
1x Firelancer Squad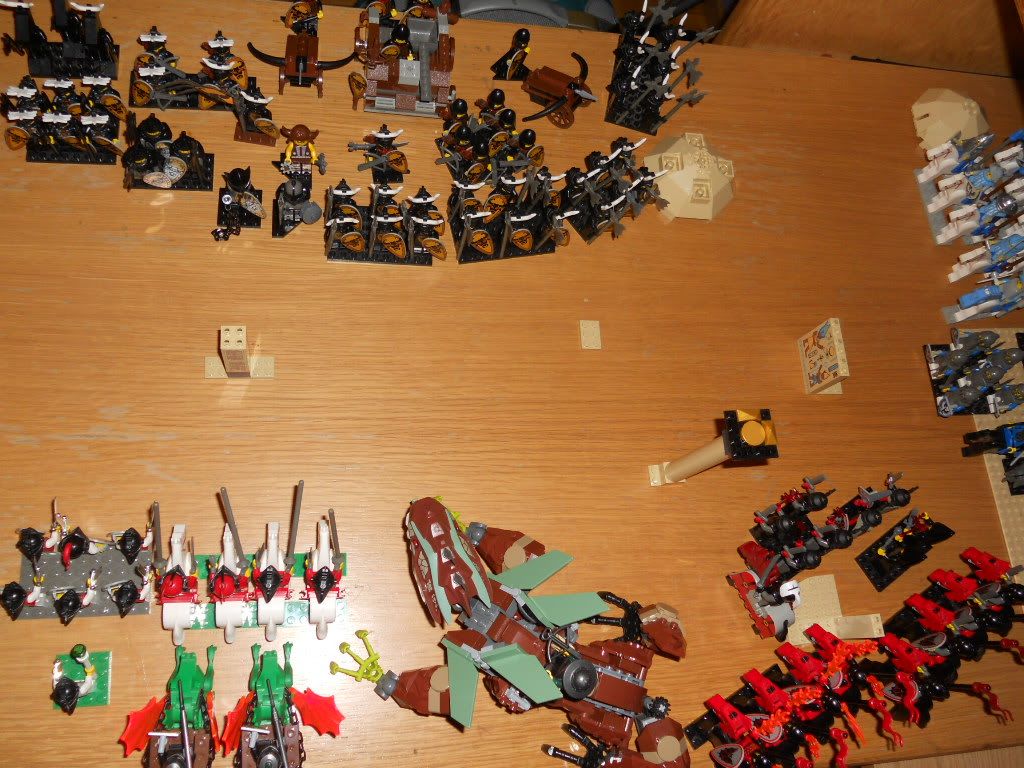 And thus, the warhorn was sounded...
Objectives:
Kingdom (Bull Main, Bull Elite and Golden Lions)
- Main: kill or drive off all enemies.
Kerrat (the rest)
- Main: kill or drive off all enemies.
- Bonus: capture 2 enemy heroes / champions.
First come, first served!