Cedric welcomes the monk's help.
Until he sees something that catches his fancy.
"I say..."
Solira, the elf from across the sea, has begun to stir his emotions...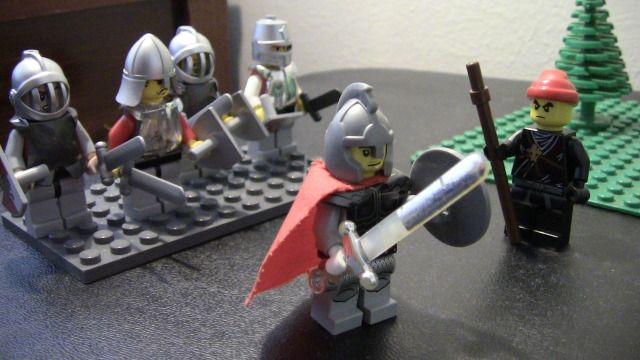 "To the maiden, lads! By my troth, I must woo her!"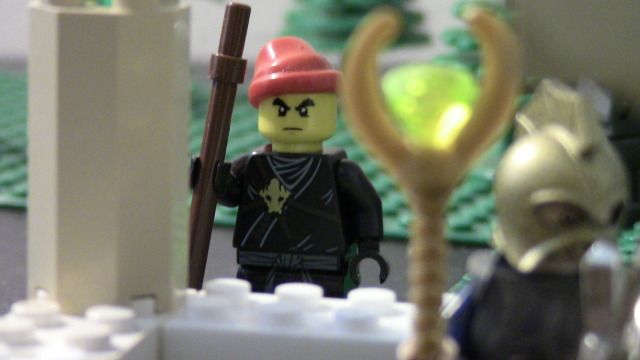 Another monk tries to get Corphu's attention...
... but the wizard is busy mumbling to himself and inspecting a treasure.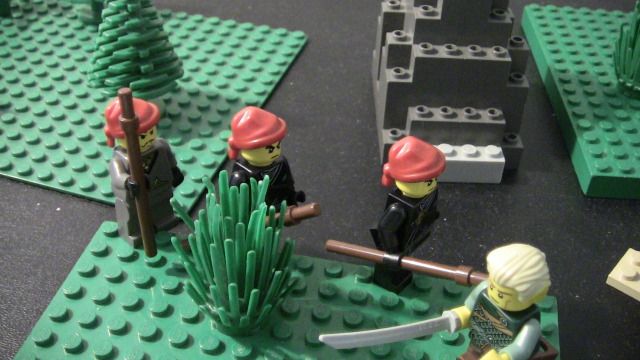 The other monks, including their leader Hui Se, move toward the jungle.
Solira sings a song to catch Corphu's attention. The others gather round to listen and receive +1 to their rolls next round.
A reflection catches Solira's eye when the song is finished.
"I say..."
"What fine, shining armor they wear!" she says as she observes the Knights of the Shining Armor.
Without a word and for no reason that makes any sense at all, Corphu and his acolytes stand a midst the barrier and lift treasure chests above their heads.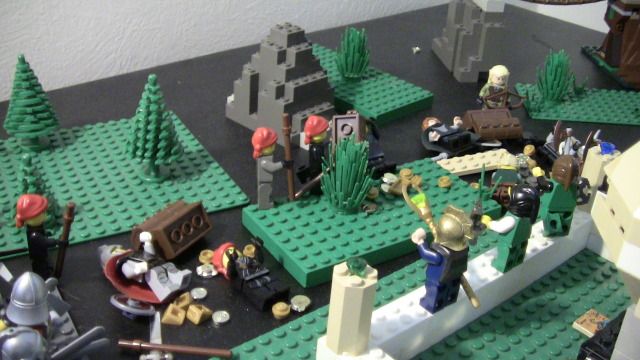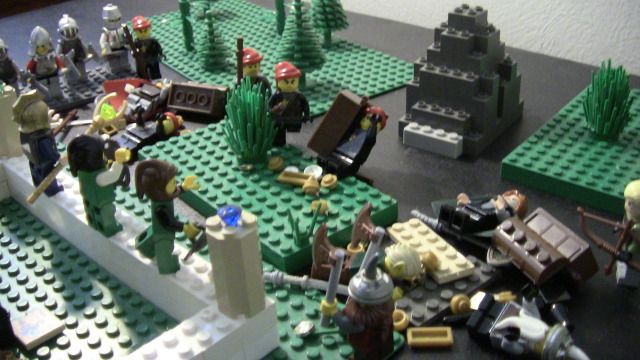 Then they throw the chests, knocking a few characters down.
"Chill out, bro!" calls out an elf.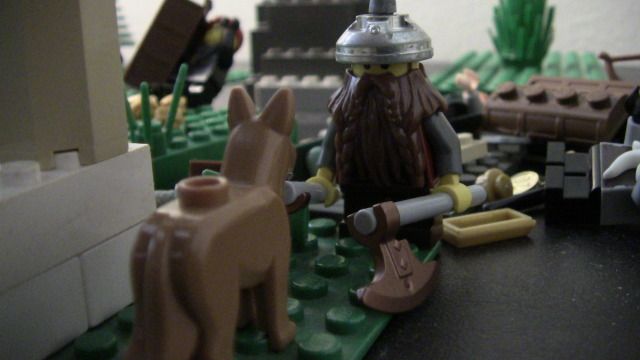 Meanwhile, Milo approaches a dwarf and sniffs his beard.
"Aye, yer a curious one, aren't ye?"
This is Milo's way of showing loyalty to the good guys.
After seeing the fire starting to spread...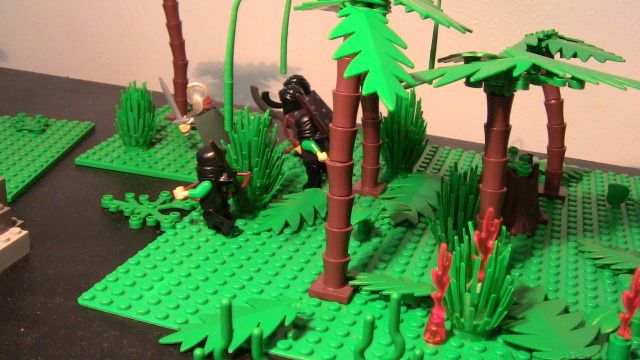 ...Danthor and his men decide to get out of the jungle.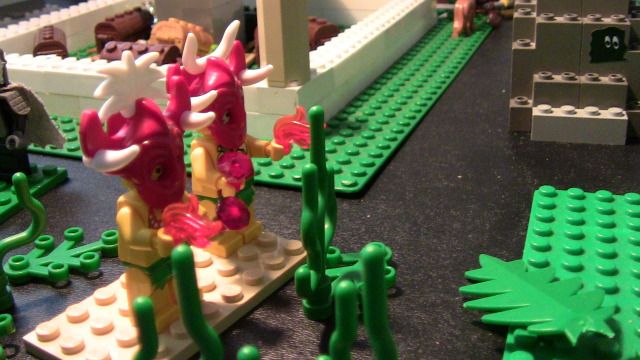 A wise move, considering the shaman's were about to start more fires in there.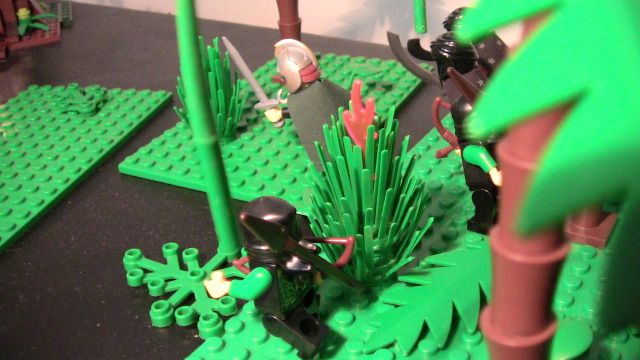 Two more objects catch fire.
Pa'Topu raises more water.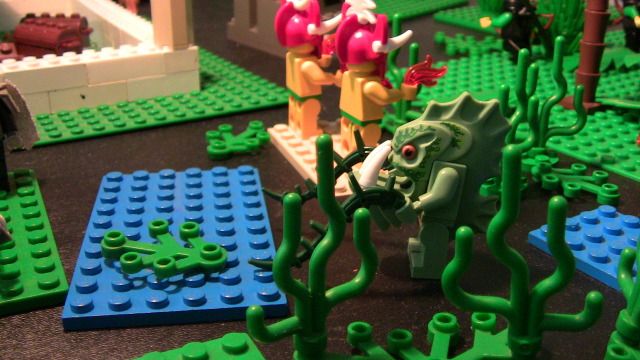 His new pond is deep enough for a minifig to fall into and drown.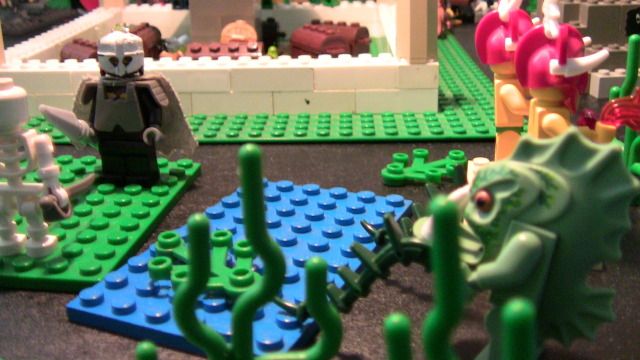 Then he calls over to Kelex. "Hey Solé*! Want to be friends?"
*Solé is Samoan for "bro". Sort of...
Kelex doesn't really know what to say, so he raises another skeleton, this time with a spear.
Movement: 5"
Attack: +2, physical
Can not act for itself.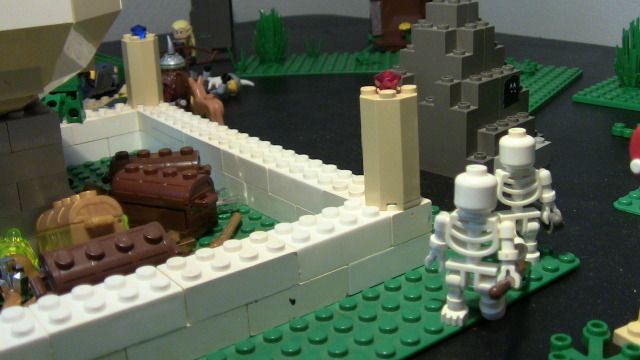 He orders the skeletons to go around the barrier...
... While he approaches the orks and shouts,
"Do you require my assistance? I promise you the chicken so long as Corphu's soul is mine..."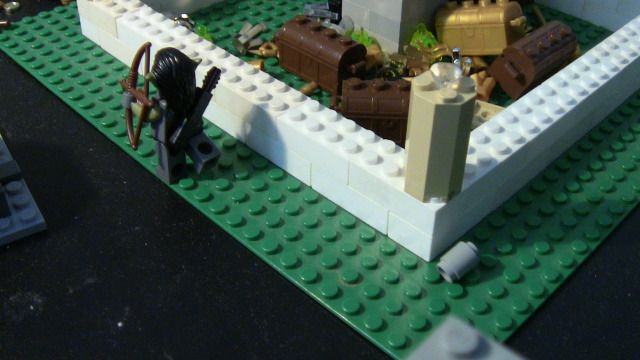 The goblin that was blown back by the barrier earlier picks up his bow and begins running toward the monks to ask for their aid.
The rest of the orks decide to charge the knights.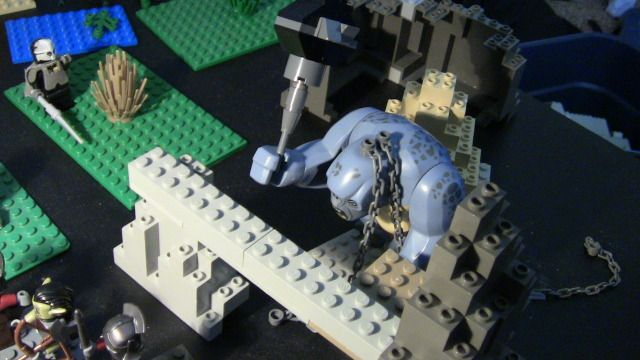 The troll doesn't like having obstacles in its way and gets ready to smash his way through.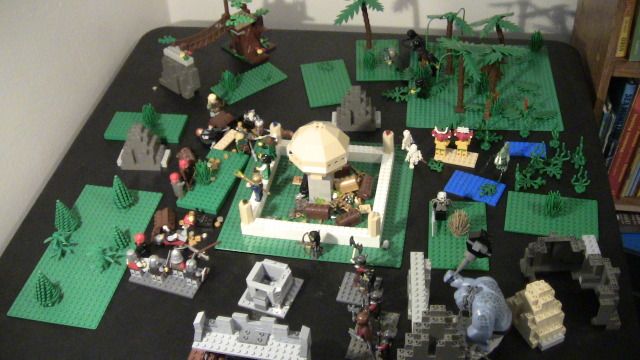 Overwatch
Pretty good round so far. I expect next time is going to see some real action.
Please submit your orders.