Seeming as everyone has a sigfig or two, I'd thought I would start thinking about one for myself. Now I have a habit of gender-bending with online platforms like Second Life - I tend to play females more than I play males for some odd reason. Never figured it out, myself.
Anyway, here is the base figure I used before tearing her apart:
I don't care for the lasso or the rather slutty expression on her face, so I made changes...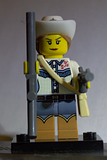 The head and the satchel are from the Pharaohs Quest Cobra Statue set. The head is double faced, with the reverse being an alarmed look (which has comedic potential in BrikWars). I also added a rifle and a revolver, giving her a two handed and one handed ranged weapon.
Later I will write her up, give her a name, stats, etc. As for Heroic Abilities, Sharpshooter/Sniper is a must, but I think she should get a special "kick sexists in the nuts" ability too...