THE IMMORTAL MANIAC: BOOMER
"FFFFFFFFFFFFFFFFFFFUUUUUUUUUUUUUU!!!"
Boiling with Frustrated Rage, Boomer rips the grenade launcher off his Maniac Bastard Auto-Blaster..!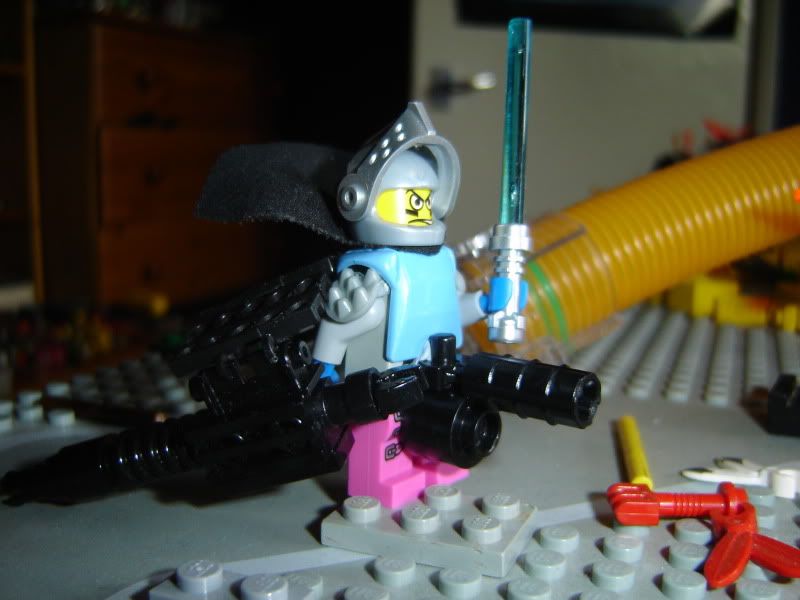 Not strictly following his own reasoning he none the less knows deep down in the dimmer recesses of his broken mind what a nega-metaphor (negaphor?) is, even if he's never seen one. Besides, all that chasing about in Pink Pants could send out the wrong message.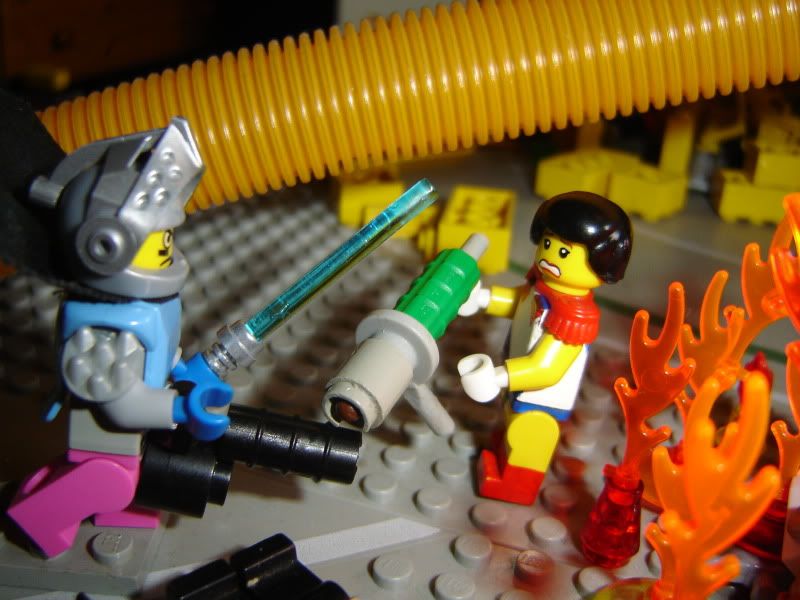 Armed with the white hot razgrizzly of Pink Pants, and a little help from his beam sabre, Boomer cuts Cosplay SailorMoons gun in two...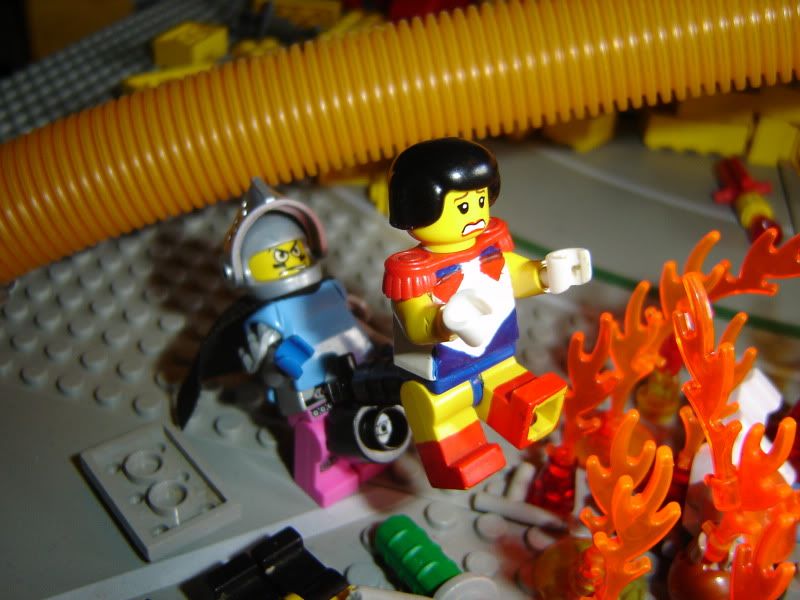 Suitably vanquished the unfortunate SailorMoon is attached painfully.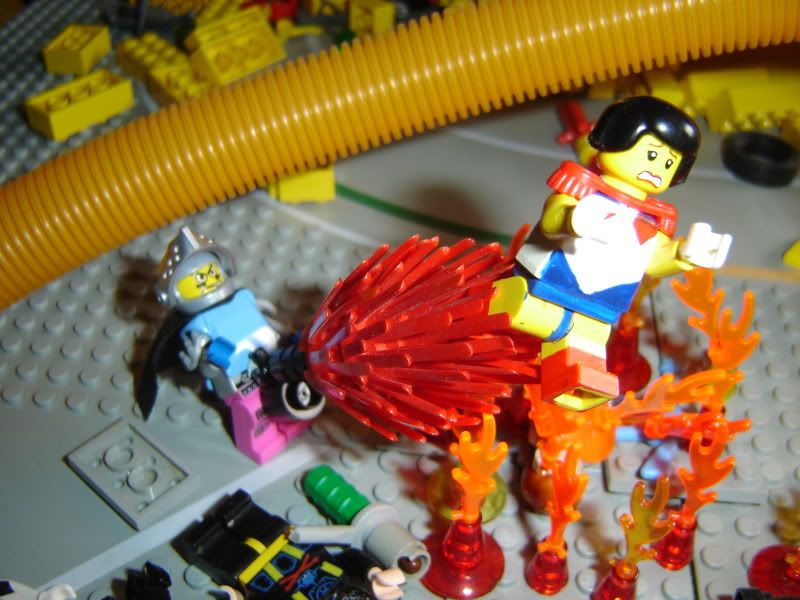 PHFOOOOOM!
Blast Off! I suspect re-entry may be problematic.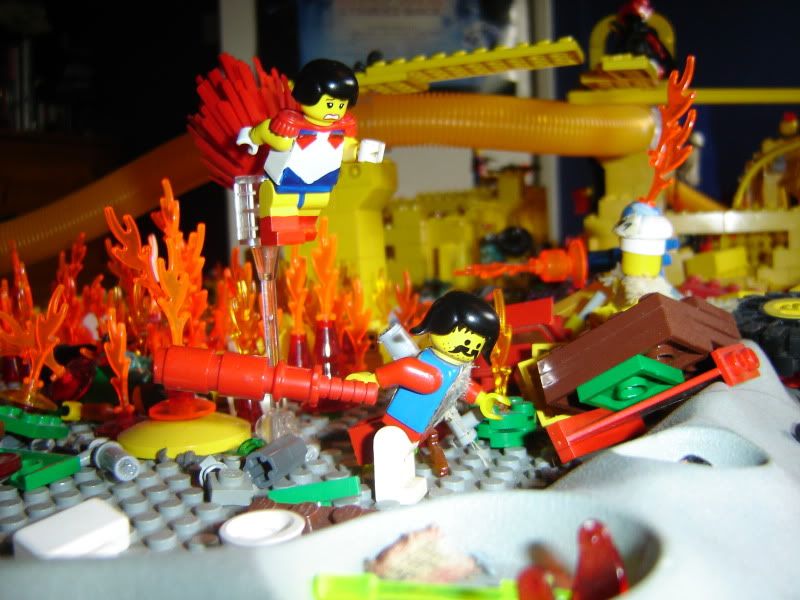 INCOMING!!!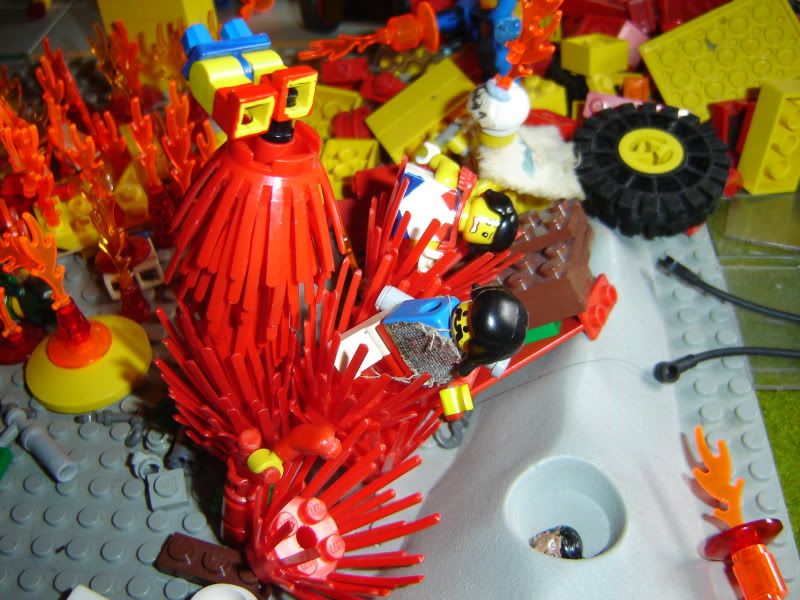 KA-BOOOOOOM!!!
At last, something worked! Rolling a five on a D6 was just enough. I went with basic difficulties dropping any mods, something's are just fated or they're not.
SailorMoon is toast but Amok being the Wallies Hero loses an arm and a Hit Point. He's rubbish but annoyingly persistent. Like barf stains on velvet curtains... or so I've been told.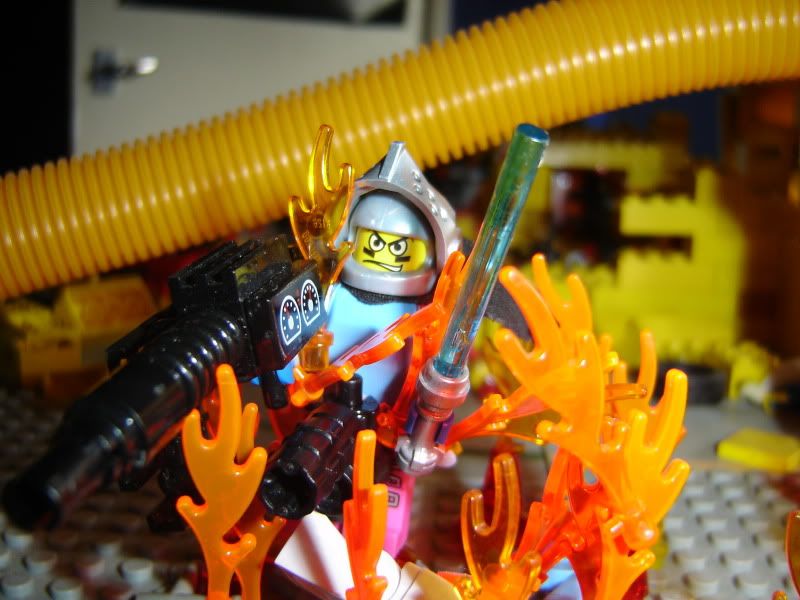 That just leaves one thing, the pink pants purge! Let the flames purify!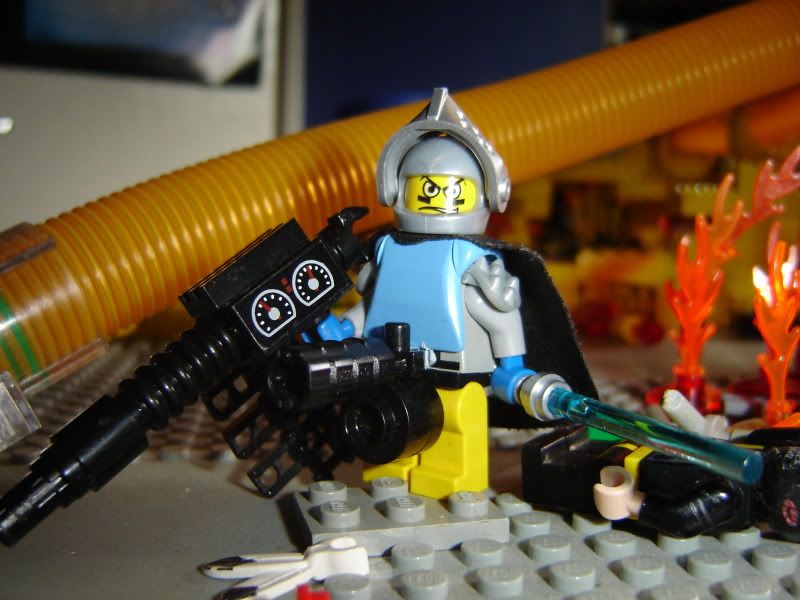 His armour/toughness easily beat the flames damage. Boomer strides out ready for action!.. Oo-Rah! Where are your gods now?
+ + + + + + + + + + + + + + + + + + + + + + + + + + + + + +
+ + + IMPERIAL TROOPS TURN + + +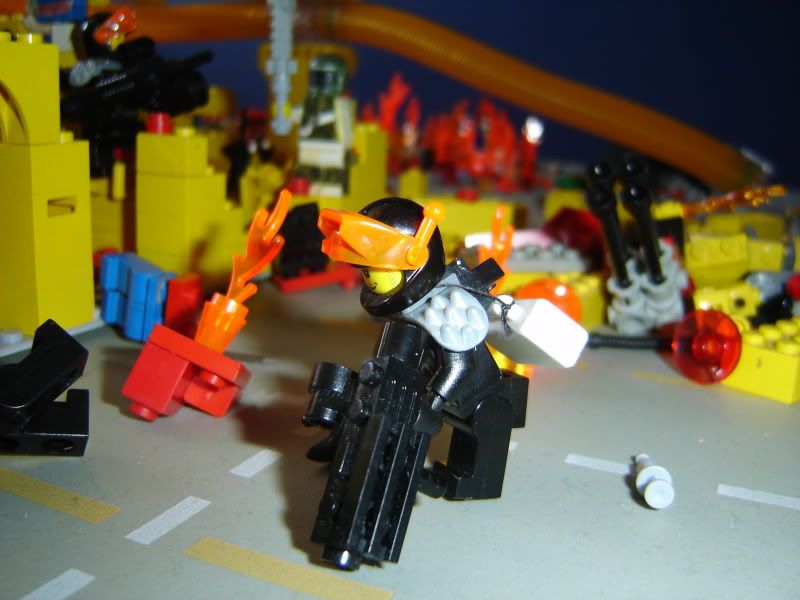 Trooper Silva, now fully healed, makes a dash for the buildings.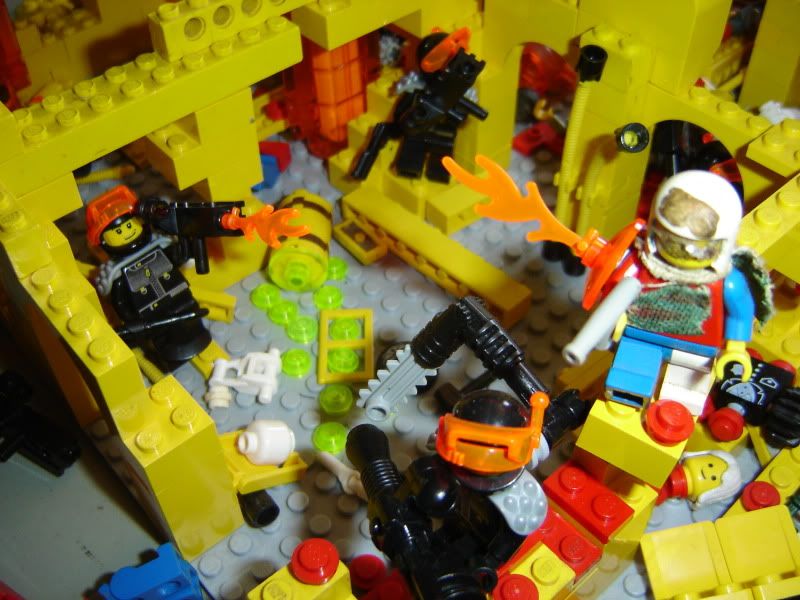 Silva takes a shot at Super Nerd once he's in cover. The Boy Blunder fails his armour save epically and is out the game.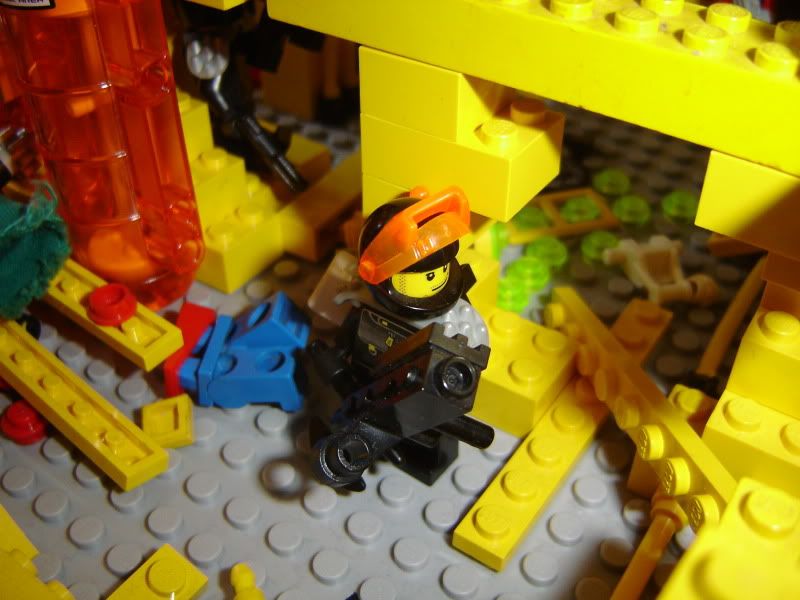 Silva pulls back and waits for the counter attack.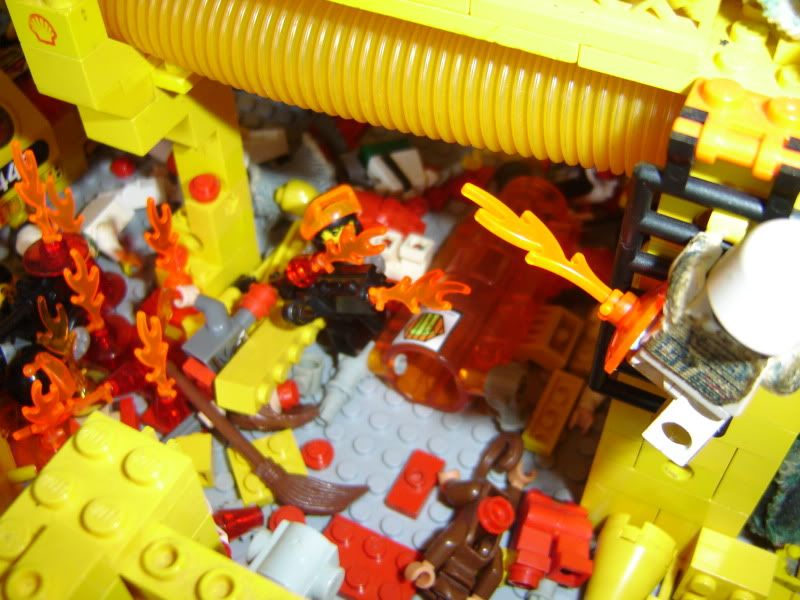 BFenix charges out, guns blazing. He can only make it to where he can shoot one target, and takes the shot. His acquired officers Blaster Pistol is out of ammo now, so he ditches it. (I rolled a crit fail).
He pauses long enough to rip his victims still living head off. He replaces his useless pistol with a dead mutant monkeys cutlass.
Sporting his new trophy BFenix has run out of actions for this turn. Still, he does look rather fetching I think you'll agree. (Now causes fear).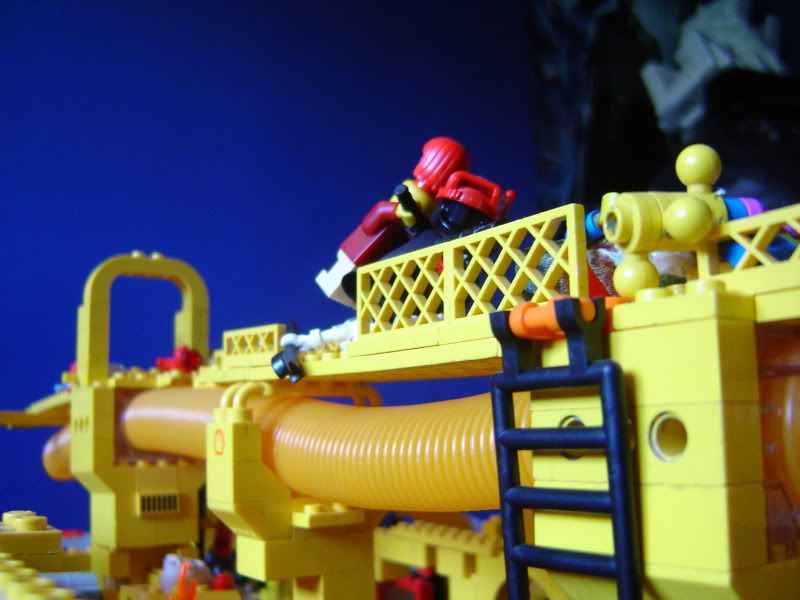 Recon Scout CrazyHorse seeing that his initial target is already dead stealths his way along the overhead gantry.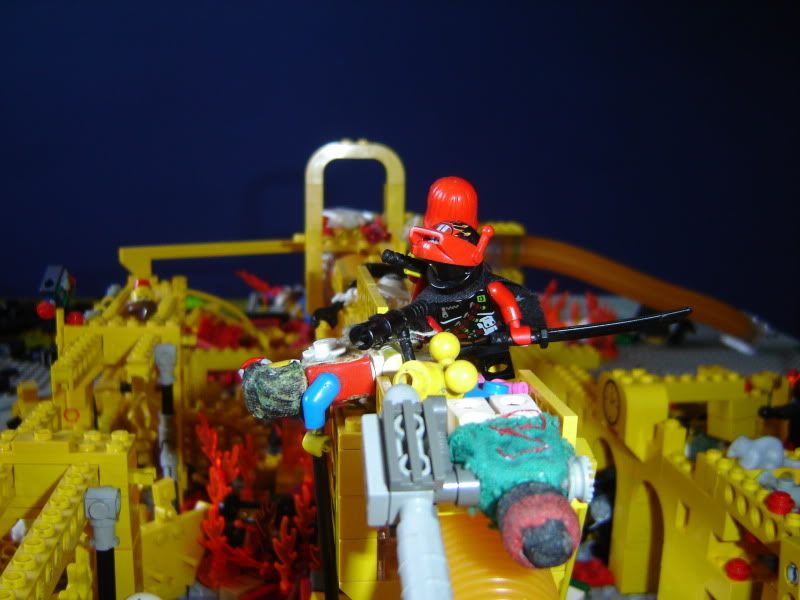 His stealth rolls are better than the enemies awareness rolls and he gets there unseen, so far.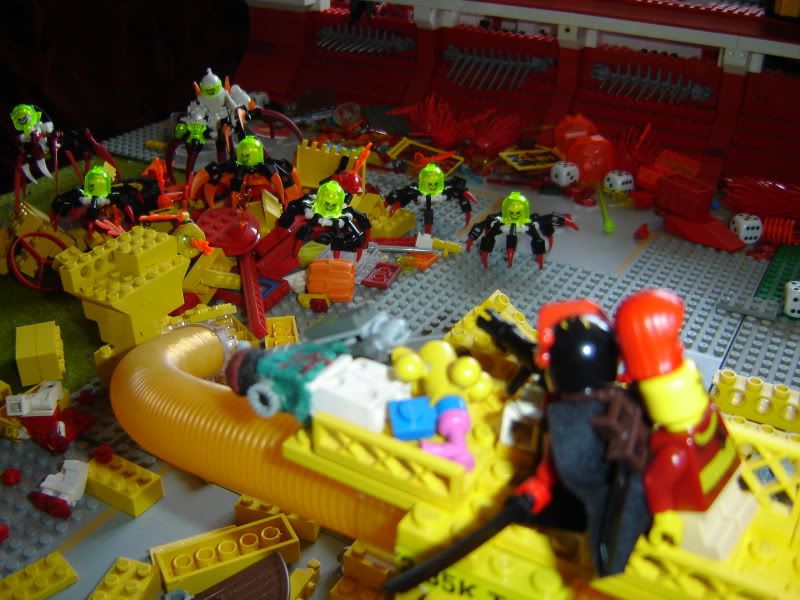 CrazyHorse settles in for a spot of bushwhacking... I mean like in ambush, not fapping... you guys!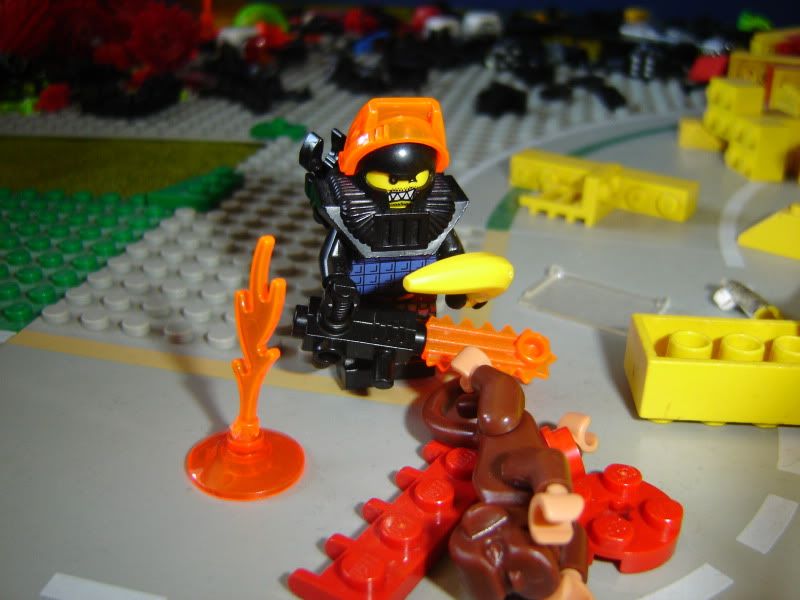 "BA!..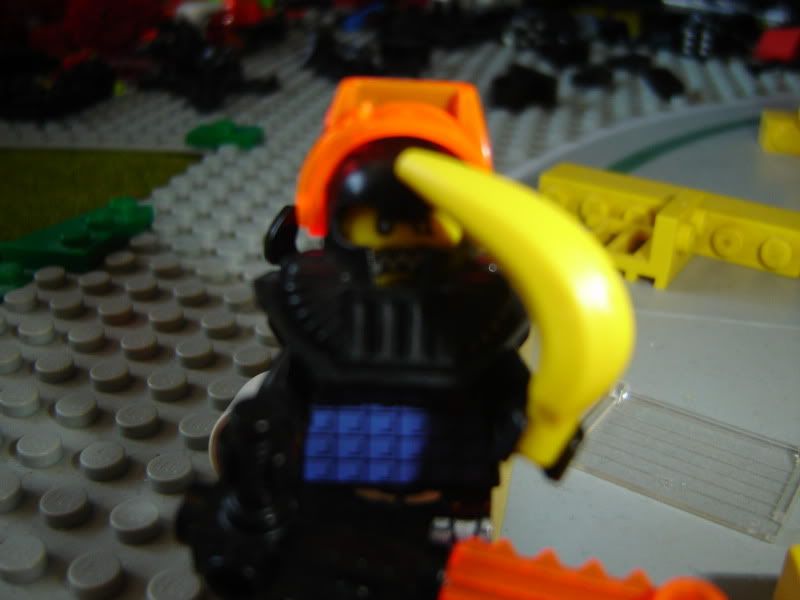 "NAN!..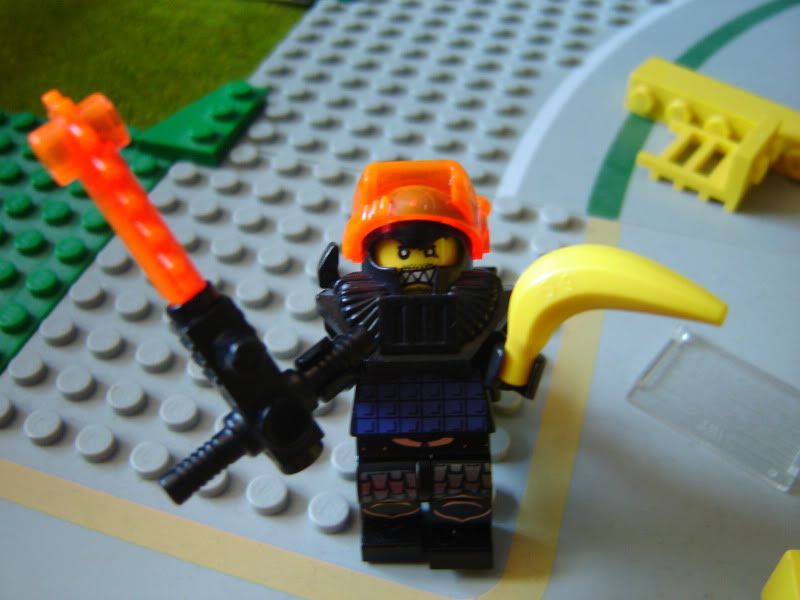 A-AAAAAARGH!!!"
The TerrorKhan Berserker Moron isn't taking the death of his new bestest friend well...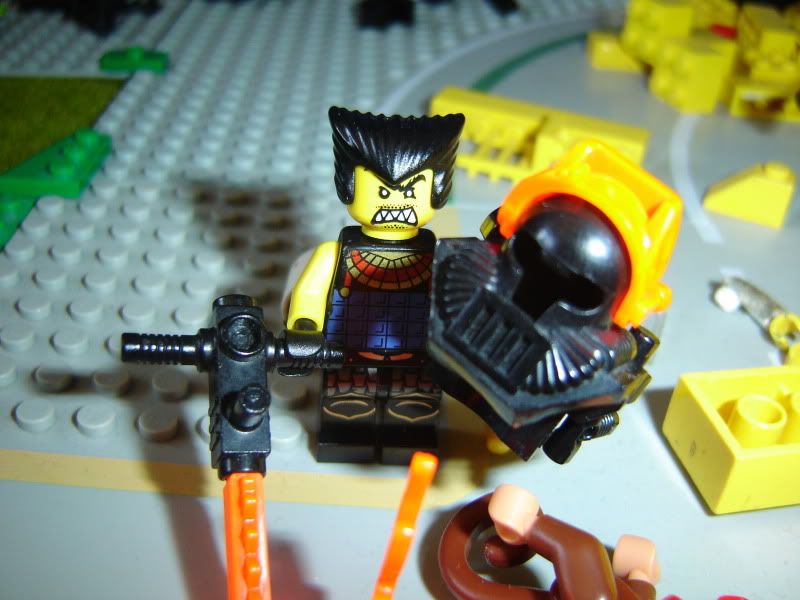 Consumed by his murderous rage Moron begins ditching his heavy TerrorKhan Armour and JetPack. (His armour has dropped but the difference now adds to his damage rolls instead, he also gains an extra Hit Point so long as he kills each turn).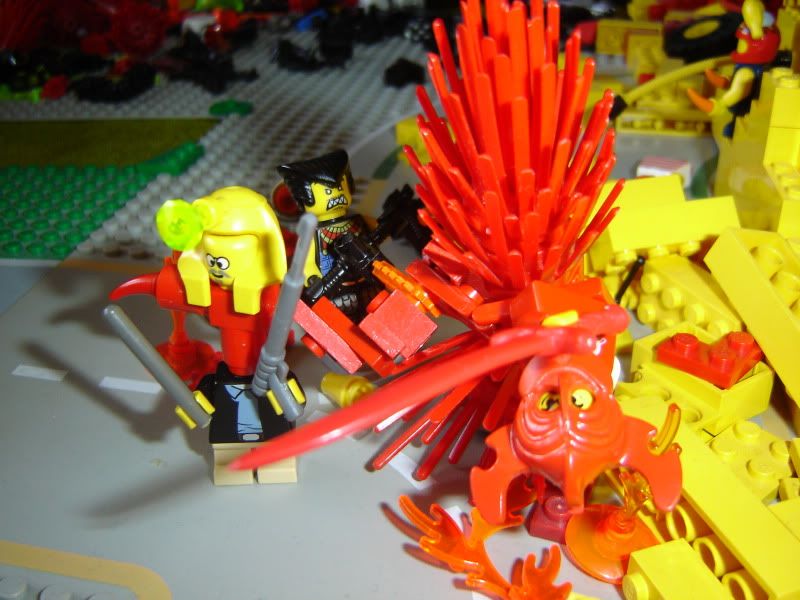 YAAAAAAARGH!!!
SCKREEEEEEEEEEEEeeeeeeeeeee
His Berserker unleashed Moron makes short work of the monkey killers!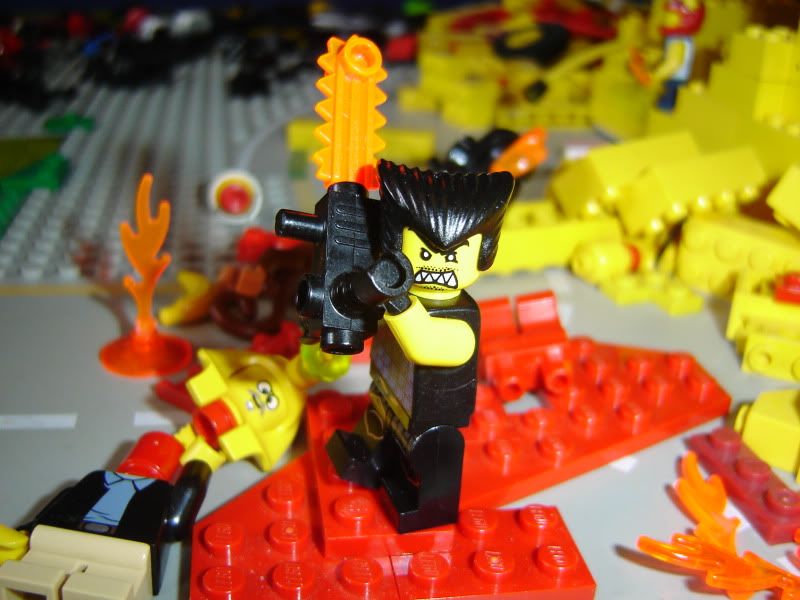 Stood in the cooling blood of his enemies Moron issues the death challenge of the Nadir...
"C'MON IF YOU THINK YOU'RE 'ARD ENOUGH! YAH BASTIDS!!!"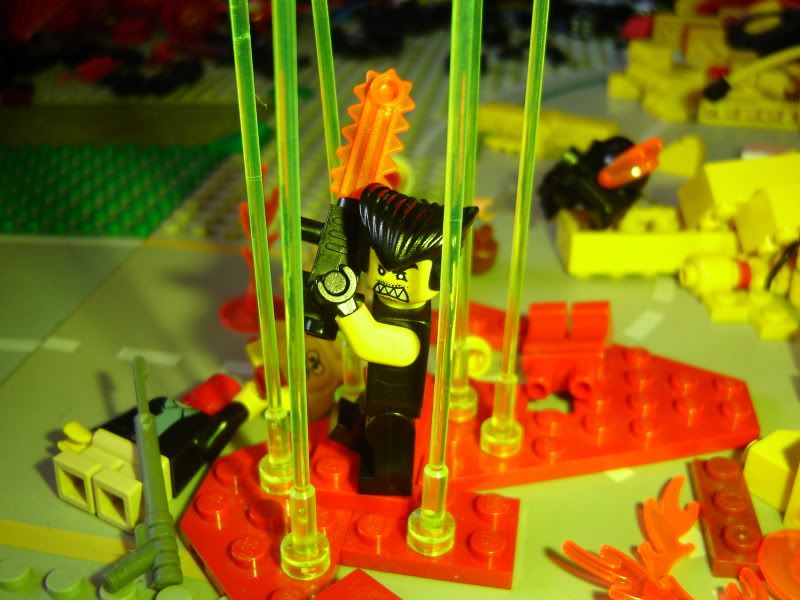 Suddenly a weird light rises around Moron...
"...Huh?"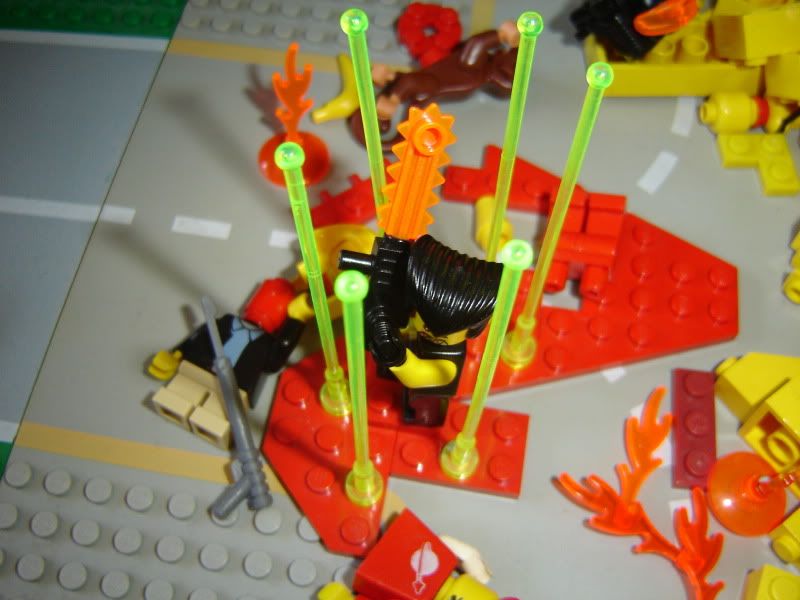 The light begins to change, it moves away a short distance. Moron's rage pounds in his veins his desire to kill almost killing him...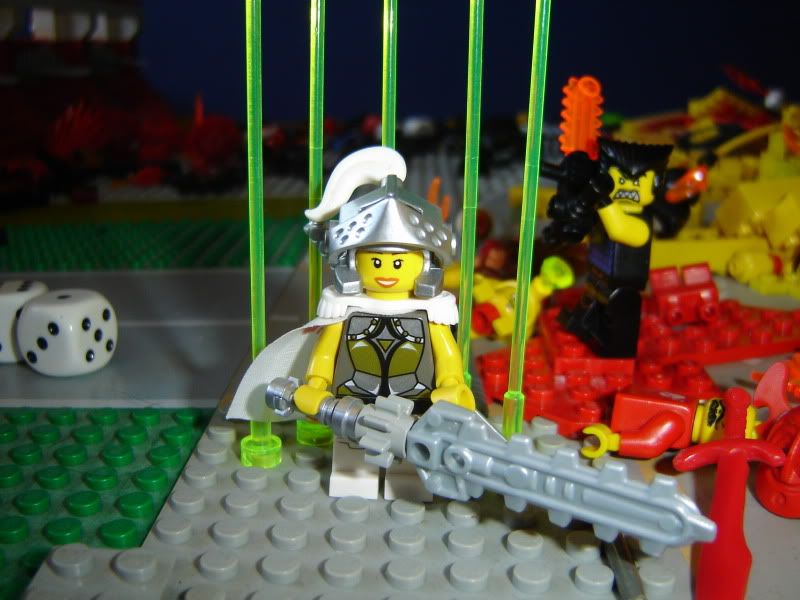 ...the Berserker in him summons the aid of Valkyre the Immortal to the fight. (New unit up for grabs to anyone interested). Brag has this unit now.
+ + + + + + + + + + + + + + + + + + + + + + + + + + + + + +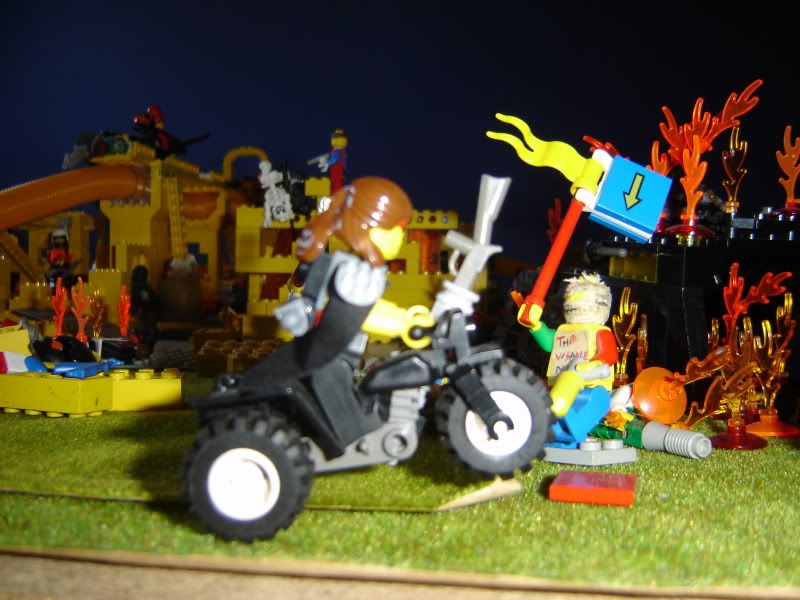 Seeing that footslogging won't gain him enough space Mgb519 dives onto a discarded Trike and guns it to life in one swift motion.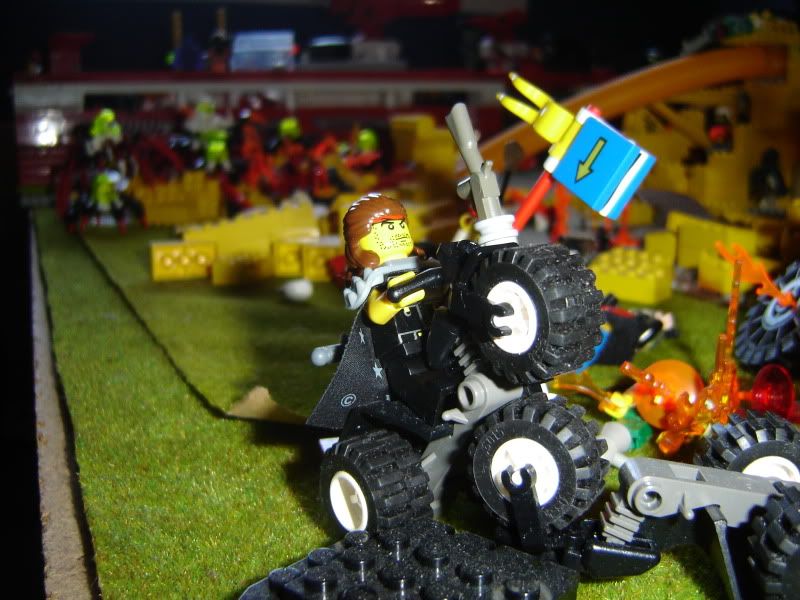 He blazes over the strewn wreckage, these Trikes can handle the rough terrain of the Wastelands.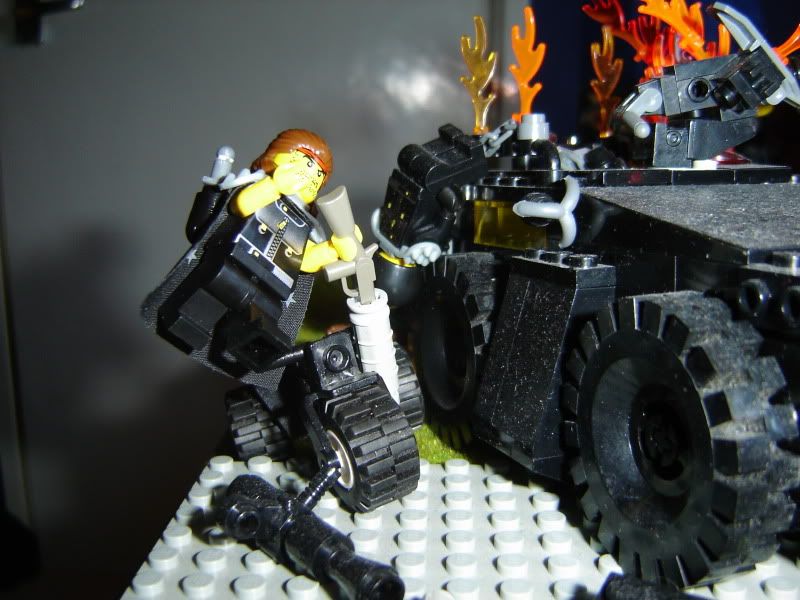 He dives from Trike without stopping onto the ruined APC's roof while drawing his rifle with him.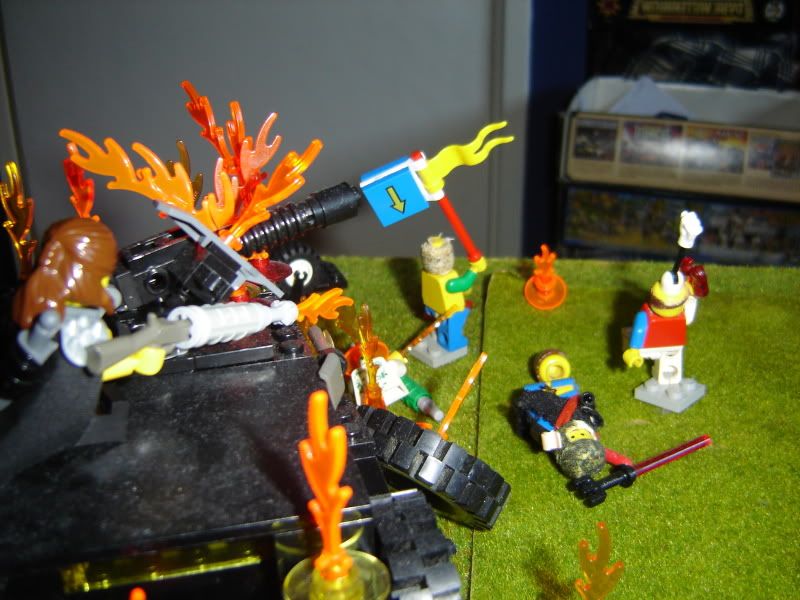 The drive roll takes it toll however as his shot narrowly misses the Visible Man.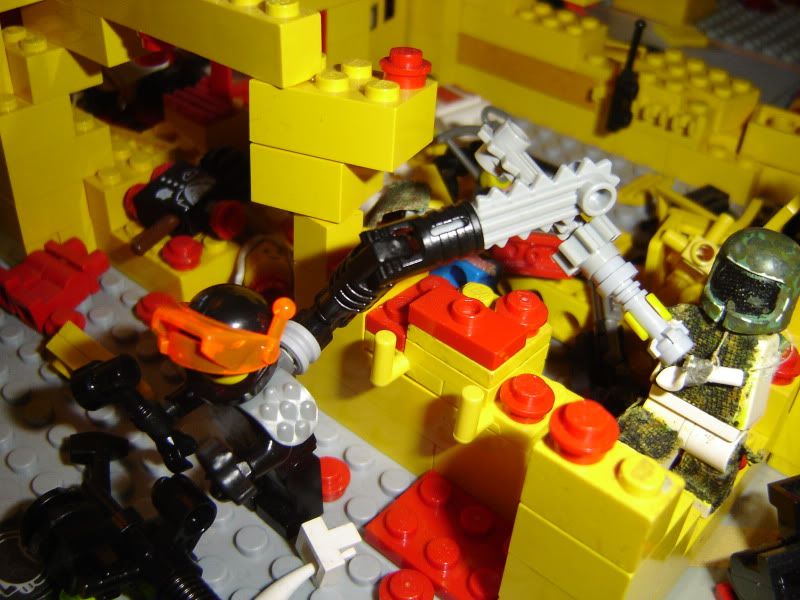 Trooper F!SH rolls a dazzling two crits on his Chainsaw arm creating a whirring wall of death that can't be breached. This allows him to get to work fixing his Support Weapon.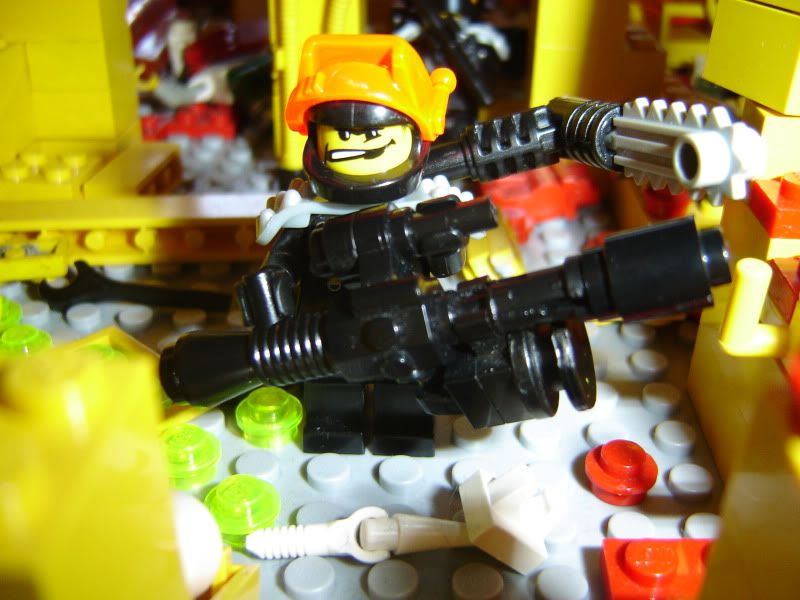 Impressive, Trooper F!SH besides being a Heavy is also now a Tech Specialist and gains a small bonus for Tech/Repair rolls due to performing two difficult Tech Rolls during this combat.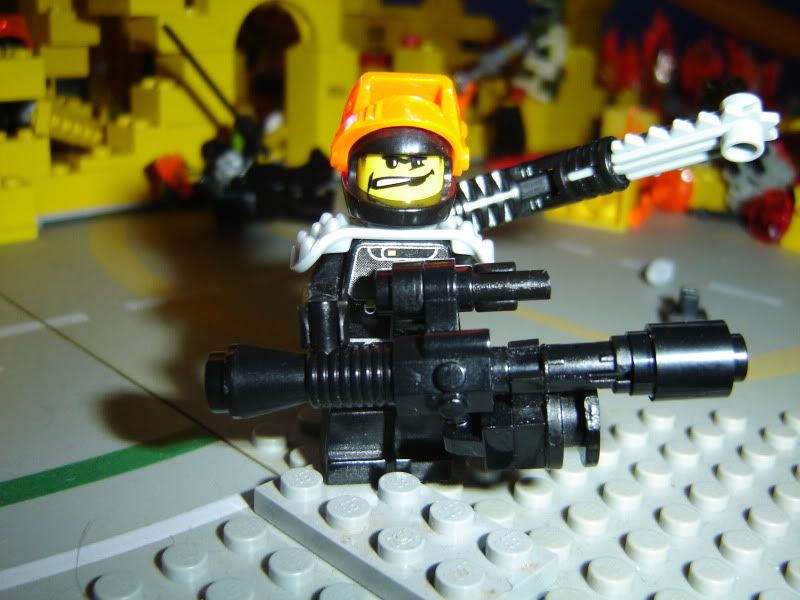 Just a better shot of the weapon without the close in walls etc. Games wise; It's as good as it was before and will work.
+ + + + + + + + + + + + + + + + + + + + + + + + + + + + + +
Trooper Ross opens up with his Maniac Room Sweeper killing the stinking Wally...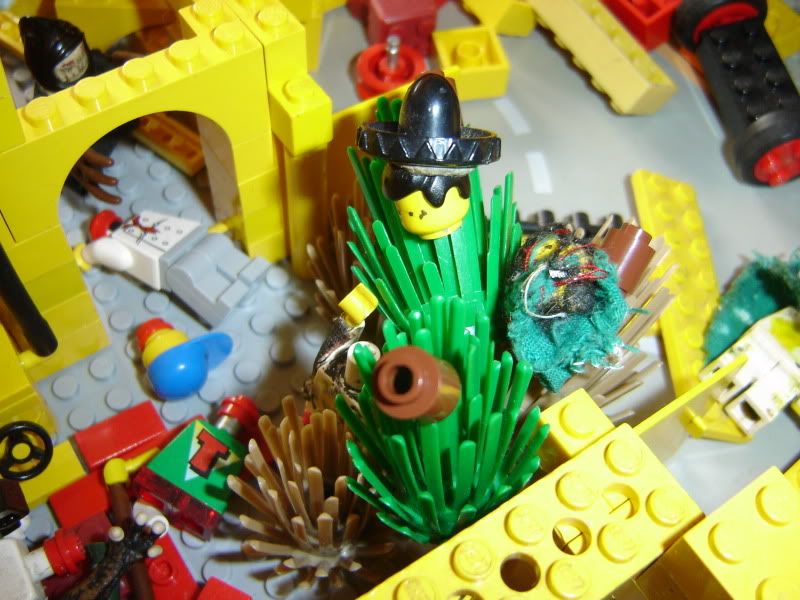 SPLOO
OOOORT!
...and unfortunately detonating Slimeys head in the process.
Who's gonna clean that up?.. Muggin's here, that's who! I would suggest this area be avoided in future.
Ross eager to find something, anything to take out the NecroTek Creepers leaves his defensible position in search of weapons. Ah-ha! What does he see?..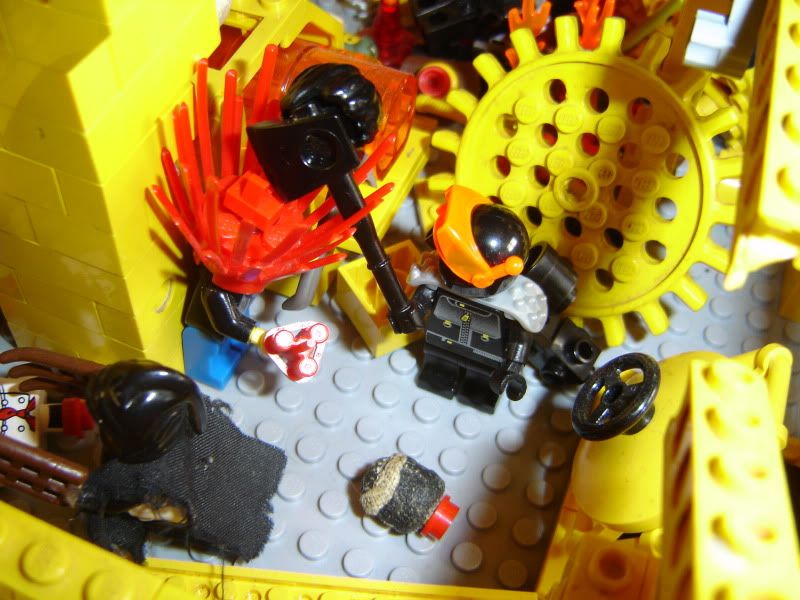 THOINK! SPLORT!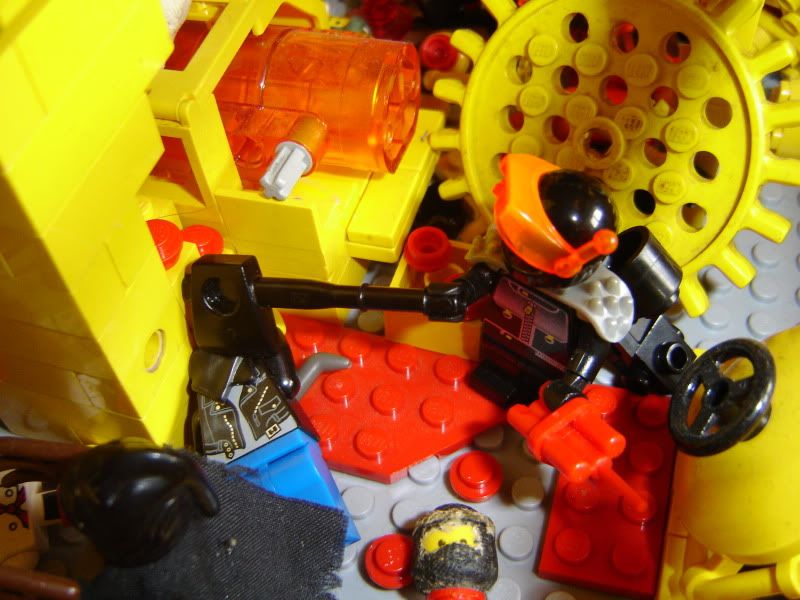 YOINK!
"...Mine I think!" Ross has a home made explosive and his arse swinging in the wind.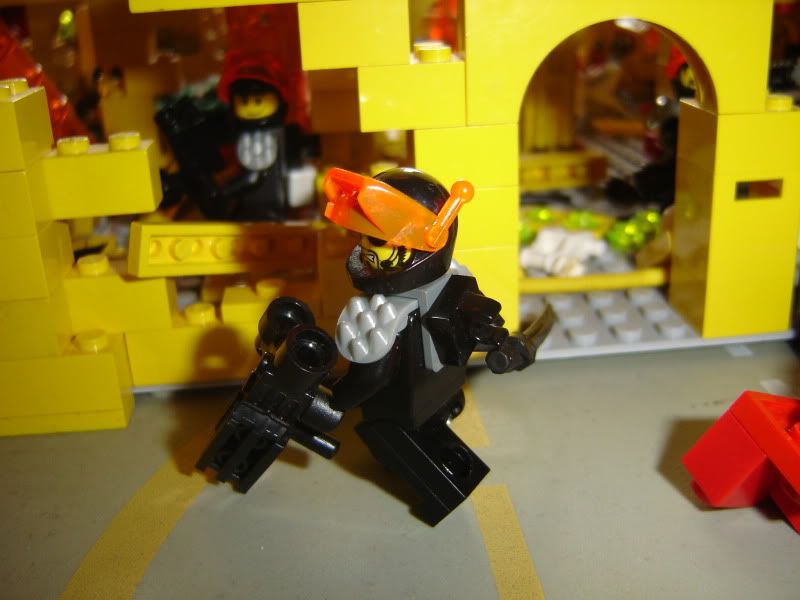 Master Sergeant Ecabob moves out.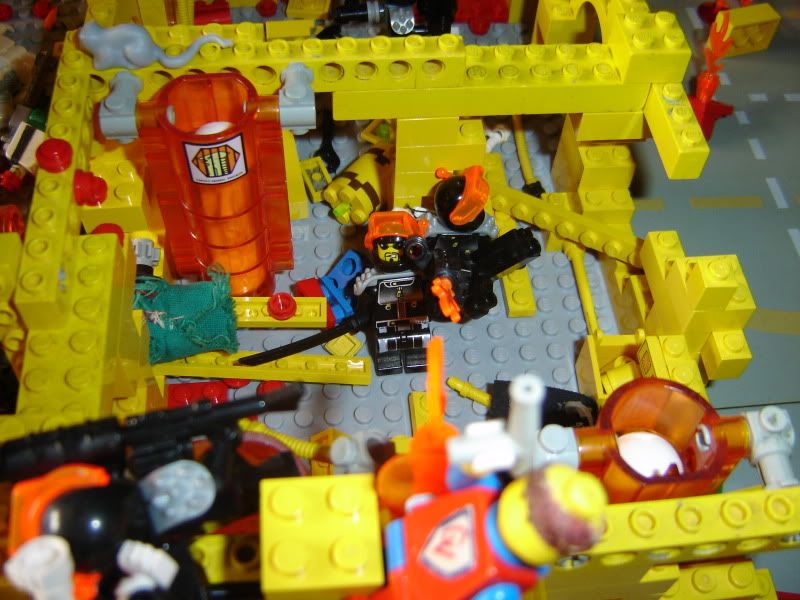 On his way past he takes care of the Captain Vincible with ease.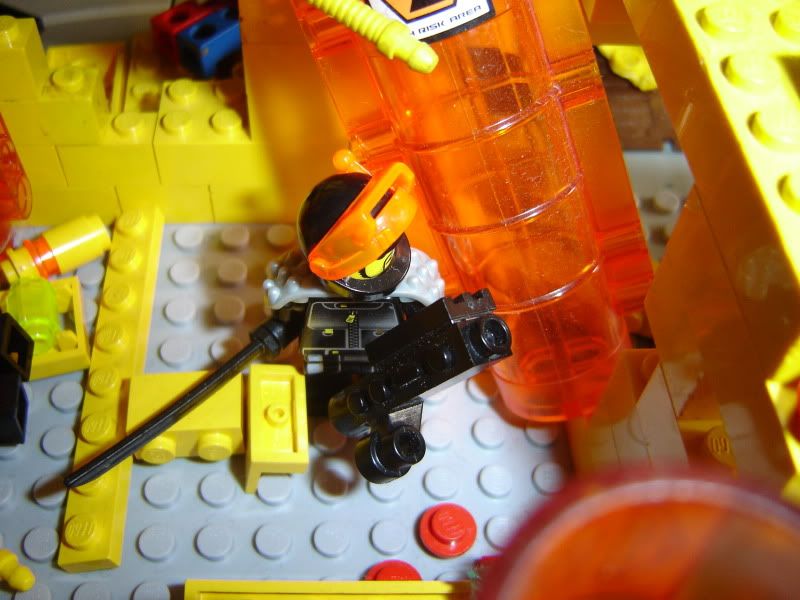 Then sets up in a defensive position for next turn.
Sniper Krus sees the Scav Chief is gone and takes a shot at a nearby Scav threatening BFenix.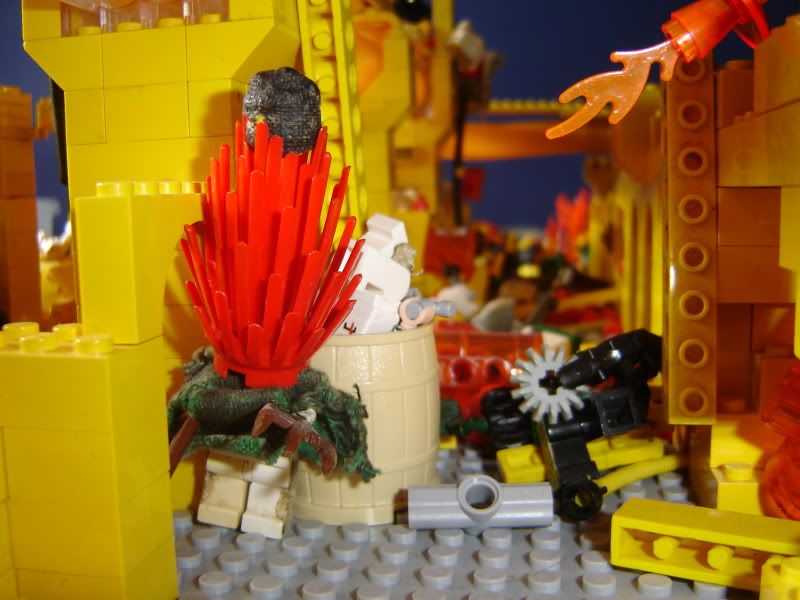 Quite successfully as it happens.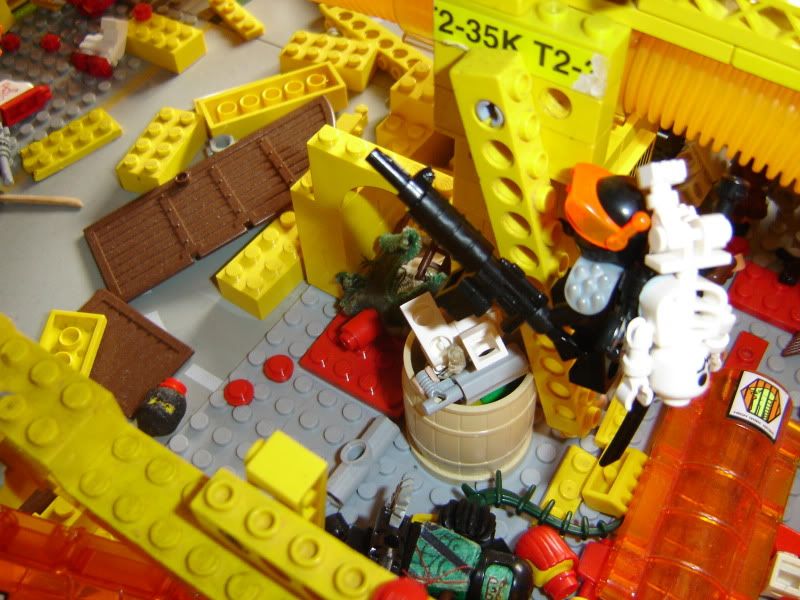 He then follows his orders and advances looking for a vantage.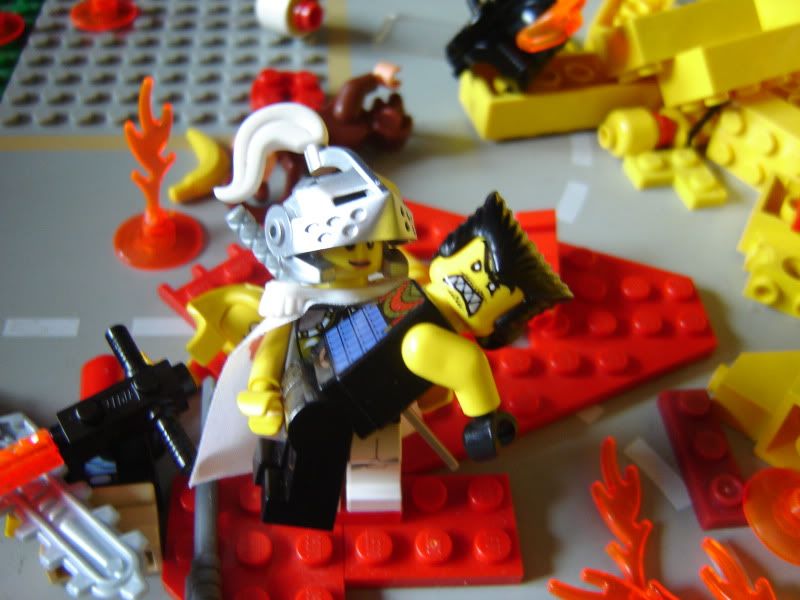 Meanwhile the action heats up... Well, it does say in Wikipedia that in some cultures the Valkyrie are the granter of wishes... I guess Moron's blood lust wasn't all blood and had a bit too much lust.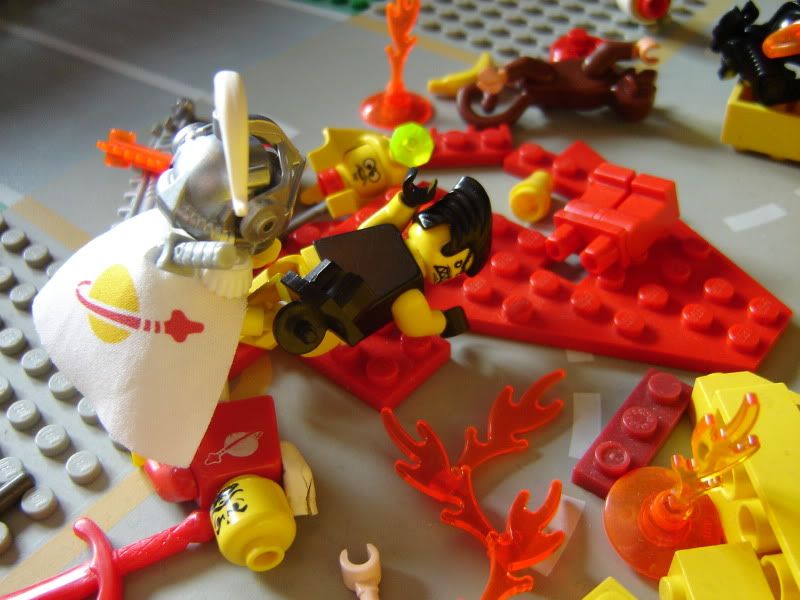 Oh, they might scream a bit, but deep down they love it really.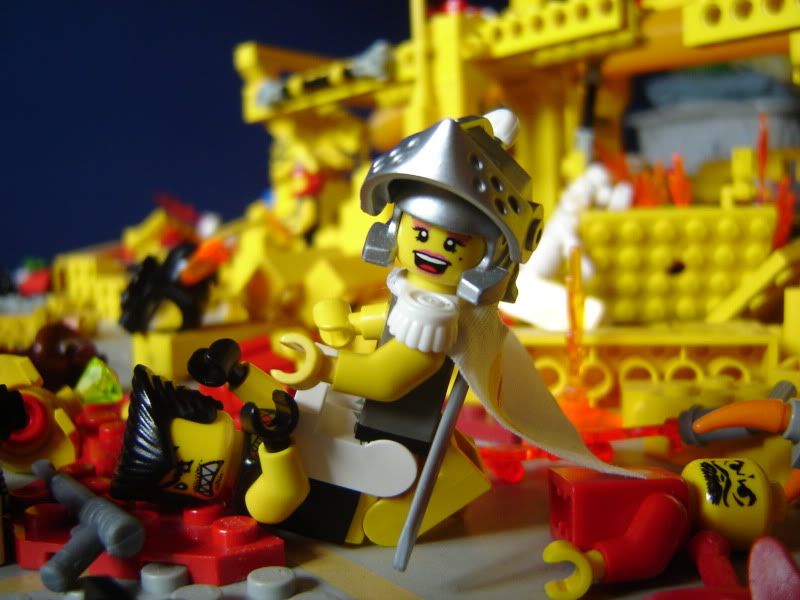 At the risk of over doing the Snoo Snoo joke Valkyrie gets going.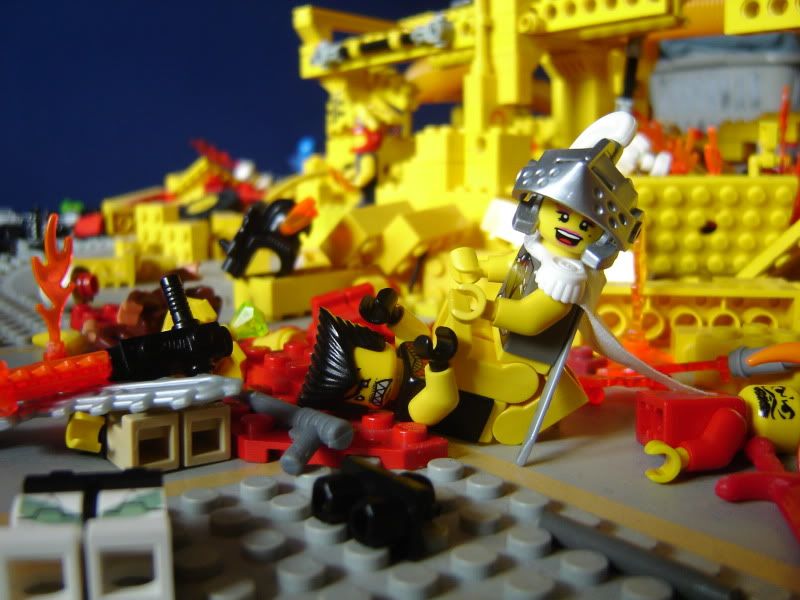 Almost done...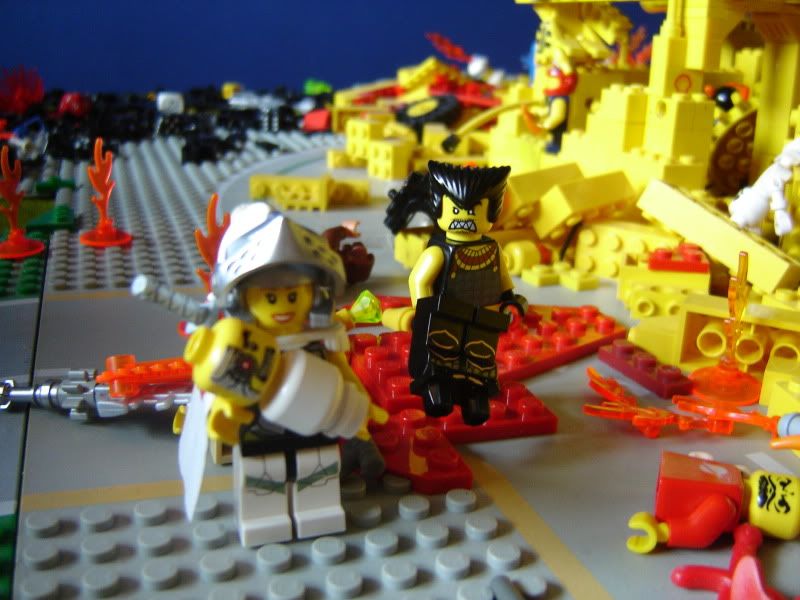 Eh?.. That was fast. Valkyrie gives birth to a bouncing baby berserker...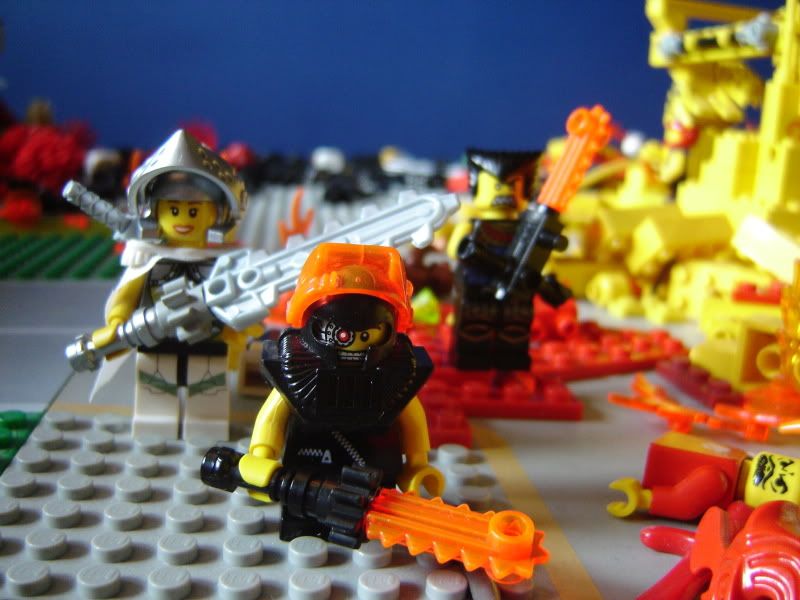 Make that a Bouncing Baby Berserker TerrorKhan.
+ + + + + + + + + + + + + + + + + + + + + + + + + + + + + +
WASTELAND SCAVS

AND IMMORTAL

WALLIES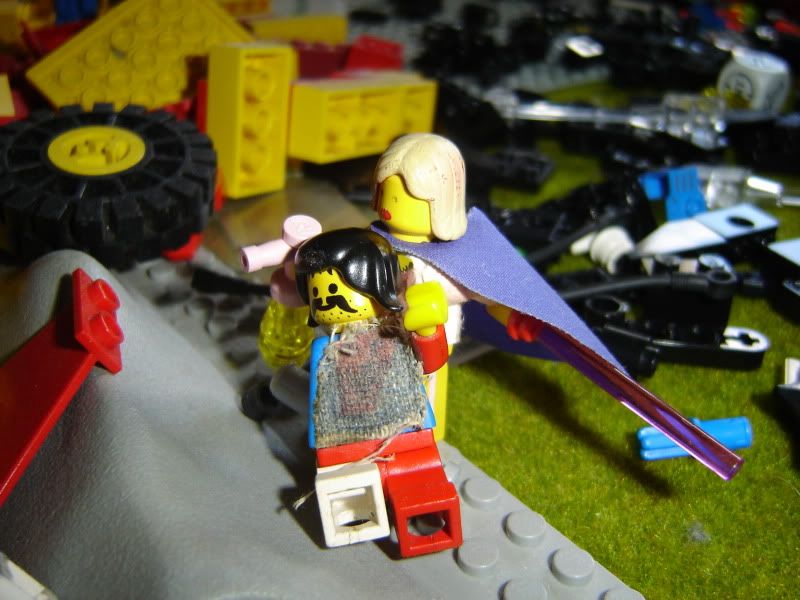 Panzy goes to the aid of her lover and attempts to drag him to safety.
Word goes out that NecroTek Mutants have arrived and the last Scav Heavy and FatMan leg it for the bunker hatch.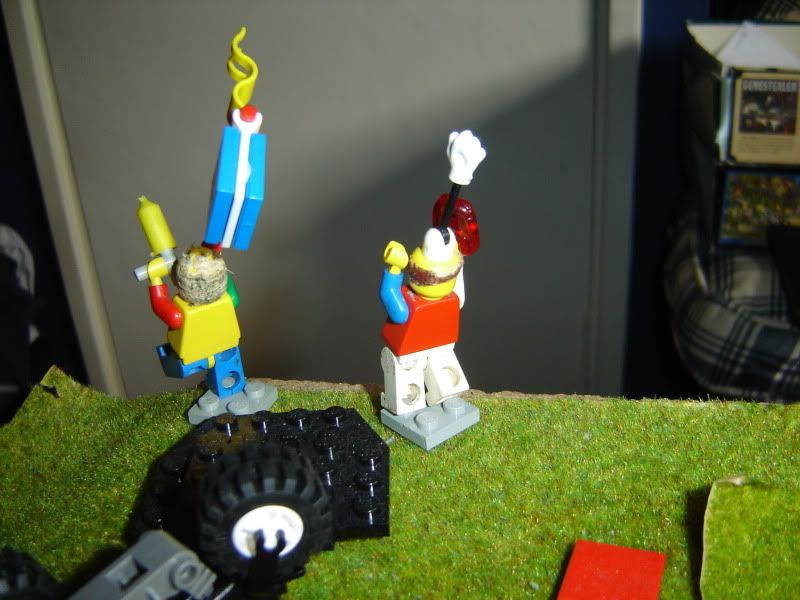 The Visible Man and Mr Smartys run screaming from the battle. Such un-Brikwars behaviour! Truly these Wallys must be exterminated from the Brikverse.
Ignoring Ross Scav Mutants dive for their underground lair. Fuck that shit!
It occurs to Ross that maybe people who live in the Waste's know more about NecroTek than he does... and they had never shown any fear before..?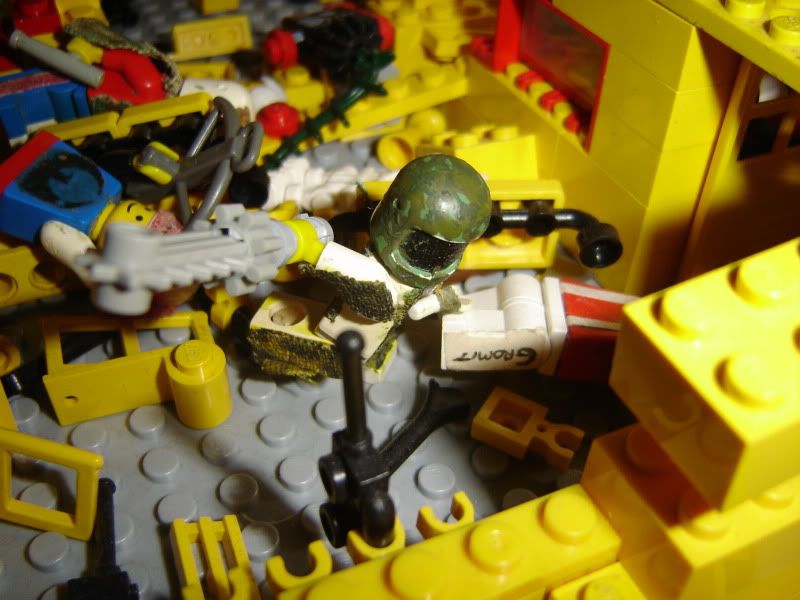 Even their Hero 1Hand2Hand seems to have had enough...
Although it would seem his escape is blocked for at least another turn. I don't blame him not wanting to cross that...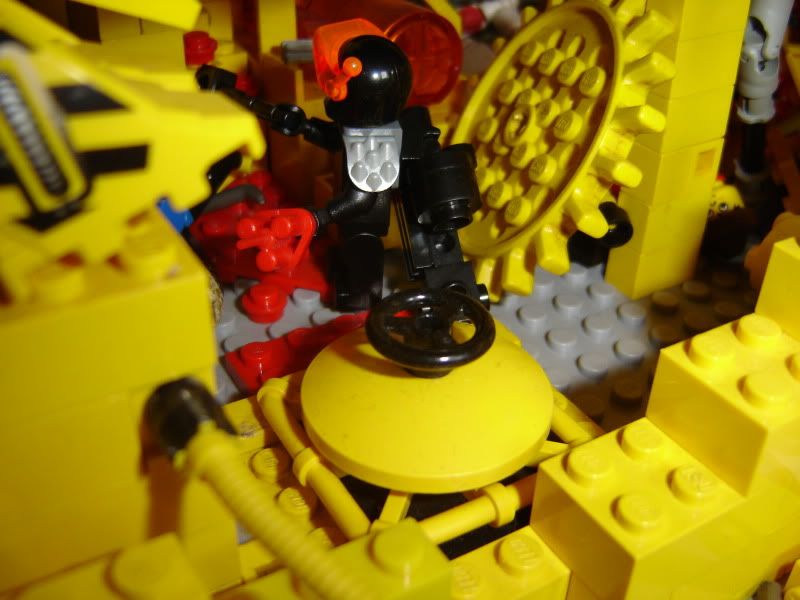 KLAAAANG!
Well it's tough shit for those Scavs and Wallys still topside, because that hatch isn't opening for anyone and is too strong for any of the weapons... except maybe Boomer..?
+ + + + + + + + + + + +

NEKROTEK

+ + + + + + + + + + + +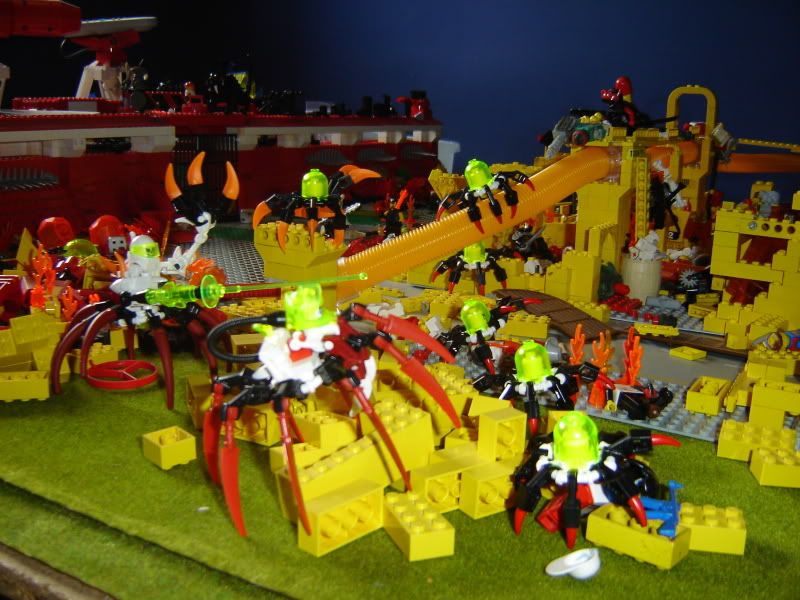 The mutated monstrosities scuttle forward with malicious intent.
"Sssss... All sssshall fall, yeeeessss!"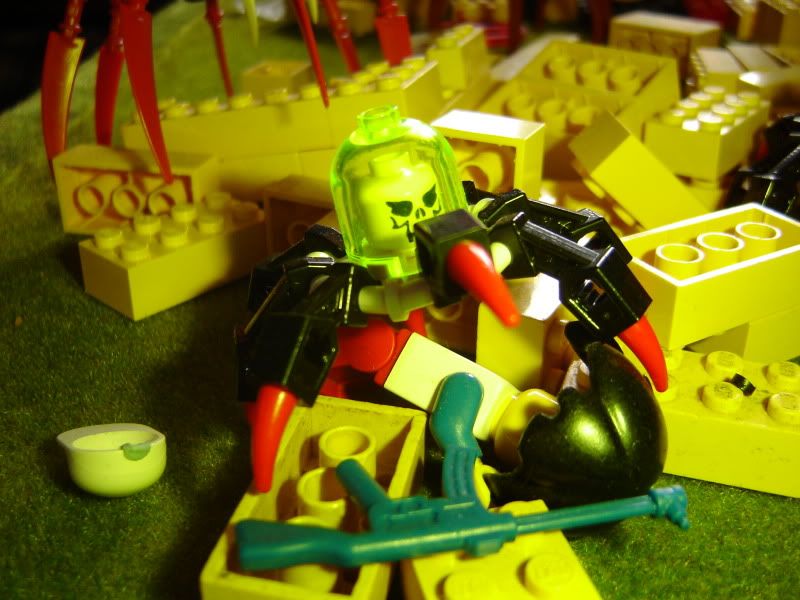 Two of the smaller Creepers pause over dead bodies that still have their heads.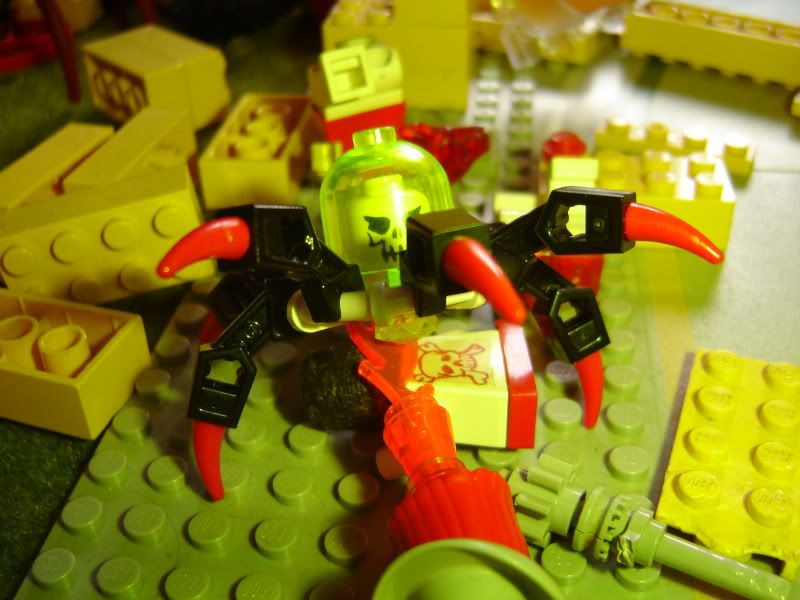 And an evuuul light throbs in sickening syncopation of a heart beat.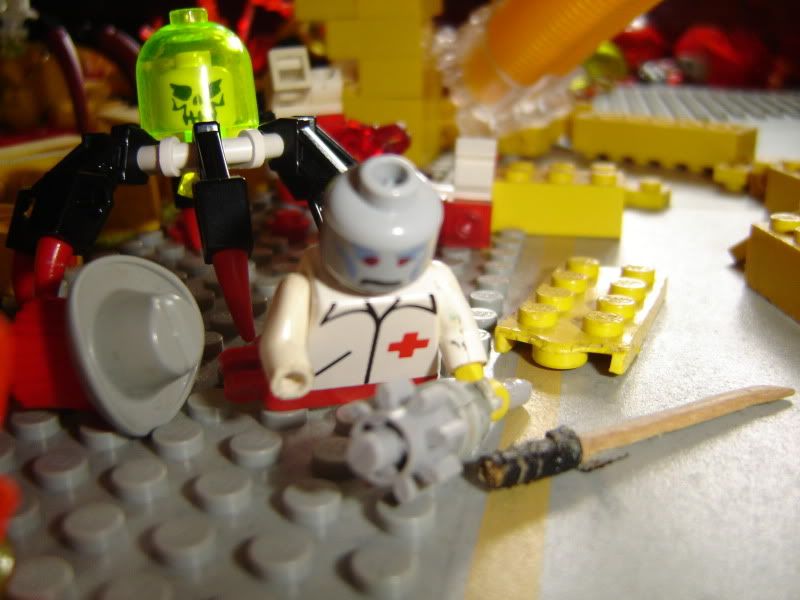 Horrors!
Abominations!..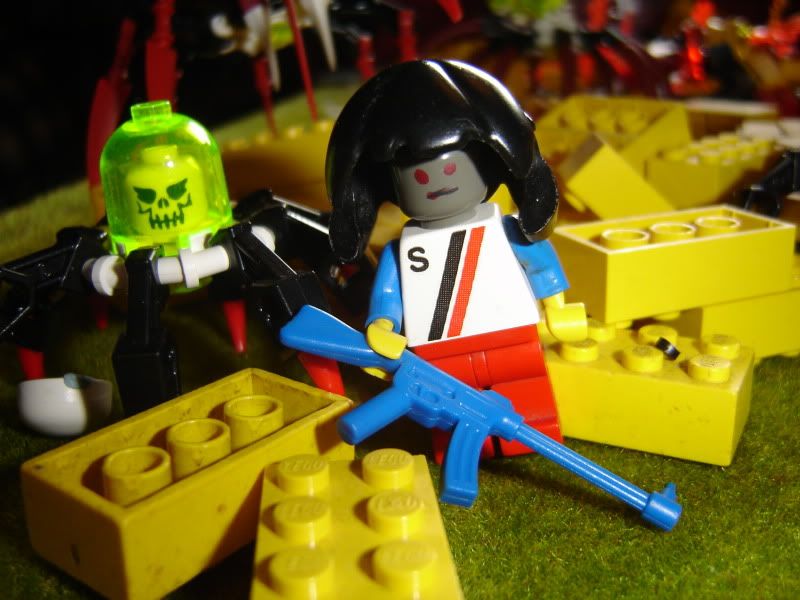 ...Zombies!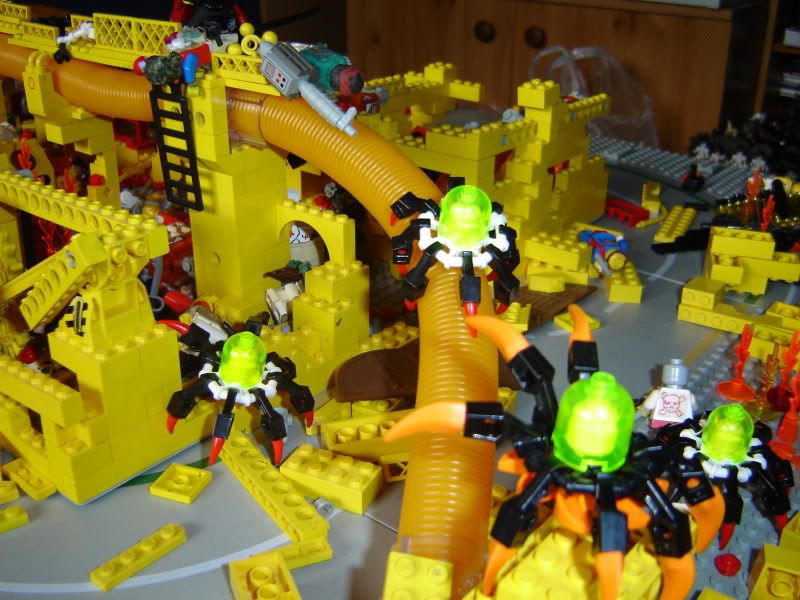 A NecroTek Ripper climbs onto a ruined pillar, all the better to cover it's brood brothers.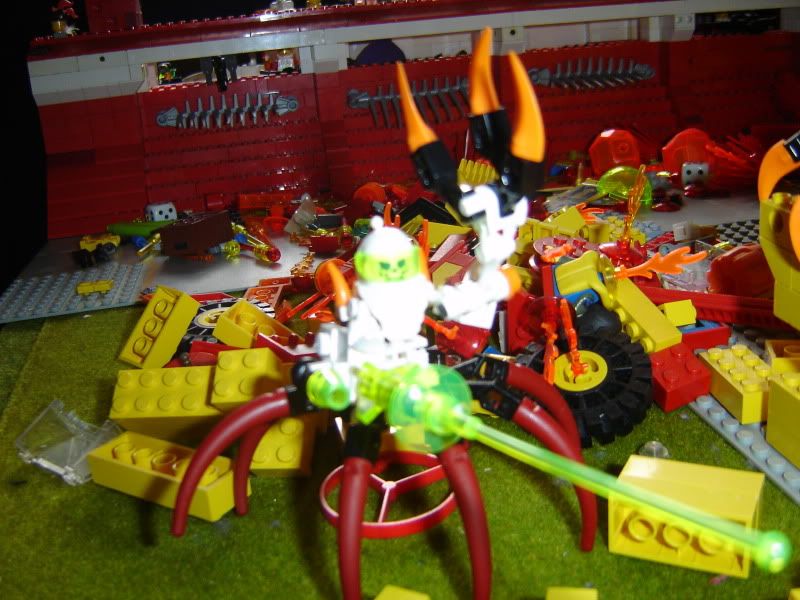 vvvffff

ffff

fffFFFF

FFPPPPHHH

HHOOOOOOOM... KRAAAAAAAAK!!!
The massive discharge of NecroTek Energies deafens even the noise of the battlefield. Unable to range it's target the NecroTek Flayer chooses another it can reach...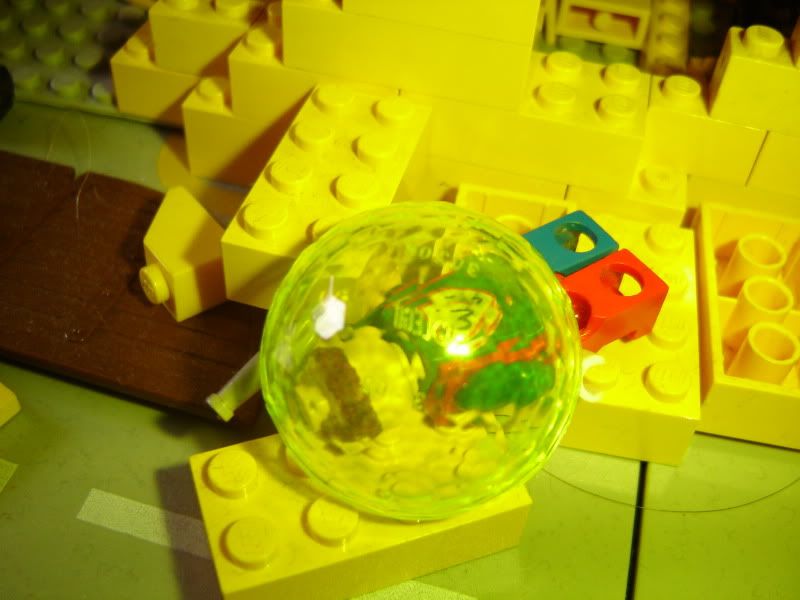 An inert Immortal is a viable target.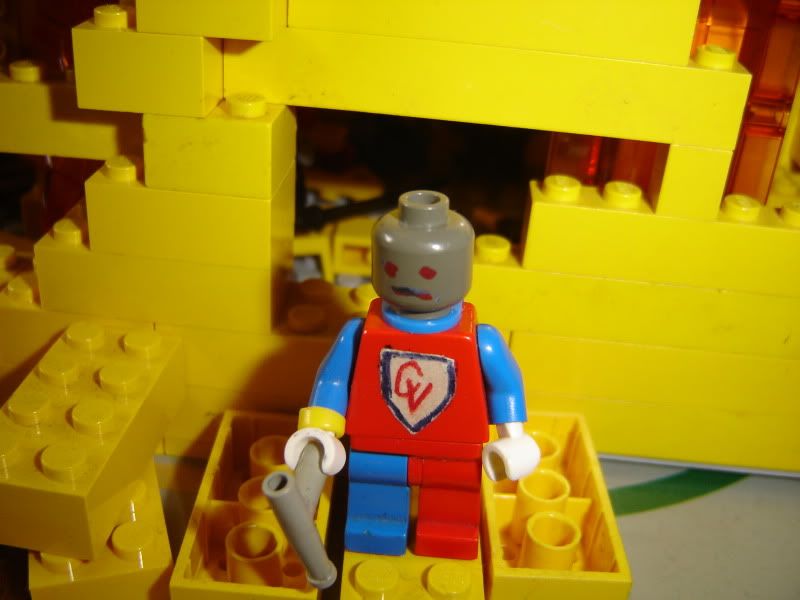 Even Immortals can become Zombies... oh, they're Immortal Core will eventually kick the illness, even Wallies but in game they'll remain Zombies. Funny thing is Captain Vincible just became much more deadly.
Overwatch