Decided it was about time for a photography afternoon, I had made a a lot changes from my last armoury post, the main one being a better camera and light setup.
Trans-Galactik Independence Alliance
The TGIA is a rising power who have rebuild themselves from the ashes of their long-gone home world Crosstinian II. The TGIA now strives for expansion and influence, when not bashing their arch-nemisis
Zone Millitary Corps
. (not to be confused with
Zuppon Mining co.
)
The TGIA military makes up for the lack in huge amount of cannon fodder units by creating many squads of specialists. This layout ensures that the right units are aways doing he best suited job. (In theory anyway)
Backstory
Part 1, The 1st age.

In the age of BR 2004, some fleeing refugees landed on a virgin class 14 world and made their home. Though many historians have attempted to find where these people came from, no one has of yet found sufficient evidence to say anything. Most people assume that their predecessors were trying to escape the immortal war, having has their home most likely destroyed or taken by one of the two sides.

The first people to settle Crosstinian (for that is what they named it) had already acquired slip-space travel. Nonetheless, without antimatter the dark-energy engines would not work. It was not until the discovery of a powerful fuel they called 'Nokiu' that space travel was achievable.
With the stars open, the Crosstinian Republik spread themselves onto many worlds, their seeds growing, and then producing, all planets exported their goods to the capital, and the CR grew into a powerful nation, completely unopposed.
But with power comes a cost, in this case, dissatisfaction in the outer colonies, rebellious and anti-government assertion slowly grew and spread. Then, in late BR 2006, civil war broke out. The mineral planet 'Zone' had finally broken off from the main Republik, and CR declared war within the hour.

Zone came fast and hard, their blitzkrieg tactics and overwhelming low-grade infantry completely overwhelmed and turned many already low-morale worlds to their side. Many people joined them because of the promise of a new galatik order, a new empire.
But CR wasn't going to fall that easily, they quickly amassed a well-formed army, and by the time Zone had conquered half of CR controlled space, (4 worlds each) CR was ready to strike back. And strike back they did.
With Zone's momentum gone, CR attacked the quickly built, but weak empire. CR's high-grade military slowly crushing Zone's fanatical militia. Now begins the slow war, lasting from early BR2006 all they way to mid BR2011. CR grinds back Zone, right to the planet Zone itself.
Now Zone gets desperate, its top scientists work furiously to create a weapon that will win them the war, at any cost. They finally found what the wanted, a world destroying bomb, the secret of witch is now lost.

The last days of BR2011 is also remembered as the last days of the Crosstinian Republik, as Zone is a last-ditch effort, fired off the bombs, committing suicide in the process, while destroying the entire CR in the process. Only a token effort on both sides was made to evacuate, the astronomical explosion was too fast, too disturctive.
The CR fell that day, it's empire vaporized, and the survivors left and searched for a new home, just like their founders.


Part 2 and 3 to come!
So, onto the content!
Overwatch (Light tank is unfortunately partly cut out in this photo
)
TGIA standard issue troopers.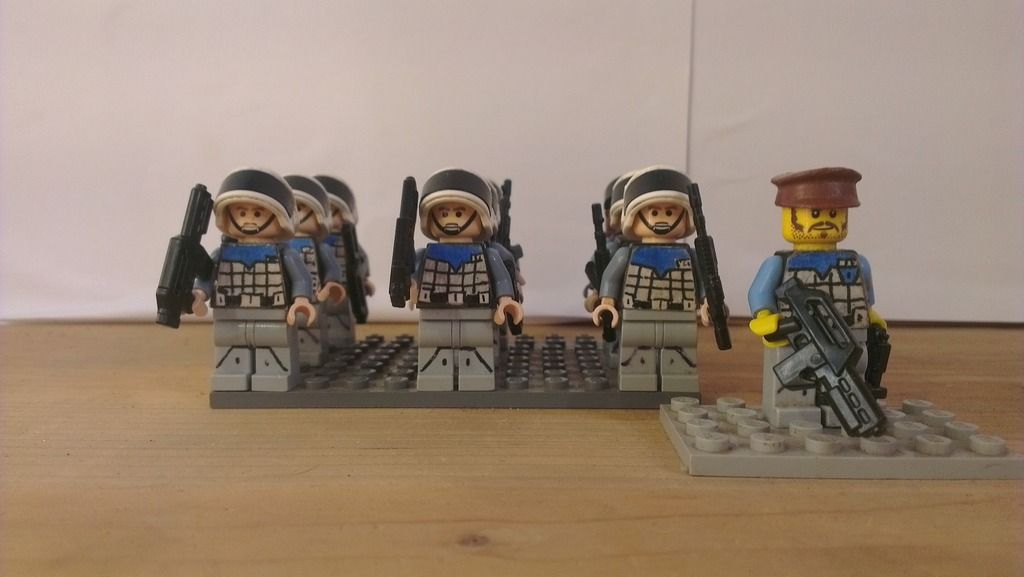 A trooper showing off his vest.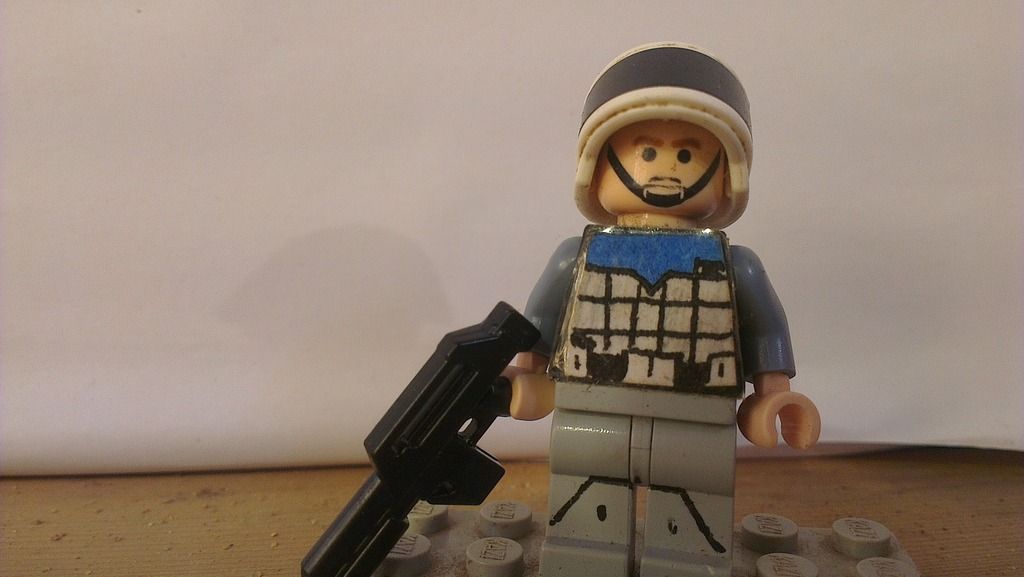 Rangers go through intense physical training to achieve the maximum possible speed and distance covered by foot. These small squads usually patrol the TGIA borders on hostile worlds with only an Assault-cabine and two legs.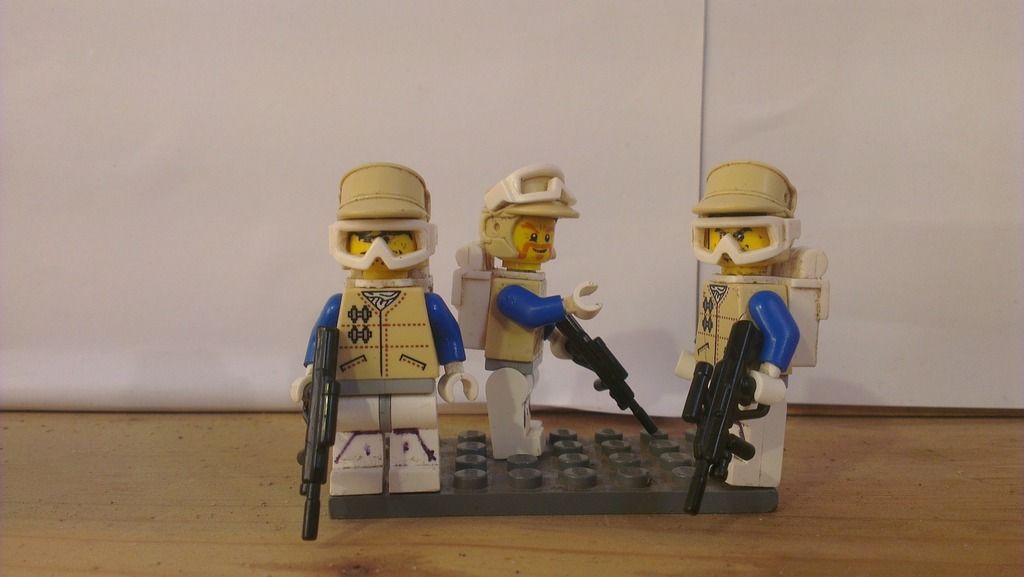 Shock troopers are heavily armoured and moderately armed, they excel at close quarters in the hottest zones of fire.
TGIA Hardsuit, armed with a Tazzie-Devil SMG and a shoulder mounted grenade launcher.
Grenadiers and Sniper unit.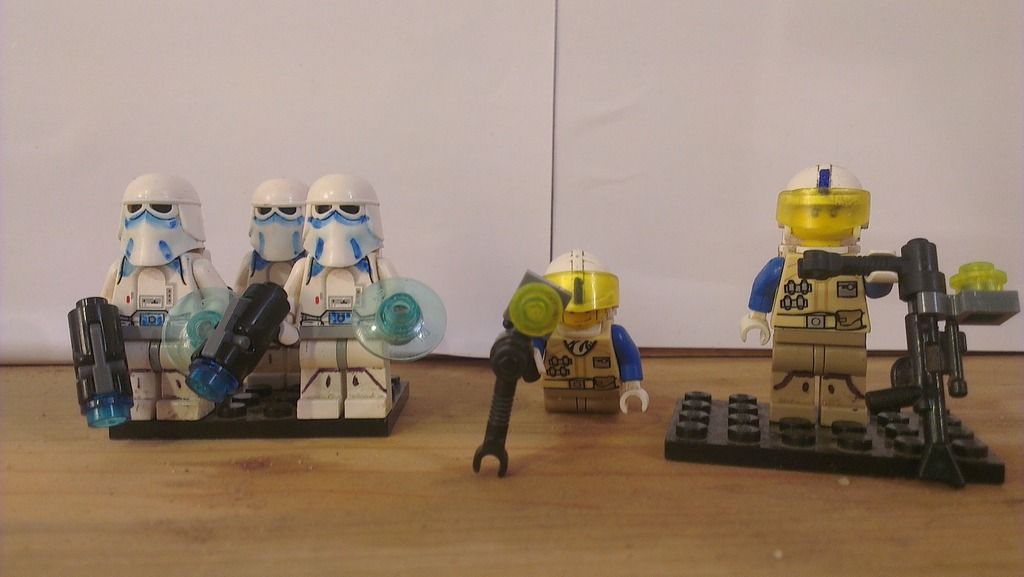 Aqua Troopers, led by the newly promoted Major Jess Dashill, the highest ranking woman in the TGIA army.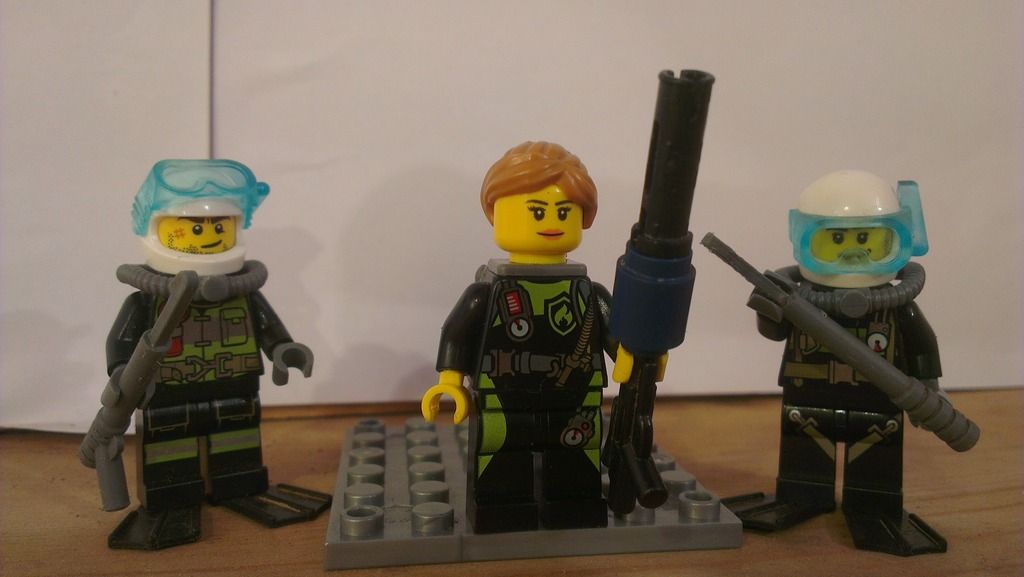 Commandos, these high-impact, incredibly versatile squads are famous for their adaptability and pure efficiency.
The Emperor Markill III himself, (middle) still grieving for the loss of his son, he valiantly tries to stop the TGIA from collapsing in on itself due to massive territory gain over the last few months.
Behind him is the admiral of the army, Jack Faron. Flanking are General Flash (first name unknown) and Commander Tom Rush.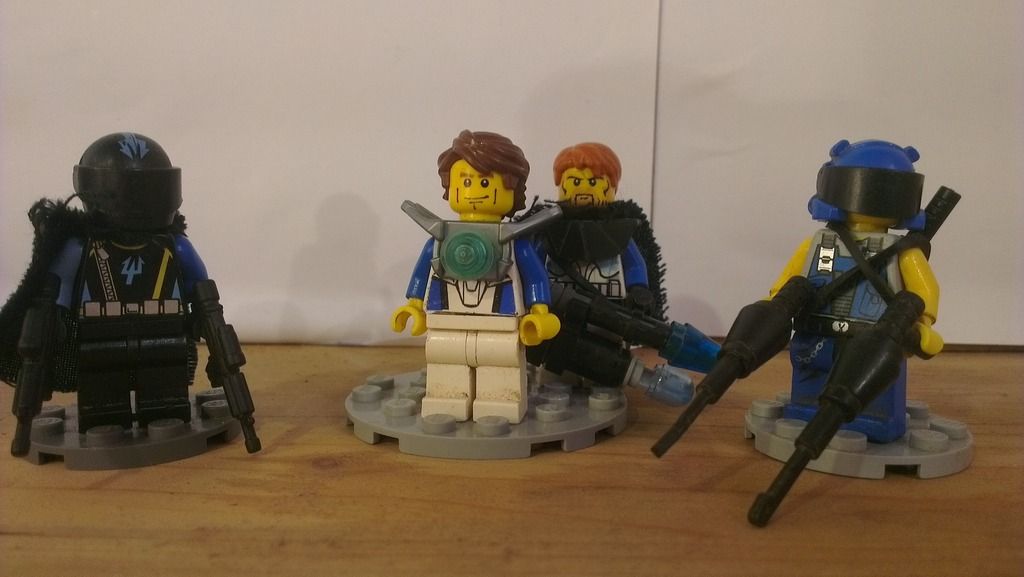 Now onto the
Vehicles!
"Emu" Light assault truck, built for patrols, small troop displacement, and fast assault on lightly defended positions.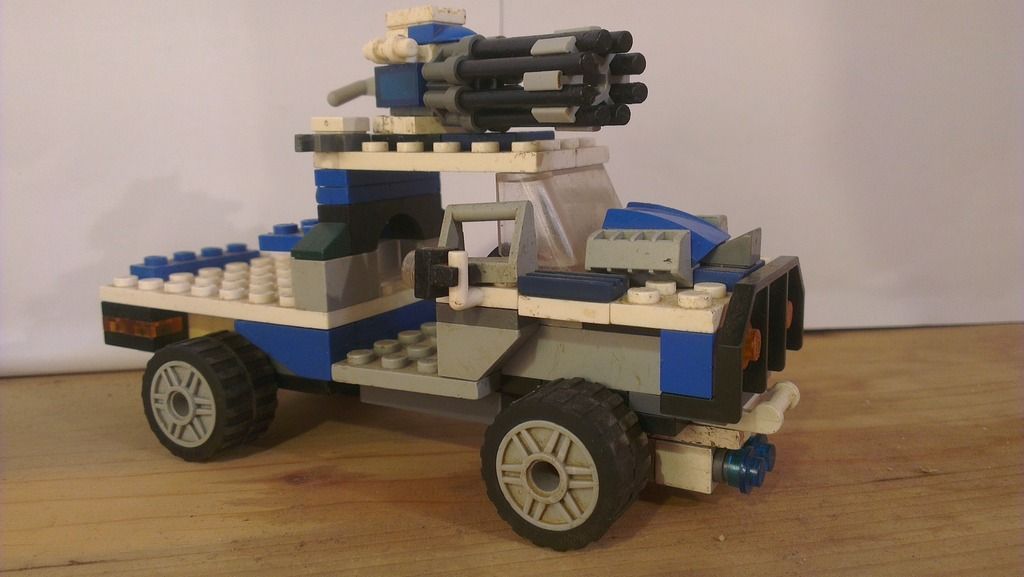 The Emu boasts 15" of speed and a fully-aoutomatic lazer machine cannon.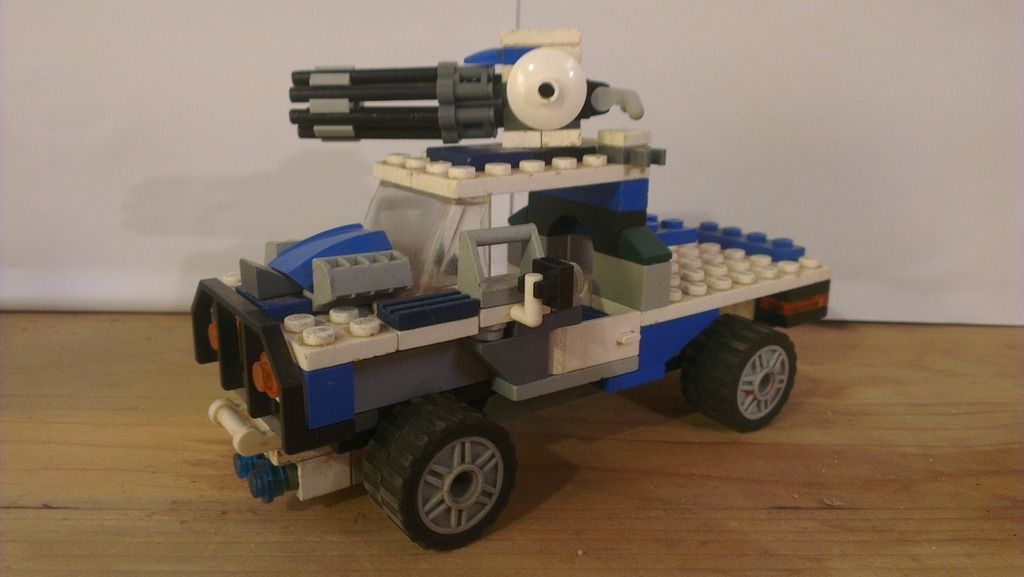 ______________________________________
Currently unnamed fast attack bike of suspected Polish design, the original model was "confiscated" off some wandering soviet marauders. There have been some adaptions to the base vehicle, but the frame and shape remain the same.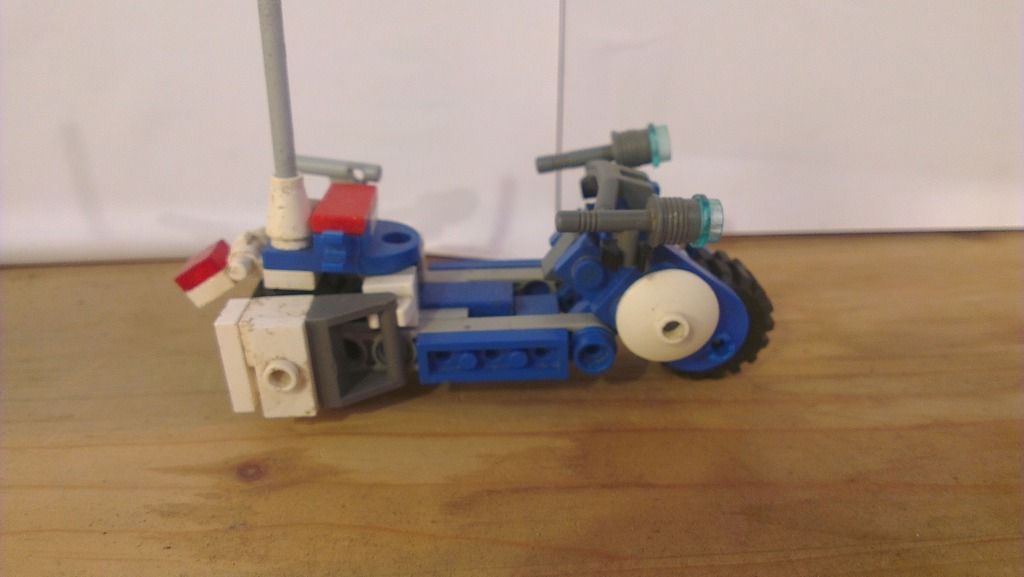 The bike makes up in speed what it lacks in firepower.
______________________________________
"Wallaby" Light tank (yes, I am aware my lego needs cleaning)
The only plating it gets are some metal sheets welded to the side for protection of the crew.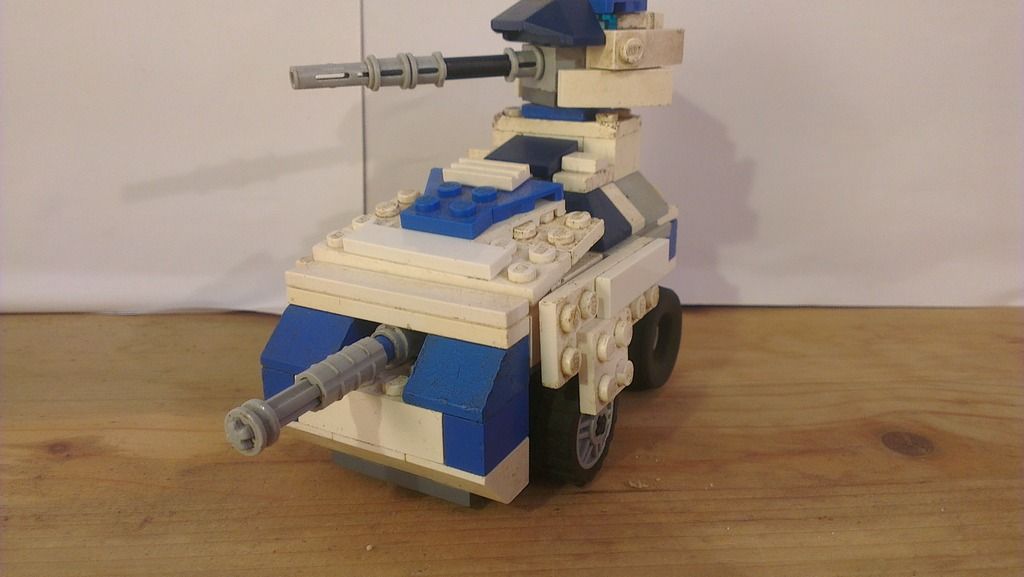 Speaking of crew, the tank can snugly fit a pilot and gunner, a fact I am quite proud of.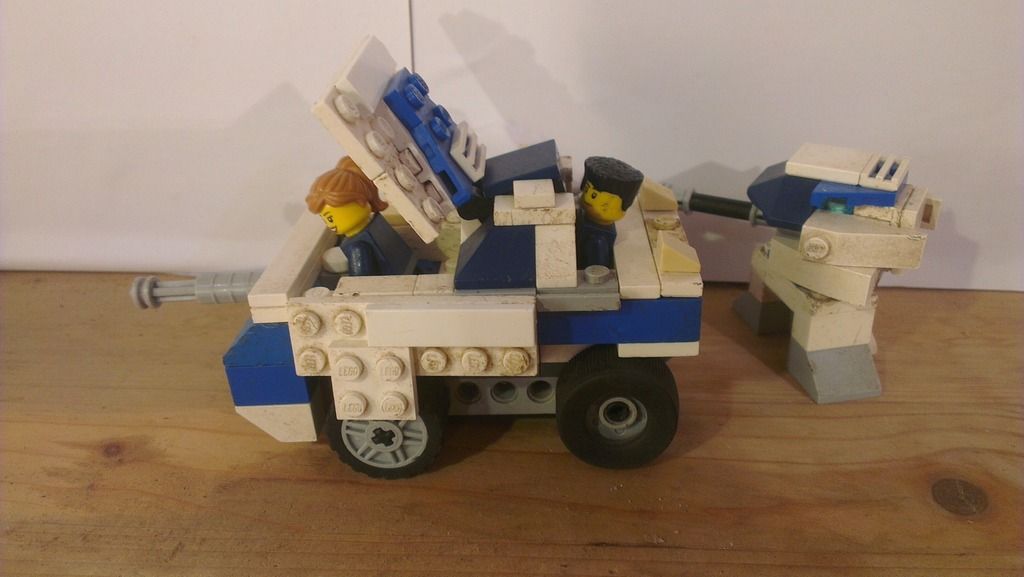 ______________________________________
"Thylacoleo" MBT, the tank, it packs quite a punch with decent armour despite the relatively small size.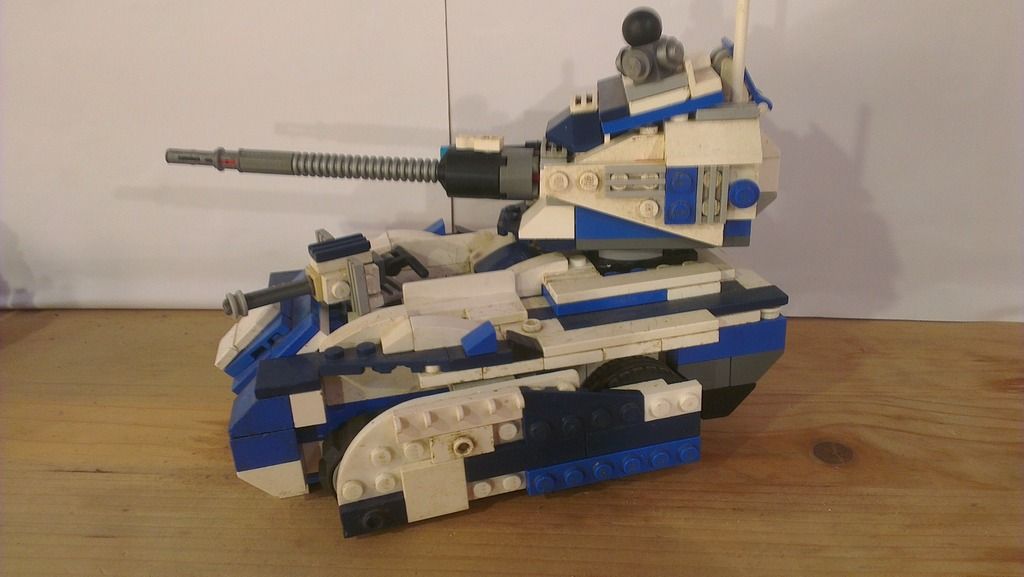 Armament includes a 6" Heavy cannon, a size 2" mini-gun, a size 3" lazer and a Mk III TROPHY system.
The pilot position, there are two more crew, a gunner in the mini-gun pit and a cannon officer in the turret.
______________________________________
A field artillery which doubles as a portable AA unit, featured with a fairly vulnerable crew member.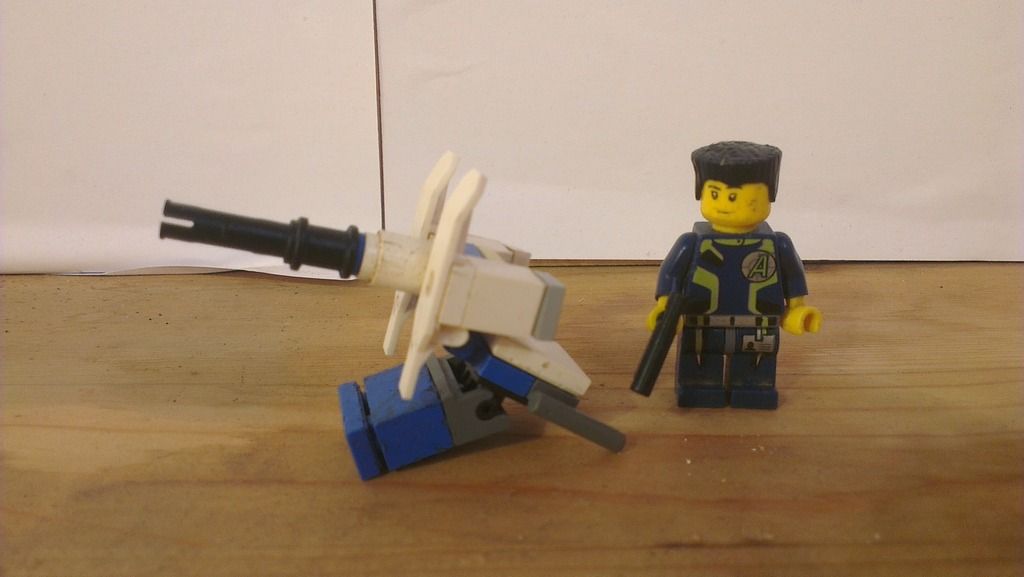 ______________________________________
The "Wagtail" Gunship, fitted for aerial combat, ground bombardment, and troop transport.
Two mounted machine guns, an anti-armour 3" mini-gun, a target-locking missile rack and two air-to-air, or air-to-ground, HEAT missiles.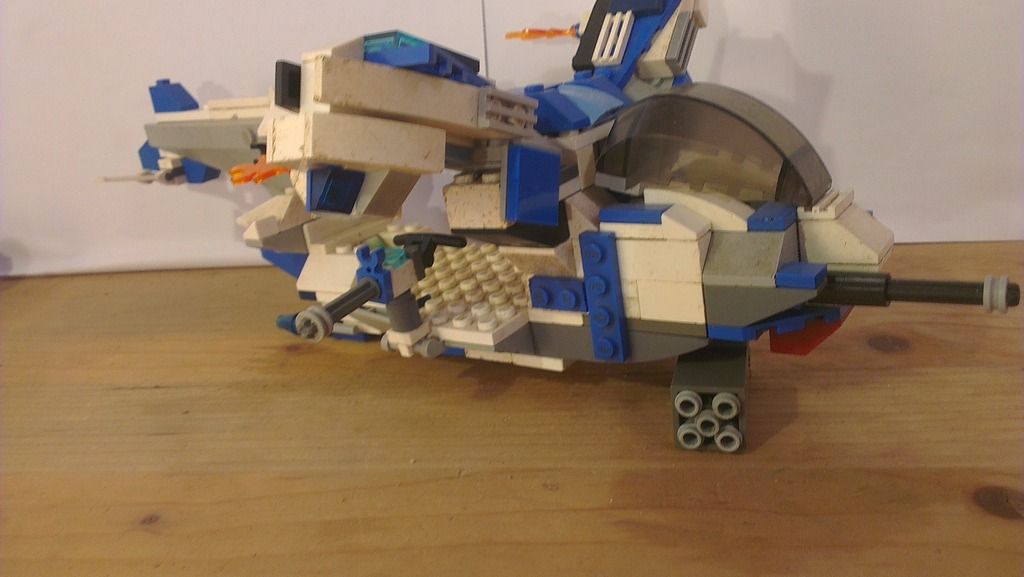 ______________________________________
"Albatross" drop-ship, moderately armed but lightly armoured, and a troop-carring capacity of 16 men.
Troops stand up on drop, being in the perfect position for a quick exodus of the ship, straight into battle.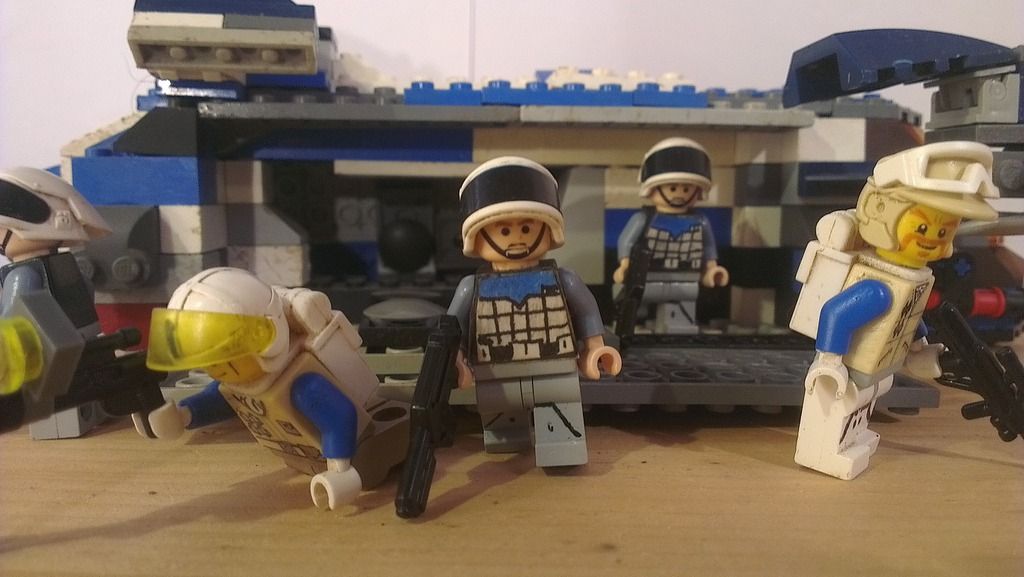 ______________________________________
"Orca" Cruiser, is insanely quick and has a massive armament despite the small size and armour rating. (Most of the pics are pretty burry on this one, I got lazy towards the end of my camera session)
Besides a standard issue crew of 3 and captain, the "Orca" often contains 6-10 troops inside the ship to repeal boarding parties.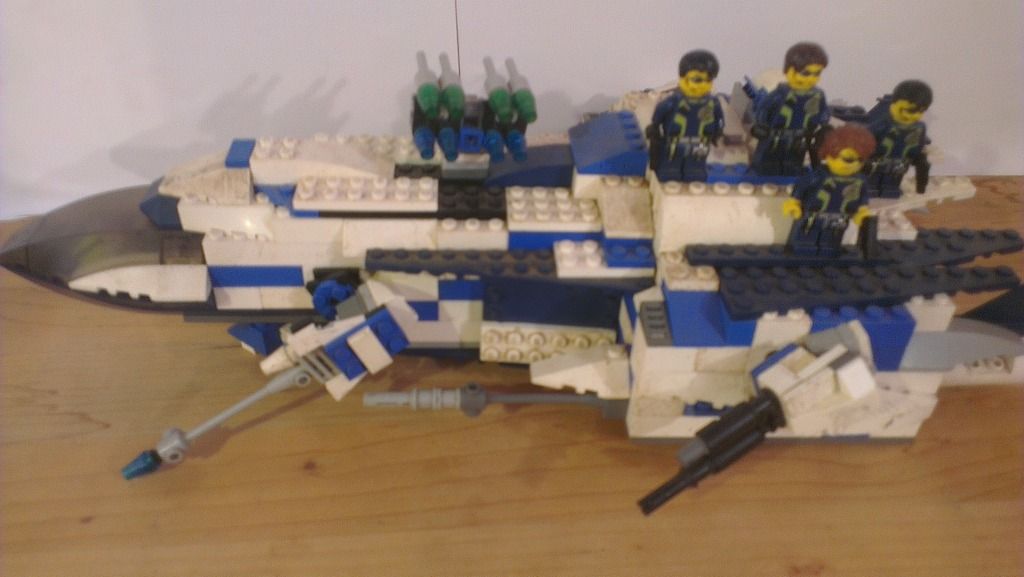 Inside the main engine room. However, the bridge is located at the front of the ship.
And that's it! Comments criticism more than welcome!