The Vanguard Class frigate had been under way at Inter galactic speeds for the better part of a fortnight. travelling the vast void between galaxies, away from Nehellenium, out into the emptiness. Aboard, space lord Cromwell waited on the command deck. the ship had dropped out of Trans-tunnel and was making it's way to their destination under conventional warp. One of the crew at navigation station spoke "Were approaching the rendezvous point, picking up no thermal signatures." "You wouldn't Mr Alister" Cromwell replied. he reached for the control panel and flicked an oddly out of place mechanical switch. in front of the frigate, two large spotlights activated, sending out beams of light from the now near stationary ship. from the 2 by 6 meter window, not much could me made out as the ship drifted, just darkness, and then, out nowhere a large antenna came into view, "Bring us around 80 degrees mark 2-7-4" The ship swung around, bringing a giant tunnel like structure into view, the ships spotlight not reaching the end. "Take us in Alister". The feeling on the command deck was distinctly uneasy. Travelling into the maw of the structure, crew aboard could just about make out Platforms to either side of the vessel, and then a light in the immediate distance caught the gaze of Cromwell, it was a docking arm, protruding from a platform on the starboard side. It reached out and automatically grabbed the ships airlock, locking on firmly. Cromwell stood straight and cleared his voice "Welcome to the belly of the beast!" The whole crew jumped as a voice came over the Intercom. Cromwell spoke in reply "I trust everything is in order dock master Lark?" "Aye, but this 'aint no Dock". Cromwell made his way to the airlock, relieving the ship to Alister.

The door and there before him was dock master Lark, he was clutching a long halogen lamp, the sole bit of lighting in the whole corridor. "This way sir, the tram's a down, 'tis a bit of a trek". The pair walked down what seemed like endless unlit corridors, they were large, almost cave like, until they came to an open door, next to it was a sign "Deck 23 Sub-command 8". Inside was about a dozen, mechanics, working on wiring to the consoles. "My crews reported in sir, all three thousand of 'em", "Three thousand?, this place feels like a ghost ship". Cromwell hadn't seen a soul other than those in the room since boarding the vessel. "It's been 10 months sir, I'm gonna hate handing her over to ya", " If this works out you may be working on several more, if it works." Cromwell wasn't a fan of humanizing ships. "I 'm no sentimental sir, not since Spirit went down" "Spirit?!" The very name made a small tumor appear at the back of Cromwell's throat. "Aye I worked on her too... Shame aboot'er". The Spirit Of Ragnablok. Once the pride of not just a single empire, but a whole Alliance, now nothing more than a floating wreck above planet New York. "It's time" Cromwell commanded. "Computer: I am Third space lord Cromwell, I am formally taking command of... The Inexorable" The lights in the room slowly came up as a great mechanical sound grew louder, Then a click. Before Cromwell appeared a hologram, it was of an Elderly gentleman, looking late sixties, his skin pale, either by design or just because of the projection quality. "Starting computer boot sequence" The hologram spoke in an oddly Androgynous dispassionate voice. "Beginning generator startup". there were several great, booms, one after the other, as all 6 generators began, the lights rose fully, not just in this one room, but across the whole ship, the outside lit up like a city.

"Nominal power available". The hologram faded. "Sir, the trams will be working now, main bridge is but minutes away". "Thank you lark, I'll make my own way".

Alone Cromwell wandered the now lit corridors, fully appreciating the scale, he then stepped out into the open. His breath went. Across a chasm he saw the frigate that brought him here, it hung near motionless in the middle of a vast bay, at the front of which was two force fields, one on the floor, and one covering the chasm which his ship had entered. "Amazing...". Cromwell continued until he reached a station containing half a dozen trams, each leading into a vast pipe network. He glanced at a diagram of the system on a pillar, it made his head spin.

He left the tram and walked through a corridor, several blast doors opening and closing automatically for him, until he reached one final door, that opened revealing a vast command space, all perfectly gleaming. He looked out through the vast glass window, staring along the ships length, and ultimately into the void. Slowly the same hologram reappeared like a ghost, directly in front of his view. "Shall I lay a course?" Cromwell looked past him back at the view for a moment. "The Nehellenium staging post... and then... Planet. New. York."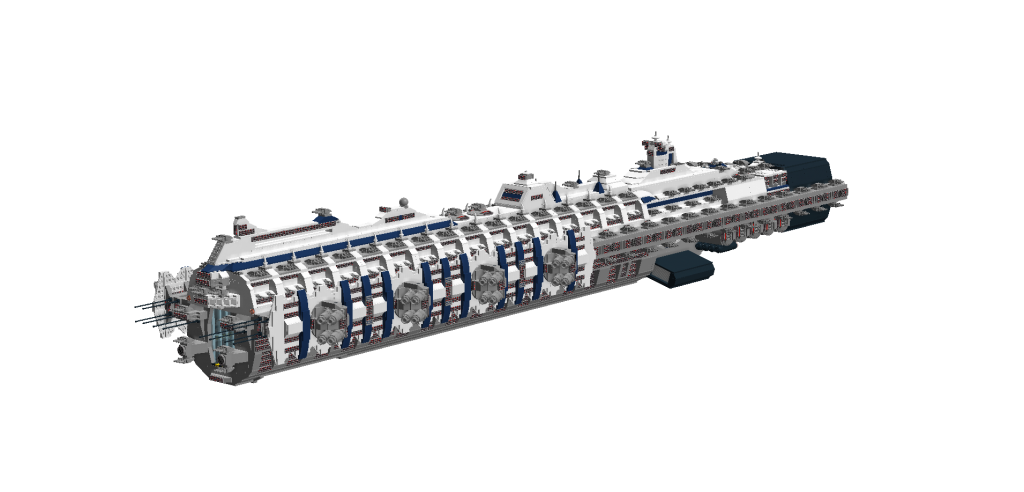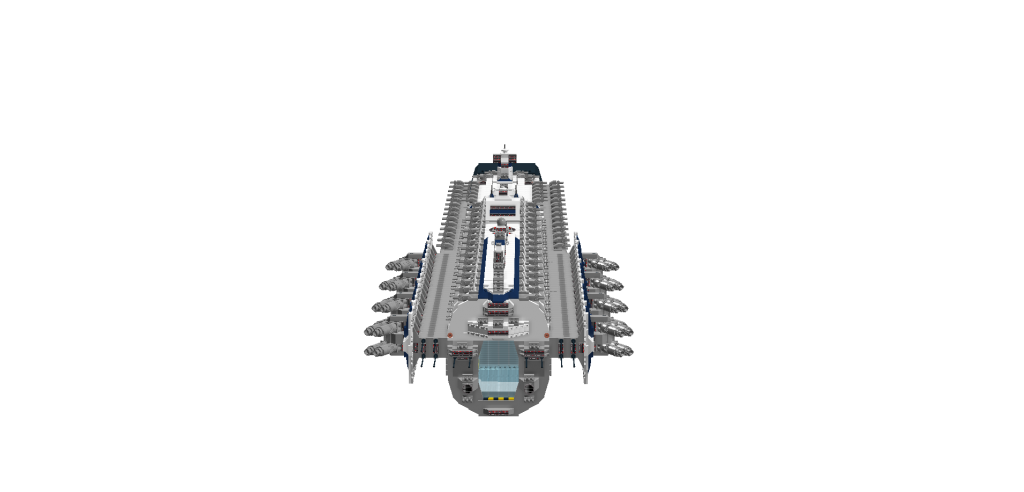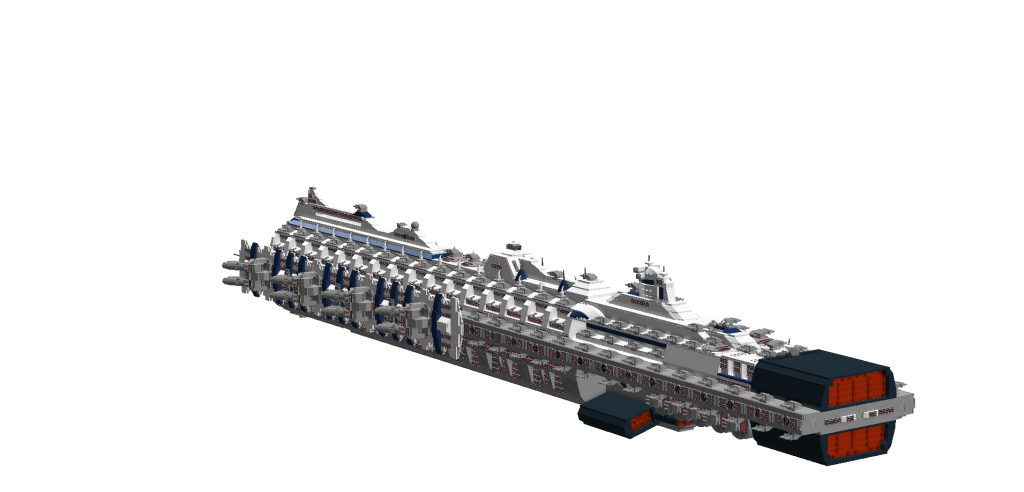 Never again. seriously, I know you'll all want one now, but don't come bitching to me when you realize how fun making something this big in LDD is (un-fun to be sure). For those wondering:
Yes that is 8 Doubled up Exodus turrets
Yes it will kill all known things dead.
Yes that is a lot of turrets.
Yes the front was meant to look like that (Goatse much?).
Yes it can (just) fit some of my larger warships in.
No I don't have insecurities.
No I'm not ever going bigger.
And
yes
I am coming for New York, and for the Third Alliance, consider this a declaration of War. Or more a declaration of Vendetta, after all, true justice is Inexorable.