Code: Select all
It is common, when travelling on the rim of praetorian space, to hear stories of colonies being lost and ships going missing without a trace. Many dismiss these as just ways of explaining the kind of disasters that happen when a small colony is cut off by solar storms or long periods of subspace turbulence, while others believe them to be true. The praetorian empire for a long time has covertly known about a threat coming from the chaotic space that covers a large portion of the Omegalon galaxy and has started taking a much more active role in defending colonies from an unestablished, unidentified threat. In G.R. 2011 a colony on planet Mai XI that was supposedly undefended was attacked...
This battle is to be the first in a series of battles, they won't have an effect on each other but will decide how the path of battles progresses. I will be playing the praetorian empire this battle and one of my brothers is playing the Xenkan raiders, armies aren't set to any particular person for this campaign.
Force Roster
Praetorian Empire:
Mobile Infantrymen: 15
Advance Guardsmen: 5
6WD Assault Jeep: 1
4WD Assault Quad: 2 (Outflanking turn 2)
Generic Space Heroes: 1
Xenkan Raiders
Warriors: 20
Elite Drop Troops: 5 (Landing turn 2)
Dreadnought: 1
Lord Winston Monty: 1 & Only (Landing Turn 2)(Lord Dekxlar was away on vaction)
Scenario:
Death Race
The game would be 5 turns long, both armies would gain a point for each mini-fig killed and for each structure point an enemy vehicle is reduced by, whoever had the most points at the end wins.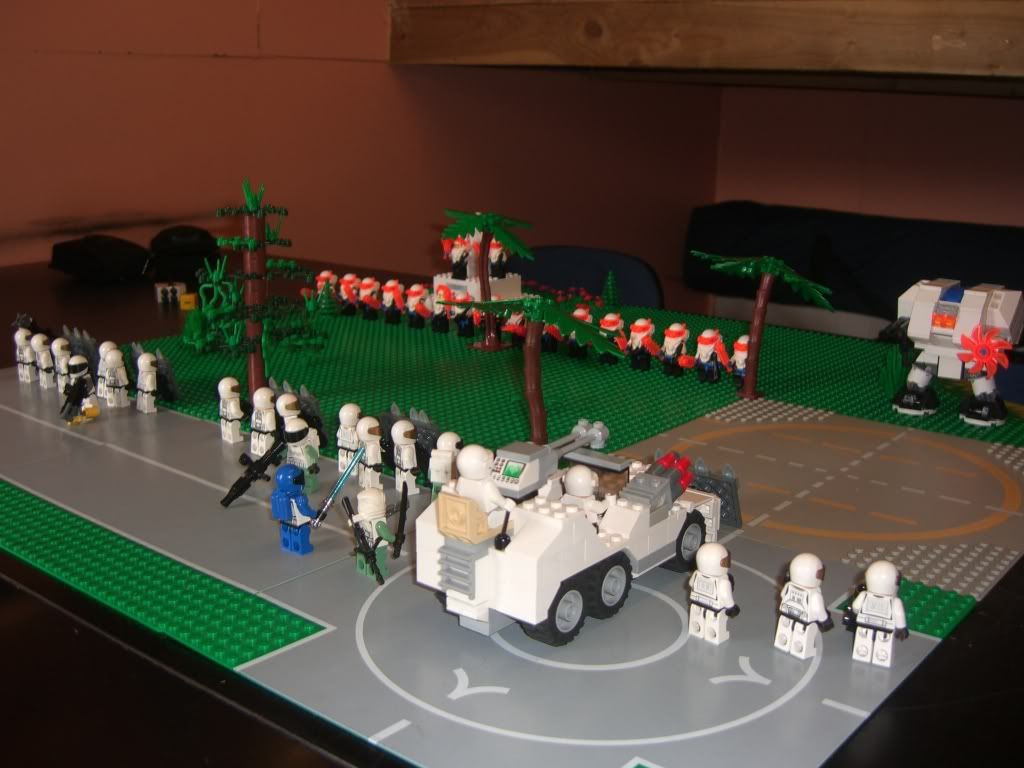 The battlefield consisted of a road which the Praetorian forces would deploy along. A large open area which had a few trees which for speed don't actually exist, trees and barriers would provide some cover, there was also a statue of the first deadly spacemen (their seen all over the Omegalon galaxy, on every praetorian planet due to their discovery of a section of the holy rules tome and his connection to it) and a river.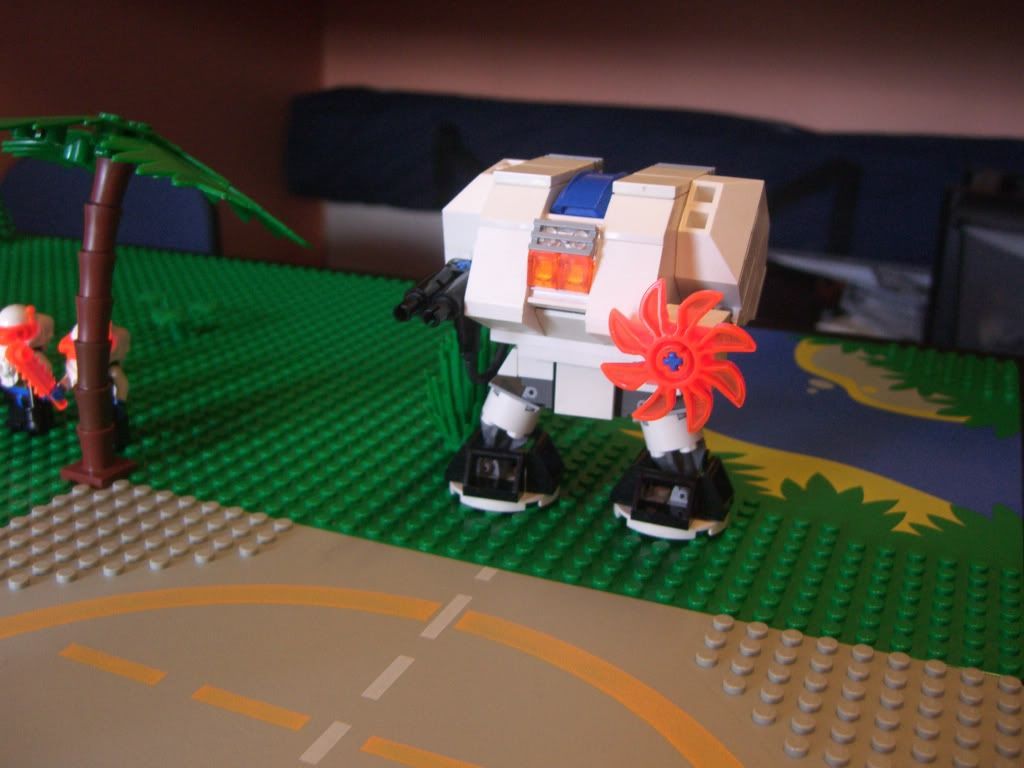 Dreddy the infallible dreadnought, with his Mk4 OTC arm, he would end up being a pretty effective damage sink.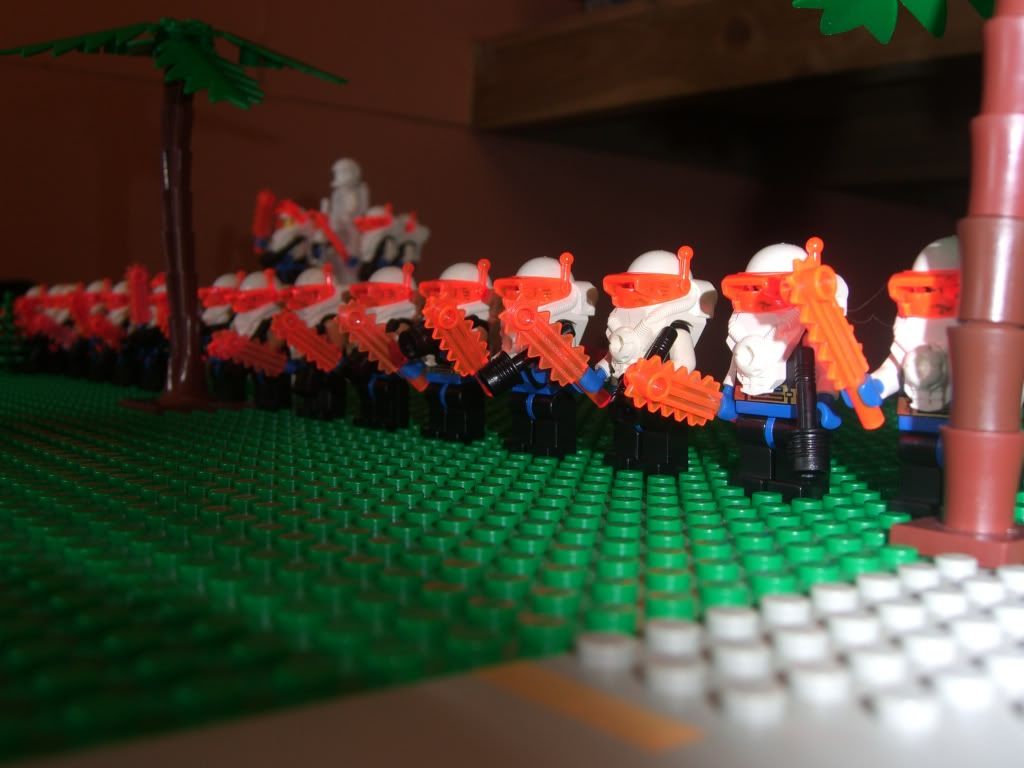 This wall of OTC wielding enemies would have my mini-figs shitting themselves the whole battle as they gradually advanced.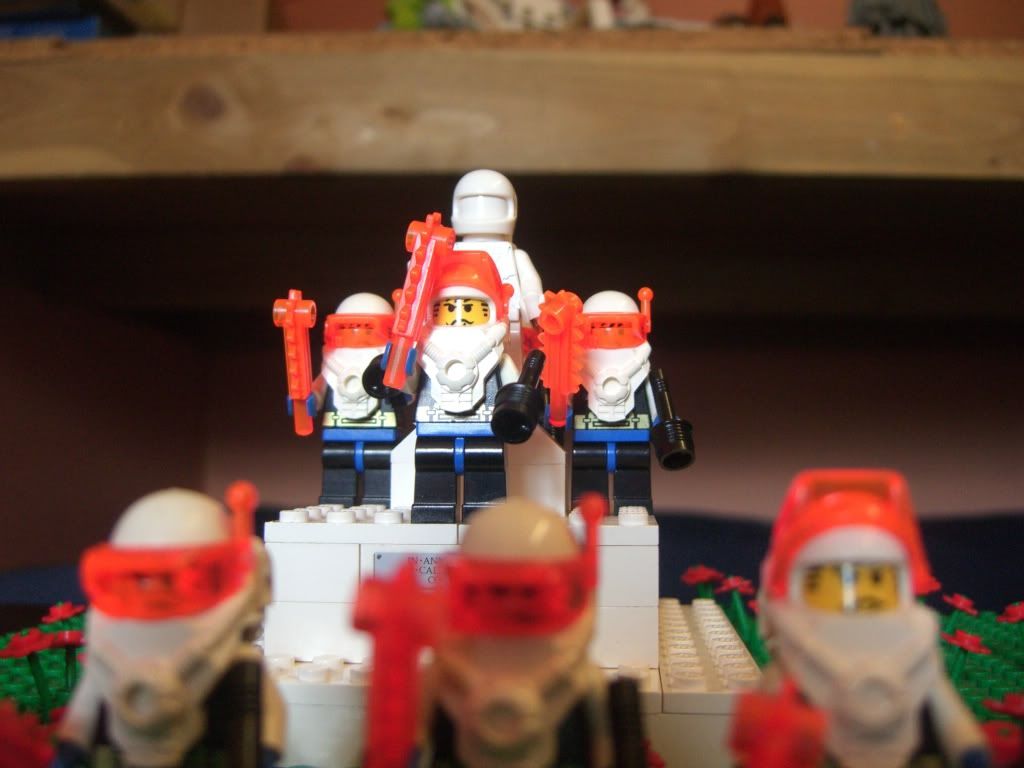 My opponent was so cocky, he decided he didn't need 4 of his figures and kept them on this statue the whole battle.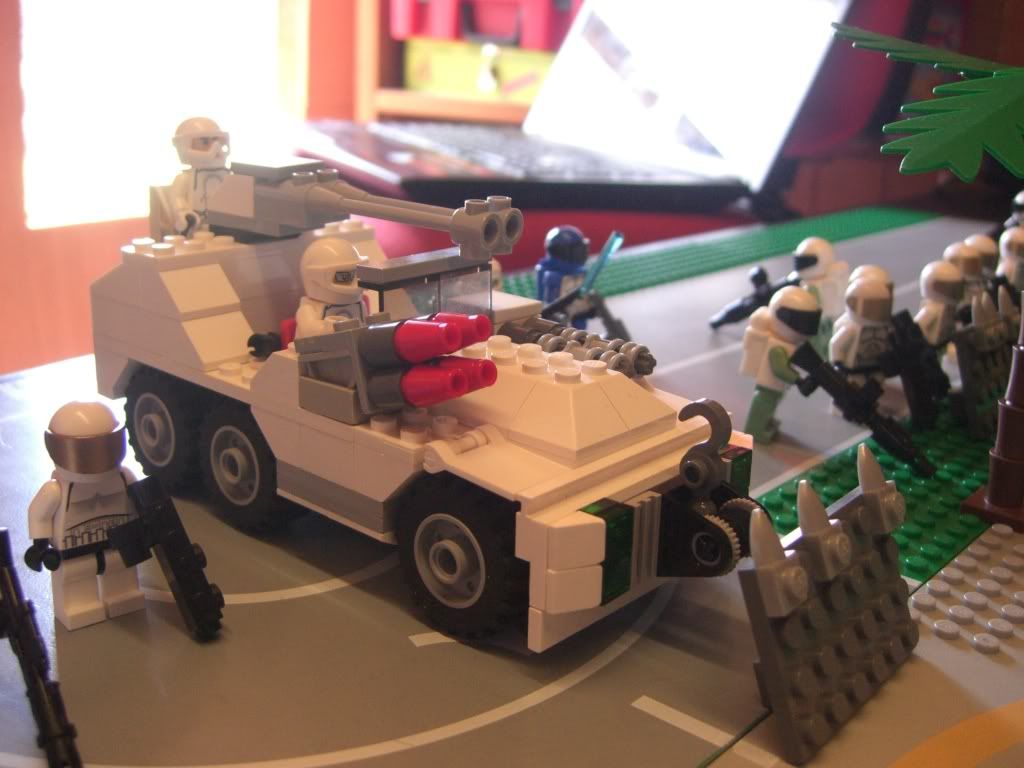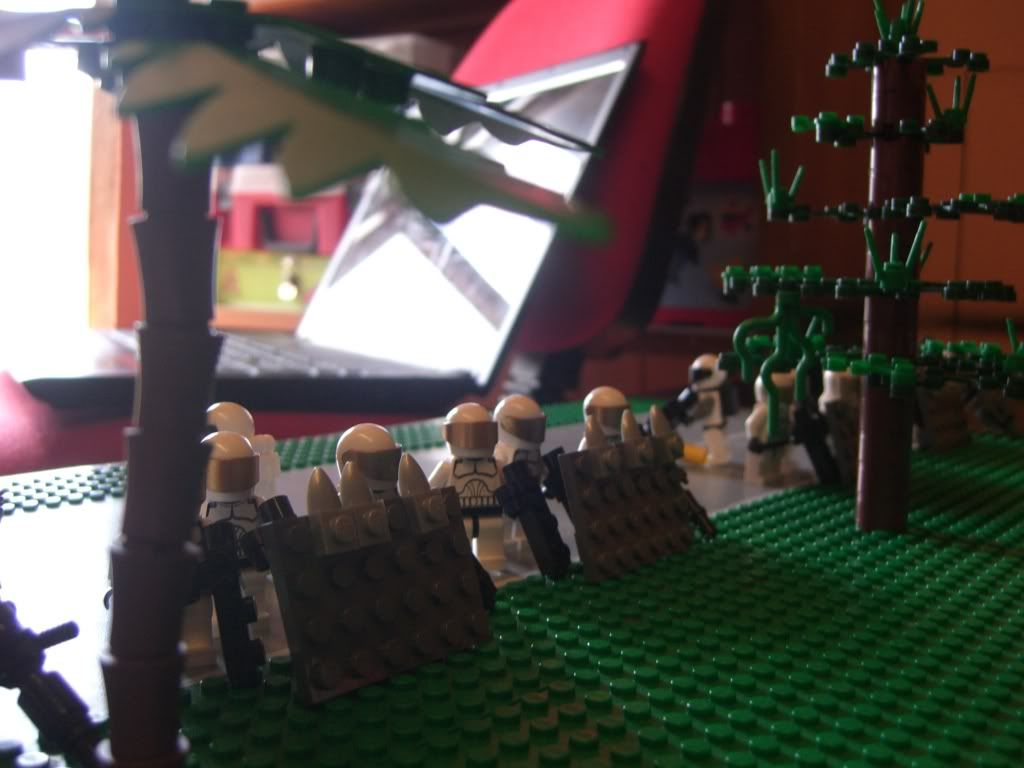 Praetorian troops took cover behind barricades. I knew my brother would be putting his drop troops behind my defenses so I kept some advance guards behind my front line.
After a bit of haggling over the battlefield set-up I decided to keep the peace and took two unmighty pennies for just having a few barricades.
Round 1
Consisted of just moving forward into combat range.
Round 2
Praetorian Empire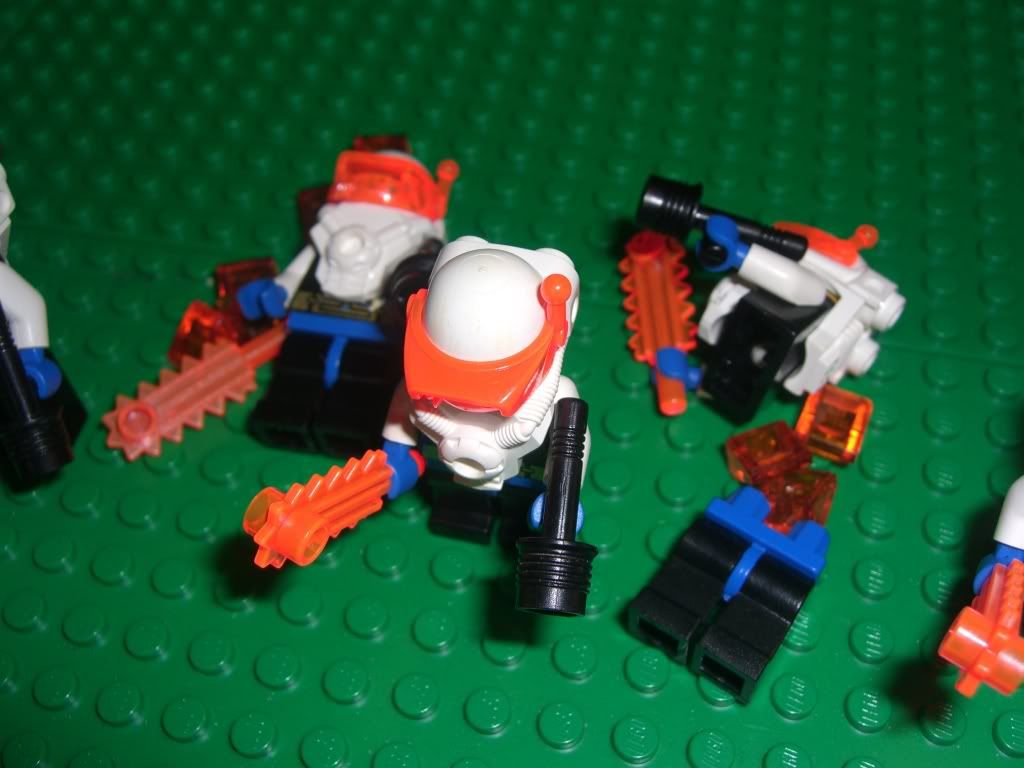 Praetorian Infantry opened up on the advancing enemy and killed two, most were out of range but their heavy armor saved them quite a bit.
Xenkan Raiders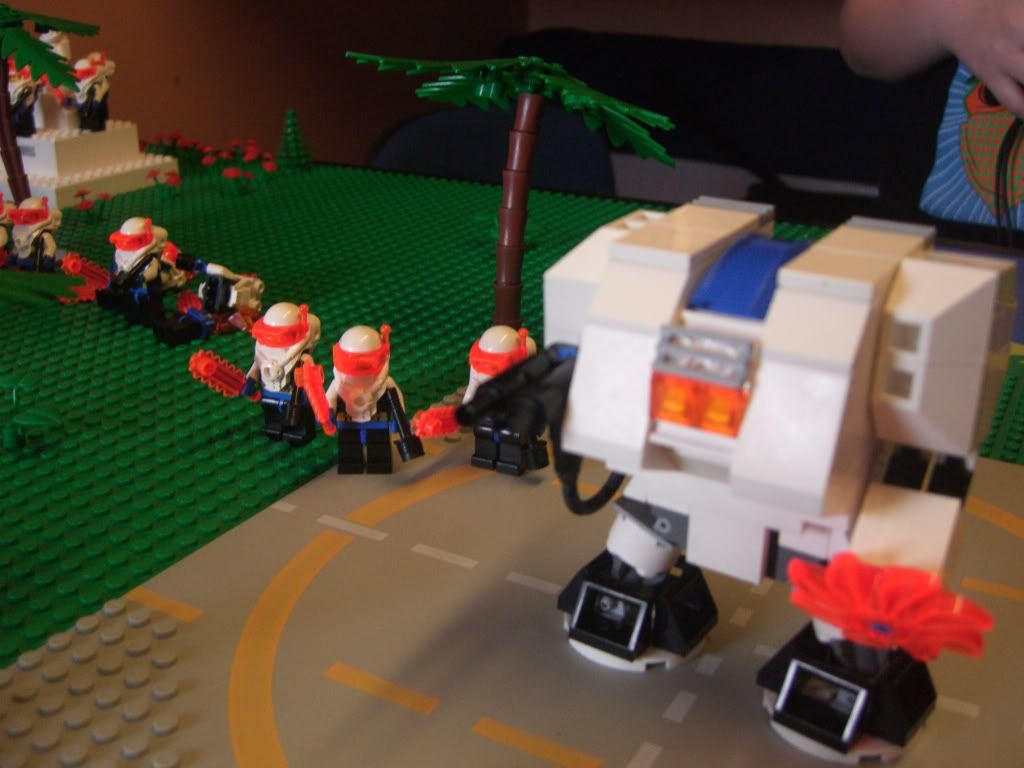 Dreddy move towards the 6WD Jeep in the corner of the board, taking with him 3 Xenkan Warriors.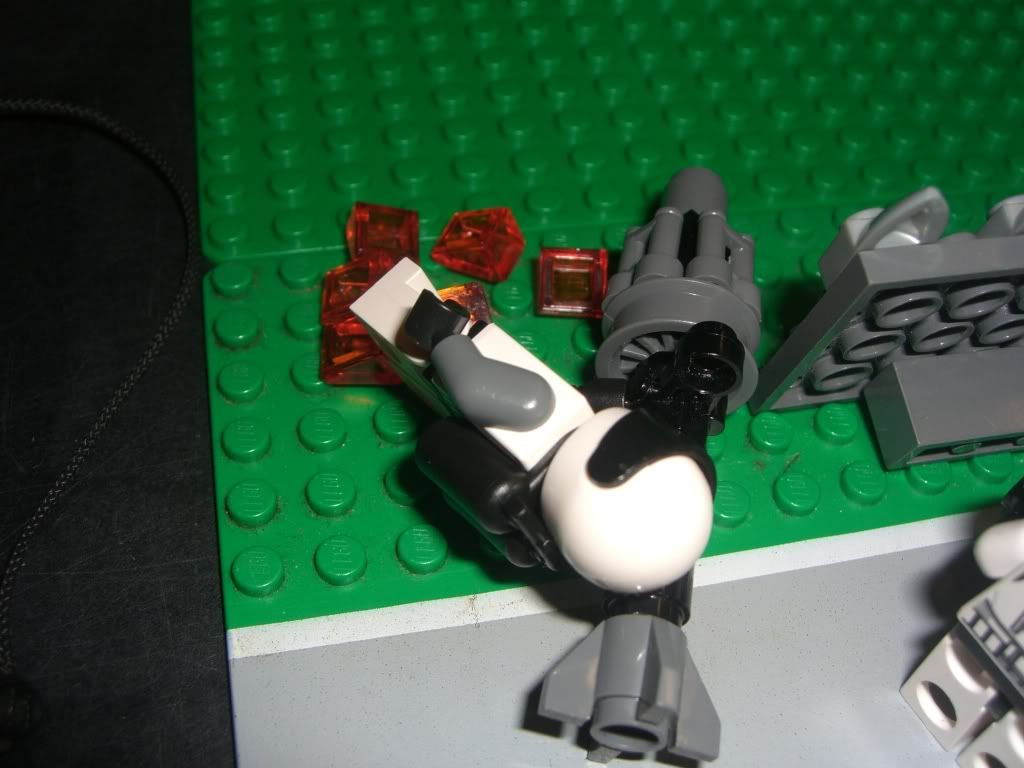 Xenkan shooting is a joke with a -2 penalty to skill and damage, which only pissed me off more when one of my elite Advance Guards was killed by them.
Points
Praetorians: 2
Xenkans: 1
Round 3
Praetorian Empire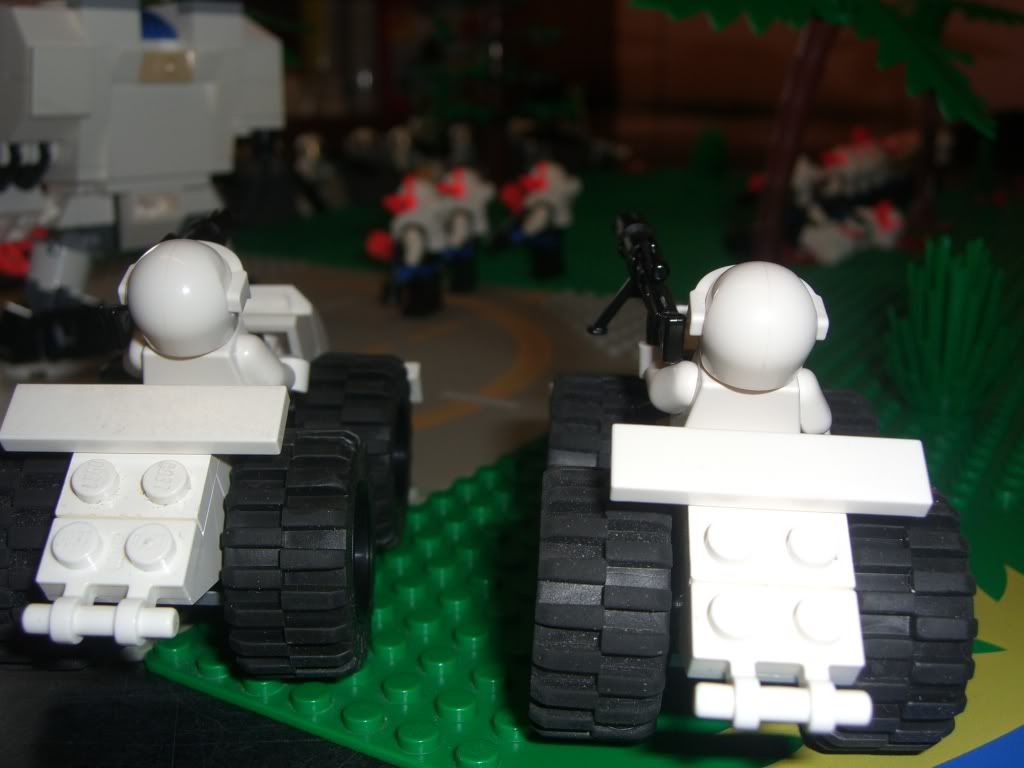 4WD Quads entered the battlefield on the Xenkans left flank, they opened fire on the group of Xenkan warriors who split up to follow dreddy, but both failed on their skill roll.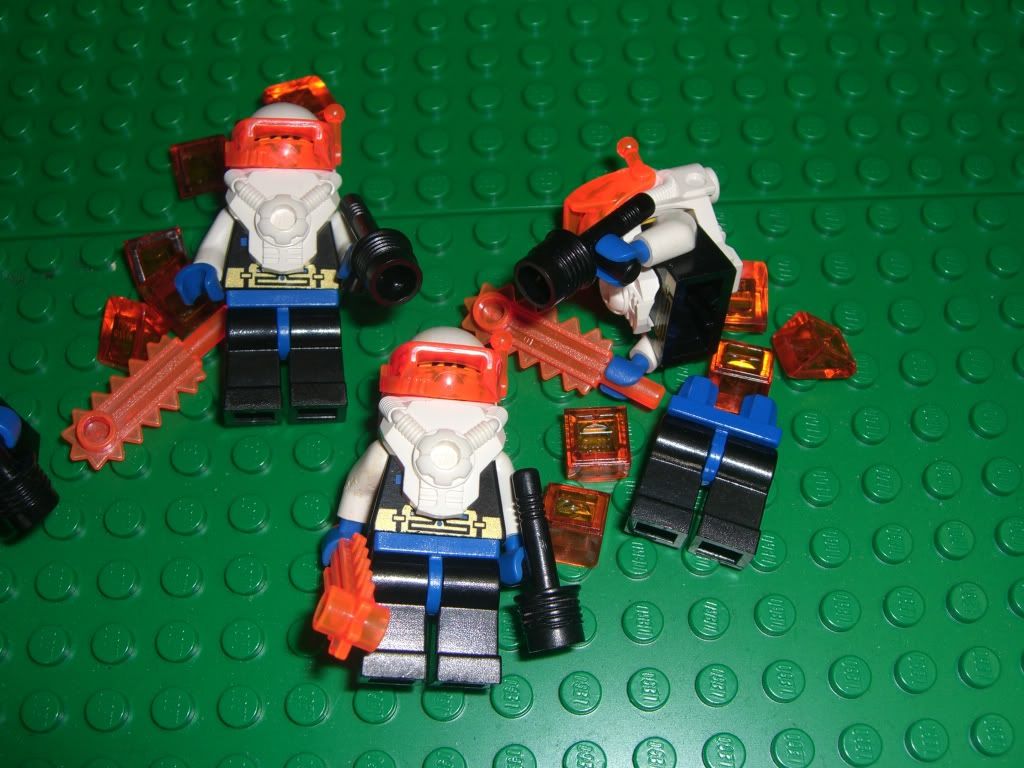 Another Xenkan warrior was hit by the volley of Praetorian fire, while others were saved by their armor. The 6WD assault jeep and surrounding troops opened up on dreddy and with some lucky rolls brought him down 2 structure levels, making his Mk 4 OTC too large to use normally.
Xenkan Raiders
The enemy hero and accompanying drop troops attack the Mobile Infantry, they killed 4 of them, the mini-fig attacked by Lord W.M. had so much damage done to him by the two OTC's he was splatted across the road. One of the drop troops landed close to my hero and tried to take him, he failed and with Generic Space Hero #1 having done nothing all battle he will be able to respond, The rest of the Xenkans opened fire but none landed any hits. Now it was time for GSH#1 to respond.
He used a heroic feat to try and set off the enemies flight pack and have him uncontrollably fly off in some random direction, the dice came up a 2...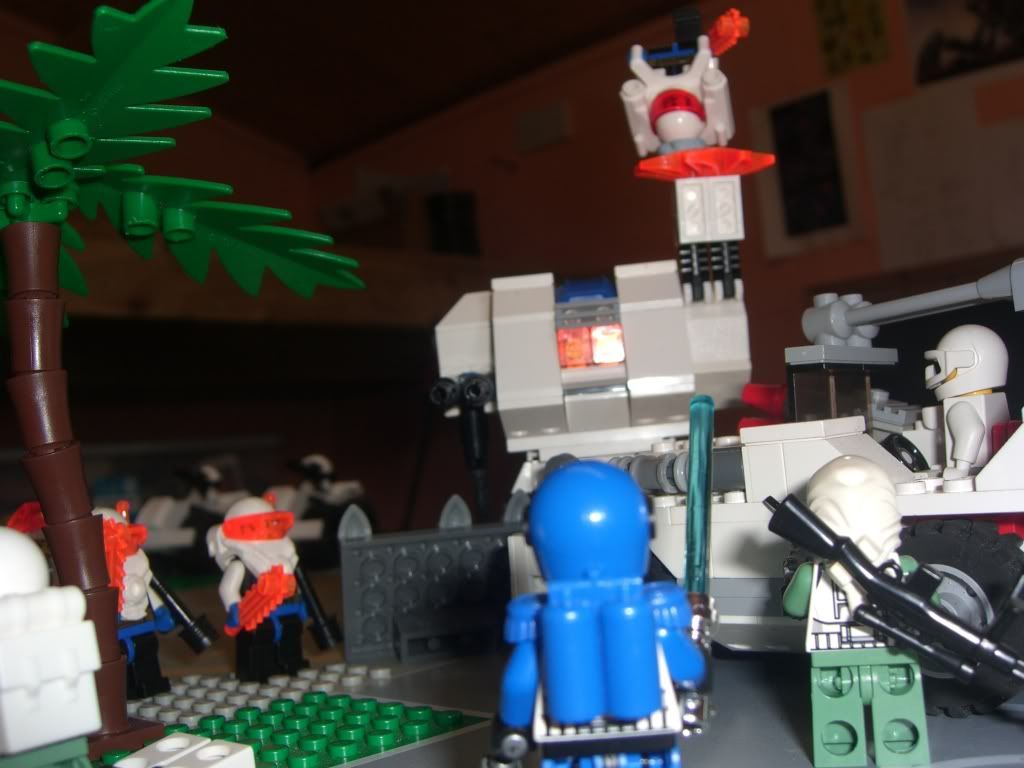 The Xenkan elite drop troop flew of, careering towards Dreddy, landing straight on Dreddies OTC which had started charging with a DIVERT ALL POWER attack. GSH#1 looked on in joy as...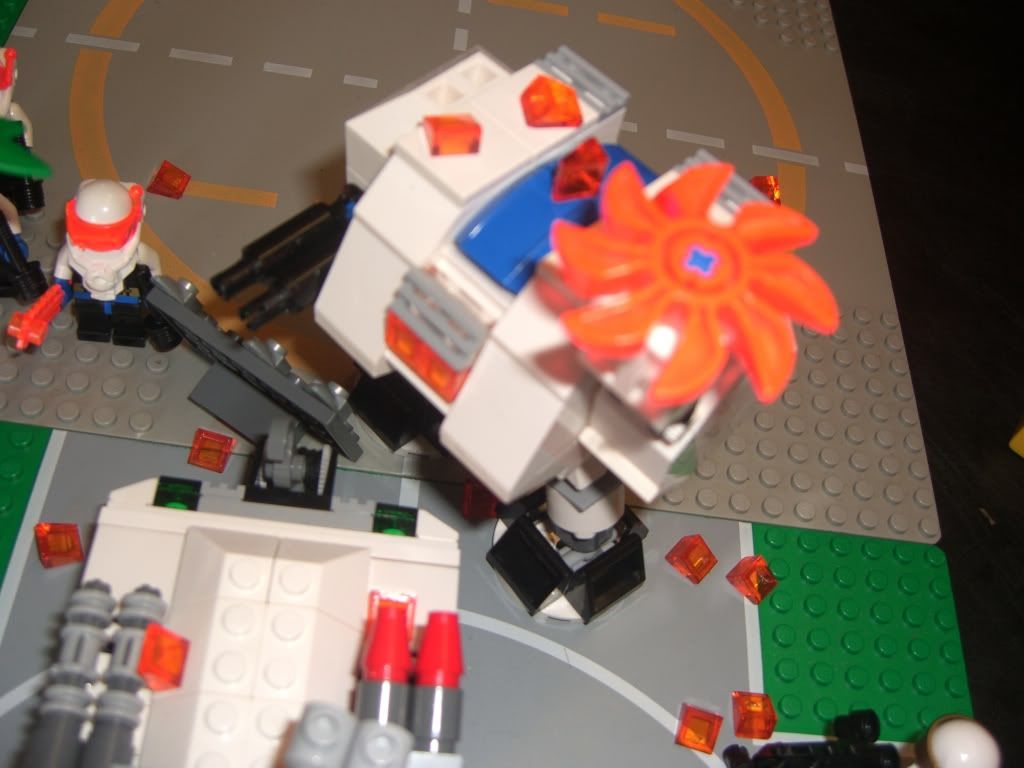 ...His opponent turned into a fine red mist and covered Dreddy in blood. Dreddy enjoyed this.
Points
Praetorian Empire: 6
Xenkan Raiders: 5
Round 4
Praetorian Empire
My troops pulled back in order to avoid the drop troops killing too many.
An Advance guard fired his plasma shotgun at the enemy hero at point blank range, the 2d8 blastgun (fire) weapon ripped through Lord Winston Monty. Two drop troops were killed by combined fire from Mobile Infantry and Advance Guards. Once again my jeep and surrounding troops opened fire on Dreddy and managed to beat his armor roll 25 to 20, but my opponent decided to use the two unmighty pennies that had been 'sitting ugly' since the start of the game, things got violent at this point and I ended up with a minor head concussion due to a high speed flying d6, this dice actually ended up saving Dreddy when it rolled a 6. at this point movement was becoming hard due to the number of bodies stacking up.
Xenkan Raiders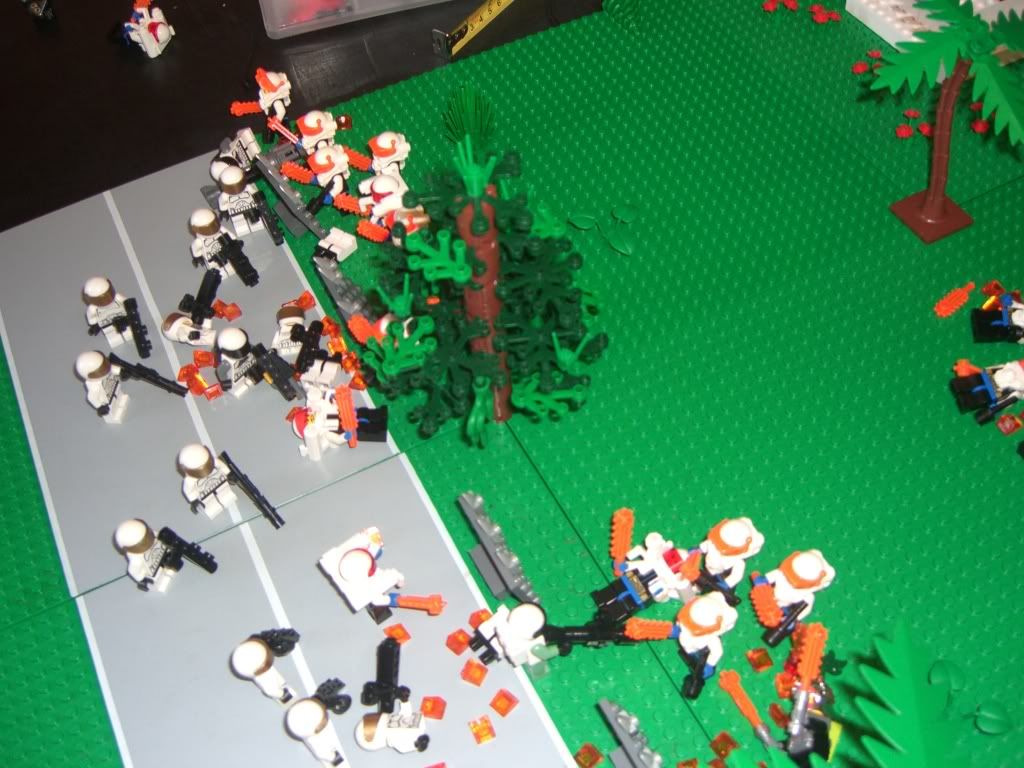 The Xenkans were now right on top of the Praetorians, but just out of reach of CC, which would happen on the final turn. Their shooting was once again useless doing no damage. although one was killed by a Xenkan Warrior who was just in range.
Points
Praetorian Empire: 9
Xenkan Raiders: 6
Round 5 *LAST ROUND
Praetorian Empire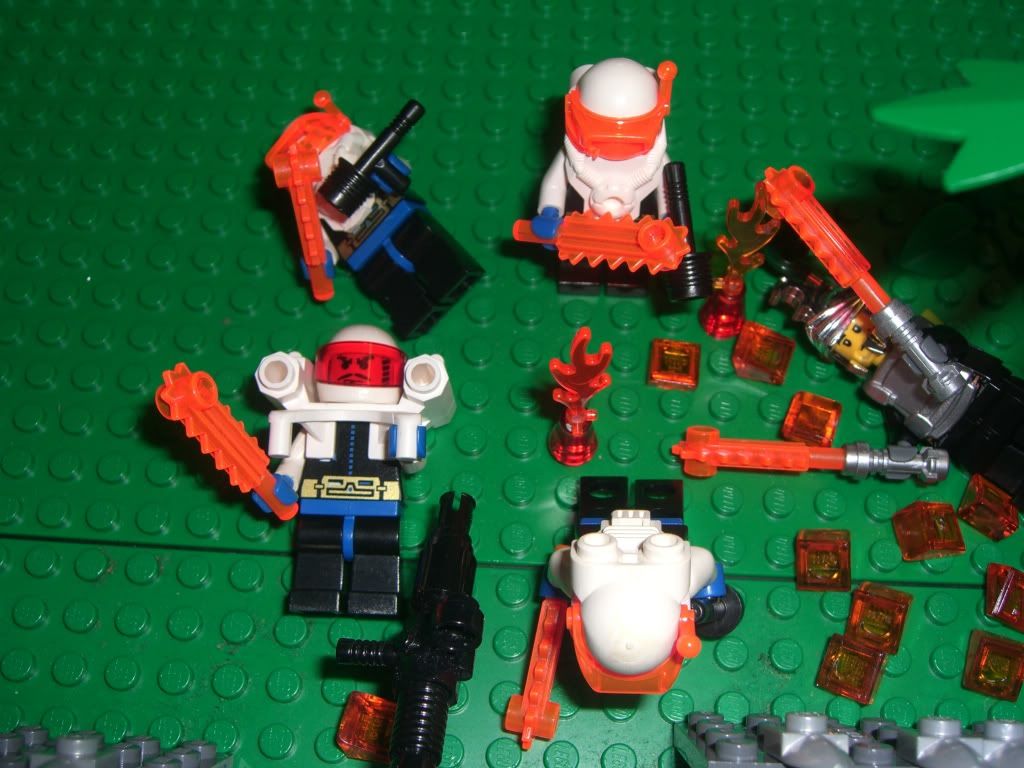 A Plasma shotgun kills two Xenkans attacking on the praetors right flank.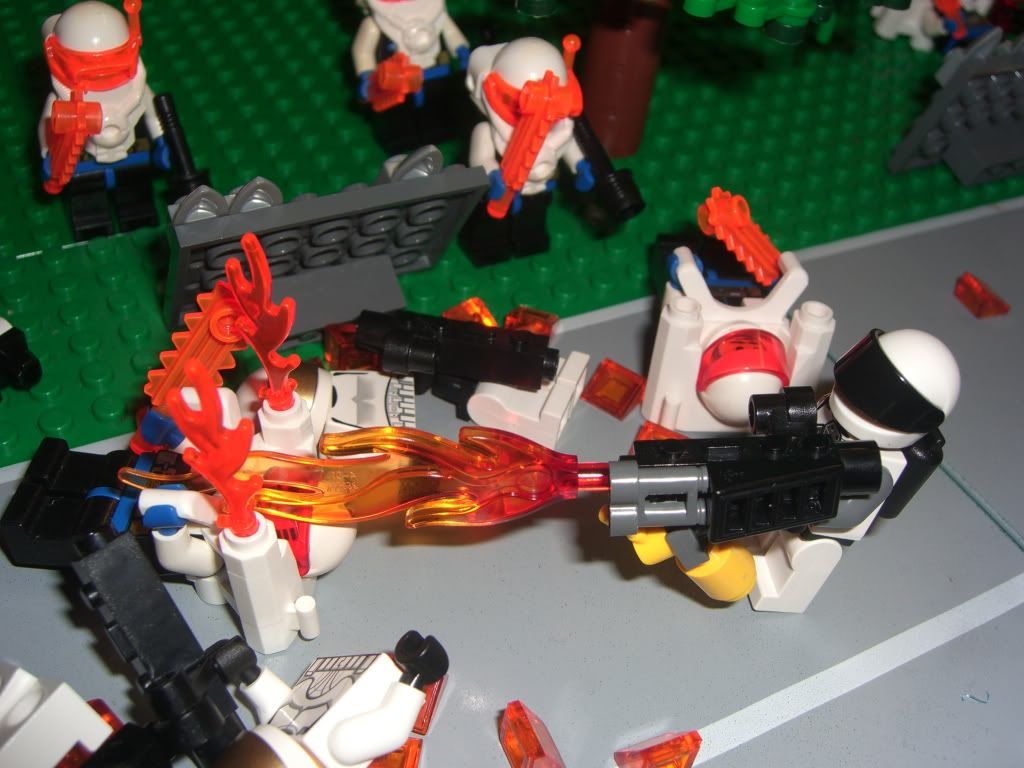 The remaining drop troop receives trial by Mk2 Flamethrower, he came out medium rare. This turn Xenkan warriors would overrun the praetorians defenses and would be the last turn they would have before retreating to the colony to regroup to fight off the second wave. the 6WD jeep opened fire on Dreddy who was still charging his OTC, but that fucker was like a sponge for damage and didn't get a frigging scratch.
Xenkan Raider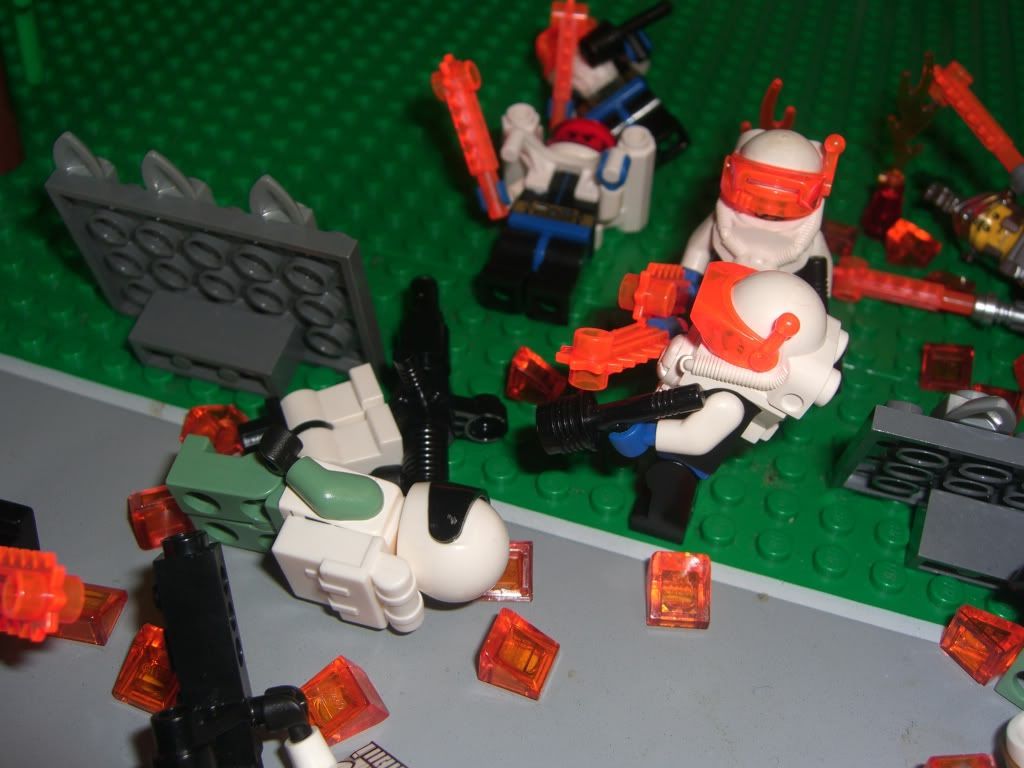 Two Advance Guardsmen were killed by The Xenkan Warriors but unlucky rolls held them back. Dreddy could finally use his OTC, but the Jeep had moved out of the way, the 2010 rulebook isn't too clear on the matter so we decided that Dreddy could move up. but Dreddy had a last second change of heart...
The trooper was dead the second the Mk4 OTC touched his helment, ripping him apart piece by piece. A gory conclusion to a pretty bloody battle.
FINAL RESULTS
Praetorian Empire: 12
Xenkan Raiders: 10
Marginal Praetorian Victory!
Xenkan dead pile, half of Dreddy in it.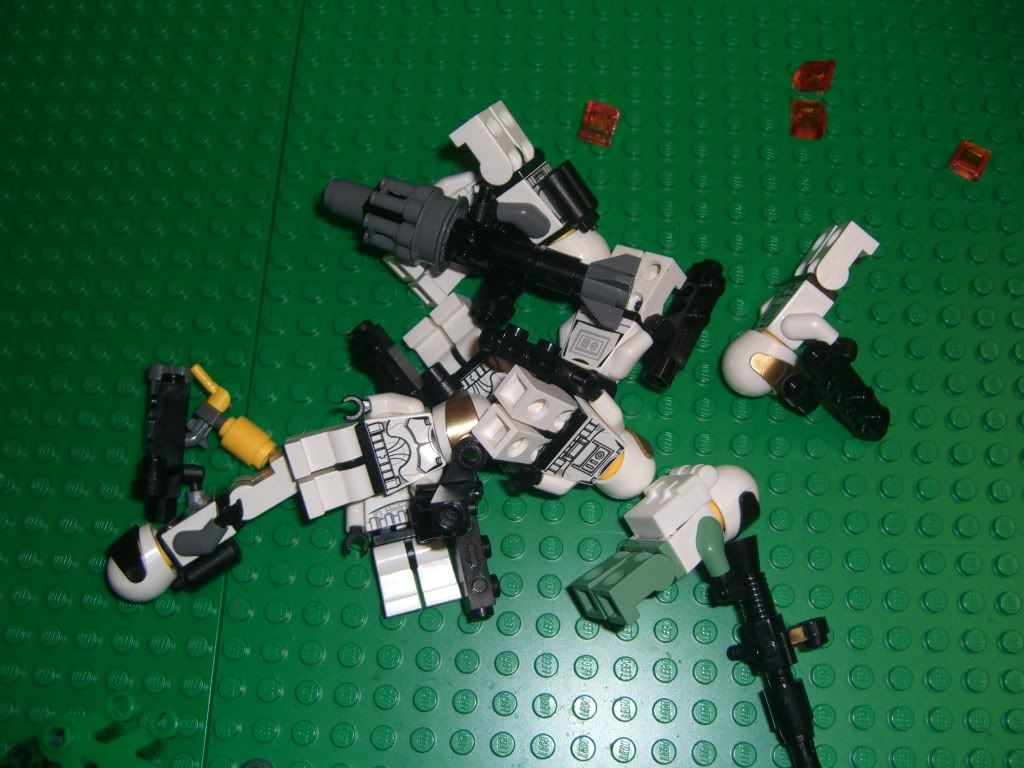 Praetorian dead pile.
Blood splatters tell the story of this battle better than I ever could.
Aftermath
Code: Select all
With a larger second wave on the way the praetorians pulled back to regroup and defend the colony. they took with them one of them one of the drop troops who was later revived and after much interrogation found out some information regarding what they're after; the colonies computer core.
The next battle should be next weekend between me and a friend.